Axios Navigate
May 22, 2019
Good morning! Thanks for reading. Please share this newsletter and tell your friends they can subscribe here. If you have tips or feedback, just reply to this email.
Today Expert Voices contributor Sudha Jamthe writes about delivery bots and the data they might pick up.
1 big thing: Your mail might ride in an AV before you do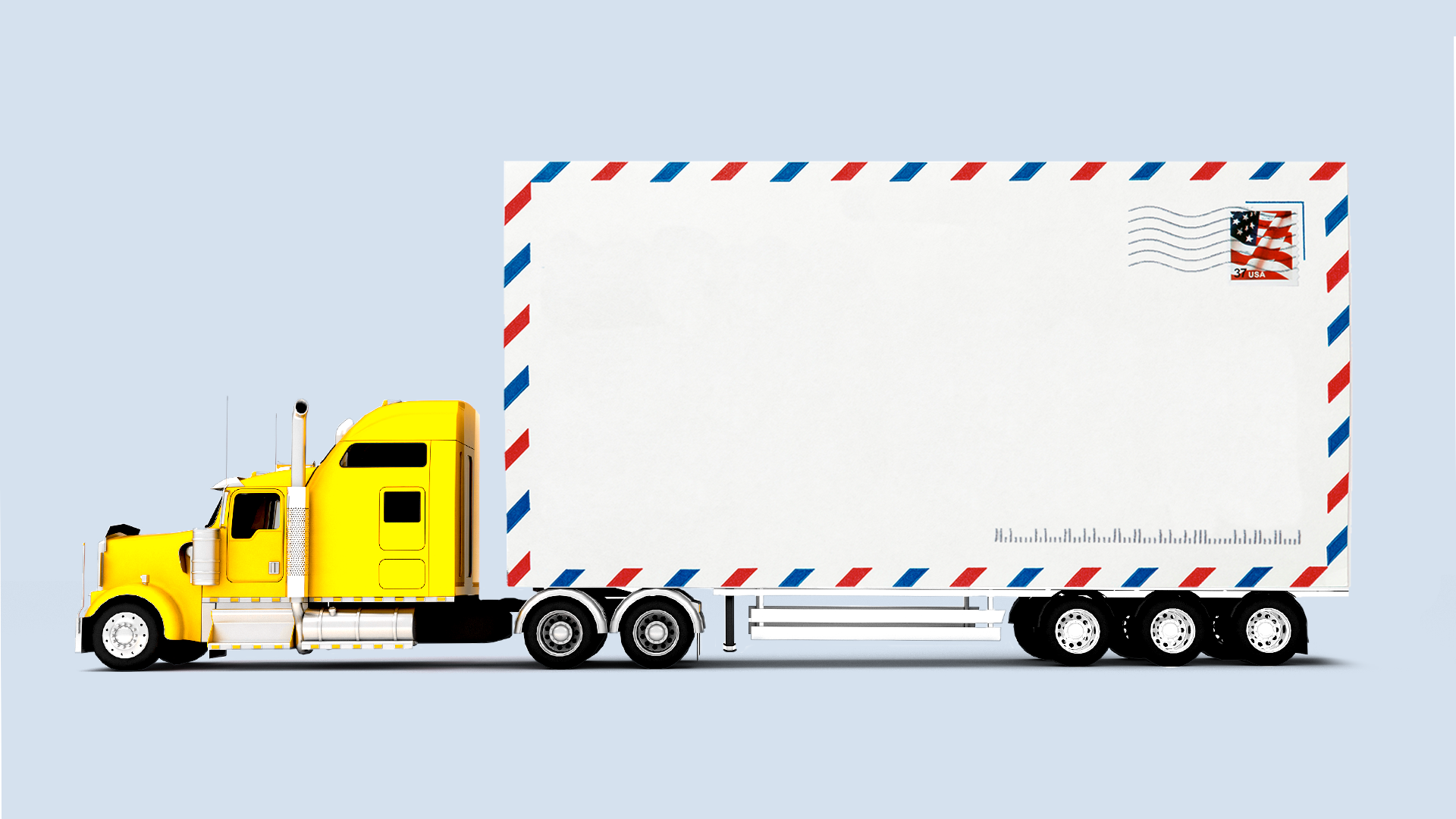 In a high-profile pilot along one of America's busiest freight corridors, the U.S. Postal Service is now testing autonomous trucks as a way to deliver mail more cheaply and efficiently.
Why it matters: Self-driving trucks are likely to be rolling down interstates before robotaxis are deployed in urban areas, not only because their driving task is simpler but because they could help solve an urgent shortage of truck drivers.
The 1,000-mile pilot, in partnership with AV developer TuSimple, is the first long-haul test of the technology.
Driving the news: Beginning yesterday, TuSimple's self-driving rigs started hauling USPS trailers between the postal service's mail distribution centers in Phoenix and Dallas.
The 2-week pilot will include 5 round trips along Interstates 10, 20 and 30 through Arizona, New Mexico and Texas, all of which have more lenient regulations.
The trucks will run 22 hours at a time with a safety engineer and driver on board to monitor vehicle performance and ensure public safety.
TuSimple expects the I-10 corridor, which accounts for the largest portion of inter-regional U.S. trade, will be a "sweet spot" for automated trucking, chief product officer Chuck Price tells Axios.
The big picture: The Postal Service lost $3.9 billion in 2018 — its 12th consecutive yearly loss — despite aggressive cost-cutting efforts. Its 5-year strategic plan includes stepping up the pace of innovation, including the use of AV technology.
USPS is investigating proposals for how AVs might be used to improve the safety and efficiency of its postal delivery trucks, for example.
The backdrop: TuSimple, based in San Diego and China, has plenty of competition in self-driving trucks. This includes Waymo, Tesla and at least a half dozen startups, plus incumbent giants like Daimler and Volvo.
But with $178 million raised to date at a recent $1 billion valuation and a handful of revenue-generating contracts in Arizona, it appears to be pulling ahead.
TuSimple currently has 30 trucks deployed in the U.S. and China, and will have 50 in its fleet by the end of June.
Its technology can be integrated into any manufacturer's truck. So far, it's working with Paccar, Navistar and diesel-engine maker Cummins.
The company claims a technology edge from a proprietary vision system that can see a kilometer ahead, farther than other driverless tech companies.
What to watch: The U.S. Department of Transportation has cleared a path for autonomous trucks in its AV 3.0 policy guidelines, in part by no longer assuming that a commercial truck driver is always a human or that a human is necessarily on board.
Go deeper: Read the full story.
2. Robots helping robots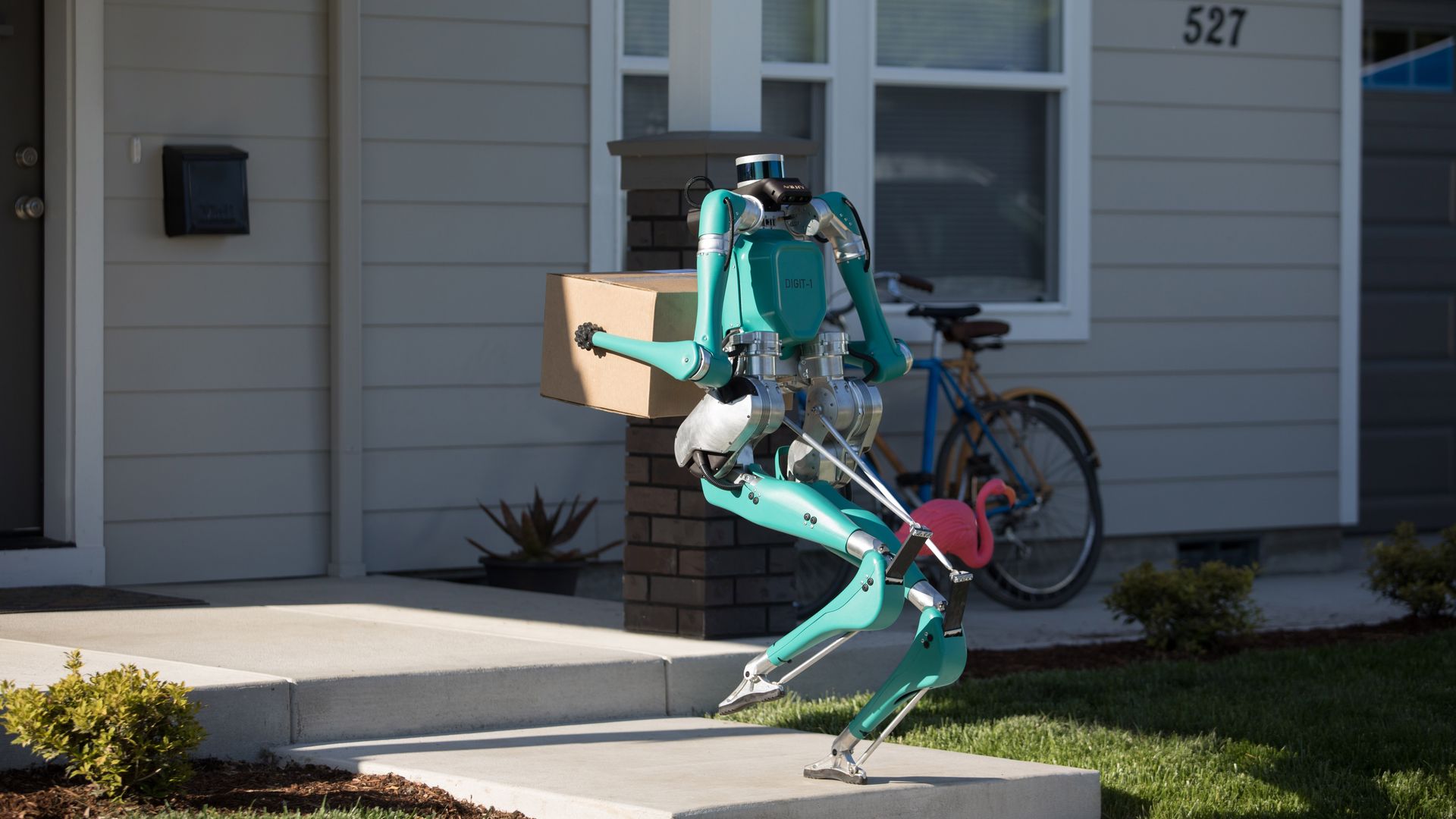 A self-driving delivery vehicle isn't particularly helpful if it doesn't complete the job. Ford says it's exploring the use of robots to carry packages from an AV to your doorstep.
What's happening: In a blog post today, Ford CTO Ken Washington explains the automaker's collaboration with Agility Robotics to figure out how deliveries by self-driving cars will occur in the future.
Digit, a two-legged robot, tightly folds itself up in the back of an AV until it's needed.
When the car arrives at its destination, Digit can be deployed to carry a package from the vehicle to the doorstep, going up and down stairs or across uneven terrain.
The AV can can share data with Digit such as the best pathway to the front door or how to get around an obstacle.
Quick take: For all the promise of AV delivery, the toughest part of the journey could be getting to your doorstep.
3. Delivery AVs and bots could pick up data, too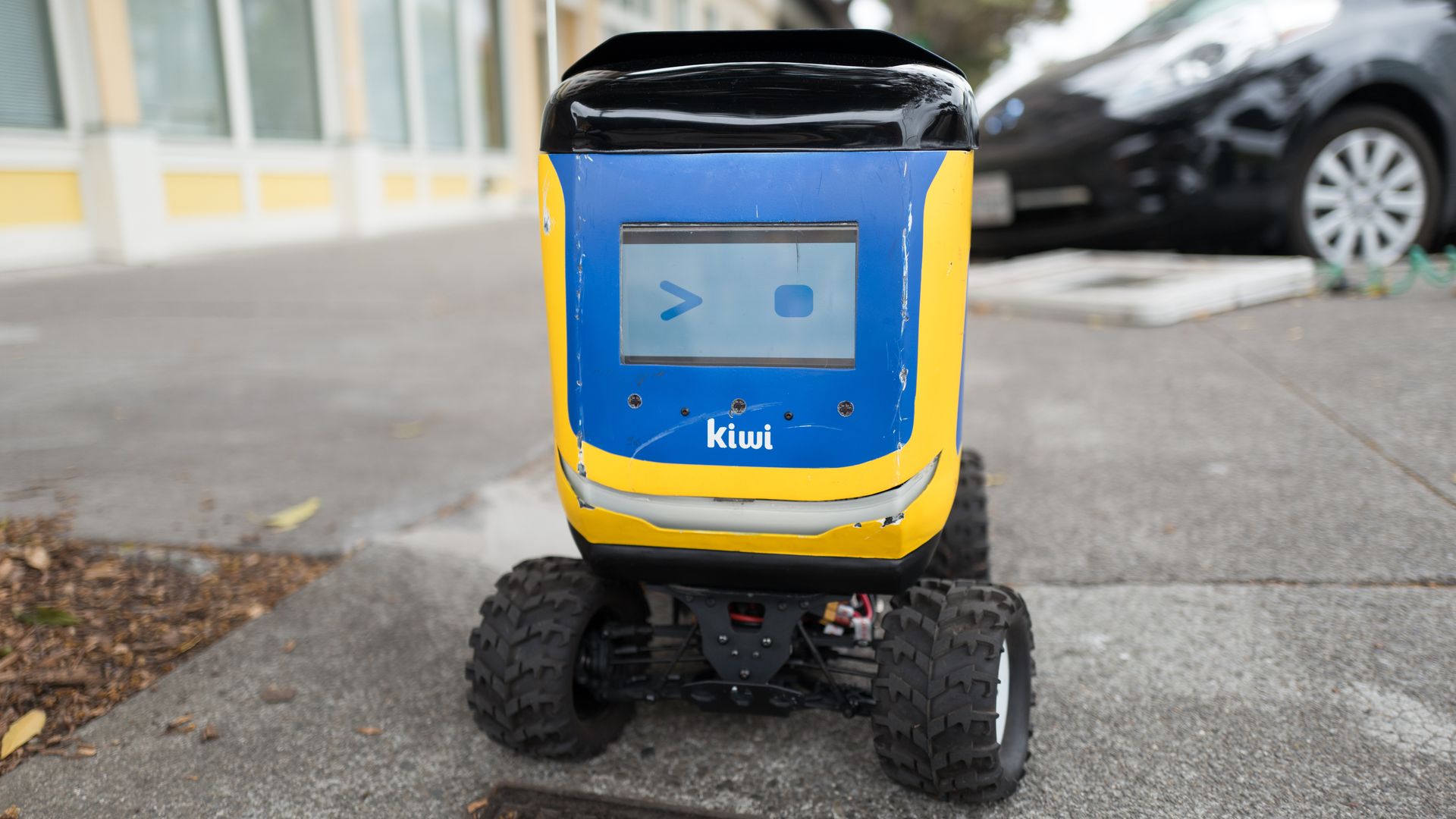 California's Department of Motor Vehicles is seeking public comment on whether to allow testing of lightweight delivery AVs, including small delivery bots, on public roads, Sudha Jamthe writes for Axios Expert Voices.
Why it matters: Smaller AVs and bots could cover last-mile and even last-meter delivery and possibly reduce the cost of delivering individual packages down to 4 to 7 cents. But the tech's biggest draw is the data it could collect on customer behavior by location.
What's happening: Companies are experimenting with different delivery bots for different purposes.
Last-mile delivery vehicles, roughly the size of passenger cars, travel on public roads, and would generally require customers to go to the curb to pick up deliveries from the vehicle.
Last-meter delivery bots, which are smaller, can travel on sidewalks and would deliver packages door to door.
Yes, but: These delivery systems could also collect far more data about a customer's location and residence than, say, Amazon's locker delivery program.
And they're designed to make delivery cheaper and more appealing, which could result in customers ordering more purchases via delivery, giving companies even more data about their buying habits.
Go deeper: Read the full post.
Jamthe is director of DriverlessWorldSchool and teaches AV business at Stanford Continuing Studies.
4. Driving the conversation
Taxi driver suicides: 'They were conned': How reckless loans devastated a generation of taxi drivers (Brian M. Rosenthal — NYT)
The big picture: A spate of recent suicides by New York taxi drivers has been blamed on competition from ride-hailing companies like Uber and Lyft.
Yes, but: The Times' investigation traces the crisis to a handful of predatory lenders who artificially drove up the price of taxi medallions, leading to the conclusion this likely would have happened without the new competition.
Scary rides: 1 in 6 Uber and Lyft cars have open safety recalls, a Consumer Reports' study suggests (Ryan Felton — Consumer Reports)
Why it matters: The consumer group checked the safety of the privately owned vehicles that are core to newly public ride-hailing companies' operations and found their rate of open recalls is about the same as all vehicles on the road.
But, but, but: As self-proclaimed tech companies, they can use vehicle identification numbers to identify and ban vehicles with open recalls from operating on their platforms, CR says.
Of note: If you want to search whether your own car has been recalled, it's easy to do so here.
Clean sheet: GM cars get new brains, nervous system for self-driving EV era (Joann Muller — Axios)
Why it matters: As cars become more advanced, their electrical systems are rapidly reaching their limits. GM's new digital vehicle platform, with 5 times more processing speed than today's systems, will power smarter EVs that can improve over time, similar to what Tesla is already doing.
5. 1 fun thing: "spidey senses" for cars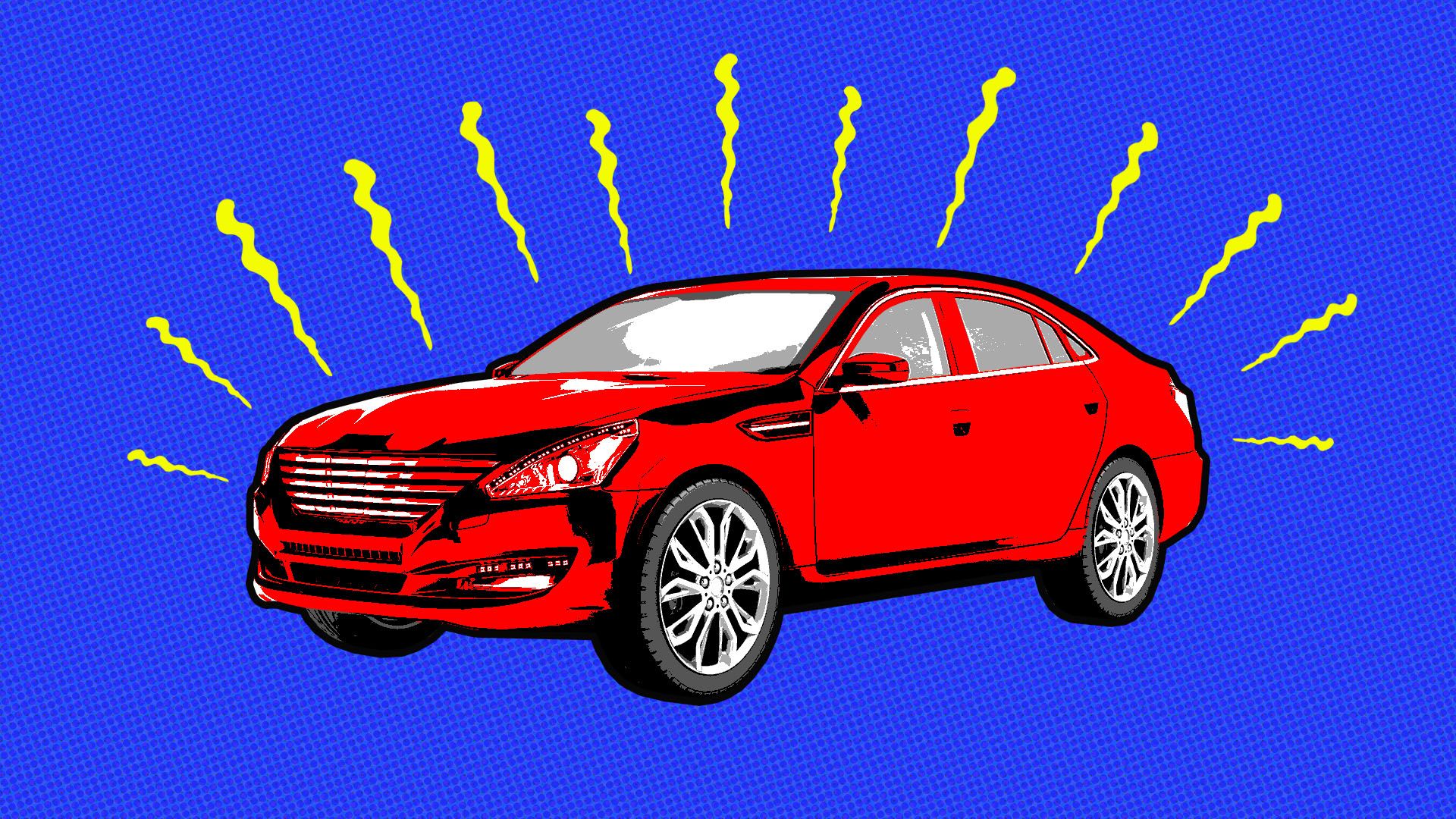 Spider-Man's "spidey senses" allow him to perceive danger in advance and react quickly. Real spiders have the same ability, using tiny, sensitive hairs on their legs that help them avoid predators.
What's new: Engineers at Purdue University have developed similar sensors that could be used in autonomous cars or drones, writes Michael Irving at New Atlas.
In nature, "mechanosensors" like those spider leg hairs focus only on the data the spider needs for survival. The same principle could be applied to a car, Purdue assistant professor Andres Arrieta tells Axios.
Arrieta says these "mechanosensors" could be strategically placed around an AV to help it detect obstacles and avoid them much faster — and using less computing power — than is currently possible.
How it works: "The trick to this is making the sensors out of a material that starts off stiff, but changes shape rapidly when an external force is applied to it," New Atlas writes.
"When its changed shape reaches a certain point, conductive particles inside the material come together and allow electricity to flow through. That in turn sends a signal to the rest of the machine, which responds as needed," the article states.
My thought bubble: I hate spiders, but when it comes to AVs, the more sensors the better.
Editor's note: Story no. 3 has been corrected to reflect that the California DMV's proposed regulations address only autonomous delivery vehicles under 10,001 pounds that will use public roads (not sidewalk delivery bots).