Axios @Work
March 31, 2021
Welcome back to @Work. This is the final edition of this newsletter.
I've loved corresponding with so many of you about how your jobs and your lives are changing, and I look forward to continuing the conversation because we're evolving and expanding to become something bigger and better on a daily basis.
My coverage of workplace trends will continue on Axios.com in the interim — you can catch those stories by following me on Twitter @erica_pandey. And of course, you can reach me at

[email protected]

.
I've got 1,061 words for you today, or a 4-minute read. First up...
1 big thing: What's next at work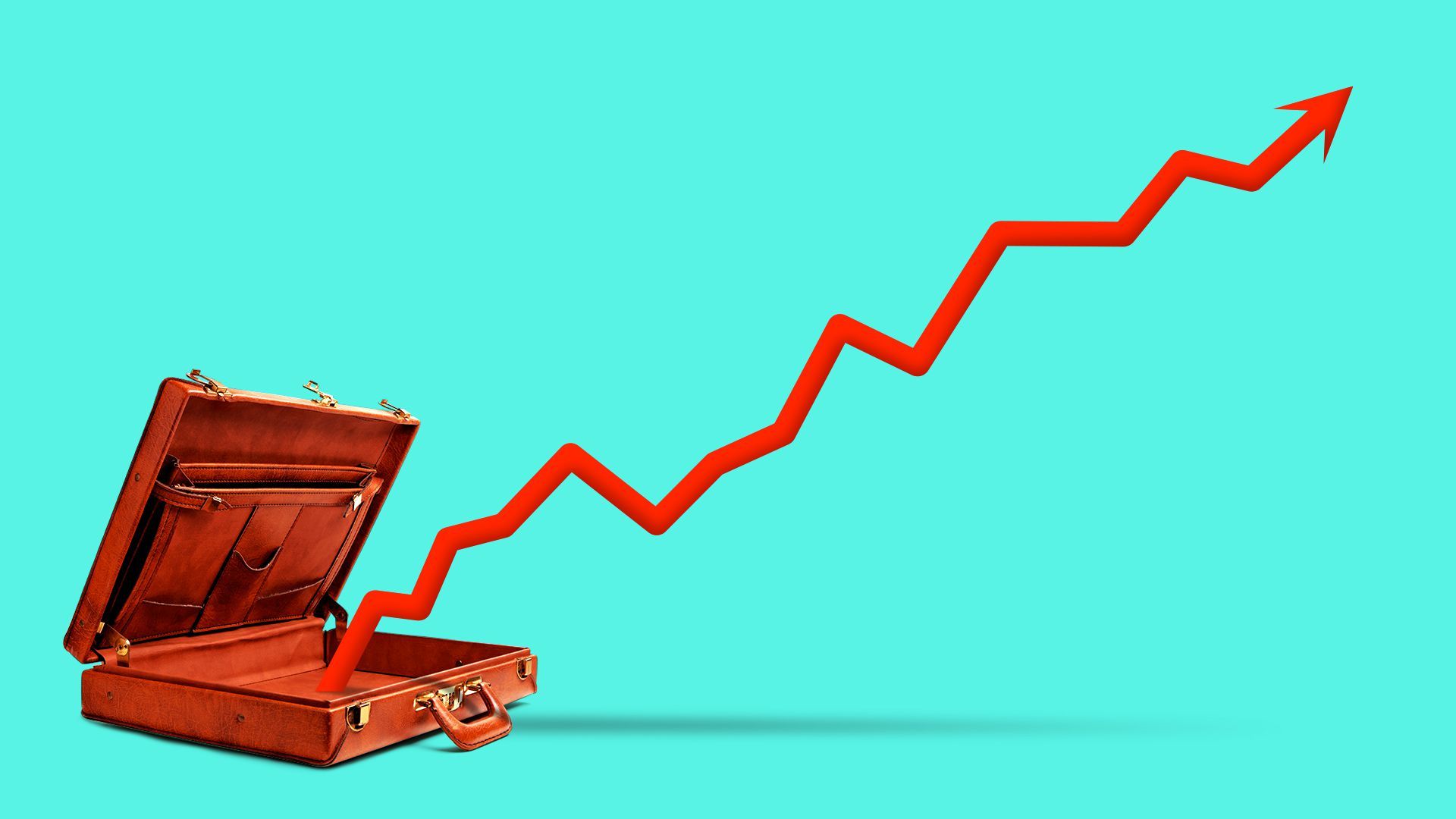 We've recapped how the pandemic upended the working world, but what's coming next?
The big picture: As vaccinations send people back to work and the world comes out of pandemic hibernation, these are the biggest trends to watch for in the workplace this year, according to experts.
Most workers who have been telecommuting will continue to work from home at least one day a week.
69% of employers expect at least half of their employees to work remotely some of the time even after a full vaccination program is in place, according to new research from Gartner.
"People are going to be demanding the option to work from home," says Richard Reeves of the Brookings Institution's Economic Studies program. And employers who don't offer it may have a hard time recruiting.
Firms are already hiring C-suite and director-level people just to oversee telework, and they'll continue to do so.
We'll see a spike in turnover when the pandemic is behind us.
Employees have been reluctant to switch employers during the pandemic," says Brian Kropp, head of Gartner's human resources practice. "They were concerned about being the last person hired if the company started to struggle. Many employees were also hesitant to change employers over fear of joining an all-virtual team."
But now we're almost out of the woods, and "given the pent-up turnover demand and the improving economy, employers should expect to see an increase in turnover," Kropp says.
Offices will change — and shrink.
Several companies, such as Target, Nordstrom and Salesforce, are giving up a share of office space to account for increased telework.
And even if we do go back, shared snack areas, office happy hours and company gyms won't be up and running for a long time.
We'll have shorter and fewer meetings.
Pandemic-era telework has resulted in a great deal of digital burnout, with people around the world spending 148% more time in meetings in February 2021 than in February 2020, per an analysis of aggregate Microsoft Teams data.
Look for companies to learn from this burnout and cut down on the number and length of meetings.
Reskilling is the next big frontier of corporate social responsibility.
17 million U.S. workers will need to find new occupations as a result of job displacement during the pandemic, per McKinsey. Teaching these people the skills they need to get new jobs is becoming an essential part of the recovery — and a hot corporate social responsibility initiative for some of America's biggest companies.
Amazon announced an effort to provide free cloud computing skills to 29 million people by 2025. Microsoft and LinkedIn have provided digital skills training to 30 million people throughout the pandemic.
The return to work will be gendered.
Surveys at firms across the country show that men are likely to return to offices sooner and for more days than women, says Kropp.
That could worsen the gender wage gap because "64% of managers believe that office workers are higher performers than remote workers, and in turn are likely to give in-office workers a higher raise than those who work from home," he says.
The bottom line: The pandemic has been an accelerant for every work trend — good and bad.
And while companies should embrace the parts of telecommuting that make work more inclusive for workers with special circumstances, such as disabilities or child care, they should also be aware of the inequities in pay or workplace culture that remote work exacerbates.
2. The climate impact of remote work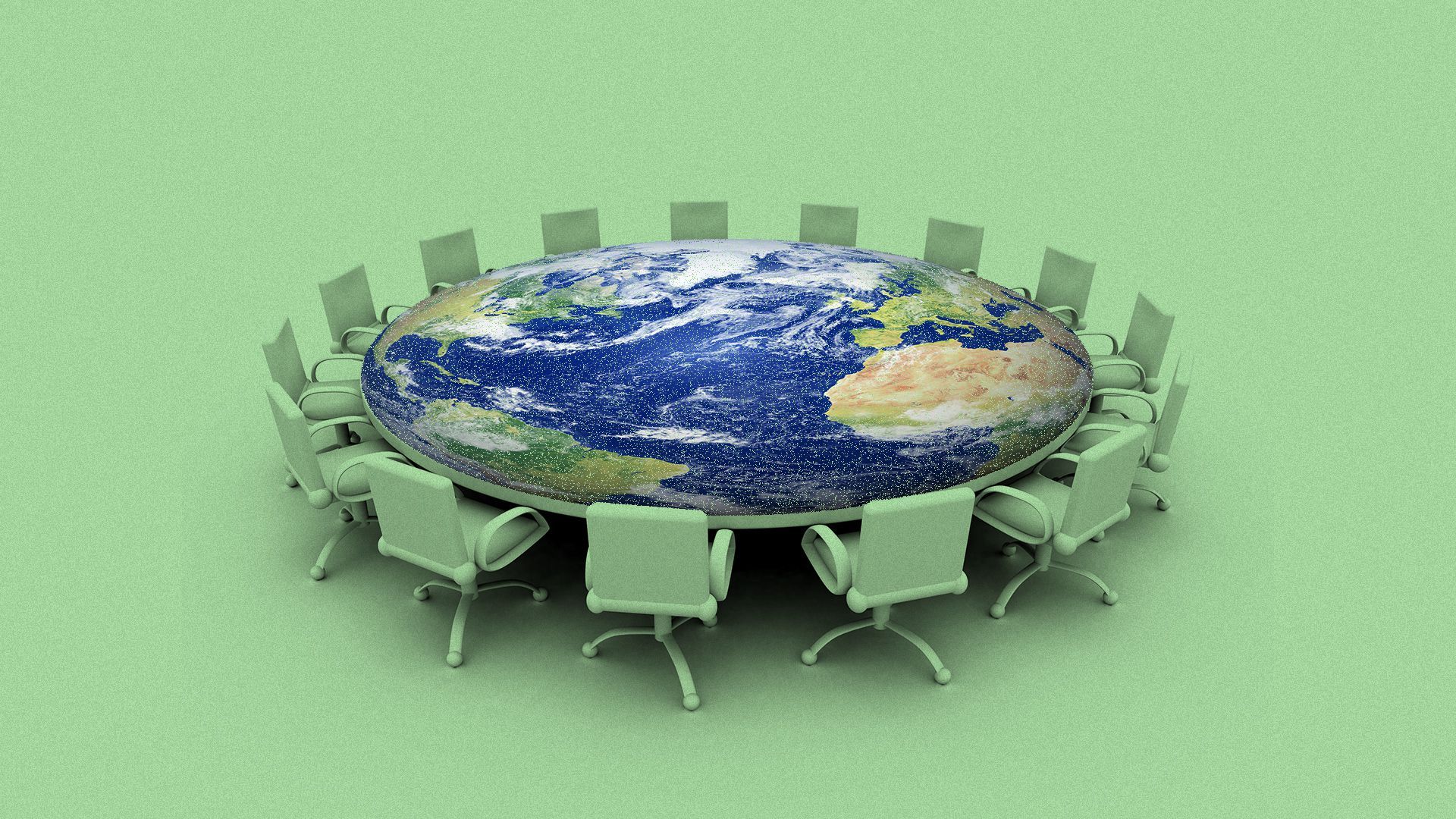 An online tool from data analytics startup Watershed enables users to input various kinds of info to help gauge whether changing remote work policies will increase or decrease emissions — and by approximately how much, Axios' energy correspondent Ben Geman writes.
How it works: Right now the public calculator from Watershed — whose clients include Shopify and Stripe — models five regions: San Francisco, New York City, Houston, London and Toronto.
The calculator arrives as many companies and organizations are giving employees the option to continue remote work — partially or completely — after the pandemic.
Inputs for current policy and projected policy changes include:
The number of employees and how many days per week they'll be in the office.
Employees' living patterns (suburbs vs. urban cores) and commuting methods — cars, trains, or biking and walking.
The size of offices, which matters for their use of power and natural gas.
Whether the company buys clean power and gives that option for remote workers.
3. Worthy of your time
The small business apocalypse continues (Axios)
Half of all women-owned businesses and nearly 6 in 10 small businesses owned by people of color (59%) are "highly concerned" about keeping their firms solvent through the end of the second quarter, a new survey from Alignable shows.
As mask mandates are repealed, retail workers feel vulnerable — again (New York Times)
For workers at grocery and big-box stores, repealed mask mandates mean an increased risk of coronavirus infection. And it's another punch in the gut after scores of such workers were left out of vaccine qualification lists even as essential workers, the Times' Sapna Maheshwari writes.
Telework leads to increased workplace harassment (NPR)
Women and people of color are reporting more instances of harassment — such as hostility, exclusion, or requests for dates or sex — in this new era of remote work, according to a new survey from Project Include, a group headed by Silicon Valley's Ellen Pao.
Some drivers of this troubling trend could be people working longer hours, the lines between work and home getting blurred, and people having more one-on-one interactions without other colleagues present as witnesses.
Job descriptions go out the window amid the pandemic (Wall Street Journal)
"White-collar and front-line workers found themselves taking on unexpected duties beyond their original job description as the coronavirus abruptly transformed businesses and stretched many workforces thin," writes the Journal's Krithika Varagur.
4. 1 💤 thing: Kicking the nap habit
We're more than a year into working from home, and many of us have formed new habits that might not fly when we return to the office.
One of those is the midday nap, the Wall Street Journal's Ray Smith writes.
Still, some people have figured out ways to keep the naps going.
Smith spoke with Ryan Tibbens, a high school teacher, who didn't compromise on his naps even after returning to in-person school.
He put a cot in a backroom at the school and uses it to nap for 12 minutes during his 30-minute lunch break.
There's a bit of risk, of course. Tibbens told Smith, "I'm still a little paranoid that somebody's going to walk in and not know what's going on, and be like, 'Who's this hobo in the back?'"