Axios Atlanta
July 27, 2022
It's 🐪 day. How do you plan to conquer it?
⛱ Today's weather: Mostly sunny, with a high near 92.
Situational awareness: The CEO of Bryan County-based Daniel Defense will be on a panel testifying before the House Oversight Committee this morning about gun manufacturers' role in the country's gun violence.
Daniel Defense produced the weapon used by the Uvalde shooter, and its marketing techniques have come under scrutiny.
Today's newsletter is 948 words — a 3.5-minute read.
1 big thing: The shame of the Atlanta pen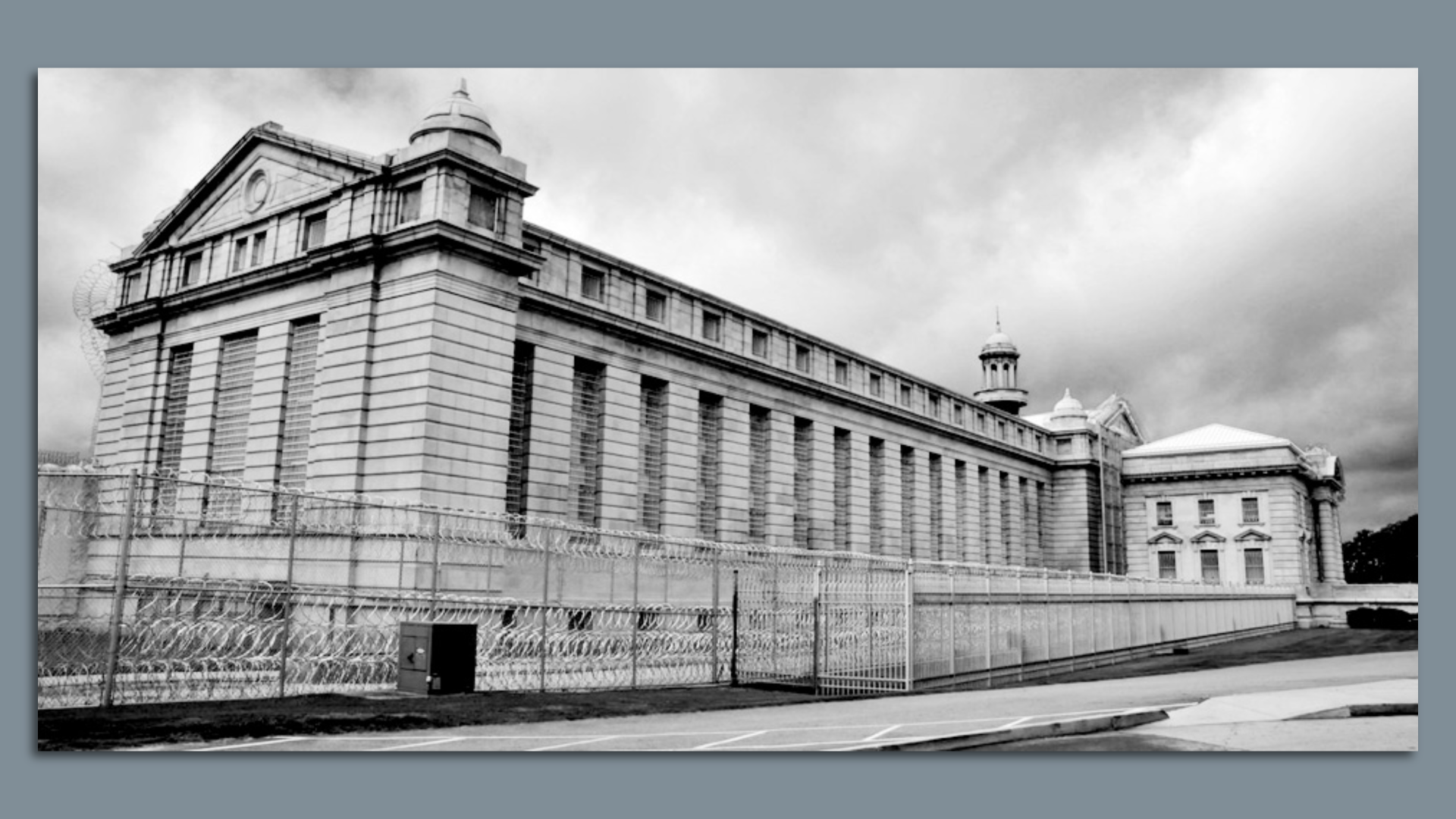 For nearly a decade, the Atlanta Penitentiary was a hotbed of corruption, misconduct and dysfunction where rats and roaches roamed, drugs and cell phones flowed freely, and poorly trained guards were slow to respond to inmate suicide attempts.
That's according to testimony yesterday from former penitentiary staff and a legal advocate to a subcommittee chaired by Sen. Jon Ossoff, along with interviews and internal investigations reviewed by the panel.
Driving the news: Ossoff and Sen. Ron Johnson, a Wisconsin Republican, are calling for changes at the sprawling Federal Bureau of Prisons — a "diseased bureaucracy," in the words of the Georgia senator — after a 10-month bipartisan probe into the agency's operations of the southeast Atlanta lock-up.
Details: Internal audits and investigations dating to 2014 found guards skipping cell checks, inoperable surveillance cameras and officials failing to provide suicide prevention training, the senator said.
Erika Ramirez, the former chief psychologist at the prison, and Terri Whitehead, a former jail administrator, said employees dubbed the tolerance of the conditions — physical fights among staff, blatant drug use, and threats to employees — "the Atlanta Way."
The other side: Michael Carvajal, who became director of the Bureau of Prisons in February 2020, said he became aware of the issues this past summer. He reassigned the prison's leadership, reduced the inmate population and ordered repairs to the facility.
Carvajal, who in January announced his plans to retire, attributed the long-running issues to leadership not holding lower-level staff accountable. "The breakdown here is people consciously chose not to follow the [policies]," he said.
The last word: "We're talking about human beings in the custody of the U.S. government," Ossoff said. "It's a disgrace. And for the answer to be 'other people deal with that, I got the report, I don't remember,' it's completely unacceptable."
2. New lawsuit challenges Georgia abortion ban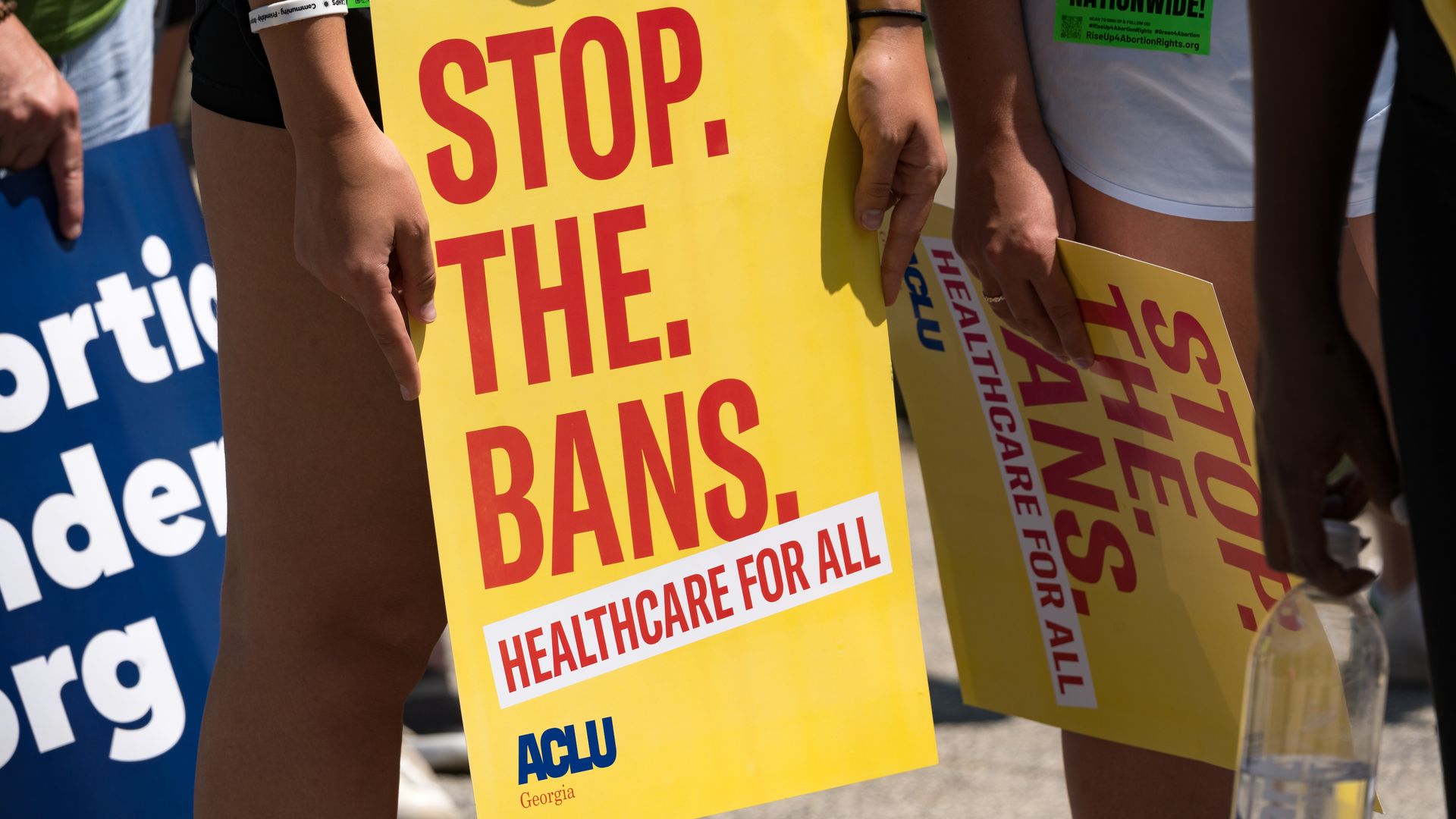 Health care providers and abortion rights advocates are suing the state of Georgia to challenge its six-week abortion ban, Axios' Oriana Gonzalez reports.
Driving the news: Three weeks after Roe v. Wade was overturned, a federal judge lifted an injunction on the six-week ban, allowing it to become enforceable immediately.
State of play: The providers in the case argue that the law violates Georgians' state constitutional right to privacy.
Additionally, they argue that the law gives district attorneys the authority to access "the medical files of anyone who seeks an abortion, without a subpoena."
Plaintiffs including the ACLU of Georgia are asking the court to block the law while the legal challenge proceeds.
The other side: The office of Georgia Attorney General Chris Carr is reviewing the lawsuit, a spokesperson said in a statement.
Go deeper: What could be next in the legal fight for abortion in Georgia.
3. County tells churches they can't host homeschooled students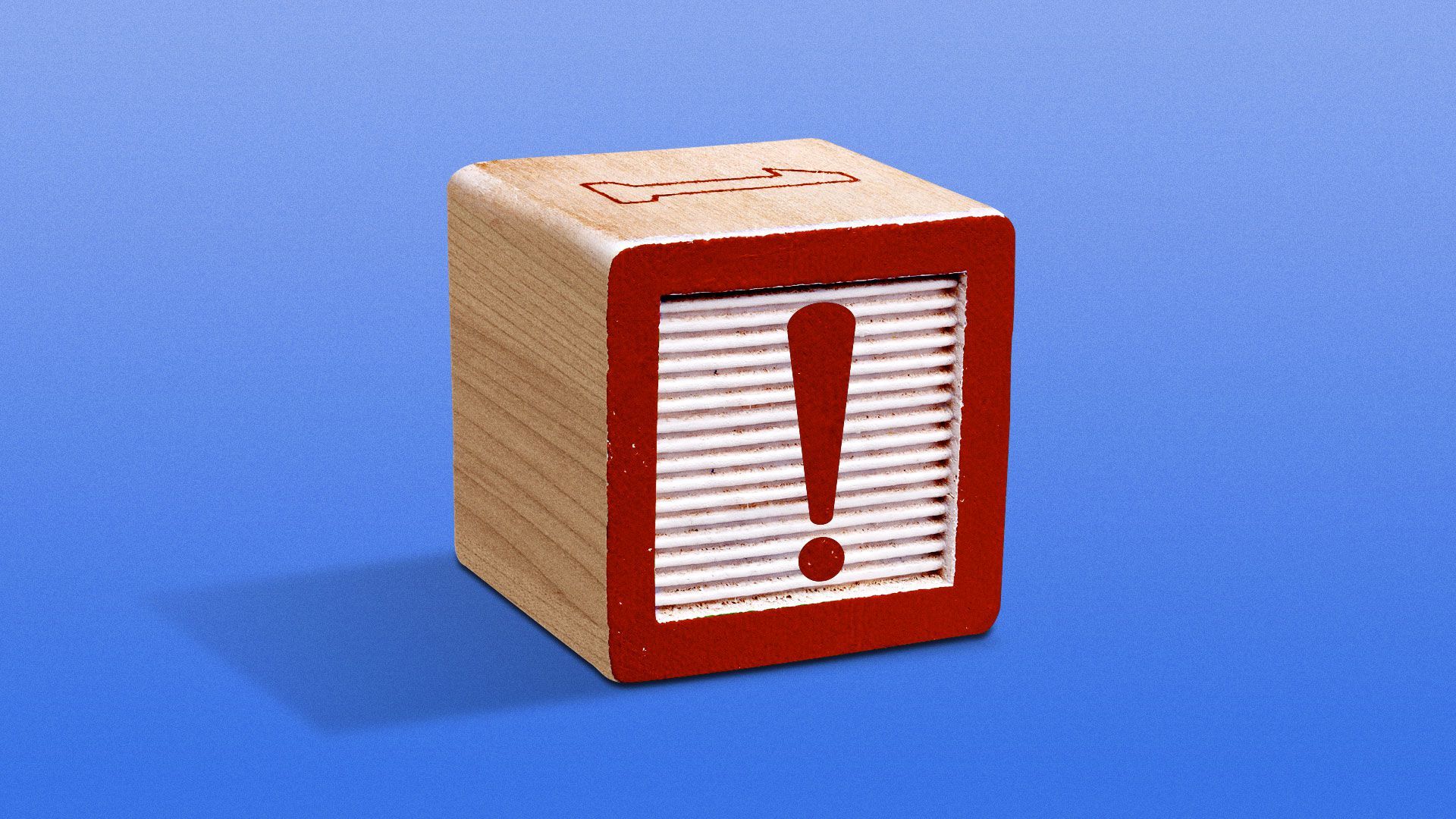 Two Cobb County churches have been notified that they are violating building codes by hosting homeschooled students who use hybrid education programs.
Driving the news: In a July 14 letter, Fire Marshal Nicholas Dawe informed Macland Baptist Church in Powder Springs and Christ Episcopal Church in Kennesaw that his office received complaints that they were hosting "private schools without a certificate of occupancy."
The letter told the churches they need to obtain an education certificate of occupancy if they want to continue hosting students.
What they're saying: Cobb County spokesperson Ross Cavitt, who said no citations were issued, told Axios that the Fire Marshal's Office is working with the churches to help them get into compliance.
"I think any reasonable parent in the county would want their children learning in a facility that has basic life [and] safety equipment like fire sprinklers," he said.
The other side: The Institute for Justice, which advocates for educational choice, sent Cobb County a letter stating that its actions violate a 2021 law that prohibits governments from restricting "learning pods," where parents group their children together to learn under the supervision of an instructor or tutor.
Learning pods, which became popular during the pandemic, are exempt from state and local building and fire codes that apply to educational and childcare buildings, according to the legislation.
Churches already have to get similar certificates to host services and Sunday school, so "it doesn't make sense" to have extra regulations, Suranjan Sen, an attorney at the Institute for Justice, told Axios.
"If it's safe enough for Sunday school, then it's safe enough for Monday school," he said.
4. A poll, hot off the presses
Sen. Raphael Warnock (D-Ga.) appears to be in a statistical tie with Republican nominee Herschel Walker, while Republican Gov. Brian Kemp holds a slight lead over Democratic rival Stacey Abrams.
Why it matters: This is the newspaper's first poll since the swing state's May primary, conducted four months away from its widely anticipated 2022 elections.
By the numbers: Warnock has a three-point lead over Walker but the results remain just within the poll's 3.3% margin of error. Meanwhile, Kemp holds a five-point lead over Abrams, with 48% to Abrams' 43%.
In the senate contest, 8% were undecided; 7% were unsure in the governor's race.
Of note: No candidates in the AJC poll captured the more than 50% required to avoid a runoff in Georgia. Both marquee races have third-party candidates.
Zoom in: The results showed Abrams with 80% support among Black voters in Georgia, and Warnock with about 85%. Kemp pulled in 10% of Black voters' support, to Walker's 9%.
Both Democrats are also polling better with women voters. But Walker is trailing Kemp, with 36% of his supporters identifying as female compared with 41% of Kemp's supporters.
5. One photo to go: Whatever you do, do it with style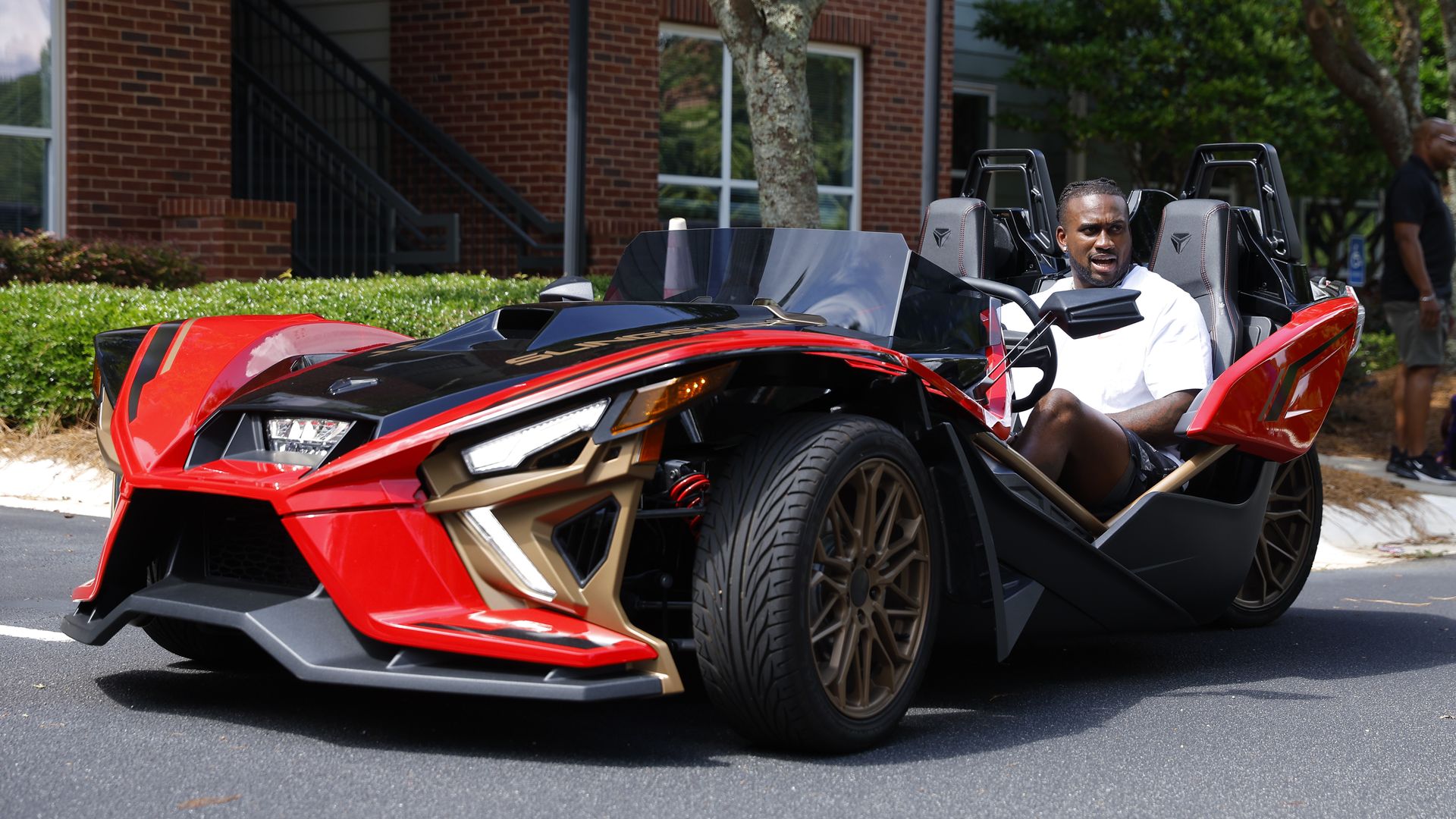 Atlanta Falcons players reported yesterday to the team's Flowery Branch facility to begin training camp.
But we don't think anyone arrived quite like running back Cordarrelle Patterson.