https://www.axios.com/newsletters/axios-am-fd5b0192-be36-4815-9561-09d745c9b54b.html?chunk=0#story0
1. 1 big thing: Mueller's muscle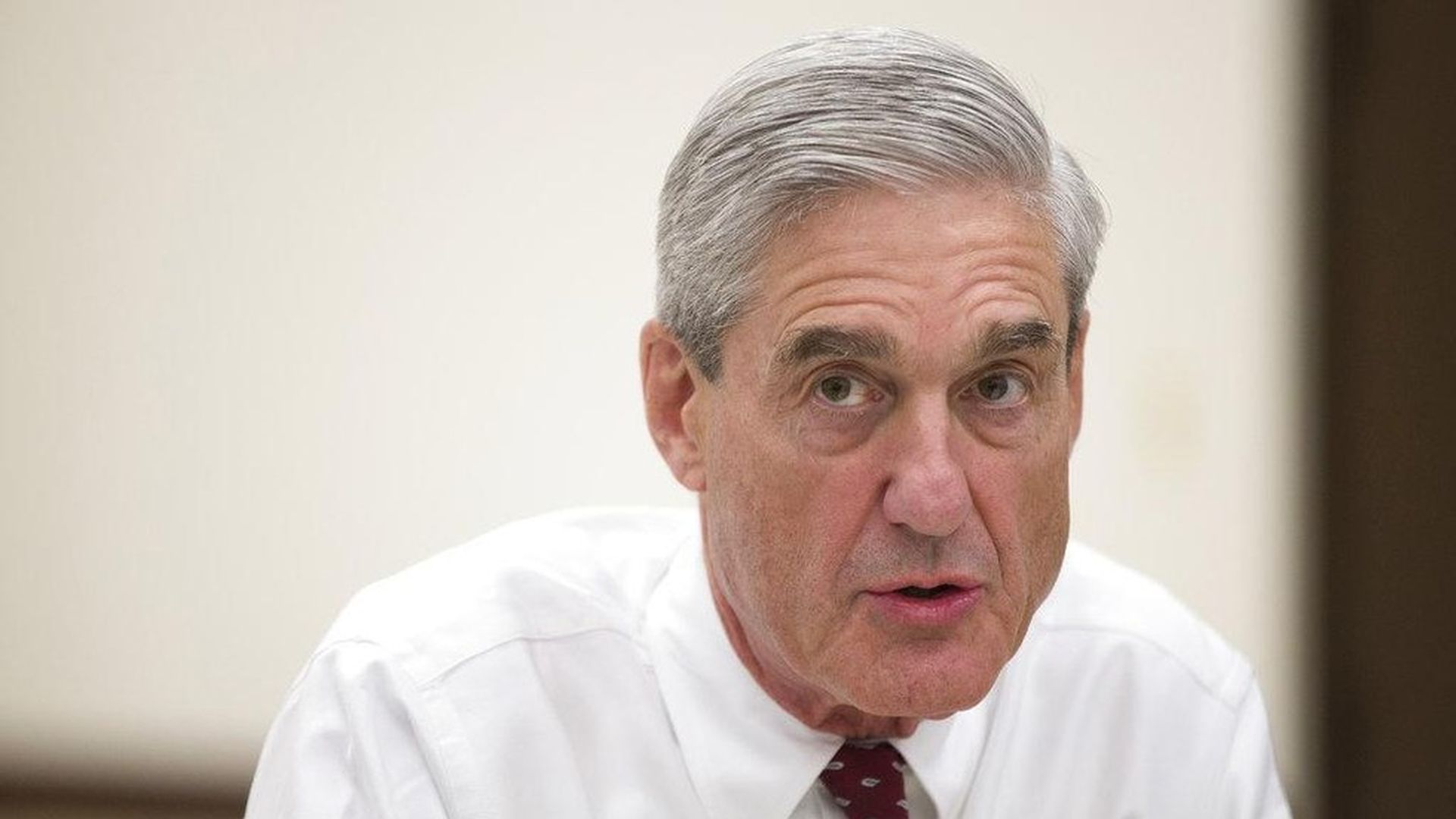 "The Worst Thing That Happened to Donald Trump this Week" — Paul Rosenzweig, on the Lawfare blog: Special counsel "Robert Mueller has hired Michael Dreeben, on a part-time basis, to help with his investigation. Dreeben, a deputy in the Office of the Solicitor General, has argued more than 100 cases before the Supreme Court. His specialty has, for the last 20 years, been criminal matters and he has an encyclopedic knowledge of criminal law."
Be smart: Mueller is amassing the talent arsenal you'd build to bring criminal charges.
Coming attractions ... Attorney General Jeff Sessions, who was going to be pummeled with Russia questions during what was supposed to be a budget hearing before a Senate subcommittee on Tuesday, switched yesterday and will appear Tuesday before the Senate Intelligence Committee.
Deputy Attorney General Rod Rosentein will take his place answering appropriations questions. See Sessions' letter to the Intelligence Committee.
AP: "The House intelligence committee sent a letter Friday asking White House counsel Don McGahn whether any tape recordings or memos of Comey's conversations with the president exist now or had existed in the past."
"The committee also sent a letter to Comey asking for any notes or memos in his possession about the discussions he had with Trump before being abruptly fired last month. The committee is seeking the materials by June 23."
The takeaway: All these moves show the Russia probe will remain constantly in Washington's forefront.
https://www.axios.com/newsletters/axios-am-fd5b0192-be36-4815-9561-09d745c9b54b.html?chunk=1#story1
2. Astonishing item
"Trump's son seems to confirm Comey's account of the president's comments on the Flynn investigation," by WashPost's Jenna Johnson:
"Donald Trump Jr. — the president's eldest son — seemed to confirm Comey's version of events in a Saturday interview on Fox News as he tried to emphasize the fact that his father did not directly order Comey to stop investigating Flynn."
Trump Jr.: "When he tells you to do something, guess what? There's no ambiguity in it, there's no, 'Hey, I'm hoping' ... You and I are friends: 'Hey, I hope this happens, but you've got to do your job.' That's what he told Comey. And for this guy as a politician to then go back and write a memo: 'Oh, I felt threatened.' He felt so threatened — but he didn't do anything."
"Trump also said that Comey's testimony 'vindicated' the president and that everything in it was 'basically ridiculous.'"
What the White House wants to be asked about ... "Ivanka Trump back in the spotlight for workforce development week," by CNN's Betsy Klein: "The first daughter and presidential adviser will join her father at a series of events from Tuesday to Thursday to highlight administration initiatives on vocational training and apprenticeships as well as legislative priorities like college affordability."
"The White House's 'workforce development week' follows a thematic focus this past week on infrastructure."
https://www.axios.com/newsletters/axios-am-fd5b0192-be36-4815-9561-09d745c9b54b.html?chunk=2#story2
3. The talk of tech
Happening today ... "Uber Board to Discuss CEO Travis Kalanick's Possible Leave of Absence," by the Wall Street Journal's Greg Bensinger:
"Kalanick will discuss taking a possible leave of absence when the board of directors ... meets [this] morning."
"It was uncertain whether Mr. Kalanick would ultimately take the leave or whether the board would approve of such a measure, which would require finding a temporary replacement in short order."
"Also on the agenda when the seven-person board convenes is a vote on a series of recommendations from a report prepared by former U.S. Attorney General Eric Holder regarding its workplace."
Kalanick "developed a reputation for sharp elbows, a relentless work ethic and a willingness to push the limits of legality to achieve success."
"Kalanick is also facing a personal crisis. His mother died late last month in a boating accident that also left his father seriously injured. He has been spending time with his father in the Los Angeles area."
Why it matters: "Kalanick has been the face of Uber amid its ascent to the world's most valuable private company, pegged by investors at $68 billion."
https://www.axios.com/newsletters/axios-am-fd5b0192-be36-4815-9561-09d745c9b54b.html?chunk=3#story3
Bonus: Tweet du jour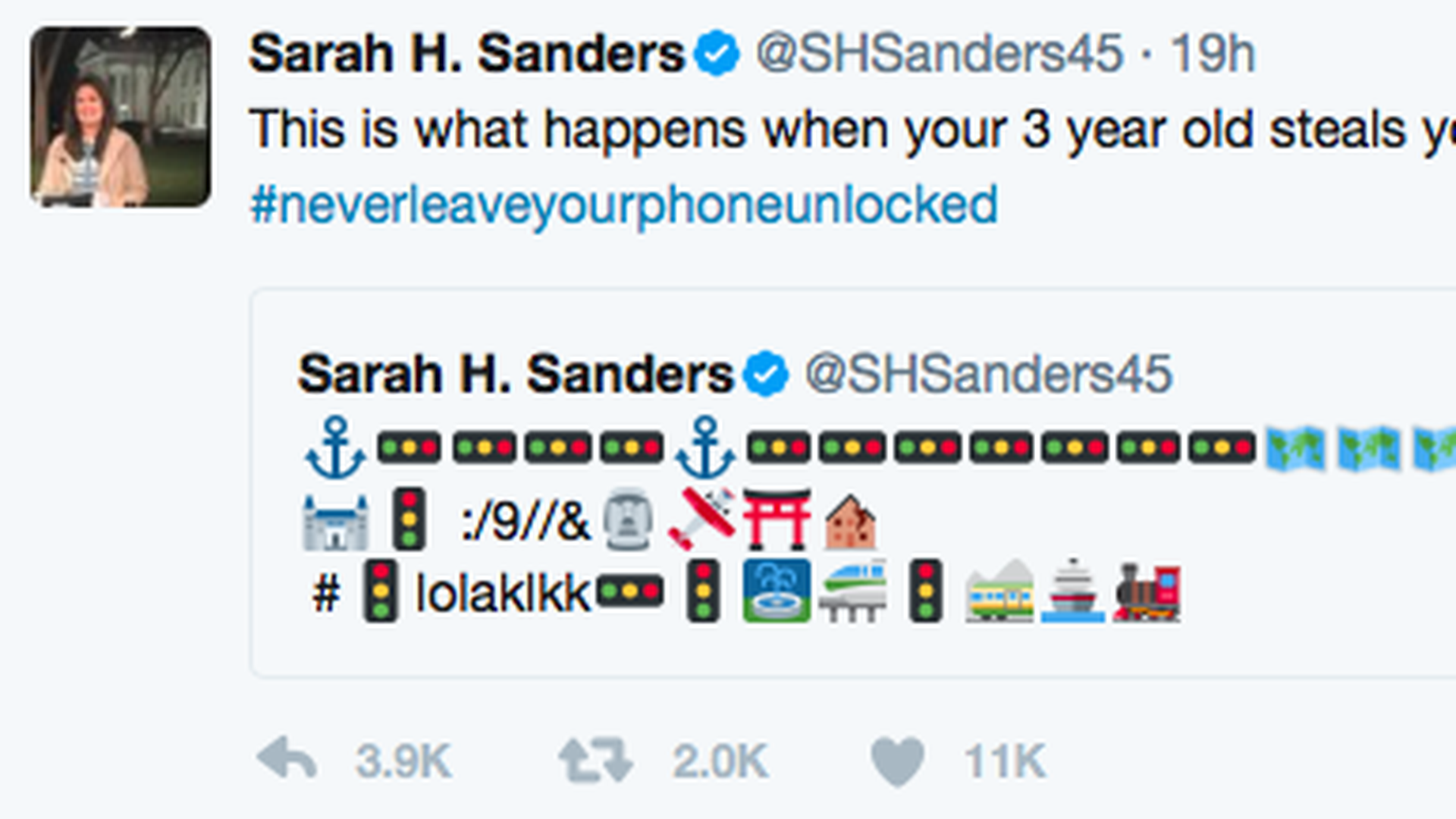 From the White House principal deputy press secretary, daughter of Mike Huckabee ...
https://www.axios.com/newsletters/axios-am-fd5b0192-be36-4815-9561-09d745c9b54b.html?chunk=4#story4
4. Living history: The global political disruption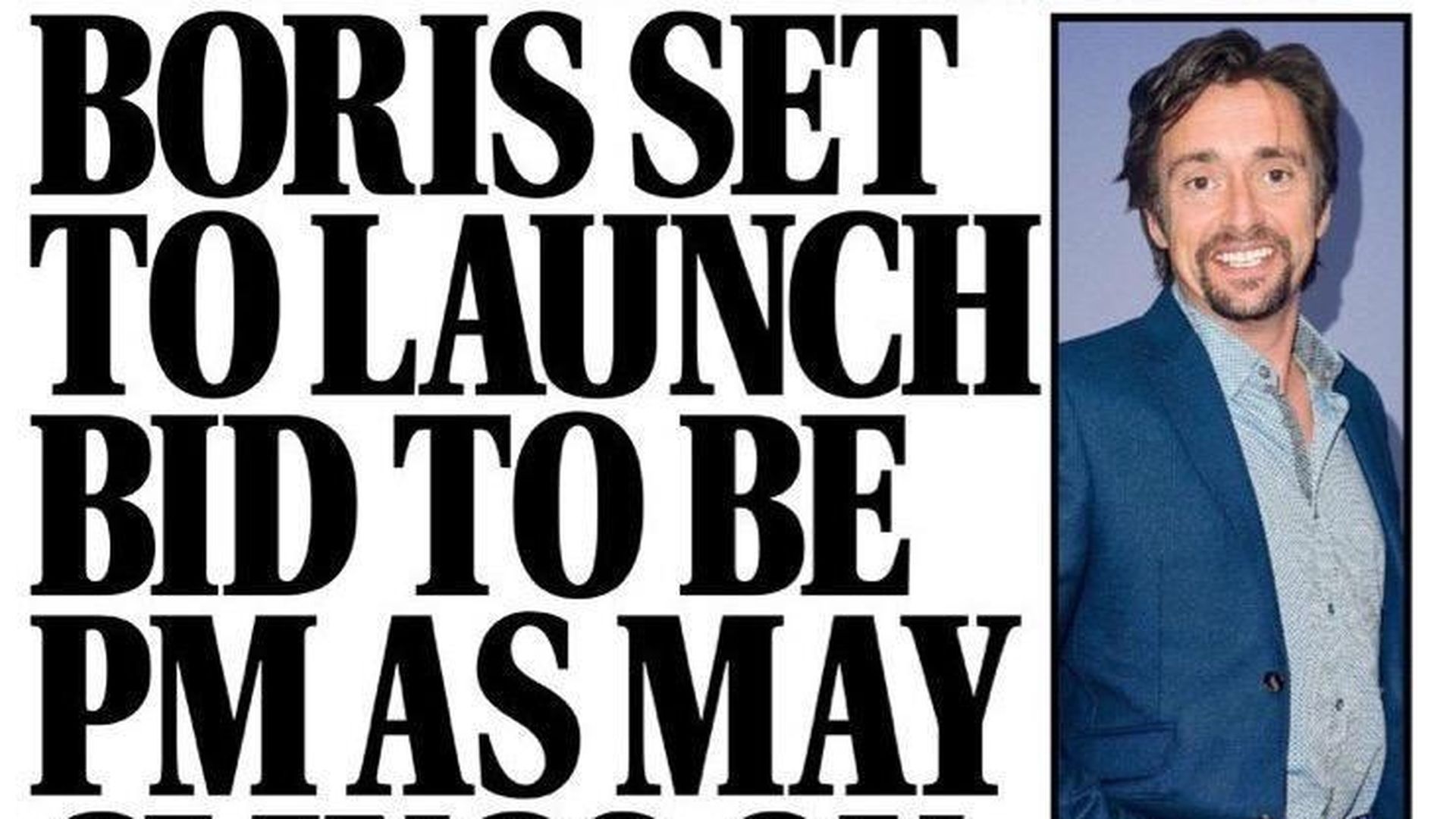 "Uncertainty, More Than Populism, Is New Normal in Western Politics" "The Interpreter" column in the N.Y. Times, by Max Fisher and Amanda Taub:
"Theresa May, Britain's prime minister, has joined a long line of politicians who have gambled that they understood the populist wave overtaking Western politics and lost."
"Thursday's election capped a year in which the latest theory of politics in the populist era perpetually seemed to prove incorrect, as did many predictions of election outcomes."
"Some surprises have bolstered establishments, underscoring that the only certainty is uncertainty."
"Political establishments, which have their own stubborn subcultures, have held on to conventional wisdom even as it has led them astray."
The mega-takeaway: "Parties are weakening, but polarization is strengthening. Voters increasingly see themselves as voting against the party or person they dislike, rather than for one they do like."
https://www.axios.com/newsletters/axios-am-fd5b0192-be36-4815-9561-09d745c9b54b.html?chunk=5#story5
5. Tracking power
Axios scoop ... "Fannie Mae exec to be nominated Treasury Deputy Secretary," by Jonathan Swan and Alexi McCammond:
Fannie Mae's General Counsel Brian Brooks will be appointed Deputy Secretary of the Treasury Department, according to three sources with direct knowledge. He previously worked with Treasury Sec. Steve Mnuchin at OneWest, which became the largest bank in Southern California after the 2008 economic collapse.
Why this matters: Deputy Secretary is a pivotal role in the Treasury Department, and Wall Street has been keeping a close eye on the vacancy. Brooks will be expected to play a driving role in tax reform and the other major agenda items. Two sources say that Mnuchin wanted a loyalist in this key position.
https://www.axios.com/newsletters/axios-am-fd5b0192-be36-4815-9561-09d745c9b54b.html?chunk=6#story6
6. 1 helpful thing