https://www.axios.com/newsletters/axios-am-fc56bae0-8c41-432f-aa97-e4dc8730c07b.html?chunk=0#story0
1 big thing: Overnight horror on Vegas strip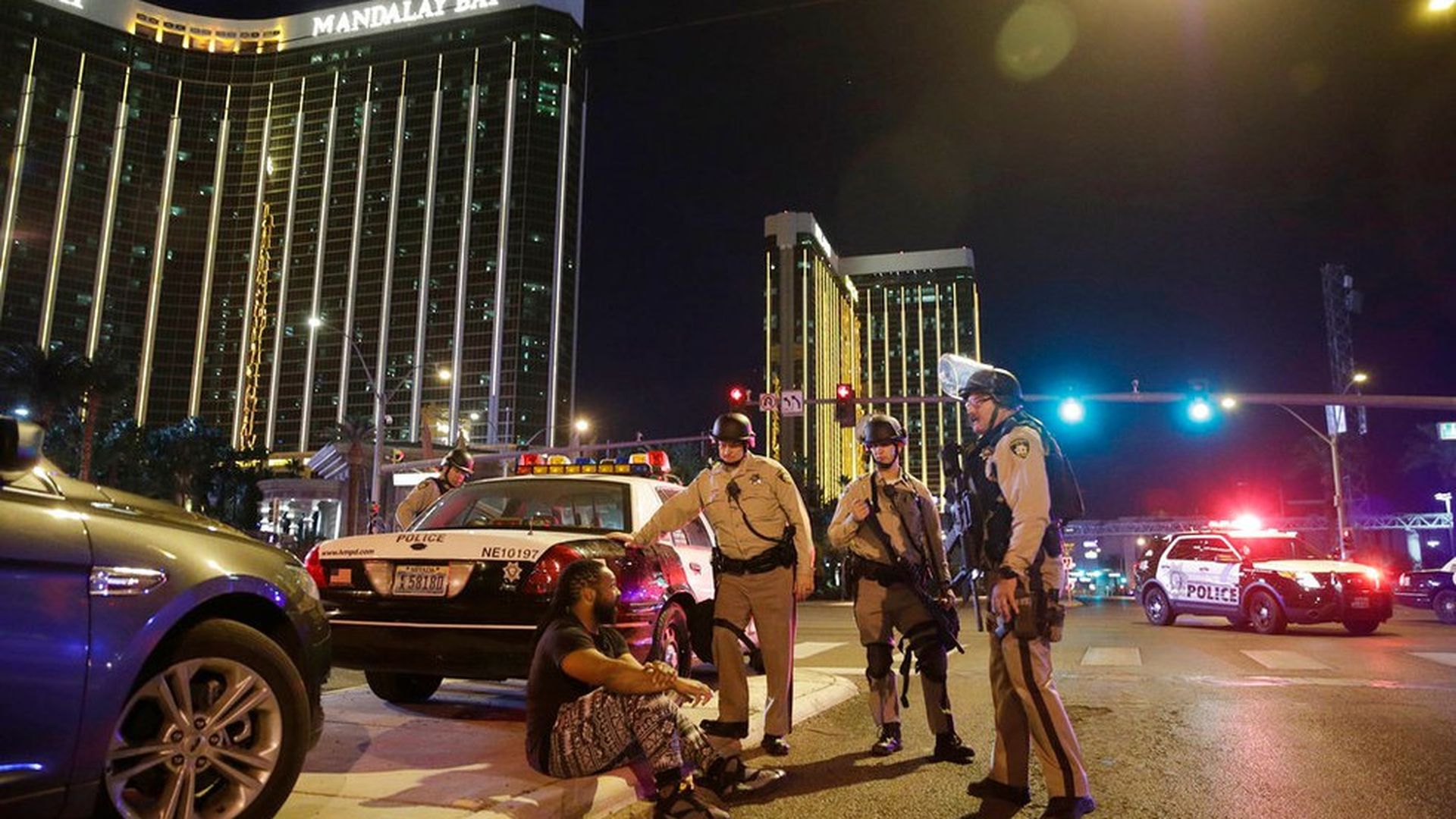 "More than 20 people were killed and at least 100 others injured after a gunman opened fire Sunday night at a country music festival opposite the Mandalay Bay hotel and resort on the Las Vegas Strip," the L.A. Times reports:
"University Medical Center ... is still evaluating the condition of 'many patients' with gunshot wounds ... but at least 14 were in critical condition."
"Police reported that the suspect, a Las Vegas resident whose name was not immediately released, was dead. 'Right now we believe it's a solo act, a lone wolf attacker.'"
"A three-day Route 91 Harvest country music festival performance was underway across Las Vegas Boulevard from the Mandalay Bay hotel when the shooting erupted. Concertgoers reported a burst of weapons fire as a Jason Aldean performance was underway."
'"[T]he gunman appeared to have begun firing at 10:08 p.m. from the 32nd floor of the Mandalay Bay hotel toward the concert venue across the street."
https://www.axios.com/newsletters/axios-am-fc56bae0-8c41-432f-aa97-e4dc8730c07b.html?chunk=1#story1
2. Retooled role for Jared, Ivanka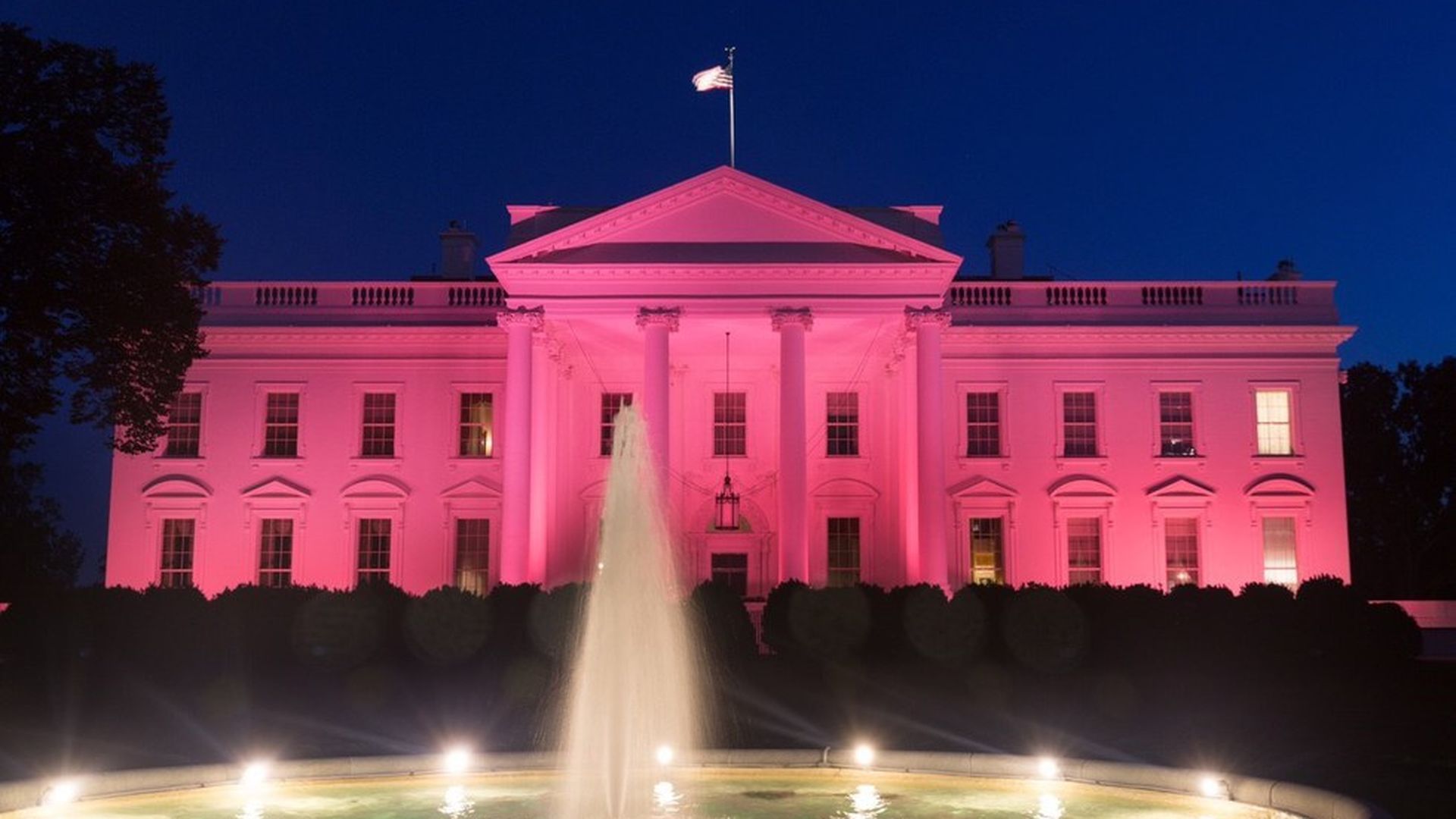 With increasing legal and practical questions about their presence in the West Wing, Jared Kushner and Ivanka Trump are trying to remain viable by shrinking their purview and making more of an effort to "stay in their lane," associates tell us.
Both are formal White House officials, and their presence creates periodic confusion and resentment — for some, a reminder of why nepotism isn't a good idea:
White House Counsel Don McGahn has vented to friends about the complications of having the couple in-house.
Ian Bremmer, president of the Eurasia Group, reported to clients after the U.N. General Assembly that he had heard from three separate international sources that on-thin-ice SecState Rex Tillerson has taken to calling them "the royal family."
Kushner was interviewed on Capitol Hill about his Russia contacts during the campaign, and was involved in many of the matters that special counsel Bob Mueller is probing.
Kushner supported the firing of FBI Director Jim Comey, seen by many Trump allies as a disastrous decision.
The couple's friends say they expect them to stay for now, although they never planned to stay all four years:
Both see themselves as under constant attack, as a way to get at the president.
In the chaotic early days of the administration, "Javanka" — as Steve Bannon derisively called them — were involved in almost everything, from personnel to presidential statements.
But now — with the departures of Bannon and Reince Priebus, and the stricter processes put in place by the new chief of staff, Gen. John Kelly — colleagues say they are sticking more closely to their formal portfolios.
Under Kelly, "they understand now that they don't have to take on those responsibilities," a colleague said. "Now there are proper channels, and they're just doing what they're supposed to be doing."
So Ivanka is focusing on issues like job creation, working families, paid family leave, a child-care tax credit, STEM education and a World Bank fund to help women entrepreneurs.
Jared's jobs include the Middle East peace process, NAFTA, improving job training in federal prisons, and his Office of American Innovation. He organized Trump's trip to Saudi Arabia, and brought tech execs to the White House after the Trump climate decision that they hated.
Be smart: As Mueller begins interviewing White House staff and the West Wing becomes increasingly consumed with what he's going to decide, New York may start to look tempting to the couple.
One possible exit strategy: Trump, who has called Ivanka "Honey" and "Baby" in public and is protective of her internally, could say she has paid too high a price for him, and should return to her own life.
https://www.axios.com/newsletters/axios-am-fc56bae0-8c41-432f-aa97-e4dc8730c07b.html?chunk=2#story2
3. Hill to get Facebook ads today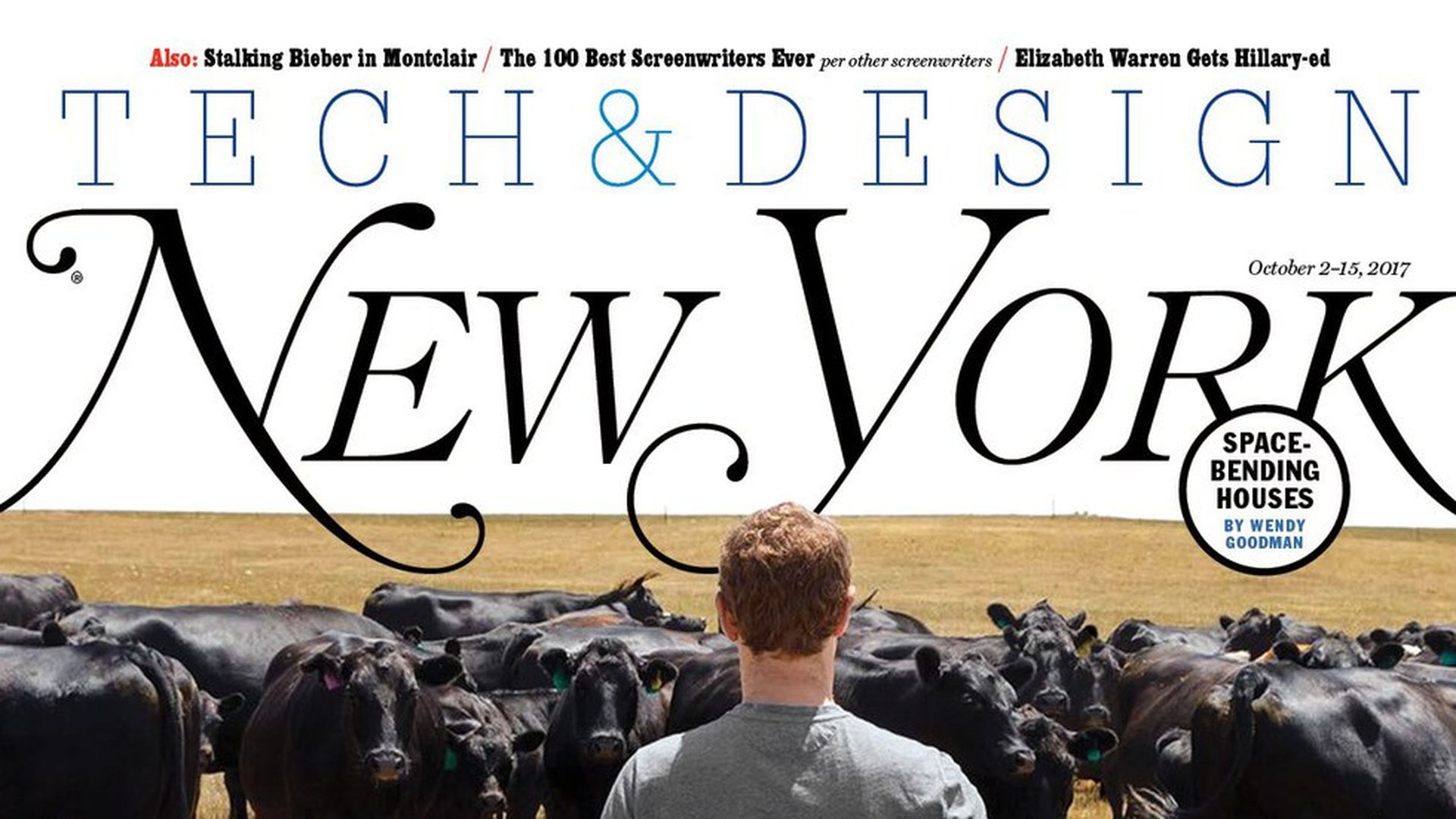 https://www.axios.com/newsletters/axios-am-fc56bae0-8c41-432f-aa97-e4dc8730c07b.html?chunk=3#story3
Bonus: Pic du jour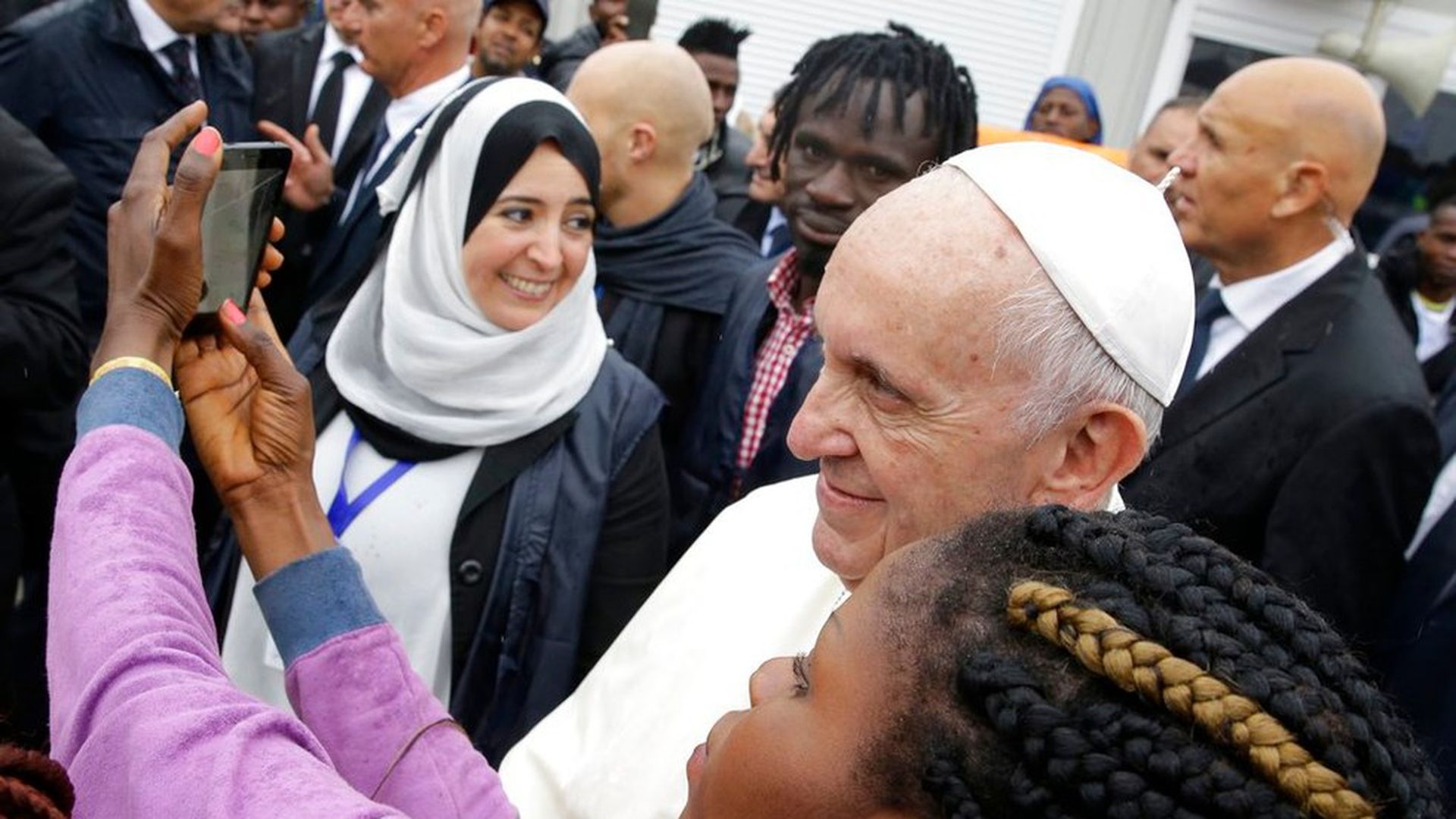 Pope Francis poses for a selfie as he arrives to meet youths from Africa at a regional migrant center in Bologna, Italy, yesterday.
https://www.axios.com/newsletters/axios-am-fc56bae0-8c41-432f-aa97-e4dc8730c07b.html?chunk=4#story4
4. Data du jour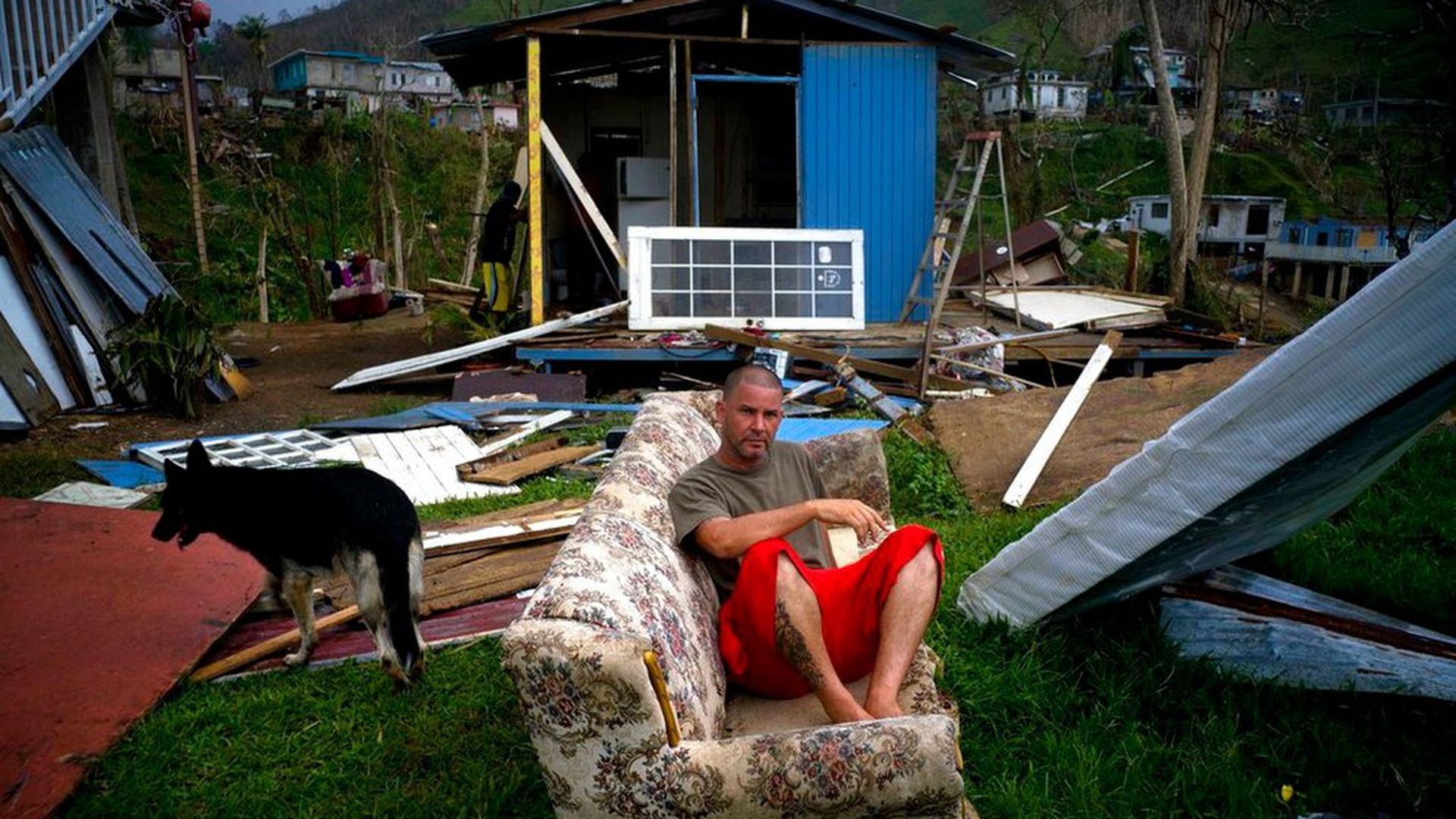 The big picture on Puerto Rico, via Defense Department updates:
As of Saturday:
45% of customers have access to drinking water.
95% of customers remain without power.
As of yesterday:
11% of Puerto Rico has cell service.
49% of grocery and big box stores are open.
714 of 1,100 retail gas stations (65%) have reopened.
The Navy hospital ship USNS Comfort is scheduled to arrive in San Juan on Wednesday.
"In Puerto Rico, acute shortages plunge the masses into survival struggle," by Reuters' Robin Respaut, and Nick Brown: "[R]esidents scrambled for all the staples of modern society – food, water, fuel, medicine, currency – in a grinding survival struggle that has gripped Puerto Ricans across social classes."
"For days now, residents have awoken each morning to decide which lifeline they should pursue: gasoline at the few open stations, food and bottled water at the few grocery stores with fuel for generators, or scarce cash at the few operating banks or ATMs. The pursuit of just one of these essentials can consume an entire day — if the mission succeeds at all — as hordes of increasingly desperate residents wait in 12-hour lines."
https://www.axios.com/newsletters/axios-am-fc56bae0-8c41-432f-aa97-e4dc8730c07b.html?chunk=5#story5
5. "Save your energy, Rex"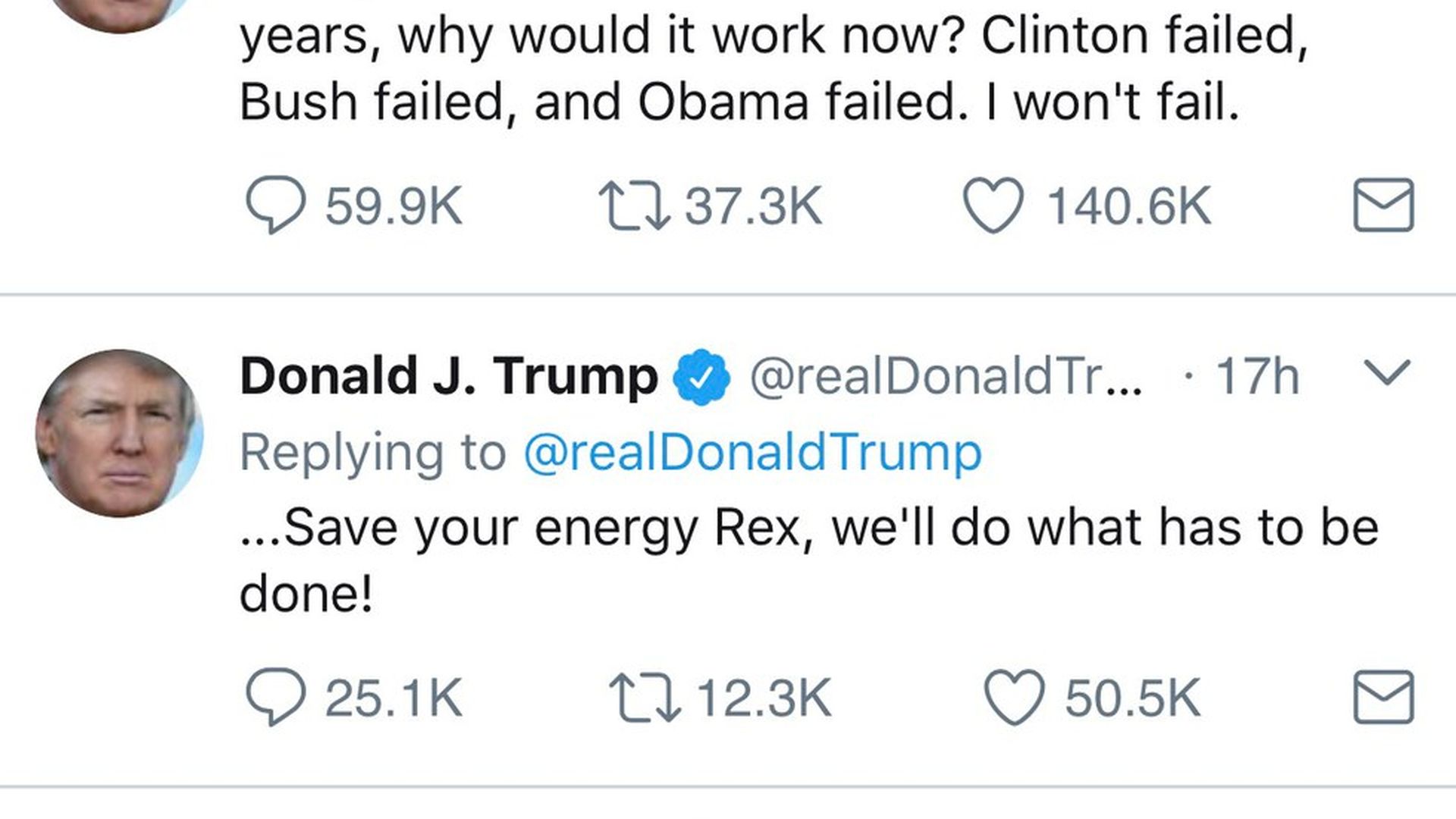 "President Trump undercut his own secretary of state, ... calling his effort to open lines of communication with North Korea a waste of time, ... [leaving] the impression that he was focused mainly on military options," the N.Y. Times' Peter Baker and David E. Sanger write atop column 1:
Why it matters: "While some analysts wondered if the president was intentionally playing bad cop to the secretary's good cop, veteran diplomats said they could not remember a time when a president undermined his secretary of state so brazenly in the midst of a tense situation, and the episode raised fresh questions about how long Mr. Tillerson would remain in his job."
WashPost's Karen DeYoung agrees, also atop column 1: "Trump's comments have sparked new questions about Tillerson's longevity in office."
Be smart: I'm told Tillerson's remarks in Beijing took the White House by surprise, and his comments may have given the impression that the talks are more advanced than they are.
Great read from Axios Sneak Peek, "Trump urges staff to portray him as 'crazy guy,'" by Jonathan Swan:
Trump in Oval Office to his top trade negotiator, Robert Lighthizer: "No, no, no ... That's not how you negotiate. You don't tell them they've got 30 days. You tell them, 'This guy's so crazy he could pull out any minute.'"
Go deeper: "Trump v. Trump admin on foreign policy," by Axios' David Lawler.
https://www.axios.com/newsletters/axios-am-fc56bae0-8c41-432f-aa97-e4dc8730c07b.html?chunk=6#story6
6. Vanity Fair's New Establishment
A huge thank you to my Axios readers and colleagues ... Axios is the youngest company on Vanity Fair's "The New Establishment 2017," the magazine's "catalogue of power and influence in the intelligence age."
Jim VandeHei and I cracked the list at No. 95 for the terrific work of co-founder Roy Schwartz and our 85 colleagues: "The same crew that turned Politico into a Washington must-read has done it again, this time with a site that also features daily scoops on venture capital, energy, and more."
Thanks to you, Vanity Fair says that Axios AM has become "a new front page for the political-media elite."
The list reflects the historic times in Washington:
Special counsel Robert Mueller is No. 6, for his "assignment of a lifetime."
The N.Y. Times' Maggie Haberman and Glenn Thrush are a joint No. 32 as "[t]he go-to reporters on everything involving the Trump White House."
The WashPost's Marty Baron and N.Y. Times' Dean Banquet share No. 10 as editors who "have stood up for real news."
VF says newcomers include Dwayne "the Rock" Johnson (No. 37); Uber's Dara Khosrowshahi (No. 42); Jordan Peele (No. 59); Universal Pictures chairman Donna Langley (No. 67); Wonder Woman director Patty Jenkins (No. 74); Uber whistle-blower Susan Fowler (No. 79); Reese Witherspoon (No. 80); Chance the Rapper (No. 87); and the RealReal founder, Julie Wainwright (No. 100).
Amazon's Jeff Bezos is No. 1, Facebook's Mark Zuckerberg is No. 2, Apple's Tim Cook is No. 3, Alphabet's Larry Page is No. 4 and Elon Musk of Tesla and SpaceX is No. 5.
https://www.axios.com/newsletters/axios-am-fc56bae0-8c41-432f-aa97-e4dc8730c07b.html?chunk=7#story7
7. The future of oil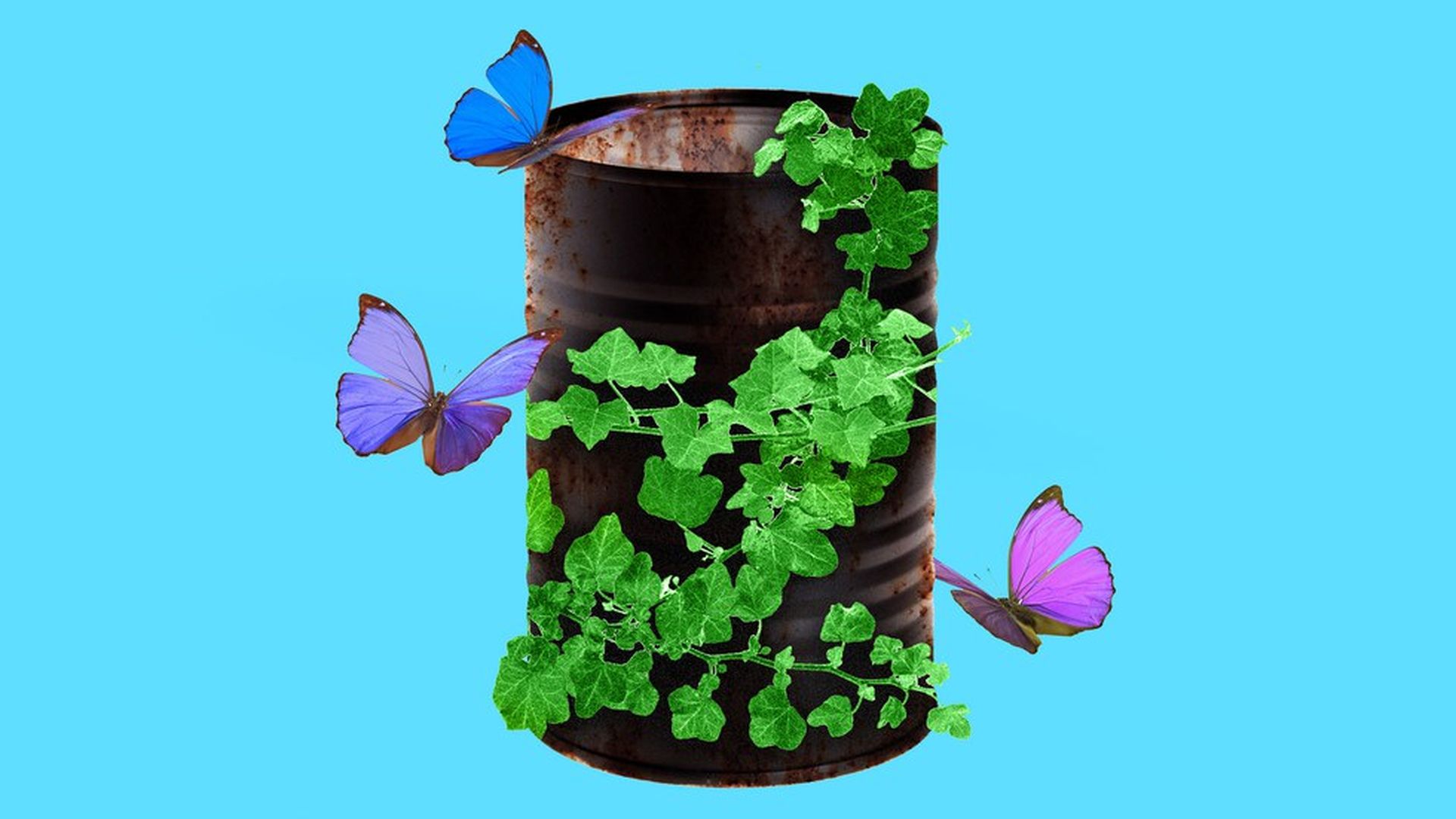 "How an oil producer wants to make climate change its business" — Axios' Amy Harder in her weekly "Harder Line" energy column:
One of the world's largest oil companies, Norway-based Statoil, is teaching thousands of its employees how to talk about climate change and investing billion of dollars into renewable energy. It also doesn't want to be called an oil company at all.
Why it matters: Statoil offers a glimpse into what an oil producer in a lower-carbon future could look like. Most of the world's biggest oil and natural gas companies are inching toward greener businesses, driven by a handful of global market and policy trends. Partially owned by the wealthy Norwegian government, Statoil is one of the most aggressive with its investments and company culture on the matter.
https://www.axios.com/newsletters/axios-am-fc56bae0-8c41-432f-aa97-e4dc8730c07b.html?chunk=8#story8
8. France's era of attacks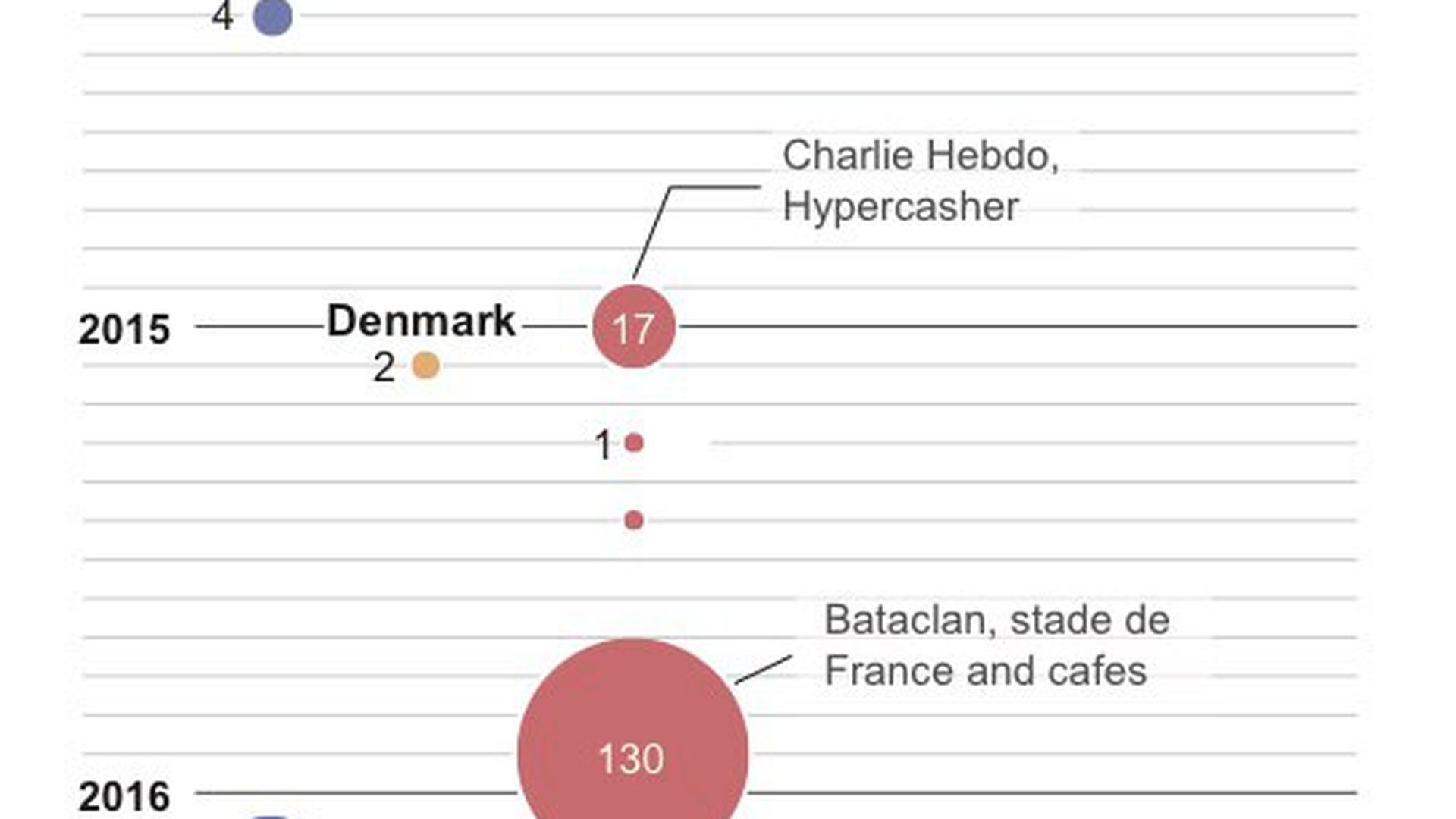 Beginning with the 2012 assault on a Jewish school, France has endured a seemingly endless series of attacks and near-misses from extremists with the same background, AP's Lori Hinnant reports from Paris:
"Islamic extremists — most of them homegrown — have killed nearly 250 people in France, far more than anywhere else in Western Europe."
"The death toll might have increased on [yesterday] when two women were killed in a knife attack in Marseille." The Islamic State claimed the assailant was one of its "soldiers."
And down in Spain ... "Catalans Signal They May Declare Independence Within a Week," per Bloomberg: "Catalan separatist leaders signaled they may be moving toward a unilateral declaration of independence as early as this week after hundreds of activists were injured on Sunday as they sought to stop Spanish police from shutting down an illegal referendum."
"Two million Catalans backed independence out of 2.3 million votes cast."
https://www.axios.com/newsletters/axios-am-fc56bae0-8c41-432f-aa97-e4dc8730c07b.html?chunk=9#story9
9. The talk of Wall Street
"Hedge Funds Ain't Dead Yet: With an improved environment for stock picking, the average hedge fund is up an average 5.4% through August," the Wall Street Journal's Rob Copeland writes on A1:
"That makes this year the industry's best relative performance in a rising market since 2010. Investors, particularly in Asia and the Middle East, have begun sending new money hedge funds' way, attracted by the better returns and a broad lowering of the industry's famously hefty fees."
"Hedge funds at large pulled in $39 billion of new money this year, a reversal of $112 billion in outflows last year."
What's next: "Industry executives expect the inflows to continue with several banner fund launches in the months ahead, including the return of fallen star Steven A. Cohen and a multibillion-dollar China-focused fund from Ray Dalio's Bridgewater Associates, the world's largest hedge-fund firm."
https://www.axios.com/newsletters/axios-am-fc56bae0-8c41-432f-aa97-e4dc8730c07b.html?chunk=10#story10
10. 1 fun thing: Trump's TV nemesis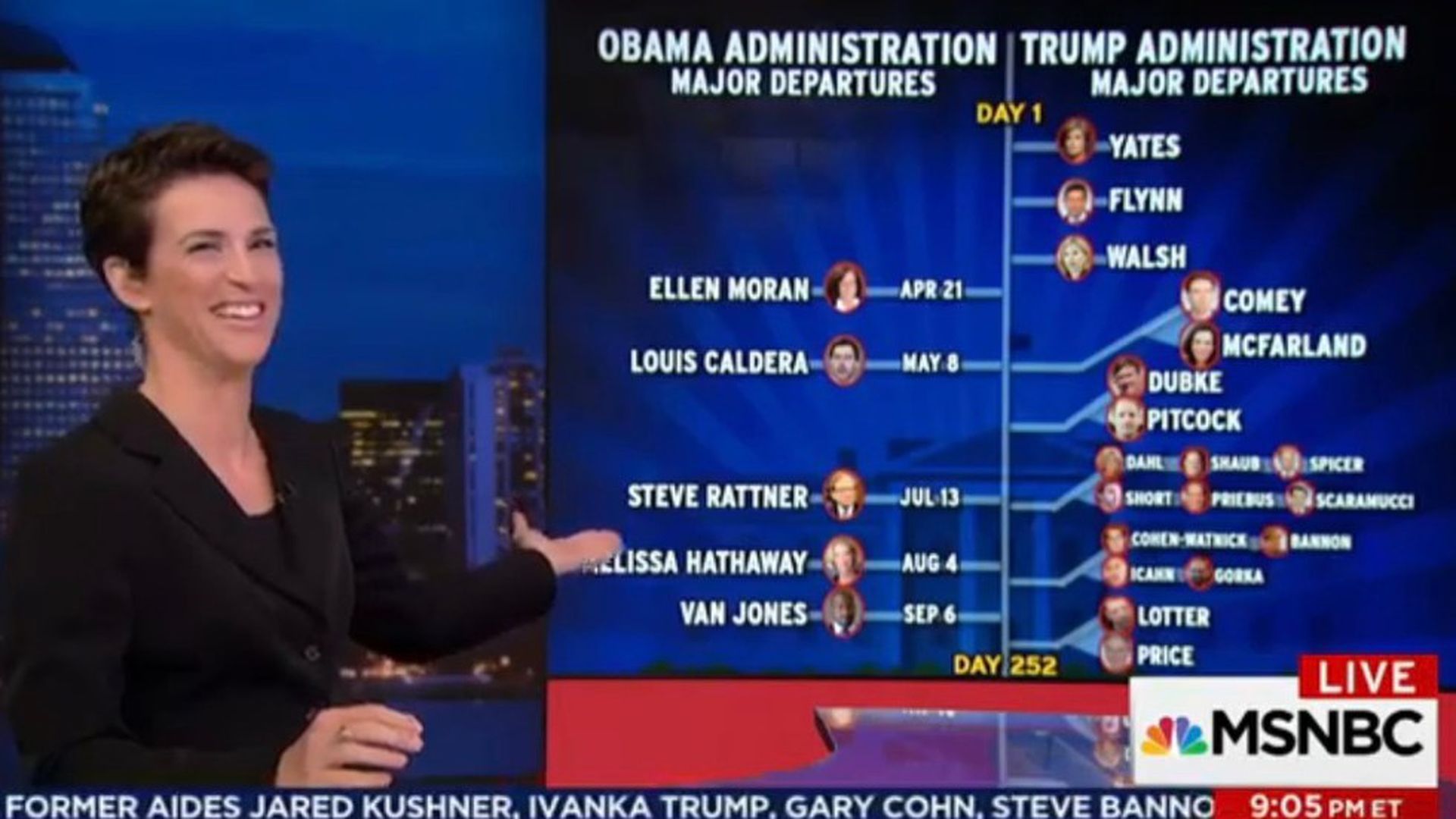 "Profiles: The Storyteller — How Rachel Maddow constructs a narrative," by The New Yorker's legendary Janet Malcolm:
"Maddow's artistry is most conspicuous in her monologues, which can span as long as twenty-four uninterrupted minutes."
"The hour of the show is the culmination for Maddow of a workday that starts at around 12:30 P.M. .. At two o'clock, she meets with her staff of twenty young men and women in a room equipped with a whiteboard." Then, she reads and reads.
Maddow: "I should start writing at four-thirty. Sometimes I don't start writing until six-thirty. ... It's a bad process. It's impressive in one way, but it's — reckless. It kills my poor staff. ... They need to put in all the visual elements and do the fact-checking and get it into the teleprompter. It's a produced thing and requires everybody to do everything fast."
"I could roll in at eight o'clock and have my producers tell me what to say and book seven people for me to chat with about the news. There are people who have made a very successful living doing that in this work. I just don't want to do it that way. I want to have something to say that people don't already know every single night, every single segment."
Treat yourself to the full read.
P.S. "At a Moment of Racial Tumult, the Little Rock Nine Inspire an Opera," by N.Y. Times' Michael Cooper in Conway, Ark. ... With cameo by William Jefferson Clinton and great, rich civil rights history.