Axios AM
August 11, 2019
⚡ Breaking: Acting DHS Secretary Kevin McAleenan admits on "Meet the Press," when asked by Chuck Todd about the timing of the Mississippi ICE raids, given the country's emotions after El Paso: "The timing was unfortunate."
Sen. Kamala Harris said on "Meet": "This administration has directed DHS to conduct these raids as part of what I believe is this administration's campaign of terror."
🐻 Who knew that Smokey Bear is the Oxford comma of cartoon mascots?
It turns out that a surprising number of Axios AM readers are sticklers that the wildfire-prevention icon is properly "Smokey Bear" — not "Smokey the Bear," as I blasphemously posited in a 75th birthday note yesterday.
The U.S. Forest Service says you're right.
Alexander Great and Attila Hun tip their broad-brimmed hats.
And I wish you a karaoke night that includes this standard from my Cub Scout days: "Smokey the Bear, Smokey the Bear / Prowlin' and a growlin' and a sniffin' the air."
1 big thing: Oh, Joe! Biden blunders pile up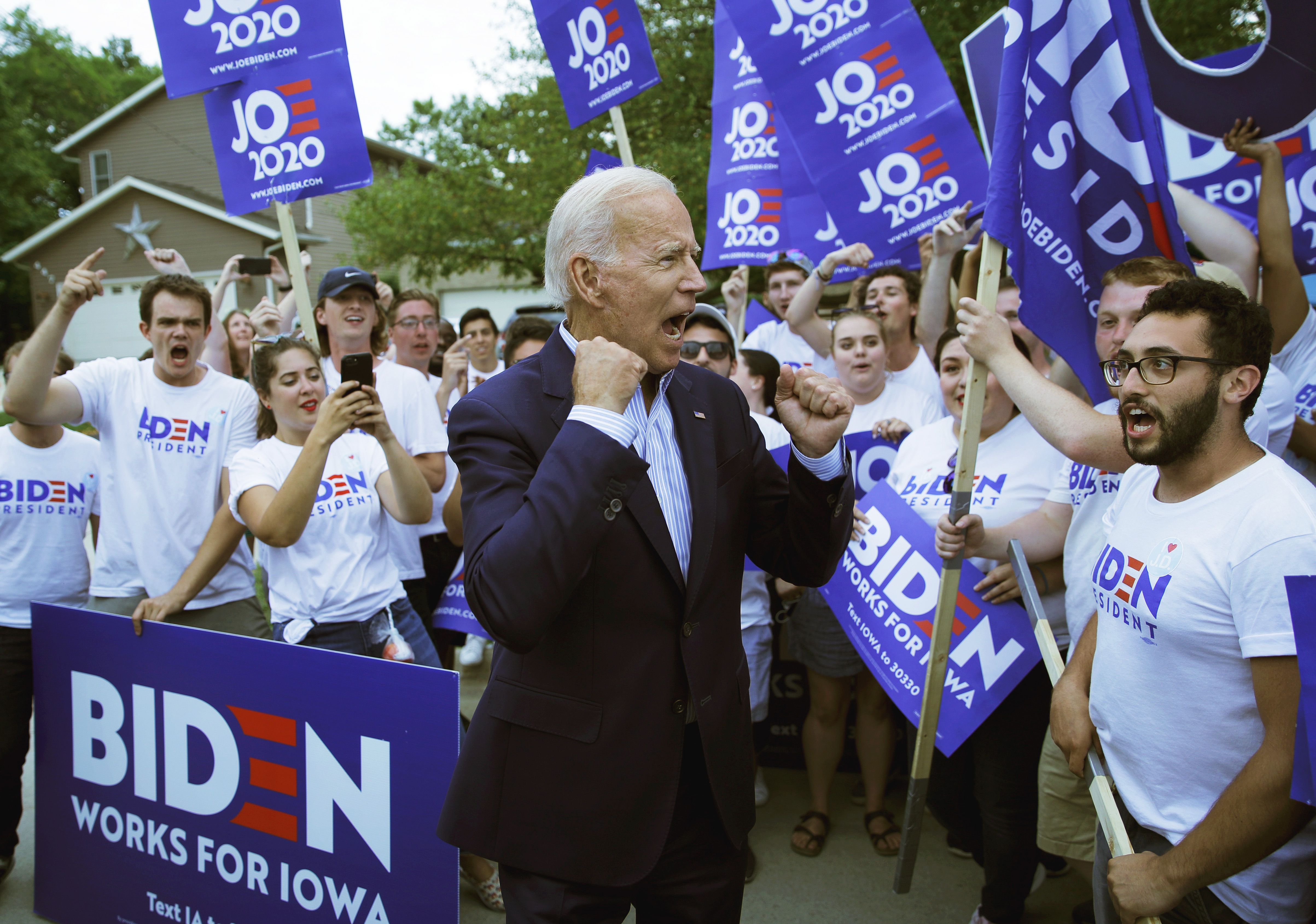 Continuing a parade of slips and gaffes, Joe Biden yesterday told reporters in Iowa that he was vice president during the massacre in Parkland, Fla., which happened more than a year after he left office:
"Those kids in Parkland came up to see me when I was vice president," Biden said. (Bloomberg)
Why it matters: Biden called himself a "gaffe machine" eight months ago, and his slips have long been part of his persona. But he's 76 — three years older than President Trump.
Once reporters start looking for slips, they'll find them.
And they become a bigger deal than they would be otherwise — like President Gerald Ford's clumsiness or President George H.W. Bush's goofiness.
Biden allies point out that since he's always been this way, it's not a sign of aging.
And the WashPost Fact Checker database counted 10,796 false or misleading claims by President Trump during 869 days in office.
As the WashPost's Aaron Blake wrote about Biden's "mounting slip-ups": "This isn't to say Biden's comments are anywhere close to as problematic as what Trump has said."
Just in the past two weeks:
The bottom line: Trump, who revels in defining an opponent's weakness (see Marco Rubio and the water), asked in a tweet last evening: "Does anybody really believe he is mentally fit to be president?"
And Trump, who this week said "Toledo" when he meant "Dayton," said on the South Lawn on Friday: "Look, Joe is not playing with a full deck."
Biden's retort, from December, during a book-tour stop at the University of Montana: "I am a gaffe machine, but my God what a wonderful thing compared to a guy who can't tell the truth."
2. Epstein victims again denied justice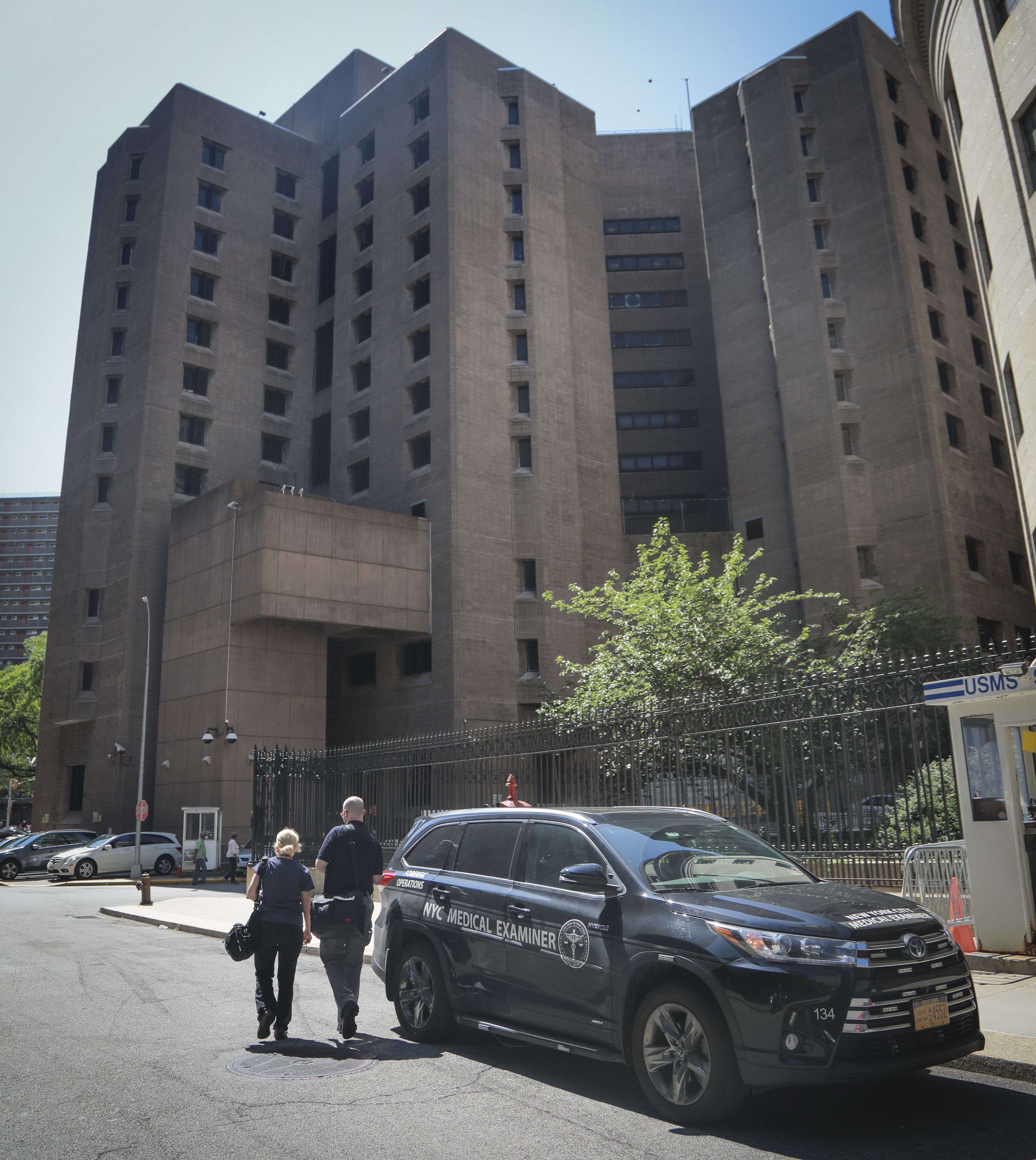 "Final evasion," a WashPost headline calls it.
Jeffrey Epstein's suicide yesterday in a Manhattan federal jail "left accusers around the globe shocked and angered that they would never see him face a full reckoning," the N.Y. Times' Mike Baker writes.
Why it matters: "After years of setbacks, they said they had come so close, with Mr. Epstein behind bars and a reinvigorated prosecution eager to air allegations of sexual abuse that had long been obscured."
The latest: Epstein, 66, had been placed on suicide watch after he was found a little over two weeks ago with bruising on his neck. But he was taken off the watch at the end of July and therefore wasn't on it at the time of his death, AP reports.
Attorney General William Barr, calling for an investigation by the FBI and the Justice Department's inspector general's office, said he was "appalled" by Epstein's death while in federal custody.
What's next: "Several accusers ... said they hoped that authorities would continue their investigation, focusing on other people in Mr. Epstein's circle who they said had helped recruit, train and coerce his victims," the Times reports.
"Federal prosecutors have indicated they are looking beyond Mr. Epstein. Federal charges filed against him last month included a charge of conspiracy."
3. Tech giants get more entrenched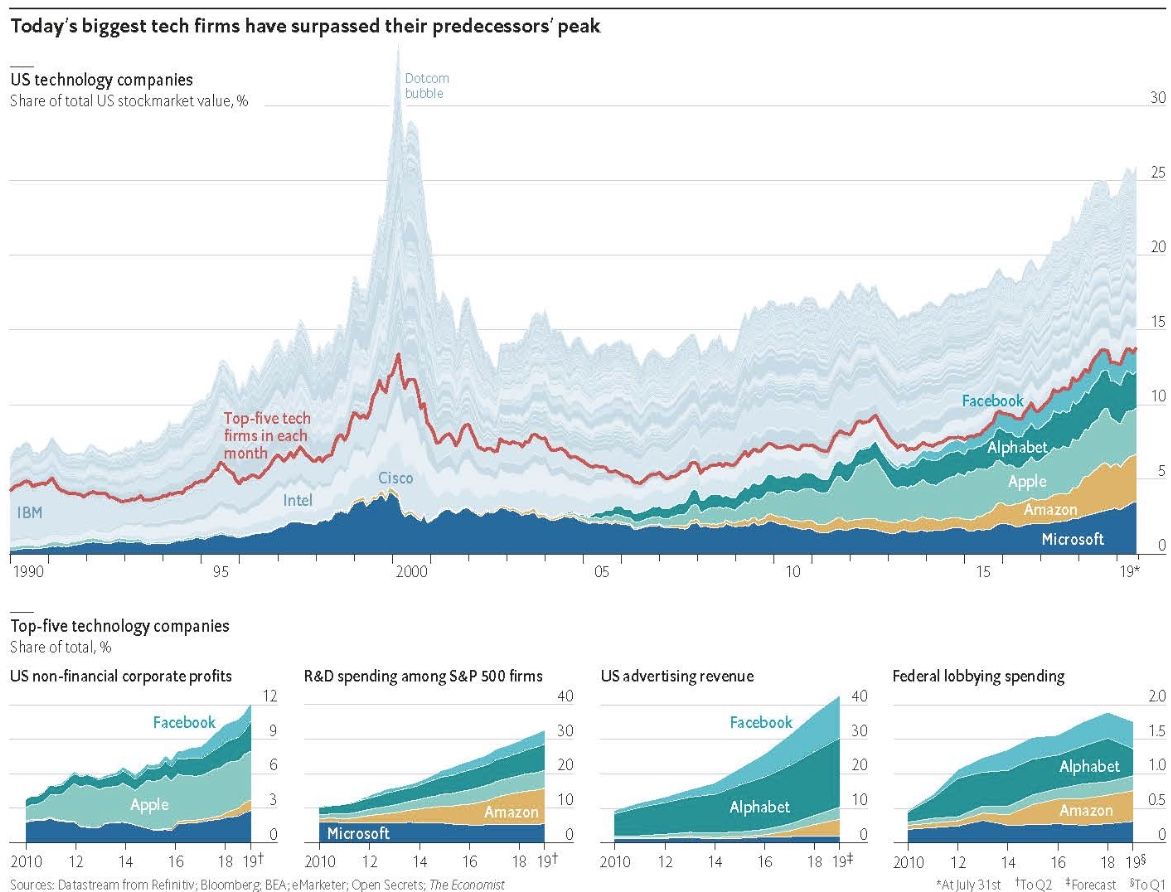 Tech companies comprise more than a quarter of the value of America's stock markets, the Economist reports:
Tech's big five — Microsoft, Amazon, Apple, Alphabet (Google's parent) and Facebook — make up half of the industry's market capitalization.
"The last time tech companies were so important was back in 2000, when they were briefly worth a third of the value of all listed equities in America."
Why it matters: "Compared with the dotcom bubble, the ... prevailing concern is not that tech firms are too flimsy to justify their valuations, but that their position is too powerful."
4. Pic du jour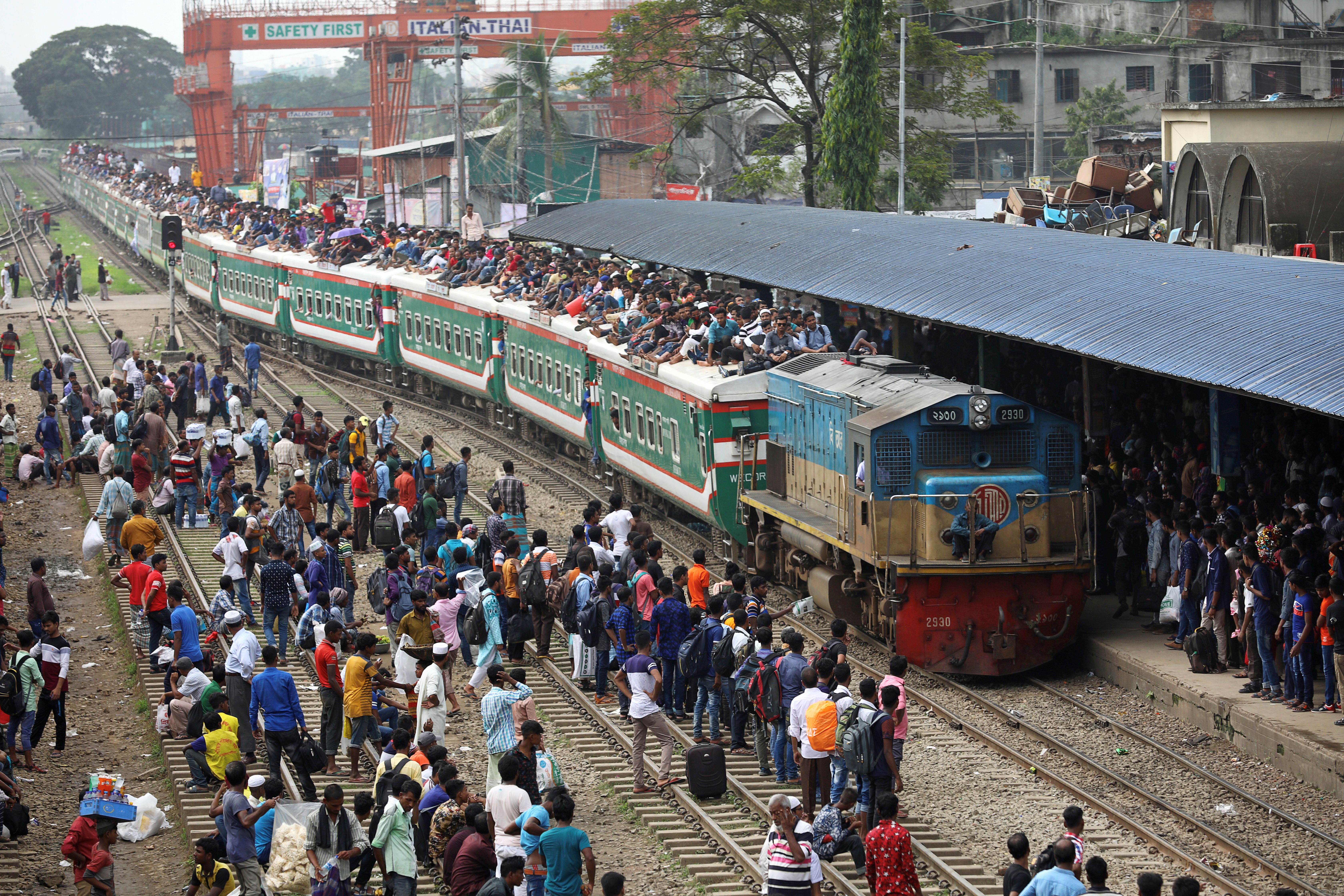 An overcrowded train approaches a station in Dhaka, capital of Bangladesh, to carry passengers to celebrate the Islamic holiday Eid al-Adha, or Festival of the Sacrifice.
5. America mourns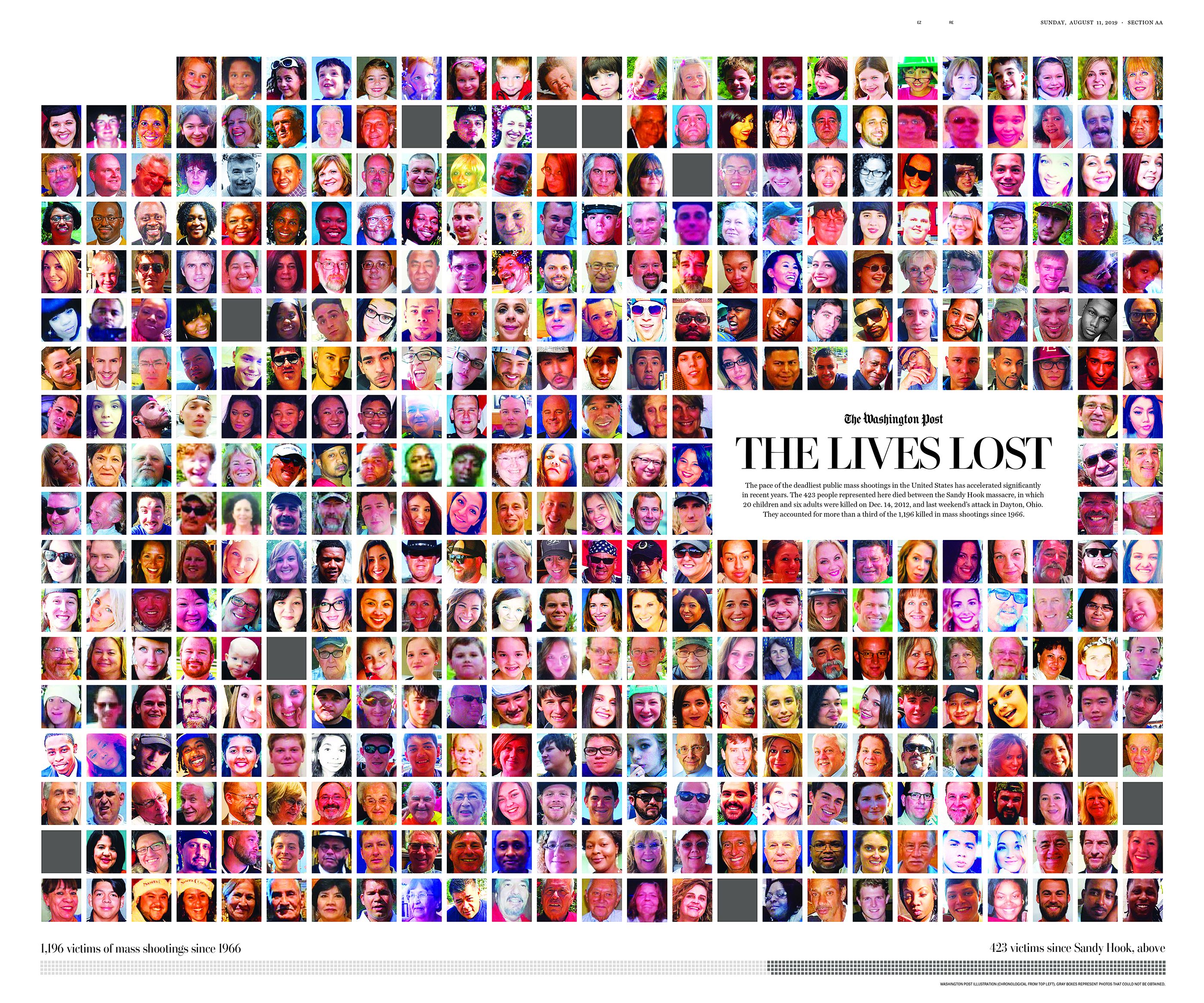 Today's print Washington Post includes a 12-page special section that tells the story of the rising tide of violence in America.
It details every mass shooting back to 1966, when a sniper killed 16 from atop the University of Texas tower in Austin — considered the first modern mass shooting.
WashPost graphics reporter Bonnie Berkowitz writes:
The oldest person on the list is Louise De Kler, who at 98 still took her boombox to the rec room of her North Carolina nursing home to play pool with "the young guys," her daughter told the Associated Press. She was gunned down at the home in 2009 by a man looking to kill his ex-wife.
The youngest is 8-month-old Carlos Reyes, who was killed at a McDonald's in [San Ysidro] California in 1984. He was buried in a casket with his mother, who shielded him as she lay dying but couldn't quite shield him enough.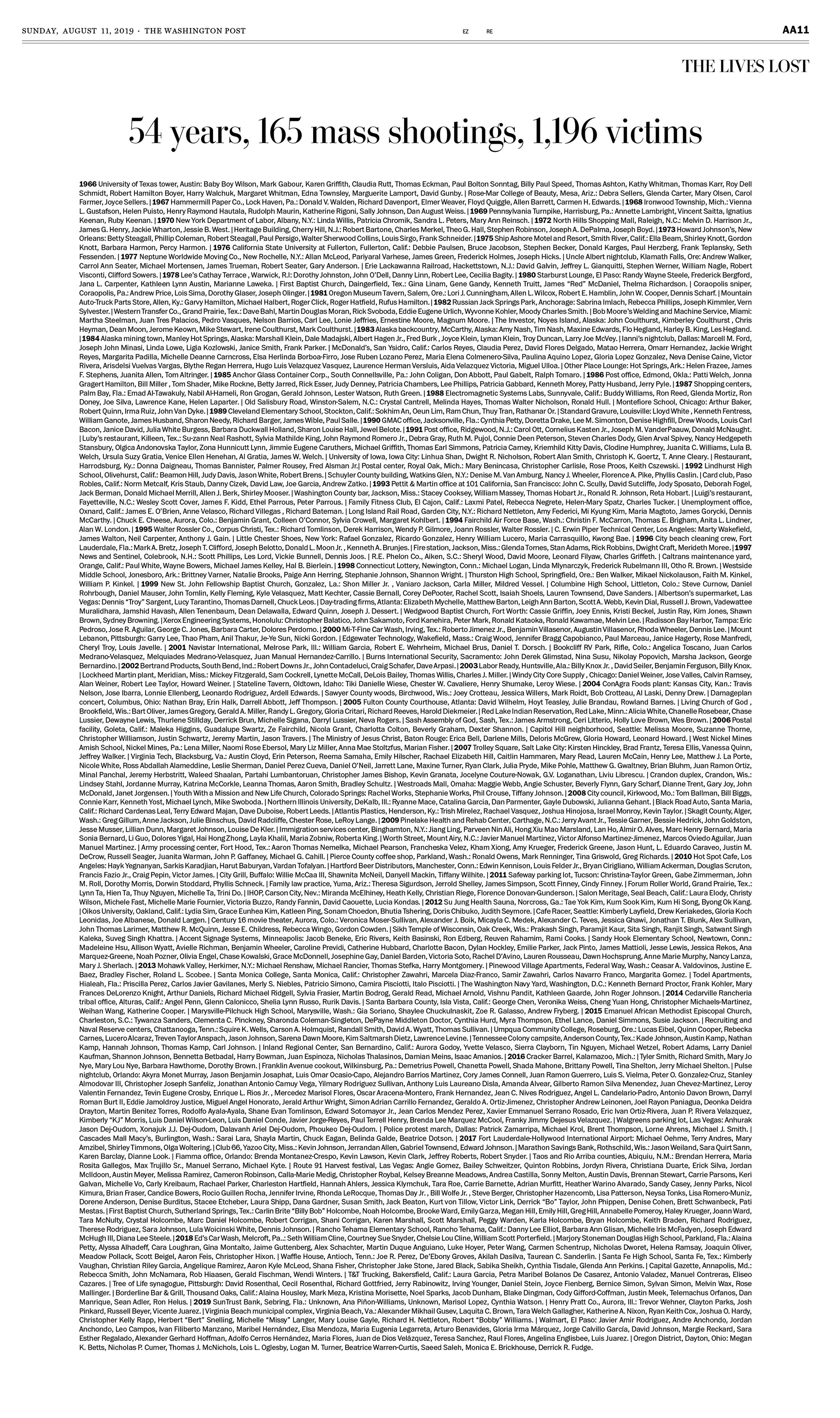 6. 1 wall thing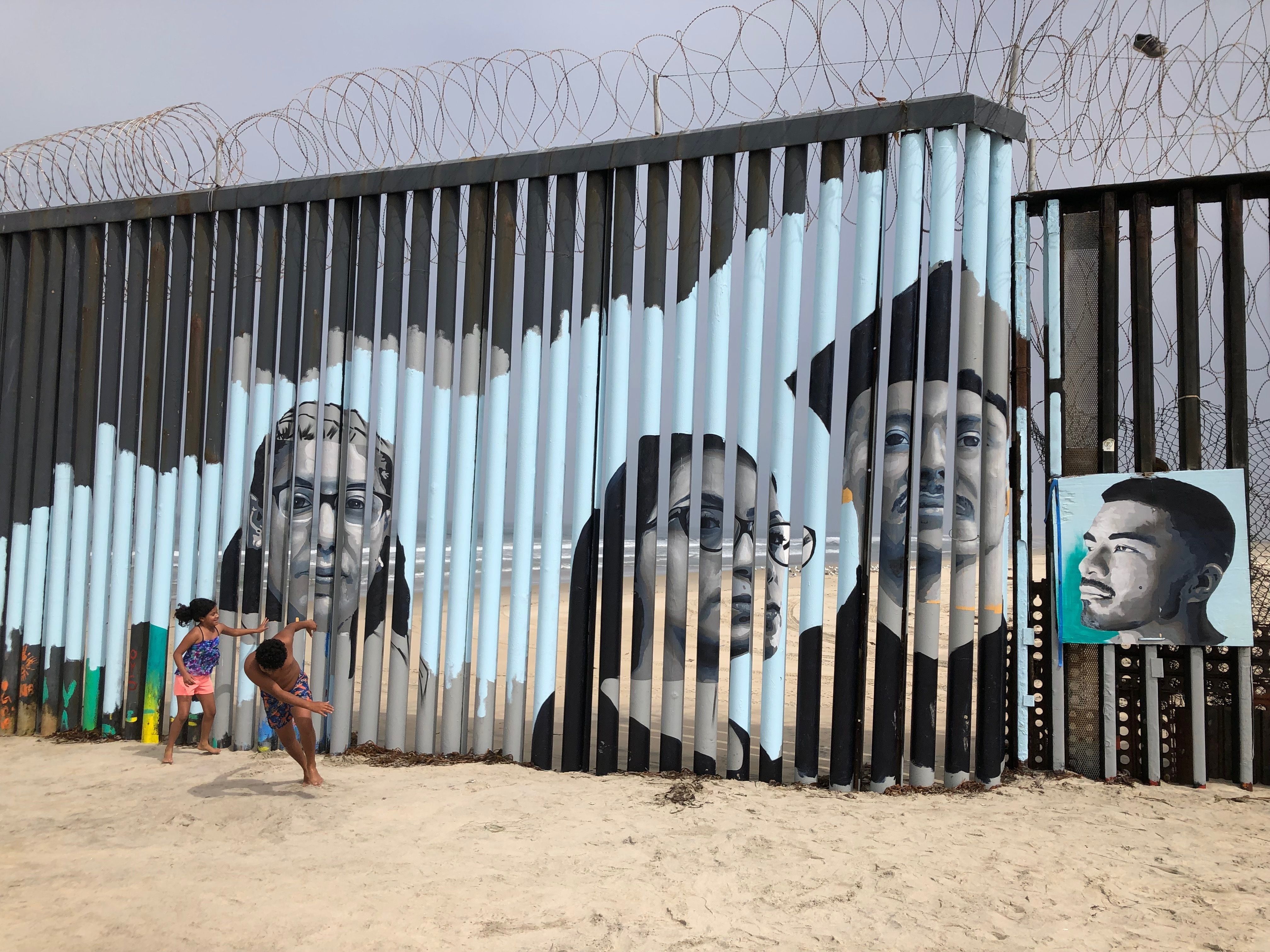 A new mural on the Tijuana, Mexico, side of the border wall shows Dreamers who came to the U.S. as children and were deported as adults, AP reports.
QR codes let visitors scan to activate first-person narratives on their phones
There is a deported U.S. veteran.
There are two deported mothers with children who were born in the U.S.
There is a man who would have been shielded by an Obama-era program to protect Dreamers, but was deported less than a year before DACA took effect.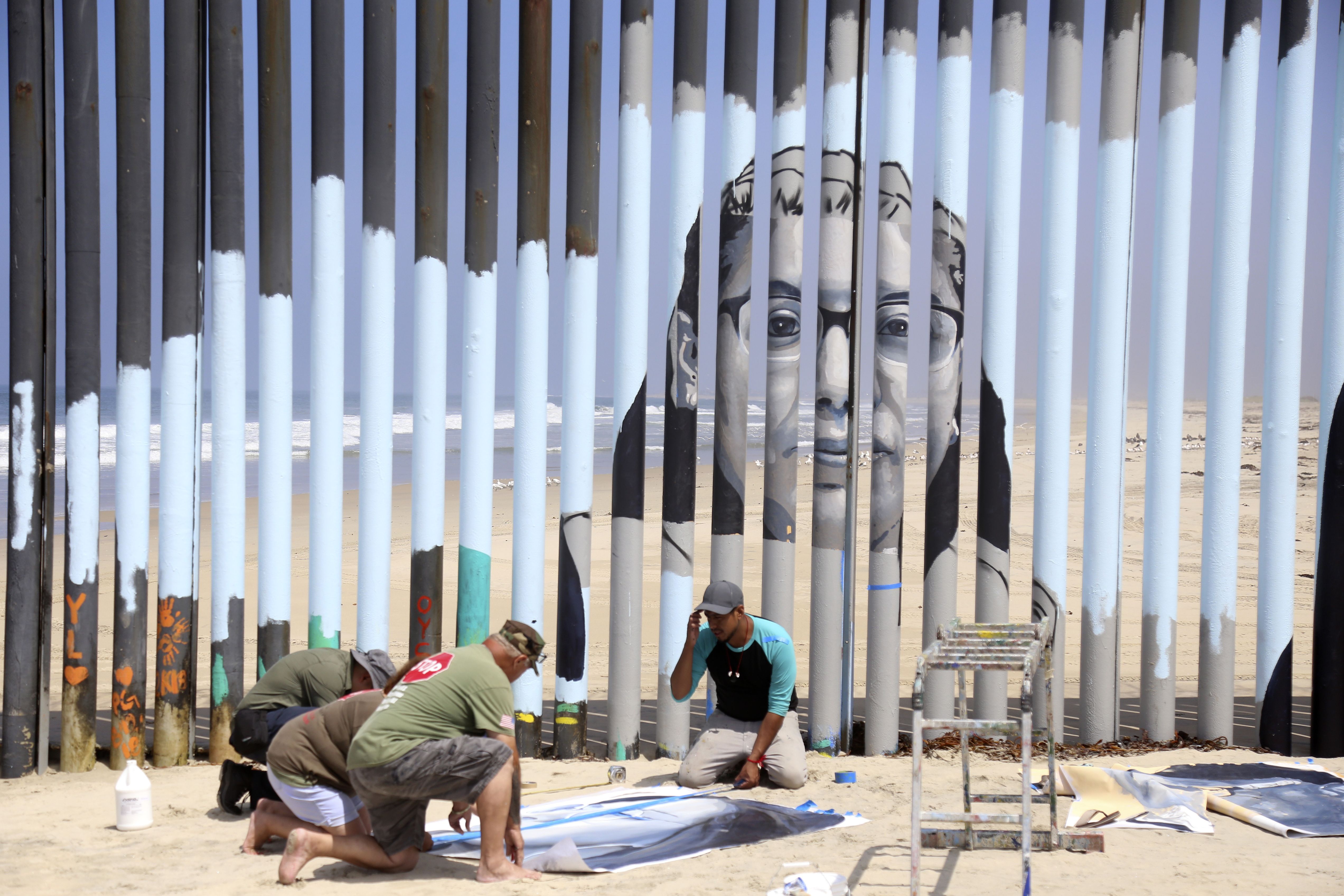 📱 Thanks for reading Axios AM. Invite your friends, relatives, co-workers to sign up here.