Good Thursday morning, and welcome to March.
https://www.axios.com/newsletters/axios-am-fa7a5264-6ebf-40be-bb64-5bbb4f7221b9.html?chunk=0#story0
1 big thing: The wild wars within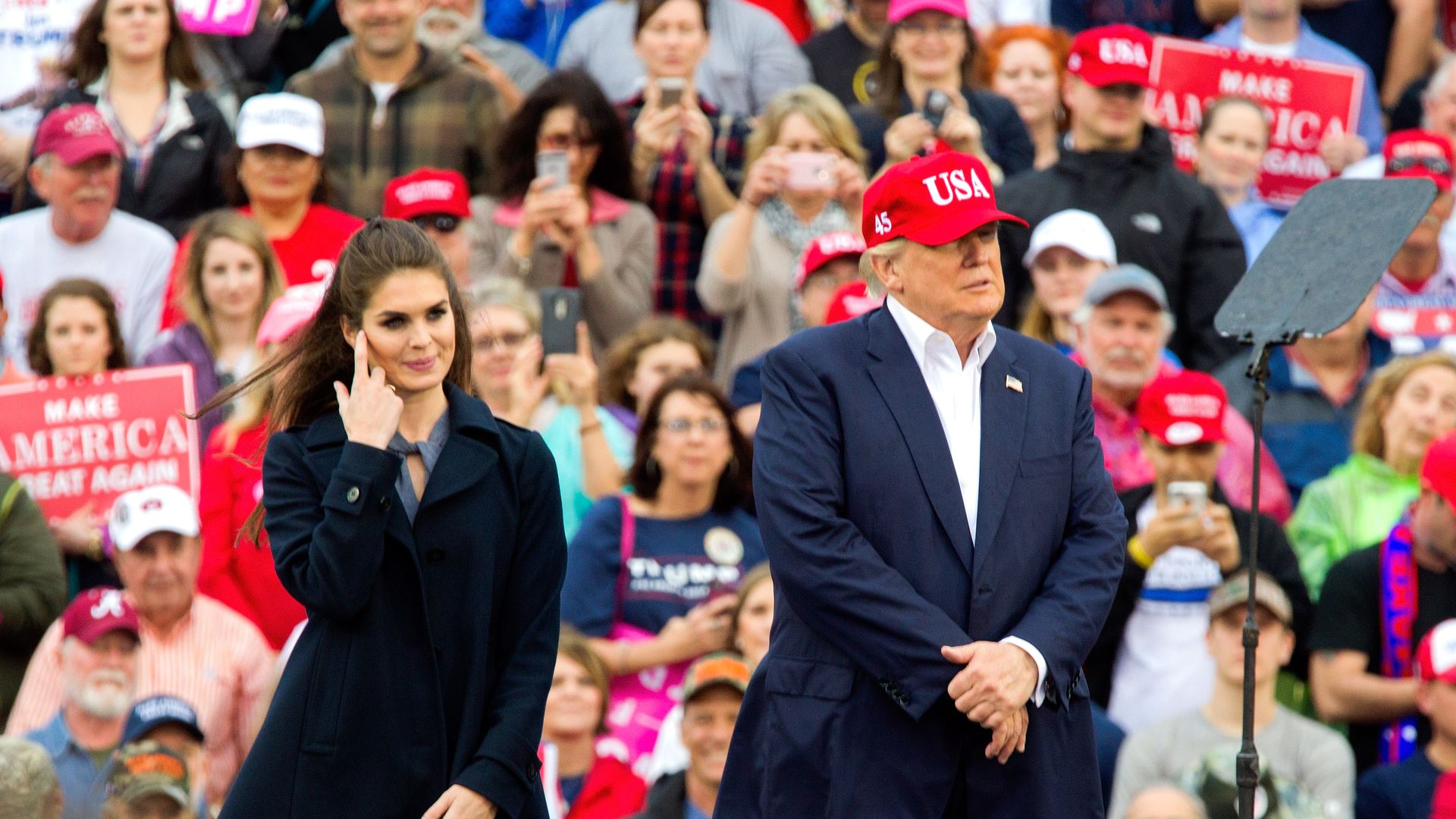 Scoop: After a crazy 24 hours, sources close to President Trump say he is in a bad place — mad as hell about the internal chaos and the sense that things are unraveling.
Hope Hicks leaving is obviously a huge blow to him.
Every time he reads about Attorney General Jeff Sessions, his head explodes.
The staff is just trying to ride out the storm.
Everywhere you look inside this White House, top officials are fighting, fomenting, feuding or fleeing, insiders say in conversations with Jonathan Swan, Jim VandeHei and me:
Hope Hicks — without question, the aide (family aside) with whom Trump is closest — resigned one day after she admitted in closed-door Hill testimony that she told white lies for the president.
White House Chief of Staff John Kelly cracked down on Jared Kushner, stripping his top security clearance, and watching anonymous aides leak about and trash him, while offering no public defense of the president's son-in-law. 
Jared, Ivanka and Don Jr. let it be known to friends they are furious with Kelly and his allies. 
Jared loses his internal P.R. guru, Josh Raffel, when he needs him most.
Economic adviser Gary Cohn is at war with trade policy adviser Peter Navarro.
Trump is at war with Attorney General Sessions. See our epic photo at #3 below. ... N.Y. Times lead story: "Trump Tears Into Sessions Over Russia Investigation." ... WashPost: "Behind the scenes, Trump has derisively referred to Sessions as 'Mr. Magoo,' a cartoon character who is elderly, myopic and bumbling."
Intelligence chiefs use every chance possible to contradict the commander-in-chief on Russia. 
Be smart: Trump is in a bad, mad place, feeling ill-served and confined by staff. The people he genuinely enjoys and feels close to are gone (Keith Schiller), leaving (Hope) or getting pounded in the press (Jared).
The restraints are almost fully loosened, and what staff sees in private is more public than ever.
We have never seen top officials this concerned, defeated. 
https://www.axios.com/newsletters/axios-am-fa7a5264-6ebf-40be-bb64-5bbb4f7221b9.html?chunk=1#story1
2. Loans flowed after White House visits
Jared Kushner's business got loans after White House meetings, per the N.Y. Times:
"Early last year, a private equity billionaire started paying regular visits to the White House. Joshua Harris, a founder of Apollo Global Management, ... met on multiple occasions with Jared Kushner ... [T]he two men discussed a possible White House job for Mr. Harris."
"The job never materialized, but in November, Apollo lent $184 million to Mr. Kushner's family real estate firm, Kushner Companies. ... It was triple the size of the average property loan made by Apollo's real estate lending arm, securities filings show."
"It was one of the largest loans Kushner Companies received last year."
Why it matters: "There is little precedent for a top White House official meeting with executives of companies as they contemplate sizable loans to his business, say government ethics experts."
Response from Peter Mirijanian, spokesperson for Kushner's attorney, Abbe Lowell:
"Mr. Kushner has met with hundreds of business people during the campaign, transition and in the Administration to hear ideas about improving the American economy.  He has had no role in the Kushner Companies since joining the government and has taken no part of any business, loans, or projects with or for the Companies after that.  He has followed the ethics advice he has received for all of his work which include the separation from his business and recusals when appropriate."
Response from Chris Taylor, spokesperson for Kushner Companies:
"Kushner Companies did not have any conversations nor interaction with the WH visitors mentioned [in the Times story] and we have continued to interact with long-time lenders and partners in a completely appropriate manner as we have in our 30 years of business as a successful and respected operator in the real estate sector."
https://www.axios.com/newsletters/axios-am-fa7a5264-6ebf-40be-bb64-5bbb4f7221b9.html?chunk=2#story2
3. Epic shot: Look who's dining together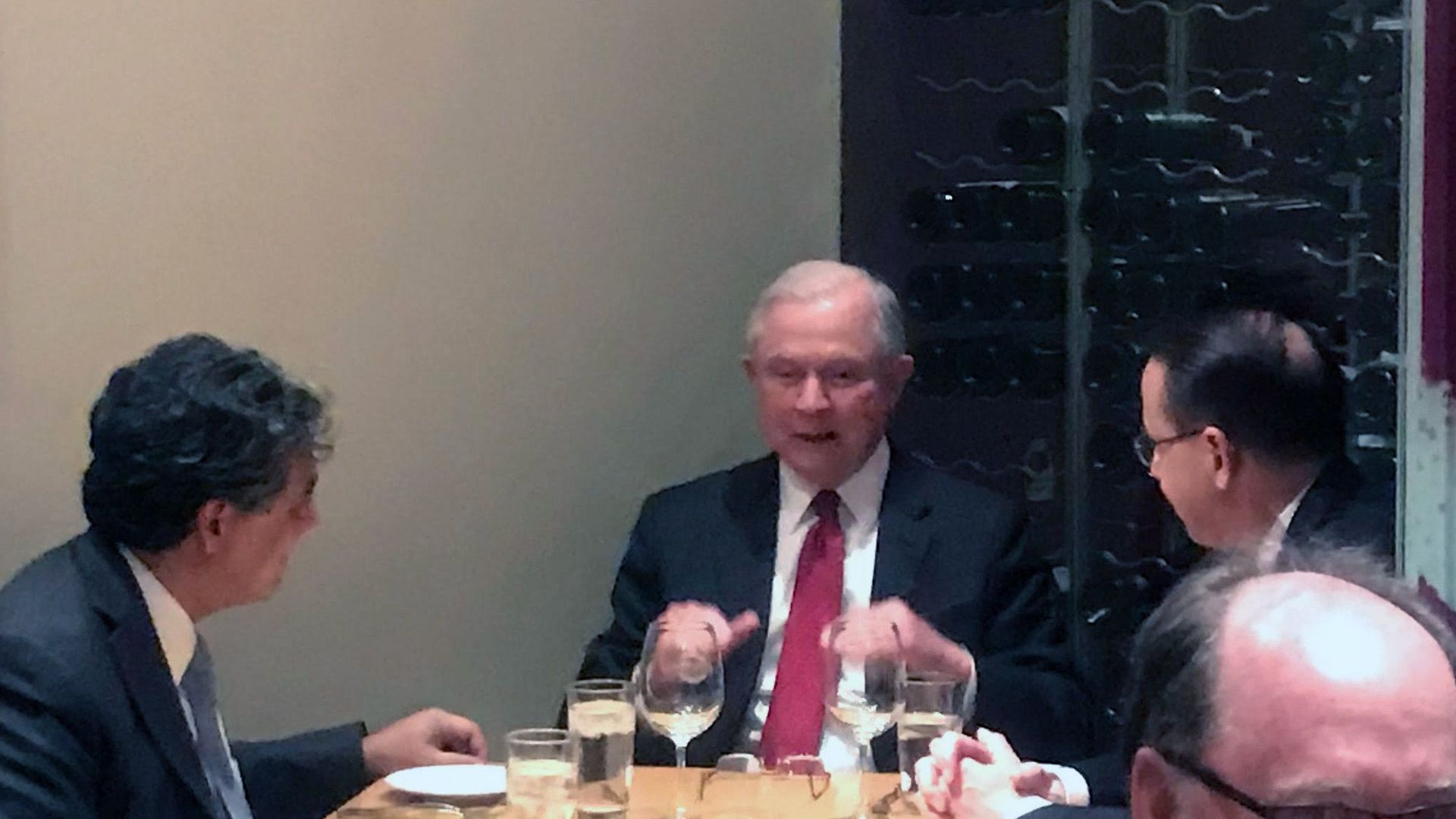 Exclusive: The three top officials in the Justice Department dined together last night, on the same day President Trump was publicly and privately raging about Sessions, Axios' Jonathan Swan and Alayna Treene report:
The Attorney General dined at Central Michel Richard (on Pennsylvania Avenue, right across from the Trump International Hotel) with his deputy, Rod Rosenstein, and the Solicitor General Noel Francisco.
If Donald Trump finally follows through on his rage and fires Jeff Sessions, this image will be printed in history books.
The picture demonstrates the point that aides have been making to Trump: Fire Sessions, then what next? Are you going to fire Rosenstein too? And then what after that? 
A source close to Sessions says the dinner was "in no way planned as pushback or an act of solidarity against the president." The source said Francisco requested the meeting some time ago.
https://www.axios.com/newsletters/axios-am-fa7a5264-6ebf-40be-bb64-5bbb4f7221b9.html?chunk=3#story3
Bonus: Pics du jour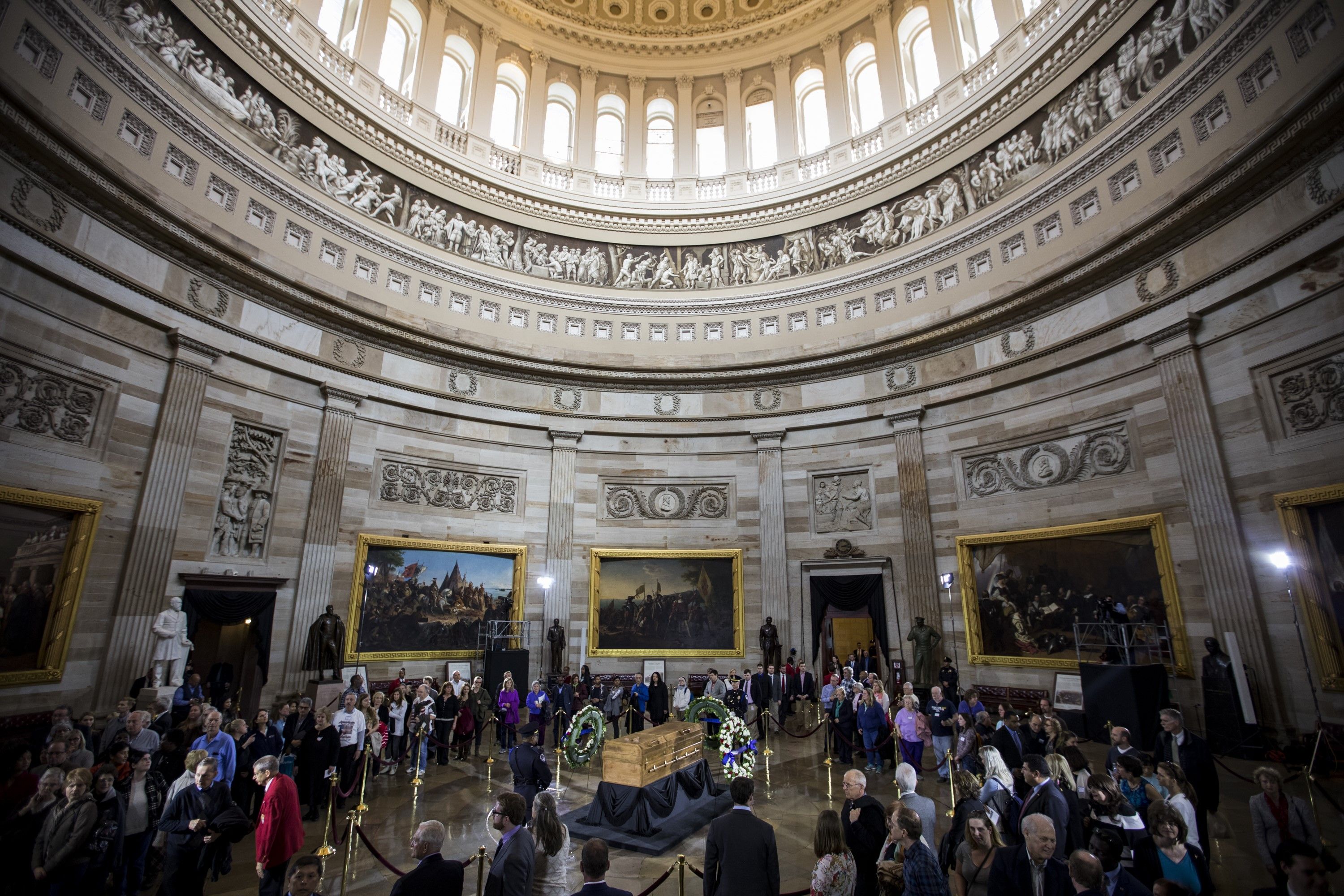 Samuel Corum / Anadolu Agency / Getty Images
Mourners pay respects to the Rev. Billy Graham, lying in honor in the Capitol Rotunda.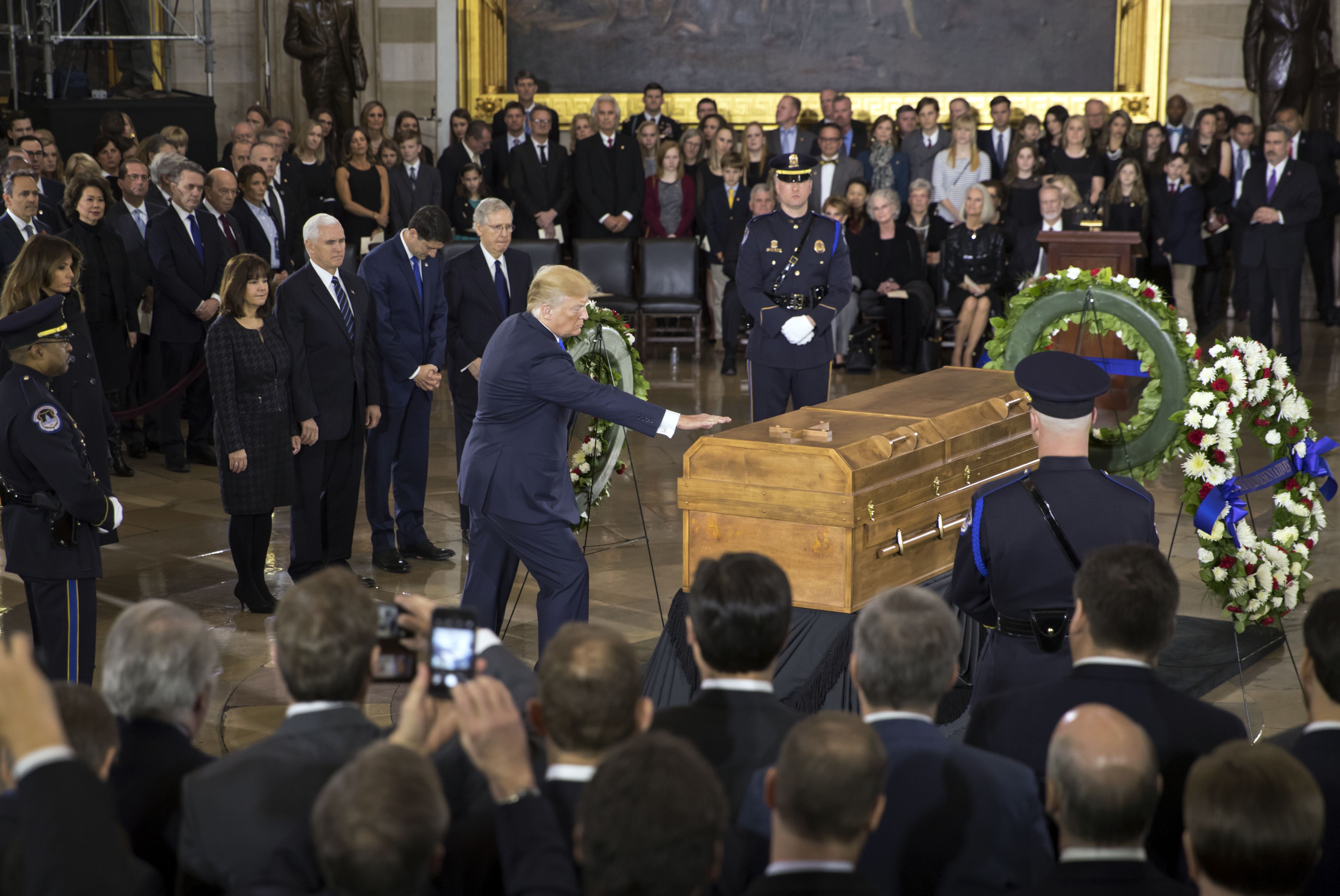 President Trump touches the casket of Billy Graham. (AP's J. Scott Applewhite)
https://www.axios.com/newsletters/axios-am-fa7a5264-6ebf-40be-bb64-5bbb4f7221b9.html?chunk=4#story4
4. How crazy inside?
This is how crazy:
The Washington Post reports today: "The White House is planning to make a major announcement [today] about whether it will impose new limits on steel and aluminum imports, ... following months of speculation about whether President Trump would follow through on trade threats and impose tariffs that could roil global markets."
But Jonathan Swan reports that the administration has had a truly remarkable breakdown in process, and the event may not happen.
Swan tells me that confusion last night among senior officials on the trade announcement — a decision of global consequence — is like nothing he's seen in the Kelly era:
A staunch Trump loyalist inside the administration texted: "This is venturing into 'OK, this is just too much' territory."
Senior White House officials had no idea what was going on, and tried to find out after seeing the WashPost story.
Be smart: This is a good illustration of catching Trump at the right moment —
which senior administration officials believe is what Commerce Secretary Wilbur Ross and possibly trade adviser Peter Navarro did.
Trump is mad and feels he's being poorly served by staff. And he wants tariffs, dammit!
So when somebody says: "You know, Mr., President, you could just do it," that's pretty appealing.
https://www.axios.com/newsletters/axios-am-fa7a5264-6ebf-40be-bb64-5bbb4f7221b9.html?chunk=5#story5
5. West Wing dope: The next Hope
No decision has been made on Hope Hicks' replacement as White House communications director, but here are some people who could be in the mix, according to Jonathan Swan's conversations with the inner circle:
Press Secretary Sarah Sanders, if she wanted the job, could step behind the scenes.
Heather Nauert, a former Fox anchor and correspondent who is the State Department spokesperson, is very well-liked in the White House, and people believe she'd do a great job as press secretary (not comms director.) A White House official said: "With all the stink attached to the State Department, she's one person who all the Trump people know is a Trump person."
Mercedes Schlapp, now the White House director of strategic communications, is a veteran of the George W. Bush administration and has been involved in long-range communications planning.
Tony Sayegh, now Treasury's Assistant Secretary for Public Affairs, is well-liked inside the White House and was seen as doing a great job leading the tax reform communications. He has managed to keep close relationships with both Treasury Secretary Steven Mnuchin and White House economic adviser Gary Cohn.
Jason Miller — a top official on the campaign and transition, and now a managing director in Teneo's Washington office — may come back inside. Trump loves "my Jas" and would like to have him back. In the ever-changing fault lines of Trumpworld, Jason has managed to maintain good relationships across them all.
Wild card: Chief of Staff John Kelly could flex his muscles and bring in one of his aides when he headed Homeland Security. Jonathan Hoffman is well-respected but is not known to the president. Kelly could also look outside of the administration, and is known to like people who have government experience.
https://www.axios.com/newsletters/axios-am-fa7a5264-6ebf-40be-bb64-5bbb4f7221b9.html?chunk=6#story6
6. Long odds against gun legislation in Congress
Of the more than 360 access-related gun bills proposed by Congress since the Sandy Hook shooting in 2012, only one has become law, according to an Axios analysis (by Haley Britzky, Chris Canipe and Andrew Witherspoon) of congressional bill data from ProPublica.
https://www.axios.com/newsletters/axios-am-fa7a5264-6ebf-40be-bb64-5bbb4f7221b9.html?chunk=7#story7
7. Bite of the day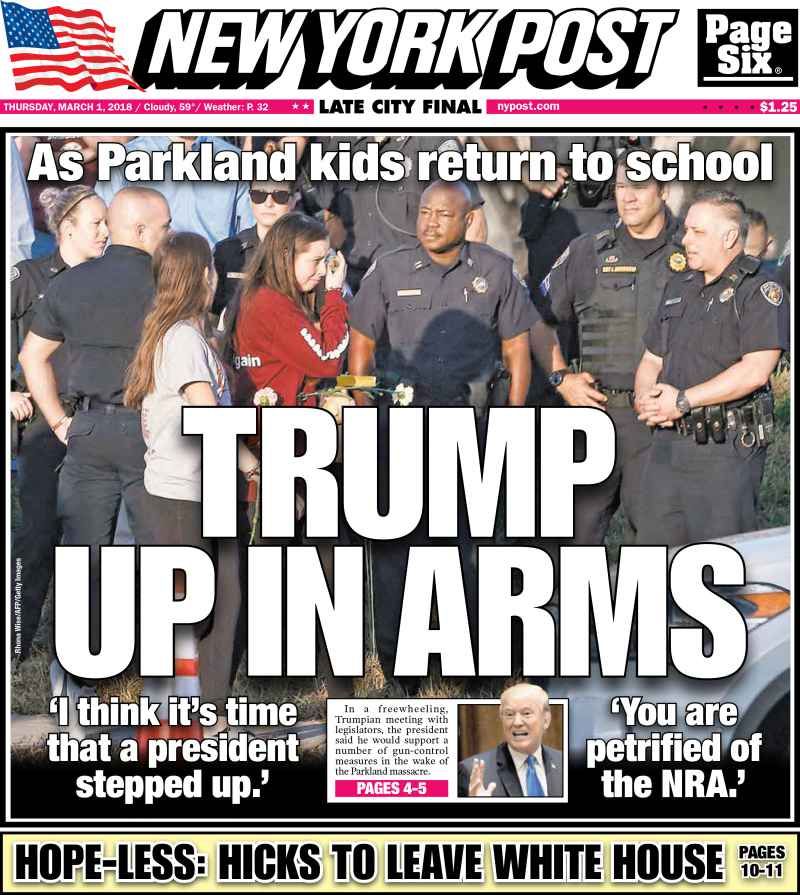 Courtesy N.Y. Post
Sen. Ben Sasse (R-Neb.), a member of the Senate Judiciary Committee, on Trump's gun comments yesterday (POTUS "stunned Republicans on live television ... by embracing gun control," as the N.Y. Times put it):
"Strong leaders don't automatically agree with the last thing that was said to them. We have the Second Amendment and due process of law for a reason. We're not ditching any Constitutional protections simply because the last person the President talked to today doesn't like them."
Be smart, from Axios' Caitlin Owens:
Yesterday's White House meeting was a stunning display of Trump leaving his party behind and siding instead with Democrats.
Senate Republicans immediately dismissed Trump's directive to put together a broader gun package, instead hoping — and assuming — that he'll change his mind and come around to their side of the issue.
https://www.axios.com/newsletters/axios-am-fa7a5264-6ebf-40be-bb64-5bbb4f7221b9.html?chunk=8#story8
8. AP poll: Nearly 6 in 10 say Trump a racist
Suspicions of bias dog Trump ... "Large numbers of Americans say they think President Donald Trump's policies have made things worse for African-Americans, Hispanics and Muslims. And more than half [of those polled] say the president himself is a racist," AP reports:
"A new poll by The Associated Press-NORC Center for Public Affairs Research [University of Chicago] finds that 57 percent of Americans think Trump's policies have been bad for Muslims, and 56 percent think they've been bad for Hispanics. Forty-seven percent, including three-quarters of blacks, think they've been bad for African-Americans."
"Fifty-seven percent of all adults say they think Trump is a racist. The poll finds that 85 percent of Democrats consider Trump racist, but just 21 percent of Republicans agree."
Trump said in January, denying a comment about African countries: "I'm not a racist. I am the least racist person you have ever interviewed, that I can tell you."
Methodology: "The AP-NORC poll of 1,337 adults [has a] margin of sampling error for all respondents is plus or minus 3.9 percentage points. The poll includes a total of 388 black respondents, who were sampled at a higher rate than their proportion of the population for purposes of analysis. The margin of sampling error among blacks is plus or minus 7.3 percentage points."
https://www.axios.com/newsletters/axios-am-fa7a5264-6ebf-40be-bb64-5bbb4f7221b9.html?chunk=9#story9
9. First look: Swing states back Trump on trade
Likely midterm voters in swing states don't perceive a direct employment benefit from international trade, according to polling by Firehouse Strategies, a Republican firm, and Optimus, a data consultancy:
About half of the voters said they were willing to pay more for cars if that helped the U.S. steel and automotive industries.
Who's "more honest and trustworthy," Trump or Mueller? 58% of Democrats chose Mueller and 14% chose Trump, while 59% of Republicans chose Trump and 15% chose Mueller. Independents leaned towards Mueller, 40% to 36%.
The firms interviewed 2,553 likely midterm voters in Florida, Wisconsin, Ohio, and Pennsylvania.
Go deeper: See Firehouse's trade memo. ... See Firehouse's Trump Year 1 memo.
https://www.axios.com/newsletters/axios-am-fa7a5264-6ebf-40be-bb64-5bbb4f7221b9.html?chunk=10#story10
10. 1 film thing: Nail-biter for best picture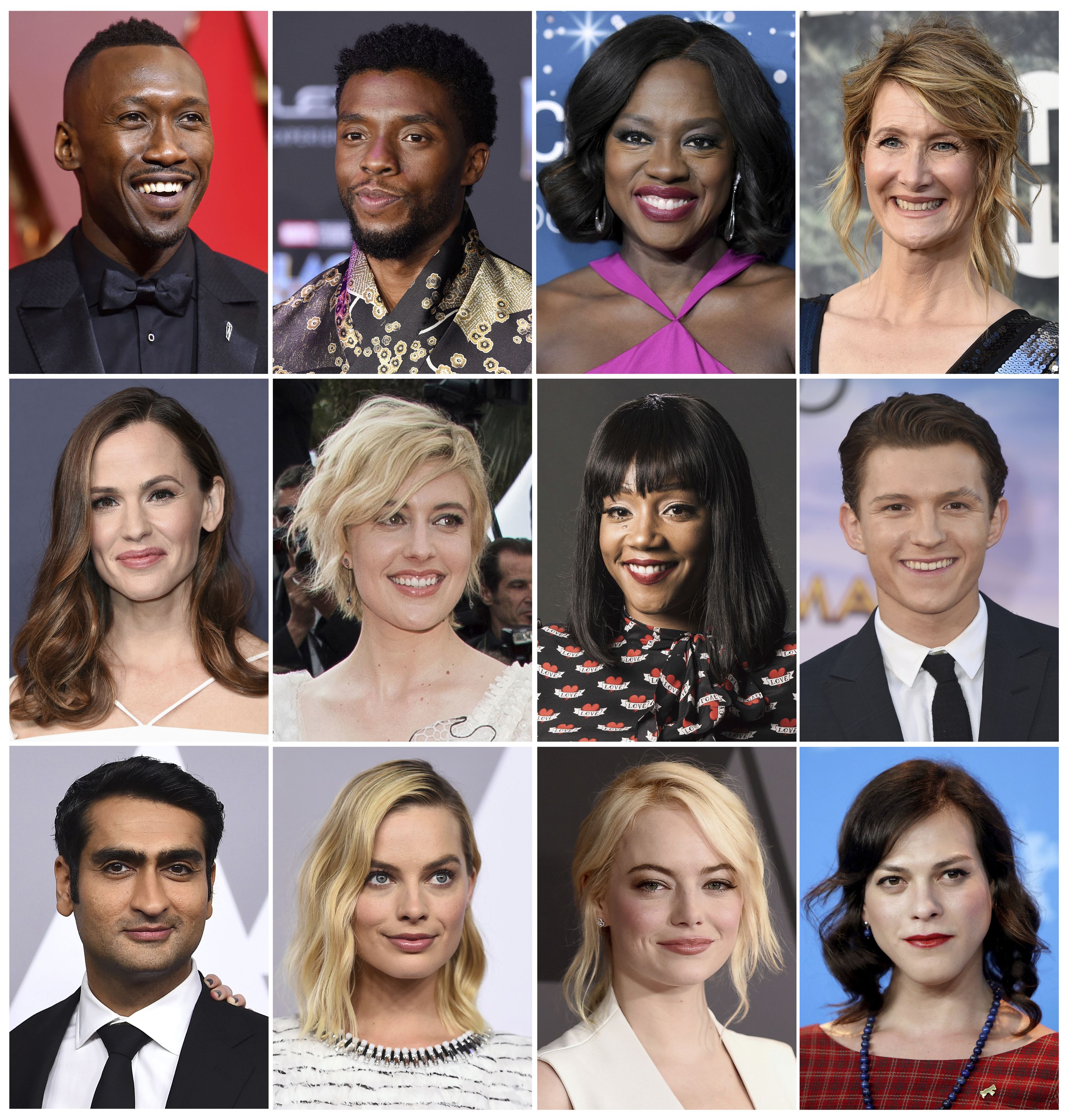 Among those appearing on the 90th annual Academy Awards ... Top row from left: Mahershala Ali, Chadwick Boseman, Viola Davis, Laura Dern ... Second row from left: Jennifer Garner, Greta Gerwig, Tiffany Haddish, Tom Holland ... Bottom row from left: Kumail Nanjiani, Margot Robbie, Emma Stone, Daniela Vega (AP combination photo)
Sunday's Academy Awards show (ABC, 9 p.m. ET) brings the closest, most unpredictable race for best-picture Oscar in recent history, AP film writer and critic Jake Coyle writes:
"Usually by now, a consensus favorite has emerged after months of guild and critics groups awards ... But not this year. Five films [out of 9 nominees] have a legitimate shot at the night's top award: 'The Shape of Water,' 'Three Billboards Outside Ebbing, Missouri,' 'Get Out,' 'Dunkirk' and 'Lady Bird.'"
"Most of the other major awards appear to be all sown up. Frances McDormand ('Three Billboards'), Gary Oldman ('Darkest Hour'), Allison Janney ('I, Tonya') and Sam Rockwell ('Three Billboards') all look like locks in the acting categories. Guillermo del Toro ('Shape of Water') is expected to win best director."
"But in the night's top category, chaos reigns. ... No one really knows what an 'Oscar movie' is anymore."
Why it matters: "The Oscars, in their 90th year, may look much the same on the outside. But under the surface, everything is shifting. In just last two years, the film academy has added about a fifth of its membership, ushering in an influx of people of color, women and international voters."
"The season has seen film after film vie for the most compelling, of-the-moment story line":
"Steven Spielberg's 'The Post' aimed for both the anti-Trump film and, in its female protagonist, a #MeToo movie, as well."
"'Lady Bird' ... resonated more as an emblem of progress for women, making [Greta] Gerwig only the fifth woman nominated for best director."
"And after several years of scrutiny over the Oscars' poor track record in diversity, 'Get Out' skewered the very kind of white liberal prejudice that Hollywood is frequently criticized for."
The bottom line: "The voters are different. Some of the major players are different [no Harvey Weinstein]. And the movies, too, are different."
Be smart: "In the eyes of Oscar observers, 'Get Out' has surged the most in recent weeks, aided in part by a robust campaign by Universal Pictures."
"The safe money might be on 'The Shape of Water.' ... [So it call] could come down to how academy voters feel about the lovemaking of a fish-man."