Good Saturday morning. One year ago today — Oct. 7, 2016 — brought one of the tectonic news collisions in the history of elections ... 3 p.m.: White House releases intelligence community statement saying Russians are behind election hacking ... 4:02 p.m.: WashPost reveals "Access Hollywood" tape ... 4:30 p.m.: John Podesta emails posted by Wikileaks. Relive it if you dare.
https://www.axios.com/newsletters/axios-am-f93d737c-b30d-4332-b1b9-94abf05afa50.html?chunk=0#story0
1 big thing: Being John Kelly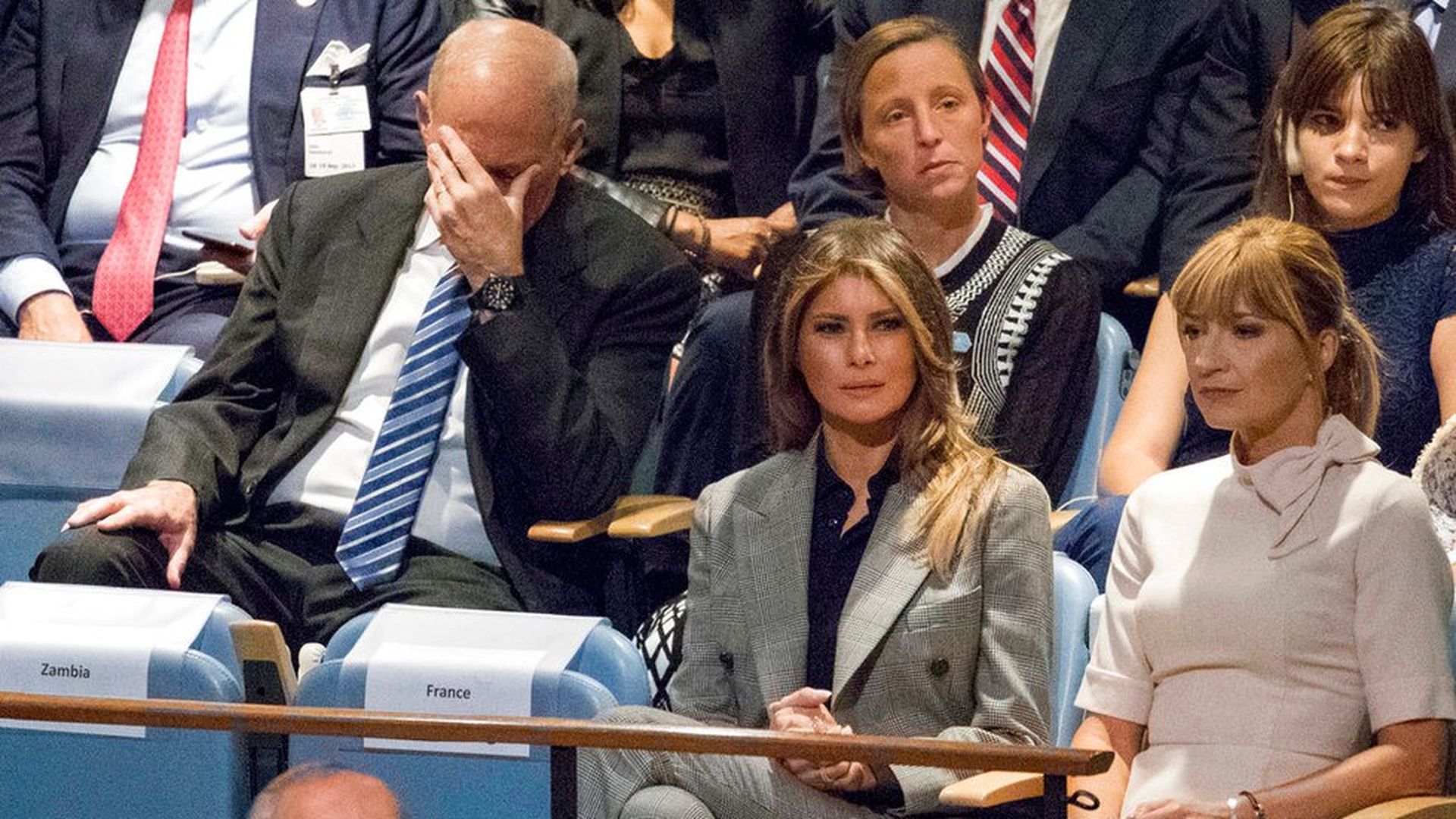 You are White House Chief of Staff John Kelly:
You are a true America hero — enlisting in the Marines and rising to become a highly decorated four-star general who once ran the entire U.S. Southern Command.
You gave your life to service. Your son, Marine Lt. Robert Kelly, 29, gave his in service, killed after stepping on a landmine while leading a platoon in Afghanistan.
Now, you spend your days cleaning up messes all around your Commander, the actual Commander-in-Chief — a guy who dodged the draft, and taunts or tramples on many of things you feel and believe deep in your bones. Everyone knows you don't share his views, values or politics.
Most of your days, like those of your friend Rex Tillerson, blow.
You spend most of your time killing bad things: bad ideas, bad information flow, bad habits. You inherited an Island of Misfit Toys, and tossed out the most obnoxious ones.
You run a tight ship during workdays -- but lose total control of the wheel when your boss goes rogue, which is most nights, most mornings, most weekends.
Now scattered, Trump originals ask what exactly it means for you to do your duty as chief of staff. You feel your duty is to protect the nation from POTUS.
But some Trump loyalists won't concede that you're always right and DJT is always wrong. They think that sometimes it's their duty to subordinate their opinions to his. They ask: What's patriotic about thwarting the duly elected POTUS?
You cringe and sometime rage when you see the nasty tweets, the childish taunts, the wild improvisation.
You start watching Fox just to see what he sees, and read Breitbart for a glimpse of the world through the President's eyes.
You plot with Tillerson and SecDef Mattis and National Security Adviser McMaster, and find comfort and camaraderie in your pact to save the world from an impulsive president.
It's a worthy war -- but often one you fear you are losing. No wonder you've been caught on camera with an exasperated face pressed firmly against your hand. It's a civilian salute to your new reality.
https://www.axios.com/newsletters/axios-am-f93d737c-b30d-4332-b1b9-94abf05afa50.html?chunk=1#story1
2. Being Rex Tillerson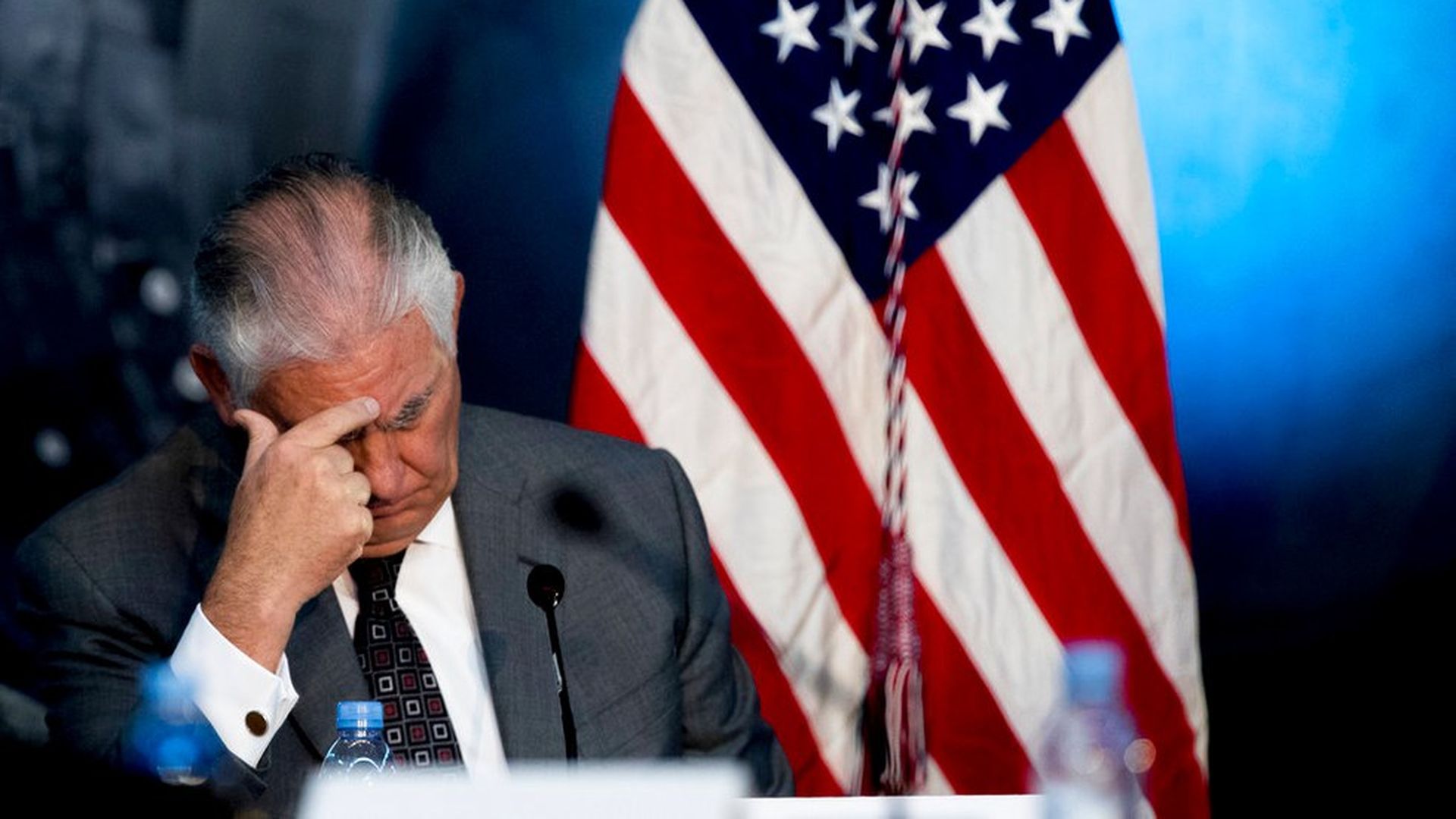 The New Yorker's great Dexter Filkins files a well-timed (and relatively sympathetic) profile, "Rex Tillerson at the Breaking Point ... Will Donald Trump let the Secretary of State do his job?":
"When I met Tillerson recently, in his seventh-floor office at the State Department, he was wearing a dark-blue suit and a bright-red tie, but he carried himself like a hard-charging Texas oilman."
"He was named for two Hollywood actors famous for playing cowboys: Rex Allen and John Wayne (his middle name is Wayne).'"
The 1 sentence to read: "Unlike his predecessors, he has not given a major foreign-policy address in which he has outlined a world view."
Why it matters: "A senior European diplomat ... told me that the overwhelming perception of American foreign policy among European governments was chaos."
"The uncertainty was compounded by the fact that there were few people in the White House or the State Department whom they could talk to."
What everyone's saying: "Tillerson has centralized decision-making so aggressively that he is unable to keep up. A senior Trump Administration official told me, 'Where things fall in the cracks is in the area of management and leadership of the organization, and in leveraging the immense amount of expertise in that building.'"
"Why isn't Tillerson making better use of his people? 'I can't explain it,' the official told me. 'I cannot frickin' explain it.'"
https://www.axios.com/newsletters/axios-am-f93d737c-b30d-4332-b1b9-94abf05afa50.html?chunk=2#story2
3. Trump's phone-a-friend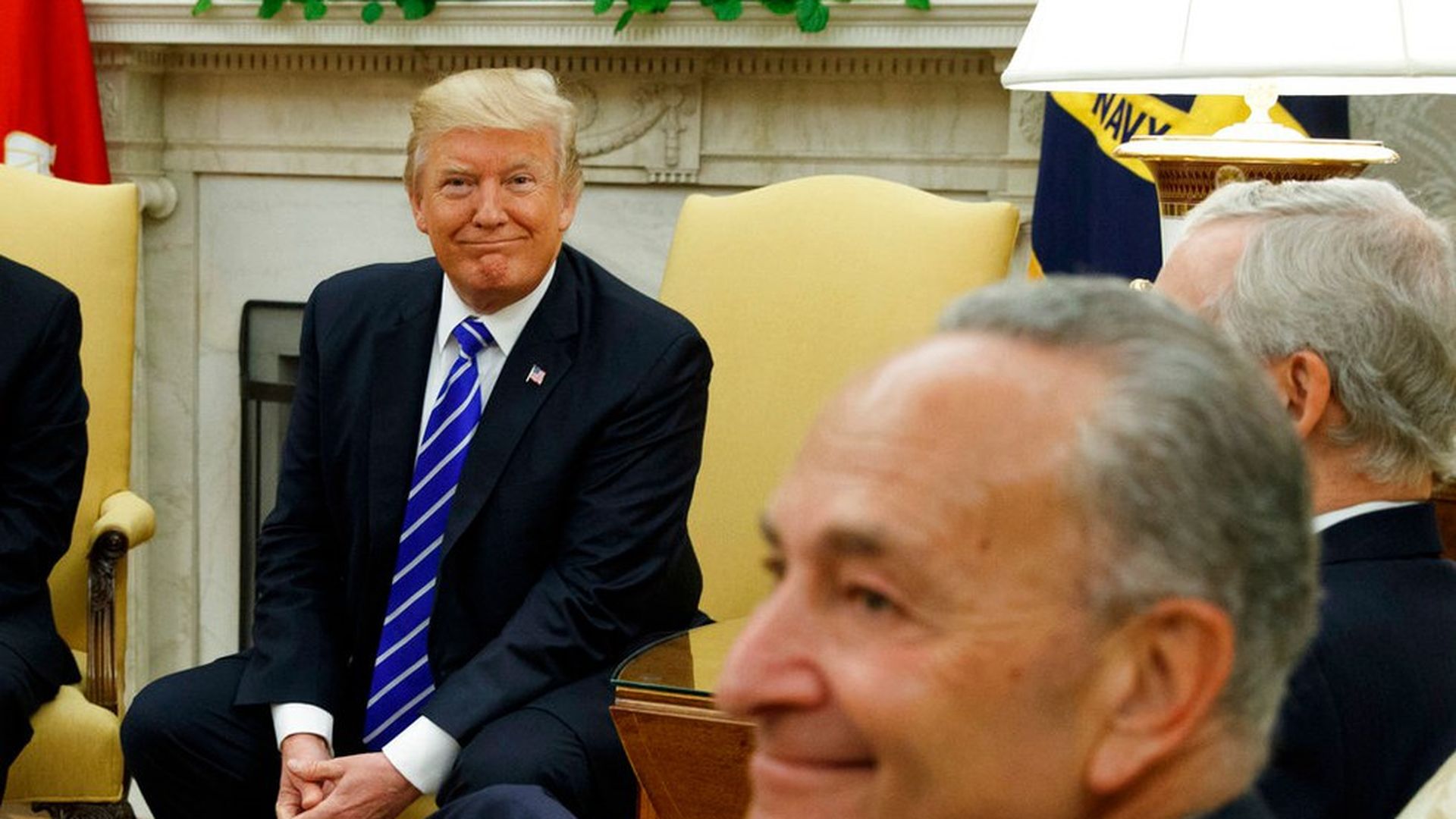 A Trump tweet this morning confirms last night's Axios scoop: "I called Chuck Schumer yesterday to see if the Dems want to do a great HealthCare Bill. ObamaCare is badly broken, big premiums. Who knows!"
The initial reaction among some Republicans was consternation, Jonathan Swan and I reported:
A well-wired Republican told us: "It codifies the Rs' failure on repeal/replace and shows the President can move without hesitation or ideological impediment to make a deal with the Dems. It depresses R base turnout in the midterms, as Trump voters are further disconnected from the Congressional wing."
Be smart: Trump wants to be the deal guy, and he's going to keep playing the "Chuck and Nancy" card. To him, Republicans consternation is a feature, not a bug.
Between the lines ... Axios health care editor Sam Baker emails me:
"All of the things Trump and his administration have done on health care — not just pushing for repeal-replace, but independently cutting off enrollment outreach, keeping insurers in limbo about their payments, reportedly putting the kibosh even on Republican governors' efforts to stabilize their markets, all of it — cuts in the exact opposite direction of anything Schumer would want or could abide."
"If there's any hope for something bipartisan, I would have thought the most likely vehicle for that would have been [Sens.] Lamar Alexander [R-Tenn.] and Patty Murray [D-Wash.], since they're both already working and not nearly as far apart as Trump and Schumer would have to be. Yet that effort is far from a lock."
https://www.axios.com/newsletters/axios-am-f93d737c-b30d-4332-b1b9-94abf05afa50.html?chunk=3#story3
Bonus 1: Pic du jour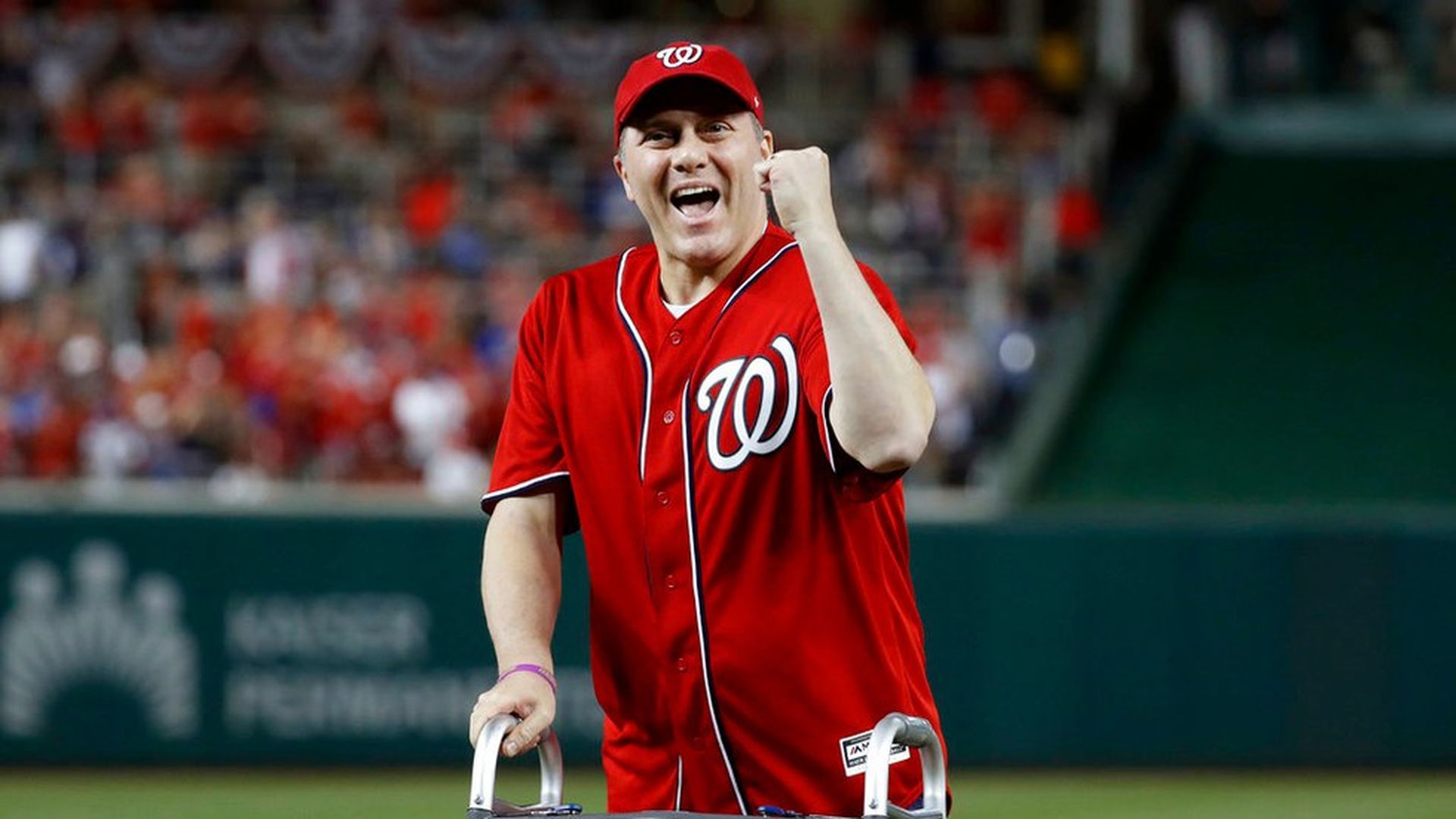 Eight days after his triumphant return to the Capitol, House Majority Whip Steve Scalise (R-La.) threw out the ceremonial first pitch before Game 1 of the National League Division Series between the Washington Nationals and the Chicago Cubs, at Nats Park last night. Nats fell to Cubs, 3-0.
New tick-tock of the shooting from the Alexandria (Va.) prosecutor's report, via CNN:
"James Hodgkinson, the 66-year-old shooter, had taken cellphone video of the field where the Republican team practiced as far back as April, and had been spotted by neighbors 'casing' the area in the months preceding the attack."
Hodgkinson [fired] at least 70 rounds, most of them from an assault rifle."
"Capitol Police officers on Scalise's detail fired 25 rounds back at Hodgkinson."
https://www.axios.com/newsletters/axios-am-f93d737c-b30d-4332-b1b9-94abf05afa50.html?chunk=4#story4
Bonus 2: Reader pic gets results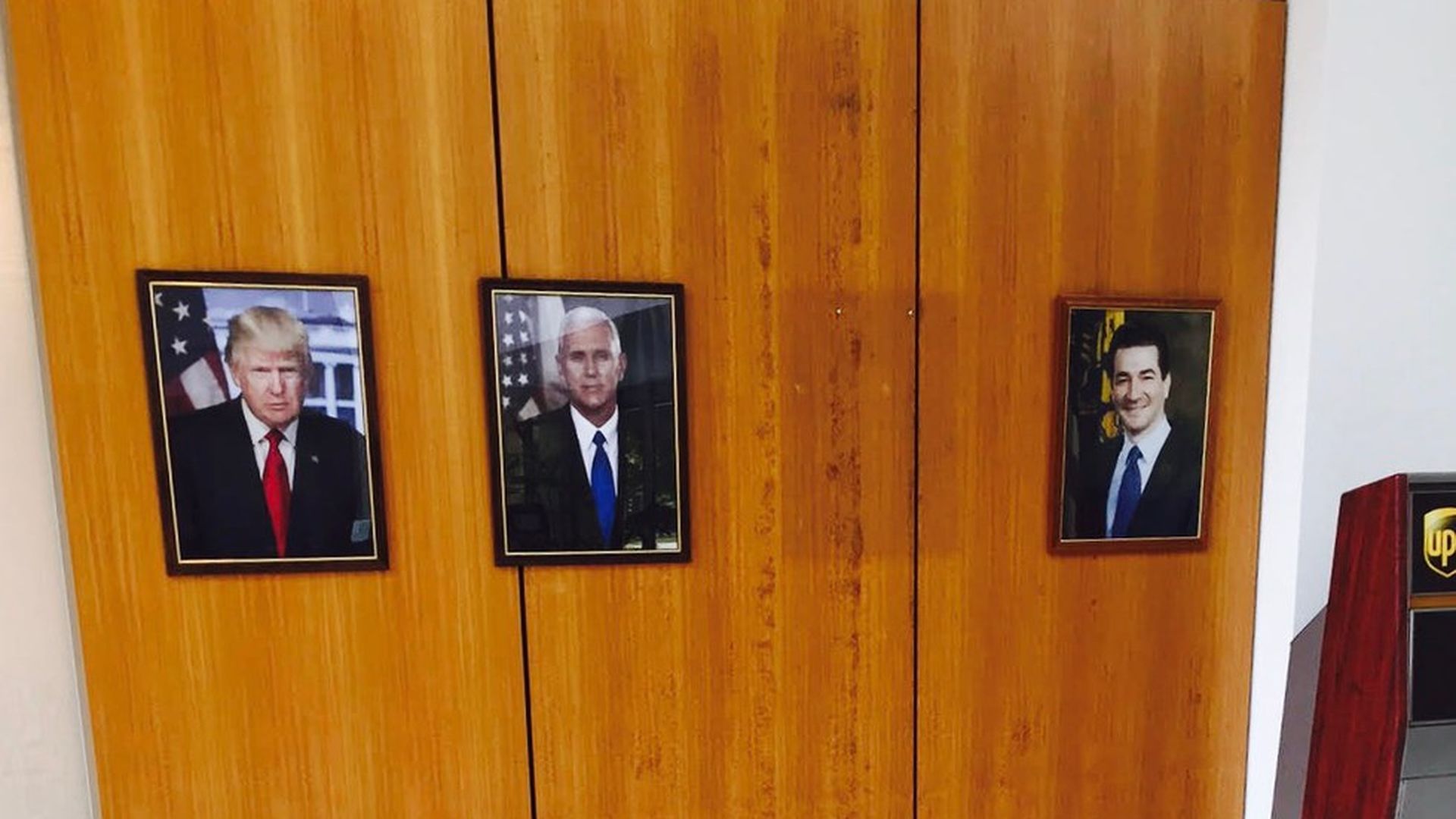 Yesterday we brought you a pic that a reader titled "Absence of Leadership," showing the lobby of Building 32 on the Food and Drug Administration campus in Silver Spring, Md.: A portrait of FDA Commissioner Scott Gottlieb hung next to missing spots for the President, Vice President and HHS Secretary.
Within hours, mismatched photos of Trump and Pence had been tacked up.
https://www.axios.com/newsletters/axios-am-f93d737c-b30d-4332-b1b9-94abf05afa50.html?chunk=5#story5
4. Huge change for Facebook political advertisers
Facebook will require ads that are targeted to people based on "politics, religion, ethnicity or social issues" to be manually reviewed before they go live, according to an email sent to advertisers and obtained by Axios' Sara Fischer and David McCabe.
Why it matters: The steps Facebook is taking to combat questions of Russian election interference strike at the core of the company's business. The ad buyers who spent $450 million on Facebook ads love the platform's speed and efficiency — something they fear will be diminished by inserting more human oversig
https://www.axios.com/newsletters/axios-am-f93d737c-b30d-4332-b1b9-94abf05afa50.html?chunk=6#story6
5. "My wonderful small donors"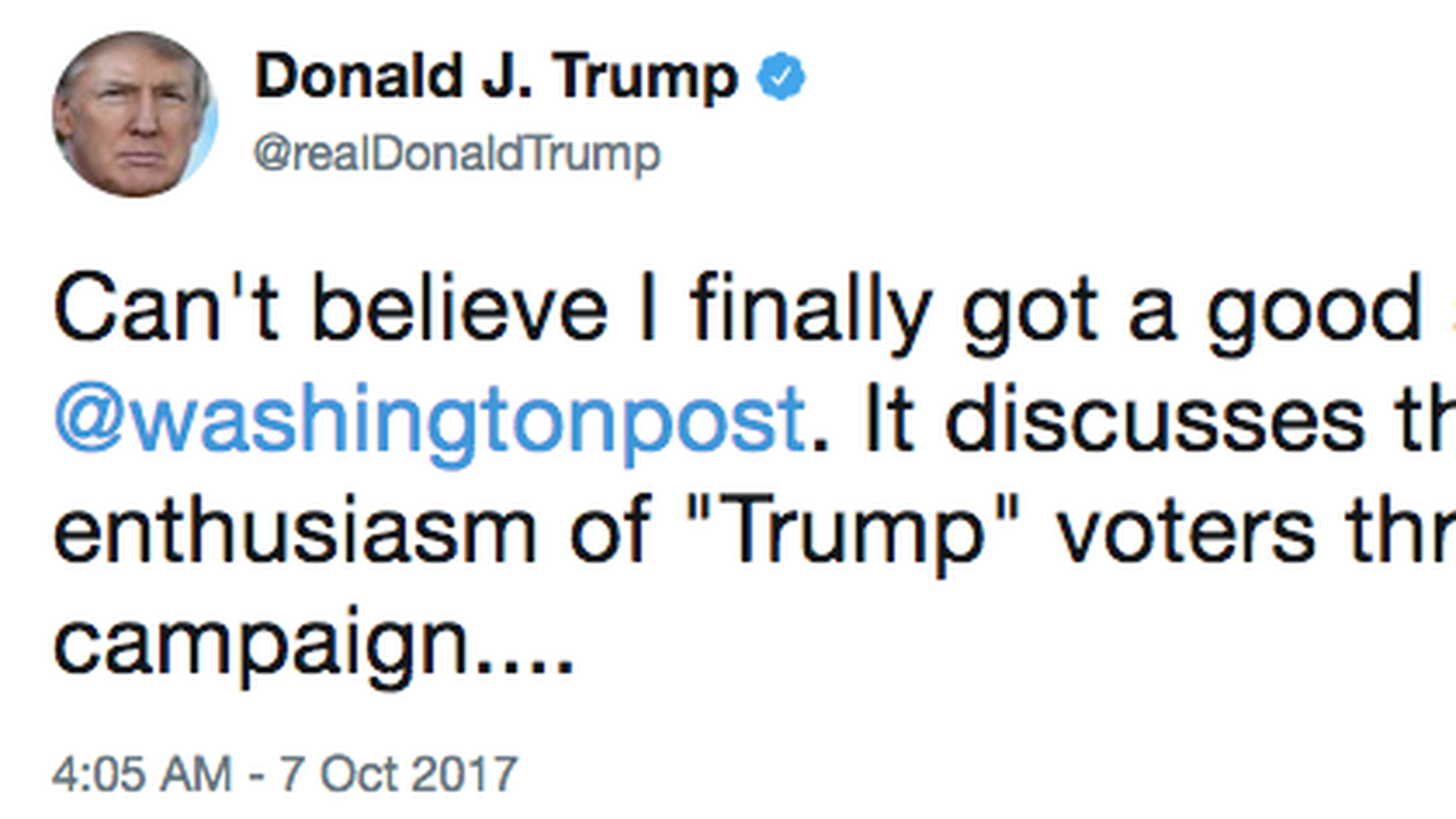 He's talking about the Post's lead print story, "To drain 'swamp,' Trump's base has filled GOP coffers: SMALL DOLLAR DONATIONS SOAR — Party opens wide cash advantage over Democrats," by Matea Gold:
Why it matters: "The RNC's success with small donors illustrates how the Republican Party, long a center of the political establishment, has managed to turn Trump's anti-Washington message to its advantage."
"And it shows how Trump's base, angered by the sense that the president is being treated unfairly, is helping to redefine a party that has long cultivated rich contributors."
https://www.axios.com/newsletters/axios-am-f93d737c-b30d-4332-b1b9-94abf05afa50.html?chunk=7#story7
6. "One Day"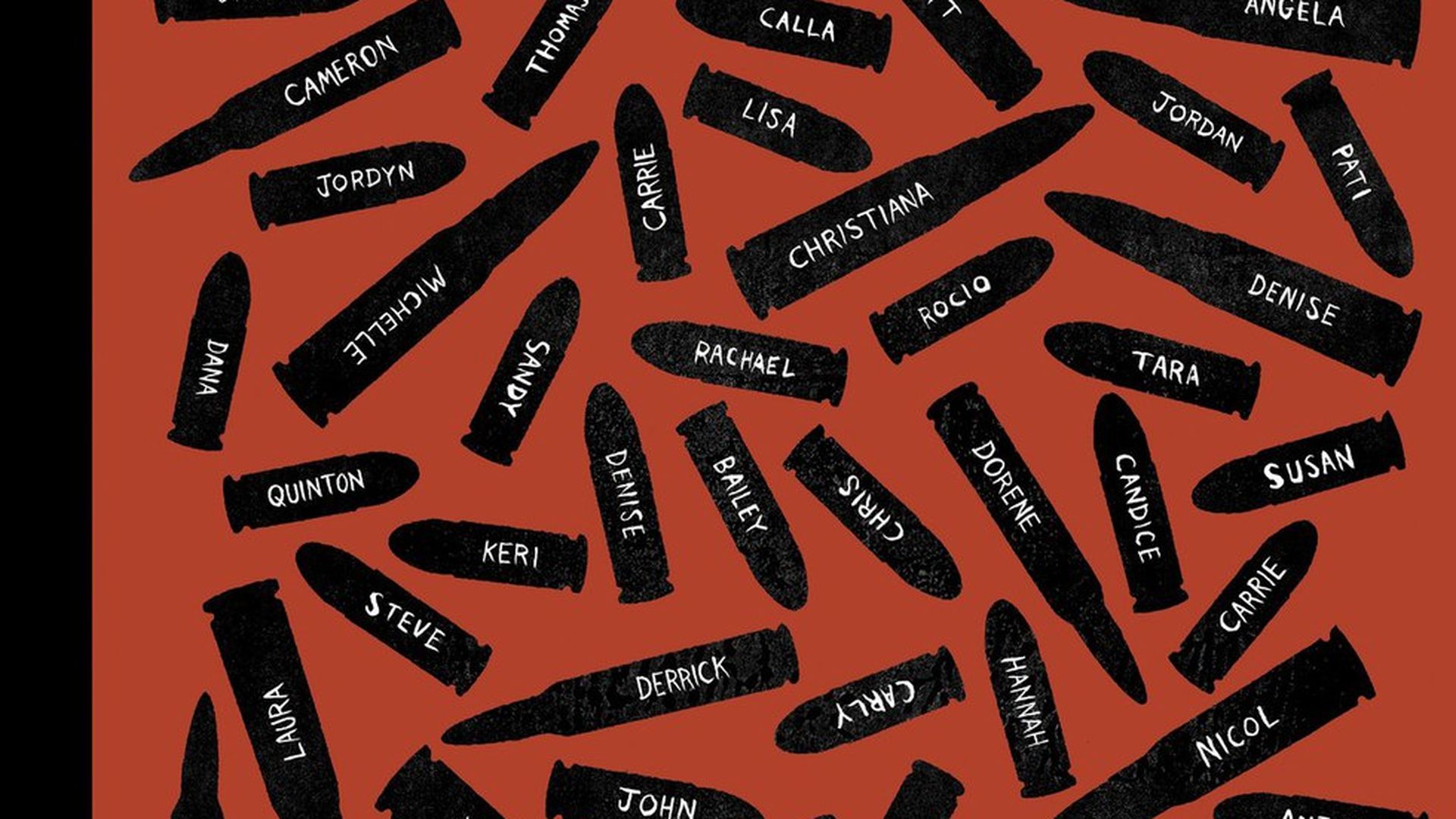 Artist David Plunkert's "October 1, 2017: One Day in a Nation of Guns," memorializing the victims of the mass shooting in Las Vegas: "The names on the cover reflect the official list of victims released by the Clark County, Nevada, Office of the Coroner and Medical Examiner."
P.S. Cover of tomorrow's WashPost Outlook section, "How the erosion of trust leads to murders and mass shootings: Faith in government is closely linked to the homicide rate, says historian Randolph Roth":
"The murder rate since World War II has tracked almost perfectly, as criminologist Gary LaFree has observed, with the proportion of Americans who say they 'trust the government in Washington to do what is right' most of the time and who believe that most public officials are honest."
https://www.axios.com/newsletters/axios-am-f93d737c-b30d-4332-b1b9-94abf05afa50.html?chunk=8#story8
7. Wrong track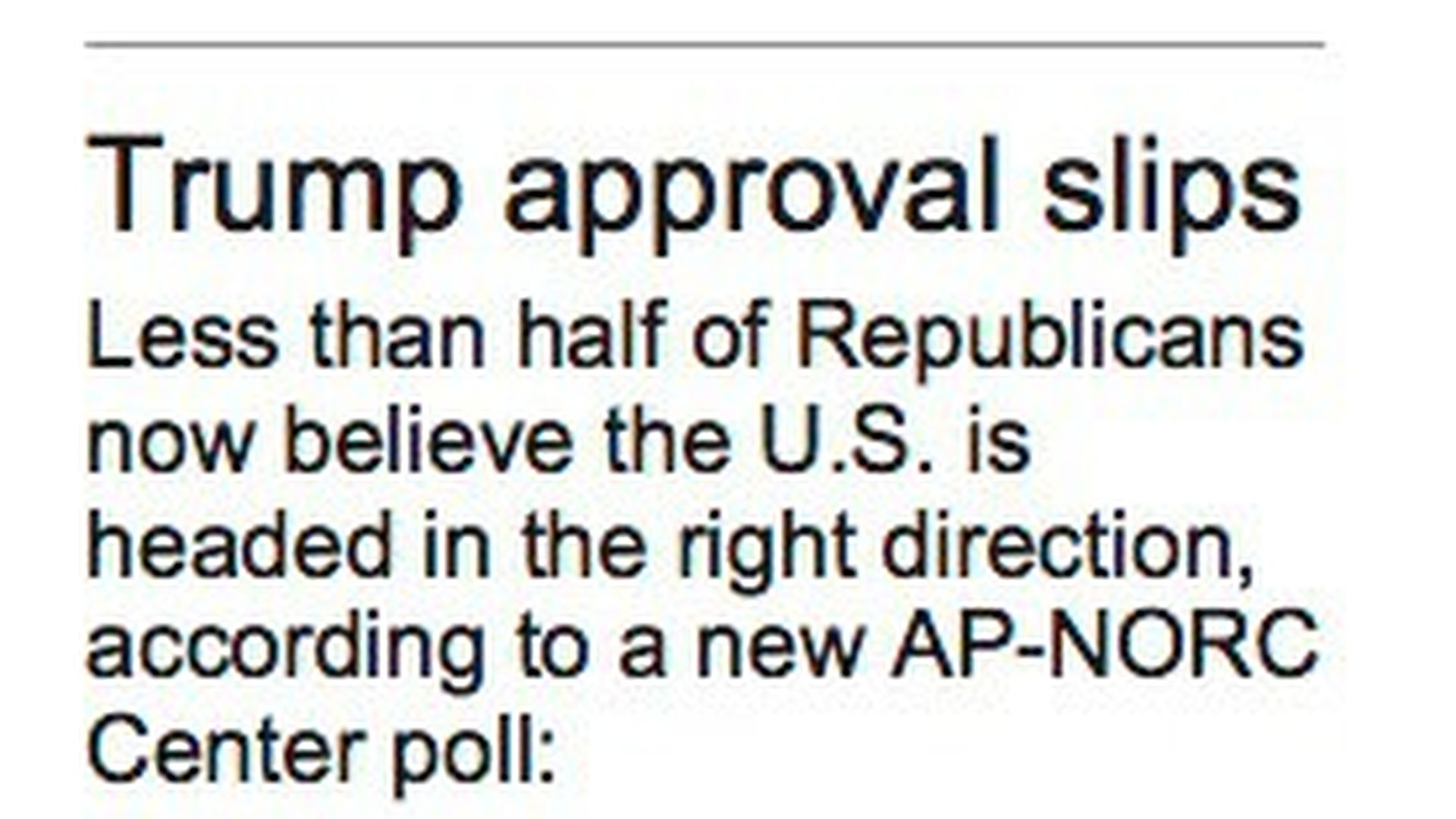 "Just 24 percent of Americans believe the country is heading in the right direction after a tumultuous stretch for ... Trump that included the threat of war with North Korea, stormy complaints about hurricane relief and Trump's equivocating about white supremacists," per AP's Julie Pace and Emily Swanson:
"That's a 10-point drop since June, according to a poll from The Associated Press-NORC Center for Public Affairs Research."
Why it matters: "The decline in optimism about the nation's trajectory is particularly pronounced among Republicans. In June, 60 percent of Republicans said the country was headed in the right direction; now it's just 44 percent."
P.S. Banner of yesterday's USA Today, "Poll portrays an unhappy America," by Susan Page and Julia Fair: "Americans overwhelmingly disagree with President Trump ... But a USA TODAY/Suffolk University poll also finds an unusual disconnect: Americans are increasingly optimistic about the nation's economy."
https://www.axios.com/newsletters/axios-am-f93d737c-b30d-4332-b1b9-94abf05afa50.html?chunk=9#story9
8. 2 plot twists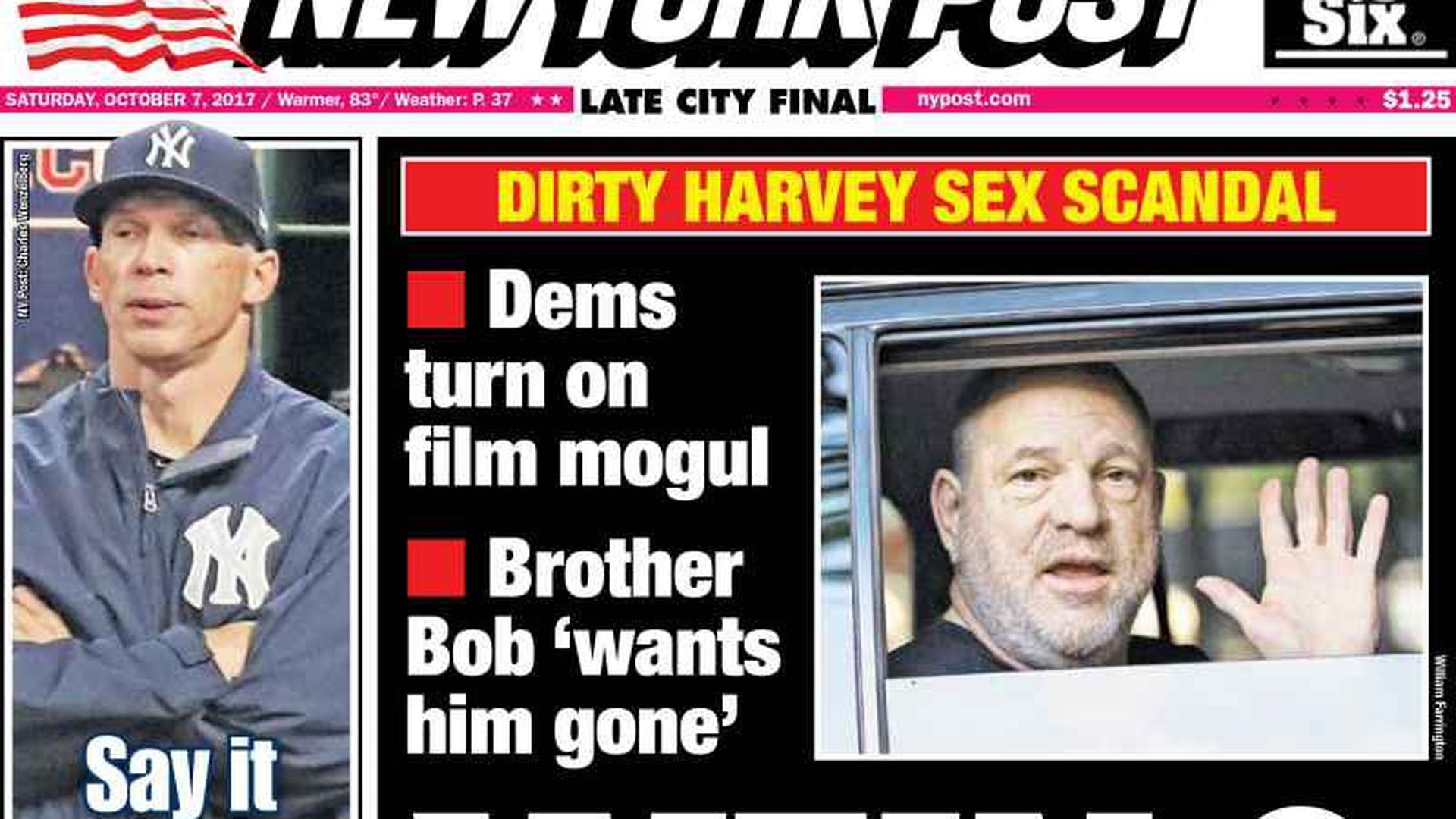 "Harvey Weinstein's brother may have been mastermind behind sex allegation exposé," by Ian Mohr of N.Y. Post "Page Six":
"It's Cain and Abel — Hollywood style."
"Bob Weinstein, the disgruntled co-founder of The Weinstein Company, ... 'wanted Harvey out for years," said a former staffer, who added that the two brothers are becoming increasingly suspicious of each other. ... 'Bob may have even fed this story' to the Times."
Bob Weinstein: "These assertions are untrue."
"The duo founded Miramax — the entertainment company that revolutionizing the indie film business — in 1979 in Buffalo.They sold the company to Disney in 1993 and exited in 2005 to found The Weinstein Company.
"While Harvey got credit for Miramax's string of high-end Oscar wins, Bob was behind the brand's Dimension Films, which made hits like the 'Scream,' 'Scary Movie' and 'Spy Kids' ­series."
N.Y. Times spokeswoman Danielle Rhoades Ha, via Variety: "Mr. Weinstein should publicly waive the NDAs in the women's agreements so they can tell their stories. As a supporter of women, he must support their right to speak openly about these issues of gender and power."
Go deeper ... "The Democrats giving away donations from Harvey Weinstein," by Axios' Alayna Treene.
https://www.axios.com/newsletters/axios-am-f93d737c-b30d-4332-b1b9-94abf05afa50.html?chunk=10#story10
9. Collison of tech, business
"Hollywood Glory Eludes Amazon," the Wall Street Journal's Ben Fritz and Joe Flint write on the front page:
What's new: "Amazon Studios has been stumbling when it comes to producing content that attracts audiences and buzz. The Hollywood arm of the online giant is pivoting away from dramas for adults but is struggling to define a new strategy."
What happened: "It has alienated high-profile content creators, who say executives have proven incapable—or unwilling—to smooth out conflicts that inevitably crop up during the shooting of a television show."
What's next: "Amazon Studios is taking steps to get back on track, such as developing shows intended to be more globally popular, cutting back children's programming and considering new leadership in its film unit."
P.S. "Wal-Mart Gets Back on the Growth Track: E-commerce is helping the retailing giant jump-start stalled revenue and profit growth," by Barron's Jack Hough:
"[T]here have been a string of ... acquisitions, experiments, and musings that are out of character for Wal-Mart ... Some seem out there, like having store employees deliver packages on their way home."
"Groceries are more than half of U.S. revenue, making Wal-Mart the country's largest grocer. ... The company ... has stores within 10 minutes of 90% of the U.S. population."
Why it matters: "None of this would matter if business at Wal-Mart's stores was deteriorating. But same-store sales have increased for 12 straight quarters."
Free link for Axios readers. Thank you, Barron's!
https://www.axios.com/newsletters/axios-am-f93d737c-b30d-4332-b1b9-94abf05afa50.html?chunk=11#story11
10. 1 fun thing
Office architecture ... "First there were individual offices. Then cubicles and open floor plans. Now, there is a 'palette of places,'" the N.Y. Times' Steve Lohr writes on the cover of N.Y. Times Sunday Business:
"The new model is largely open, but not entirely. Under the revised thinking, breaking down walls to bring people together is good, but so are 'team spaces' and standing tables, comfortable couches and movable walls."
"It's partly a backlash against the one-size-fits-all mind-set, not to mention the corporate penny-pinching, embodied in the move toward pure open floor plans ... [M]any experts agree it often went too far, with row upon row of desks and workbench-style seating more likely to generate ennui than efficiency."
"The new designs often include 'isolation rooms,' soundproof phone booths, and even lounges where technology is forbidden."
Wait for it ... "[T]he new designs ... are ... meant to appeal to millennial recruits, many of whom are more comfortable working in a Starbucks than in a traditional office."
Thank you for reading. If you're lucky enough to be off today, maybe call someone who'll be pleasantly surprised to hear from you.