Good Tuesday morning. Situational awareness: "An emerging theory among U.S. military investigators is that the Army Special Forces soldiers ambushed in Niger were set up by terrorists, who were tipped off in advance about a meeting in a village sympathetic to local ISIS affiliates," per NBC News.
https://www.axios.com/newsletters/axios-am-f61c9839-f56f-44eb-88f5-a7a8eab3d367.html?chunk=0#story0
1 big thing ... New CEO scare: culture wars
Forget politics. The culture wars are raging in corporate America, and many CEOs and businesses are grossly unprepared:
The war gets ignited by employees, shareholders, customers and social media.
The new, high-stakes collisions CEOs are getting pulled into include immigration, climate change, diversity and inclusiveness, and whether their ads run on controversial websites.
And the wave of sexual-harassment scandals shows that companies have crime in their workplace.
A behind-the-scenes adviser to some of the world's largest corporations told me: "The amount of time that these companies now have to spend on non-market [non-revenue] issues has increased exponentially."
Some of the newer topics, like climate change, affect both a corporation's culture and bottom line. "Sustainability has become a business requirement, not a political statement," the adviser told me.
The problem: Most big companies are run by straight, white men who are unaccustomed to navigating a fast-changing America.
And most comms departments were built for 1990s media, with 1990s speed.
Why it matters: In the social-media age, corporate reputation and corporate image matter as much (sometimes more) than the delivery of your product or service.
Any business that cares about younger demographics has to ask: "Do you want to be associated with my company when you're making a purchasing decision?"
More companies, including entertainment and utility companies, are becoming more consumer-facing (for example, selling movies or phones directly).
Social media lets anyone call out a brand, in a way that can instantly metastasize.
Be smart ... Axios CEO Jim VandeHei had vital survival advice for every organization in his post on our secret sauce and corporate culture, "The Axios Way: How you do it":
"Think of your brand as a political candidate. You need to be hyper-aware of how you're seen by your core constituencies (employees and customers) and by the broader public."
"How you do it: Be vigilant for signs of erosion in your base; or failing to respond forcefully to negative attacks; or under-utilizing technology to connect with your people in authentic, compelling ways."
https://www.axios.com/newsletters/axios-am-f61c9839-f56f-44eb-88f5-a7a8eab3d367.html?chunk=1#story1
2. Sea rising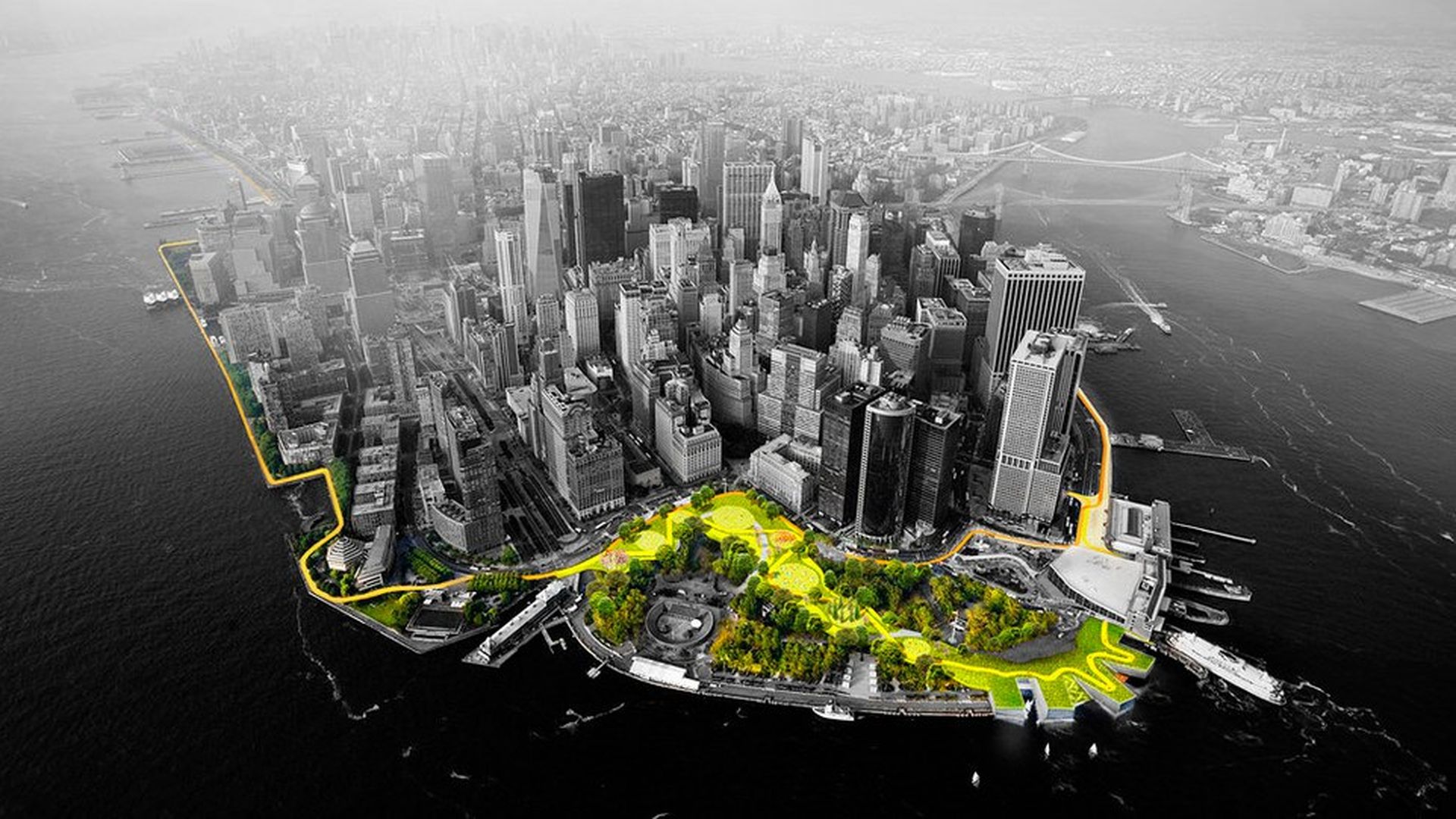 Sunday is the fifth anniversary of Superstorm Sandy landfall ... "[D]isaster planning experts say there is no place in America truly prepared for climate change and the tempests it could bring," AP's Frank Eltman and Wayne Parry write in the lead story of an anniversary package:
"That is true even in New York and New Jersey, where cities and towns got slammed by deadly floodwaters that rose out of the Atlantic on the evening of Oct. 29, 2012."
Why it matters: "While billions have been spent to repair the damage, protecting vulnerable infrastructure, people and property across the nation from the more extreme weather that climate change could bring is going to require investment on a staggering scale, easily costing hundreds of billions, perhaps trillions."
What's next: "Some experts worry also that the ascendance of a climate-change skeptic to the White House may put the brakes on coastal protection efforts."
New warning for NYC ... "Within the next three decades, floods that used to strike the New York City area only once every 500 years could occur every five years, according to a new scientific study," AP's Frank Eltman writes:
"The study, performed by researchers at several universities and published [yesterday] in the Proceedings of the National Academy of Sciences, primarily blames the predicted change on sea-level rise caused by global warming."
"Many of the models had a dose of good news for the nation's largest city: Climate changes may mean that storms are more violent, but are also likely to swing further off-shore, meaning storm surge heights aren't likely to increase substantially through 2300."
Why it matters: "[R]ising sea levels could mean that floods of 7.4 feet ... or more that struck the New York city area roughly once every 500 years before 1800, and which occur roughly every 25 years now, could happen once every five years between 2030 and 2045."
https://www.axios.com/newsletters/axios-am-f61c9839-f56f-44eb-88f5-a7a8eab3d367.html?chunk=2#story2
3. Xi rising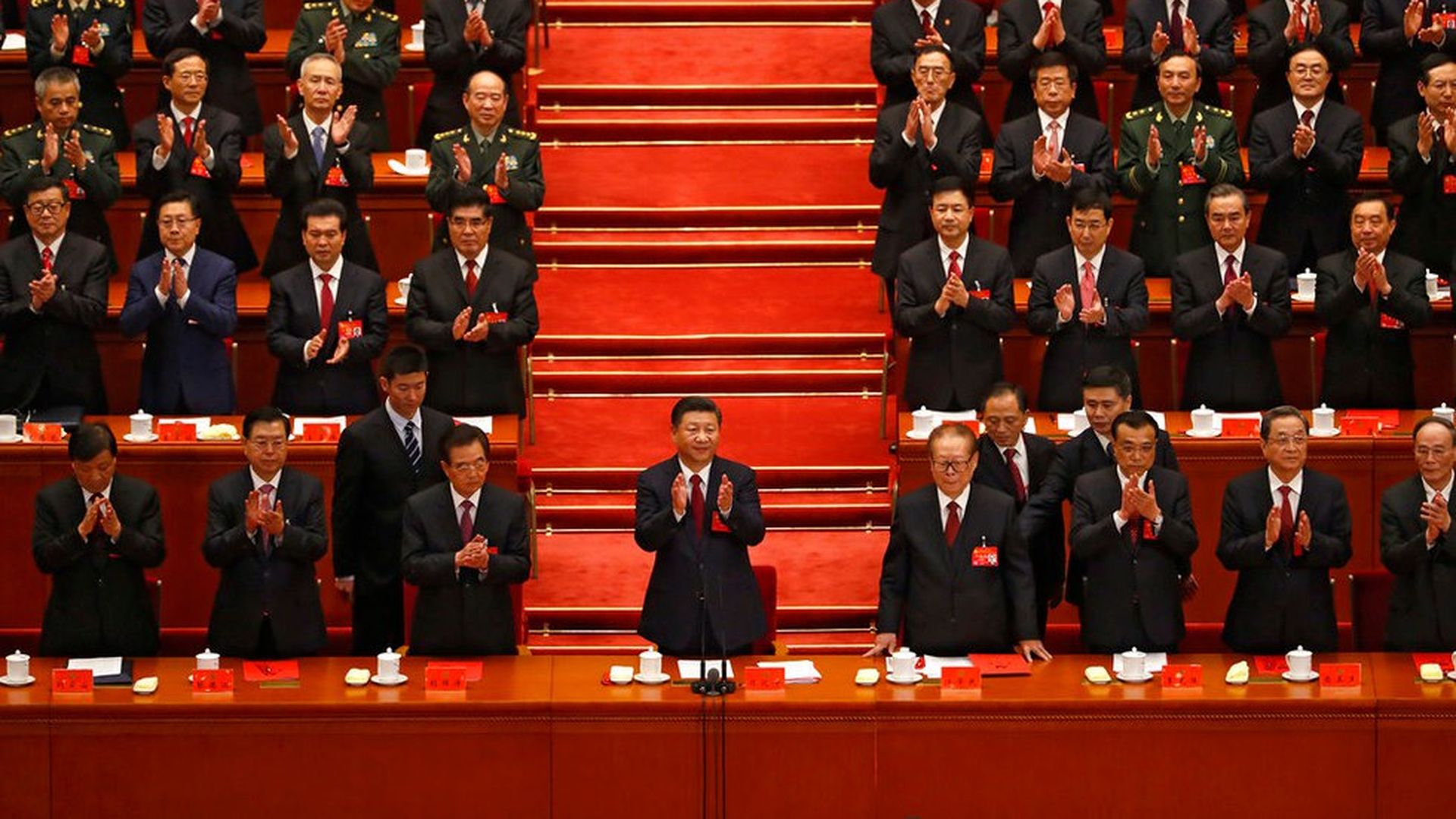 "China's ruling Communist Party has voted to enshrine Xi Jinping's name and ideology in its constitution, elevating him to the level of founder Mao Zedong," BBC reports from Beijing:
"More than 2,000 delegates gathered in Beijing's Great Hall of the People for the final approval process to enshrine 'Xi Jinping Thought on Socialism with Chinese Characteristics for the New Era' into the Communist Party constitution of China."
"At the end of the process, delegates were asked if they had any objections, to which they responded with loud cries of ['meiyou'] 'none.'"
Why it matters: "This move means that any challenge to Mr Xi will now be seen as a threat to Communist Party rule."
"Previous Chinese Communist Party leaders have had their ideologies incorporated into the party's constitution or thinking, but none, besides founder Mao Zedong, have had their philosophy described as 'thought,' which is at the top of the ideological hierarchy."
Go deeper ... As part of Axios' Expert Voices, Deborah Lehr — Vice Chairman of the Paulson Institute, and senior adviser to the Chairman on U.S.-China relations — unpacks "What's next for Xi's China."
https://www.axios.com/newsletters/axios-am-f61c9839-f56f-44eb-88f5-a7a8eab3d367.html?chunk=3#story3
Bonus: Pic du jour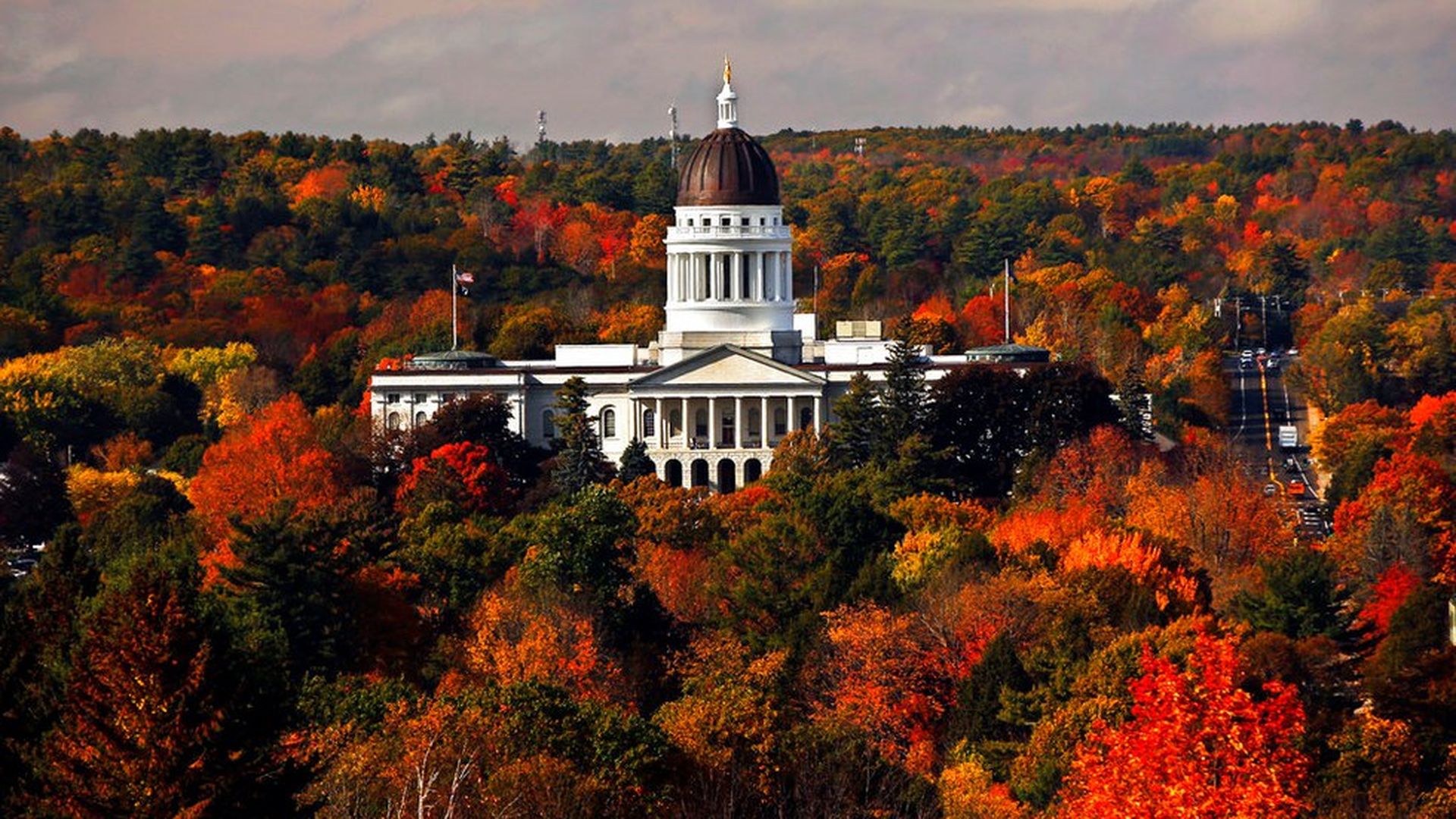 The Maine State House in Augusta is surrounded by fall foliage yesterday as lawmakers returned for a special session.
https://www.axios.com/newsletters/axios-am-f61c9839-f56f-44eb-88f5-a7a8eab3d367.html?chunk=4#story4
4. Silicon Valley: "The 21st century Hollywood"
"[H]ow Silicon Valley became the world's trend capital ... If you want to get rich and famous fast, in anything from food to fashion, San Francisco is the place to be," by The Guardian's Jess Cartner-Morley:
"The pioneer of the walking meeting was Steve Jobs, and the habit is so deeply ingrained in Silicon Valley culture that the Frank Gehry-designed Facebook headquarters features ... wifi-enabled wildflower meadows, with milkshake stands dotted along paths."
"Silicon Valley has shaped a new culture in which work looks like play (ping-pong tables in reception, bean bags in W1A), but in which being off duty is frowned upon, even at weekends."
Why it matters ... Bebe Chueh, co-founder of the law firm Atrium, which specializes in helping startups: "It's not like this place is full of beautiful people, ... but you can accelerate your career here. You don't need to wade for years through a company structure. You can make it all happen when you are 22."
https://www.axios.com/newsletters/axios-am-f61c9839-f56f-44eb-88f5-a7a8eab3d367.html?chunk=5#story5
5. Congress v. bots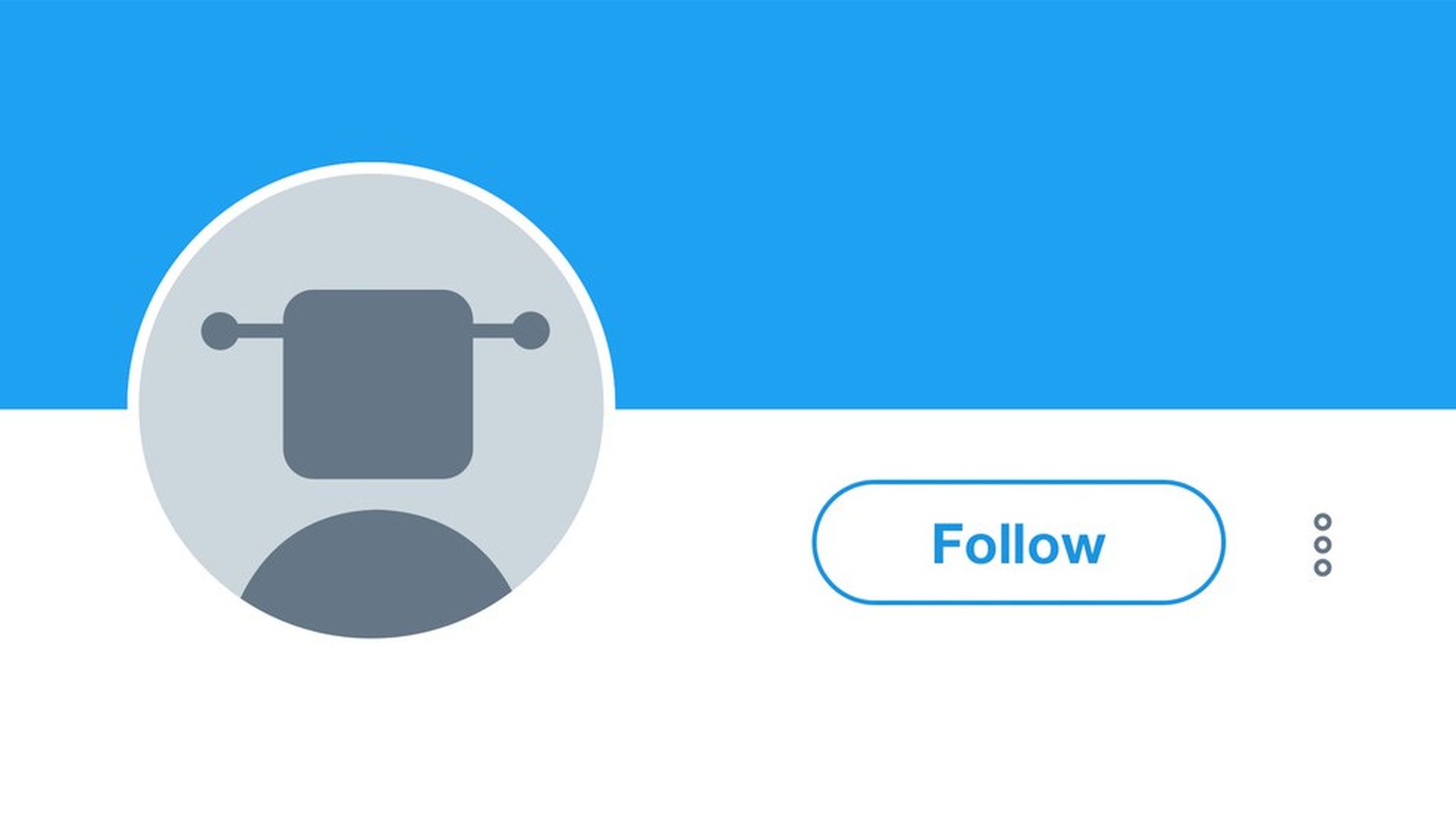 "The government has stalled on regulating the digital ecosystem for years, in part because there's no agency that was ever set up to manage the internet, the way the FCC manages radio and TV," Axios' Sara Fischer writes in the lead of her weekly Media Trends newsletter (one-click free sign-up):
"But now that the bot problem is affecting politics, Congress is starting to take bots and fake accounts seriously."
Today, Trump digital adviser Brad Parscale meets with the House Intelligence Committee, which is probing Russia's role in the 2016 election.
Be smart: "Democrats know it will be difficult to get Republicans on board with any legislation that touches ad disclosures or even digital regulation, which is why the narrative from top Democrats has focused on national security, an issue that's less likely to receive pushback from Republicans."
https://www.axios.com/newsletters/axios-am-f61c9839-f56f-44eb-88f5-a7a8eab3d367.html?chunk=6#story6
6. The White House's new promise to reporters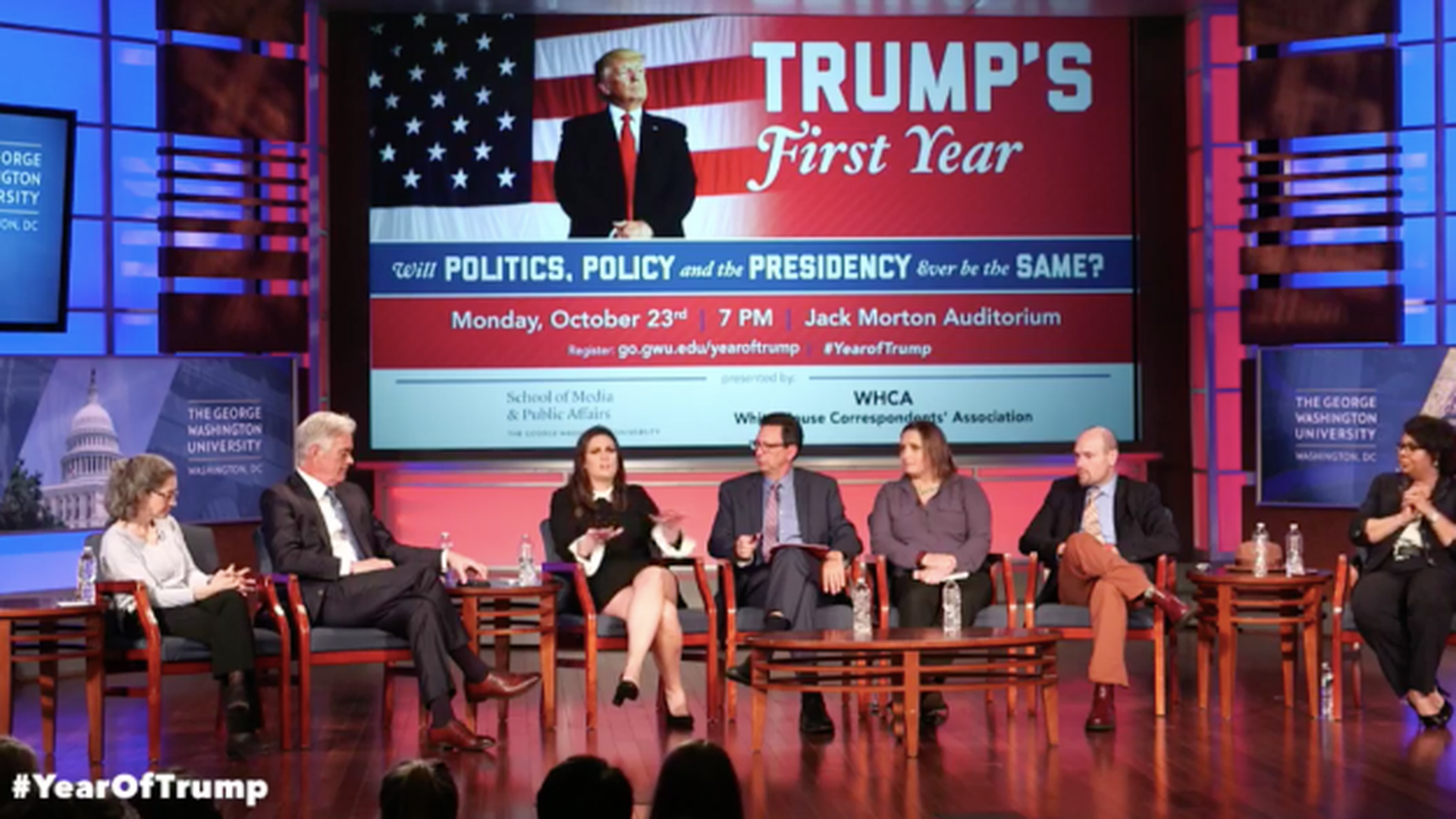 White House press secretary Sarah Sanders — at a town hall last night with White House Correspondents' Association board members and George Washington University's Frank Sesno — promised that the White House is going try to offer more information on the record:
"We ... had a meeting today in our office to ... push for things that come from the administration, and particularly from the Press Office, to be on the record."
"Because I think it's hard for us to argue that we want you guys to have on-record sources if we're not going on the record."
"Now there's some times there's going to be process stuff that isn't necessarily ... on the record. But if it's particularly a policy initiative and things like that, that should be on the record from us."
The audience applauded.
https://www.axios.com/newsletters/axios-am-f61c9839-f56f-44eb-88f5-a7a8eab3d367.html?chunk=7#story7
7. Trump's tax promises will be hard to keep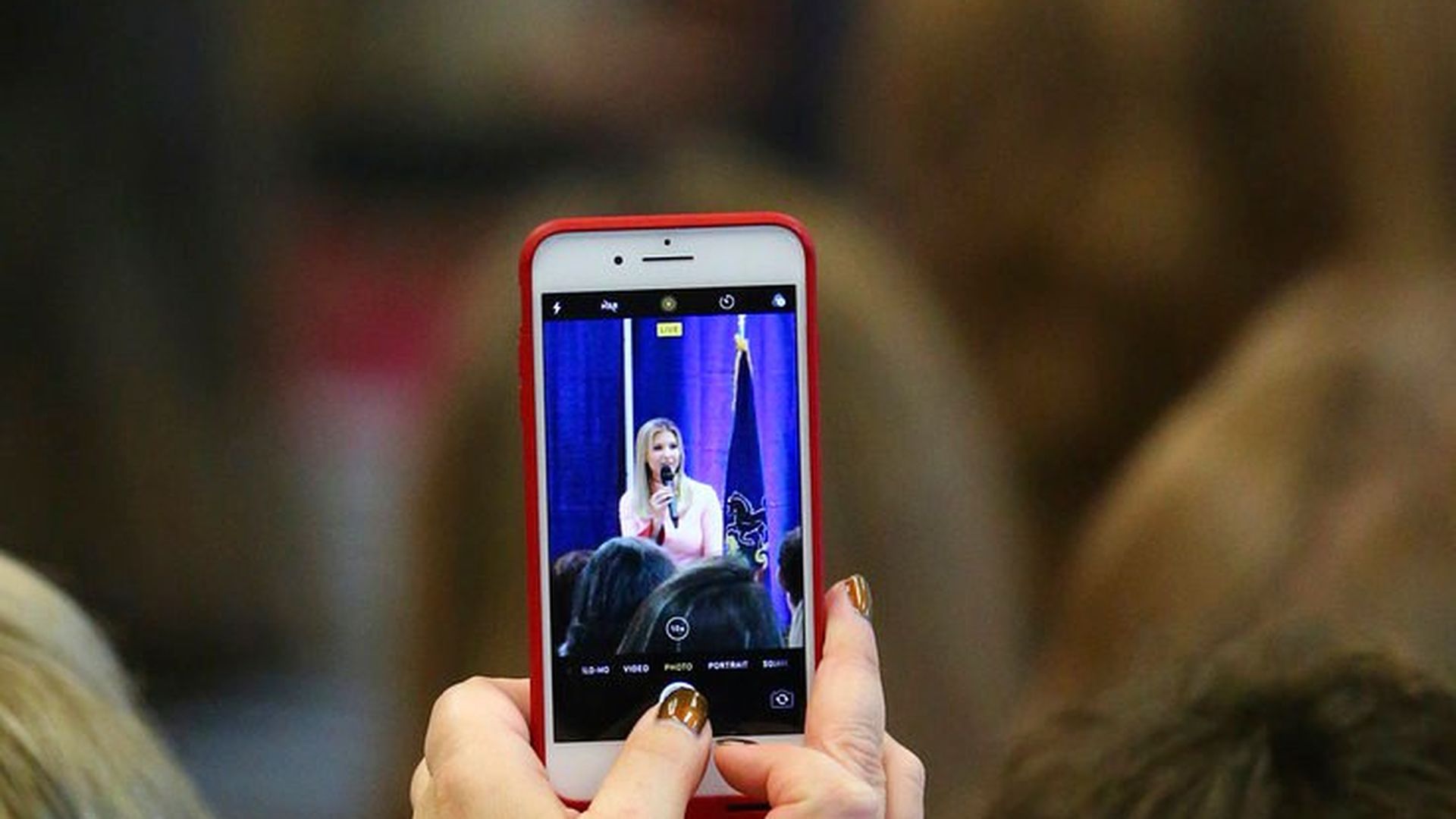 "Cutting Taxes Is Hard. Trump Is Making It Harder," by N.Y. Times' Jim Tankersley writes in a story that leads the paper under the pointed headline, "TRUMP DIRECTIVE ON TAX OVERHAUL CONFOUNDS G.O.P.":
"Trump [tweeted] that he would oppose any effort to reduce the amount of pretax income that American workers can save in 401(k) retirement accounts, effectively killing an idea that Republicans were mulling as a way to help pay for a $1.5 trillion tax cut."
Why it matters: "The directive ... underscored a growing fear among Republicans and business lobbyists that Mr. Trump's bully-pulpit whims could undermine the party's best chance to pass the most sweeping rewrite of the tax code in decades."
Ivanka Trump to Fox News' Sean Hannity, on a day when she held an hour-long town hall at a senior center outside Philly:
"[I]f you have a tax code that the average person can't understand — I know I can't — ... it's going to benefit the person with an army of accountants and an army of lawyers who can help them find the loopholes. ... [S]implification of our tax code democratizes it."
P.S. Ivanka on her sideline as a matchmaker: "Seven marriages. Zero divorces."
https://www.axios.com/newsletters/axios-am-f61c9839-f56f-44eb-88f5-a7a8eab3d367.html?chunk=8#story8
8. Conservative media slump?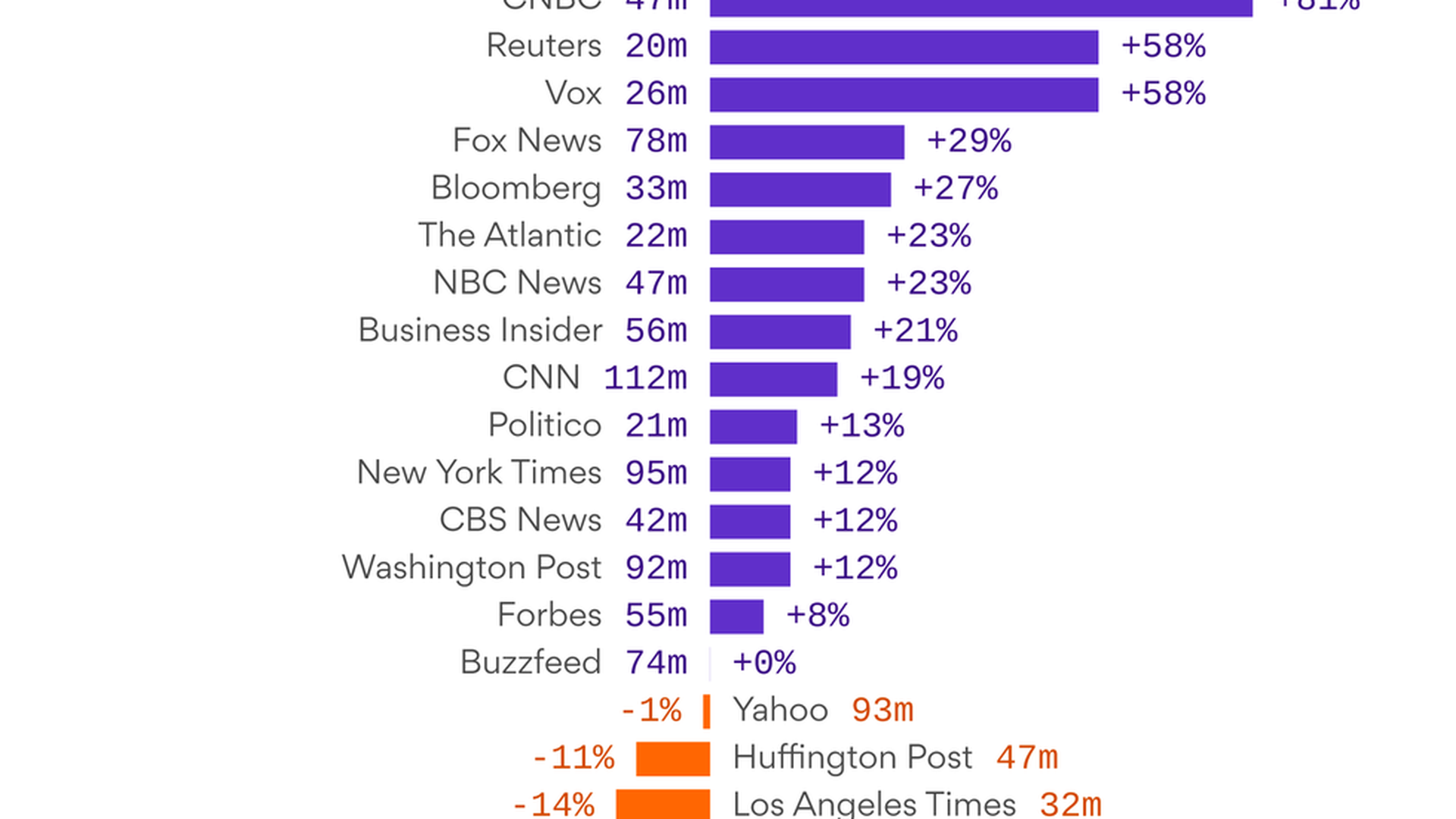 https://www.axios.com/newsletters/axios-am-f61c9839-f56f-44eb-88f5-a7a8eab3d367.html?chunk=9#story9
9. Sport short: How baseball is changing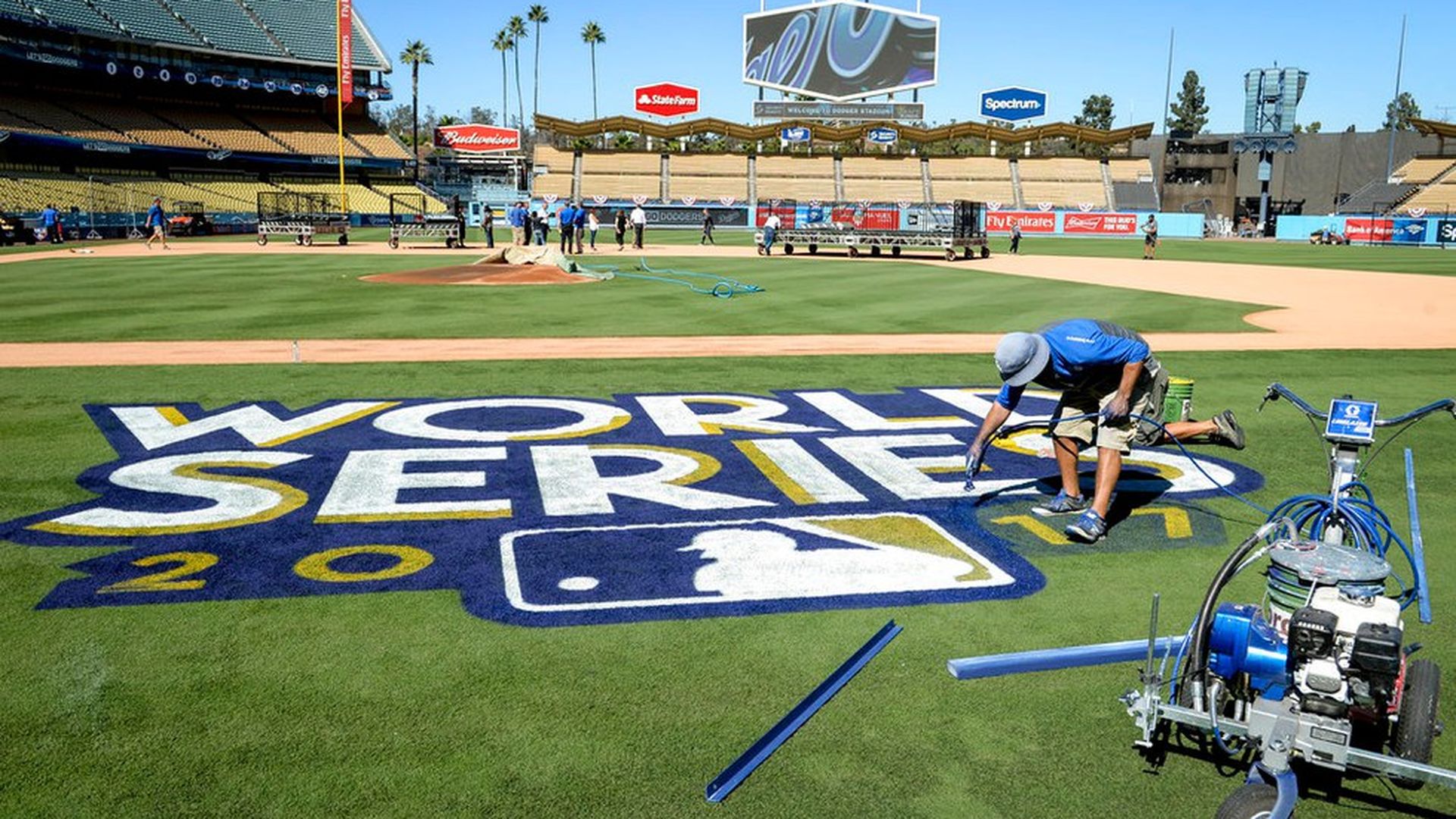 First pitch of the best-of-seven World Series, Houston Astros vs. Los Angeles Dodgers, is tonight at 8:09 ET on Fox ... "Late show: MLB postseason games stretch to record length," by AP's Ronald Blum:
"Don't be surprised if you doze off during one of these World Series games, wake up and discover they're not even at the seventh-inning stretch."
"[T]he average nine-inning game during the regular-season took 3:05:11, up from 3:00:42 last year and 2:56 in 2015."
"Major League Baseball has proposed a 20-second pitch clock and restricting catchers to one trip to the mound per pitcher each inning, rules management can impose unilaterally for 2018."
"Advanced analytics have transformed the sport. ... The average pitches by a starter this postseason is 81, according to Baseball Info Solutions, down from 96 in 2010. The average number of outs by postseason starters has dropped in the same span from 18 to 14."
Putting steam on it ... "There's a chance [tonight] will be the hottest World Series game on record ... with a forecast between 95 and 97 degrees at first pitch" in L.A.'s Chavez Ravine.
"The hottest game-time temperature for a World Series game ... was 94 degrees for Game 1 between the Arizona Diamondbacks and New York Yankees on Oct. 27, 2001."
If you love baseball, you gotta click this ... "Baseball's greatest teams: one for each franchise": 1906 Cubs, 1912 Red Sox, 1917 White Sox, 1927 Yankees, 1955 Dodgers, 1986 Mets, 1998 Astros, 2011 Phillies, etc.
https://www.axios.com/newsletters/axios-am-f61c9839-f56f-44eb-88f5-a7a8eab3d367.html?chunk=10#story10
10. 1 fading thing: MetroCard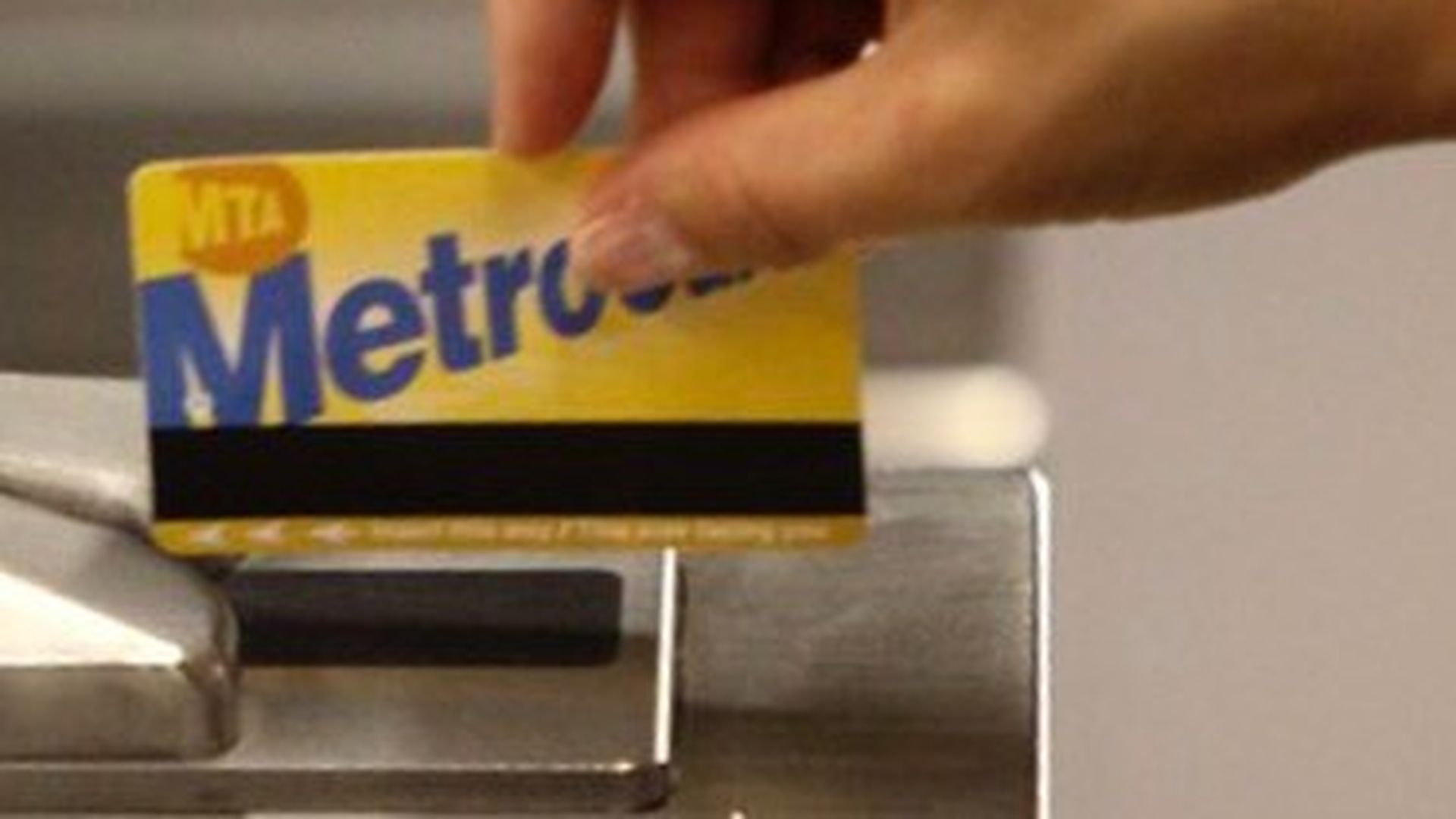 New York's "Metropolitan Transportation Authority's board took its first step ... to retire the MetroCard and bring technology to let people 'tap' their way through turnstiles and onto buses, like the transit system in London," per the Daily News.
What's new: "[T]ransit passengers in 2019 will be able to tap their way using a bank card or smartphone on 500 turnstiles and 600 buses, plus load up their chosen device with money online."
Why it matters: "The plan is to fully retire the MetroCard in 2023."