September 20, 2019
Happy Friday! Today's Smart Brevity count: 1,136 words ... 5 minutes.
1 big thing: Tech takes over political fundraising
Small-dollar political donations have exploded this campaign cycle, thanks largely to technology that lets candidates target potential donors with cheap ads and through easy-to-use online donation platforms, Axios' Sara Fischer writes.
Why it matters: A surge in fundraising for contributions under $200 has expanded the 2020 election field, propelling lesser-known candidates to the debate stage and political stardom.
It has also turned more Americans into political donors than ever.
Alexa is going to let users donate to presidential campaigns, Bloomberg reports.
Amazon, according to Bloomberg, will let campaigns sign up to receive voice donations starting at just $5, and will process up to $200 per donor for each campaign, which is a much lower limit than on most digital platforms.
Our thought bubble: That's a big deal because it would be the first time that candidates could solicit donations through highly-accessible voice technology.
Online fundraising platforms, like ActBlue for Democrats and now WinRed for Republicans, will also be key to driving small-dollar donations.
ActBlue, a payment processing software used by most of the major Democratic presidential candidates, has pioneered small-dollar donations and donation tracking. It helped boost Bernie Sanders' campaign against Hillary Clinton in 2016.
WinRed, the Republicans' version of ActBlue, launched in July with the backing of President Trump's re-election campaign.
The big picture: Small-dollar donations have been notoriously hard to trace back, but some of these online fundraising platforms are helping to bringing some transparency to that process.
2. Zuckerberg's D.C. charm tour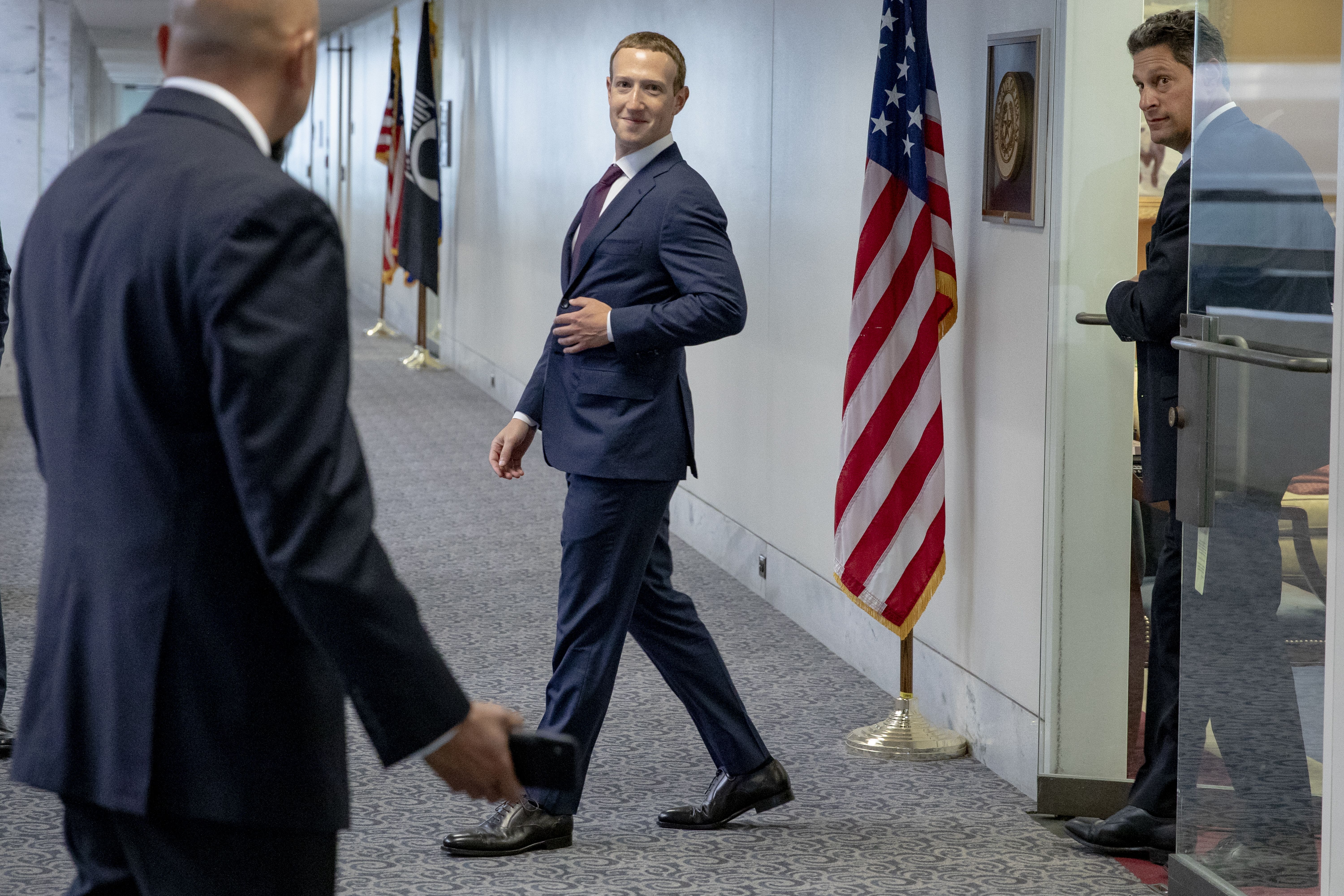 Facebook CEO Mark Zuckerberg met with key senators and then visited President Trump at the White House yesterday, amid an increasingly dense maze of Washington probes and crackdowns, Axios' Scott Rosenberg and Ina Fried report.
Why it matters: With these private dinners, senatorial sit-downs and a presidential audience, Zuckerberg aims to move Facebook beyond playing defense and toward a meaningful dialogue on regulating the internet.
Zuckerberg's D.C. meetings continue today.
The big picture: This was Zuckerberg's first visit to the capital since March 2018, when he defended Facebook in tense public testimony.
Zuckerberg cut a very different profile this time — less CEO in the hot seat, more visiting potentate handling weighty matters.
The unannounced White House meeting, first reported by Axios, was the first time Trump and Zuckerberg have met in person.
Jared Kushner and White House social media director Dan Scavino were in the room, per Bloomberg.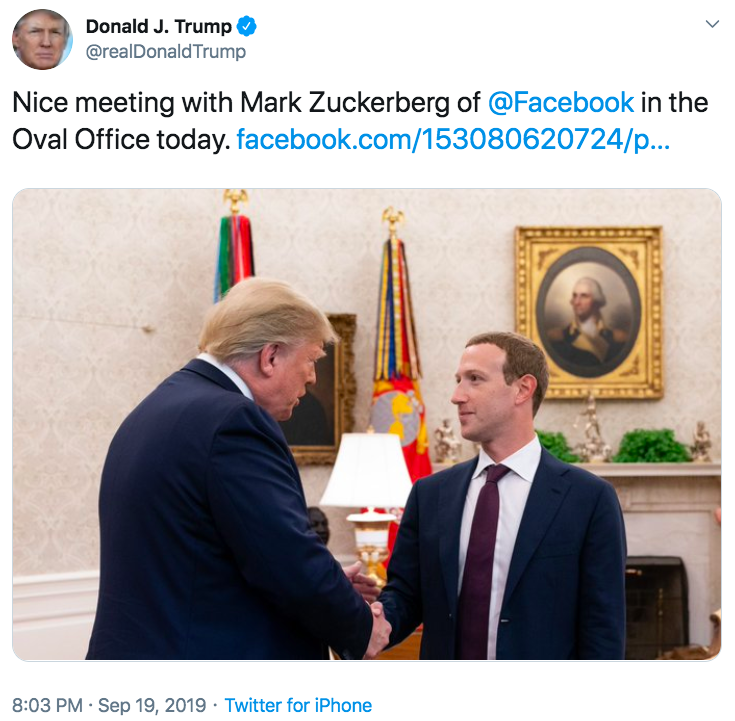 Zuckerberg's goal: Get across the points he'd made in a Washington Post op-ed earlier this year, where he argued that the internet needs new rules covering "harmful content, election integrity, privacy and data portability."
Senators' goals varied:
Senate Intelligence Committee Vice Chair Mark Warner (D-Va.), who organized a Wednesday dinner with a group of senators, has helped lead the effort to craft new national online privacy rules.
Sen. Richard Blumenthal (D-Conn.), also at the dinner, has been outspoken on antitrust.
Iciest moment: Sen. Josh Hawley (R-Mo.), who sits on the Senate Judiciary Committee's antitrust subcommittee, urged Zuckerberg to sell off Instagram and WhatsApp, according to CNBC. Hawley: "He was not receptive."
What's next: The company faces deadlines in coming weeks to produce documents for inquiries by the Justice Department, the FTC, the House Judiciary Committee, and a coalition of attorneys general from nearly every state.
3. Graphic of the week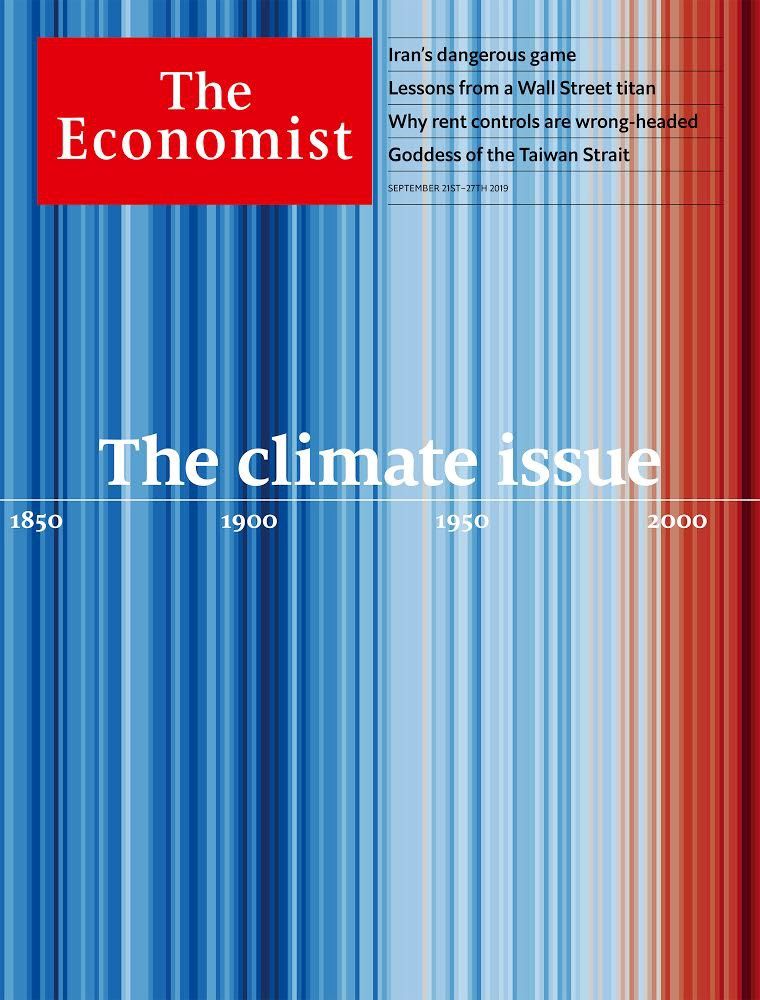 The red and blue stripes on the cover of The Economist's climate issue are a data visualization representing the world's average temperature for every year from 1850 to 2018, compared with the average in 1971-2000.
Red years are warmer; blue ones are cooler.
4. What the Washington Monument sees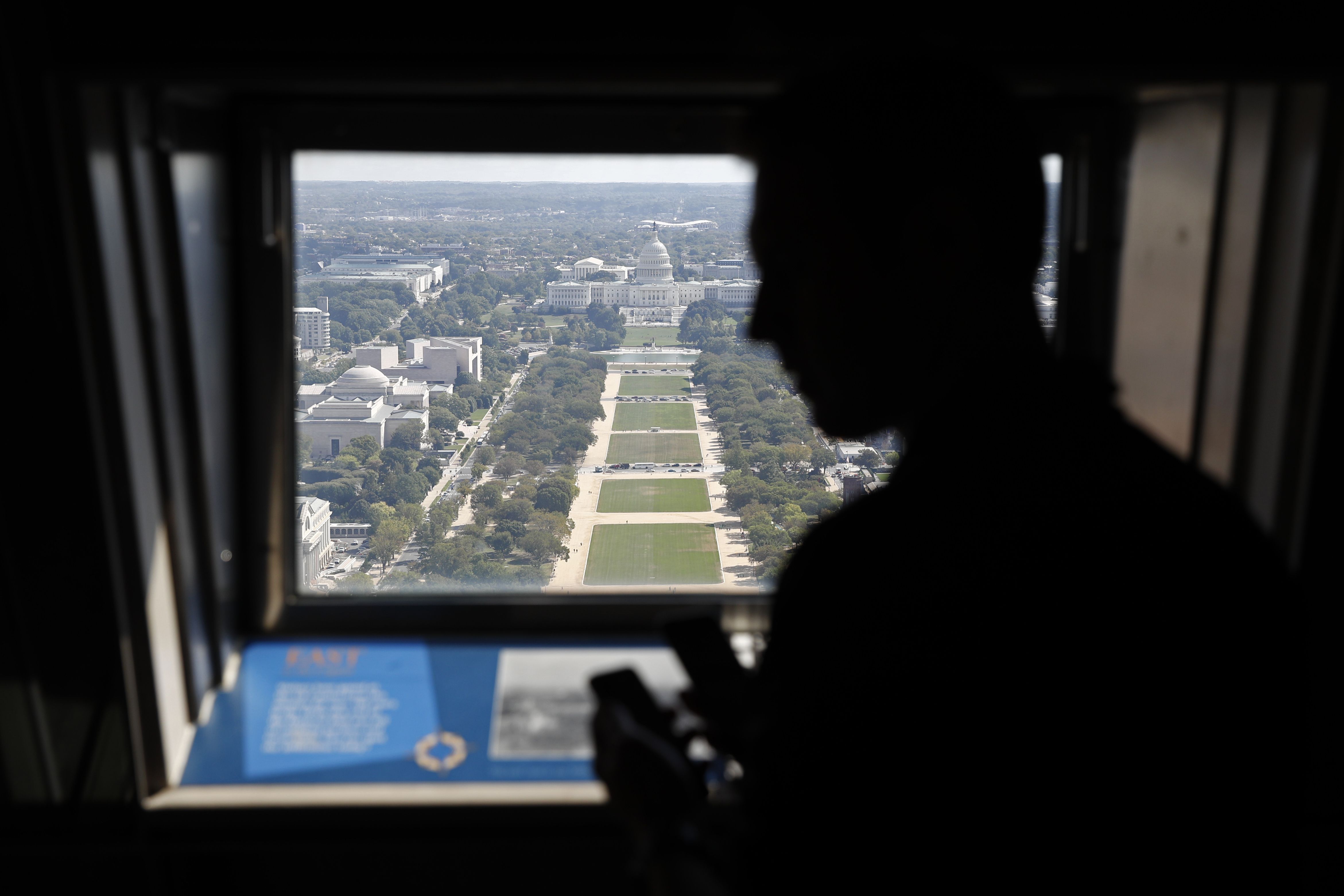 This is the view from the Washington Monument's observation level.
The 555-foot obelisk was reopened yesterday by First Lady Melania Trump after being closed for most of the last eight years, since a 2011 earthquake.
It has been closed continuously for the past three years so workers could replace the elevator and upgrade security.
Construction began in 1848 and took nearly 40 years.
At the time of its completion, it was the tallest building in the world, but was overtaken by the Eiffel Tower in 1889.
It remains the tallest building in Washington. (AP)
5. Ukraine at heart of intel drama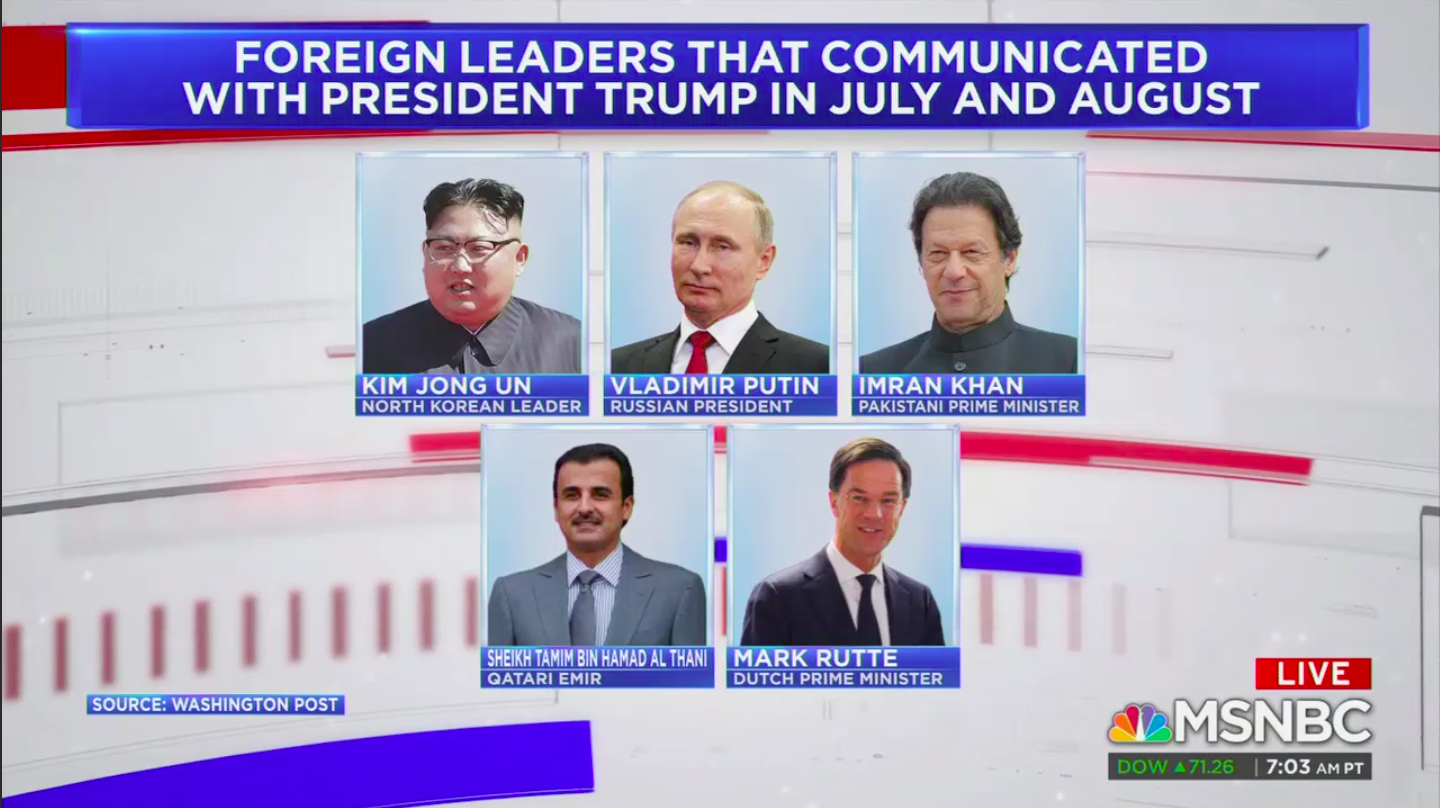 A whistleblower complaint about President Trump by an intelligence official centers at least in part on Ukraine, the WashPost and N.Y. Times report.
Why it matters, from the WashPost: "The complaint involved communications with a foreign leader and a 'promise' that Trump made, which was so alarming that a U.S. intelligence official who had worked at the White House went to the inspector general of the intelligence community."
Struggle between Congress and Executive Branch ... House Intelligence Chairman Adam Schiff, arguing that the whistleblower complaint should be turned over to Congress, as is generally required by law:
I don't think this is a problem of the law, I think the law is written very clearly. I think the law is just fine. The problem lies elsewhere. And we're determined to do everything we can to determine what this urgent concern is, to make sure that the national security is protected and to make sure that this whistle-blower is protected.
6. Student debt hits record
"Last year's graduates with a bachelor's degree averaged about $29,200 in student loan debt — a record in the USA," USA Today's Chris Quintana reports.
Two in three of last year's college grads owe more than 2017's.
Why it matters: "A few decades ago, it was unusual to graduate with a lot of debt."
7. Saudis bully rich to invest in Aramco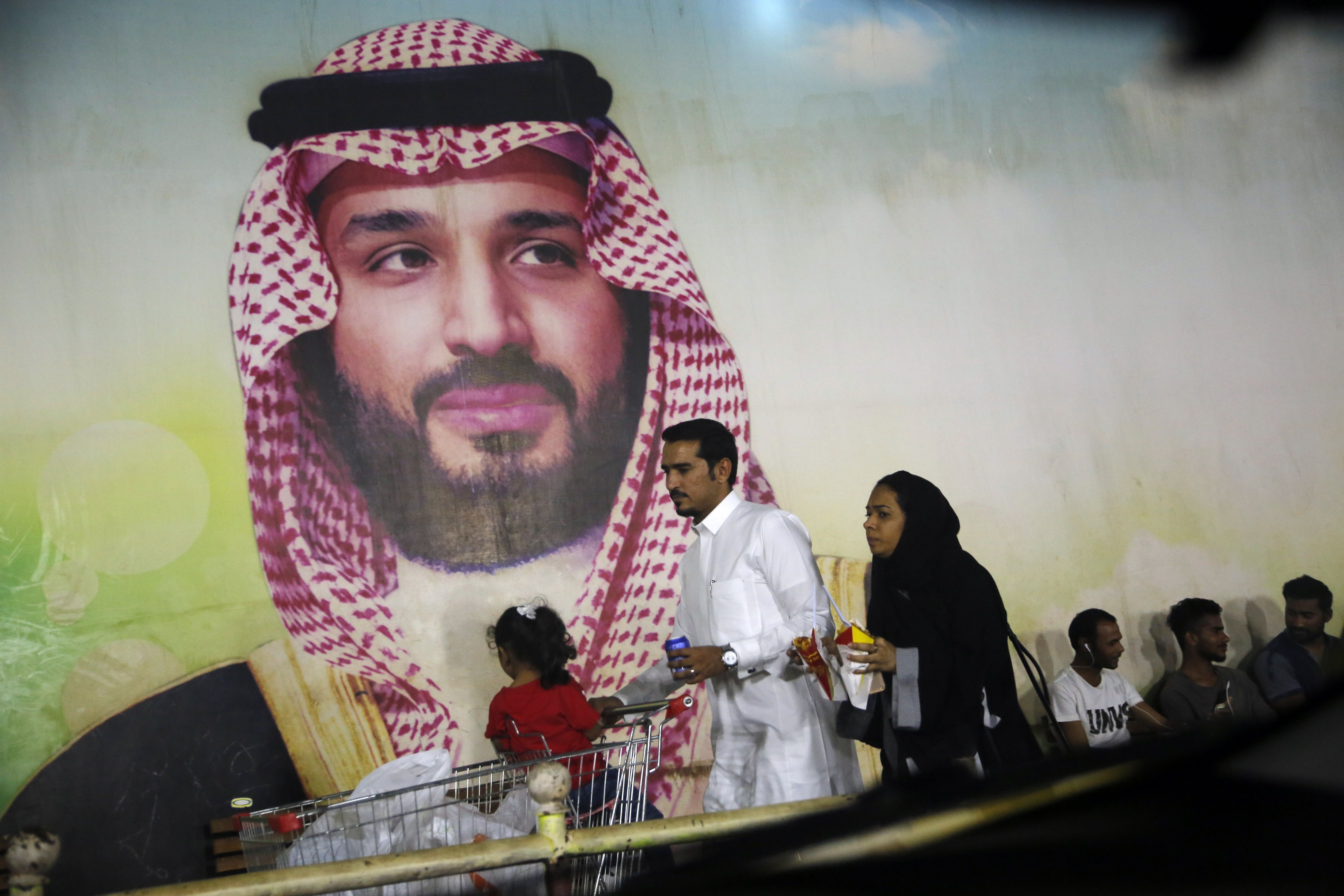 "Saudi Arabia is pressuring wealthy families to buy in to the initial public offering of its state oil company, as part of a plan to achieve the $2tn valuation coveted by Crown Prince Mohammed bin Salman," the Financial Times reports (subscription).
Four sources "said the aim was to 'strong arm,' 'coerce' or 'bully' some of the wealthiest families in the kingdom to become cornerstone investors in what has been billed as the world's biggest ever IPO."
"Many of the families targeted had members previously imprisoned in Riyadh's Ritz-Carlton hotel in 2017 and 2018, in what the government billed as a crackdown on corruption. Some of the detainees said they were tortured."
8. Justin Trudeau = 🍞
The popularity of Canadian Prime Minister Justin Trudeau, up for re-election Oct. 21, was already deflating under the disillusionment that often hampers incumbents on the idealistic left, Axios World editor Dave Lawler writes.
Trudeau, 47, apologized repeatedly for three images of him in blackface, but admitted he was "wary of being definitive" about whether more might surface.
9. What drone deliveries will look like
Wing Aviation — a subsidiary of Alphabet, the parent of Google — is collaborating with FedEx Express and Walgreens to launch a drone delivery service next month in Christiansburg, Va., near Virginia Tech. (FedEx release)
10. 🇦🇺 1 food thing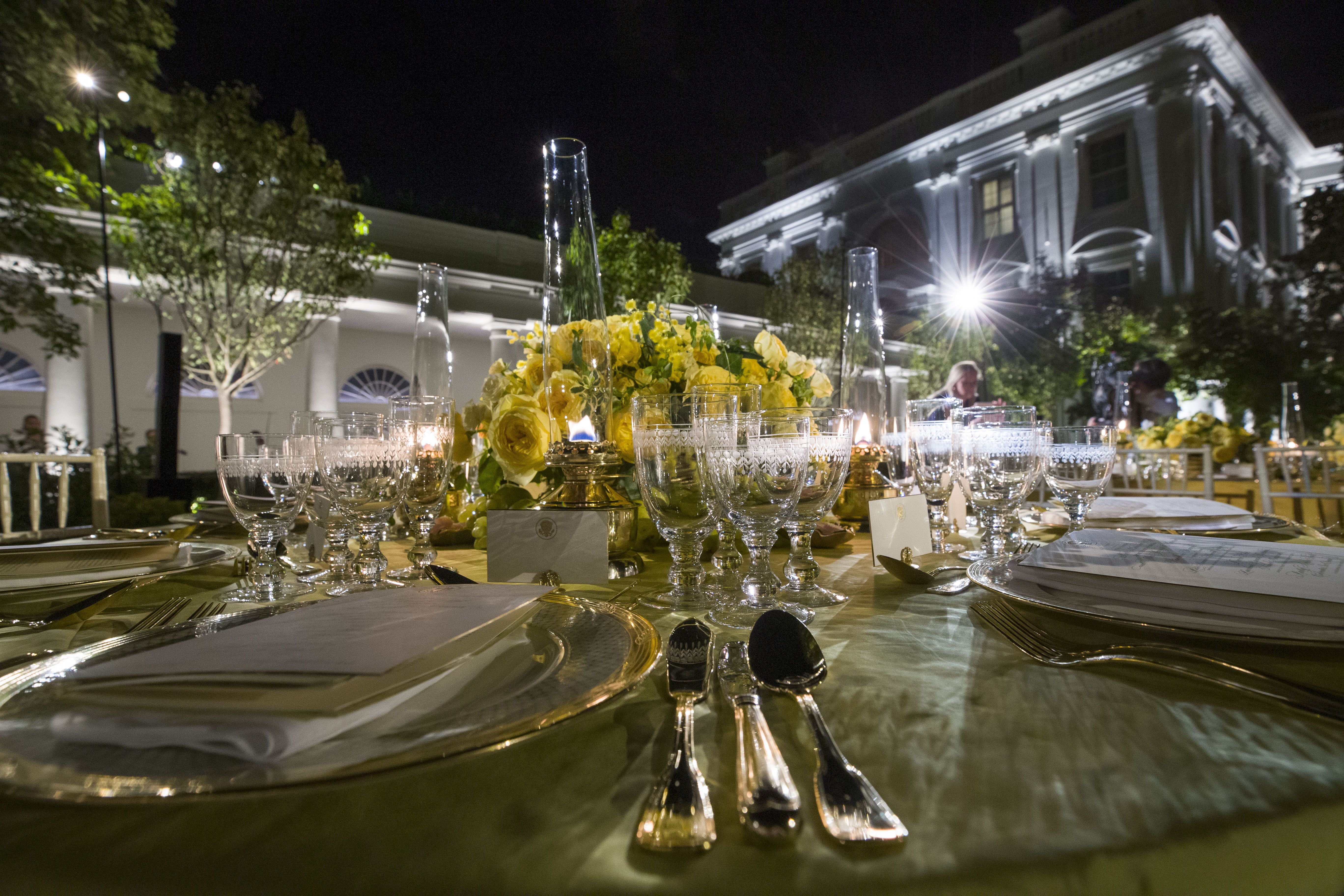 President Trump and First Lady Melania Trump are going al fresco tonight for the second state dinner of this presidency, when Australian Prime Minister Scott Morrison will be welcomed to the Rose Garden, AP's Darlene Superville reports.
Scores of guests will dine on a sunchoke ravioli starter, Dover sole entree and apple tart à la mode.
Dinner centerpieces feature more than 2,500 roses from California in shades of yellow, and Australia's national flower, the golden wattle.
Trump's first state dinner was for French President Emmanuel Macron.