Happy New Year's Eve from New Orleans, where our family has gotten together for the Sugar Bowl (Anders is a freshman at Alabama). Thank you for the year of a lifetime. Times Square forecast is 16° at 6 p.m.; 12° at midnight.
Situational awareness: At least 81 reporters were killed doing their jobs this year — the lowest number in a decade, down from 93 in 2016. But the International Federation of Journalists tells AP that violence against media soared: "[I]mpunity for the killings, harassment, attacks and threats against independent journalism was running at epidemic levels."
https://www.axios.com/newsletters/axios-am-f48066c2-ecbf-4efd-bb5e-fc4153c626b4.html?chunk=0#story0
1 big thing: The new world order is here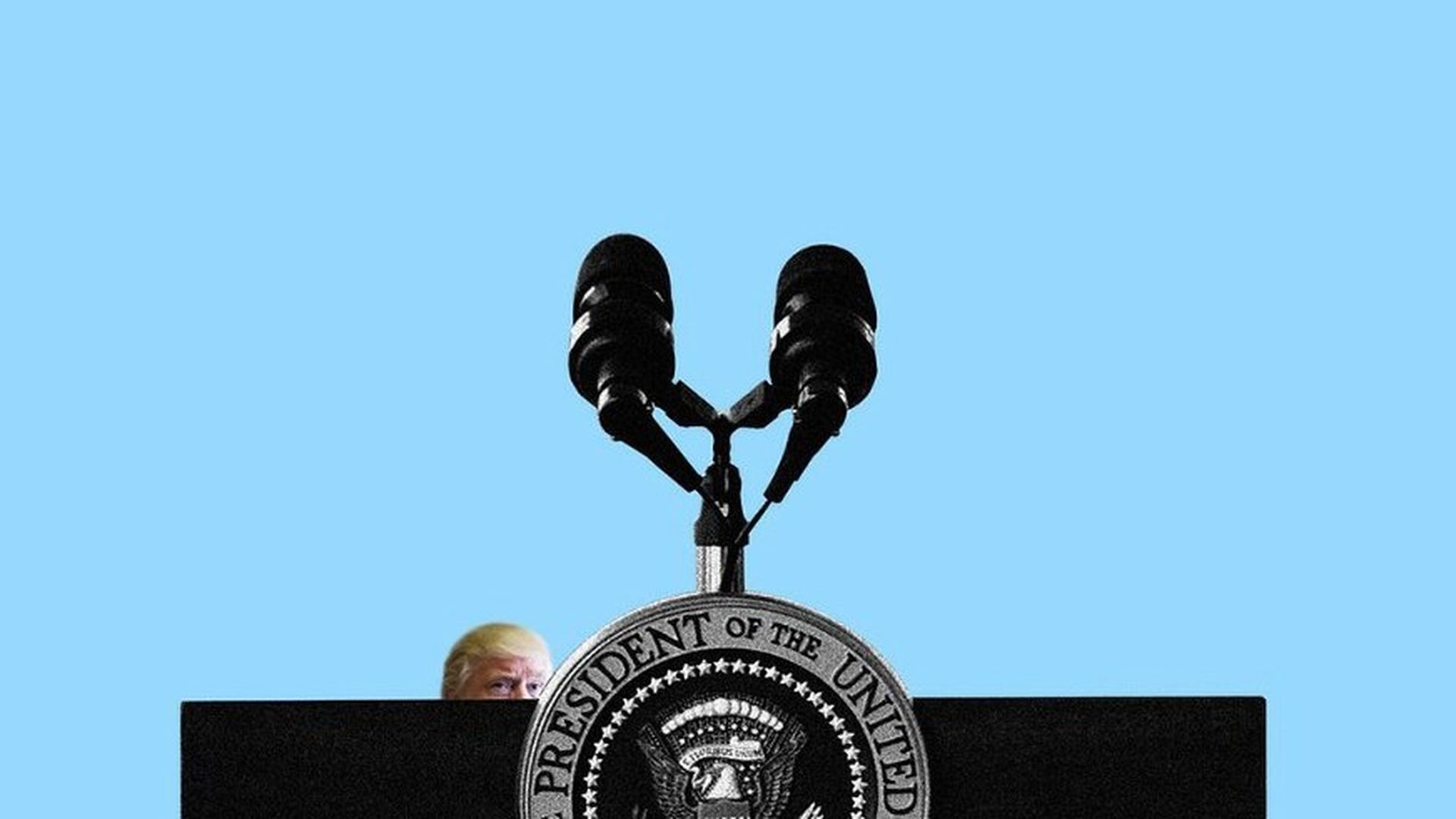 Two weeks of insight ... Axios CEO Jim VandeHei and I bring AM readers our year-end thoughts on the topics that matter most ...
A new world order is unfolding — one no longer clearly dominated by America and its values.
That might seem hyperbolic, but it's not. The world is pulsing with several currents that put the America-dominated order at risk and on the decline. Ian Bremmer — founder and president of Eurasia Group, and one of the smartest analysts of global trends — calls this a "geopolitical recession."
The causes:
China eagerly and systematically asserting itself as a global force with trade deals, investment and posturing. The nation, despite all its flaws, is rising.Trump abandoning the Trans-Pacific Partnership, the multinational trade deal, gave China huge political and economic openings in its neighborhood.
Trump eagerly and systematically shaking up U.S. engagement overseas, and attacking the U.N. and other institutions that helped hold together a post-World War II world. Bremmer: "To the extent that Trump has had any impact on the global stage, by far the most important of those impacts is the opportunity he's provided for the Chinese president."
Germany, France and Britain, hammered by surging populism similar to the disruption that hit U.S. politics, are increasingly looking inward, and away from a unified European voice. Europe's influence is on a clear decline.
L.A. Times correspondents interviewed leaders, diplomats and scholars around the globe, and found other powers eager to fill the void as the U.S. retreats: "On a range of policy issues, Trump has taken positions that disqualified the United States from the debate or rendered it irrelevant.""China has now assumed the mantle of fighting climate change, a global crusade that the United States once led.""Russia has taken over Syrian peace talks, also once the purview of the American administration.""France and Germany are often now the countries that fellow members of NATO look to."
While Trump sucks up a lot of attention and blame, a lot of this change was set in motion before he arrived. The combo of social media + identity politics + fake news has resulted in less legitimacy for most, if not all, Western governments.
Bremmer on why this matters: "We are facing at least a period of five or 10 years where there is going to be a profound absence of global leadership, and that's going to lead to a lot more conflict."
Counterpoint: Trump is showing moral leadership and speaking out against the theocratic regime in Iran — something Obama avoided doing in his determined pursuit of a nuclear deal. But the world is fractured on this issue. The Europeans are not with us.
Be smart: For all the chaos and catastrophe of this epic year, the national and global economies are in a rare synchronized recovery, and the world hasn't faced the kind of transcendent crisis it could next year: a Middle East conflagration, a terrorist spectacular, or a hot confrontation on the Korean Peninsula or in the South China Sea.
It'll only be in time of emergency that we'll see the trust cost of "America First," as well as the tectonic trends that fueled Trump's rise and have accelerated the sidelining of the stabilizing institutions he taunts and shuns.
https://www.axios.com/newsletters/axios-am-f48066c2-ecbf-4efd-bb5e-fc4153c626b4.html?chunk=1#story1
2. Anti-regime protests spread across Iran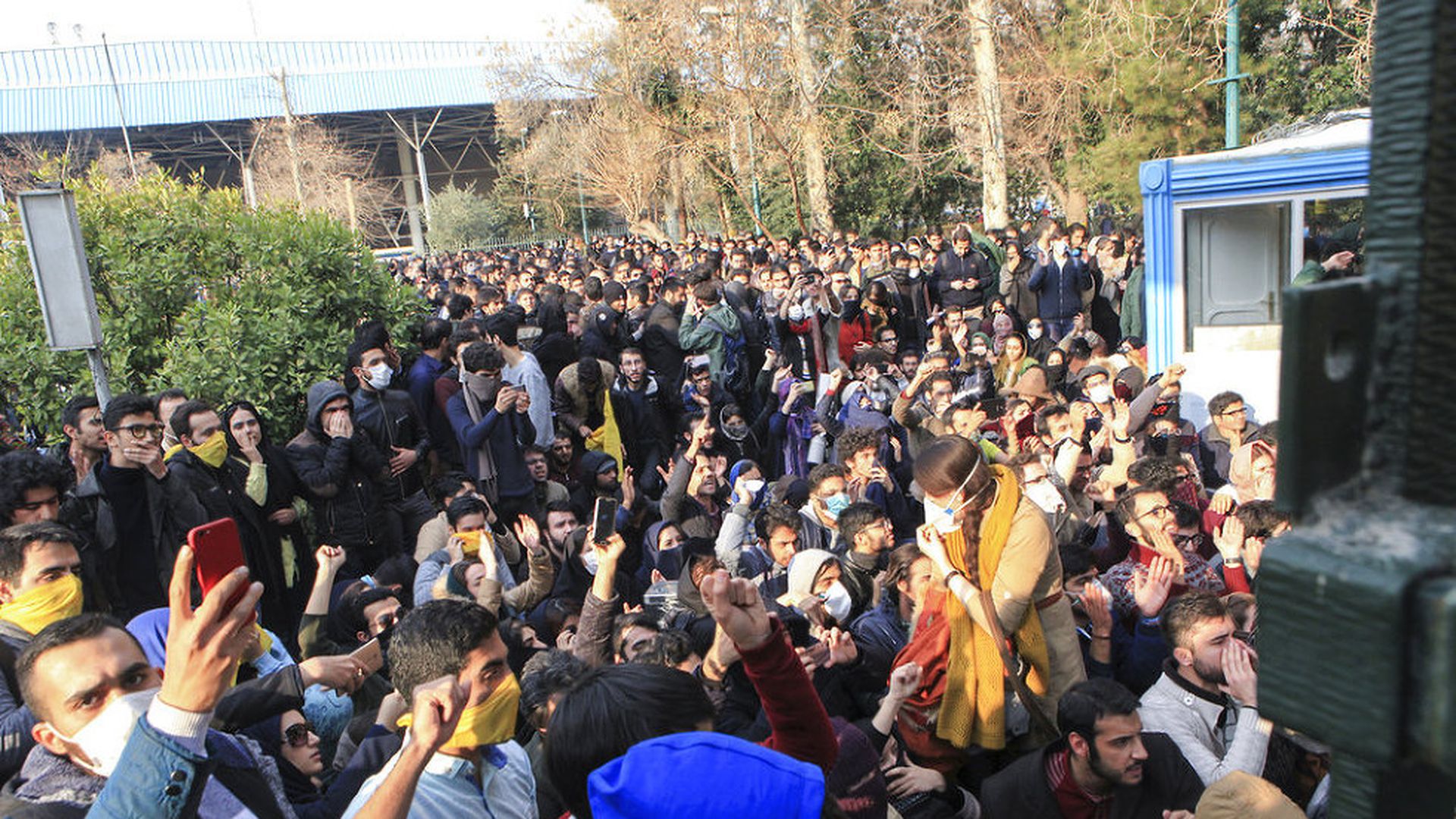 As pro-reform protests grew to tens of thousands and spread across Iran, the repressive, authoritarian government is warning of an "iron fist" response, and threatened access to social media:
Why it matters, via CNN: "The largest public display of discontent in Iran since the 2009 Green Movement has brought ... a scene ... unfathomable a decade ago — protesters challenging the rule of Supreme Leader Ayatollah Khamenei.
Trita Parsi, president of the National Iranian American Council, and other experts say endemic economic mismanagement and corruption have left Iranians disenchanted.The U.S.-backed nuclear deal "is overwhelmingly supported by the Iranian public, but there was an expectation that much more economic development would come out of it."
https://www.axios.com/newsletters/axios-am-f48066c2-ecbf-4efd-bb5e-fc4153c626b4.html?chunk=2#story2
3. "Oppressive regimes cannot endure forever"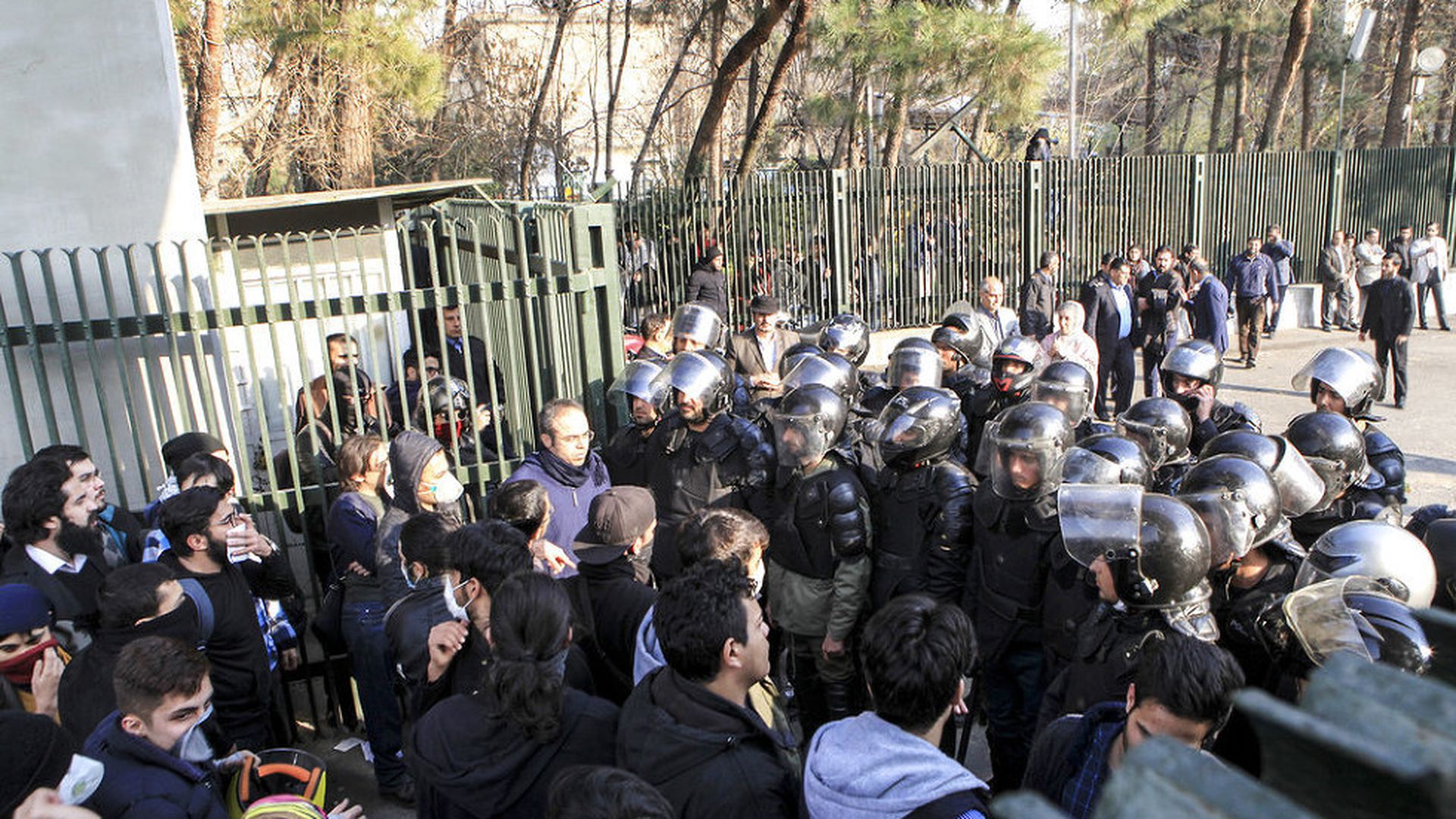 President Trump repeatedly tweeted support for the Iranian demonstrators:
"Many reports of peaceful protests by Iranian citizens fed up with regime's corruption & its squandering of the nation's wealth to fund terrorism abroad. Iranian govt should respect their people's rights, including right to express themselves. The world is watching! #IranProtests."
"Big protests in Iran. The people are finally getting wise as to how their money and wealth is being stolen and squandered on terrorism. Looks like they will not take it any longer. The USA is watching very closely for human rights violations!"
"The entire world understands that the good people of Iran want change, and, other than the vast military power of the United States, that Iran's people are what their leaders fear the most."
"Oppressive regimes cannot endure forever, and the day will come when the Iranian people will face a choice."
Vice President Pence (@VP) joined him: "@POTUS & I stand w/ peaceful protestors in Iran who are speaking out for freedom & we condemn the arrests of innocents. The time has come for the regime in Tehran to end terrorist activities, corruption, & their disregard for human rights. #IranProtests."
https://www.axios.com/newsletters/axios-am-f48066c2-ecbf-4efd-bb5e-fc4153c626b4.html?chunk=3#story3
Bonus: Pic du jour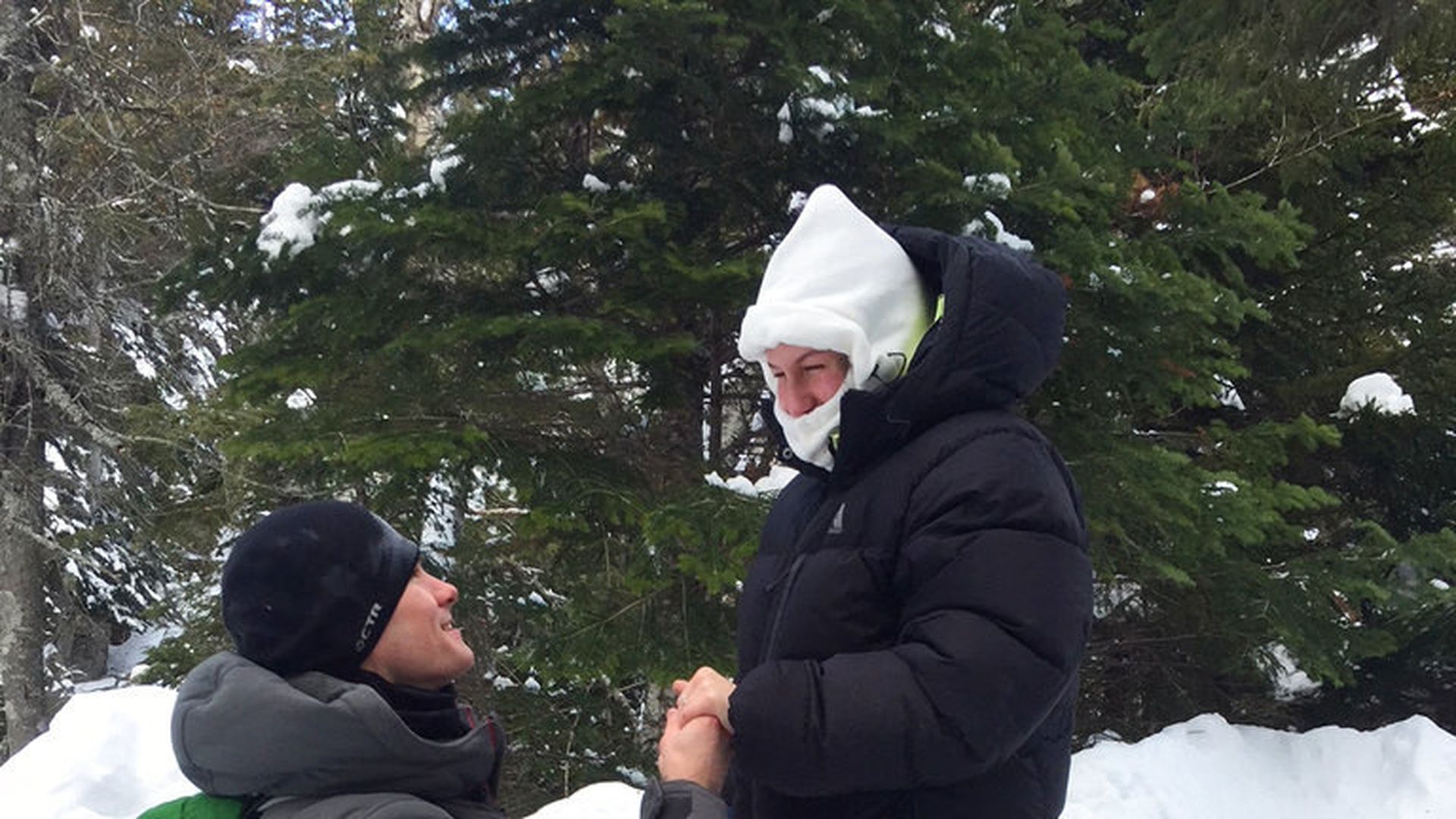 Josh Darnell, 31, of Londonderry, N.H., surprises Rachel Raske, 27, of Lowell, Mass., with a proposal in Tuckerman's Ravine, N.H., on the southeastern side of Mount Washington, on the same day the temperature dropped to -34 at at the summit. The two had hiked there before. She said yes.
Darnell's dad, Doug, tagged along to record the event. He said the wind was blowing so hard that it knocked him on his back when he got out of the car.
https://www.axios.com/newsletters/axios-am-f48066c2-ecbf-4efd-bb5e-fc4153c626b4.html?chunk=4#story4
4. "Pick a word" poll finds Dems in dumps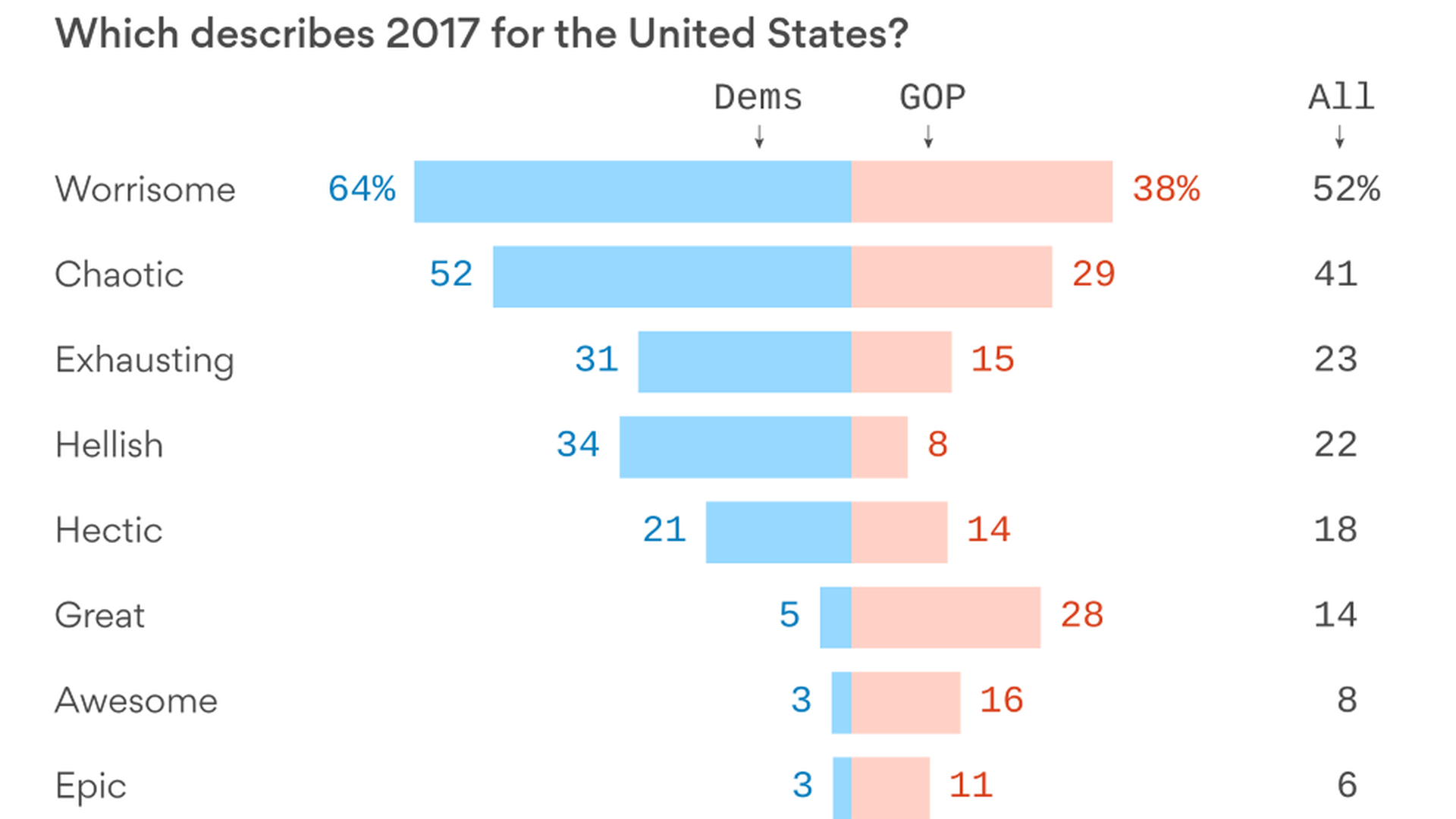 Asked to pick from a list of nine words to describe 2017, most Americans in an Axios/SurveyMonkey poll picked "worrisome" — it was the top word among Republicans and Democrats, followed by "chaotic." But while the #3 word for Democrats was "hellish" for Republicans it was "great."
https://www.axios.com/newsletters/axios-am-f48066c2-ecbf-4efd-bb5e-fc4153c626b4.html?chunk=5#story5
5. WashPost: "On vow to trim, Trump delivers"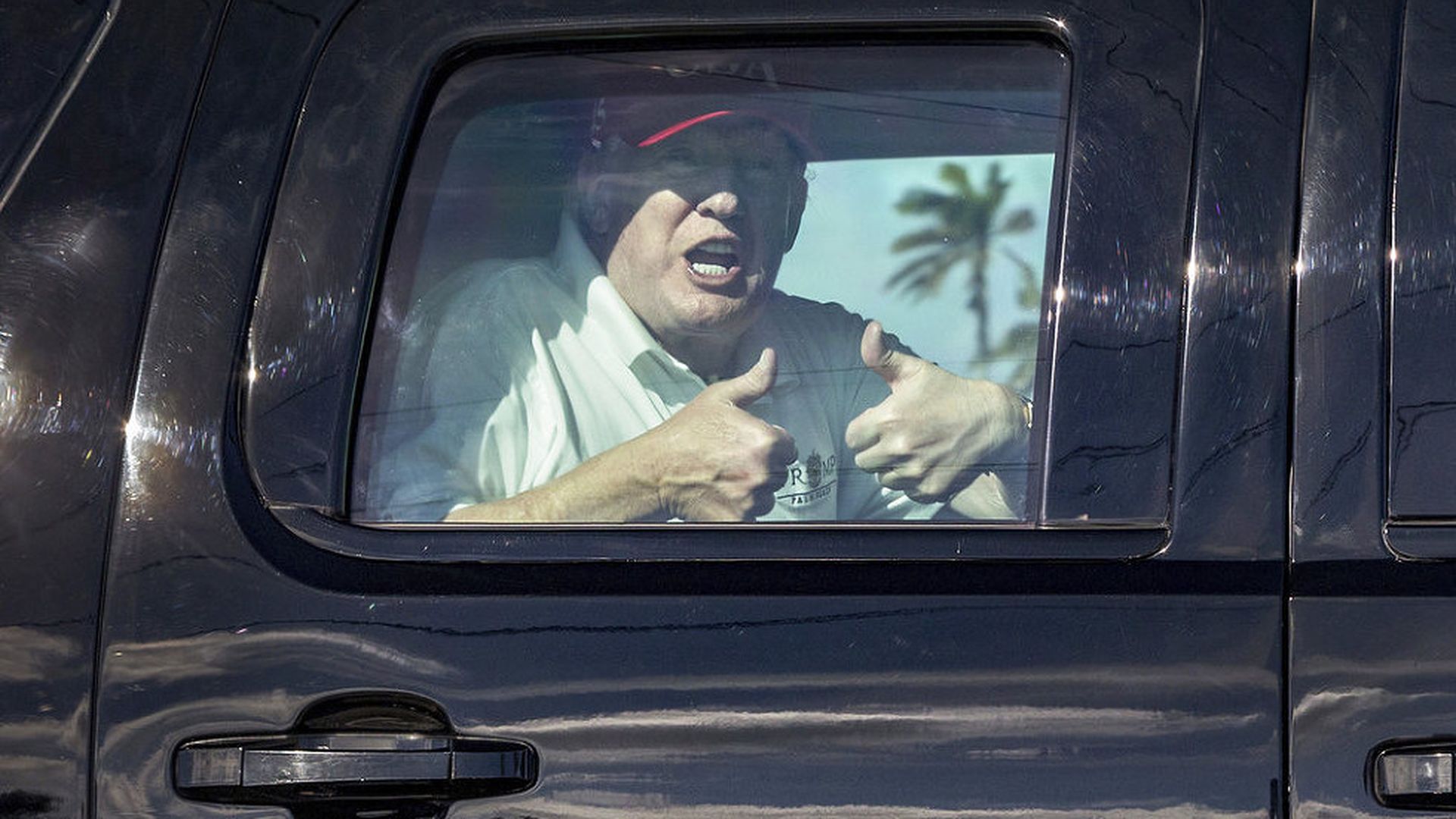 "Trump has made a significant down payment on his campaign pledge to shrink the federal bureaucracy," the WashPost reports in its lead story:
"By the end of September, all Cabinet departments except Homeland Security, Veterans Affairs and Interior had fewer permanent staff than when Trump took office in January — with most shedding many hundreds of employees, according to an analysis of federal personnel data by The Washington Post."
https://www.axios.com/newsletters/axios-am-f48066c2-ecbf-4efd-bb5e-fc4153c626b4.html?chunk=6#story6
6. Much more than a "coffee boy"
The N.Y. Times lead story reports that while some Trump campaign alumni pooh-pooh the influence of George Papadopoulos, who was the first to plead guilty in the Mueller probe, interviews and previously undisclosed emails "show that he stayed influential throughout the campaign'':
"Two months before the election, ... he helped arrange a New York meeting between Mr. Trump and President Abdel Fattah el-Sisi of Egypt."
"He continued for months to try to arrange some kind of meeting with Russian representatives, keeping senior campaign advisers abreast of his efforts."
But, but, but: "He was mostly in contact with the campaign over emails."
The article also reports that a Papadopoulos indiscretion "answers one of the lingering mysteries of the past year: What so alarmed American officials to provoke the F.B.I. to open a counterintelligence investigation into the Trump campaign months before the presidential election?"
"It was not, as Mr. Trump and other politicians have alleged, a dossier compiled by a former British spy ... Instead, it was firsthand information from one of America's closest intelligence allies."
"During a night of heavy drinking at an upscale London bar in May 2016, ... Papadopoulos ... made a startling revelation to Australia's top diplomat in Britain: Russia had political dirt on Hillary Clinton."
"Once the information ... reached the F.B.I., the bureau opened an investigation that became one of its most closely guarded secrets."
https://www.axios.com/newsletters/axios-am-f48066c2-ecbf-4efd-bb5e-fc4153c626b4.html?chunk=7#story7
7. "A presidency of one person"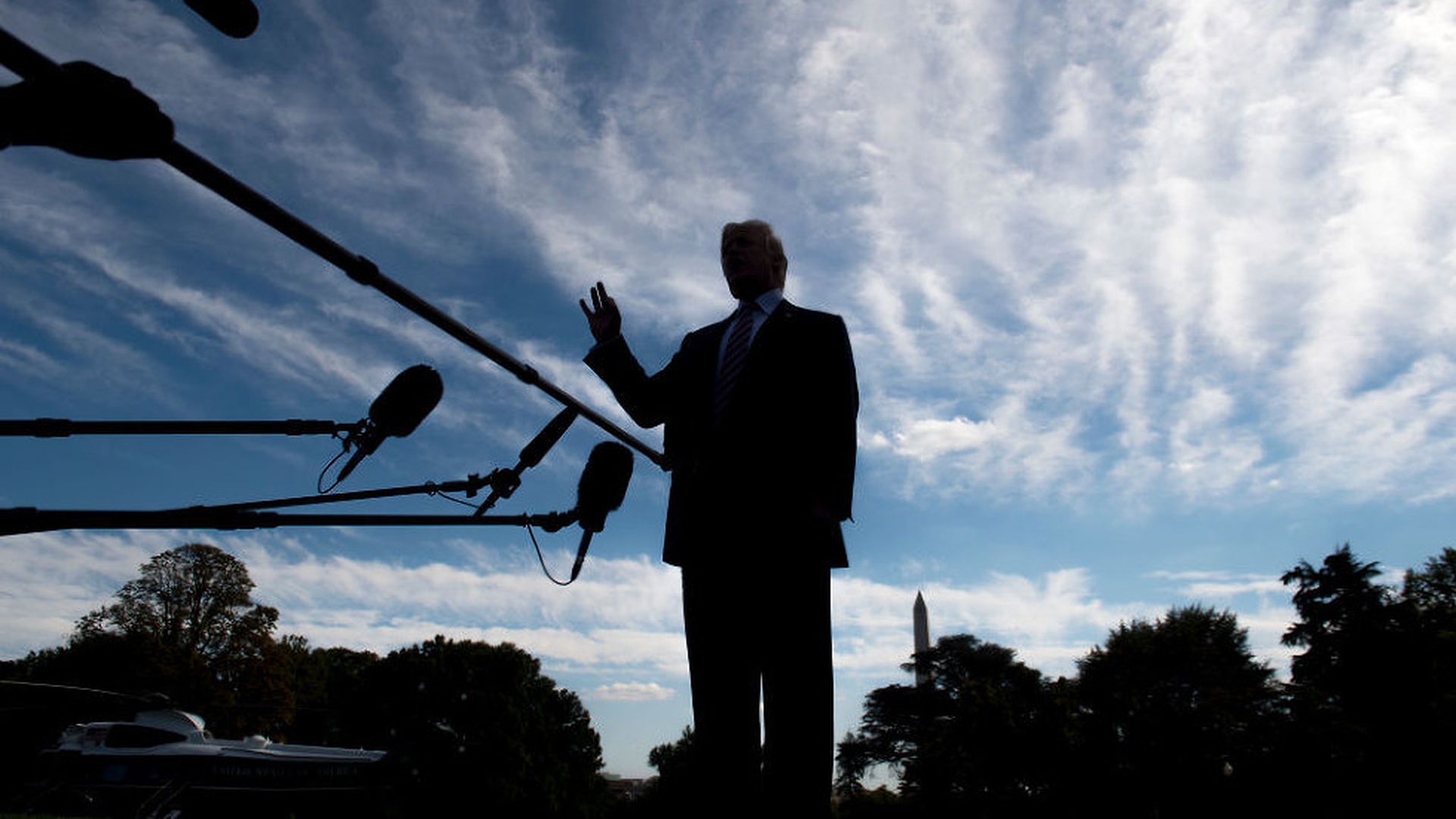 Peter Baker puts on his historian's cap for today's installment of the N.Y. Times series, "Trump's Way" ... "A Year of Reinventing the Presidency ... Under Trump, a Once Unimaginable Presidency Becomes Reality":
White House Chief of Staff John Kelly: "I'm not put on earth to control him ... But I have been put on earth to make this staff work better and make sure this president, whether you voted for him or not, is fully informed before he makes a decision. And I think we achieved that."Kelly on POTUS: "He remains fairly unconventional ... But as I point out, he now is fully briefed on the issues and the pluses and minuses, pros and cons."Ron Klain, a White House official under Clinton and Obama: "It's a presidency of one person ... That's really kind of a stunning thing. There is no Trump doctrine. There is no Trump plan. There is no Trumpism. There's just Trump."Peter notes that Trump has referred to his targets as "crazy," "psycho," "short and fat," "crooked," "totally inept," "a joke," "dumb as a rock," "disgusting," "puppet," "weak and out of control," "sleazy," "wacky," "totally unhinged," "incompetent," "lightweight" and "the dumbest man on television." (BTW, that was CNN's Don Lemon, and Trump often watches.) N.Y. Times Upshot has a living list, last updated Dec. 24, "The 410 People, Places and Things Donald Trump Has Insulted on Twitter: A Complete List." ("Insults since Mr. Trump became president are highlighted in yellow; the most recent updates are slightly darker.")
(Especially) Worth the $6 to buy the print N.Y. Times today ... Includes a special section, "A Look Back at 2017": "New York Times editors compiled some of the year's most riveting articles. Revisit the news that shaped 2017 and see highlights of our visual reporting."
https://www.axios.com/newsletters/axios-am-f48066c2-ecbf-4efd-bb5e-fc4153c626b4.html?chunk=8#story8
8. Training protégés to hide bombs in phones
N.Y. Times Quote of the Day ... David Petraeus, the former C.I.A. director, referring to Ibrahim Hassan al-Asirion, a notorious bomb maker for Al Qaeda in Yemen, who remains at large (from front-page story, "U.S. Pounds Al Qaeda in Yemen, But Barely Dents Risk of Attack"):
"Still the world's most dangerous man."
https://www.axios.com/newsletters/axios-am-f48066c2-ecbf-4efd-bb5e-fc4153c626b4.html?chunk=9#story9
9. An epic year: 29 of 30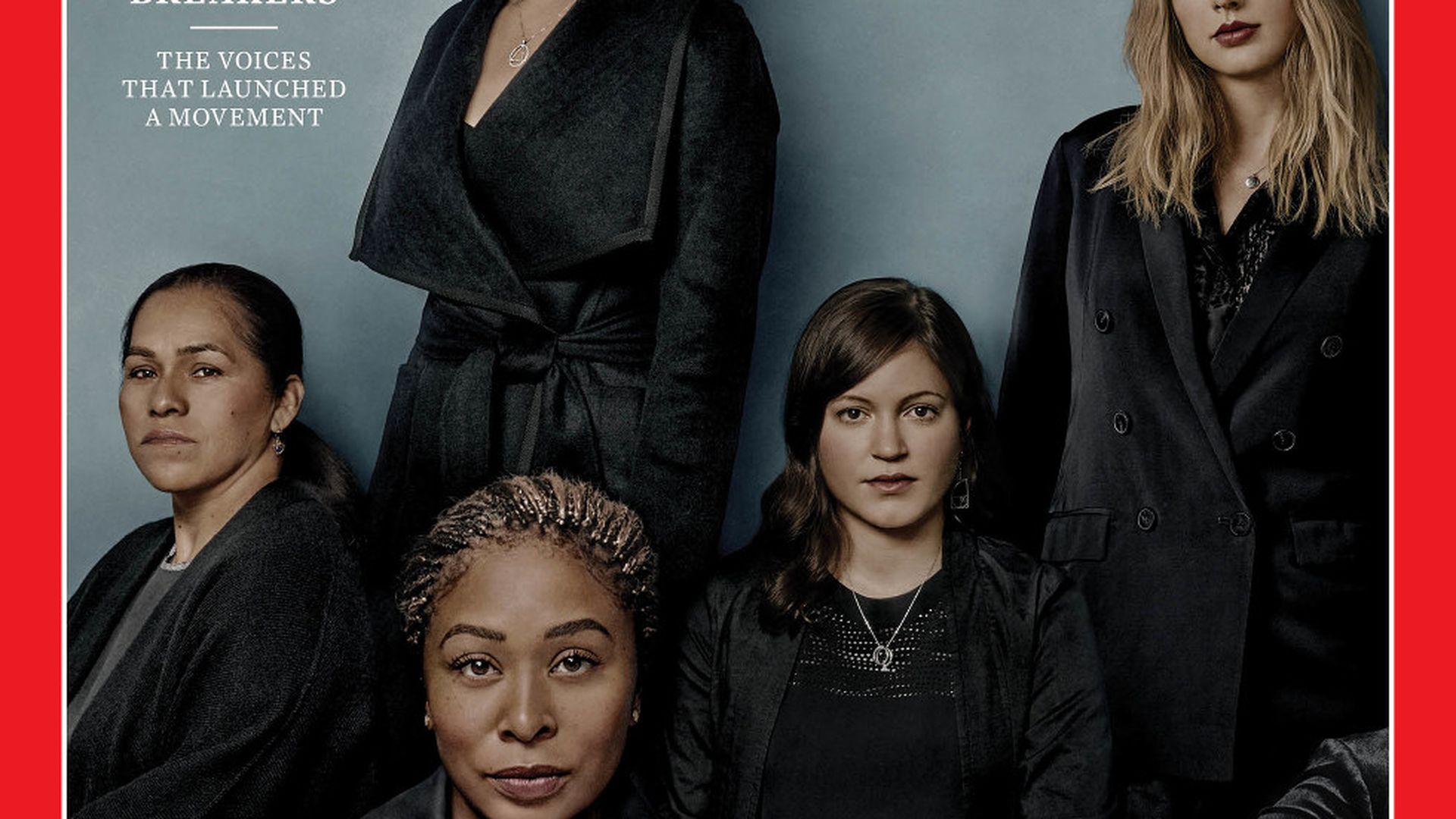 Reliving 2017 in 30 images ... TIME's "Person of the Year" cover featured a group portrait of "The Silence Breakers":
Ashley Judd ... former Uber engineer Susan Fowler, author of a viral post about harassment ... lobbyist Adama Iwu, who organized an open letter signed by 147 women calling out the "whisper network" in California's capitol ... Taylor Swift ... and strawberry picker Isabel Pascual (name changed to protect her), who was stalked and harassed after speaking out against the harassment.
TIME Editor-in-Chief Edward Felsenthal, on the choice: "The ... women on our cover ... have unleashed one of the highest-velocity shifts in our culture since the 1960s. ... To imagine Rosa Parks with a Twitter account is to wonder how much faster civil rights might have progressed."
Activist Tarana Burke, on creating the Me Too movement in 2006 and seeing #MeToo go viral this year after actor Alyssa Milano shared it: "Sexual harassment does bring shame. And I think it's really powerful that this transfer is happening, that these women are able not just to share their shame but to put the shame where it belongs: on the perpetrator."
https://www.axios.com/newsletters/axios-am-f48066c2-ecbf-4efd-bb5e-fc4153c626b4.html?chunk=10#story10
10. 1 fun thing: Words we're sick of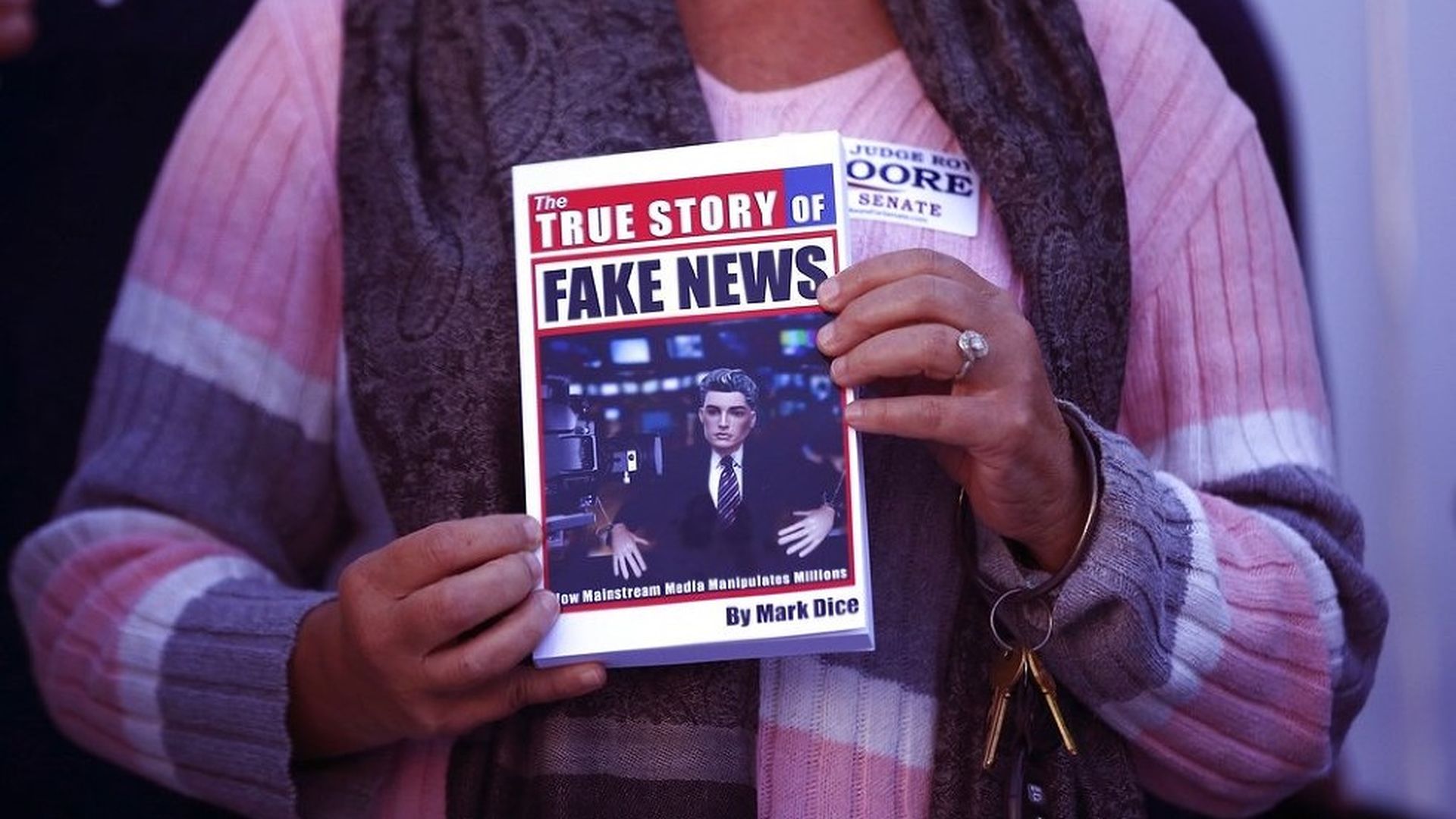 Banned words ... Northern Michigan's Lake Superior State University today released its 43rd annual "List of Words Banished from the Queen's English for Misuse, Overuse and General Uselessness" (via AP):
This year's list includes "let me ask you this," ''unpack," ''impactful," ''nothingburger," ''tons," ''dish," ''drill down," ''let that sink in," and the top vote-getter, "fake news."
The others are "pre-owned," ''onboarding/offboarding," ''hot water heater," ''gig economy" and the Trumpian Twitter typo "covfefe."