Join me Friday for Treasury Secretary Steve Mnuchin's first onstage interview, at 8 a.m. in downtown D.C. Click here to RSVP. This is the debut of my News Shapers event series, sponsored by PepsiCo and their Quaker, Tropicana and Naked nutrition brands. Shoot me your questions at mike@axios.com.
https://www.axios.com/newsletters/axios-am-f2db302f-3309-464e-928e-ef1cdb7c6db2.html?chunk=0#story0
1 big thing: "Let me finish"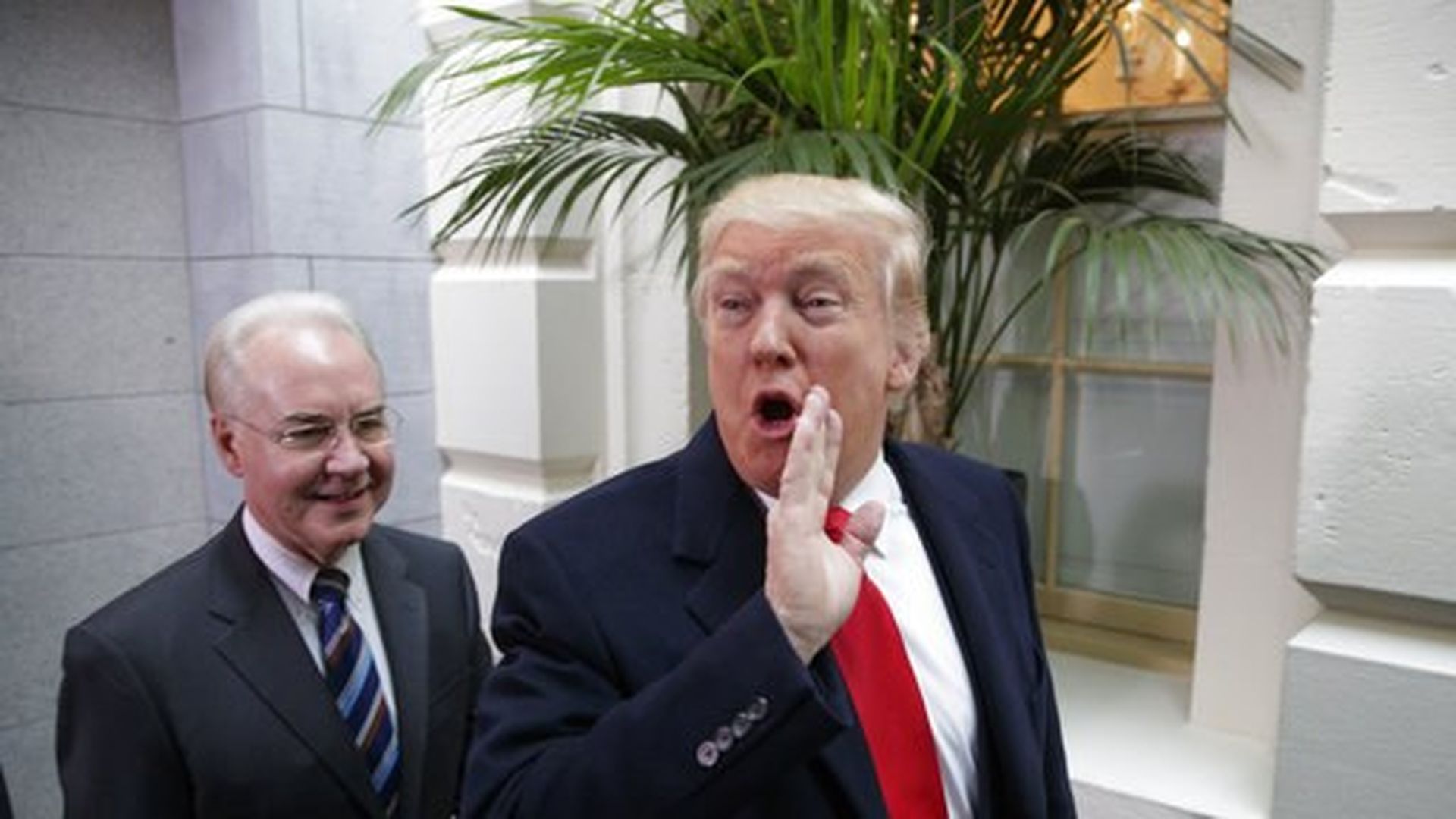 https://www.axios.com/newsletters/axios-am-f2db302f-3309-464e-928e-ef1cdb7c6db2.html?chunk=1#story1
2. Breaking
"Manafort's plan to 'greatly benefit the Putin Government,'" by AP's Jeff Hortwitz: "Trump's former campaign chairman, Paul Manafort, secretly worked for a Russian billionaire to advance the interests of Russian President Vladimir Putin a decade ago and proposed an ambitious political strategy to undermine anti-Russian opposition across former Soviet republics."
"The work appears to contradict assertions by the Trump administration and Manafort himself that he never worked for Russian interests."
"Manafort pitched the plans to Russian aluminum magnate Oleg Deripaska, a close Putin ally with whom Manafort eventually signed a $10 million annual contract beginning in 2006."
"In a statement to the AP, Manafort confirmed that he worked for Deripaska in various countries but said the work was being unfairly cast as 'inappropriate or nefarious' as part of a 'smear campaign.'"
https://www.axios.com/newsletters/axios-am-f2db302f-3309-464e-928e-ef1cdb7c6db2.html?chunk=2#story2
3. Will the Trump Rally become the Trump Tank?
The lunchtime Fox Business headline blared: "STOCKS DROP AMID UNCERTAINTY OVER REPUBLICAN HEALTH CARE PLAN." And, even more, tax reform. The Wall Street Journal's "Heard on the Street" column yesterday afternoon: "Why Trump's Tax Cut May Be Later and Smaller Than Investors Think."
Stocks yesterday had their biggest slide sine the election, "as investors rethink the crowded Trump trade," per WSJ p. B1. The S&P 500 fell 1.24% — the first 1% drop since way back in October.
Many market watchers are wondering if this is the official end of the Trump rally, Axios' Chris Matthews writes from New York.
A survey of money managers circulated yesterday among Bank of America clients suggests it is:
Reasons for optimism: Investors believe that 2017 will bring us both higher global growth, higher corporate profits, and lower corporate taxes. More than half of respondents say tax reform will get done this year.
Reasons for pessimism: A higher share of investors say the market is overvalued than at any point since 2000. A plurality think that the eventual trigger for a recession will be Federal Reserve rate hikes.
https://www.axios.com/newsletters/axios-am-f2db302f-3309-464e-928e-ef1cdb7c6db2.html?chunk=3#story3
4. Calculus and calendar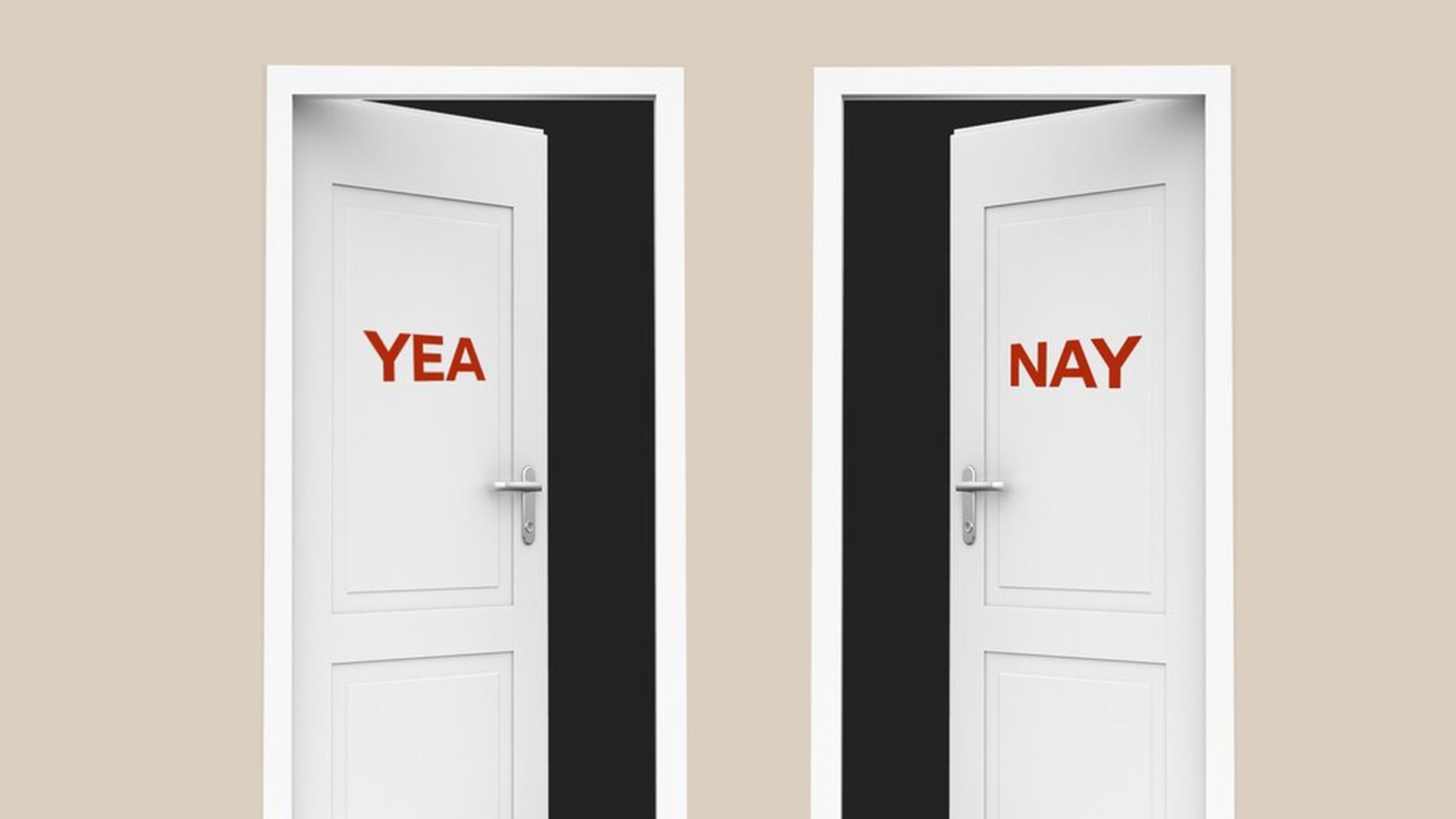 "Why the Trumpcare vote could hurt Republicans no matter how they vote," by Axios' Caitlin Owens and Bob Herman: Members are "left with a terrible choice: Vote against Obamacare repeal after campaigning on repeal for seven years, or vote to cover 24 million fewer people and potentially raise premiums for senior citizens."
"It's not every day — or maybe ever — that the far-right, the left and nearly every health care group are on the same page. But these three different factions all oppose the House bill. It's mainly establishment Republicans that support it."
Chris Krueger of Cowen Washington Research Group has the paragraph of the day in his D.C. Download:
"The GOP is going to attempt legislative Triple Lindy: pass AHCA [GOP's American Health Care Act] in House Thursday night, use reconciliation in Senate next week & final vote around Friday (3/31), then House eats Senate bill before April 7 Recess. Using Recess as a hammer is a tried and true strategy, though this requires an ironclad deal in Senate within a week."
Krueger's calculus:
70% chance for House passage Thursday.
40% odds of the Triple Lindy.
Drew Altman, president and CEO of the Kaiser Family Foundation, moves his column to Axios! His debut, "Why deductibles would rise under the GOP health care plan": "When advocates of the AHCA talk about expanding choice of lower cost plans, keep in mind that they are focusing on the premiums, not the overall costs to consumers."
https://www.axios.com/newsletters/axios-am-f2db302f-3309-464e-928e-ef1cdb7c6db2.html?chunk=4#story4
5. Quote of the day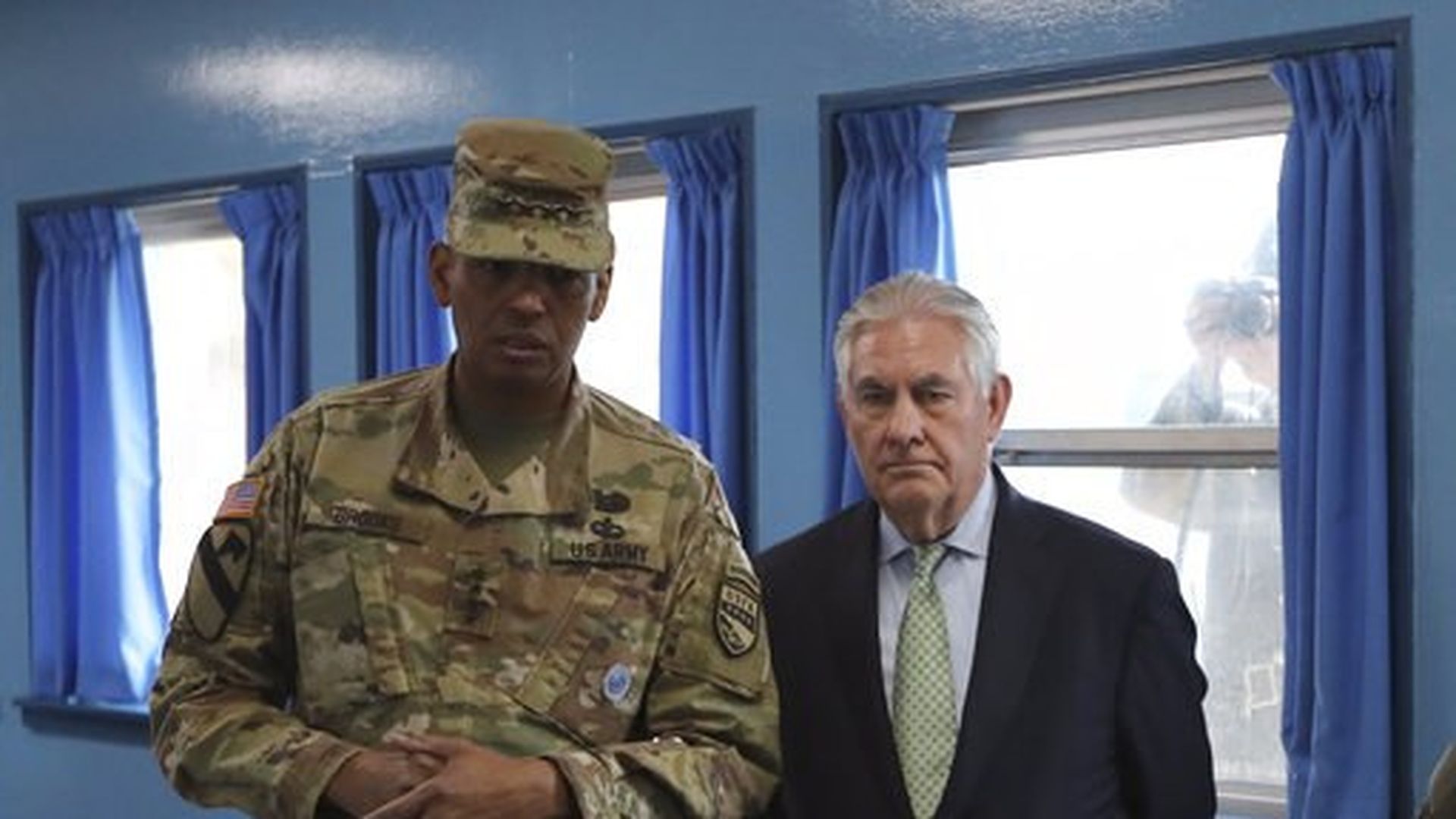 SecState Rex Tillerson, to IJR's Erin McPike: "I didn't want this job. I didn't seek this job. ... My wife told me I'm supposed to do this. ... When he asked me at the end of that conversation to be secretary of state, I was stunned."
McPike: '"He was so cagey when Russia came up ... that his answer wasn't even worthy of inclusion."
https://www.axios.com/newsletters/axios-am-f2db302f-3309-464e-928e-ef1cdb7c6db2.html?chunk=5#story5
6. #1 point from Court confirmation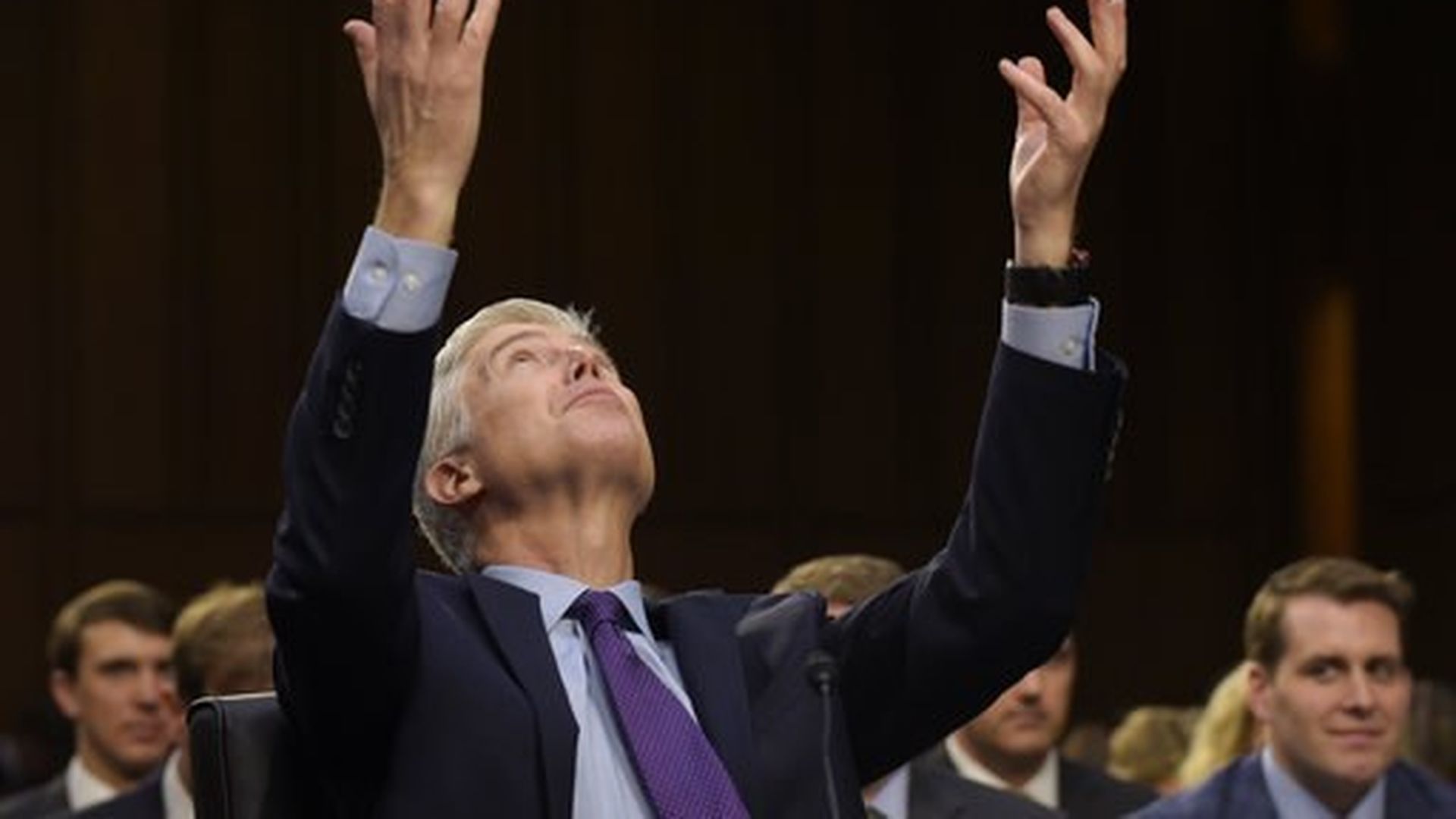 Judge Neil Gorsuch endured 11-plus hours of Senate questioning yesterday during his Supreme Court confirmation hearing. Today is third and likely last day. AP says he's "largely unscathed."
Asked about Trump's "so-called judge" tweet, Gorsuch said: " I find that disheartening, I find that demoralizing."
Tom Goldstein of SCOTUSblog had this read-between-the-lines on NPR's "All Things Considered":
"The big issue in the law between conservatives and liberals is this thing called originalism ... the idea that you interpret the Constitution the way it was understood when it was written. And other judges, including conservative nominees who've come before this committee before going on the Supreme Court, have said: Well, you know, we don't have one strict rule for how we interpret the Constitution.
"But Judge Gorsuch took the very hard line that Justice Scalia did when he was a justice, and that is: We always look back to how the Constitution was originally understood, and then we apply that to modern problems. So that's a very conservative view of the law."
https://www.axios.com/newsletters/axios-am-f2db302f-3309-464e-928e-ef1cdb7c6db2.html?chunk=6#story6
7. The great ad scam
"Almost 20% of digital ad spending could be wasted," per Axios' Sara Fischer: "A new study estimates that $12.48 billion of ad spending in 2016 was fraud, or was the result in invalid traffic, which is double the earlier $7.2 billion industry estimate."
Why this matters: The amount lost to digital ad fraud is greater than the total digital advertising revenue for all of the 80 premium publishers of Digital Content Next, a trade group which includes the AP, NBC, NPR, PBS, Turner and many more.
https://www.axios.com/newsletters/axios-am-f2db302f-3309-464e-928e-ef1cdb7c6db2.html?chunk=7#story7
8. Top-eds
Wall Street Journal editorial, "A President's Credibility": "[T]he President clings to his [wiretapping] assertion like a drunk to an empty gin bottle ... [I]f he doesn't show more respect for the truth most Americans may conclude he's a fake President."
"How the White House Got James Comey Wrong," by New Yorker's Ryan Lizza: "[T]he larger takeaway from the White House's spin is that the top people around Trump may have no idea how much exposure the President has on the issue of Russian collusion."
"Reality creeps into the reality show" — David Ignatius column in WashPost: "He is often described as a narcissist, but he's not suicidal. ... With his approval rating below 40 percent, he needs to broaden his base. Trump wants to disrupt, but he also wants to succeed."
"Falsehoods that endanger national security" — Susan Rice, national security adviser to President Obama, op-ed in WashPost: "U.S. power is frequently a function of our ability to rally other countries ... [S]hould America someday determine that Iran is violating the nuclear accord, we may struggle to convince other nations to re-impose sanctions if they doubt our intentions or the evidence we present."
https://www.axios.com/newsletters/axios-am-f2db302f-3309-464e-928e-ef1cdb7c6db2.html?chunk=8#story8
9. Tops in tech
Uber damage control ... "Uber will release its first diversity report this month," by Axios' Kia Kokalitcheva: "Several journalists pointed out that all executives on the call were women, while CEO Travis Kalanick and board member and investor Bill Gurley were busy with interviewing potential COO candidates. Hornsey and Huffington both said that they were also involved with the COO search."
Steve Case announces: "J.D. Vance, an experienced Silicon Valley tech investor and the bestselling author of 'Hillbilly Elegy,' has joined Revolution LLC as a Partner, where he will work to expand the firm's Rise of the Rest initiative, which shines a spotlight on startup ecosystems located outside of Silicon Valley, New York City, and Boston. Vance's focus will include identifying and investing in startups, and exploring ways to get more institutional capitalto invest in entrepreneurs in these rising cities."
https://www.axios.com/newsletters/axios-am-f2db302f-3309-464e-928e-ef1cdb7c6db2.html?chunk=9#story9
10. 1 fun thing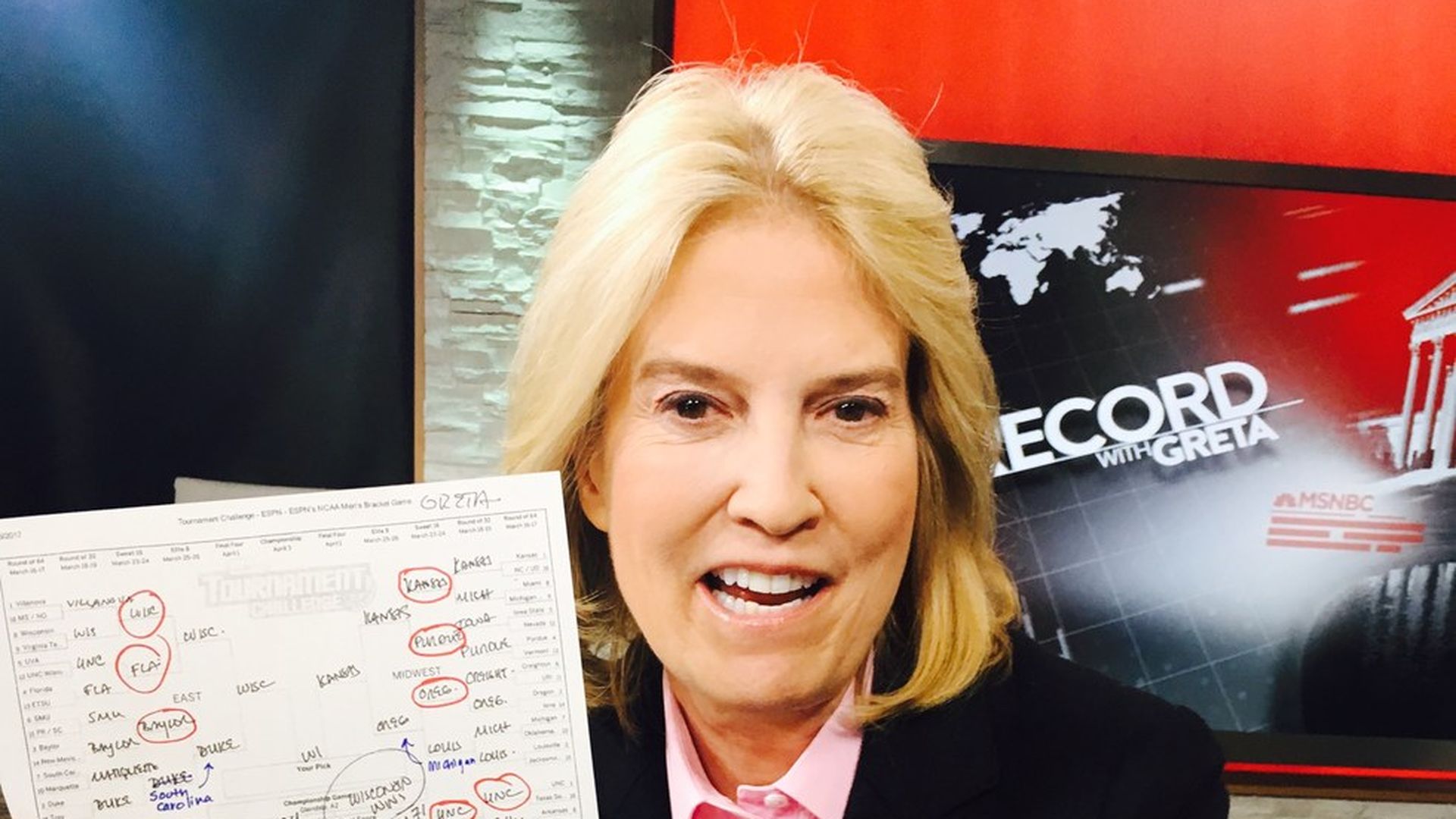 Few March Madness brackets were left intact after Villanova, last year's champion, was upset in Round 2 by the Wisconsin giant-slayers. The best bracket in D.C. may belong to Greta Van Susteren, who entered a $5 pool at MSNBC and was proudly displaying her entry on the anchor desk when I stopped by last night's show.
Van Susteren, an Appleton native and Packers shareholder, is a 1976 Wisconsin graduate and faithfully picks the Badgers to go all the way every year: "A little bit stupidity, a little bit loyalty."