☕️ Happy Friday!
Situational awareness: "Millions of people covered under the Affordable Care Act will see only modest premium increases next year, and some will get a price cut," AP reports.
"[T]he exodus of insurers from the program has halted, even reversed somewhat, with more consumer choices for 2019."
1 big thing: Trump dares Mueller to subpoena him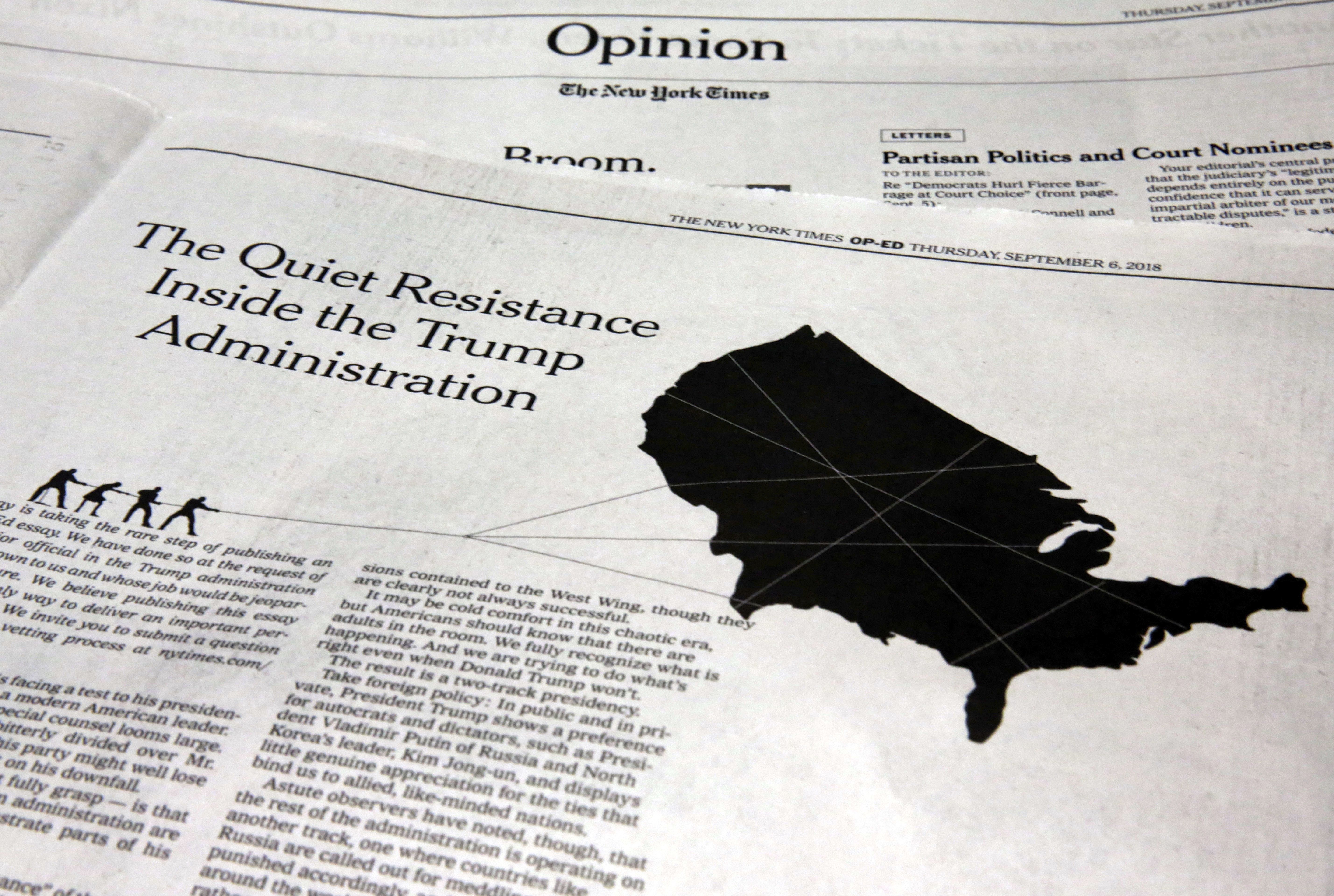 Richard Drew/AP
President Trump will not voluntary answer questions about obstruction of justice, gambling that Robert Mueller won't have the stomach for a court fight.
A source close to Trump's legal team tauntingly tells us it's "Mueller's moment of truth." 
If Trump agrees to an interview with the special counsel, questions about obstruction of justice are a "no-go," Rudy Giuliani tells AP's Jonathan Lemire.
Wait! Bob Woodward's book (which won't even be in stores for four more days) ... the anonymous Times op-ed ... the confirmation hearing for a change-the-balance Supreme Court justice ... have been momentarily eclipsed?
That's right. In a high-stakes move designed to force Robert Mueller's hand, Giuliani said Trump won't answer the feds' questions — in writing or in person — about whether he tried to block the probe into Russian election interference.
Giuliani later seemed to backtrack, telling NBC News that those questions are "not ruled in or out."
Jonathan Swan reads between the lines:
Giuliani is daring Mueller to issue a subpoena.
The president's team is itching for the fight.
Trump's lawyers are betting that Mueller won't have the heart for the multi-month court fight that would result from trying to compel the president to be interviewed.
The White House bet: Mueller will blink and ultimately issue an incomplete report, avoiding the stakes of a court battle.
The source close to the president's team explained: "Mueller backed off from a demand for a face-to-face, to get to a compromise of written Q-and-A on Russia. And Rudy still says no. What is Mueller to do now?"
A source with direct knowledge of the Trump's legal team machinations said "there is no strategy" beyond the PR tactic of threatening Mueller, and attempting to bruise him as much as possible.
Meanwhile, Mueller stays quiet. And gets ready.
2. Trump accuses the Times of "virtually ... treason"
President Trump escalated his attacks on the N.Y. Times during an interview last night in Montana with Pete Hegseth of "Fox & Friends":
"Well, number one, The Times should have never have done that [printed the anonymous Op-Ed] because really what they've done, virtually, it's treason. You can call it a lot of things ..."
"They're all saying, you know, it's got to be at a fairly low level. ... I see all the people that are saying such great things. There's a lot of love in the administration, and the White House is truly, as you would say, a well-oiled machine — it is working so well."
3. "Not me"
Inside the West Wing: I'm told that officials rapidly shifted from trying to smoke out the author of the anonymous N.Y. Times op-ed, to using the guessing game to knife people they already hated — whispering the names of rivals and enemies as potential authors.
By last night, MSNBC counted 27 senior officials in the Trump administration (to use The Times' formulation) who had issued denials.
Here's my bet, which is contrarian to a lot of what you'll hear: There's a lot of speculation that The Times puffed up the person's importance, but I think the official actually is indisputably "senior."
Here's why: If I'm The Times, I know that publishing the anonymous blast is going to be controversial. I assume the person will be unmasked, perhaps sooner rather than later. And I don't want to look like a dope when the identity is known. If it weren't an actual big fish, I'd have a "fake news" problem.
How many suspects? "Paul Light, a New York University professor and expert on the federal bureaucracy, said about 50 people could have legitimately written the column," per AP.
"Martha Joynt Kumar, director of the White House Transition Project, meanwhile, puts the number of true senior administration officials at around 100."
P.S. "Trump especially liked the statement by Secretary of State Mike Pompeo," per the WashPost:
"While traveling in India, Pompeo criticized the 'liberal newspaper' and described the anonymous editorial as 'a disgruntled, deceptive, bad actor's word.'"
Go deeper: List of deniers.
Bonus: Tweet du jour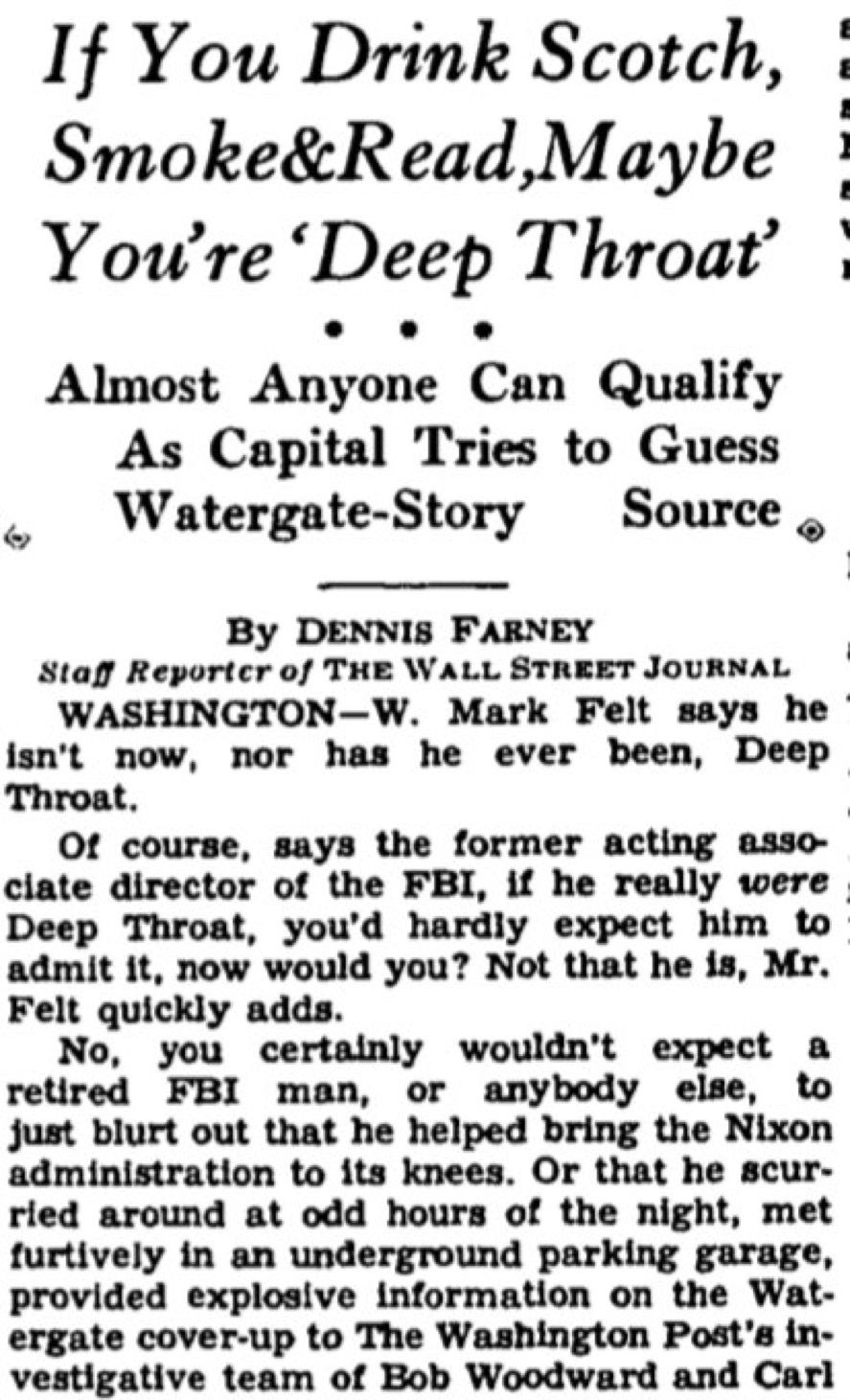 American University professor W. Joseph Campbell tweets this image from the Wall Street Journal front page of June 25, 1974 — 10 days after the publication date of Woodward and Bernstein's "All the President's Men."
4. Stat du jour
"Record-breaking 100 women candidates may be bound for the House," David Wasserman writes for NBC News:
"The wave is being driven entirely by Democrats, a new race-by-race analysis shows. On the GOP side, the number of women serving in office is expected to dip."
5. The Economist: World hasn't learned lessons of financial crisis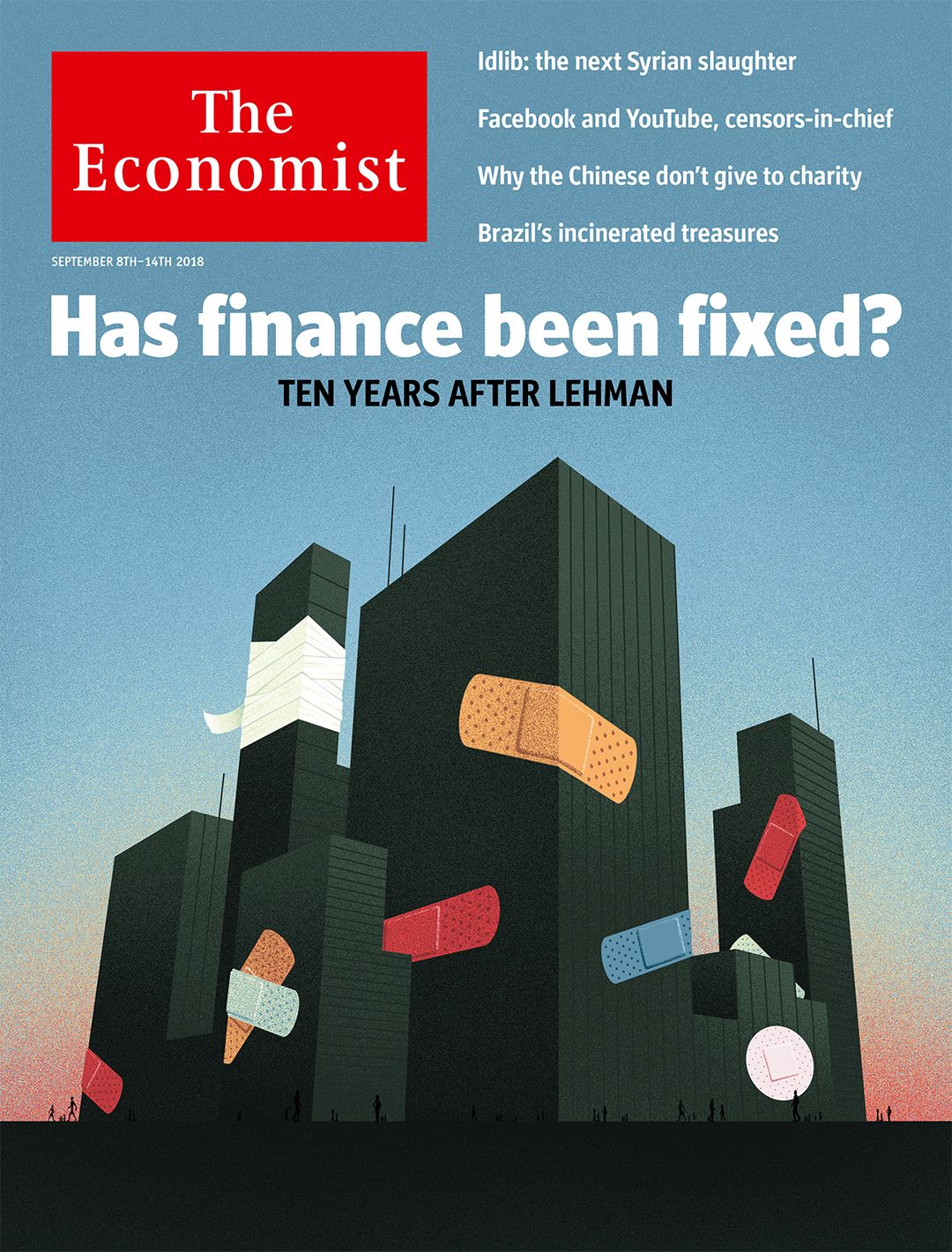 Courtesy The Economist
10 years on ... "Banks are safer, but too much of what has gone wrong since 2008 could happen again," The Economist writes in its lead editorial:
Why it matters: "When historians gaze back at the early 21st century, they will identify two seismic shocks. The first was the terrorist attacks of September 11th 2001, the second the global financial crisis, which boiled over ten years ago this month with the collapse of Lehman Brothers."
"[I]n one way or another, [the next financial crisis] is likely to involve property":
"Rich-world governments have never properly reconciled a desire to boost home ownership with the need to avoid dangerous booms in household credit, as in the mid-2000s."
"The risk will be mitigated only when politicians embrace fundamental reforms, such as reducing household borrowing, with risk-sharing mortgages or permanent constraints on loan-to-value ratios."
6. Amazon's data trove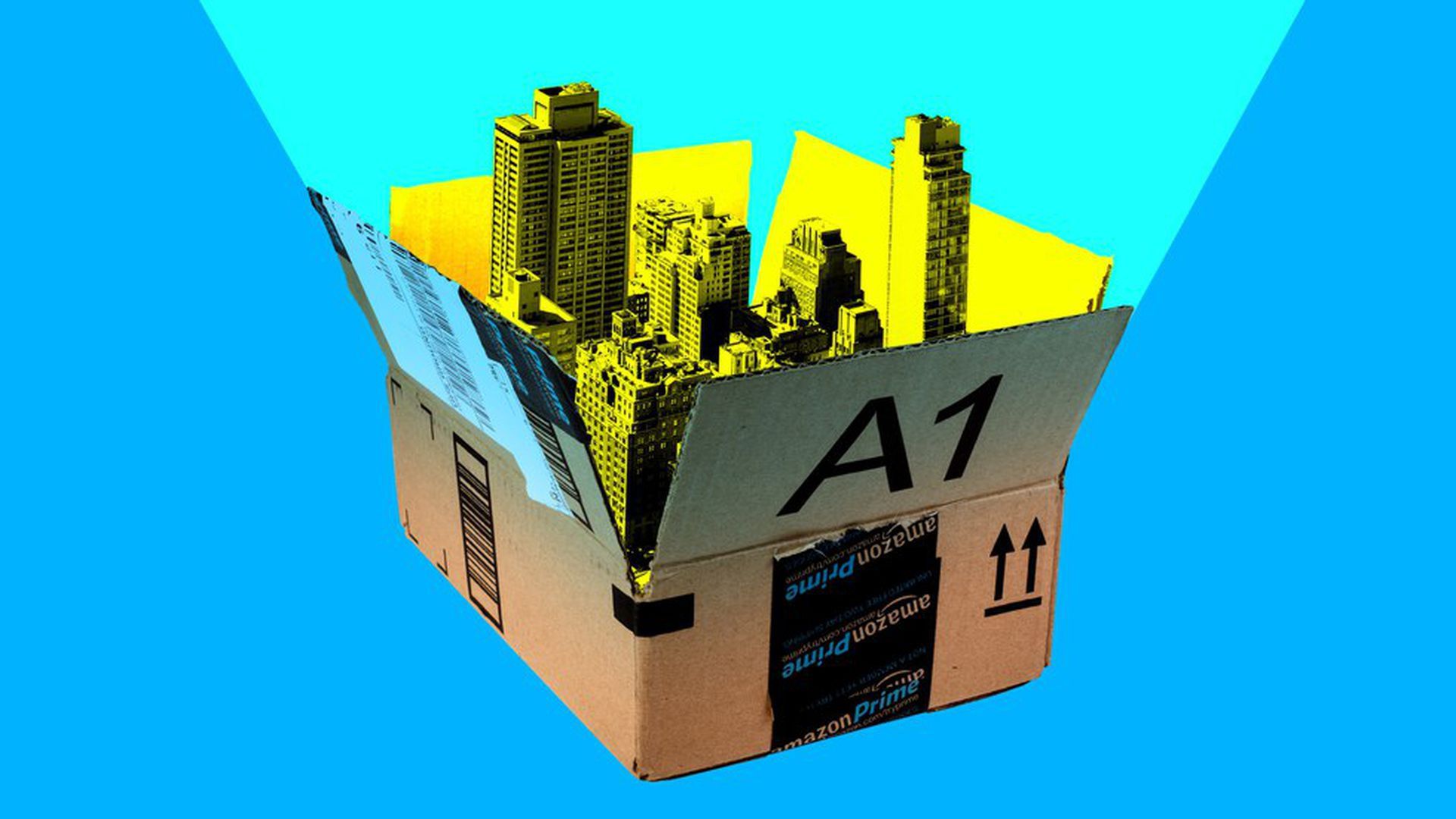 When Amazon invited cities to compete for its second global headquarters a year ago today, it got reams of data from the 238 entrants — enough to learn details of the cities' future plans that a lot of their residents don't even know about, Axios' Erica Pandey reports.
Why it matters: The information effectively provided Amazon with a database of granular details about the economic development prospects of every major metropolitan area in the United States (and some in Canada).
The database could help with expansion decisions that go way beyond HQ2.
Amazon's warehouses are within 20 miles of 31% of the U.S. population, while Walmart owns stores within 20 miles of 98% of the population, says Cooper Smith, an industry analyst at Gartner L2.
7. Kavanaugh weathers raucous hearing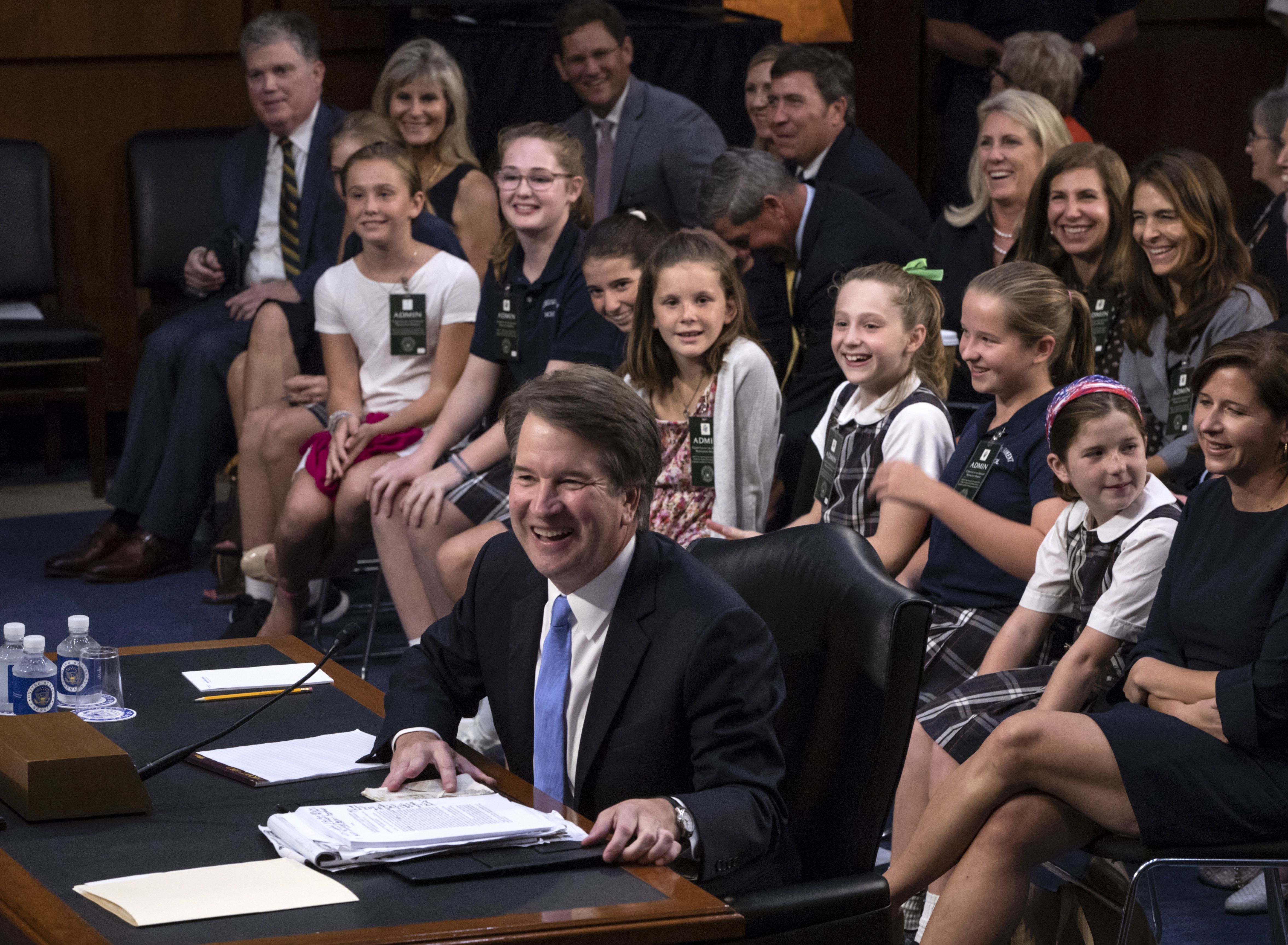 Brett Kavanaugh is visited by student athletes he has coached over the years. (J. Scott Applewhite/AP)

"Supreme Court nominee Brett Kavanaugh wrapped up what is likely to be the toughest part of his confirmation process Thursday, completing two 13-hour days of public questioning in which senators often spent their time sparring with one another," The Wall Street Journal's Jess Bravin and Byron Tau report:
"When senators did press Judge Kavanaugh, they often were rebuffed. They invited him to criticize President Trump's attacks on judges, prosecutors and the press, but he spent his final day before the Senate Judiciary Committee deflecting those efforts as well as attempts to draw out his views on abortion rights, campaign finance regulations and same-sex marriage."
2020 came roaring into the hearing, with a pair of prospective Democratic candidates trying to tear Kavanaugh down to build their own profiles, the WashPost's Sean Sullivan writes:
Sen. Cory Booker (N.J.) "portrayed himself as a rebel willing to face expulsion from the Senate for releasing confidential documents from Kavanaugh, describing it as his 'I am Spartacus' moment. In reality, the documents had already been cleared for release."
Sen. Kamala Harris (Calif.) "hinted that she might have hard evidence that Kavanaugh spoke about the special counsel investigation with someone at the law firm founded by Trump's personal attorney. But she offered no such details when pressed."
8. "If I weren't effective, I wouldn't be a target"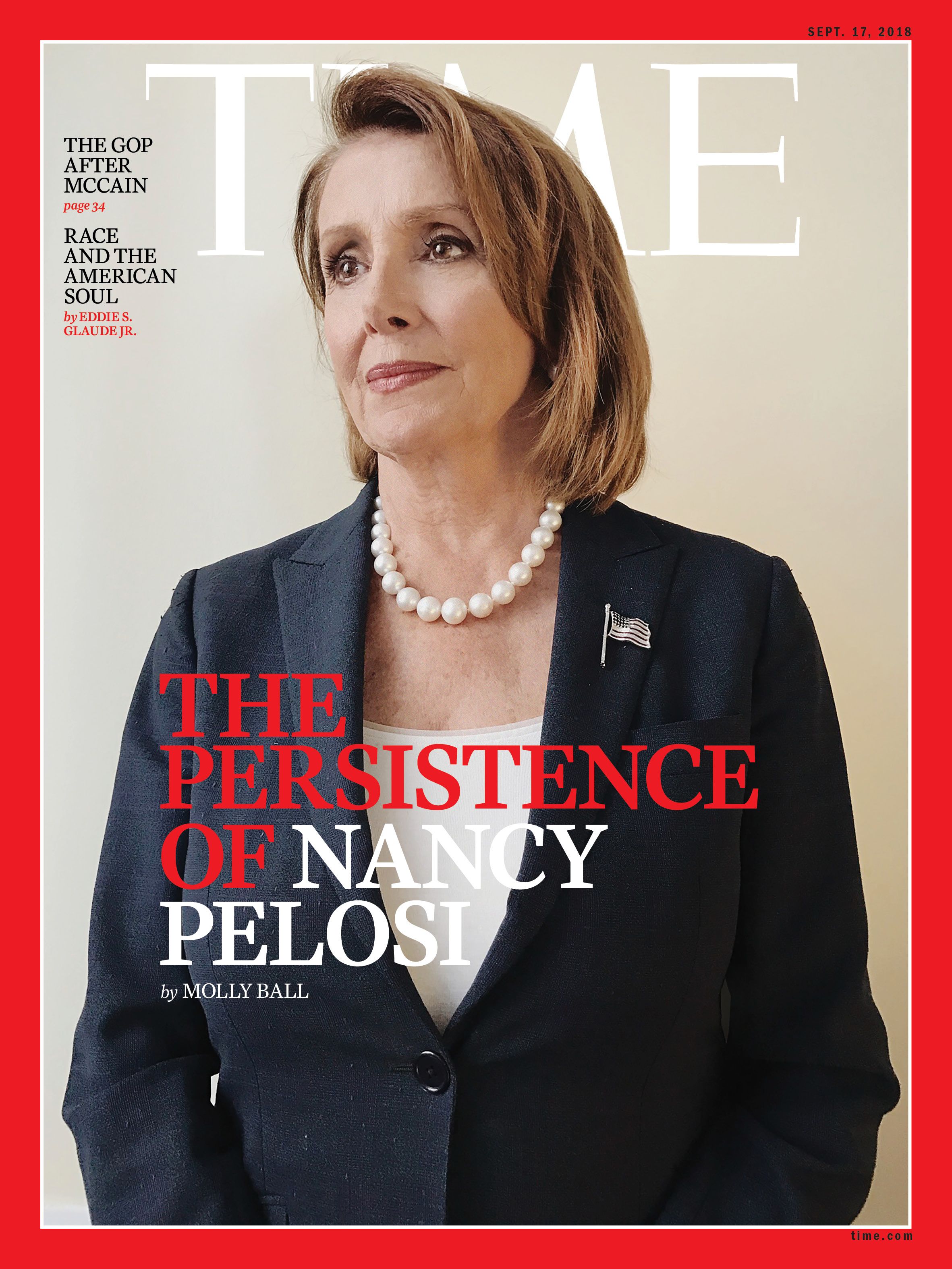 Courtesy TIME
"Staying power ... Loathed by the right, under fire from the left. Nancy Pelosi says she isn't going anywhere" — TIME cover story by Molly Ball:
"The 78-year-old former House Speaker knows what her critics say about her: that she's too old, too 'toxic,' too polarizing …. But there's a reason she sticks around. Had Hillary Clinton won the 2016 election, she says, 'we'd have a woman at the head of the table.' When that didn't happen, Pelosi realized that without her, there might not be a woman in the room at all."
"Pelosi is one of the most consequential political figures of her generation. It was her creativity, stamina and willpower that drove the defining Democratic accomplishments of the past decade."
9. Well-educated dominate House battle
The House districts with the closest races tend to be more educated than the rest of the country, Axios' Chris Canipe and Alexi McCammond report:
Of the 30 districts rated "tossups" by Cook Political Report, two-thirds have a higher prevalence of college degrees than the national average.
Why it matters: It's yet another sign of potential midterm trouble for Republicans, since 28 of those races have a Republican incumbent and President Trump did best among people without college degrees.
Strategists from both parties think control of the House will come down to how suburban voters react to Trump.
A Pew survey in March showed that Trump's approval was highest among those who had never been to college, and FiveThirtyEight found that Hillary Clinton excelled in higher-educated counties.
Republican strategists, however, believe most of the voters in these districts are still Republicans.
10. 🎞 1 film thing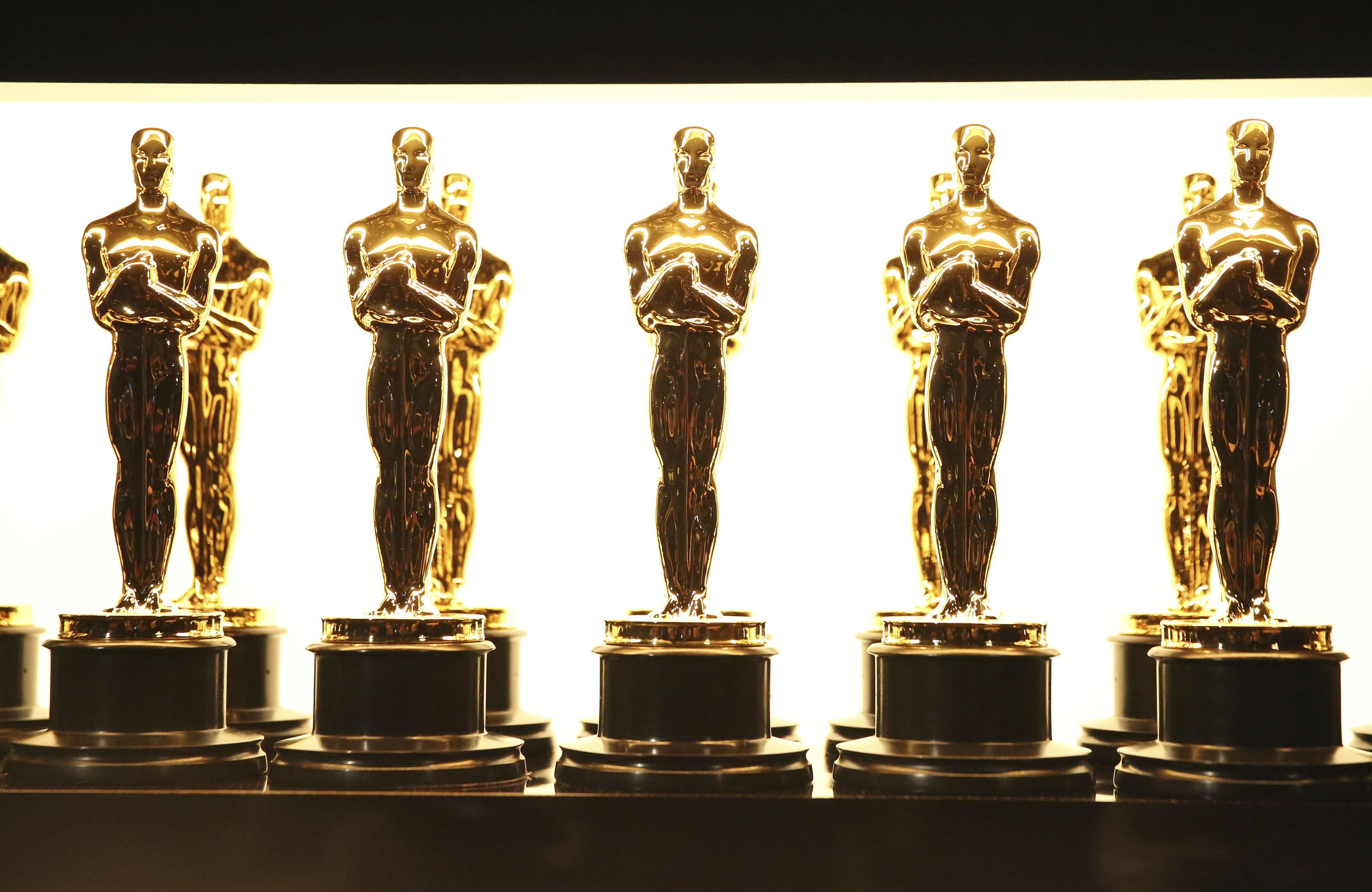 Matt Sayles/Invision/
Academy cancels new Oscars category for best popular film, announced less than a month ago, per L.A. Times' Josh Rottenberg:
"Facing a backlash over its creation of a new category for 'outstanding achievement in popular film,' the Academy of Motion Picture Arts and Sciences abruptly reversed itself."
Why it matters: "The idea of a 'best popular film' award was criticized by many as an act of pandering in reaction to declining ratings for the Oscars, with some fearing a category focused exclusively on blockbuster movies would water down the significance of the awards as a whole."
Thanks for reading. See you all day — and all weekend — on Axios.com.