Good Sunday morning. Situational awareness: LaToya Cantrell, an African American, is elected New Orleans' first female mayor in 300 years. ... Frustrated by Trump, European countries station ambassadors in Silicon Valley to boost trade. (WashPost)
https://www.axios.com/newsletters/axios-am-f0453607-0b88-41c4-aa60-f0755821a42e.html?chunk=0#story0
1 big thing: Nuke chief would stand up to POTUS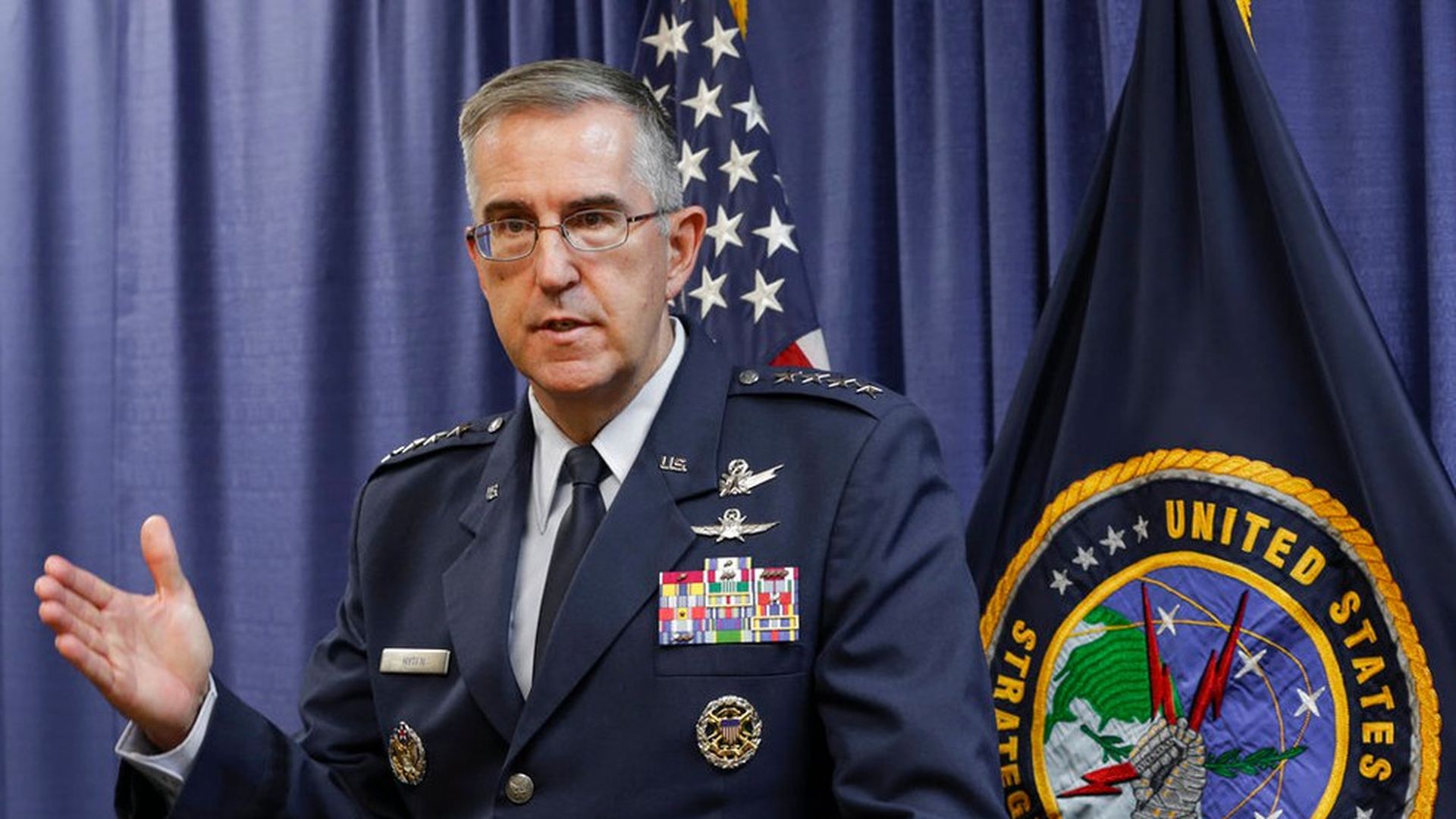 The top U.S. nuclear commander stirs an online ruckus by saying he'd resist a commander-in-chief's order for a nuclear strike if it were illegal.Why it matters: Needless to say, this isn't normal. The fact that this is even a topic of conversation reflects Trump anxiety among many former national-security officials, including some Republicans. The backdrop, via CNN: The "remarks come after a Senate Foreign Relations Committee hearing this week on the President's authority to launch nuclear weapons — the first such ... hearing in more than 40 years."
Speaking yesterday at the Halifax International Security Forum in Nova Scotia, Canada, Gen. John Hyten, commander of the U.S. Strategic Command (STRATCOM), which oversees nukes and missile defense, said what would happen if he were ordered to launch a nuclear strike (CNN, AP, Reuters):
"I provide advice to the President ... He'll tell me what to do, and if it's illegal, guess what's going to happen? I'm gonna say, 'Mr. President, that's illegal.'"
"Guess what he's going to do? He's going to say, 'What would be legal?' And we'll come up with options of a mix of capabilities to respond to whatever the situation is, and that's the way it works. It's not that complicated."
"I think some people think we're stupid. We're not stupid people. We think about these things a lot. When you have this responsibility, how do you not think about it?"
"If you execute an unlawful order, you will go to jail. You could go to jail for the rest of your life."
https://www.axios.com/newsletters/axios-am-f0453607-0b88-41c4-aa60-f0755821a42e.html?chunk=1#story1
2. Life under Kim Jong-un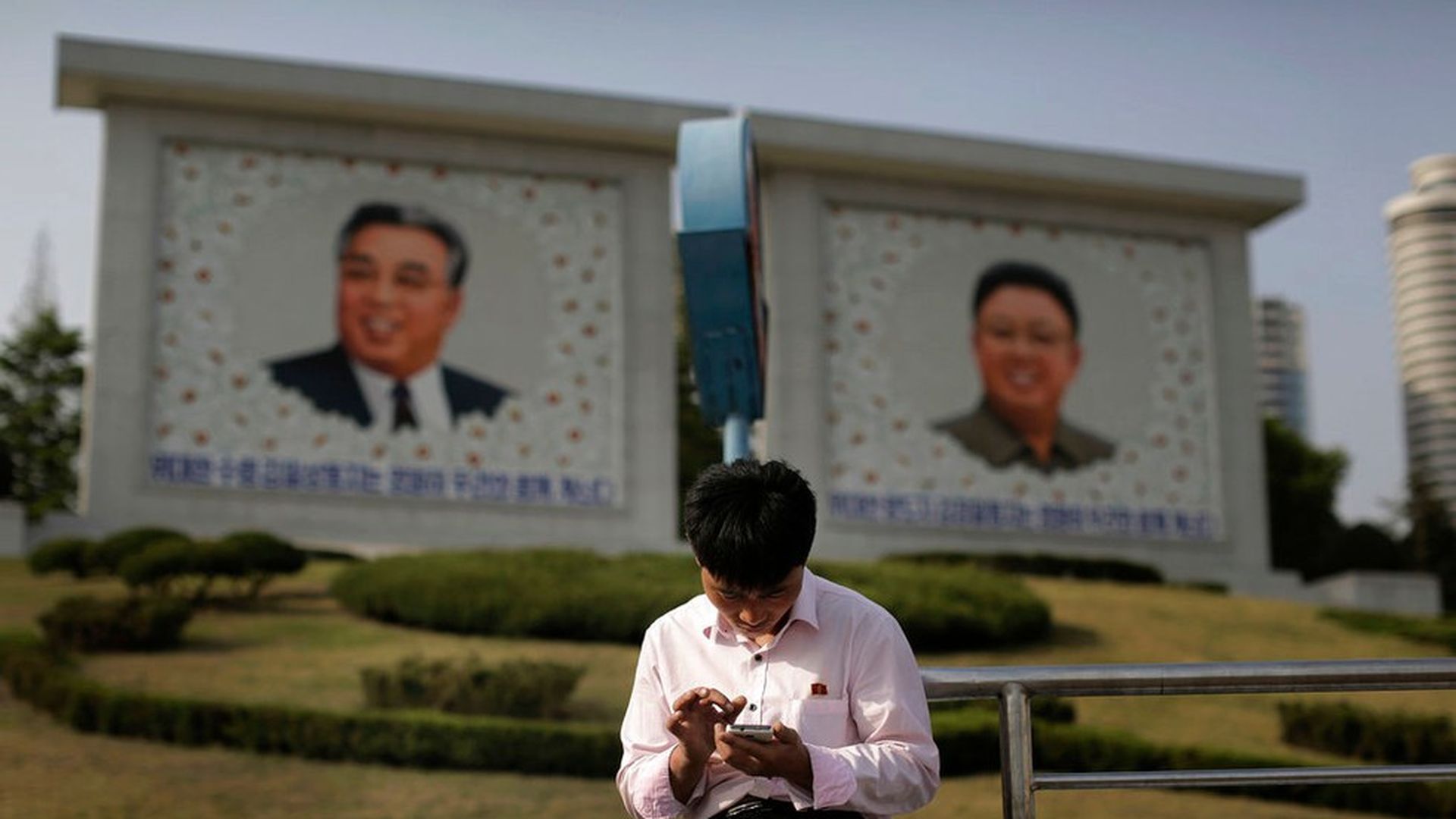 In six months of interviews in South Korea and Thailand, Anna Fifield, the Washington Post's Tokyo bureau chief, talked with more than 25 North Koreans from different walks of life who lived in Kim Jong-un's North Korea and managed to escape. What she found:
"They paint a picture of a once-communist state that has all but broken down, its state-directed economy at a standstill."
"Today, North Koreans are making their own way, earning money in an entrepreneurial and often illegal fashion."
The "Aha!" moment: "Market activity is exploding, and with that comes a flow of information, whether as chitchat from traders who cross into China or as soap operas loaded on USB sticks. And this leads many North Koreans to dream in a way they hadn't before."
https://www.axios.com/newsletters/axios-am-f0453607-0b88-41c4-aa60-f0755821a42e.html?chunk=2#story2
3. FBI report raises civil-rights fears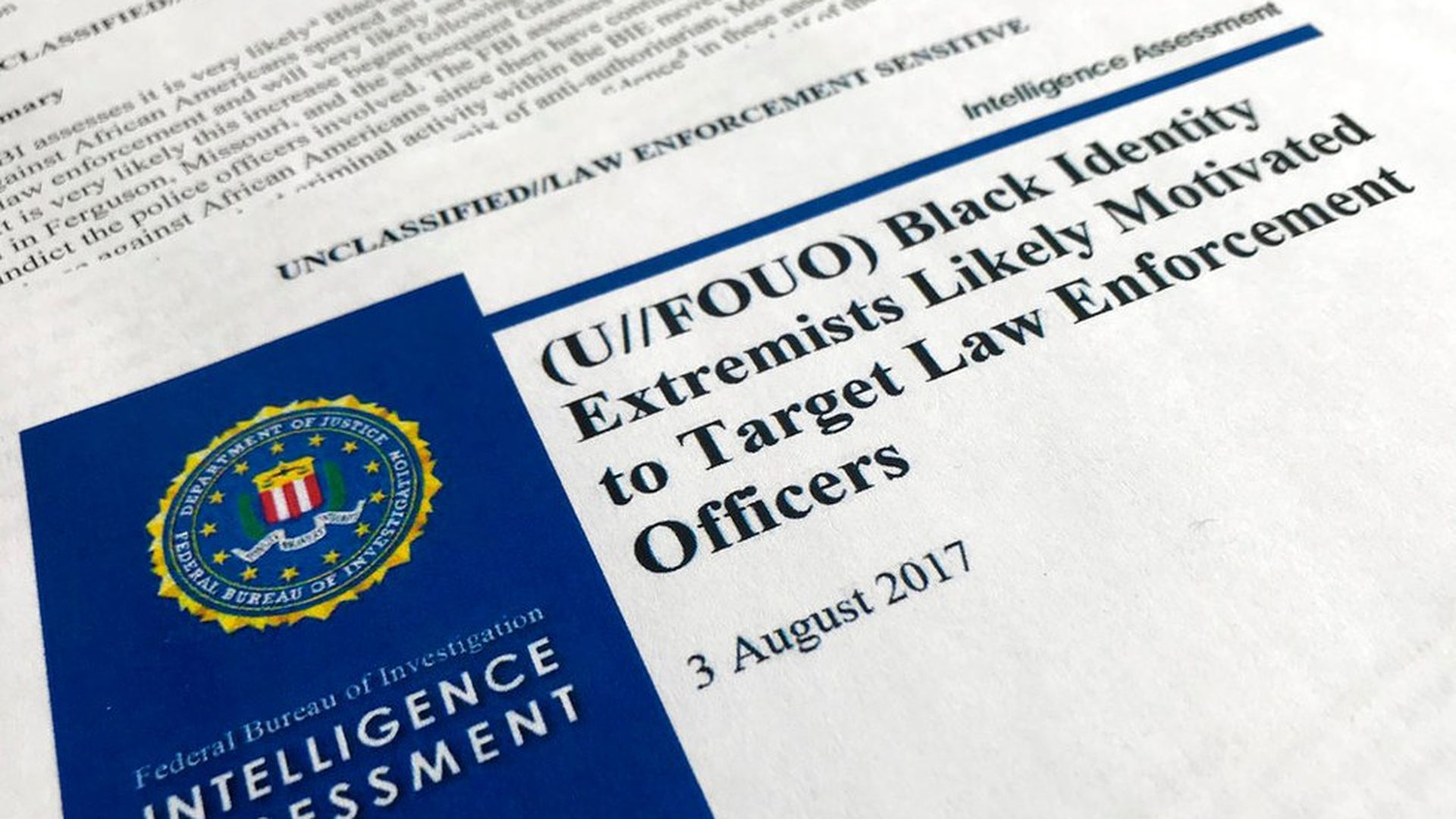 "An FBI report on the rise of black 'extremists' is stirring fears of a return to practices used during the civil rights movement, when the bureau spied on activist groups," AP reports:
"The 12-page report, issued in August, says 'black identity extremists' are increasingly targeting law enforcement after police killings of black men ... It warned that such violence was likely to continue."
"Black leaders and activists were outraged after Foreign Policy revealed the existence of the report last month."
Why it matters: "The Congressional Black Caucus, in a letter to FBI Director Christopher Wray, said the report 'conflates black political activists with dangerous domestic terrorist organizations' and would further erode the frayed relationship between police and minority communities."
"A similar bulletin on white supremacists ... came out about the same time."
"The FBI noted it issued a similar bulletin warning of retaliatory violence by 'black separatist extremists' in March 2016, when the country had a black president, Barack Obama, and black attorney general, Loretta Lynch."
https://www.axios.com/newsletters/axios-am-f0453607-0b88-41c4-aa60-f0755821a42e.html?chunk=3#story3
Pic du jour: Been there!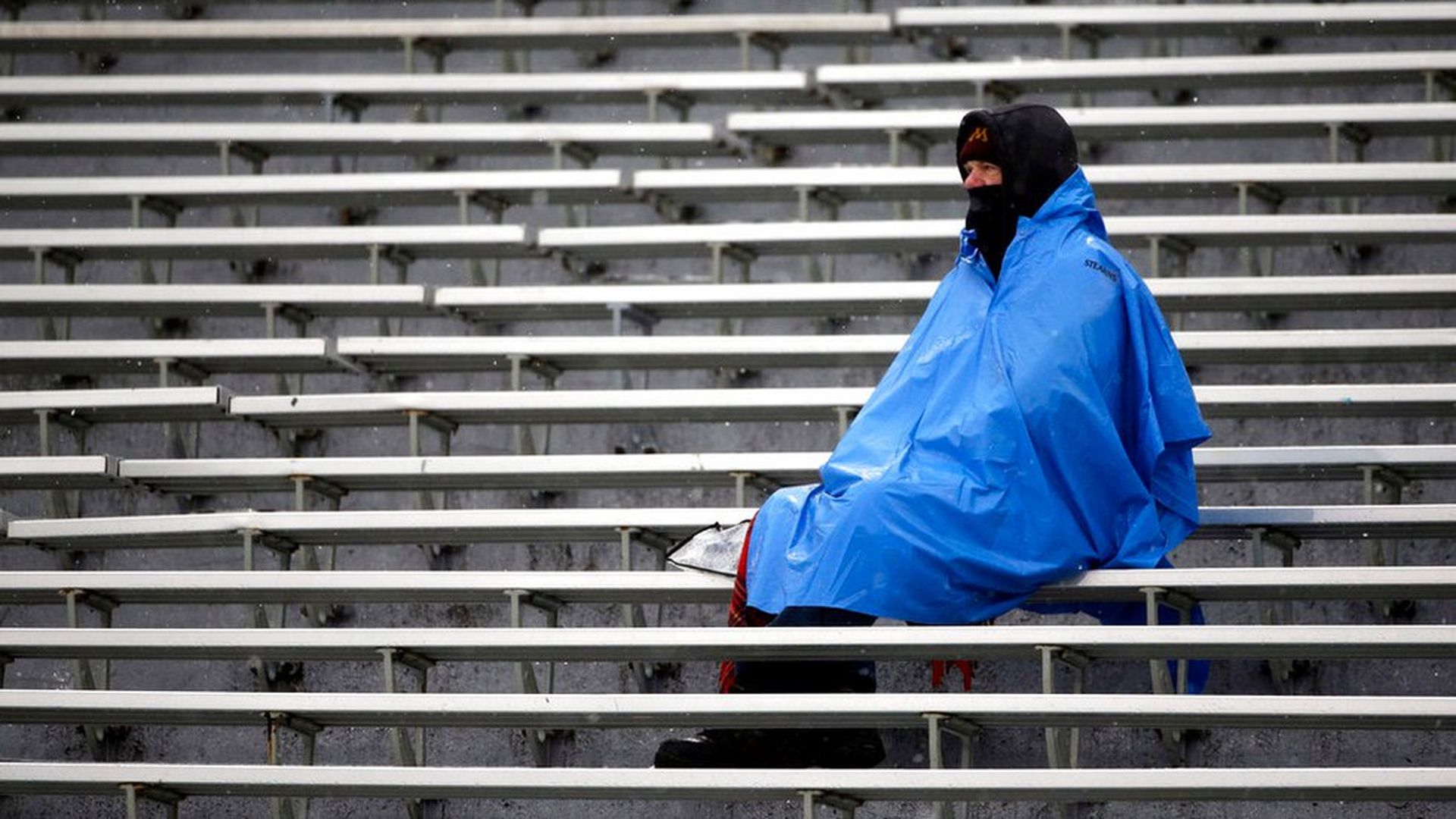 A Minnesota fan watches the Golden Gophers lose 39-0 to the Northwestern Wildcats in Evanston, Ill., yesterday.
https://www.axios.com/newsletters/axios-am-f0453607-0b88-41c4-aa60-f0755821a42e.html?chunk=4#story4
4. Little Rock memory lane: "Putting people first"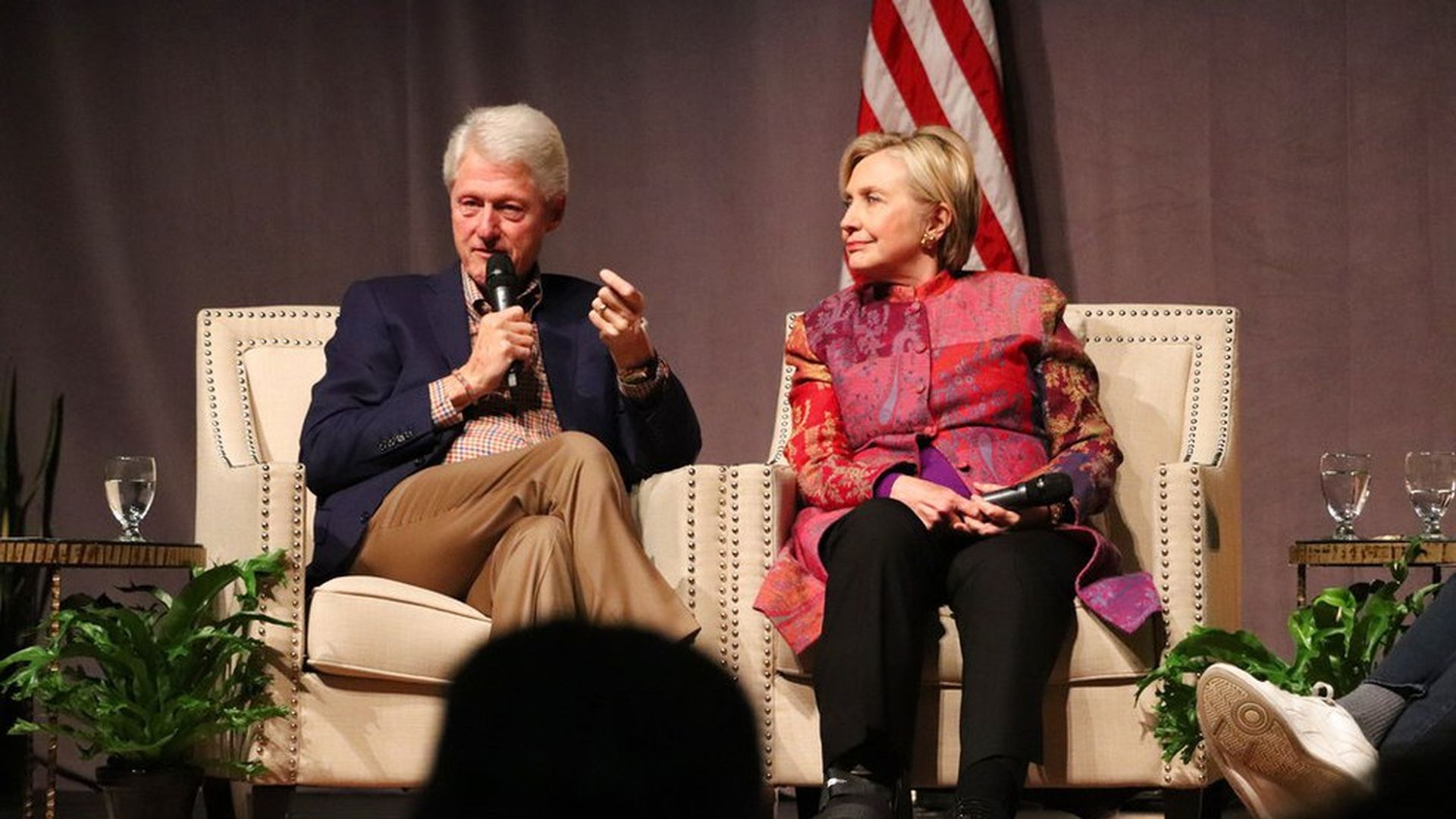 Alumni of President Bill Clinton's administration converged on Little Rock yesterday for a reunion celebrating the 25th anniversary of his election.
The day culminated with an onstage conversation with Bill and Hillary Clinton, moderated by James Carville, the Ragin' Cajun. Quotes via Arkansas Democrat-Gazette's Emma Pettit:
Bill Clinton, on messaging, then and now: "People talk[ed] to you about real problems, real dreams, and they wanted real answers ... They weren't interested in how bad you could bad mouth your opponent."
Referring to conspiracy theories in last year's campaign, Hillary Clinton said that when Arkansas Travelers, campaigning for her in different states, spoke with people on their front porches, "More times than you could believe, they'd get an answer like, 'I can't support her. She killed somebody.'"
One of Hillary's better lines: "Not everybody will lose a presidential election, but everybody will suffer loss."
"To reflect, Hillary Clinton said she did yoga, cleaned her closets and spent time 'reading a lot of mysteries, because the bad guy always got it in the end.'"
Spotted:
Gene Sperling, former HHS Secretary Donna Shalala, former White House Chief of Staff Mack McLarty, former DNC chairman David Wilhelm, former NATO Supreme Allied Commander Gen. Wes Clark, Human Rights Campaign President Chad Griffin, Jake Siewert, Paul Begala, Lorraine Voles, Andrew and Kelly Friendly, Stephen Goodin, Dee Dee Myers, Mark Gearan, Gary Ginsberg, John and Mary Podesta, Capricia Marshall, Kelly Craighead, Josh King, Mary Streett and Clyde Tuggle (actually, the entire Streett clan!), Dan Rosenthal, Betty Currie, Nancy Hernreich Bowen, Jill Alper, Minyon Moore, Kiki McLean, Linda Moore, and more.
Al Gore had long been scheduled to be in Asia.
Chicago Mayor Rahm Emanuel, who made the scene after a turbulent flight: "I would never be in politics at the level I'm doing if it wasn't for Bill Clinton giving me a shot."
Why it matters: After the disappointment of a lifetime, it was the chance for a lot of people to say the same thing.
https://www.axios.com/newsletters/axios-am-f0453607-0b88-41c4-aa60-f0755821a42e.html?chunk=5#story5
5. Winners, losers in Senate tax plan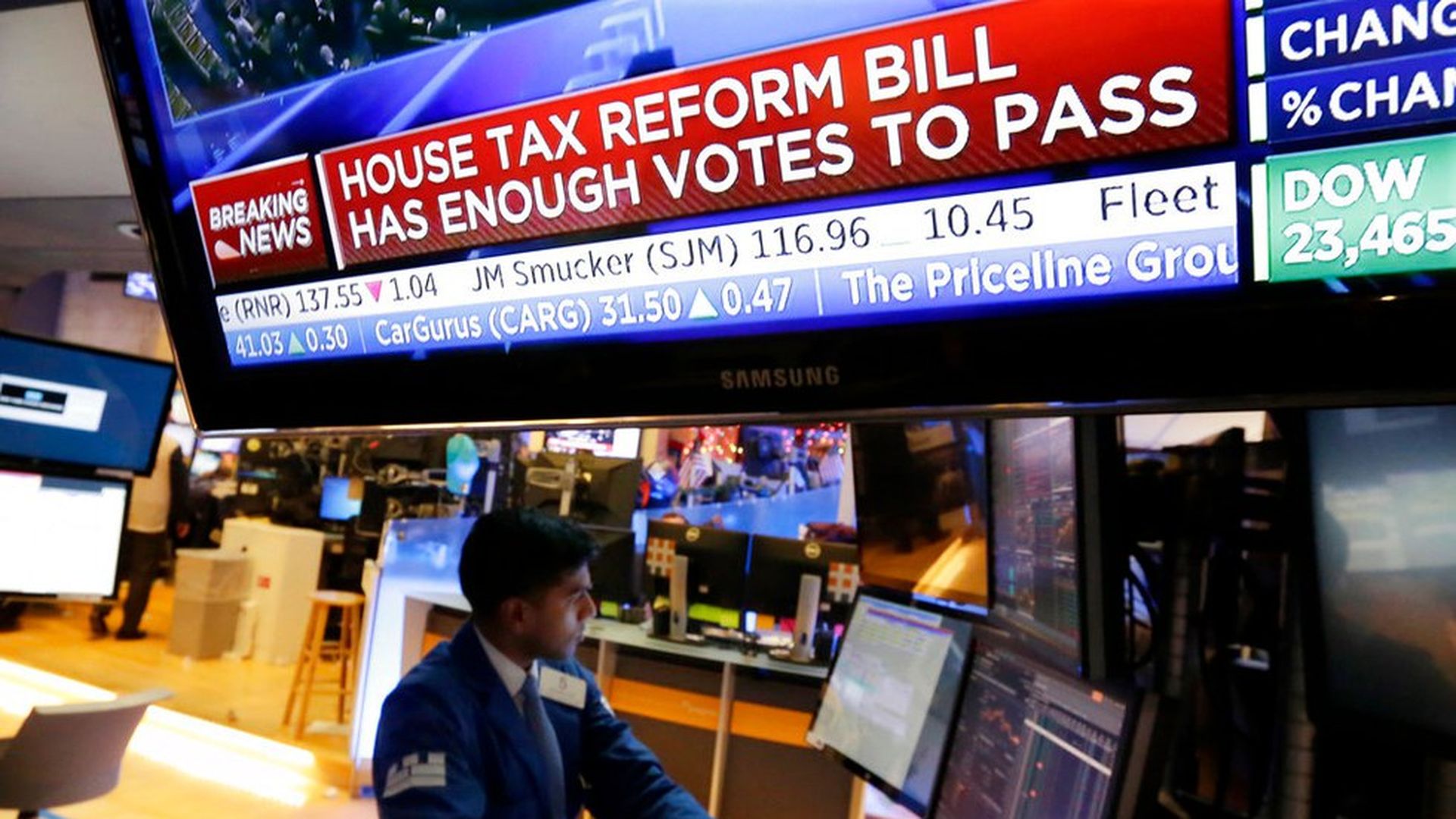 Winners, per AP's Marcy Gordon:
Wealthy individuals and their heirs win big.
Corporations win all around, with a tax rate slashed from 35% to 20% in both bills — though they'd have to wait a year for it under the Senate measure.
U.S. oil companies with foreign operations would pay reduced taxes under the Senate bill on their income from sales of oil and natural gas abroad.
Beer, wine and liquor producers would reap tax reductions under the Senate measure.
Companies that provide management services like maintenance for aircraft.
Losers:
An estimated 13 million fewer Americans would have health insurance coverage under the Senate bill, which would repeal the "Obamacare" requirement that everyone in the U.S. have health insurance. (Updated)
People living in high-tax states would be hit by repeal of federal deductions for state and local taxes under the Senate bill, and partial repeal under the House measure. That's the result of a compromise allowing the deduction of up to $10,000 in property taxes.
Many families making less than $30,000 a year would face tax increases starting in 2021 under the Senate bill, according to Congress' nonpartisan Joint Committee on Taxation. By 2027, families earning less than $75,000 would see their tax bills rise, while those making more would enjoy reductions.
https://www.axios.com/newsletters/axios-am-f0453607-0b88-41c4-aa60-f0755821a42e.html?chunk=6#story6
6. Road to gold, littered with victims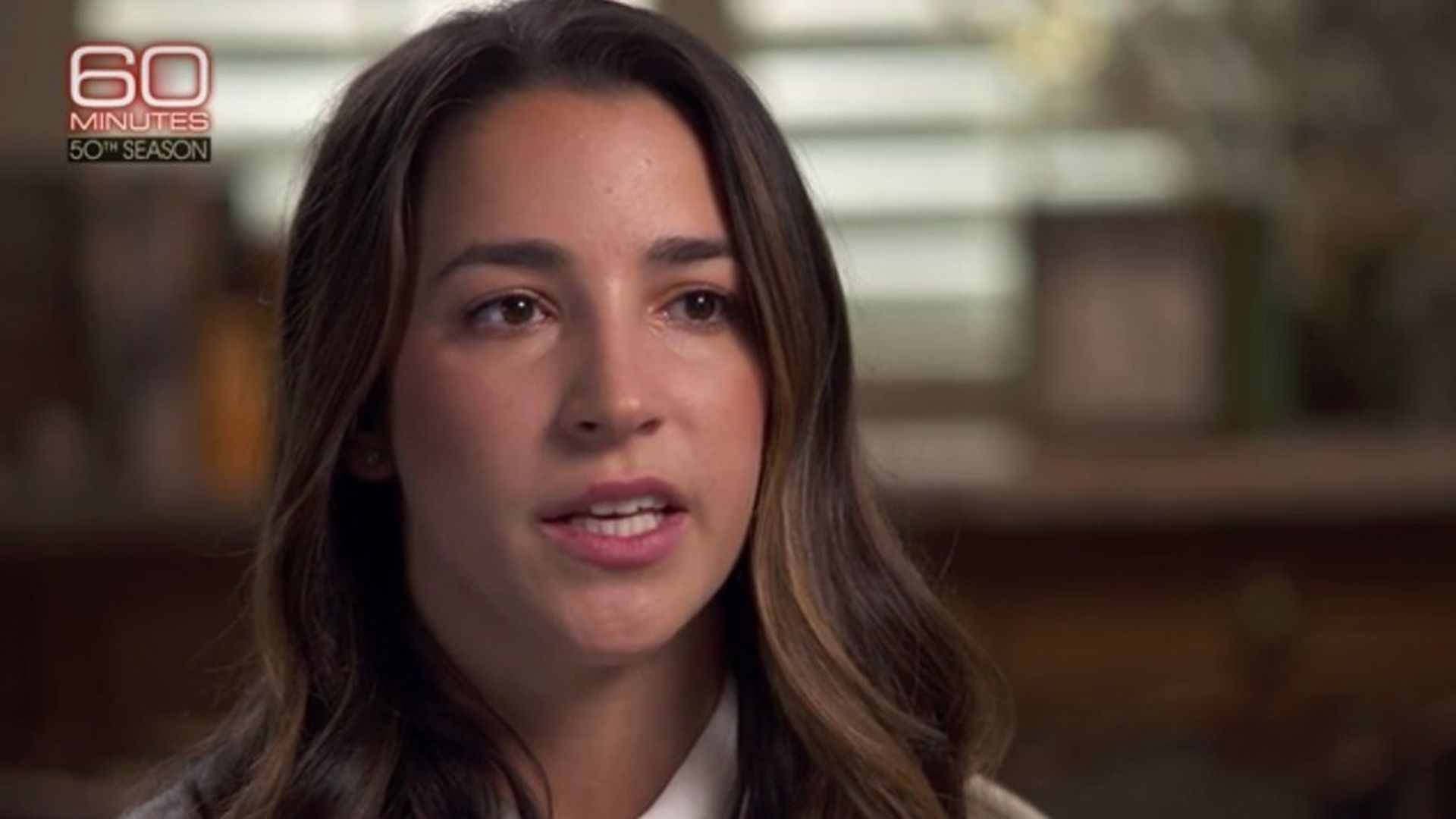 "A staggering number of sex abuse claims rocks the world of Olympic sports," the WashPost reports on its Sports front.
"More than 290 coaches and officials associated with U.S. Olympic sports organizations have been publicly accused of sexual misconduct since 1982."
Staggering stat: "That covers 15 sports and amounts to an average of one adult accused of misconduct every six weeks for 36 years."
https://www.axios.com/newsletters/axios-am-f0453607-0b88-41c4-aa60-f0755821a42e.html?chunk=7#story7
7. Weinstein dominos, updated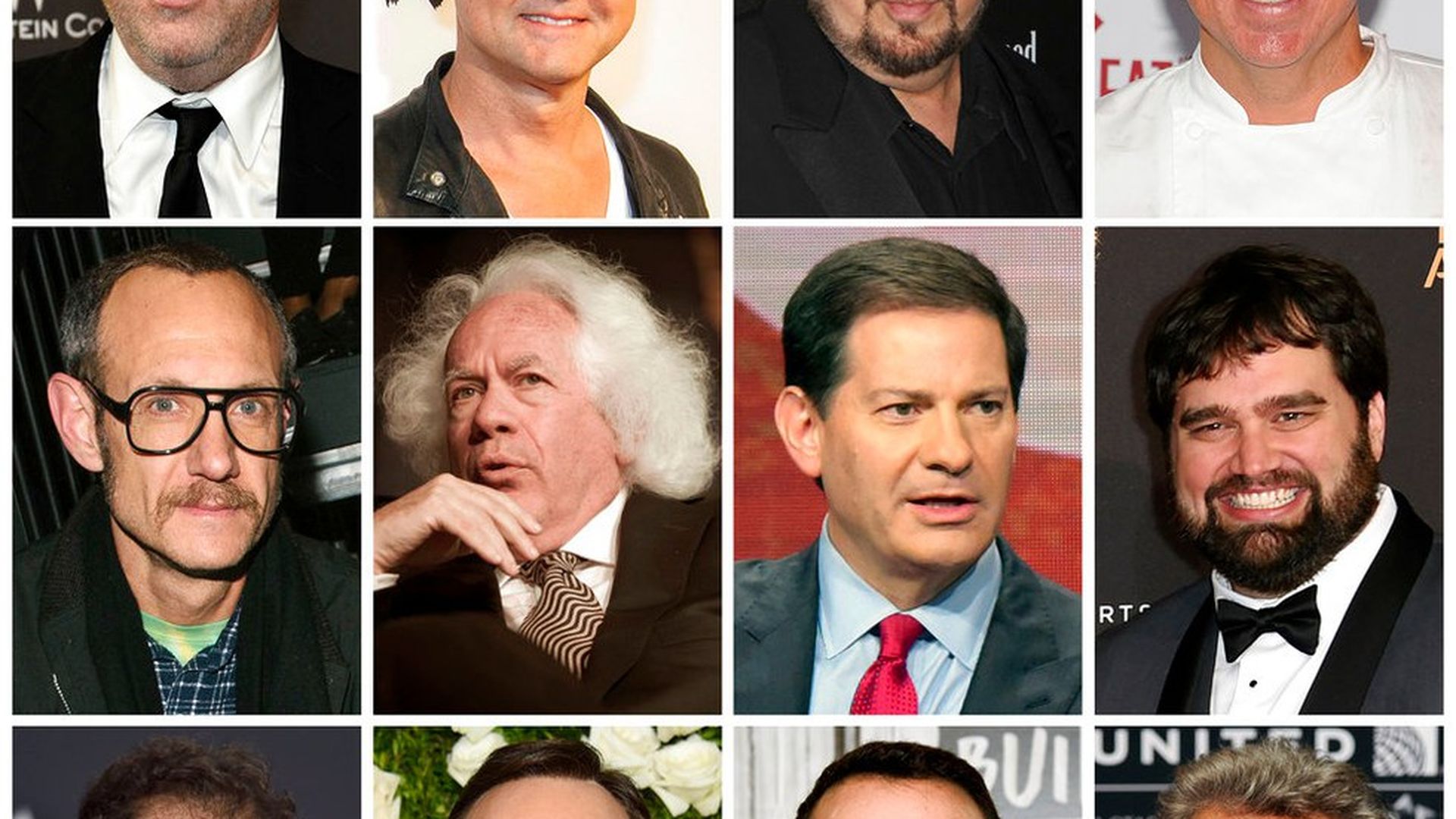 Some stories move so fast and far, we lose sight of the scale. So at AM, we try to freeze-frame now and then on the defining stories of our time ... Men accused of sexual misconduct post-Weinstein (saves you emailing me about Trump or Clinton!), compiled by AP (click for details on each):
Entertainment:
Celebrity chef John Besh
Comedian Louis C.K.
Cinefamily executives Hadrian Belove and Shadie Elnashai
Actor Richard Dreyfuss: One woman alleges sexual harassment. He denies the allegation.
Director-producer Gary Goddard
Casting employee Andy Henry
Actor Dustin Hoffman: Accused by woman of sexual harassing when she was 17. He has apologized.
Actor Robert Knepper
Showrunner Andrew Kreisberg
Actor Jeremy Piven: Accused by three women of sexual misconduct. He denies all allegations.
Filmmaker Brett Ratner
Comedy festival organizer Gilbert Rozon
Producer Chris Savino
Actor Steven Seagal: Accused by two women of rape. He denies the allegations.
Actor Tom Sizemore: Accused of groping an 11-year-old actress in 2003. Utah prosecutors declined to file charges, citing witness and evidence problems. He denies the allegation.
Actor Kevin Spacey
Actor Jeffrey Tambor
Actor George Takei
Writer-director James Toback
"Mad Men" creator Matthew Weiner
Actor Ed Westwick
Media, publishing and business:
Billboard magazine executive Stephen Blackwell
Penguin Random House art director Giuseppe Castellano
New Republic publisher Hamilton Fish
Mark Halperin
Artforum publisher Knight Landesman
NPR news chief Michael Oreskes
Amazon executive Roy Price
Webster Public Relations CEO Kirt Webster
Rolling Stone publisher Jann Wenner: Accused by one man of sexual harassment. He says he did not intend to make the accuser uncomfortable.
New Republic editor Leon Wieseltier
NBC News booking exec Matt Zimmerman
Politics:
Sen. Al Franken (D-Minn.)
Senate candidate Roy Moore (R.-Ala.)
Florida Democratic Party Chairman Stephen Bittel: Accused of sexually inappropriate comments and behavior toward a number of women, Bittel resigned Friday.
Florida Democratic state Sen. Jeff Clemens resigned after a report that he had an extramarital affair with a lobbyist.
Florida Republican state Sen. Jack Latvala is being investigated by the Senate over allegations of harassment and groping. Latvala has denied the allegations.
Kentucky House Speaker Jeff Hoover
British Defense Secretary Michael Fallon
Sports:
International Olympic Committee member Alex Gilady
Former South African soccer association president Danny Jordaan
Former FIFA president Sepp Blatter
P.S. L.A. Times front page today: "[Brett] Ratner, [Russell] Simmons face new allegations of misconduct: Powerful Hollywood friends shared party lifestyle."
https://www.axios.com/newsletters/axios-am-f0453607-0b88-41c4-aa60-f0755821a42e.html?chunk=8#story8
8. "Welcome to the happiest day in our lives"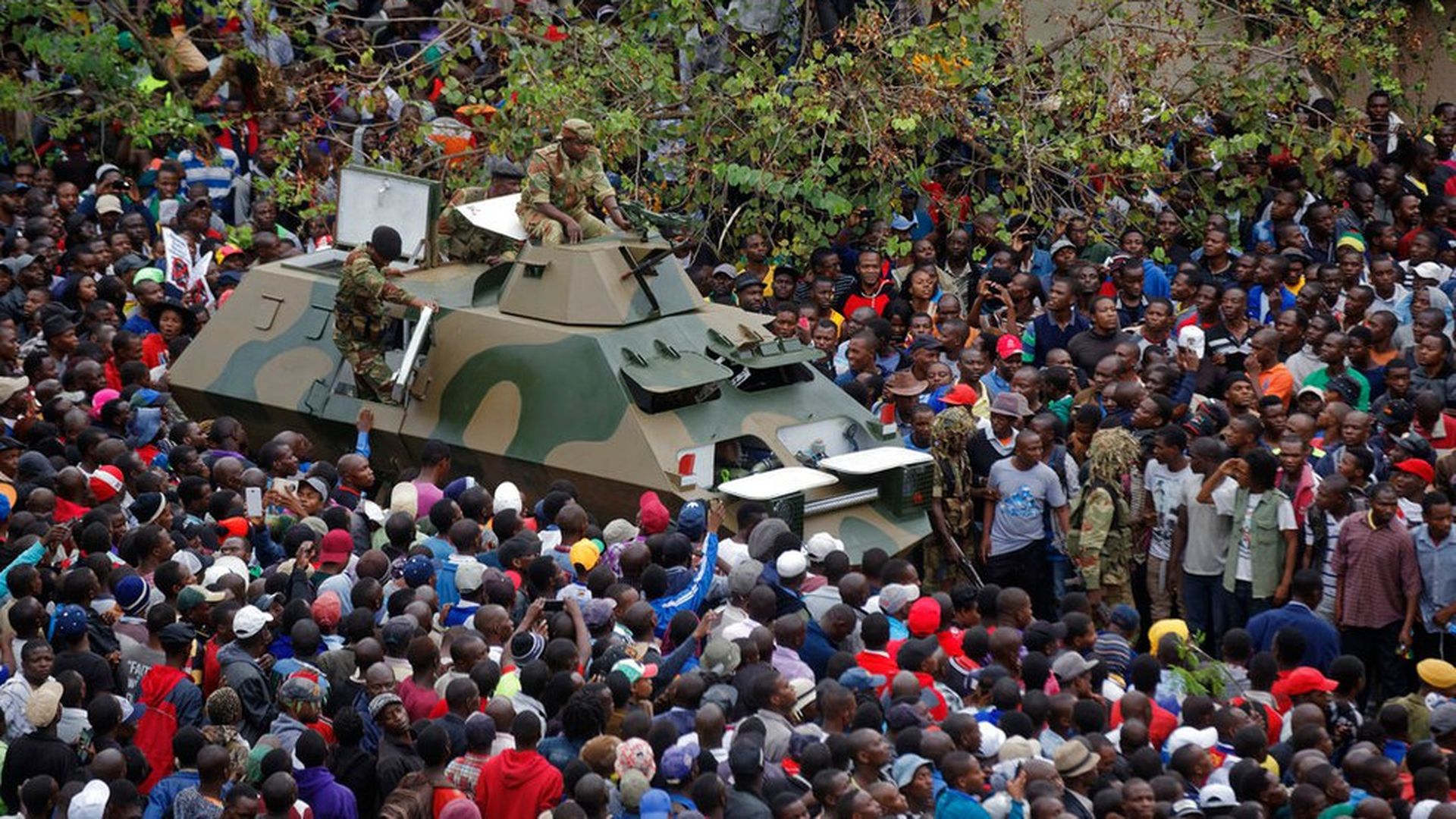 Bulletin ... "President Robert Mugabe of Zimbabwe was ousted as leader of his own party, as he negotiated his resignation with the military."
Sunday Times of London lead story, "Fear is gone as the people turn on 'thief' Mugabe ... Zimbabweans unite against the tyrant who enslaved them," by Chief Foreign Correspondent Christina Lamb:
"It felt like a revolution. They came from all over the country and all walks of life. Young and old, opposition activists and party apparatchiks, white farmers and black war veterans, housewives and their maids."
"The slow-motion coup that began when the army arrested President Robert Mugabe on Wednesday was not yet over, but everyone knew that his own party was preparing to remove him."
Why it matters: "In 20 years of reporting on Zimbabwe I have never seen anything like it. This country has infuriated me like no other. The people are incredibly friendly but I have watched them vote for a ruling party that made their lives a nightmare — for fear of being beaten or their daughters being raped."
https://www.axios.com/newsletters/axios-am-f0453607-0b88-41c4-aa60-f0755821a42e.html?chunk=9#story9
9. System failure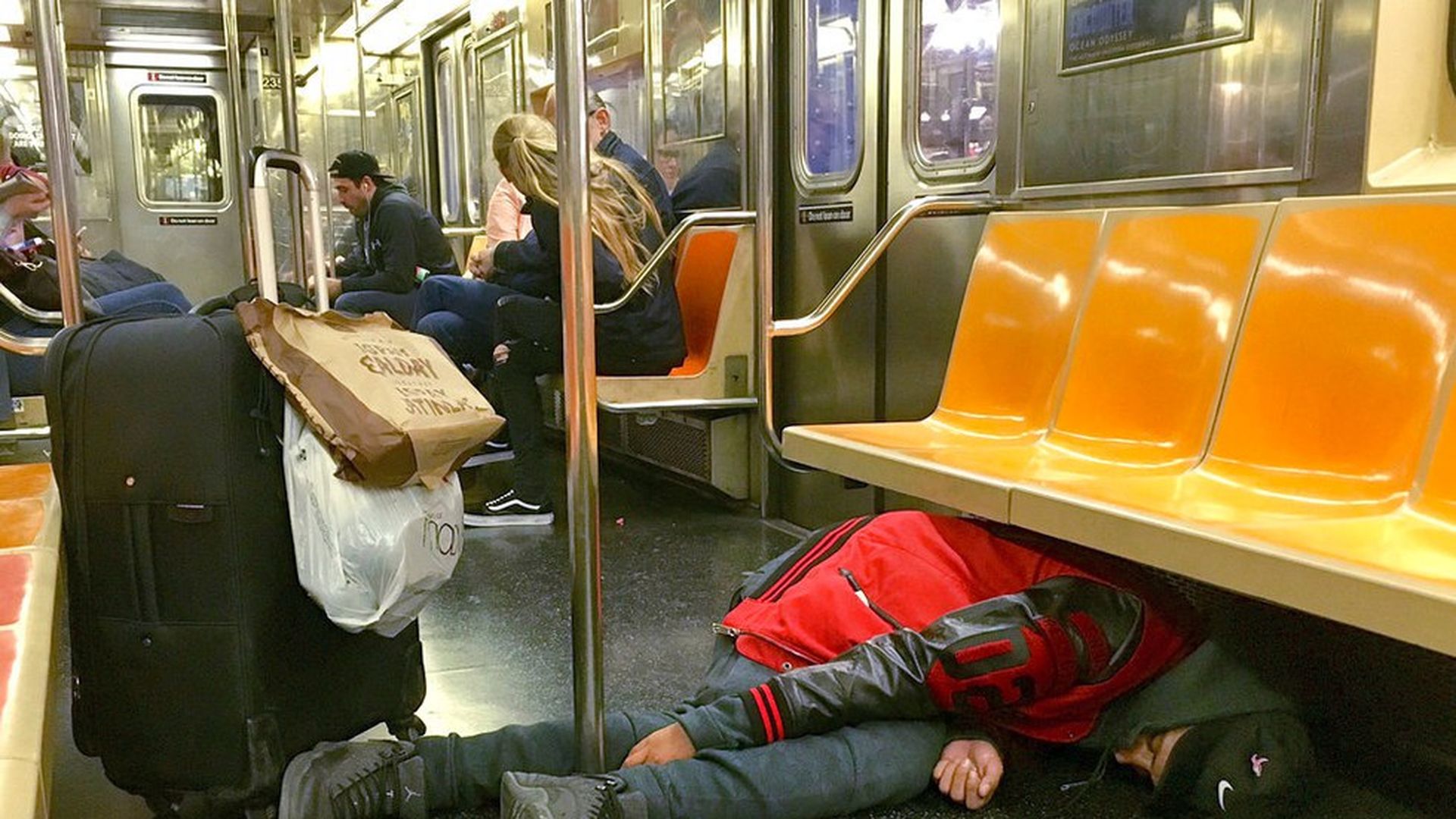 Axios chief design officer Alexis Lloyd tweets this N.Y. Times front-pager as "an extraordinary example of investigative journalism" ... "How Politics and Bad Decisions Starved New York's Subways," by Brian Rosenthal, Emma Fitzsimmons and Michael LaForgia:
"[T]he theme that runs through it all is a perennial lack of investment in tracks, trains and signals."
Wait, what? "[T]he actual movement of trains [relies] on a 1930s-era signal system with fraying, cloth-covered cables." (See the archaic equipment.)
"Daily ridership has nearly doubled in the past two decades to 5.7 million, but New York is the only major city in the world with fewer miles of track than it had during World War II."
"New York's subway now has the worst on-time performance of any major rapid transit system in the world ... Just 65 percent of weekday trains reach their destinations on time, the lowest rate since the transit crisis of the 1970s."
"Reporters for The Times reviewed thousands of pages of state and federal documents, including records that had not previously been made public; built databases to compare New York with other cities; and interviewed more than 300 people."
N.Y. Times Quote of the Day ... Roger Toussaint, former head of the MTA's main union, on what he sees as a focus on flashy subway projects instead of maintenance: "They haven't been spending money on the spine. They've been spending money on the limbs."
P.S. "Conductors on [New York] subway trains have been told to stop addressing passengers as 'ladies and gentlemen' when making announcements about delays, detours or other things, and instead use the gender-neutral terms 'passengers,' 'riders,' and 'everyone.'" (AP)
https://www.axios.com/newsletters/axios-am-f0453607-0b88-41c4-aa60-f0755821a42e.html?chunk=10#story10
10. 1 Ivy thing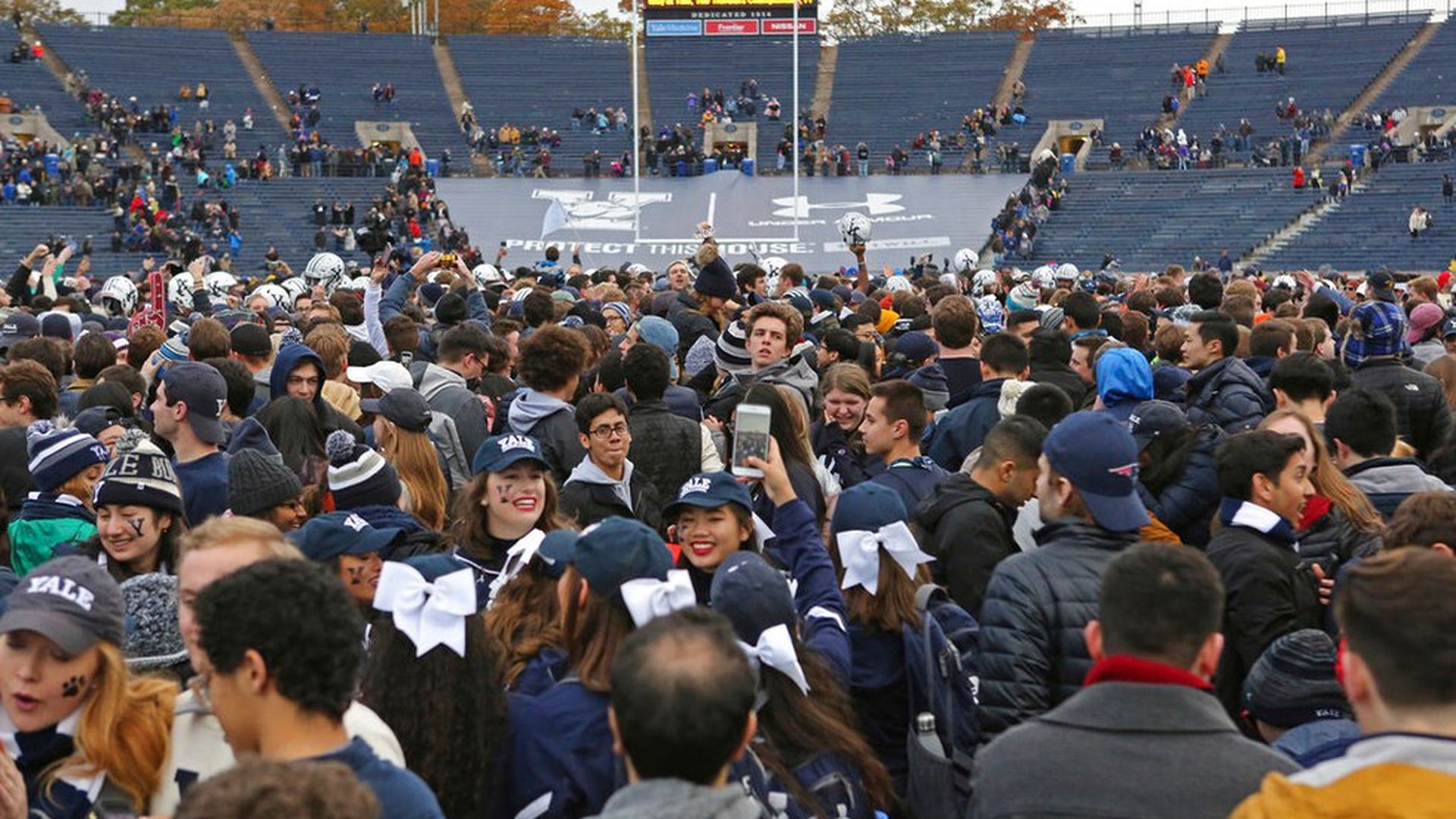 Yale students rush the field after beating Harvard in The Game. Yale's 24-3 win secured the Bulldogs' first outright Ivy League championship in 37 years (1980).
Yale Daily News ("the nation's oldest college daily newspaper"): "A week after allowing Princeton to score 31 points, Yale's defense rebounded against the Crimson with arguably its most impressive performance of the season."
"At final whistle [!], the Yale stood atop the Ivy League standings for the 15th time in program history. The Bulldogs have not beaten the Crimson in back-to-back seasons since 1999–2000. The 1999 victory was Yale's last home win over Harvard."
What's next, from AP: "The Ivy League does not participate in the [Football Championship Subdivision] playoffs, so the season is over for both teams."