Good Monday morning! I'm back from a quick weekend in New Orleans, where I met up with nephew Anders, a high-school senior, on his SEC college swing. We — along with his dad, Nels — had brunch with Walter Isaacson in the French Quarter and heard about his globetrotting research for his new book, "Leonardo da Vinci," out Oct. 17.
Favor: So we can serve you better, I'd appreciate your taking this quick reader survey — just 10 Qs, mostly multiple choice. At 10, you'll be asked about your interest in joining our Axios Reader Advisory Board. Thank you for reading, and helping!
https://www.axios.com/newsletters/axios-am-eeb1c07c-9fb2-4631-be3d-acfe35202de9.html?chunk=0#story0
1 big thing: Defusing the shutdown bomb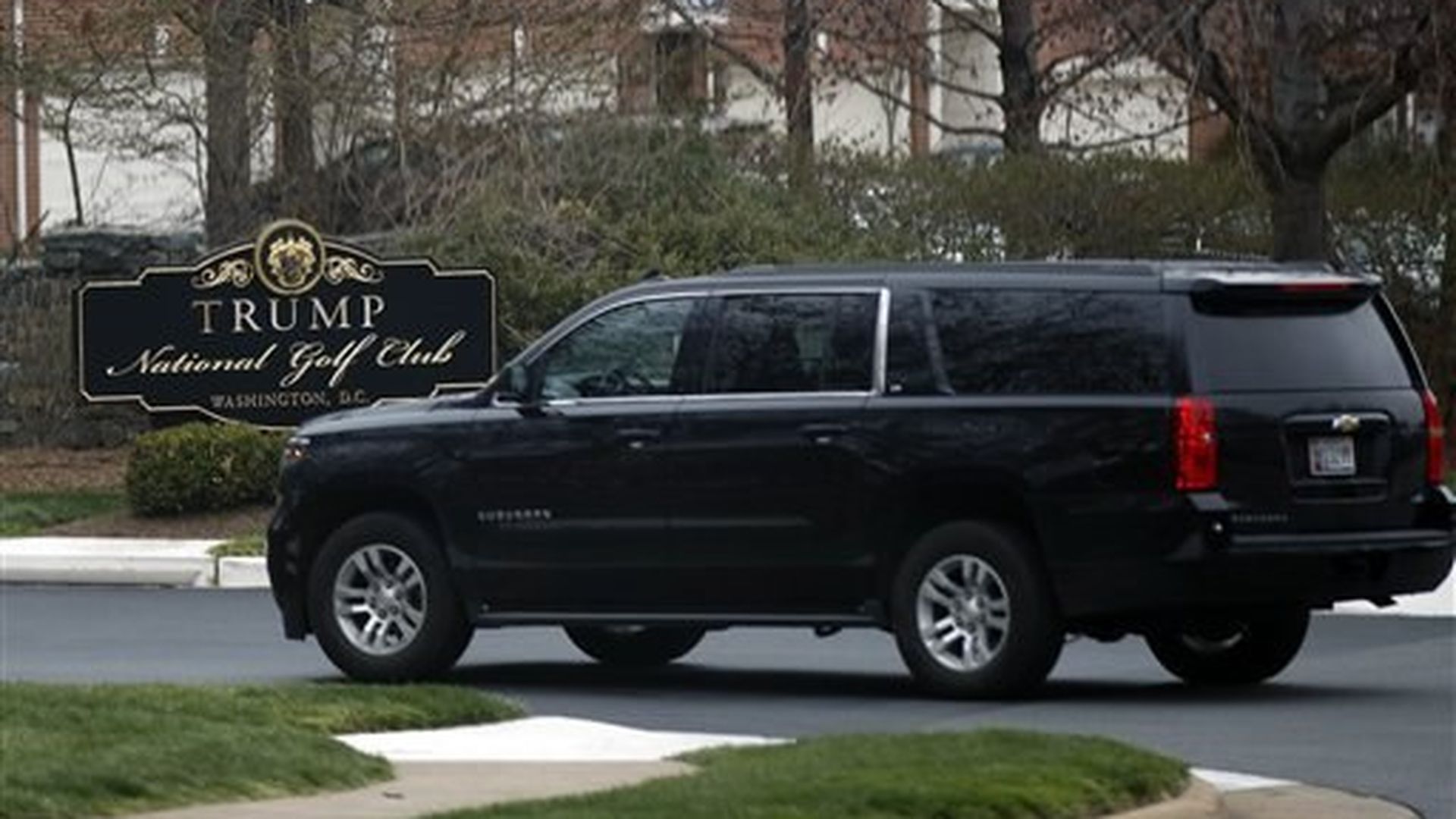 A top Republican with close ties to the White House tells me that after the GOP failure on healthcare, a government shutdown — looming when a continuing resolution runs out April 28 — is "more likely than not. ... Wall Street is not expecting a shutdown and the markets are unprepared."
And Chris Krueger of Cowen Washington Research Group today will warn financial clients: "Hello April 29 government shutdown."
That's Day 100 of the Trump presidency, by the way.
A senior GOP aide disputed the bearish forecasts: "The White House and Republicans on the Hill cannot/won't risk a shutdown. Given the last week — it's out of the question."
Reality check: While the GOP may have the will, party strategists don't see the way: The bleak House GOP math remains, with no sign it'll change. And the GOP can't count on the twin hail Marys floated over the weekend: enlisting moderate Dems (as we reported yesterday), or the Congressional Black Caucus (as Jonathan Swan revealed in his Sunday-night newsletter, Sneak Peek).
The message CEOs took from Friday's fiasco, according to an executive at a money-center bank: "Holy crap! We may be facing the same crap on a shutdown threat, and on the debt ceiling. Holy crap! We may not get tax reform, or a repatriation bill, or infrastructure spend, or substantial changes to regulations."
Be smart: Job 1 for Republicans, who technically control the government, is to convince investors and voters that they have some path to getting things done. But first (Russert homage!), they'll have to convince themselves.
https://www.axios.com/newsletters/axios-am-eeb1c07c-9fb2-4631-be3d-acfe35202de9.html?chunk=1#story1
2. Siren: Markets spooked after GOP debacle
Depressed mood in markets worldwide — Reuters: Trump's loss on repeal-and-replace "spurred a rush to safety assets such as gold and the Japanese yen ... So-called 'Trumpflation trades' — betting on an extended recovery in the U.S. and global economies and related assets such as commodities — came under heavy selling pressure."
"These Charts Show Alarm Bells Ringing on the Trump Trade" — Bloomberg: "Dollar poised to wipe out entire post-Trump election rally ... Volatility, short bets rise after Obamacare repeal failure."
Or no worries? Wall Street Journal front-pager, "A Correction Now Might Not Be So Bad, Some Investors Say: After the postelection rally, many say a 10% retreat is overdue and would be healthy for the market."
Today's test ... Axios' Chris Matthews writes from New York: Investors continue to debate how much of the stock run-up relies on the belief that Trump will deliver business-friendly reforms. Trading today will provide a test for those who argue that the so-called Trump rally has been mostly the result of faster global growth rather than the promise of lower corporate taxes.
Stimulus, regardless? Even with Republican dysfunction, analysts are still baking pro-growth legislation into their forecasts: Wall Street will love the idea, floated over the weekend, that the Trump administration can turn to moderate Democrats to help pass tax and tax reform and infrastructure bills.
High Frequency Economics' Jim O'Sullivan: "We still expect the eventual enactment of tax reform legislation that results in lower marginal rates and at least modest short-run fiscal stimulus."
https://www.axios.com/newsletters/axios-am-eeb1c07c-9fb2-4631-be3d-acfe35202de9.html?chunk=2#story2
3. If you read only 1 thing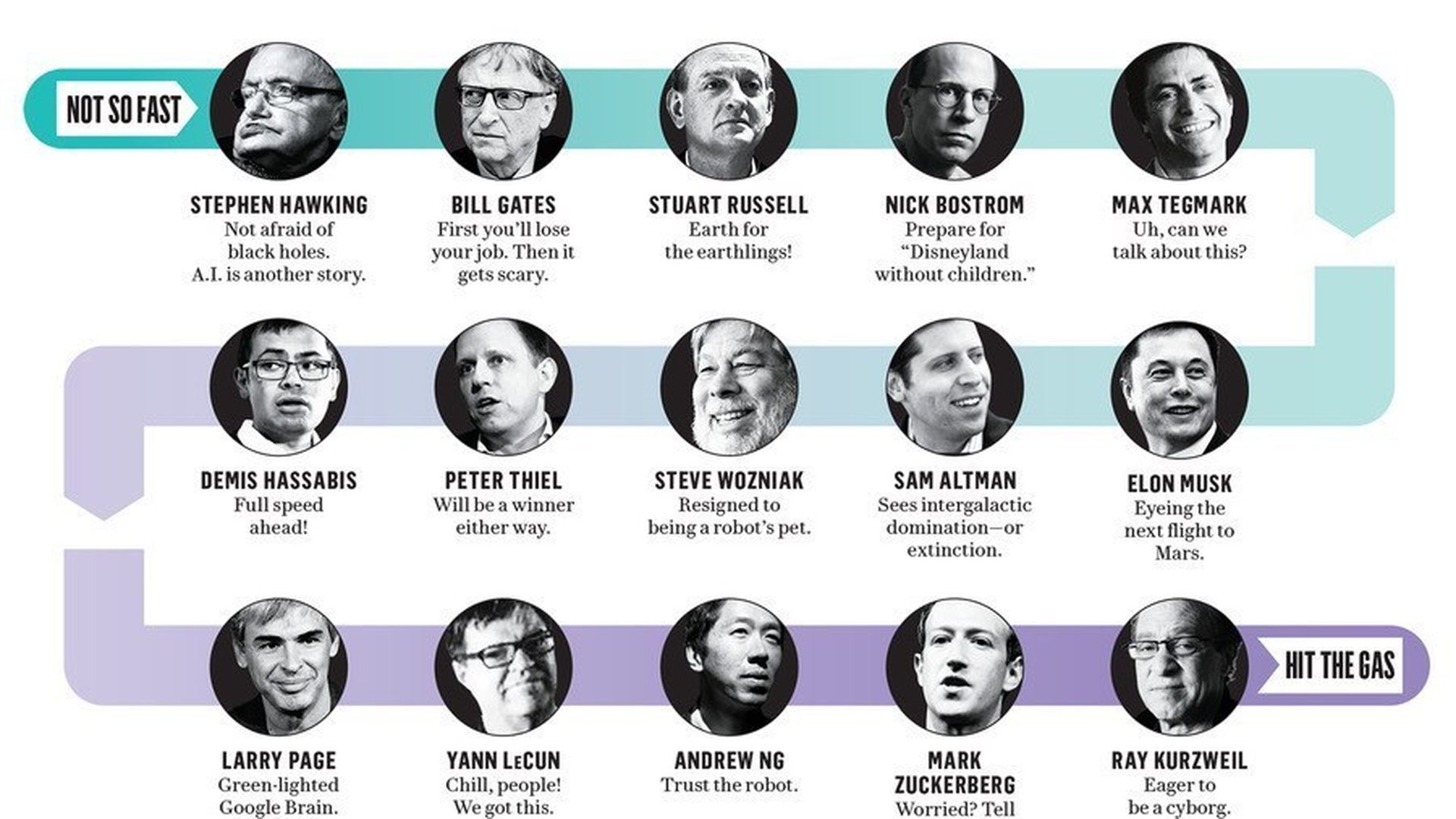 Maureen Dowd for Vanity Fair, "Elon Musk's billion-dollar crusade to stop the A.I. apocalypse: Musk is famous for his futuristic gambles, but Silicon Valley's latest rush to embrace artificial intelligence scares him. ... Inside his efforts to influence the rapidly advancing field and its proponents, and to save humanity from machine-learning overlords":
Musk [says] this .. one reason we needed to colonize Mars [is] so that we'll have a bolt-hole if A.I. goes rogue and turns on humanity. ...
You'd think that anytime Musk, Stephen Hawking, and Bill Gates are all raising the same warning about A.I. — as all of them are — it would be a 10-alarm fire. But, for a long time, the fog of fatalism over the Bay Area was thick. ...
Some in Silicon Valley argue that Musk is interested less in saving the world than in buffing his brand, and that he is exploiting a deeply rooted conflict: the one between man and machine, and our fear that the creation will turn against us. They gripe that his epic good-versus-evil story line is about luring talent at discount rates and incubating his own A.I. software for cars and rockets.
https://www.axios.com/newsletters/axios-am-eeb1c07c-9fb2-4631-be3d-acfe35202de9.html?chunk=3#story3
4. Zuck's red-state road trip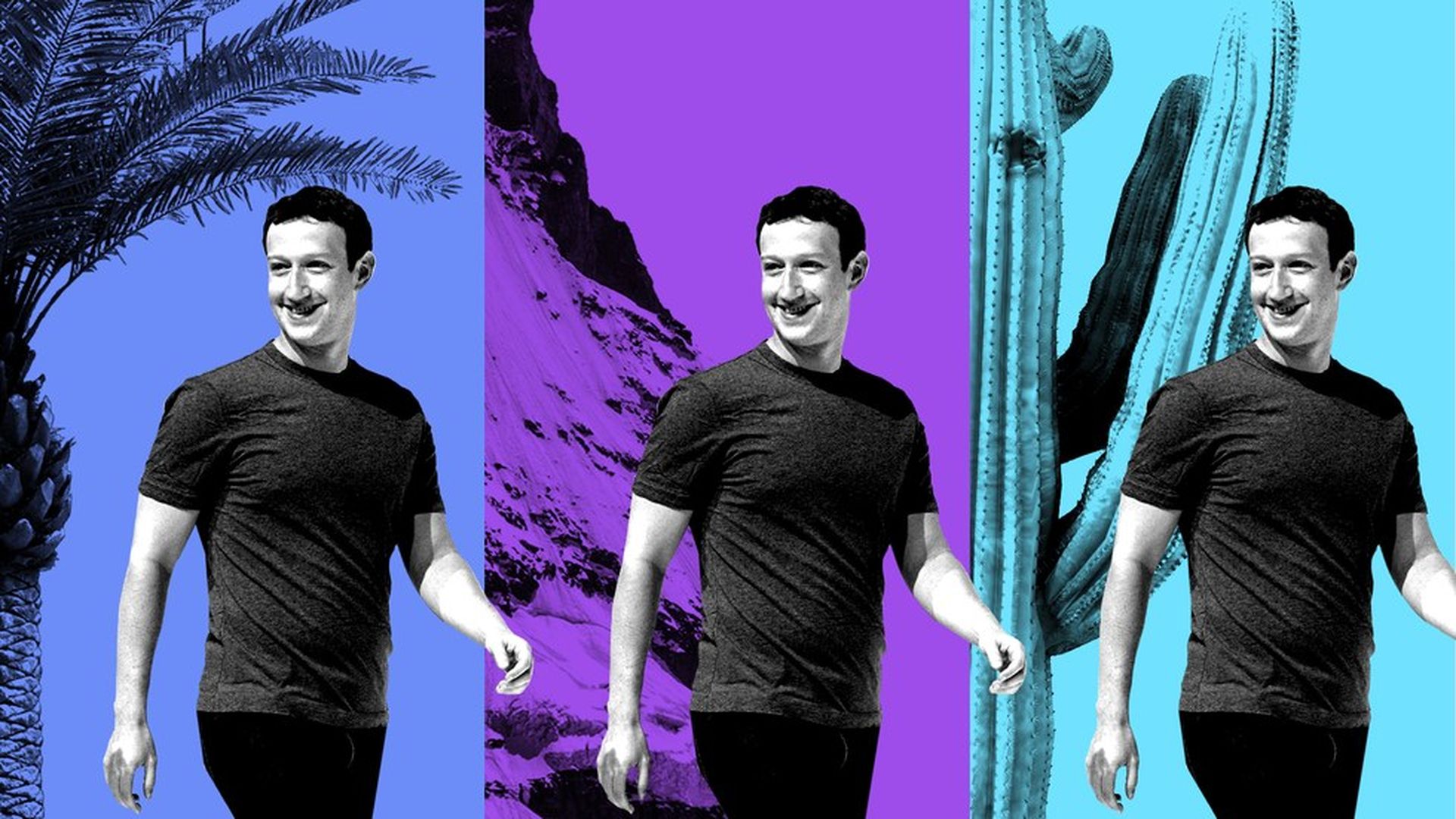 Mark Zuckerberg announced on his Facebook page in early January that his "personal challenge" for the year was to travel the roughly 30 states he'd never visited. Axios' David McCabe writes that a few months into his project, there's an early message: "Less Crunchies, more Country Music Association Awards."
Zuckerberg has chatted with military spouses in North Carolina and sped around a racetrack with Dale Earnhardt, Jr. He sat down with the coaches of more than one revered Southern college sports program and talked about diversity at a historically black university. Once an atheist, he now drops in on church services.
The bottom line: With each glossy photo and polished Facebook post, Zuckerberg is seen as having a presence beyond Menlo Park. It's the gaffe-proof precision of the campaign trail, deployed by one of the world's most powerful companies and executives, while allowing Zuckerberg to connect with his user base.
https://www.axios.com/newsletters/axios-am-eeb1c07c-9fb2-4631-be3d-acfe35202de9.html?chunk=4#story4
5. Steve Case's advice ...
... to the tech community about working with Trump, in an interview with Kim Hart breaking this morning in Login, our tech newsletter:
"I'm definitely in the camp of it's better to engage, better to be in the room, better to try to influence minds and influence policy than to sit on the sidelines. If we don't have that, we're going to end up with policies that are likely are not going to do what we need to see to make sure we remain the most innovative, entrepreneurial nation."
https://www.axios.com/newsletters/axios-am-eeb1c07c-9fb2-4631-be3d-acfe35202de9.html?chunk=5#story5
6. Stat du jour
AP/Raleigh: "Despite Republican assurances that North Carolina's 'bathroom bill' isn't hurting the economy, the law limiting LGBT protections will cost the state more than $3.76 billion in lost business over a dozen years, according to an Associated Press analysis."
It gets worse: "North Carolina could lose hundreds of millions more because the NCAA is avoiding the state, usually a favored host. The group is set to announce sites for various championships through 2022, and North Carolina won't be among them as long as the law is on the books. The NAACP also has initiated a national economic boycott."
https://www.axios.com/newsletters/axios-am-eeb1c07c-9fb2-4631-be3d-acfe35202de9.html?chunk=6#story6
7. New Jared and Ivanka projects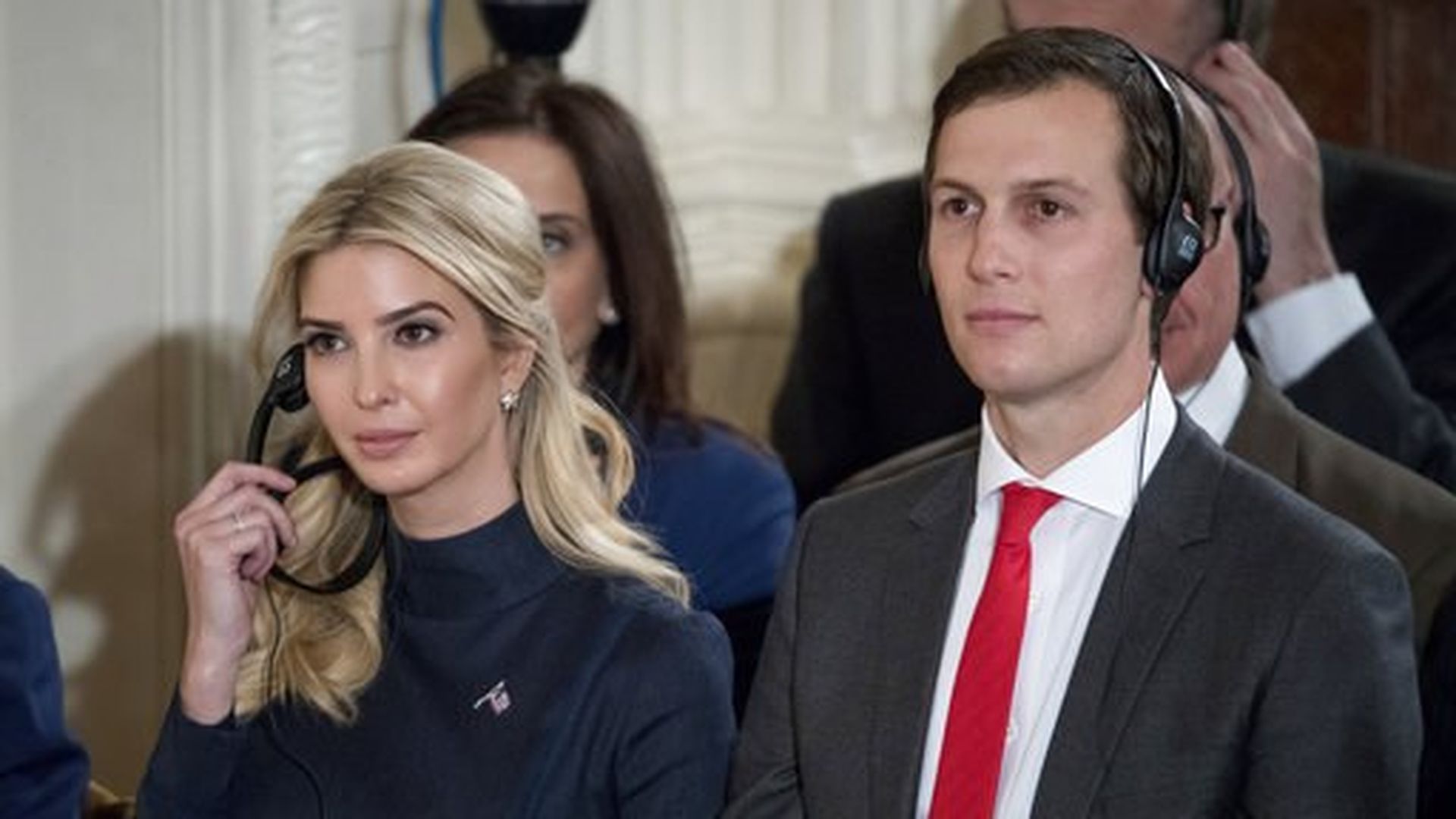 Trump today will announce a White House Office of American Innovation, led by Jared Kushner, his son-in-law and senior adviser: "Among those working on the effort are National Economic Council director Gary Cohn, Dina Powell, senior counselor to the president for economic initiatives and deputy national security adviser, Chris Liddell, assistant to the president for strategic initiatives and Reed Cordish, assistant to the president for intragovernmental and technology initiatives. All have extensive business experience."
WashPost lead story, "Kushner to lead overhaul initiative," by Ashley Parker and Phil Rucker: "Viewed internally as a SWAT team of strategic consultants, the office will be staffed by former business executives and is designed to infuse fresh thinking into Washington, float above the daily political grind and create a lasting legacy for a president still searching for signature achievements. ...
"Kushner is positioning the new office as ... an aggressive, nonideological ideas factory capable of attracting top talent from both inside and outside of government, and serving as a conduit with the business, philanthropic and academic communities."
Ivanka Trump is off to Berlin late next month for a summit on the economic empowerment of women — the W20, within the G20 — after German Chancellor Angela Merkel invited her at a White House luncheon, in front of POTUS, to join with her perspective on the role of women in the global economy.
The invitation first leaked out from German sources.
This'll be Ivanka's first foreign trip since the inauguration.
AP's Catherine Lucey: "The meeting marked the second time foreign leaders reached out to Ivanka Trump to coordinate an economic conversation. During Canadian Prime Minister Justin Trudeau's visit last month, she helped organize a meeting on economic development opportunities for women."
https://www.axios.com/newsletters/axios-am-eeb1c07c-9fb2-4631-be3d-acfe35202de9.html?chunk=7#story7
8. A crucial paragraph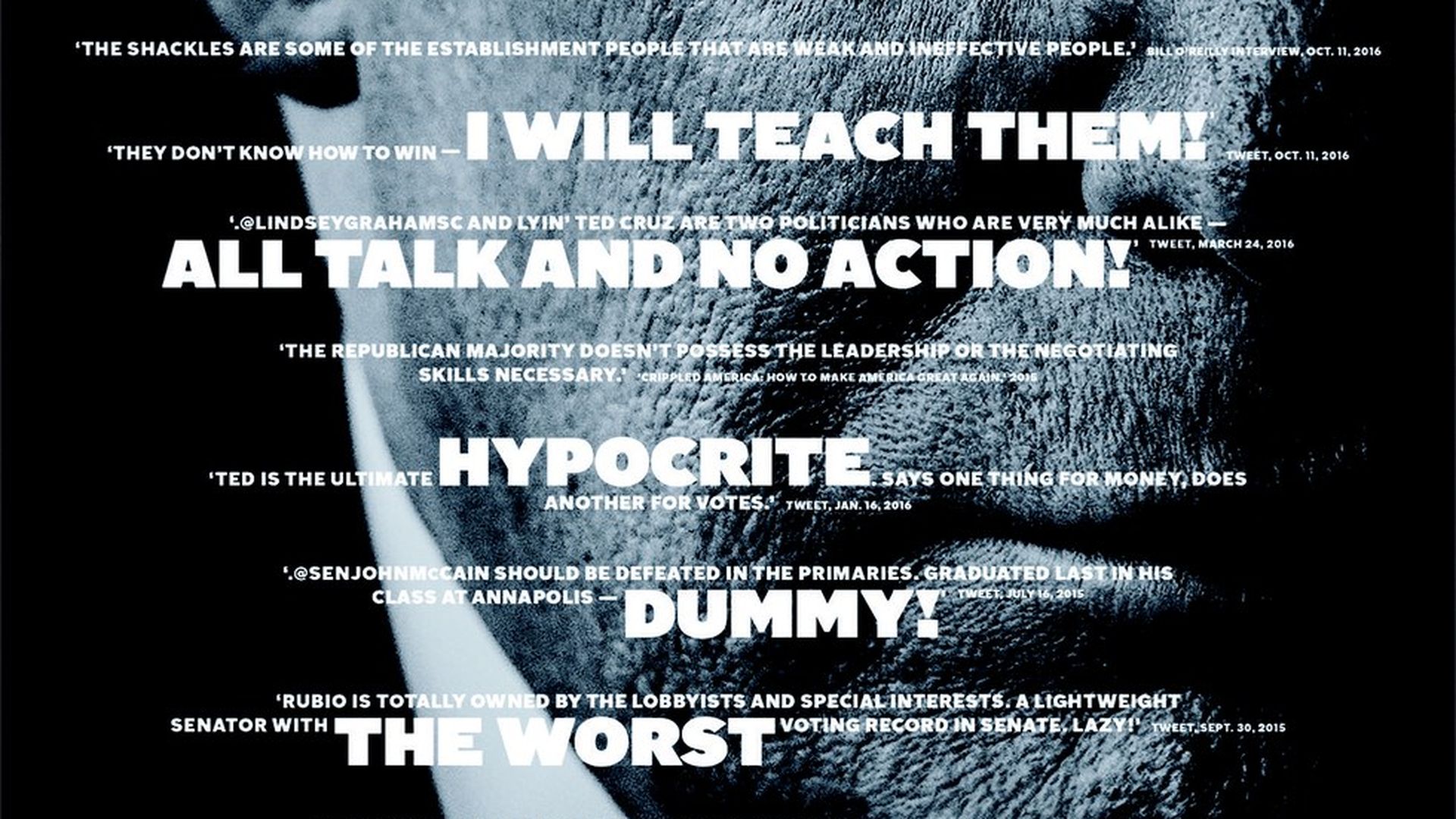 From Robert Draper's cover story in next week's N.Y. Times Magazine, "Trump vs. Congress: Now What?":
When I spoke with Trump, I ventured that, based on available evidence, it seemed as though conservatives probably shouldn't hold their breath for the next four years expecting entitlement reform. Trump's reply was immediate. "I think you're right," he said. In fact, Trump seemed much less animated by the subject of budget cuts than the subject of spending increases. "We're also going to prime the pump," he said. "You know what I mean by 'prime the pump'? In order to get this" — the economy — "going, and going big league, and having the jobs coming in and the taxes that will be cut very substantially and the regulations that'll be going, we're going to have to prime the pump to some extent. In other words: Spend money to make a lot more money in the future. And that'll happen." A clearer elucidation of Keynesian liberalism could not have been delivered by Obama.
https://www.axios.com/newsletters/axios-am-eeb1c07c-9fb2-4631-be3d-acfe35202de9.html?chunk=8#story8
9. First look: New Josh Earnest role
Josh Earnest will be announced today as an NBC News and MSNBC political analyst, debuting this morning on "Today" and "Morning Joe" (8:30, on-set at 30 Rock). From the forthcoming internal memo by NBC New President Noah Oppenheim and MSNBC President Phil Griffin:
"Josh recently completed a ten-year run with President Obama, most recently serving as White House Press Secretary from 2014-2017. ... A native of Kansas City, Josh graduated from Rice University with a degree in political science and policy studies. With his wealth of experience and insight, Josh will be a great addition to our roster of contributors and will be an asset for our two networks as we continue to cover the White House, Congress and politics beyond the Beltway."
Mary Katharine Ham is profiled in the April issue of Washingtonian, by Elaina Plott: "The 36-year-old has asserted herself as one of the few conservative ideologues left on television, someone who's comfortable both praising and denouncing Trump, even as the prevailing mood of hyper-partisanship almost prescribes committing to one or the other. ... Ham would rather persuade."
Steve Hayes regime at The Weekly Standard gets a Jim Rutenberg column, "Pushback From Right on Lies as News":
The 46-year-old editor in chief, a native of Wauwatosa, Wis., "got ideological ammunition from National Review for the Friday night political fights he and his friends waged over Pabst Blue Ribbons and hot wings."
Hayes "said he was on the verge of hiring five additional journalists, having gotten the go-ahead from The Weekly Standard's billionaire owner, Philip Anschutz, to grow his team by a third."
https://www.axios.com/newsletters/axios-am-eeb1c07c-9fb2-4631-be3d-acfe35202de9.html?chunk=9#story9
10. 1 fun thing: Bracketology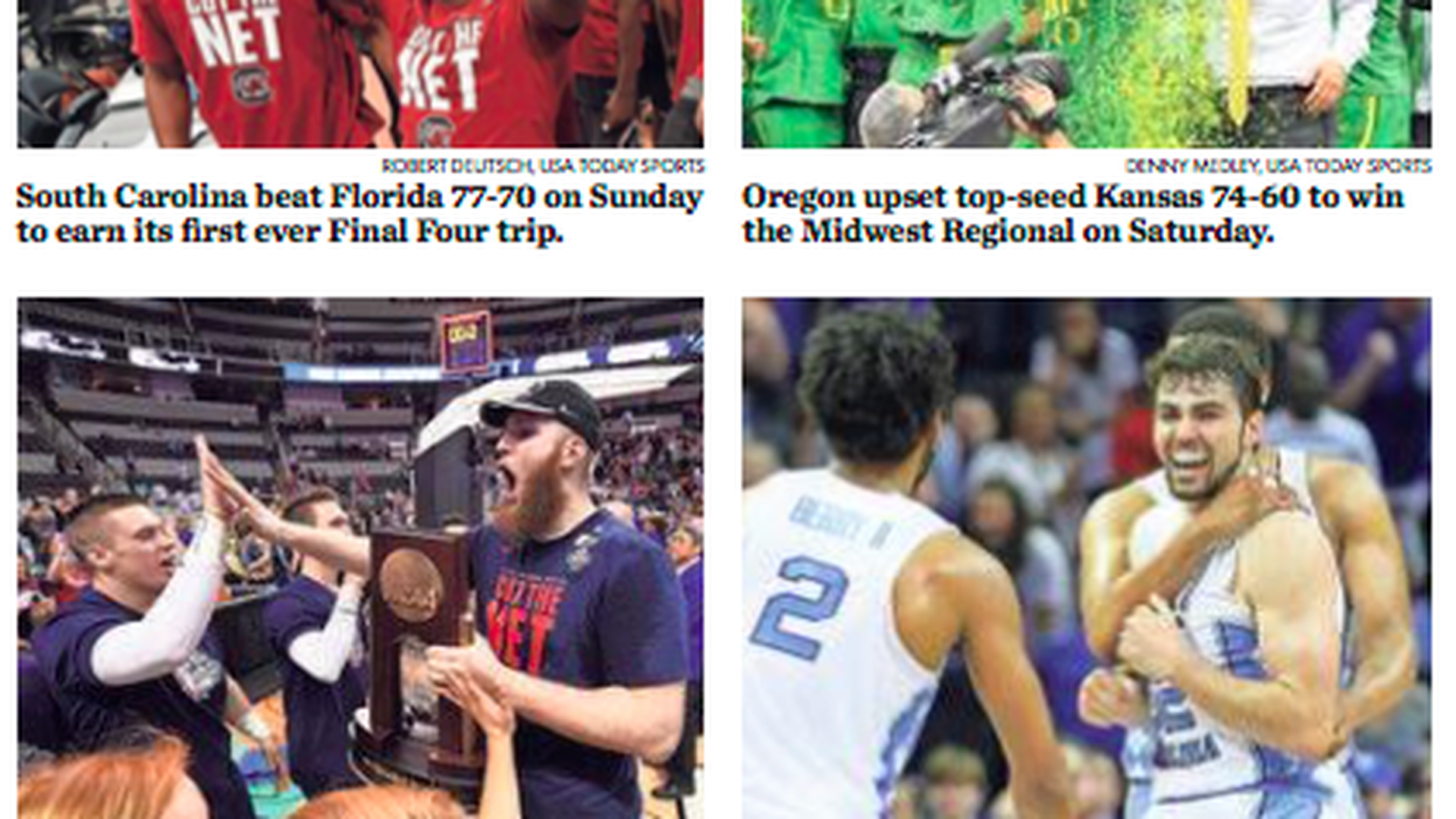 Geographic pairs in the men's March Madness Final Four: North Carolina and South Carolina; and Oregon and Gonzaga, from Spokane, Wash.
AP lookahead: "Gonzaga opened as a 6 1/2-point favorite against South Carolina in the opening game next Saturday night at University of Phoenix Stadium in Glendale, Arizona. According to ESPN Stats & Info, it's the first meeting between Final Four first-timers since 1973. In the second game, North Carolina opened as a 4 1/2-point pick over Oregon."
UNC is the "prohibitive favorite" to win it all a week from tonight.
From today's N.Y. Times Sports front, "Take a Seat. And Location Does Matter," by Zach Schonbrun: "For many teams, the courtside seating arrangement is governed by a deliberate roll call, which the coach will thoughtfully compose, then assign, then at times reshuffle, like a wedding planner arranging the composition of a reception's dinner tables."