https://www.axios.com/newsletters/axios-am-ed755f13-e65a-40b9-9dc0-21abc3c0f752.html?chunk=0#story0
1 big thing ... Trump 101: The art of dealing with Donald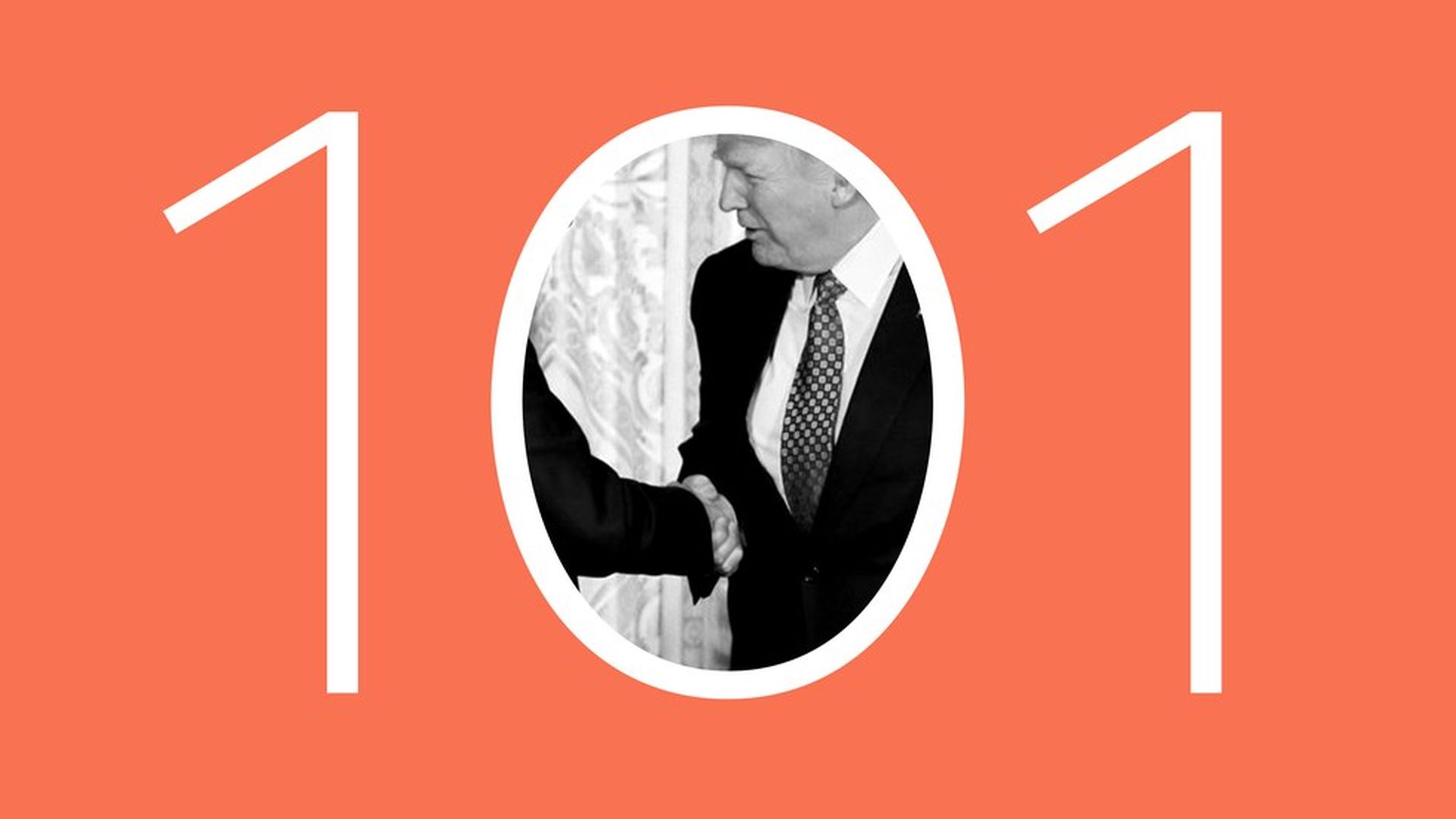 Top CEOs have a new First Customer. With President Trump taking a hands-on approach to negotiations, here are five tips for surviving and thriving — based on conversations Jim VandeHei and I have had with executives, aides and friends who have battled Trump in private and found some success:
Get to the table, whether you love him or not. Trump is a transactional guy with unformed views on many topics. He frequently seeks advice and occasionally takes it. While it might feel right to buckle to pressure and refuse meetings, you lose your leverage, instantly and profoundly.
Give him something he can call a win. Trump has an elastic view of winning, as seen by his trumpeting of companies announcing new U.S. jobs that were set in motion long before the president won. He needs something to tweet, but often needs the specifics filled in, several business leaders told us. The easiest win is something, anything related to creating American jobs.
Find and exploit common ground — on people, real estate, politics or private aircraft. Trump has been most engaged and open-minded when dealing with aerospace companies (partly because he can talk planes, given that he owns a Boeing 757) and infrastructure execs (because he spent his career building things). He has a surface-level-at-best understanding of most policies, so arcane policy discussions don't work. Use language appropriate to his generation: He calls numbers "figures," and doesn't use tech-speak.
If you refuse to meet with him or put out anti-Trump messages, prepare to suffer revenge. He pays close attention to critics, and his aides hand him printouts of anti-Trump statements made by people or companies they don't like. They have a notional enemies list that gets used for everything from rejecting appointments to key jobs, to deciding who gets a voice in policy debates.
Work Steve Bannon and Jared Kushner. Both men sit it on key meetings, and often get Trump alone afterward to shape reaction and follow up to interaction. Both are accessible by text and cell, and like playing the role of the Trump whisperer.
Then sit back and pray he doesn't whack you with a Saturday morning tweet.
https://www.axios.com/newsletters/axios-am-ed755f13-e65a-40b9-9dc0-21abc3c0f752.html?chunk=1#story1
2. Bite du jour
White House budget director Mick Mulvaney, joining Spicer at yesterday's briefing:
"Regarding the question as to climate change, I think the President was fairly straightforward — we're not spending money on that anymore; we consider that to be a waste of your money to go out and do that. So that is a specific tie to his campaign." (h/t NYT)
Poll of the day … Poll for C-SPAN by Penn Schoen Berland, timed for #SunshineWeek and Gorsuch hearings (start Monday): 42% say Trump's criticism of sitting judges is appropriate – including 20% of Ds and 22% liberals … 76% say the Supreme Court should allow TV coverage of oral arguments (15 points higher than when PSB asked the question 8 years ago).
https://www.axios.com/newsletters/axios-am-ed755f13-e65a-40b9-9dc0-21abc3c0f752.html?chunk=2#story2
3. E-mailbag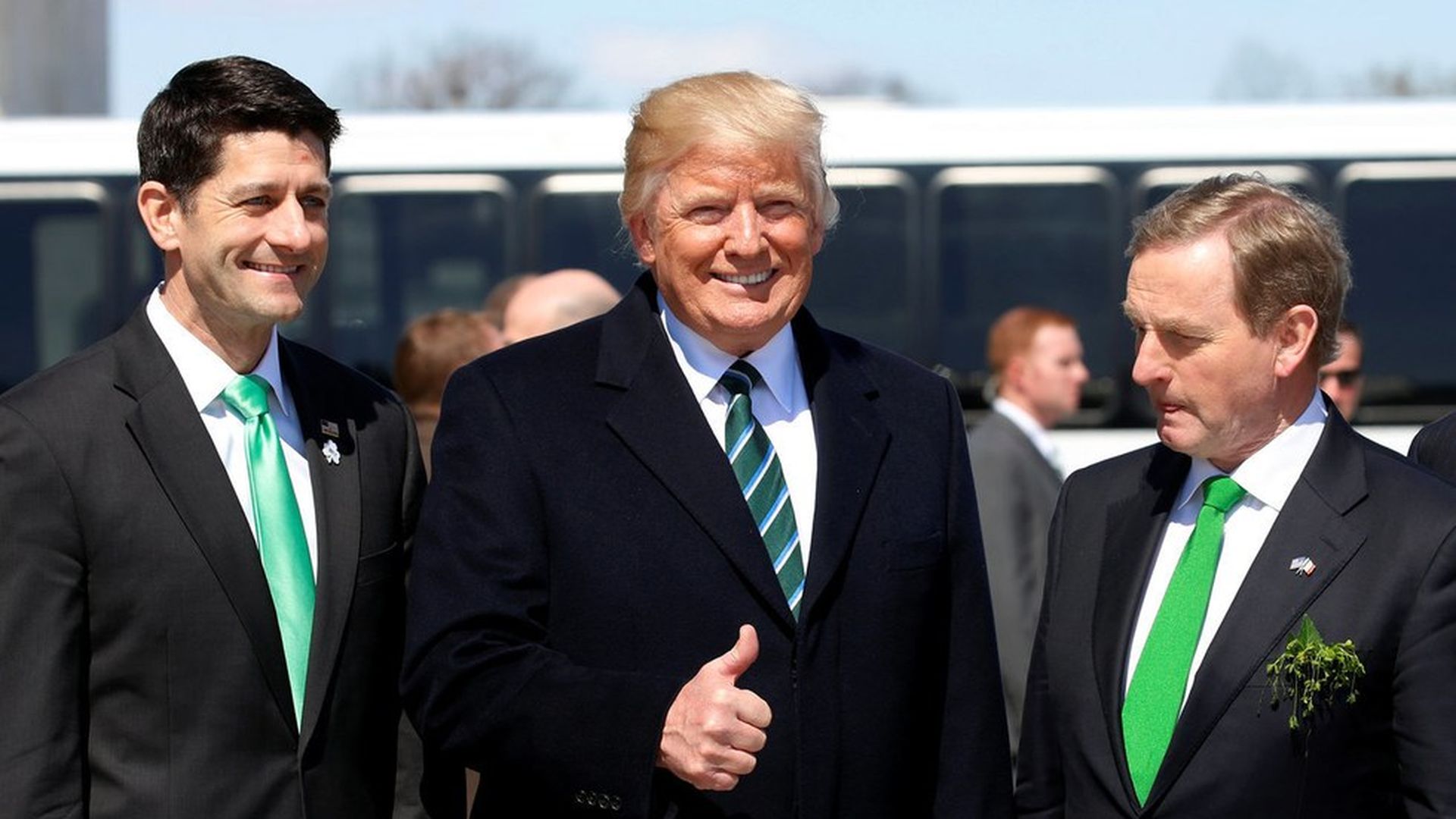 Some encouragement for Republicans — from a former top Democratic aide: "While reading your newsletter this morning I had a thought. As someone who worked hard in [Speaker Pelosi's] office to pass the ACA/Obamacare, everyone forgets how many times the effort to overhaul healthcare was pronounced dead. Keep in mind it had to pass the House twice and it took 6-8 months longer than expected to get across the finish line.
"While things look challenging for the current ACA repeal effort they have plenty of time to get this done and they won't go into the next election without something passing. This article [CNN from March 2010: Health care latest: Dems still chasing votes"] is a perfect example. I had forgotten that the bill passed the Senate in December and wasn't able to pass the House again until March."
Chaser from Charles Krauthammer column in WashPost, "The real world of Obamacare repeal": "The Lord giveth and the Lord taketh away, but for governments it's not that easy. Once something is given — say, health insurance coverage to 20 million Americans — you take it away at your peril. This is true for any government benefit, but especially for health care.
"There's a reason not one Western democracy with some system of national health care has ever abolished it."
https://www.axios.com/newsletters/axios-am-ed755f13-e65a-40b9-9dc0-21abc3c0f752.html?chunk=3#story3
4. Rising stars: Sen. Tom Cotton (R-Ark.)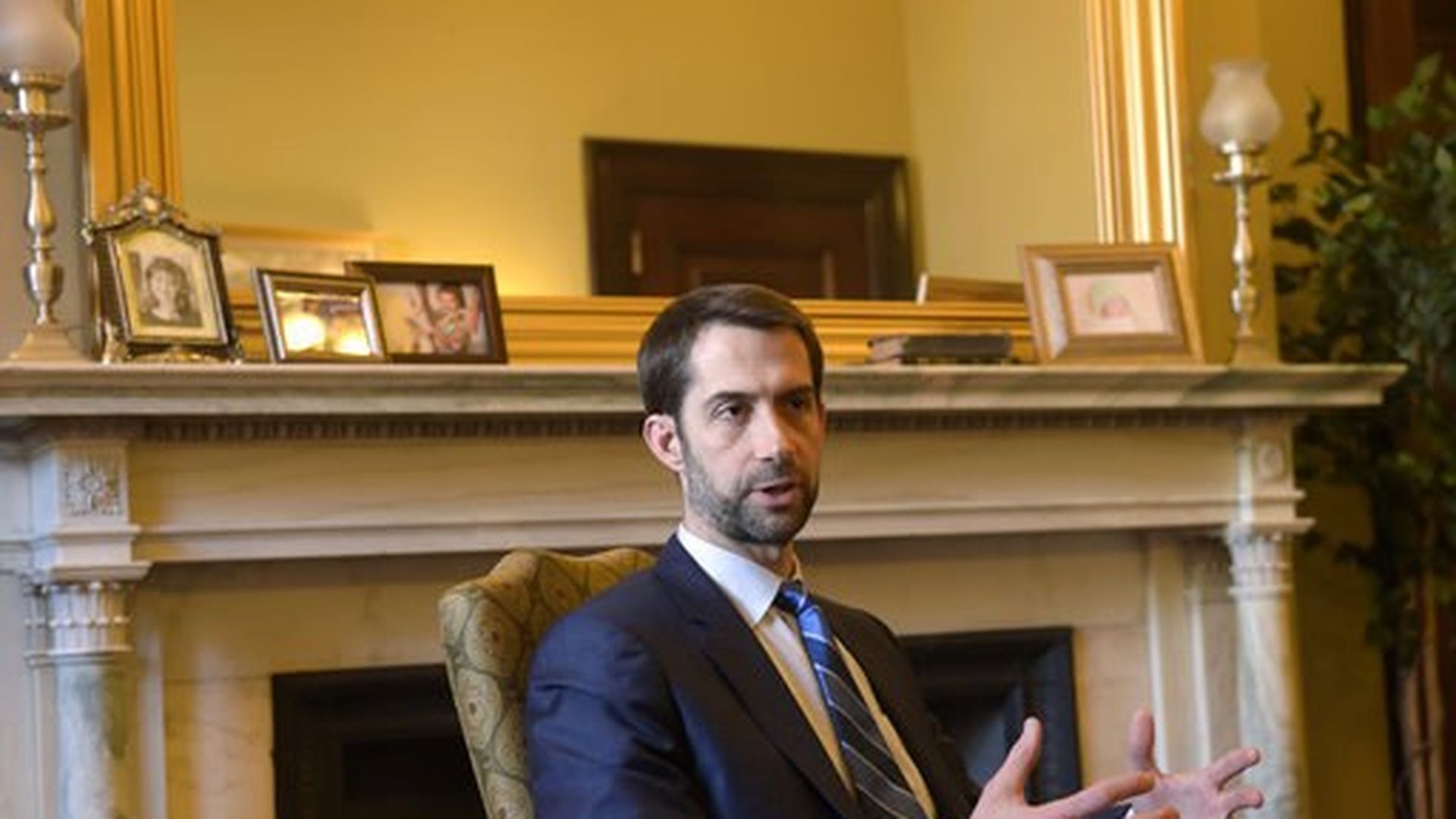 Cotton the thorn ..
. "
GOP senator complicates
Trump, Ryan efforts on health care," by AP's Erica Werner and Kevin Freking, with Andrew DeMillo in Little Rock: "One of the loudest critics of GOP health legislation is not a Democrat or even a conservative rebel, but a ... staunch defender of President Donald Trump":
"Freshman Sen. Tom Cotton of Arkansas ... has carved out a hawkish and bold profile on foreign policy that many see as a platform for a future presidential run."
39 years old (nation's youngest Senator) ... Iraq and Afghanistan combat veteran ... one-term House member before Senate ... double Harvard (undergrad and law) ... McKinsey & Company alumnus.
Cotton in an interview: "The House majority could be at risk if we get health care reform wrong."
"Asked on Hugh Hewitt's radio show about Cotton's opposition, Ryan replied, 'I love this, because we've gotten criticized by other folks in the conservative movement for waiting too long.'"
https://www.axios.com/newsletters/axios-am-ed755f13-e65a-40b9-9dc0-21abc3c0f752.html?chunk=4#story4
5. Hot spots
Secretary of State Tillerson in South Korea ... "Military action against North Korea 'an option'" — BBC: "He said [after visiting the Demilitarized Zone which divides the two Koreas that] the policy of 'strategic patience' had ended and the US was exploring a new range of diplomatic, security and economic measures. ... He arrived in South Korea from Japan."
BTW ... A WashPost editorial today refers to him as "Secretary Silent."
https://www.axios.com/newsletters/axios-am-ed755f13-e65a-40b9-9dc0-21abc3c0f752.html?chunk=5#story5
6. Megatrends: Cracks in global left
Wall Street Journal front-pager, "Dutch Vote Sets Tone for Coming Elections in Europe," by Marcus Walker:
"Although the far-right Party for Freedom under Geert Wilders ... drew the global media limelight, the biggest shift at the polls was the collapse of the Netherlands' once-powerful Labor Party, which won less than 6% of the vote, compared with 25% in the last parliamentary elections, in 2012.
In France, the incumbent Socialist Party is unpopular ... Italy's center-left Democratic Party is in danger of fracturing ... U.K.'s Labour Party is struggling with unpopular leadership and internal squabbles. ... Only the German Social Democrats, or SPD, appear to be bucking the trend.
The big picture: "A common problem facing the center-left is the rise of immigration and identity as central political issues alongside traditional concerns over jobs, pensions or public services. The result is a deepening conflict among the center-left's voters."
But, but, but ... "As conservatives tilt right and social democrats fade, a gap is opening up in the center ground. The numerous moderate voters who still tend to decide elections in Western Europe are showing themselves open to liberal outsiders."
https://www.axios.com/newsletters/axios-am-ed755f13-e65a-40b9-9dc0-21abc3c0f752.html?chunk=6#story6
7. Populist wave could get stronger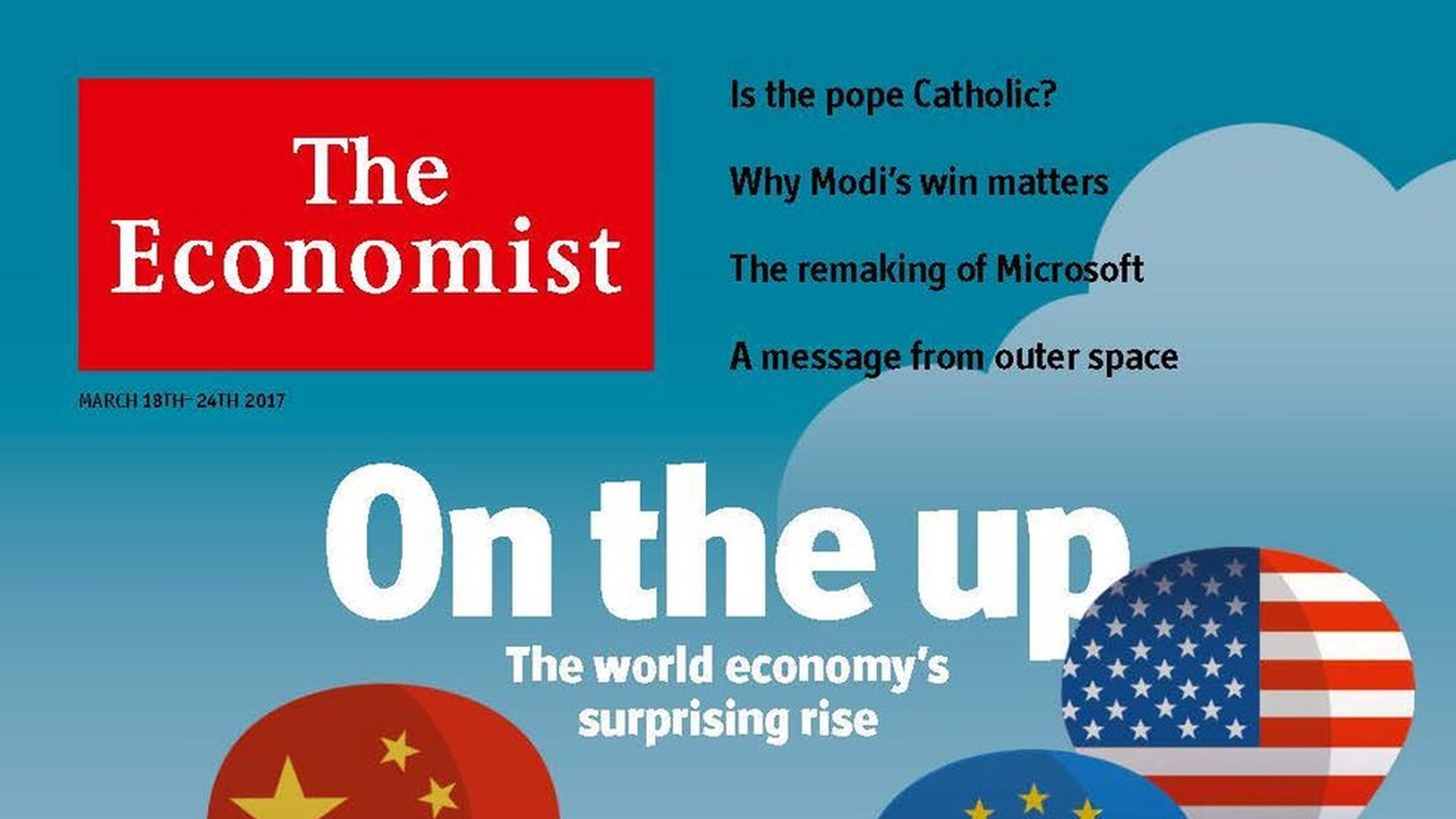 This article illuminates a twist we weren't expecting ... Economist cover story, "The global economy enjoys a synchronized upswing ... The past decade has been marked by a series of false economic dawns. This time really does feel different":
Key point: "In America, Europe, Asia and the emerging markets, for the first time since a brief rebound in 2010, all the burners are firing at once. ... [A] long-awaited upswing lifts spirits and spreads confidence."
And we know this: "But the political mood is sour. A populist rebellion, nurtured by years of sluggish growth, is still spreading. Globalisation is out of favor."
But had you thought about this? "This dissonance is dangerous. If populist politicians win credit for a more buoyant economy, their policies will gain credence."
https://www.axios.com/newsletters/axios-am-ed755f13-e65a-40b9-9dc0-21abc3c0f752.html?chunk=7#story7
8. "Hillbilly" author, on heading home
J. D. Vance, author of "Hillbilly Elegy," in the N.Y. Times with a Columbus, Ohio, dateline ... "Why I'm Moving Home": "For two years, I'd lived in Silicon Valley, surrounded by other highly educated transplants with seemingly perfect lives. It's jarring to live in a world where every person feels his life will only get better when you came from a world where many rightfully believe that things have become worse."
"My wife and I worry about the quality of local public schools, and whether she (a San Diego native) could stand the unpredictable weather. But there were practical reasons to move: I'm founding an organization to combat Ohio's opioid epidemic. We chose Columbus because I travel a lot, and I need to be centrally located in the state and close to an airport."
What he doesn't say: Friends speculate he may run for office.
https://www.axios.com/newsletters/axios-am-ed755f13-e65a-40b9-9dc0-21abc3c0f752.html?chunk=8#story8
9. Stat of the day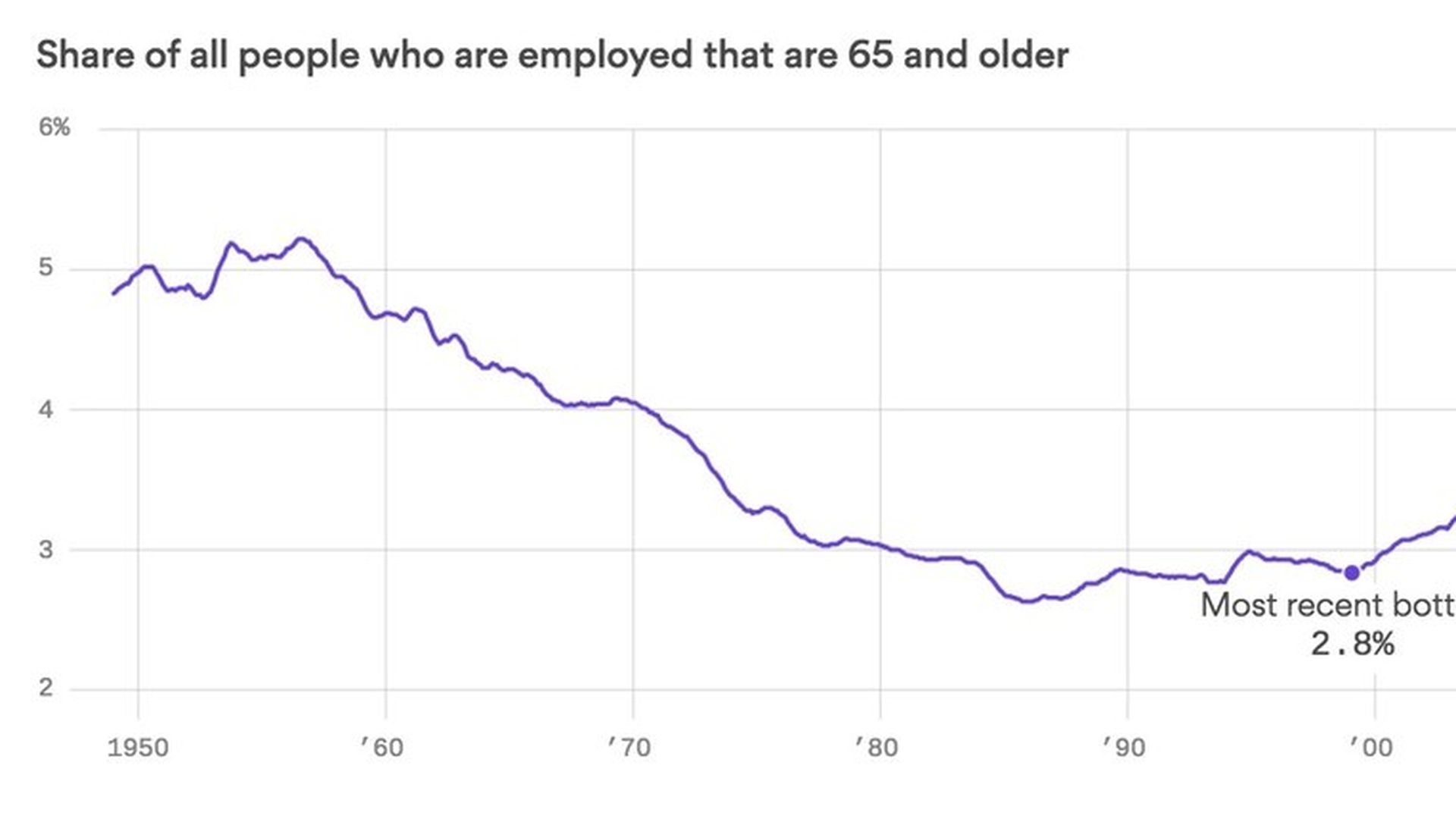 Why you should care about America's aging workforce … The percent of the workforce that is 65 or older is at a record 5.9%, more than double its record low in the mid-1980s, Jill Mislinski of Advisor Perspectives points out in a recent blog post.
Axios' Christopher Matthews unpacks that:
The good: It turns out that working longer is actually good for you, as studies show that those who work longer tend to live longer, too.
The bad: These data highlight the bifurcation of the American economy. While it's great that some older Americans are taking advantage of work that is fulfilling and well paying, it's happening at the same time that a shrinking share of prime-age workers are doing the same thing. It's yet another example of how the modern economy is generous to some (usually the affluent and well-educated), while leaving others behind.
https://www.axios.com/newsletters/axios-am-ed755f13-e65a-40b9-9dc0-21abc3c0f752.html?chunk=9#story9
10. 1 fun thing
"NCAA, Vegas Style: City celebrates with flair, betting and Musburger," by USA Today's Martin Rogers on The Strip: "Musburger popularized the phrase 'March Madness,' previously used by an Illinois high school tournament, while broadcasting the event for CBS in the early 1980s. After a long career with that network and ESPN, he is now based here as the lead host for VSiN, a new network that targets the continually booming sports gambling fan base."
"The gambler is always the underdog here, but hey, this is the first weekend of the tournament, the time when long shots with wide eyes and big dreams confound the money line. Sometimes. … Virtually every casino is hosting extravagant watch parties."