Good Wednesday morning. Catch up quick: A task force is considering a per-ride fee on Uber and other for-hire vehicles in Manhattan, to be paid by passengers (N.Y. Times) ... Far-right extremists have embraced Bitcoin as PayPal and other platforms reject racists (WashPost) ... Pro-Trump singer Joy Villa plans to meet with D.C. detectives next week about a complaint against Corey Lewandowski, who she says slapped her twice on the rear at a November event (AP) ... The Justice Dept. has "systemic" problems handling sexual harassment complaints (WashPost).
https://www.axios.com/newsletters/axios-am-ebc2d348-3cc5-477b-84fe-bb9040ff585c.html?chunk=0#story0
1 big thing: New question for Big Tech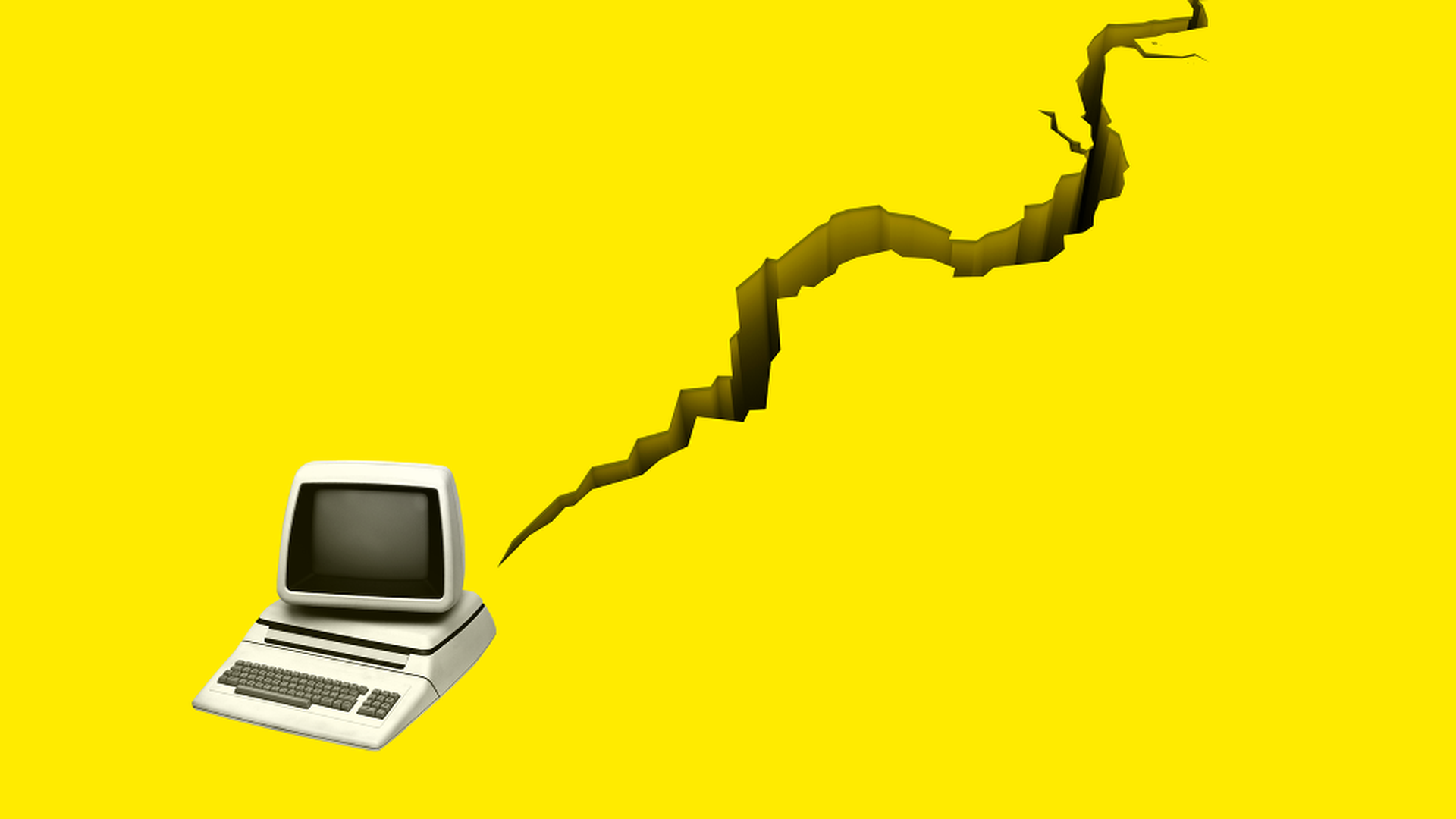 Top Democrats are exploring the idea that Big Tech designed products that were intentionally addictive, Axios' David McCabe reports:
Last month an aide to Sen. Mark Warner (D-Va.), who as vice chair of the Senate Intelligence Committee is helping run a probe of Russian election meddling that will re-ignite in January, organized a briefing featuring two prominent critics of the platforms:Tristan Harris, a former Google design ethicist who argues that tech companies unethically manipulated their users.Zeynep Tufekci, an academic who warns of "an artificial intelligence-powered dystopia."
From the invite to the briefing, attended by Democratic staffers for progressive and centrist members: "Drawing on behavioral psychology research, many technology platforms actively condition user behavior, designing (and refining) products to be intentionally habit-forming."
In a preview of debates to come, the invite continues: "[T]hese developments ... raise important questions related to consumer protection, fake news/misinformation, antitrust/competition, and privacy."
Why it matters: The briefing is among the growing signs that the industry will be forced to engage more with Washington:
If successful, the government's case against AT&T's proposed purchase of Time Warner could set a new precedent that would complicate deals for tech companies looking to grow even larger through acquisitions.
Regulatory pushes in Europe may spread to the United States.
Real talk: Skepticism of tech has yet to yield concrete policy changes. Franklin Foer, author of "World Without Mind: The Existential Threat of Big Tech": "[A] lot of the policy thinking that is necessary to actually apply some sort of solution hasn't yet been hatched."
What to watch: Congressional Democrats built tougher antitrust enforcement into their midterm platform. On the other side of the aisle, Republican Missouri Attorney General Josh Hawley is conducting an investigation into Google as he challenges U.S. Sen. Claire McCaskill.
https://www.axios.com/newsletters/axios-am-ebc2d348-3cc5-477b-84fe-bb9040ff585c.html?chunk=1#story1
2. Wonder who he means?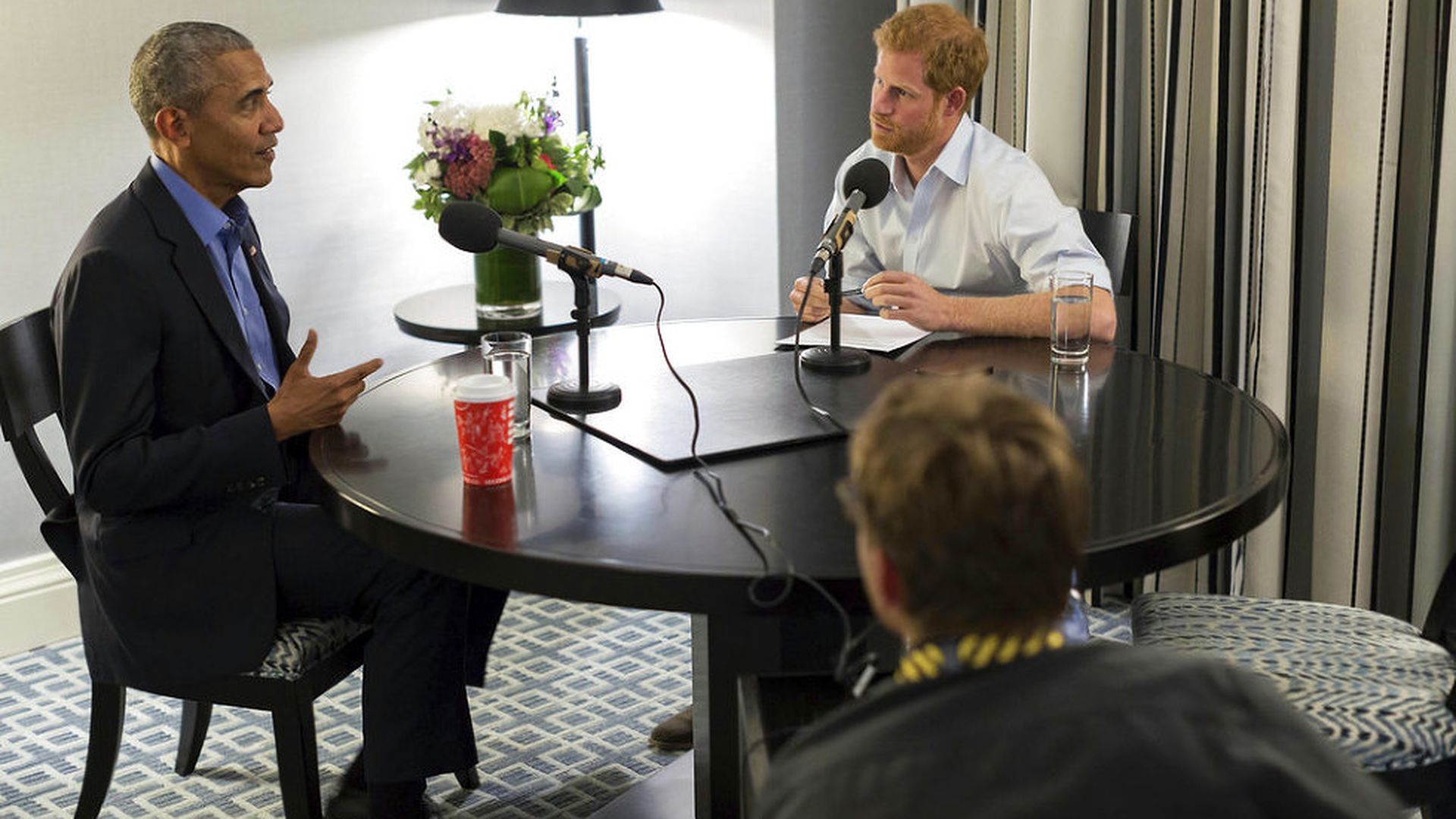 Former President Obama urges responsible social-media use by "all of us in leadership," in an interview with Prince Harry that was broadcast on today's BBC Radio 4's "Today":
The interview, which Obama said was his first as former president, was recorded in Toronto in September during the Invictus Games. Prince Harry was one of several of the program's guest editors over Christmas.
Obama, who doesn't mention Trump: "One of the dangers of the internet is that people can have entirely different realities. They can be cocooned in information that reinforces their current biases."
"On the internet, everything is simplified. When you meet people face to face, it turns out they're complicated."
On social media: "The question has to do with how do we harness this technology in a way that allows a multiplicity of voices, allows a diversity of views, but doesn't lead to a Balkanisation of society."
On his post-presidency mornings: "I wake up later."
On adjusting to a pace that allows for more reflection: "Where I'm from, if we don't do something in half an hour, somebody dies."
On the advantage young people have over someone like him, who's 56: "There's a freshness to what young people perceive as possible."
Something for all of us: In the sweep of history, "I'm the blink of an eye."
From the lightning round ... Cigarettes or gum: "Gum now, baby."
The Rock or Chris Rock? "I like them both."
Download the full podcast.
https://www.axios.com/newsletters/axios-am-ebc2d348-3cc5-477b-84fe-bb9040ff585c.html?chunk=2#story2
3. If you click only 1 thing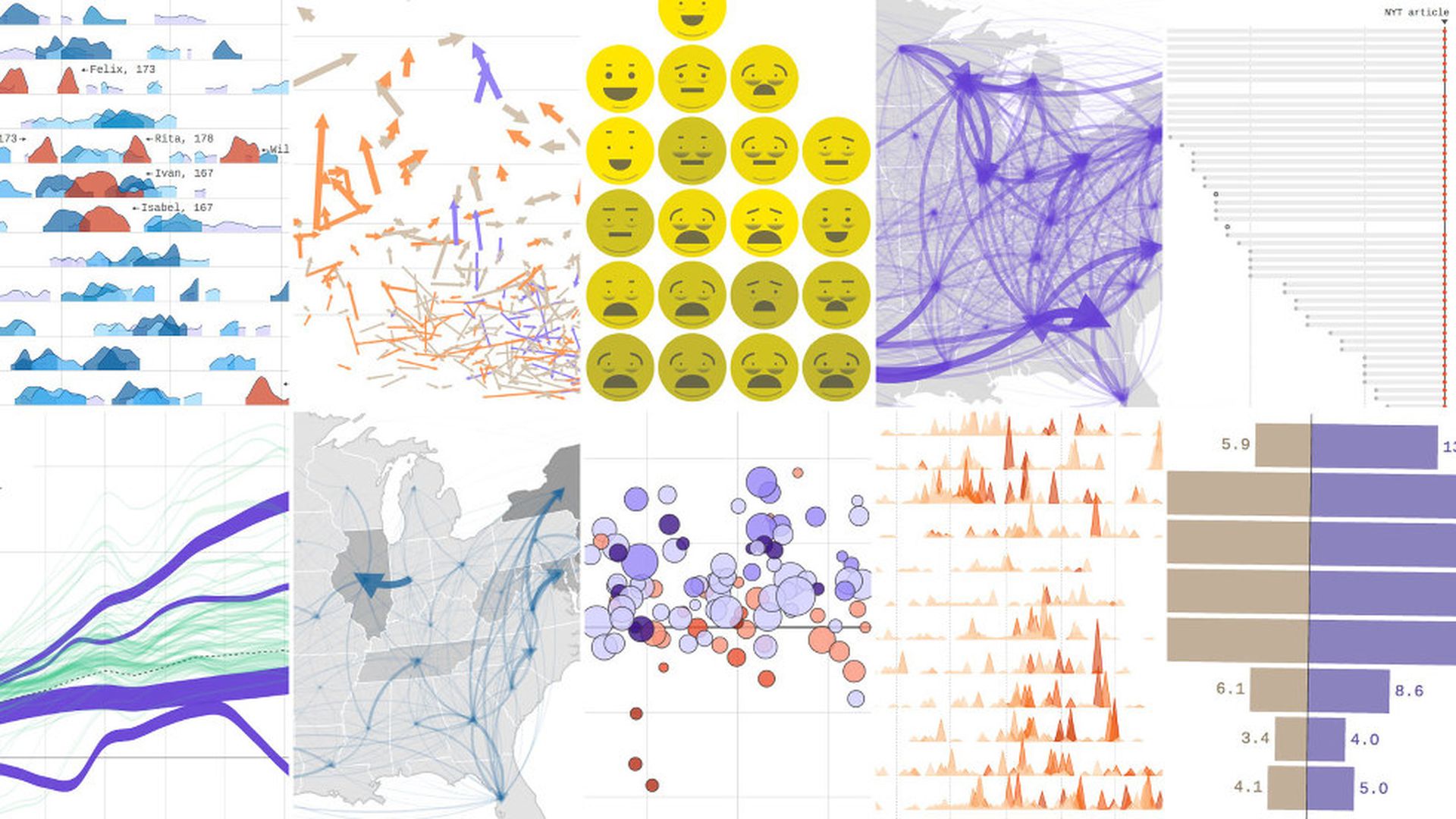 Axios has made hundreds of data visualizations this year, covering everything from the hurricane season to the way the economy is changing. Jump into our special stream to check out our 10 favorite projects.
Follow @AxiosVisuals on Twitter to keep tabs on all the cool stuff we'll be making in 2018.
https://www.axios.com/newsletters/axios-am-ebc2d348-3cc5-477b-84fe-bb9040ff585c.html?chunk=3#story3
4. Pic du jour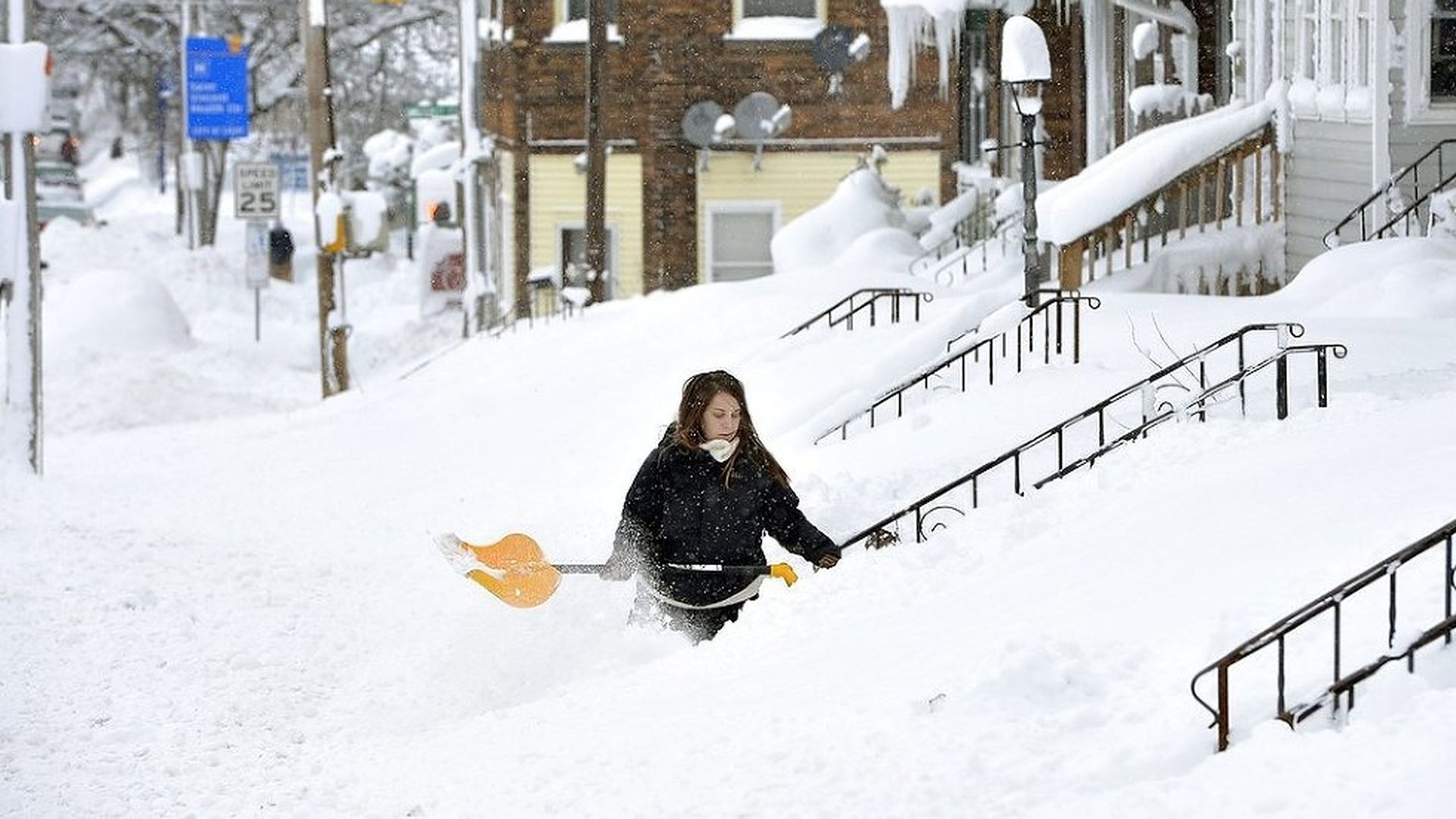 Rochelle Carlotti, 28, shovels steps near her home after a record snowfall yesterday in Erie, Pa. — 34 inches, an all-time daily record for Erie.
N.Y. Times: "63 inches has fallen since Saturday, the weather service said — and more is on the way."
https://www.axios.com/newsletters/axios-am-ebc2d348-3cc5-477b-84fe-bb9040ff585c.html?chunk=4#story4
5. Dispatch from Trump country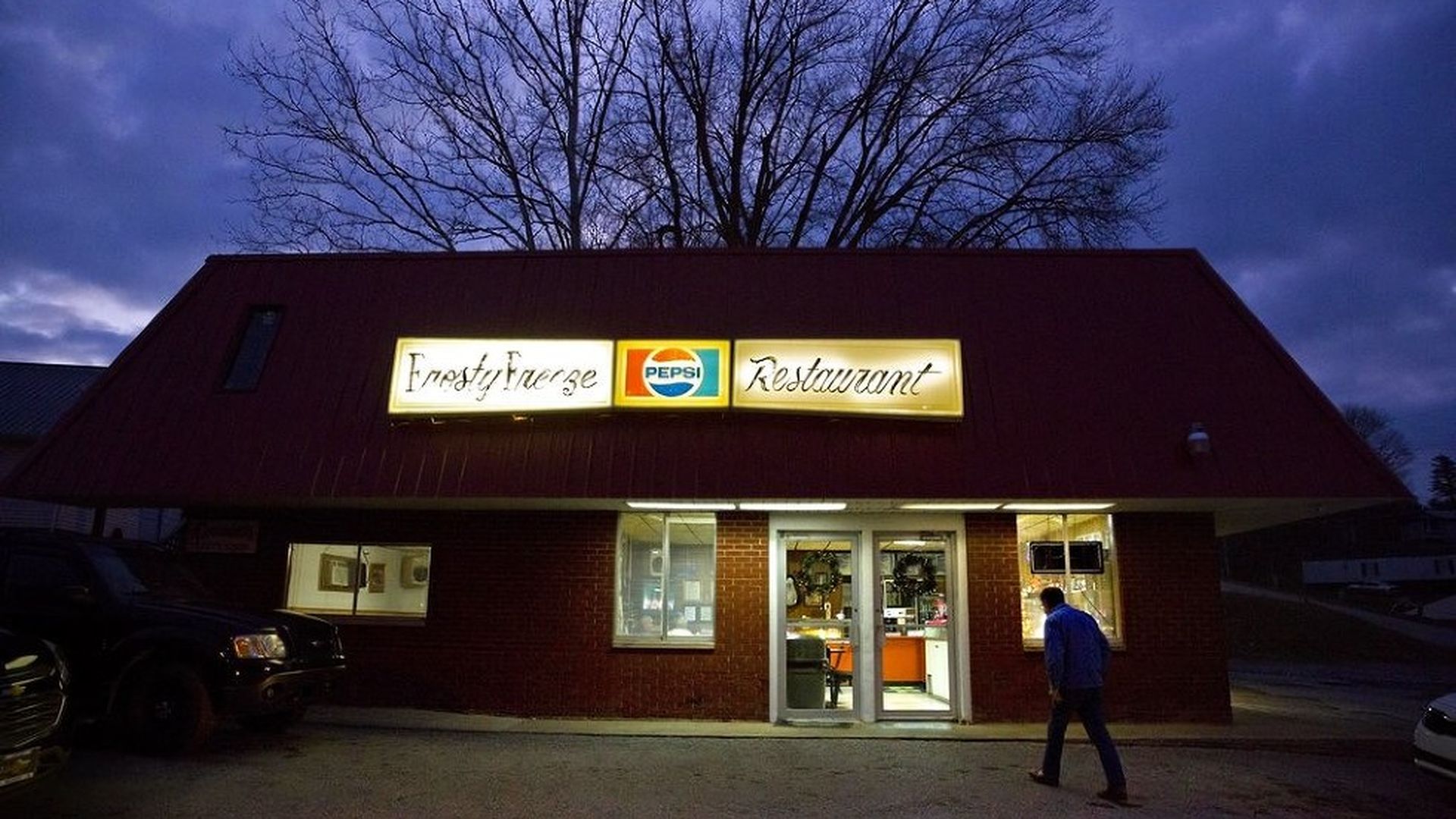 "In the heart of Trump Country, his base's faith is unshaken," by AP's Claire Galofaro in Sandy Hook, Ky.:
Trump "remains profoundly popular here in these mountains, a region so badly battered by the collapse of the coal industry."
Why it matters: Trump "means validation of their indignation about a changing nation: gay marriage and immigration and factories moving overseas. It means tearing down the political system that neglected them again and again in favor of the big cities that feel a world away."
"On those counts, they believe Trump has delivered, even if his promised blue-collar renaissance has not yet materialized. He's punching at all the people who let them down for so long."
https://www.axios.com/newsletters/axios-am-ebc2d348-3cc5-477b-84fe-bb9040ff585c.html?chunk=5#story5
6. Homeowners line up to prepay taxes
"Homeowners across the nation are rushing this week to prepay their property taxes for 2018 before the Republican tax law kicks in Jan. 1 and effectively raises the levy on higher-end homes," the Wall Street Journal reports on A1:
"In Fairfax County, Va., where property values have risen sharply in recent years, hundreds of people lined up at the government center to prepay. Across the Potomac River, in Montgomery County, Md., the county council held a special session Tuesday morning to pass legislation allowing residents to prepay their taxes."
"The $10,000 [deduction] limit also covers state and local income and sales taxes, but lawmakers drafting the bill barred people from prepaying those other levies."
Prepaying property taxes was left up to localities. "Some officials urged caution on prepaying property taxes, given that the new law didn't address the issue."
Per Bloomberg, "In Washington D.C., Democratic Mayor Muriel Bowser's office put out a guide to early prepayments for city residents."
https://www.axios.com/newsletters/axios-am-ebc2d348-3cc5-477b-84fe-bb9040ff585c.html?chunk=6#story6
7. Data du jour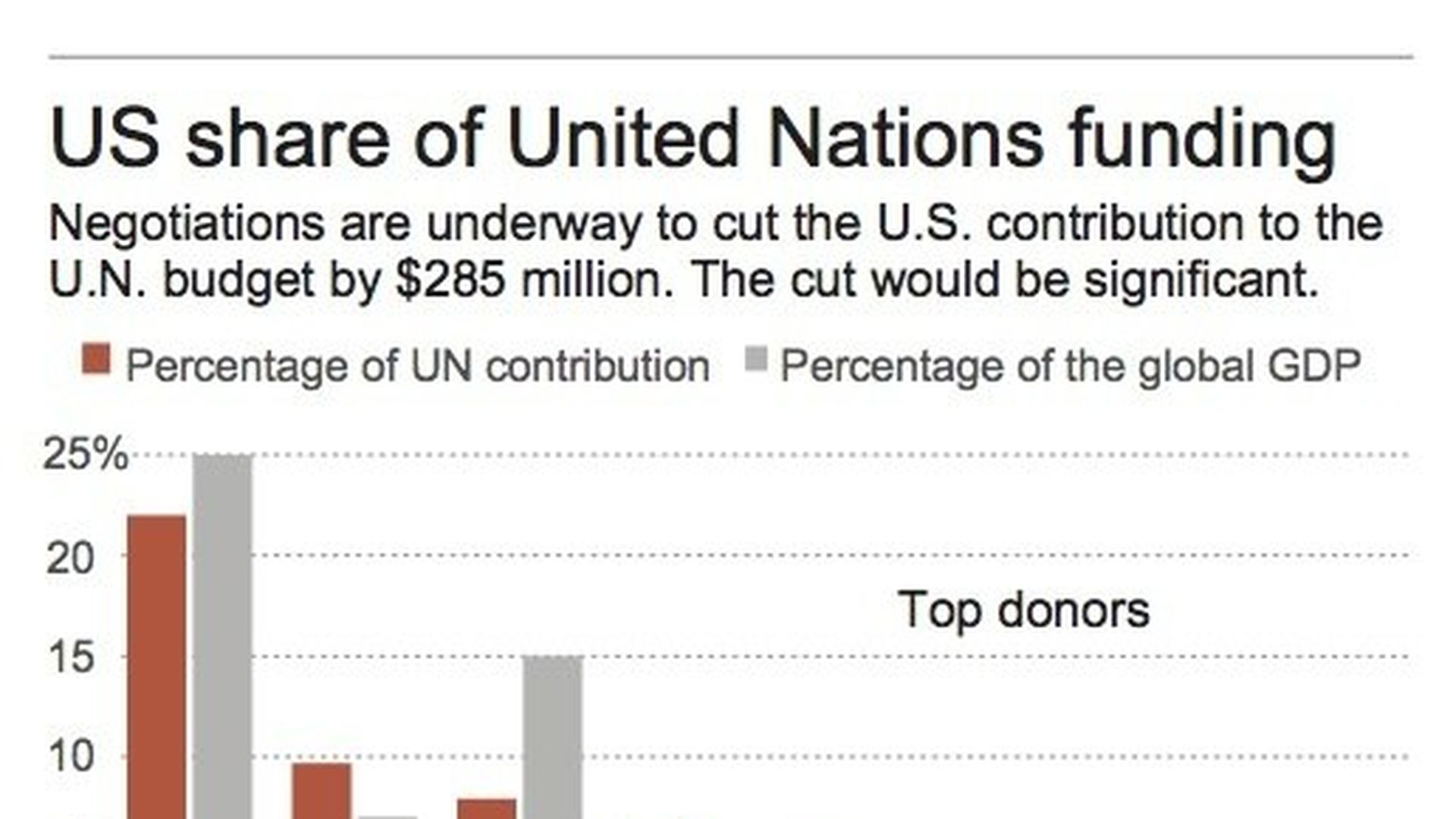 U.S. Ambassador to the U.N. Nikki Haley said in a Christmas Eve statement that the U.S. had negotiated a $285 million reduction of the U.N. budget for 2018-2019, compared to 2016-2017.
The UN's two-year budget is $5.5 billion. The U.S. contributes more than any other nation.
CNN points out that Haley's statement did not mention how or if the U.S. contribution will be altered.
https://www.axios.com/newsletters/axios-am-ebc2d348-3cc5-477b-84fe-bb9040ff585c.html?chunk=7#story7
8. Today's relaxing read
"Cokie and Steven Roberts: A Half-Century of Changing Together," as part of a new N.Y. Times feature, "It's No Secret," highlighting couples who share thoughts about commitment and what they have learned:
Cokie: 'I wasn't always able to appreciate him; and he, me. We've learned to do that more now that we're old. We also had the advantage of having the same job. We would both be at the Capitol covering stories, then drive home together and get rid of that whole conversation in the car that married people have, so when we got home we were available to our children."
Steve: "Biting your tongue is often the right reaction to a moment of passing anger. Candor is overrated. I don't mean deception or secrets. I mean real mutual respect, which leads to being gentle, loving, cautious and careful at times. It leads to being silent and having self-restraint."
https://www.axios.com/newsletters/axios-am-ebc2d348-3cc5-477b-84fe-bb9040ff585c.html?chunk=8#story8
9. An epic year: 25 of 30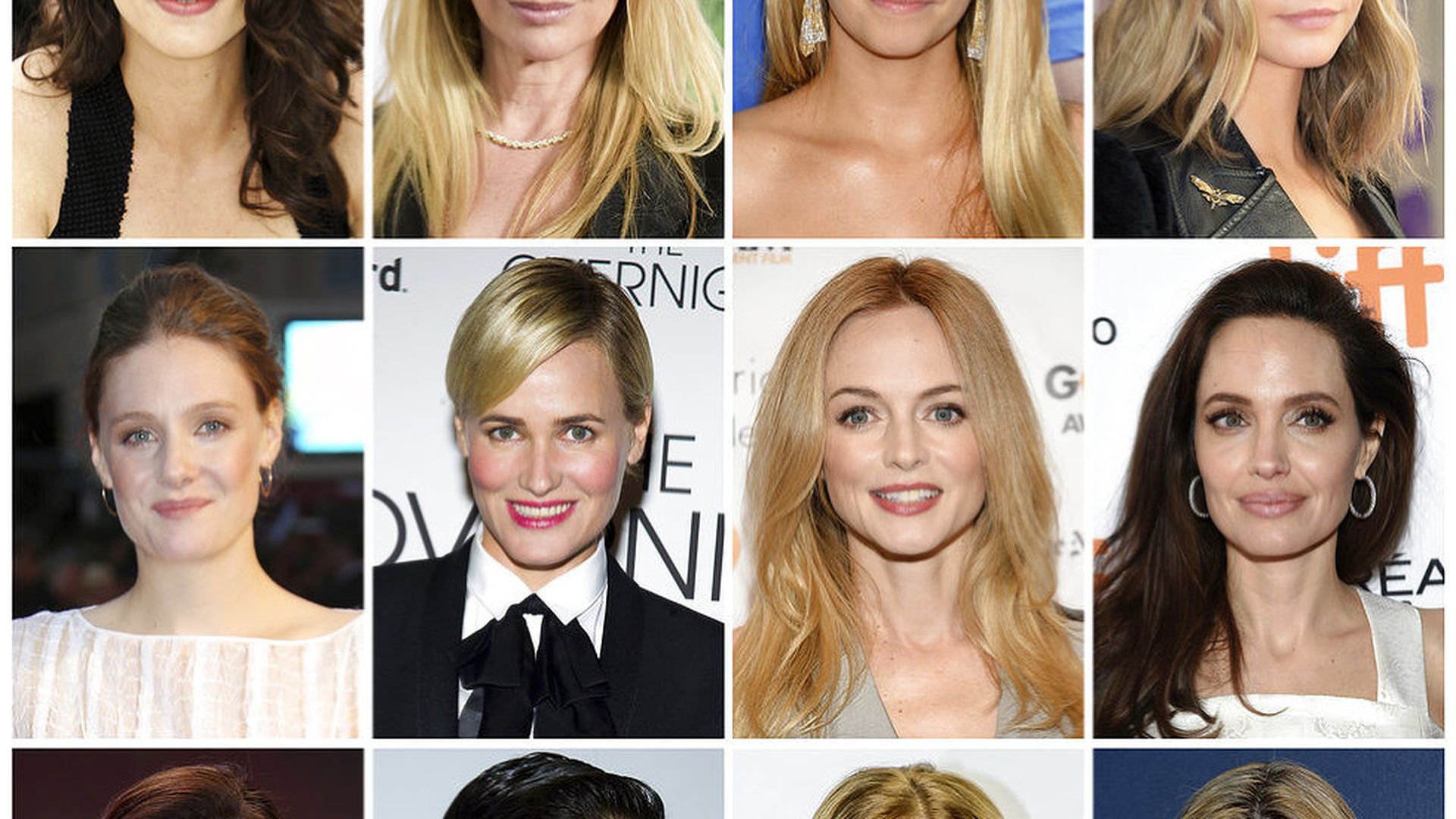 Reliving 2017 in 30 images ... #MeToo: The women who initially spoke out against sexual misconduct in Hollywood this fall, inspiring millions to tell their own stories of harassment and illegality on social media, were named AP's Entertainers of the Year.
This combination photo shows actresses who accused Harvey Weinstein (in alphabetical order from top left): Asia Argento, Rosanna Arquette, Jessica Barth, Cara Delevingne, Romola Garai, Judith Godreche, Heather Graham, Angelina Jolie, Ashley Judd, Rose McGowan, Lea Seydoux and Mira Sorvino.
https://www.axios.com/newsletters/axios-am-ebc2d348-3cc5-477b-84fe-bb9040ff585c.html?chunk=9#story9
10. 1 movie thing: Coming attractions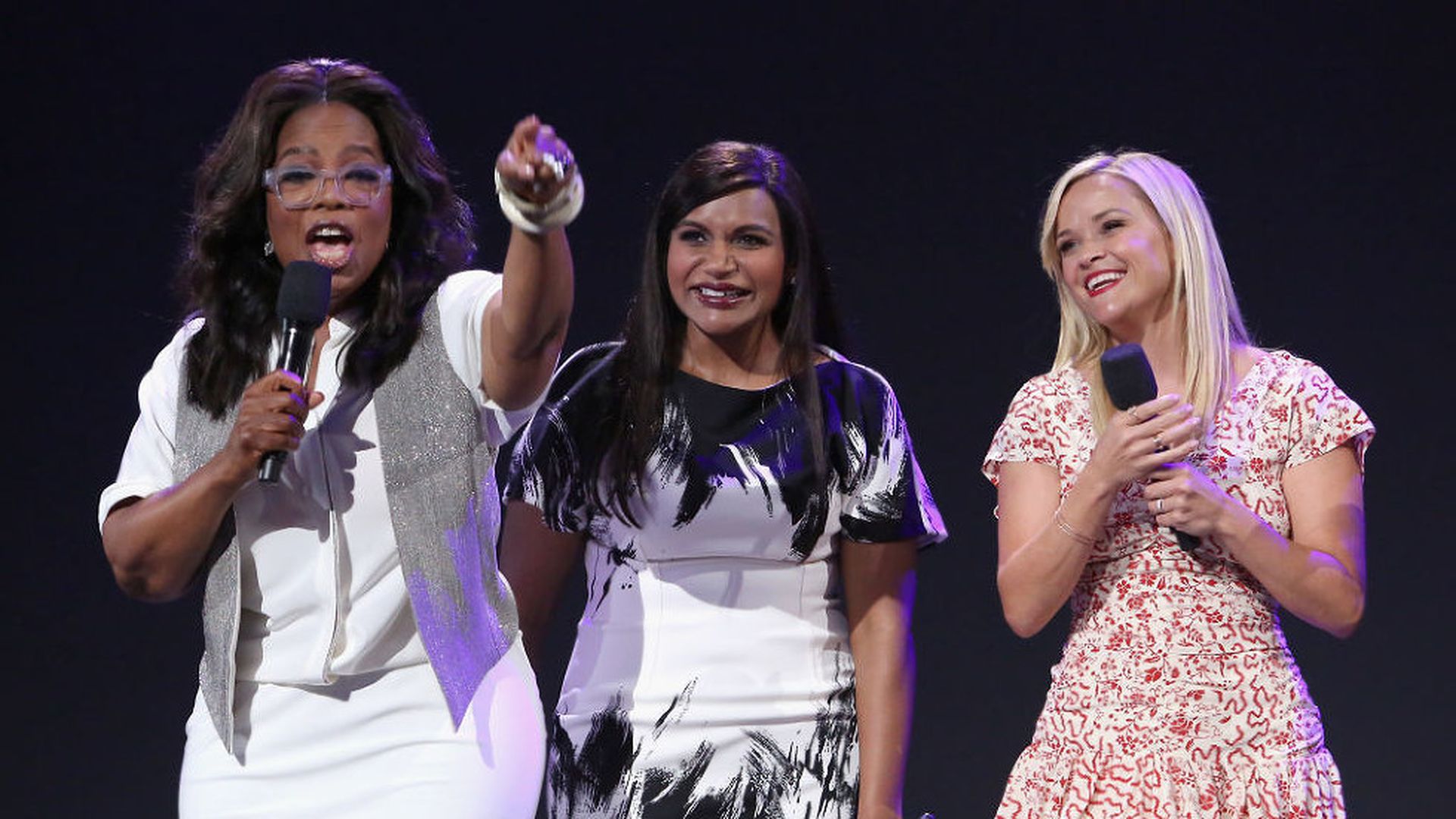 "Most Anticipated Movies of 2018" ... 6 of the 20 answers from Variety's international team of critics:
"Black Klansman": Spike Lee ... returns to fact-based drama with the incredible story of Ron Stallworth (played by Denzel's son John David Washington), an African-American police detective who managed to infiltrate a Colorado Ku Klux Klan chapter ... With Jordan Peele ... as a producer.
"Boy Erased" (Sept. 28): "conversion therapy" ... [S]tars Lucas Hedges, the great young actor from "Manchester by the Sea" and "Lady Bird," as the gay son of a Baptist pastor (Russell Crowe) in small-town Arkansas. Nicole Kidman plays his mother.
"First Man" (Oct. 12): Damien Chazelle's first feature after "La La Land" would be a breathlessly awaited event even if he wasn't literally shooting the moon. It's an epic docudrama, starring Ryan Gosling as Neil Armstrong, that chronicles the entire history of the space race, starting in 1961 and culminating in Armstrong's July 21, 1969, walk ... Timed to anticipate the 50th anniversary of that globe-altering event, the movie has the chance to be a stirring and visionary reminder of what America could once do.
"Ready Player One" (March 30): "Wreck-It Ralph" is the closest Hollywood has come to making a great video game movie. ... 2018 brings "Rampage" and a "Tomb Raider" reboot, which both look pretty pro forma. Still, there's potential in Steven Spielberg's adaptation of Ernest Cline's sci-fi scavenger-hunt novel, which imagines an elaborate virtual-reality gaming environment ... [W]ith fan-favorite characters, from Freddy Krueger to the Iron Giant.
"Red Sparrow" (March 2): Jennifer Lawrence [is] flexing her artsy muscles ... in this sleek, classily cast espionage thriller from her "Hunger Games" director (and expert hokum merchant) Francis Lawrence. J.Law as a Russian ballerina turned undercover intelligence agent.
"A Wrinkle in Time" (March 9): With so few women being handed the reins of blockbuster franchise movies, there's reason to celebrate the faith Disney put in director Ava DuVernay ("Selma") and screenwriter Jennifer Lee ("Frozen") to adapt Madeline L'Engle's visionary fantasy novel — starring ... Oprah!