Axios AM
October 19, 2017
Good Thursday morning. Situational awareness ... "White House waivers on sending Trump to DMZ," per WashPost: Ahead of Trump's 12-day swing through five Asian nations next month to bolster pressure on Pyongyang, "the administration is divided over whether he should [visit] ... the heavily guarded demilitarized zone that has separated the North and South [Korea] for 64 years ... [S]ome aides worry a visit could further inflame ... tensions on the Korean Peninsula, while others have expressed concern over Trump's personal safety."
1 big thing ... McCain's latest surprise: Regulate Facebook
Sen. John McCain knows his time in the public eye is short, so his big statements in recent weeks are especially resonant.
Today, McCain will join with two Democrats — Sens. Mark Warner (Va.) and Amy Klobuchar (Minn.) — to give bipartisan imprimatur to the first of the "Facebook bills," responding to last year's election interference.
Axios has a sneak peek at provisions of the Honest Ads Act, which would increase disclosure requirements for online political ads like the ones Russians surreptitiously bought, putting the rules on par with those for radio and TV ads:
"Amending the Bipartisan Campaign Reform Act of 2002's definition of electioneering communication to include paid Internet and digital advertisements. Currently only broadcast television, radio, cable and satellite communications are included."
"Requiring digital platforms to maintain a public file of all electioneering communications it sells above specific thresholds."
"The file would contain a digital copy of the advertisement, a description of the audience the advertisement targets, the number of views generated, the dates and times of publication, the rates charged, and the contract information of the purchaser."
"Requiring online platforms to make reasonable efforts to ensure that foreign individuals and entities are not purchasing political advertisements in order to influence the American electorate."
Why it matters: This is the first in a wave of legislative and regulatory proposals we can expect in response to the disclosures that Russian agents used tech platforms to meddle in the 2016 election.
Be smart: The tech giants won't resist all legislation — they know that's not tenable in this environment. So they'll work to shape the proposals to give Congress a win, with a minimal hit to the bottom line.
P.S. Bite of the day ... Former Google Ventures CEO Bill Maris, who now runs a San Diego-area V.C. firm called Section 32, said yesterday during a Wall Street Journal tech conference: "It wouldn't surprise me if the sun is setting on the golden age of Silicon Valley."
Axios' Dan Primack writes that Maris added that he also wouldn't be surprised if federal regulators try breaking up tech giants like Google or Facebook, saying that such companies "are more powerful than AT&T ever was."
2. 72% of Americans fear a major war
An NBC News/SurveyMonkey poll out this morning finds 72% of Americans are concerned that the U.S. will be fighting a major war in the next four years, with the majority of respondents saying North Korea poses the greatest threat, Axios' Erica Pandey reports:
The adversaries respondents are concerned about: North Korea (54%) ... ISIS (19%) ... Russia (14%) ... China (6%) ... Iran (4%).
The threats causing concern: terrorist attacks (34%) ... nuclear attacks (32%) ... cyberattacks (31%).
Be smart: Polls show a stunning (and increasing) majority of Americans believe the country is on the wrong track, despite this age of innovation. Fear of war is clearly a huge component of that, and could help shape the political battlegrounds of 2018 and 2020.
3. The families speak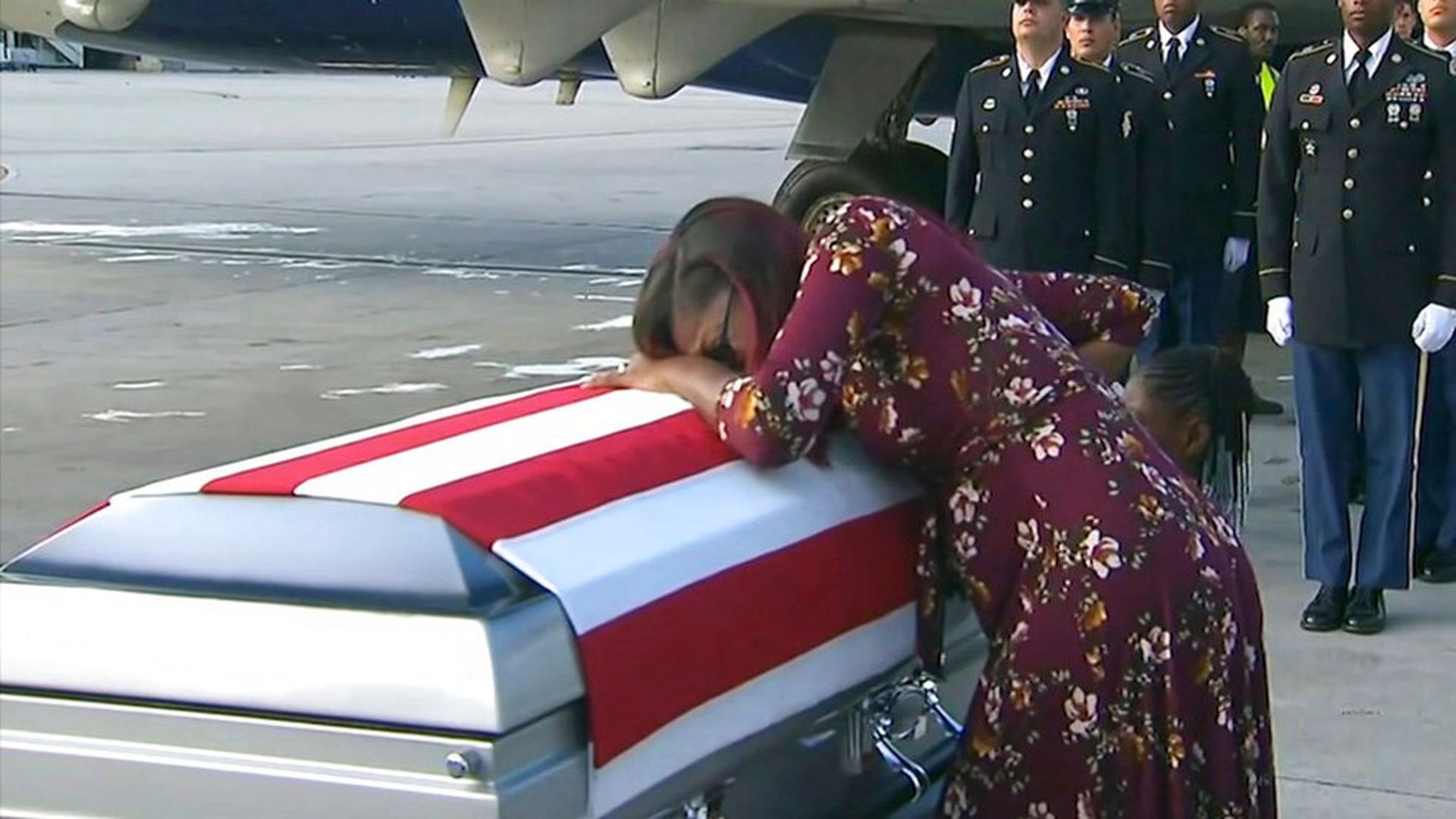 Relatives of nine of the 43 military members who have died during Trump's presidency (21%) tell AP that they haven't heard from him:
"Despite Trump's boast that he reaches out personally to all families of the fallen, interviews with families members did not support his claim. Some never heard from him at all, and a few who did came away more upset."
AP "reached out to the families of all 43 people who have died in military service since Trump became president and made contact with about half the families. Of those who would address the question, relatives of nine said they had heard from Trump by phone or mail. Relatives of nine others said they haven't."
"Chris Baldridge of Zebulon, North Carolina, told The Washington Post that Trump promised him $25,000 of his own money when they spoke in the summer about the loss of his son, Army Sgt. Dillon Baldridge, killed in Afghanistan, but the check never came. The White House said [yesterday] that 'the check has been sent.'"
"After Army Sgt. Jonathon M. Hunter [23] died in a suicide bombing attack in Afghanistan in August ... Mark Hunter, his father, said a military casualty officer informed the family that Trump would call and the family was let down when he didn't."
Why it matters ... Trump told Fox News Radio's "Brian Kilmeade Show' on Tuesday: "[T]o the best of my knowledge, I think I've called every family of somebody that's died ... I have called, I believe everybody but certainly I'll use the word 'virtually' everybody ... I've called virtually everybody."
Bonus: Pic du jour
On Sunday, in her second "60 Minutes" story, Oprah Winfrey visits California's Pelican Bay Prison, and the infamous Security Housing Unit that once earned the supermax prison the nickname "Skeleton Bay."
Oprah reports on conditions in the isolation unit that critics charge constitutes torture. See an excerpt.
4. "A human among Androids"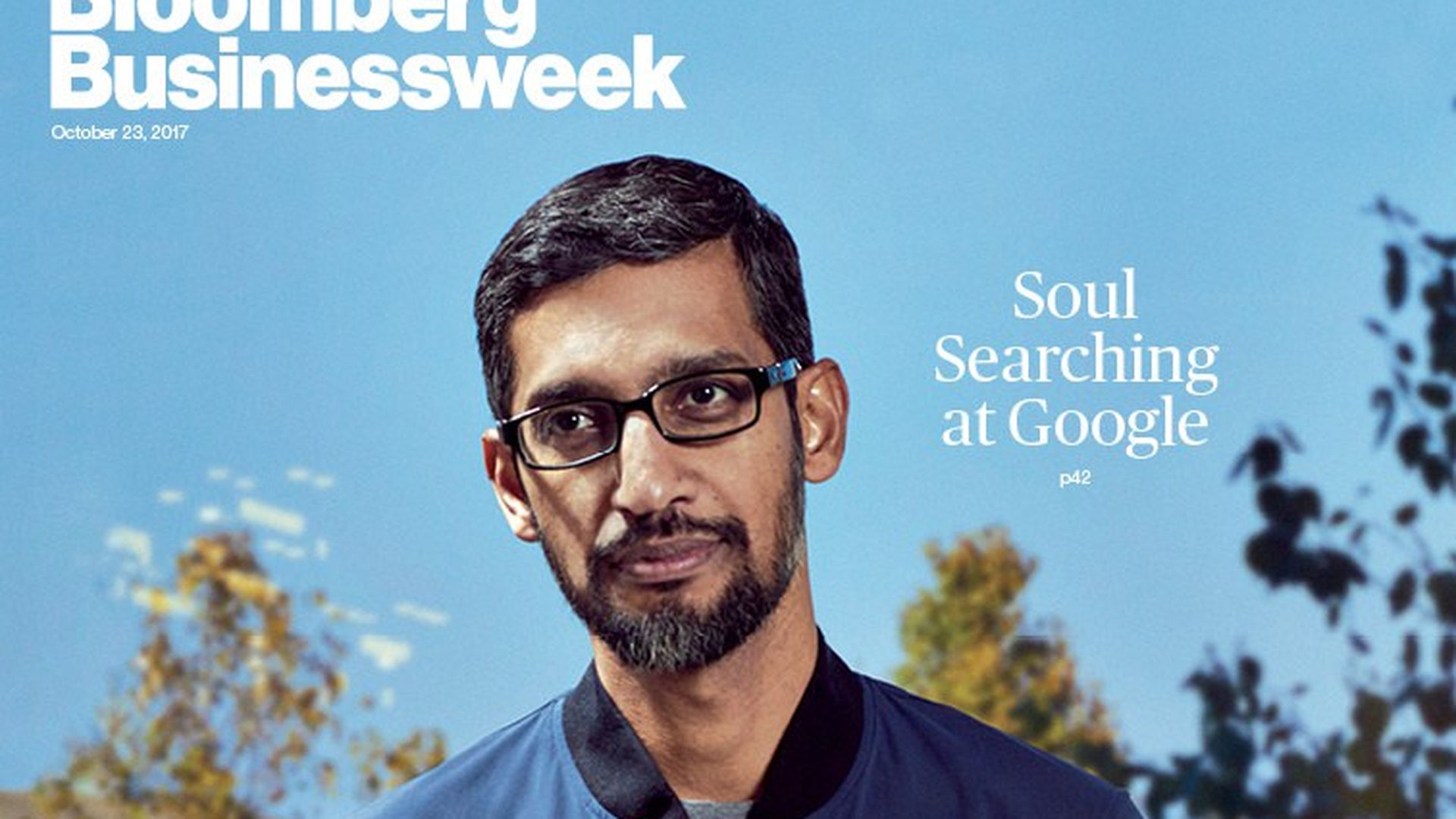 "Everyone's Mad at Google and Sundar Pichai Has to Fix It: The CEO is increasingly boxed in by regulators, tech critics on both the right and the left, and even his own employees," Mark Bergen and Brad Stone write on the cover of Bloomberg Businessweek:
"Pichai has ... recast Google's mission in the most dramatic way since the search engine went live 20 years ago. Inside and outside the company, he's elevated the role and glorified the promise of artificial intelligence — the ability of advanced computers to make independent decisions."
"Those decisions might be as small as when to flag a calendar appointment, or as consequential as how a multibillion-dollar hedge fund might trade."
On Russian use of Google's AdWords and YouTube last year: "There's clearly stuff which shouldn't be happening which happened, so we should fix it ... Anytime we make a mistake, it's very public for the world to see."
Scott Galloway, a New York University professor and author of The Four, a critical book about big technology companies, says "Google would be the scariest company in the world if you didn't believe they had adult supervision."
P.S. Milestone in AI ... "A self-taught [Google] computer has become the world's best player of Go, the fiendishly complex board game, without any input from human experts, ... DeepMind, Google's artificial intelligence subsidiary in London, announced." (Financial Times)
5. Today is 30th anniversary of Black Monday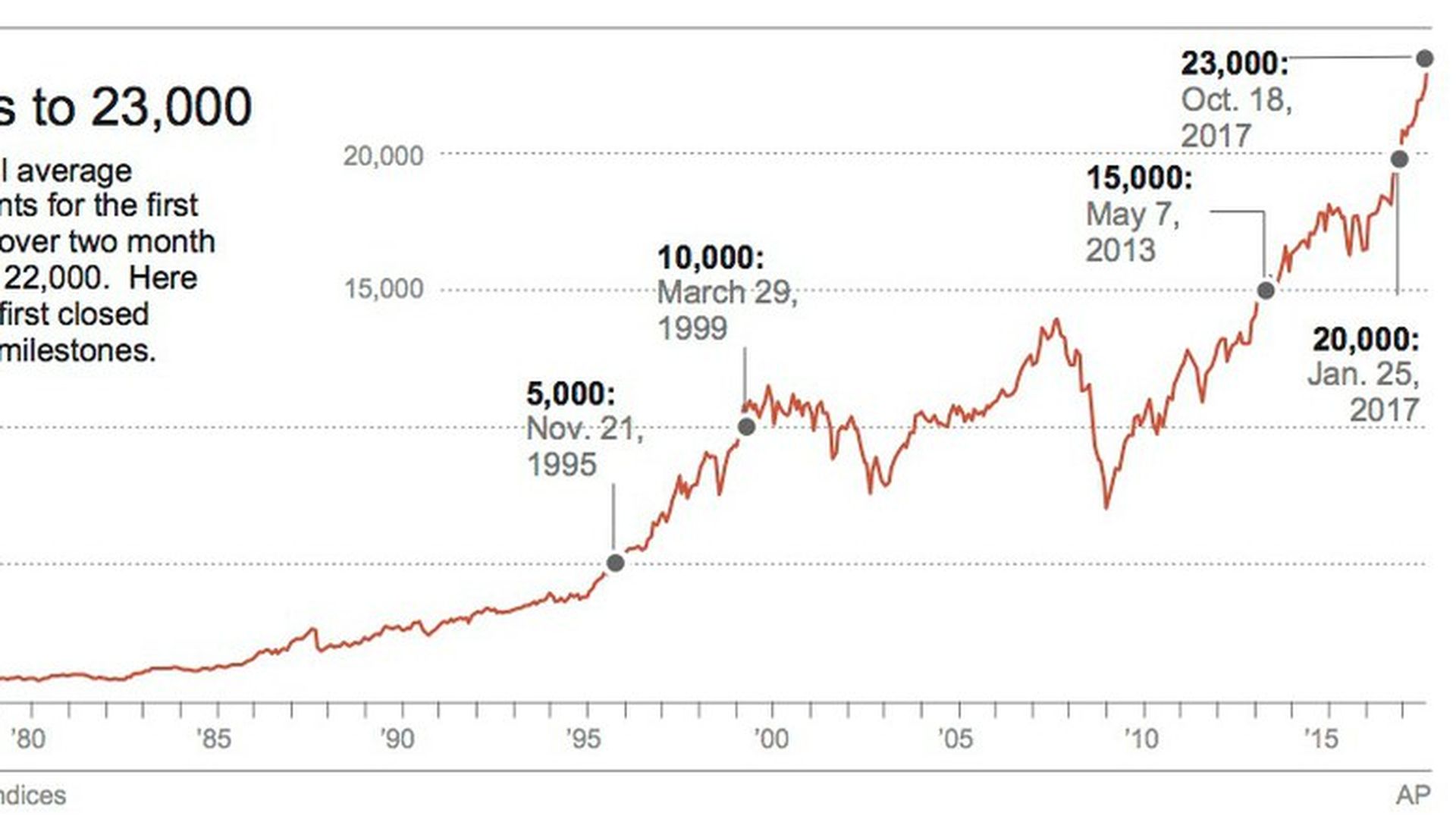 "Oct. 19, 1987... The biggest single-day stock market collapse in history — a 23 percent drop — rendered once-trusted ideas useless and redefined the financial landscape for market professionals," Bloomberg recalls.
Why it matters: "Black Monday ... is part of financial history's fossil record, a divide between old and new markets. It was the first significant instance of computer-driven trading run amok."
Groundhog Day: Dow Races Through 23,000 ... The Dow Jones passed another record yesterday, but the markets are flashing red lights at a correction is coming, per a Wall Street Journal front-pager:
"Many investors are concerned that the steady rise in U.S. indexes has left shares looking expensive. They also recently have grappled with elevated tensions between the U.S. and North Korea, hurricane-related disruptions to the economy and signals that the Federal Reserve is planning to raise interest rates further and wind down its unprecedented asset-purchase program."
The Trump bump: "The S&P 500 hasn't suffered a daily pullback of 3% or more since Nov. 4, the longest stretch without a decline of that magnitude since the mid-1990s. So far this year the Dow has surged 17%, compared with the S&P 500's 14% rise."
Why it matters: "Some investors worry that means stocks are overdue for a substantial selloff."
6. Slimming corporate America
"John Flannery, the leader of General Electric Co.for just 2½ months, has already begun dismantling the legacy of his predecessor [Jeff Immelt], including the planes," the Wall Street Journal reports on A1:
"[O]ne of his first belt-tightening moves was to ground GE's entire fleet of six business jets, and that's just the beginning."
"Flannery has been answering employee questions in an internal video that goes out every Friday. He recently responded to a question about top executives getting company cars by disclosing that he was killing the program ... The perk was started by Jack Welch, who ran the company for two decades."
What's coming: "Next month, Mr. Flannery is expected to unveil the results of a strategic review that includes thousands of corporate-level job cuts and scaling back of GE's global structure."
Flannery, in a letter to employees on his first day as CEO: "Good intentions and hard work count for something — but in the end the only real scorecard is what were the results of all that."
7. "Very lyrical, very poetic" Obama letters out today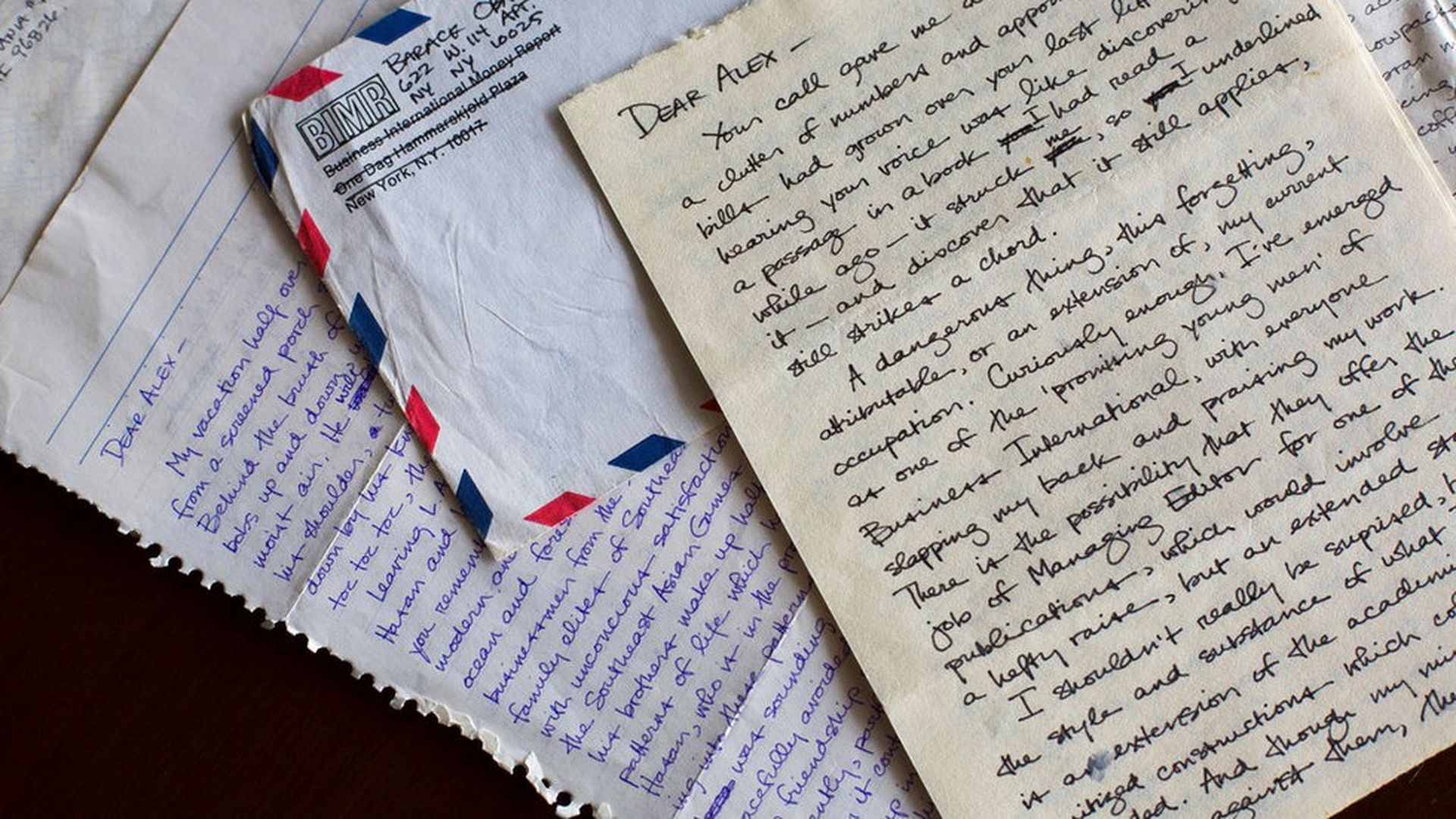 "Careful cursive ... Letters from young Obama show a man trying to find his way," by AP's Jesse Holland:
"A young Barack Obama questioned his place in the world and his racial identity, agonized over whether he'd make enough money as a community organizer, and lamented his incompatibility with his ex-girlfriend in 30 pages of letters he wrote to her that are now being archived by Emory University in Atlanta."
"The nine full letters, sent by Obama to his college girlfriend, Alexandra McNear, are being made public to researchers through Emory University's Stuart A. Rose Manuscript, Archives and Rare Book Library."
Obama in 1983: "Salaries in the community organizations are too low to survive on right now, so I hope to work in some more conventional capacity for a year, allowing me to store up enough nuts to pursue those interests next."
P.S. Obama returns to political travel:
Today, per his office, "Obama will participate in two campaign events to support Democrats running for governor in Virginia and New Jersey."
"In the afternoon, President Obama will join Phil Murphy and Sheila Oliver for a canvass kickoff with grassroots supporters at the Robert Treat Hotel in Newark."
"In the evening, President Obama will travel to Richmond, Virginia to deliver remarks at a campaign rally for Lt. Governor Ralph Northam."
8. "Boomerang workers"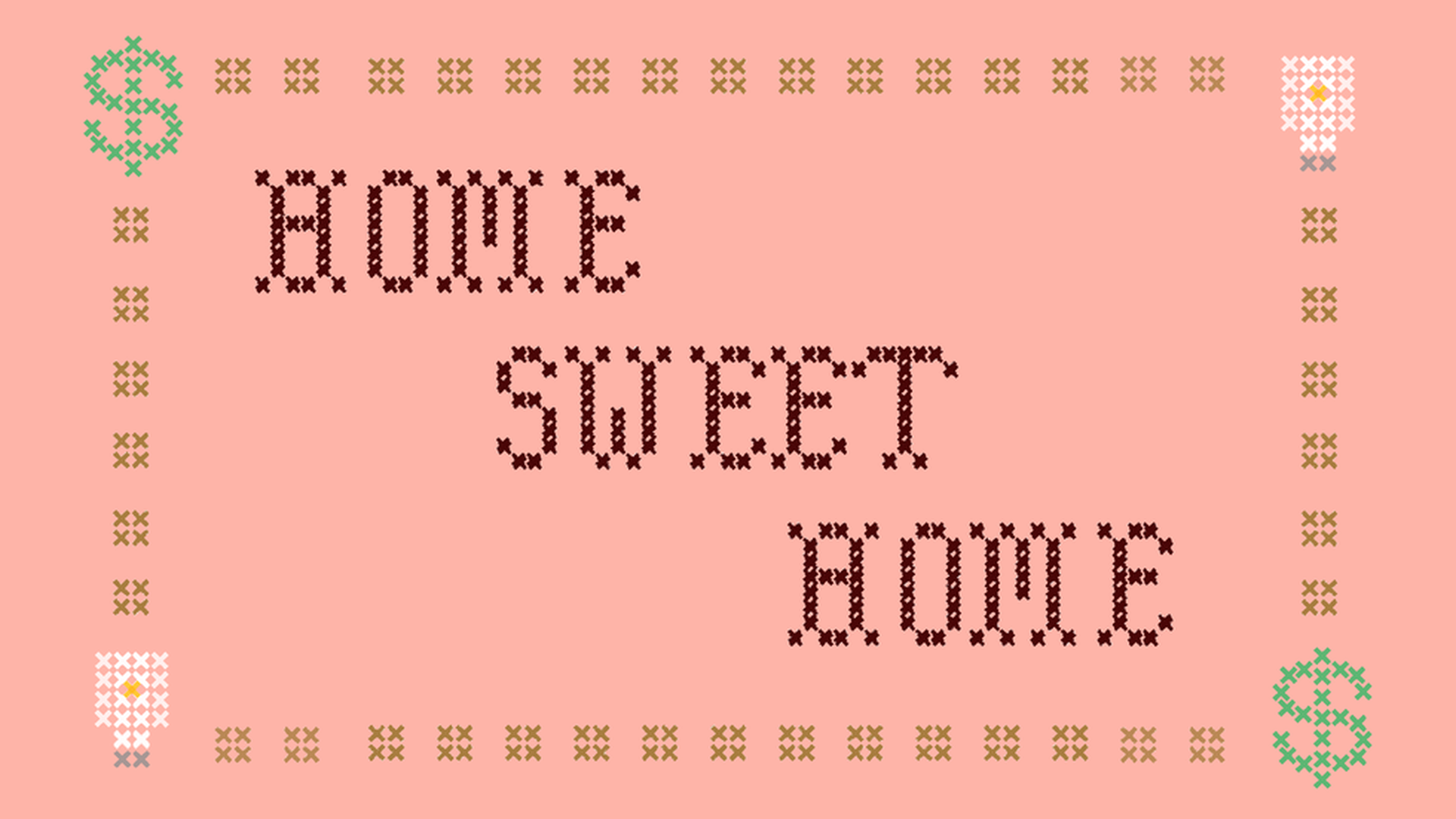 How to get millennials to move back home ... "'Boomerang' workers are reviving Rust Belt job growth," per Axios tech editor Kim Hart:
The problem: Rust Belt cities have suffered severe "brain drain" the past three or so decades, as manufacturing jobs decline.
What's new: As the cost of living in such bigger cities soars, some of these young professionals are looking for ways to return to their roots. And local employers are seizing the chance to get them back.
See an "Axios Sourced" video: Kim Hart discusses boomerang talent.
9. New FTC head
"Trump has selected Joseph Simons, an antitrust attorney from a Washington law firm, to head the Federal Trade Commission," which enforces antitrust laws, Reuters reports:
"Simons, a partner at the law firm Paul, Weiss, Rifkind, Wharton & Garrison LLP, was a director of the FTC's Bureau of Competition [under George W. Bush] from 2001 to 2003."
"During Simons' tenure at the FTC, the agency sued to stop Diageo PLC and Pernod Ricard from buying Seagram Spirits and Wine in 2001 to prevent a duopoly in rum. The FTC also filed a lawsuit in 2003 to stop Haagen-Dazs owner Nestle Holdings Inc from buying Dreyer's Grand Ice Cream Inc, which makes also superpremium ice cream. The FTC later settled both cases."
Trump also nominating two new commissioners ...
"Noah Phillips, who graduated from Stanford Law School in 2005, is chief counsel for U.S. Senator John Cornyn, a Texas Republican. He is also a veteran of the law firms Steptoe & Johnson LLP and Cravath, Swaine & Moore."
"To fill the empty Democratic seat on the commission, the president tapped Rohit Chopra, a financial services expert. Chopra, an ally of Massachusetts Senator Elizabeth Warren, is currently at the Consumer Federation of America."
10. 1 fun thing: New game-day traditions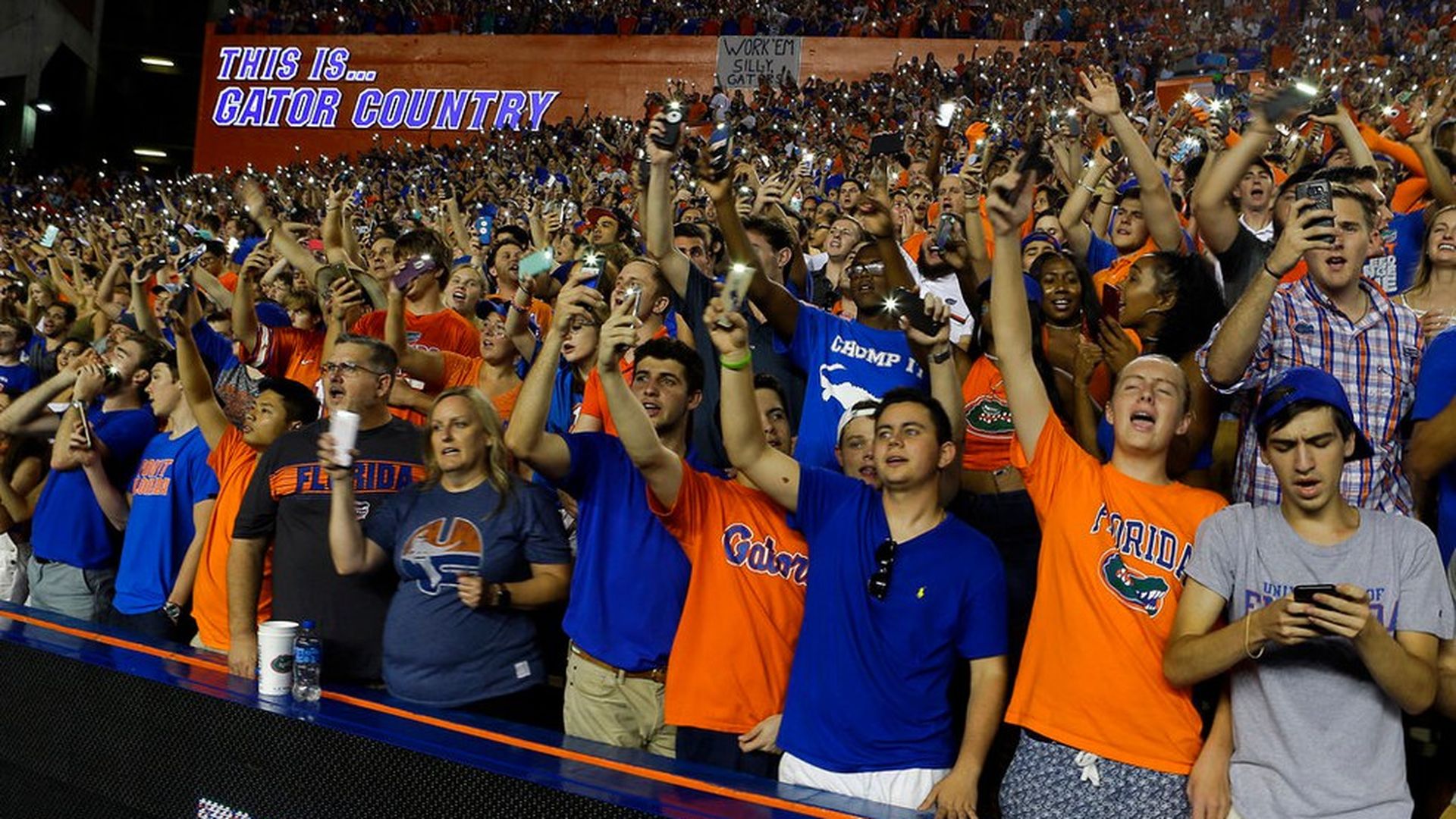 "Social media helping college teams start new traditions ... In a sport that loves its history, tech makes it easier for programs to start ... game-day traditions," by AP's Steve Megargee:
At Florida's last two games, Gator fans sang the customary "We Are The Boys From Old Florida" at the end of the third quarter. Then they sang along as the P.A. system played "I Won't Back Down," by Gainesville native Tom Petty, who died Oct. 2.
"[F]ans knew what was planned because Florida announced its intentions beforehand.Just like that, a potential new tradition was born."
"[W]hen a school wants to 'stripe' its stadium in school colors, as West Virginia did last week before its game with Texas Tech, school officials merely remind fans on Twitter which color to wear based on where they'll be sitting."
"No new college football tradition has garnered quite as much attention this year as Iowa's friendly greeting. After the first quarter of home games, fans wave to patients at the UI Stead Family Children's Hospital that's adjacent to Kinnick Stadium. Patients and relatives often are looking out the window and waving back."