Axios AM
June 15, 2018
1 big thing: Trump's "I mean it" moment with China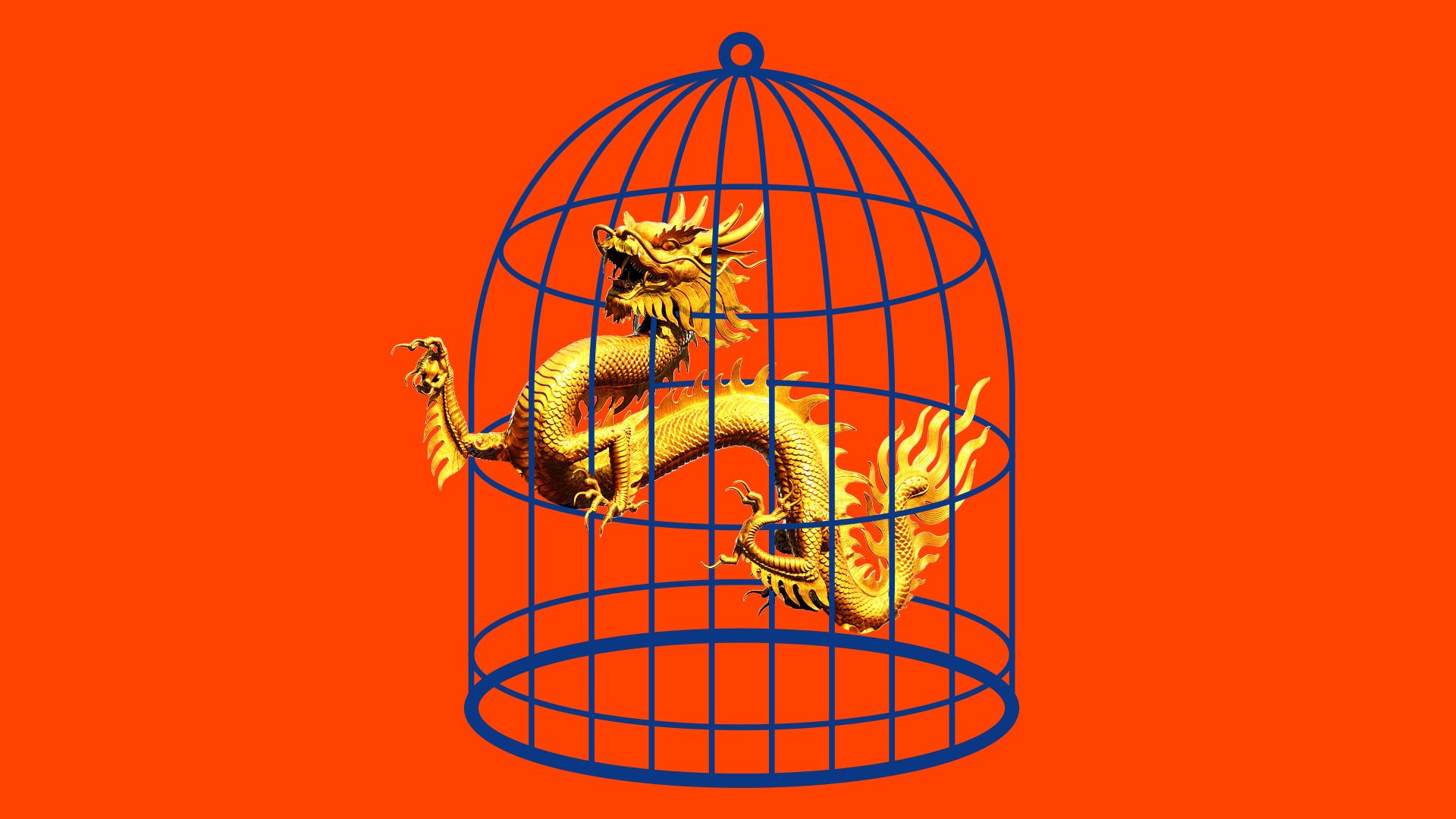 President Trump's plan to turn threats against China into actual tariffs could turn a trade spat into a trade war, and sources familiar with his thinking say he has no hesitation about potentially disrupting the world economy.
Trump today "will announce a 25 percent tariff on $50 billion of Chinese products," the WashPost reports. "The tariffs, which Trump set in motion in March, are a response to China's practice of compulsory technology licensing for foreign companies and its efforts to steal U.S. trade secrets via cybertheft."
The Wall Street Journal adds that the decision follows a 90-minute meeting yesterday "of senior White House officials, national-security officials and ... Treasury, Commerce Department, U.S. Trade Representative's Office."
Chinese Foreign Minister Wang Yi said yesterday that China and the U.S. faced a choice between cooperation and confrontation, per the Journal.
We've told you that Trump's one constant belief over 30 years has been that the U.S. is ripped off on trade and should retaliate against foreign governments.
A source with long exposure to Trump's tirades about trade said:
"It's not rhetoric, it's not for show, he believes it."
"When it comes to compulsory tech licensing and cyber theft, to which [today's] tariffs are responding, ... [h]e's ... less afraid to be antagonistic toward them than past leaders. He also has the cushion of a very strong economy."
"[T]his comes at an important time in the North Korea negotiations, when photo ops are giving way to serious discussions. We're not dropping the maximum pressure campaign, and Trump has made clear that he's willing to link trade issues to national security concessions."
A key point: "If China continues to help with North Korea, you could definitely see him walk back some tariffs."
The frenetic reaction to the plan to pull the trigger on tariffs "shows how thoroughly the political elites misunderstand President Trump," said an informal adviser to the West Wing:
"He is committed to rewriting U.S. trade relationships across the board. He was not posturing when he ran as a trade skeptic. The advisers from his 'let's keep negotiating' faction were never going to prevail."
"[O]ur trading partners were convinced Trump would not risk the robust U.S. economy, so they never brought enough concessions to the negotiations."
"Trump was always going to take action to attempt to change a global trade system designed around the post-World War II U.S. willingness to absorb trade deficits as a tool of foreign policy."
Be smart ... The adviser told me: "Turns out these moves were totally predictable but only to those with eyes, ears and memory."
Go deeper: Our popular Deep Dive from last Saturday, "A new era of global trade wars."
2. How China is building its own Hollywood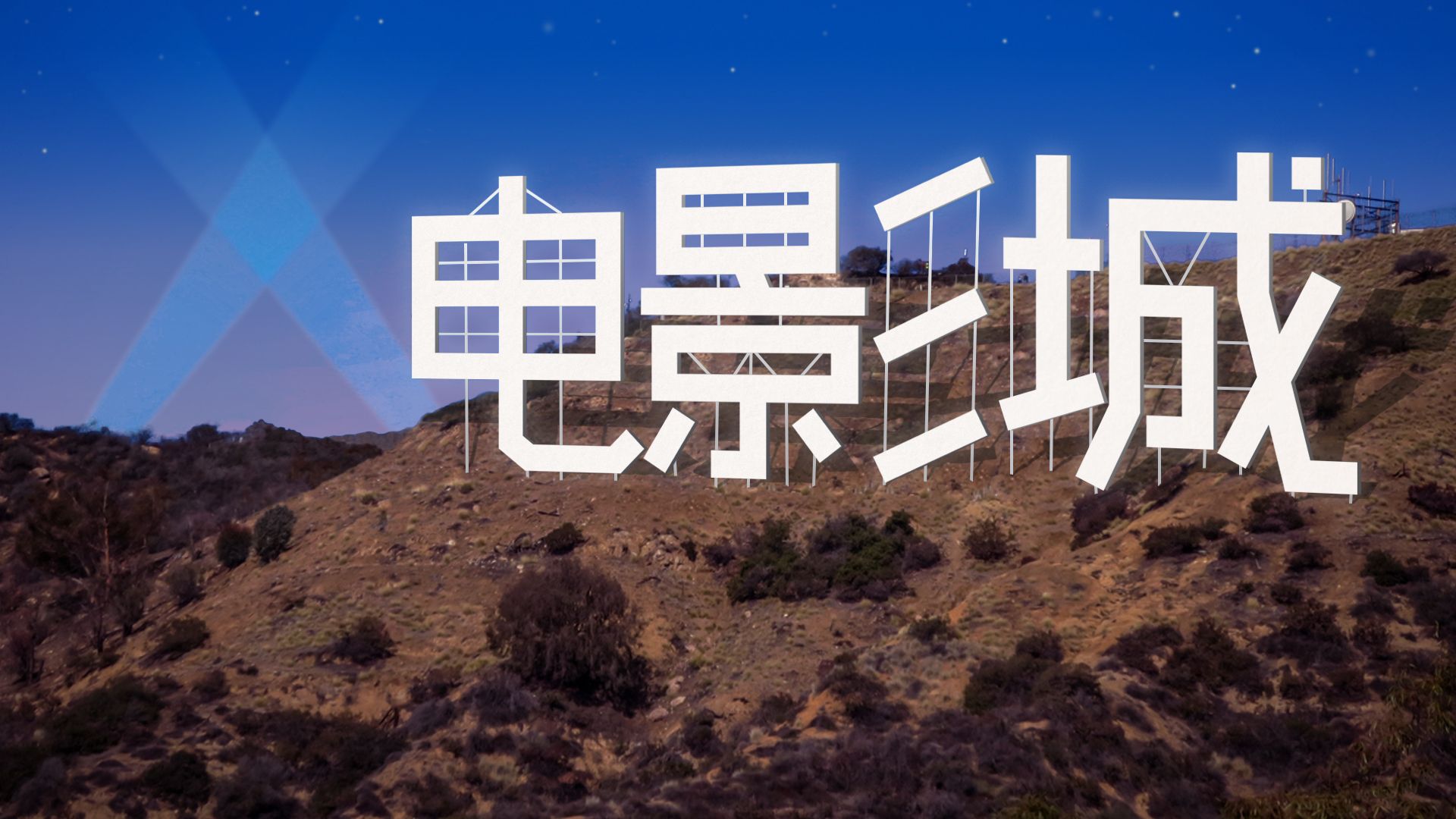 One of President Xi Jinping's most powerful tools for increasing China's global influence is Hollywood.
The bottom line: The Chinese market for U.S. films is massive and growing — and Hollywood studios are willing to play by the Communist Party's censorship rules to access that market.
Now China is using Hollywood tactics to take its market for itself.
It's the top international box office for the U.S.: Hollywood makes $5.9 billion more from China than Japan, the second-largest international box office.
The result:
Hollywood studios will even create and alter content to appeal to Chinese consumers and avoid censorship by the Communist Party.
You'll rarely see Chinese bad guys in Hollywood productions, says Stanley Rosen, a USC expert on Chinese society.
If a film bothers the Party, the government will not only ban the film, but also ban the studio itself from showing future films in China.
The takeover:
Chinese firms have long been investors in Hollywood studios.
Now China is upping investment in producing its own Chinese movies.
The recent Chinese blockbuster "Wolf Warrior 2," a patriotic movie (made with Hollywood help) about a Chinese soldier rescuing Chinese nationals from conflict in Africa, broke records by bringing in $780 million.
What to watch: China could threaten the film industry with quotas in response to U.S. tariffs, per Axios media trends reporter Sara Fischer.
3. 🌎 Huge global trend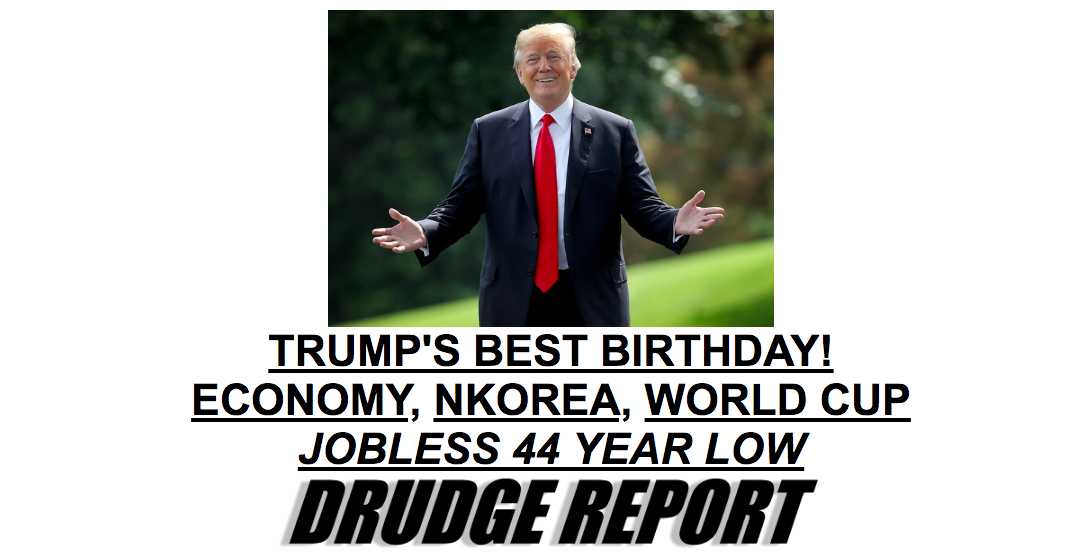 "Economic Growth in U.S. Leaves World Behind," The Wall Street Journal reports in its lead story (subscription):
Why it matters: "The U.S. economy is revving up just as Europe and other major economies lose steam, jeopardizing a rare period in which the world's largest economies have been accelerating in unison."
Europe is cooling down and in China, "New data showed business activity, including investment and retail sales, slowed in May, suggesting the world's second-largest economy is facing growing headwinds."
"In an indication of growing economic vigor in the U.S., the Federal Reserve on Wednesday tapped the brakes again, raising the benchmark interest rate by a quarter of a percentage point and signaling it may quicken the pace of future rate increases because of a strengthening economy and tightening labor markets."
4. Pic du jour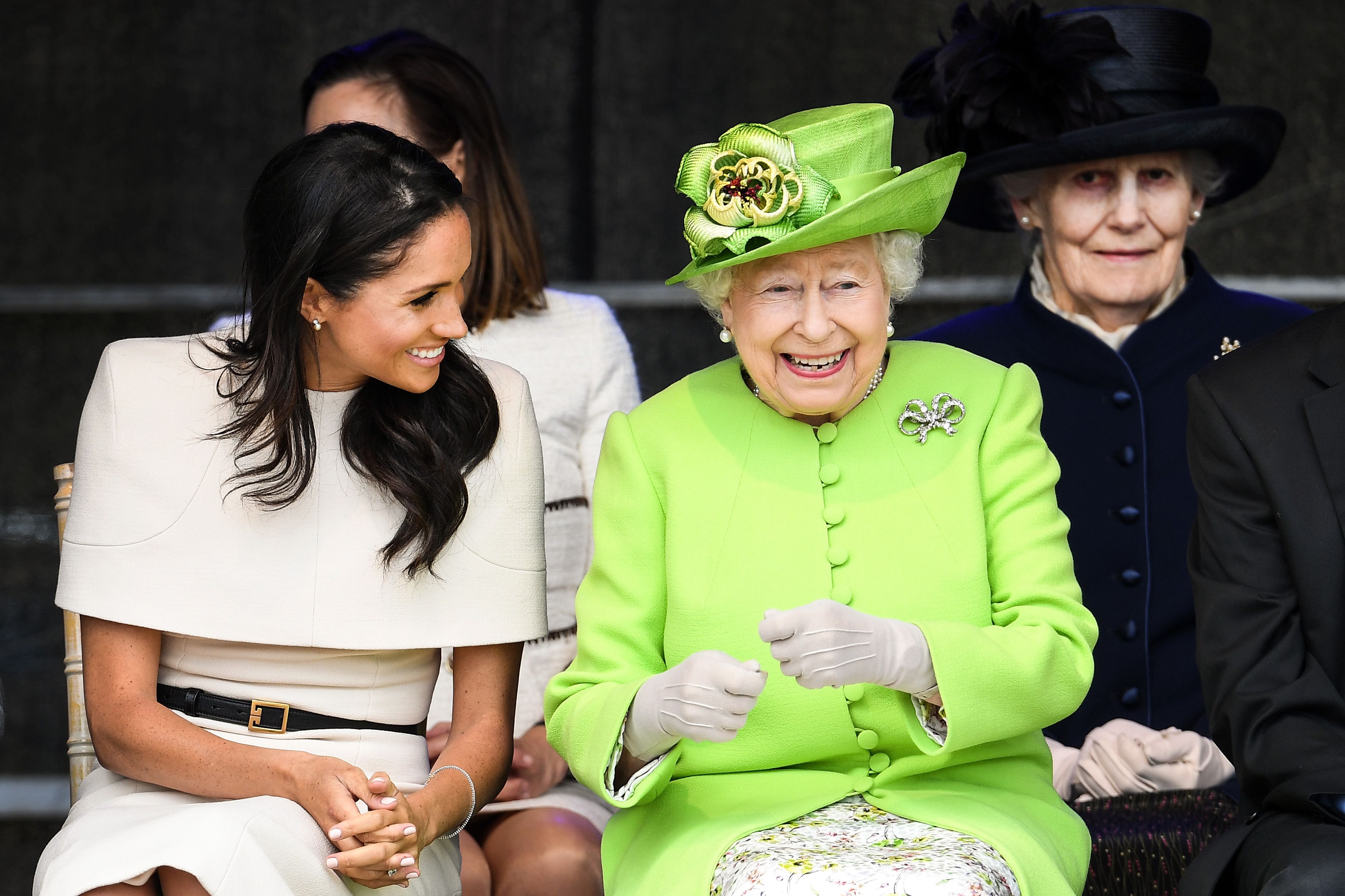 Queen Elizabeth II (age 92) laughs with Meghan, Duchess of Sussex (age 36) yesterday as Prince Harry's new wife learns the drill for royal engagements.
5. GOP will use report to try to undermine Mueller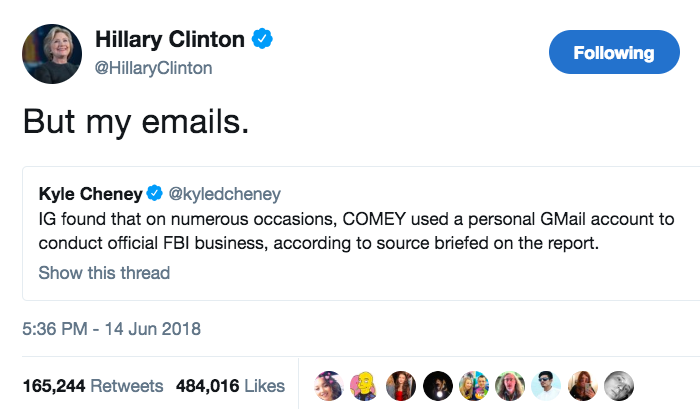 Yesterday's "report from the Justice Department's inspector general gave new and potent ammunition to President Trump and his allies in their ongoing efforts to undermine special counsel Robert S. Mueller III's investigation," the WashPost's Bob Costa reports:
"Republicans quickly seized on the report as a meaningful development that they believe will further bruise Mueller's credibility with the public and bolster the president."
"Particularly notable, from the perspective of Trump's allies, was the searing criticism ... for the conduct of one of Trump's most high-profile critics, former FBI director James B. Comey, as well as the revelation that lead FBI agent Peter Strzok had shown anti-Trump bias. 'We'll stop it,' Strzok wrote in a text message, referring to" a Trump victory.
But, but, but ... Matt Miller, Obama Justice Department alumnus, told MSNBC's Lawrence O'Donnell:
"We found out today that to the extent the FBI did anything wrong, it helped Donald Trump, not hurt him."
Go deeper: Reaction to the report ... Read the report.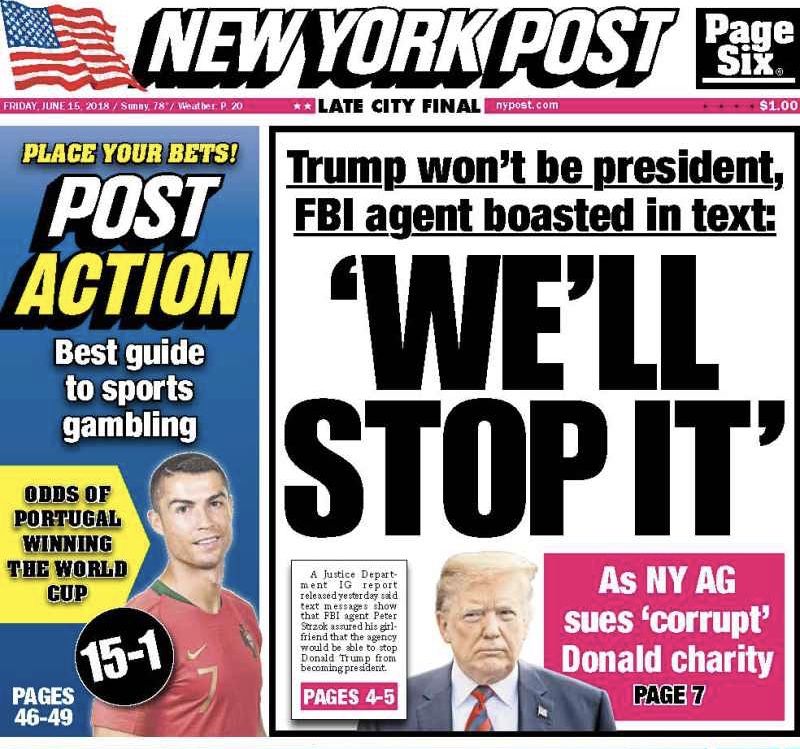 6. Trump nearly upended summit with abrupt changes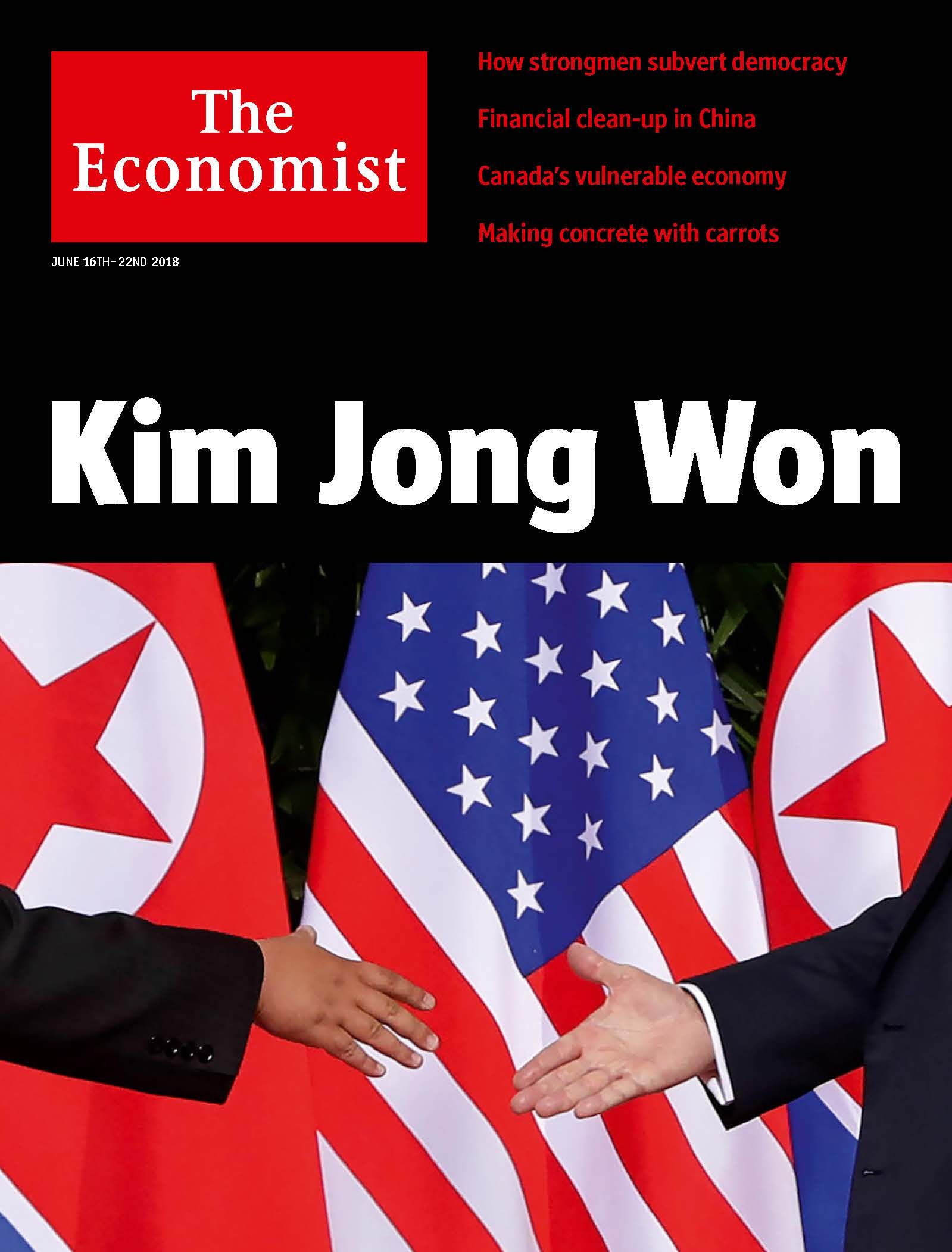 "After arriving in Singapore on Sunday, an antsy and bored Trump urged his aides to demand that the meeting with Kim be pushed up by a day," the WashPost reports:
"Secretary of State Mike Pompeo and White House press secretary Sarah Huckabee Sanders ... warned him that he might sacrifice wall-to-wall television coverage of his summit if he abruptly moved the long-planned date to Monday in Singapore, which would be Sunday night in the United States."
"[A]fter watching North Korean television, which is entirely state-run, the president talked about how positive the female North Korean news anchor was toward Kim."
Trump "joked that even ... Fox News was not as lavish in its praise as the state TV anchor ... and that maybe she should get a job on U.S. television."
7. Scoop: Facebook v. GOP
Following complaints about censorship of conservatives, Facebook execs will meet today with House Majority Leader Kevin McCarthy (R-Calif.), RNC chair Ronna McDaniel and Trump reelection campaign manager Brad Parscale.
This is in response to a May 17 letter from McDaniel and Parscale saying "Facebook and Twitter operate in liberal corporate cultures," and asking for protections from "bias against conservative content."
A McCarthy source said: "McCarthy has been speaking out on the issue of conservative censorship online. ... [The] meeting is an opportunity for McCarthy and Brad and Ronna to engage with one of the most influential tech companies in the world to raise the concerns of conservatives and drive towards change that restores openness and transparency on these platforms."
Facebook will be represented by Joel Kaplan, Kevin Martin, Greg Maurer and Katie Harbath.
Facebook said: "Facebook looks forward to hearing their concerns."
8. Favorite for Facebook's next policy chief
The departure of Facebook's policy and communications czar, Elliot Schrage, comes as the company navigates scandals over foreign election meddling and consumer data privacy, Axios' David McCabe, Ina Fried and Kim Hart write:
A Facebook spokesperson said Schrage "first raised wanting to leave long before the election — after the election Mark [Zuckerberg] and Sheryl [Sandberg] asked him to stay on, which he agreed to do" and that he has "decided it's time to start a new chapter in his life."
What we're hearing: Rachel Whetstone, a former Google and Uber executive who Facebook just promoted to lead corporate communications, is seen as a leading candidate to take over Schrage's job, or at least to gain more authority.
A source who has worked with both Whetstone and Schrage said she's "very good at seeing how a company is viewed by the outside world, and not kind of drinking company Kool-Aid."
9. N.J. begins taking legal sports bets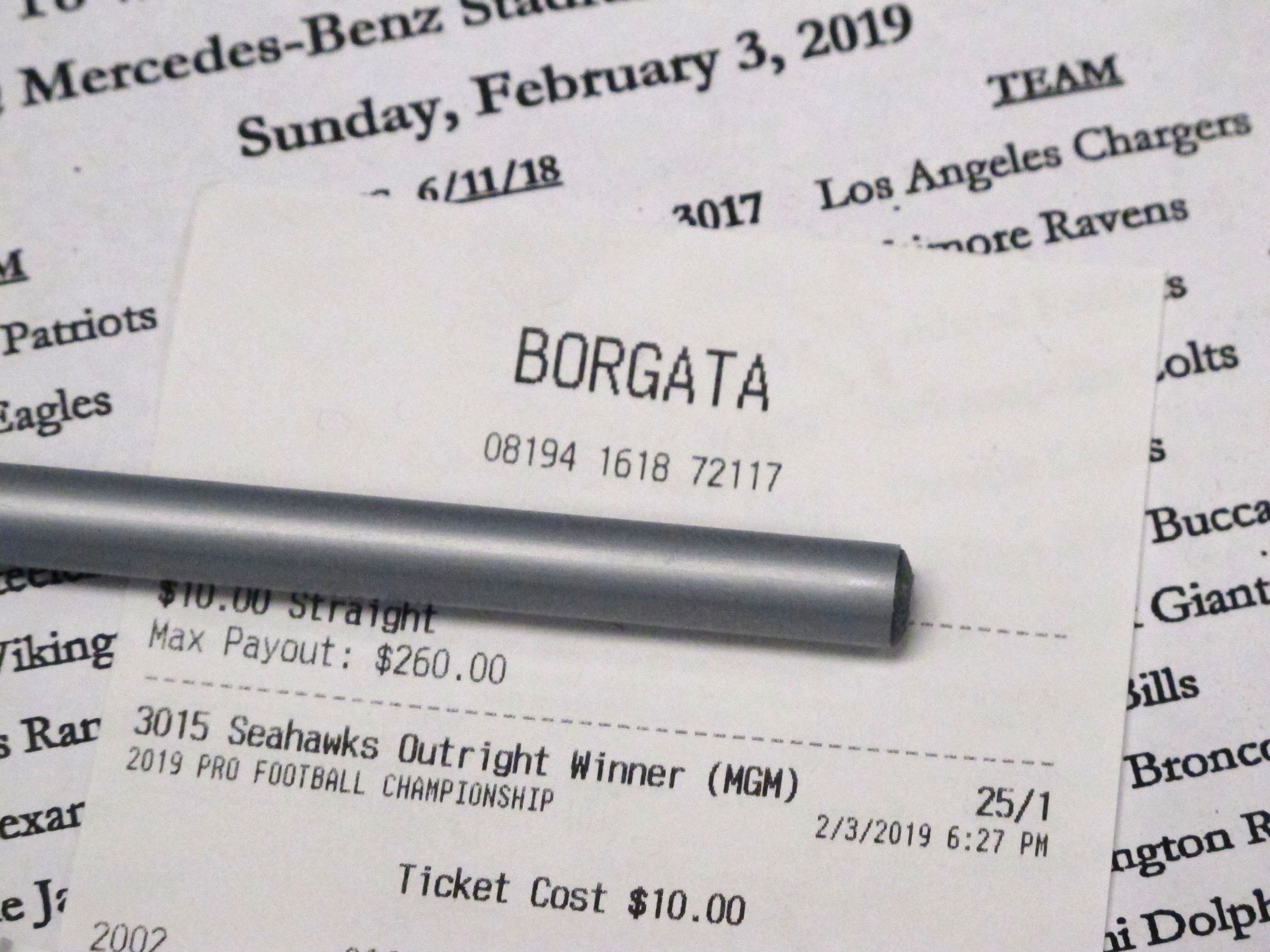 As betting on pro sports became legal in New Jersey yesterday, Gov. Phil Murphy bet that the New Jersey Devils will win the Stanley Cup, while hoops legend Julius "Dr. J" Erving bet that the Philadelphia Eagles will repeat as Super Bowl champs, AP's Wayne Parry reports:
"The action took place at Monmouth Park, a racetrack in Oceanport near the Jersey shore, and at the Borgata, Atlantic City's first casino to jump into the sports betting market since New Jersey won a Supreme Court case a month ago clearing the way for all 50 states to offer it should they choose."
"New Jersey fought for eight years against a federal law that had limited sports betting to four states — Nevada, Delaware, Montana and Oregon.
10. ⚾️ 1 Steve thing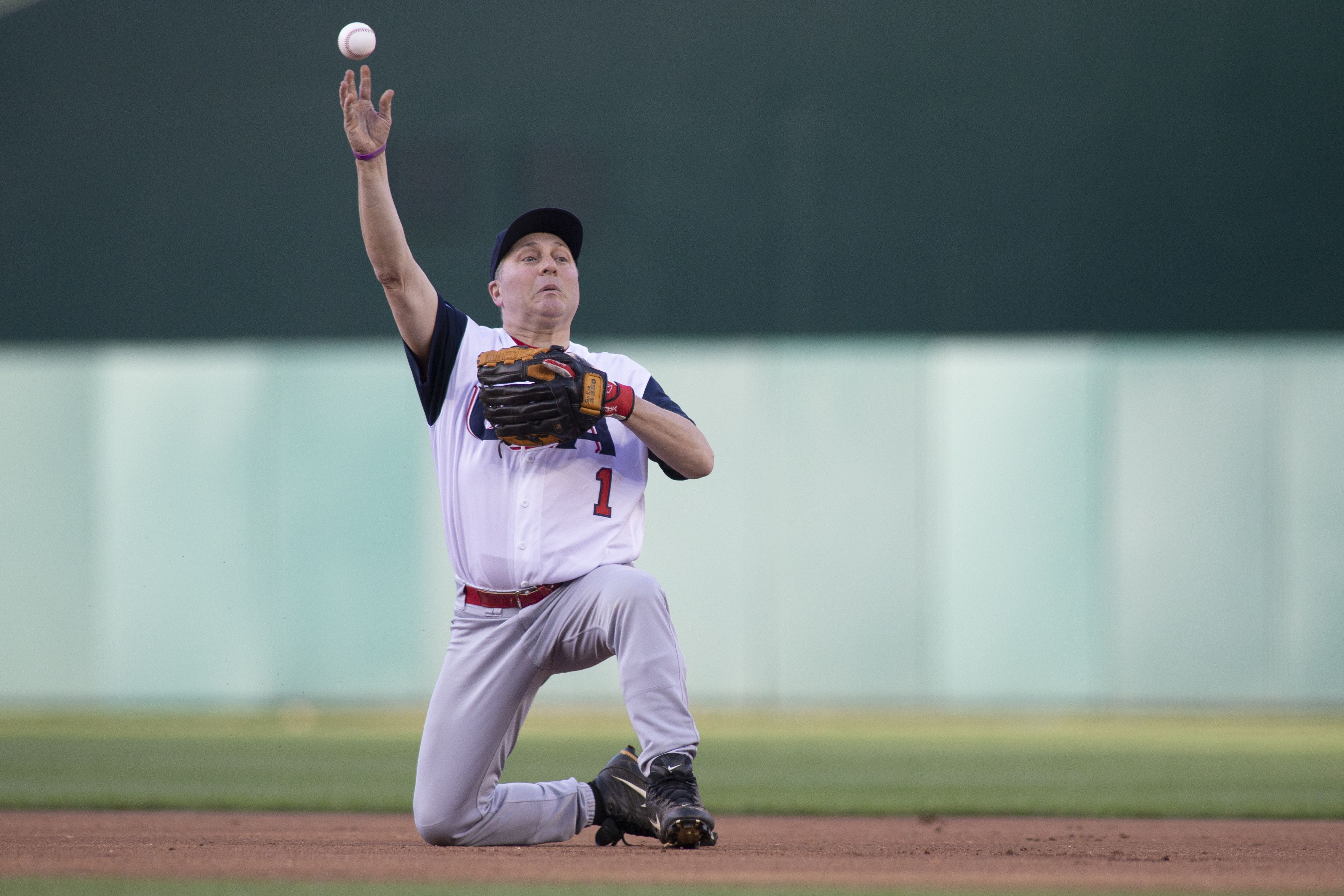 "Republicans and Democrats put aside the sectarian hostilities that have increasingly defined this town and came together on the baseball diamond [last night, a year to the day] after bullets from a would-be mass assassin shook Congress," AP's Bill Barrow reports:
House Majority Whip Steve Scalise (R-La.), who suffered life-threatening injuries at the baseball-practice shooting, got the first out at the 57th annual Congressional Baseball Game for Charity at Nats Park.
Dems bested Rs, 21-5!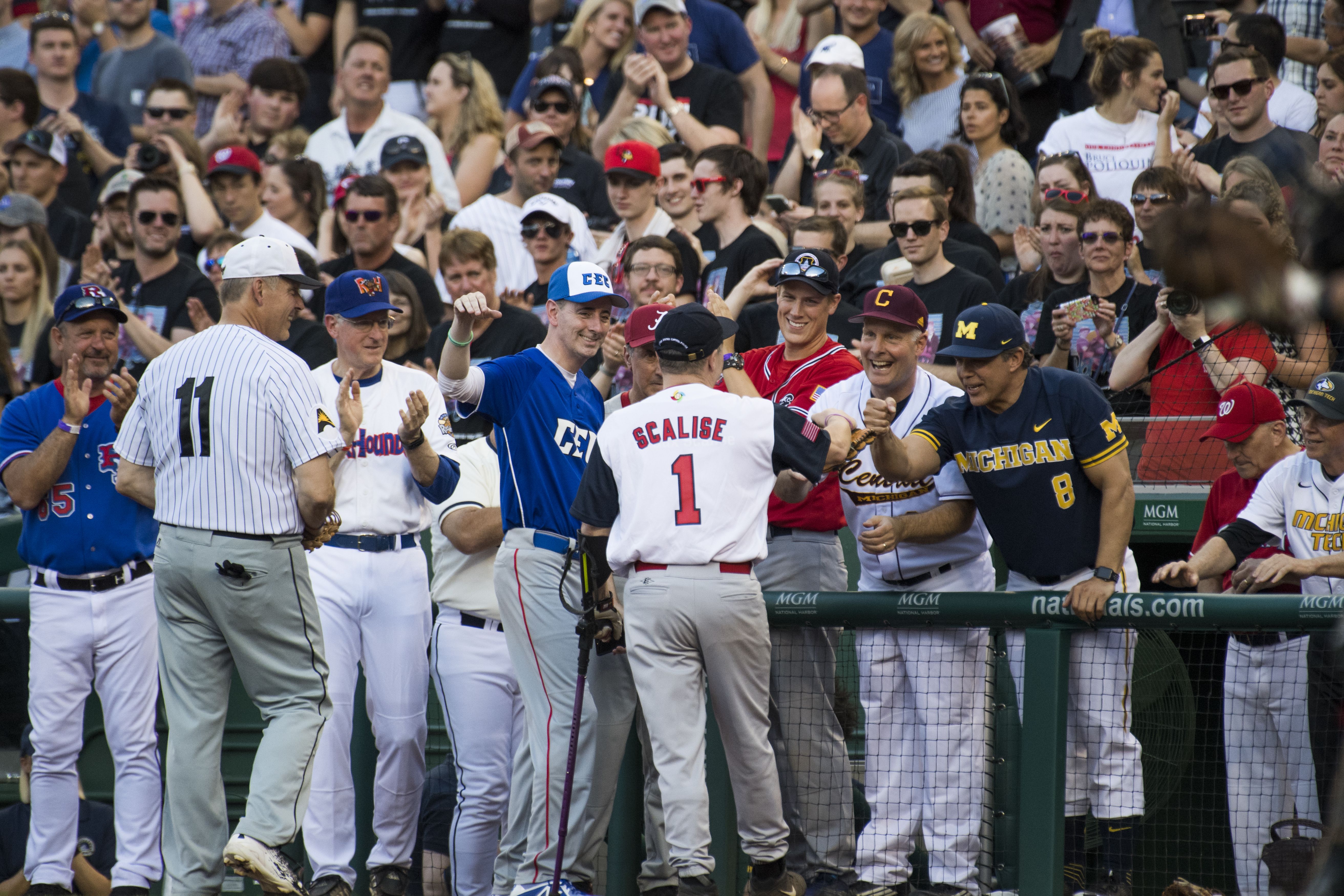 🏖 Thanks for starting your day with us. Don't miss Axios PM and our Friday "1 beach read."