Good Tuesday morning.
If you're at the Aspen Ideas Festival tomorrow, come see a first: Axios AM Live!
At 8 a.m. Wednesday at the Doerr-Hosier Center (Kaufman Room), join documentary filmmaker and journalist Perri Peltz and me for the world's best breakfast conversation. It'll be Smart Brevity — we'll have you on your way snappily.
Primaries today in Colorado, Maryland, New York, Oklahoma and Utah (Mitt Romney). Runoffs in Mississippi and South Carolina.
1 big thing: Trump's gridlock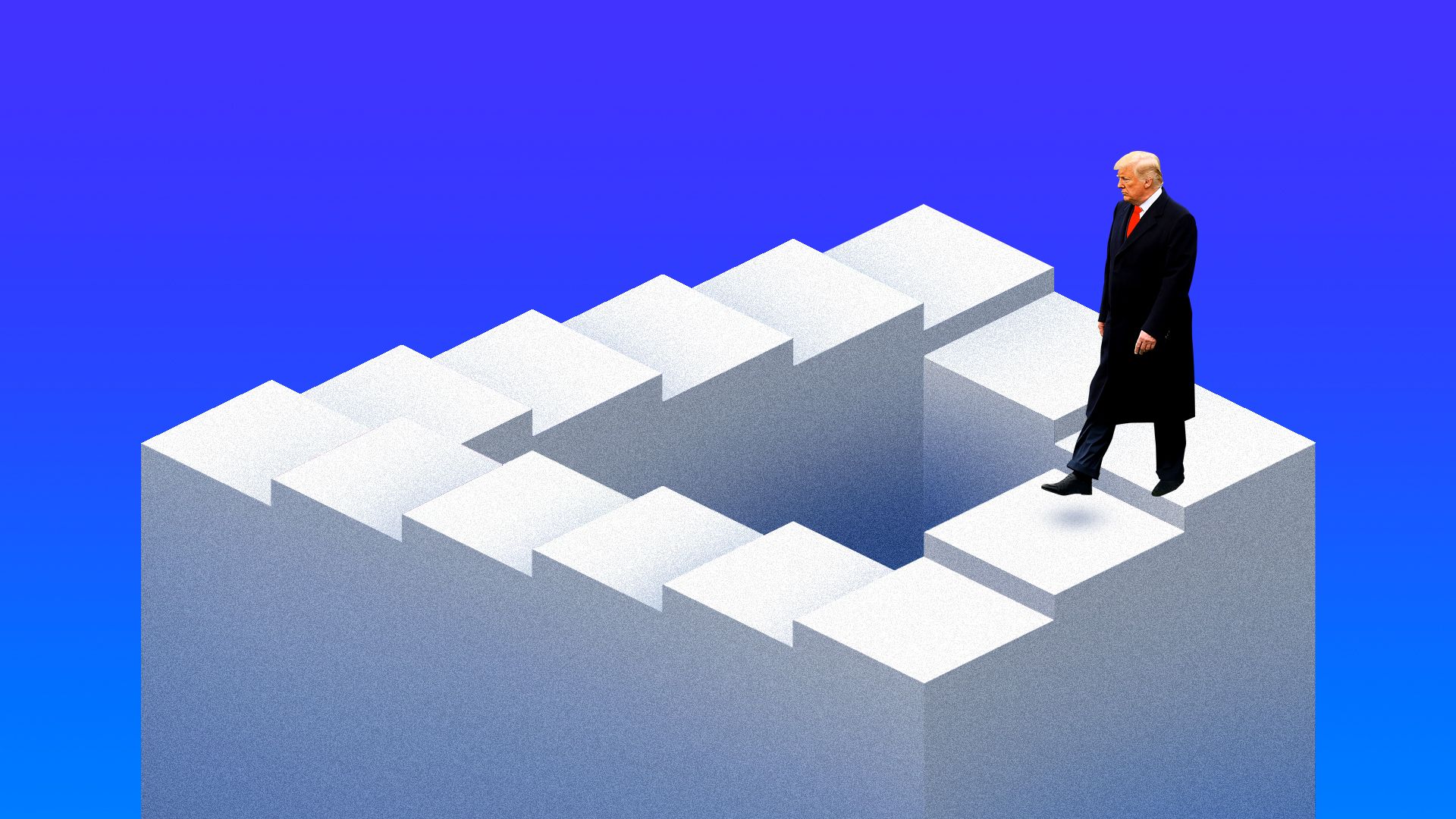 For President Trump's first term, the domestic agenda appears to be all but over, Jonathan Swan writes:
Congress has little chance of doing anything notable before the election, beyond confirming judges.
And whichever party ekes out a House win in November, the margin will likely be narrow.
When we game out 2019 scenarios with administration officials, a number of them assume Republicans will lose the House.
So Washington is gridlocked until at least January 2021 — meaning that this is it for signature legislation in Trump's first term.
The idea of Trump shifting into bipartisan mode post-election seems unimaginable. He has chosen a strategy of hot partisan warfare that looks impossible to cool. 
If Democrats win the House, it's two years of subpoenas and impeachment talk.
The biggest domestic accomplishment, tax reform, is behind him.
So Trump — frustrated with a hopelessly dysfunctional Congress and unable to understand why Senate Majority Leader Mitch McConnell (R-Ky.) doesn't get rid of the legislative filibuster — is turning away from Capitol Hill and towards unilateral actions and foreign affairs.
He has grown obsessed with executive orders, constantly hounding staff for ways to fix things like the border crisis without Congress. But there are strict limits on what any president can do alone. 
Most of his attention is going to North Korea, China, Iran, a multi-front trade war, the tense relationship with European allies and the looming presence of Russia.
Be smart: Trump wants to make his mark on world affairs — and he's doing so, unbound by history or basic rules of diplomacy. At home, it'll likely be all talk for years to come.
2. Diplomats get undiplomatic
American allies abroad, NATO allies in particular, tell Jonathan Swan privately that they're rattled by Trump — but love working with Defense Secretary Jim Mattis, and are encouraged by the early signs they're seeing from new Secretary of State Mike Pompeo.
European allies say they're jarred by the contrast between Mattis' reassuring words, and Trump's fire-and-fury Twitter feed.
They say they see an America that's still very much engaged on the ground in Europe — the military ties are as strong and deep as ever — but a president who's viewed by some of these European officials as an angry landlord demanding rent payments from his tenants.
They're worried about July's NATO summit in Brussels. A bad, divided summit, like the recent G7, would put another crack in the post-World War II international order and would empower Putin. 
All world leaders fear being Justin Trudeau'd with Trump Twitter torture.
Over the past month, Swan has spent time with more than half a dozen top officials from some of America's closest allies, and all say the same thing:
Here is a transactional president who sees the world as a set of countries that owe America money.
Some are happy to pay a little more — whether it be upping their defense budgets to meet NATO targets, or opening a more favorable trading arrangement for U.S. companies.
But they worry that nothing will be enough to satisfy Trump.
One senior European official went as far as to say the relationship between the U.S. and Europe had reached a state of "crisis."
That feels like an overstatement. But relations with Germany are especially bad:
Trump has kept beating up on Angela Merkel — not only privately over trade in automobiles and German investment in Russian energy, but publicly over her immigration policies.
That same European official said he thought U.S-European relations — inflamed by Trump's tariffs, public posturing and shredding of the Iran deal — are worse than at any point in recent memory.
Be smart: While transatlantic relationships are strained, Trump's Middle Eastern relationships — with the deliberate exception of Iran — are flourishing.
Gulf leaders and the Israelis love Trump, support his aggressive attitude towards Iran, and are relieved Barack Obama is no longer president.
Swan met yesterday with Yair Lapid — chairman of Israel's centrist Yesh Atid party — and Lapid said Trump is on his way to being the most popular American president ever in Israel.
3. Dysfunctional U.S. needs "Sputnik moment"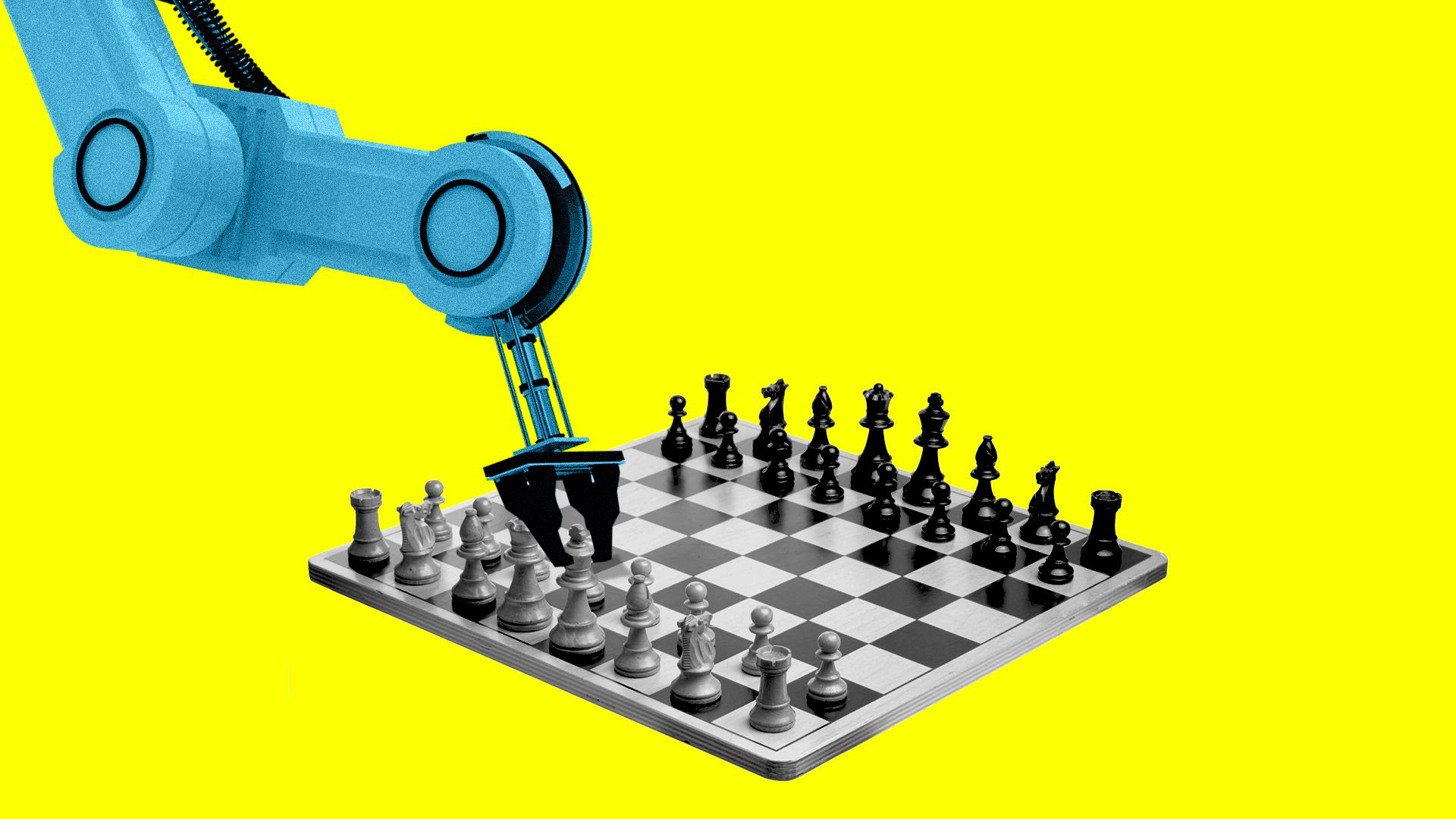 The U.S. is putting up relatively meager competition in a potent new global tech race that's reshaping global politics and could lead to war, Axios Future editor Steve LeVine writes.
What's going on: In the late 1950s, the U.S., facing a momentous challenge from the Soviets' Sputnik satellite, threw all its resources into a single-minded effort to dominate the future.
But this time, the U.S is failing to grasp the urgency, the Atlantic Council argues in a major new report, and could blow the race to lead the age of "geotechnology."
"Geotechnology today is what geopolitics were to the 19th and 20th centuries," the D.C.-based think tank says in the report, provided first to Axios.
This means that the sciences underlying geotechnology — artificial intelligence, robotics, renewable energy, biotechnology, 5G telecommunications, 3D printing, among others — will "shape the future of human civilization" and "remake the global order," the authors write.
Robert Manning, the report's lead author, tells Axios:
The U.S. is slumbering: "[O]ne underestimates U.S. resilience at one's peril. [But] given our current dysfunctional political system, trends in education, and general aura of complacency, it is difficult to see a 'Sputnik moment' of across-the-board effort taking the steps needed to reserve these trends."
That leaves Americans exposed: Absent the U.S. regaining its footing, trends suggest a China-centric future in which Beijing shapes global standards for 5G, ethics for gene editing, and norms and limits on AI.
And look for this red flag: A sign for real trouble would be if "this burgeoning trade war results in some economic separation and reduced interdependence."
Be smart: There are numerous serious competitors for parts of the tech revolution, including surprising players, like Sweden, Israel, Japan, India and South Korea. But, as Axios and numerous others have reported, China, with more resources than anyone but the U.S., has already declared an effective Sputnik moment with its Made in China 2025 and Belt and Road initiatives.
China's advantage, Manning says, is a "whole-of-nation mobilization of human, scientific and capital resources to dominate in technology by the 2030s. This suggests that, even factoring in its enormous waste, corruption and misallocation of resources, China will achieve a good portion, if not 100%, of its goals."
Go deeper: AI is the new battleground in geopolitics.
4. State of American politics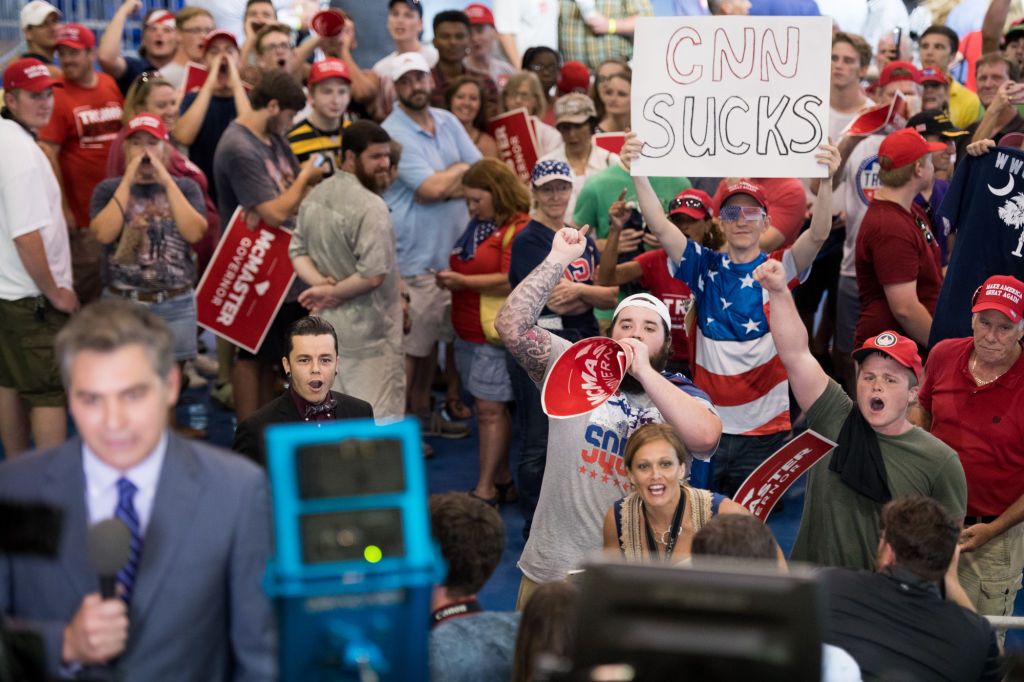 Sean Rayford/Getty Images
Trump supporters shout behind CNN's Jim Acosta before the president speaks at a campaign rally last night in West Columbia, S.C.
How it's playing ...
WashPost lead story: "Public feud over civility heightens."
N.Y. Times, top of column 5, "Political Memo: Liberals Clash Over Steering Off High Road," by JMart.
L.A. Times front page, "A call to tone down shame tactics: Nancy Pelosi and other Democrats say trying to mortify Trump administration officials may backfire."
5. Tweet du jour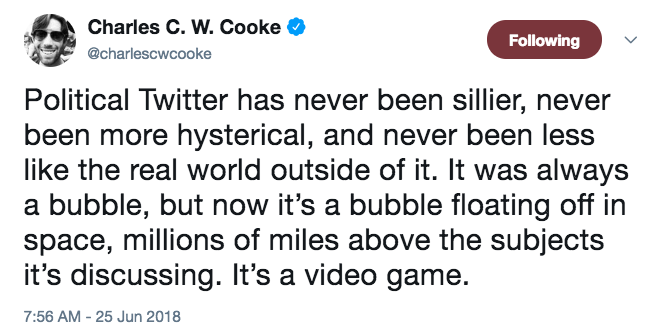 Charles Cooke, editor of National Review Online, amid the Red Hen cackling ...
6. Do you really know what your kid's doing on that device?
Gateways to the secret digital lives many of today's teens are living, per AP's Martha Irvine:
"Using video and chat functions to meet strangers on apps ranging from Musical.ly to WhatsApp and Houseparty."
"Storing risqué photos in vault apps that look like something as innocent as a calculator — and then trading those photos like baseball cards."
"Using Text Burner and other apps to harass and bully peers with anonymous messages."
"Using apps that secretly record messages on Snapchat and other apps before they disappear."
"Ordering pot and other drugs via ... social media and communication apps or encrypted websites — or buying something else online that you don't want them to have using prepaid credit cards (makeup maybe?) and having it sent to a friend's house."
"Buying or borrowing 'burner' phones to avoid parental monitoring or when phone privileges are lost."
"[G]iving their significant others or friends the password to social media accounts so they can 'manage' their accounts when their phones are taken away."
And don't forget Finstas ... fake Instagram feeds to fool parents.
Be smart: "Many parents are just plain overwhelmed — and often far too trusting."
A cybersecurity consultant: "When you give this kid, at the ripe old age of 11, this ominous device, it's like giving them the keys to their brand new Mercedes and saying, 'Sweetheart you can go to Vegas. You can drive to Texas, Florida, New York, wherever you want to go.'"
The consultant, retired police detective Rich Wistock, tells parents to offer the "Golden Ticket" — no punishment when kids come to them about mistakes they've made online or help they need with a social media problem.
7. How Tim Cook decides when to speak out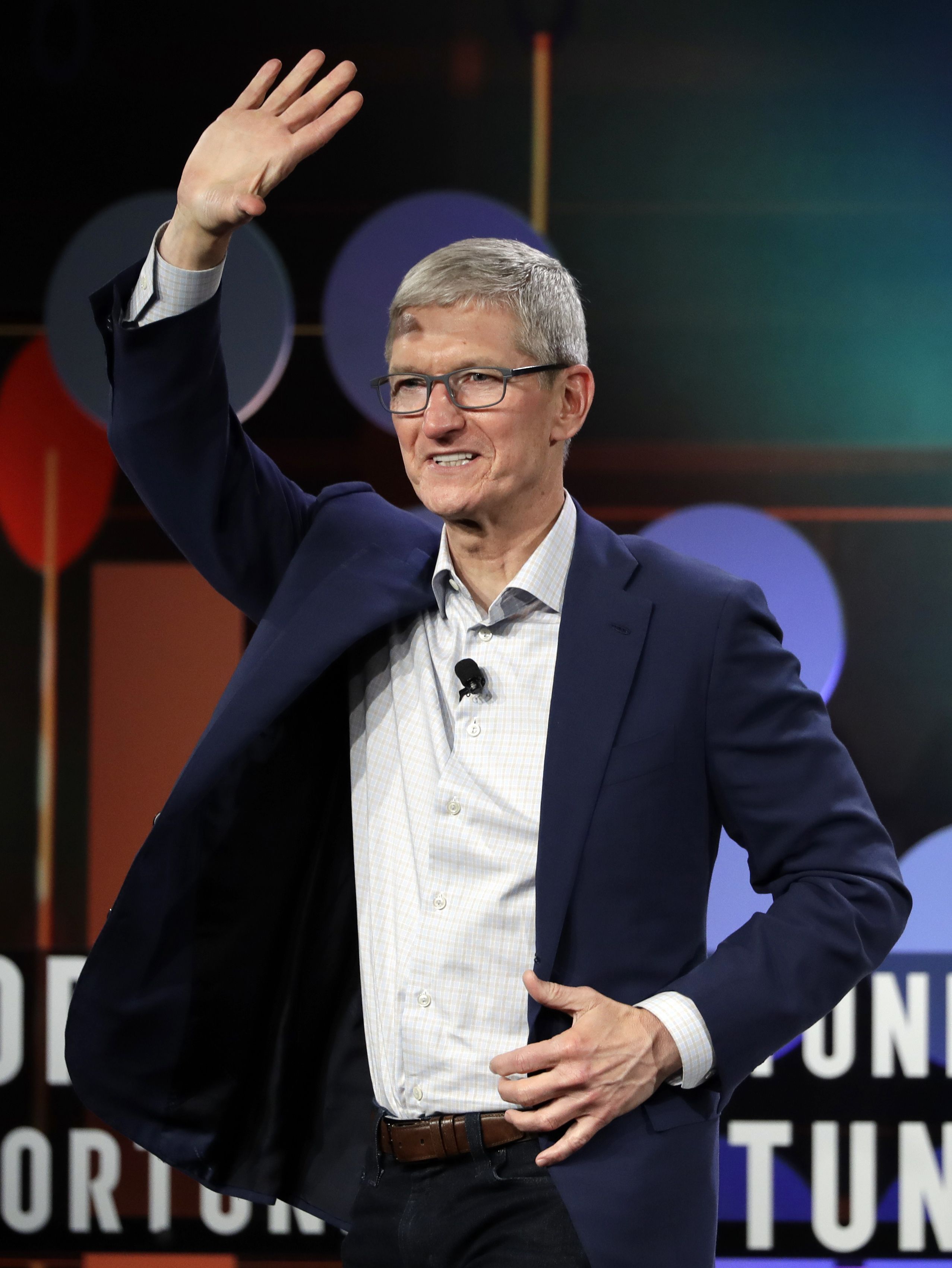 Marcio Jose Sanchez/AP
Apple CEO Tim Cook said in San Francisco last evening that the company will continue speaking out on issues that include education, privacy, human rights, immigration and the environment because the company has special expertise and "something to offer in those spaces."
Cook told the Fortune CEO Initiative: "I don't want Apple to be another talking head, right? We should only speak when we have certain knowledge to bring to the subject ... It's not enough to be a large company."
"I don't think business should only deal in commercial things. ... Business, to me, is nothing more than a collection of people. ... [B]y extension, a company should have values."
"We have a lot of immigrants that work at Apple. ... We've got over 300 folks that are here on DACA. ... I want to stand up for them. We have several thousand people that are a part of our team that are on H1-Bs, that may be in the deep green card backlog. ... Too often in the case of immigration, people quickly get to numbers. But there are real people behind this."
"For Apple, we've always been about changing the world. And it became clear to me some number of years ago that you don't do that by staying quiet on things that matter."
8. Tracking power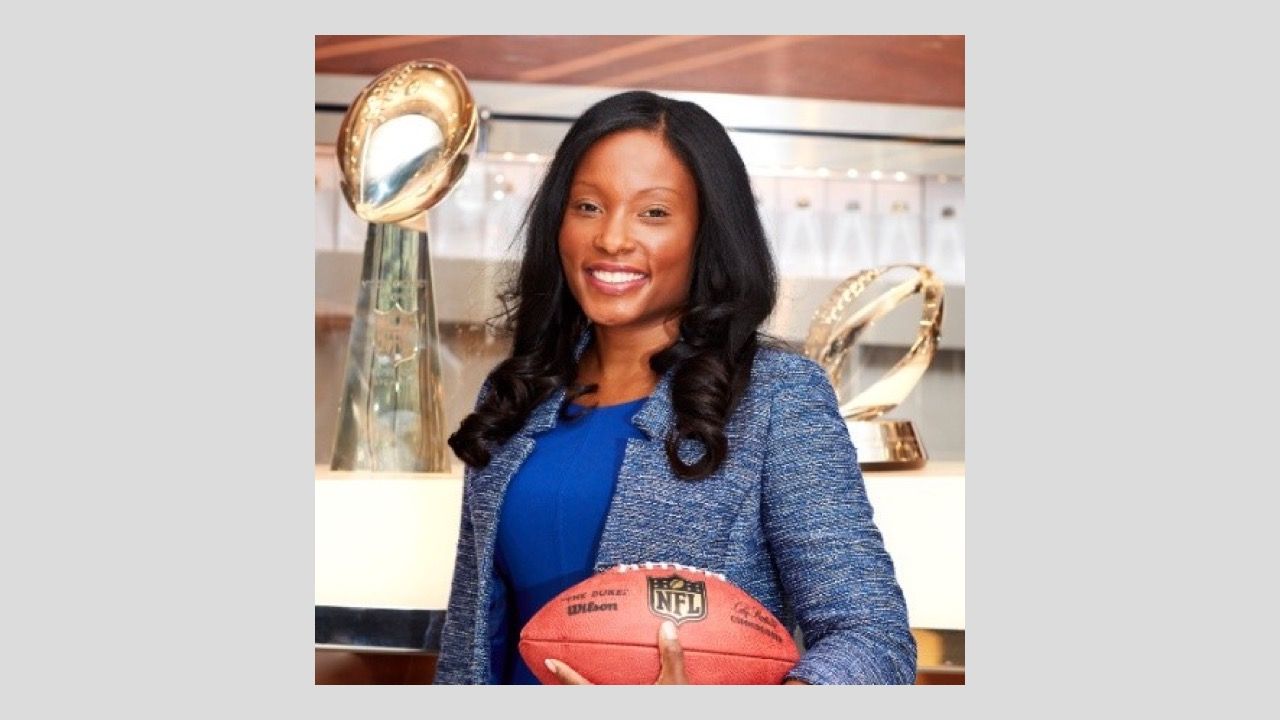 NFL
Jocelyn Moore is named the NFL's executive vice president of communications and public affairs, succeeding Joe Lockhart, per a release:
"Moore, ... the NFL's Senior Vice President of Public Policy and Government Affairs in Washington, ... will be based in the league's headquarters in New York ... [and] will oversee ... Communications, Social Responsibility, and Government Affairs."
"Prior to joining the NFL, Moore was a Managing Director in The Glover Park Group's Government Affairs Division ... Moore had a 15-year career in the United States Senate ... She is a ... graduate of the University of Florida."
P.S. "Sean Spicer, arguably the world's most famous White House press secretary, is developing a talk show with the tentative title of 'Sean Spicer's Common Ground,' in which [he] interviews notable people in an informal setting," per the N.Y. Times' Michael Grynbaum and Maggie Haberman.
"No network is attached to the project, but the pilot episode, to be filmed in July, is backed by ... Debmar-Mercury, the syndicator of daytime series including 'The Wendy Williams Show.'"
9. Majority see U.S. democracy as "weak and getting weaker"
First look: The Democracy Project ... Results of a national survey jointly commissioned by the George W. Bush Institute and the Penn Biden Center for Diplomacy and Global Engagement, working together with Freedom House.
Takeaways: Americans across the ideological divide are deeply concerned about the trajectory of our democracy and think it is weak and getting weaker. There is deep bipartisan concern over the influence of big money on our politics. And Americans may be more favorably disposed to the promotion of human rights and democracy abroad than we supposed going in.
10. 1 pup thing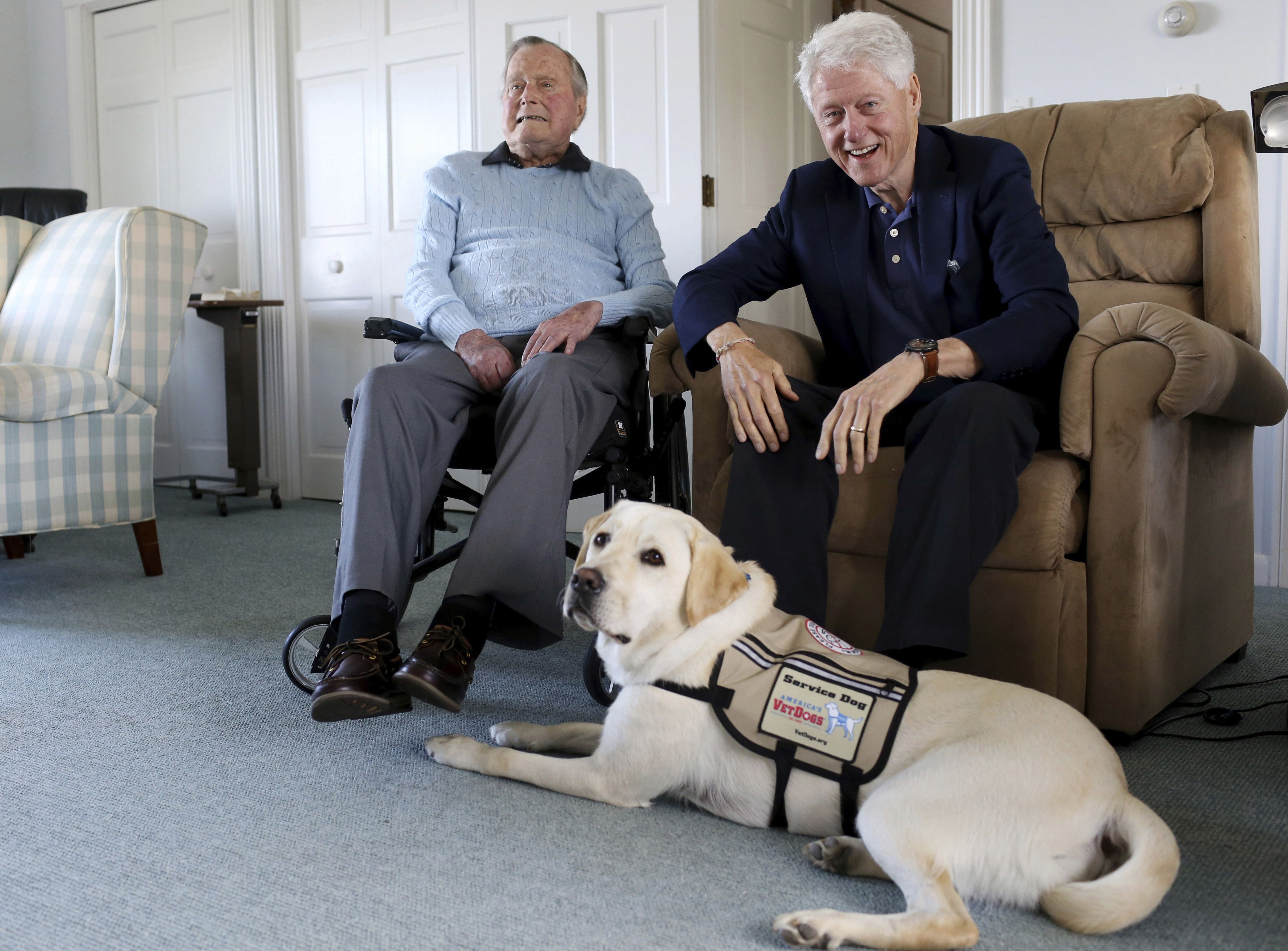 Evan F. Sisley/Office of George Bush via AP
In Kennebunkport, Maine, former President George H.W. Bush is welcoming Sully, a yellow Labrador retriever who'll be his first service dog, AP reports:
"The 94-year-old and his new companion ... got acquainted [yesterday] at the Bush family compound on the coast of Maine."
"A photo [on] Twitter shows Sully lounging at the feet of Bush and former President Bill Clinton, who had been visiting."
Sully — trained by America's VetDogs, a nonprofit that provides service dogs — can open doors, pick up items and summon help.
"The nation's 41st president uses a wheelchair and an electric scooter."
Thanks for reading. See you all day — and tonight for primaries — on Axios.com.