https://www.axios.com/newsletters/axios-am-e8a3b7c9-bfff-4b9f-8fe0-ef570757e1f2.html?chunk=0#story0
1 big thing: Trump's secrets
President Trump has begun reaching out to veterans of earlier White Houses for advice, as he seeks to bring more order and stability to a chaotic internal power structure that relies on competing and sometimes conflicting centers of gravity.
"I just wish he'd done it before he took office," said a West Wing insider.
The conversations suggest West Wing changes could be in the offing, according to people close to the White House. One source said there's clearly "some fluidity" as Trump begins Day 20 as president. Other sources, directly involved, tell us there was lots of jockeying and conversations among senior West Wing players over the weekend, as top officials sought to further define their still-murky lanes.
"We've added a little due process," said a top official. "The question still is: Can we herd all the cats?"
The dilemma: The president likes having chief strategist Steve Bannon as a disrupter and presidential whisperer who is "Trump's beating heart, tied to the base" -- the dynamic, angry forces who won the election. The challenge for White House Chief of Staff Reince Priebus is building a system that lets Bannon be Bannon, while fostering internal and external communication, consultation and coordination.
What Trump is thinking: People who talk to the president say he has been alternately frustrated and defensive when discussing the rollout of his executive order restricting migrant travel. Friends explain that Trump likes to be liked: He's a lifelong schmoozer and dealmaker who, despite the sharp elements of his message, doesn't like being portrayed in the harsh light that the travel restrictions have triggered.
Trump after dark: The calls to White House alumni show that the president is continuing his pattern of consulting widely by telephone, despite being suddenly encased in the ultimate closed system. According to associates, Trump still has his old number that he used to work with the avidity of a telemarketer.
The secret system: Friends and Trump are co-conspirators in a cheeky new practice that keeps him tied to his longtime outside network. Here's how participants say it works: You call and leave a voicemail on the old phone -- or at night, perhaps Trump sees the number pop up on caller ID. If POTUS wants to talk, he calls back from his new, Secret-Service-approved secure phone -- savoring his small triumph over a bureaucratic and security apparatus designed to rein in this lifelong kibitzer.
https://www.axios.com/newsletters/axios-am-e8a3b7c9-bfff-4b9f-8fe0-ef570757e1f2.html?chunk=1#story1
2. James Baker at White House today
Republican elder statesmen call for a tax on carbon emissions to fight climate change, per N.Y. Times' John Schwartz: "The group [is] led by former Secretary of State James A. Baker III, with former Secretary of State George P. Shultz and Henry M. Paulson Jr., a former secretary of the Treasury."
"Baker is scheduled to meet [today] with White House officials, including Vice President Mike Pence, Jared Kushner ... and Gary D. Cohn, director of the National Economic Council."
Why this matters: "[I]t puts influential members of the Republican establishment on the record as favoring action on climate change — a position that is publicly held by few Republicans at the national level, though many quietly say they would like to throw off the orthodoxy in the party that opposes action."
Op-ed by George Shultz and James Baker in Wall Street Journal, "A Conservative Answer to Climate Change: Enacting a carbon tax would free up private firms to find the most efficient ways to cut emissions": "Controlling the White House and Congress means that Republicans bear the responsibility of exercising wise leadership on the defining challenges of our era."
https://www.axios.com/newsletters/axios-am-e8a3b7c9-bfff-4b9f-8fe0-ef570757e1f2.html?chunk=2#story2
3. Knows his audience
This is delicious ... When Japanese Prime Minister Shinzo Abe meets with Trump at the White House on Friday, he plans to hand over a "tweetable" figure about planned Japanese investments in the U.S., the Financial Times reports from Toyko:
"Japan's government is pushing companies and investors to hand over details of their U.S. investment plans" so Abe can give Trump an impressive number for Twitter.
Abe is leaning on public investment institutions "to pledge tens of billions of dollars to U.S. infrastructure projects such as high-speed rail."
Abe's message is designed "to counter the president's criticism about trade," and "head off tensions about ... the cost of maintaining U.S. forces in Japan."
Abe is expected to play golf with Trump on Saturday at Mar-a-Lago.
https://www.axios.com/newsletters/axios-am-e8a3b7c9-bfff-4b9f-8fe0-ef570757e1f2.html?chunk=3#story3
4. Extreme skepticism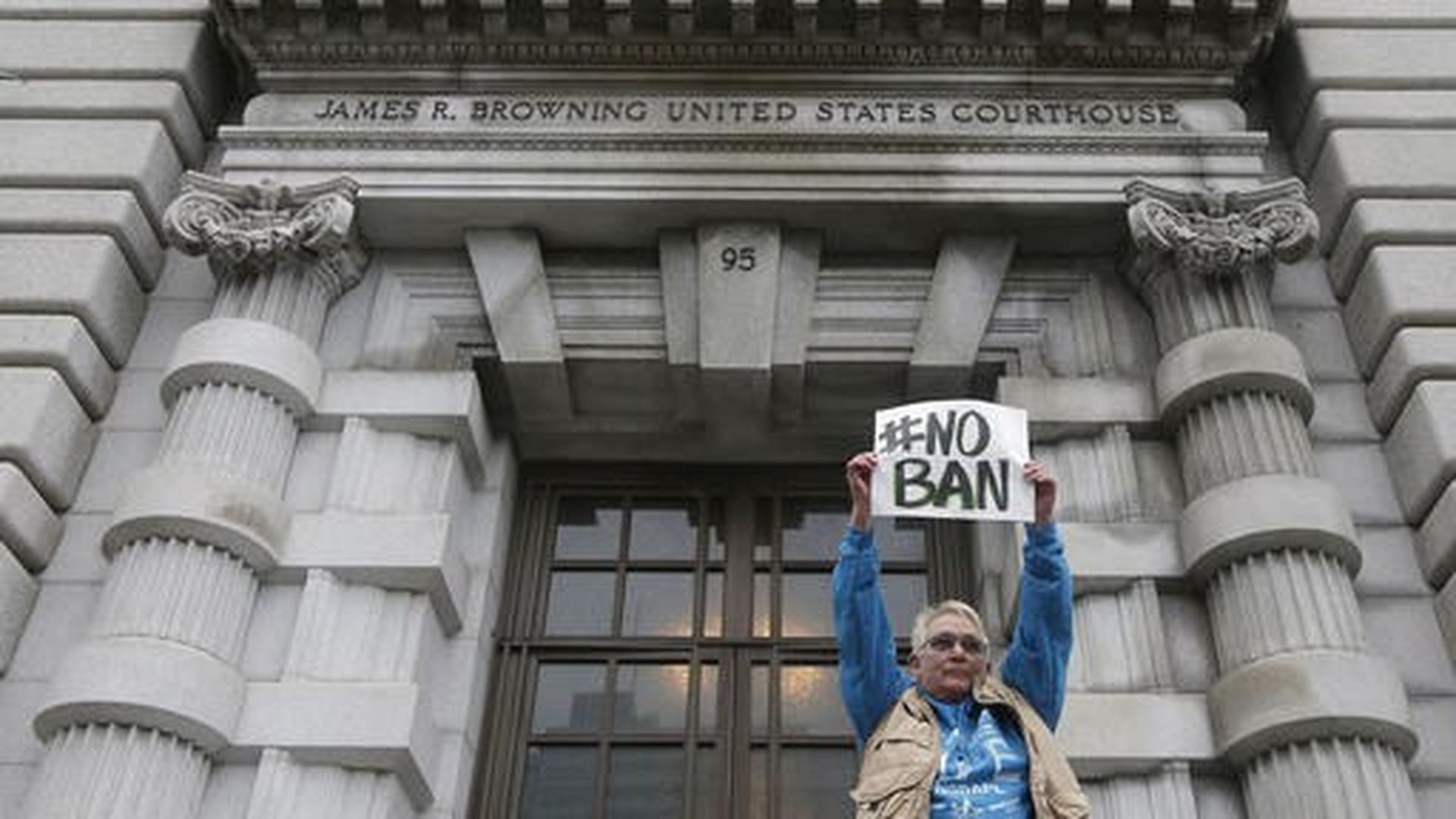 "Appeals Court Panel Appears Skeptical of Trump's Travel Ban," says the online headline of a dispatch by Adam Liptak, the N.Y. Times' Supreme Court reporter.
Liptak writes that the three judge panel of the 9th Circuit Court of Appeals, during oral arguments yesterday over the stay of Trump's migrant travel restrictions, "sometimes seemed taken aback by the assertiveness of the administration's position, which in places came close to saying the court was without power to make judgments about Mr. Trump's actions."
Top quote: August E. Flentje, the Justice Department's lawyer: "I'm not sure I'm convincing the court."
What's next: A decision is expected within days.
"A 4-to-4 tie in the Supreme Court would leave the appeals court's ruling in place."
The spectacle, per L.A. Times: The arguments "had a massive public audience ... [A]udio ... was broadcast live both on the Internet and on cable television. More than 135,000 people tuned in on the court's official YouTube live stream ... CNN and MSNBC also took the unusual step of broadcasting live audio of the hourlong hearing, as did many news websites."
https://www.axios.com/newsletters/axios-am-e8a3b7c9-bfff-4b9f-8fe0-ef570757e1f2.html?chunk=4#story4
5. If you read only 1 thing
David Brooks column, "The Fallows Question: Where is history being made right now?": "Today, I'd say the most pivotal spot on earth is Washington, D.C.
"The crucial questions will be settled there: Can Donald Trump be induced to govern in some rational manner or will he blow up the world? Does he represent a populist tide that will only grow or is some other set of ideas building for his overthrow? Are the leading institutions — everything from the Civil Service to the news media to the political parties — resilient enough to correct for the Trumpian chaos? Washington will either preserve the world order or destroy it."
https://www.axios.com/newsletters/axios-am-e8a3b7c9-bfff-4b9f-8fe0-ef570757e1f2.html?chunk=5#story5
6. CNN-Trump detente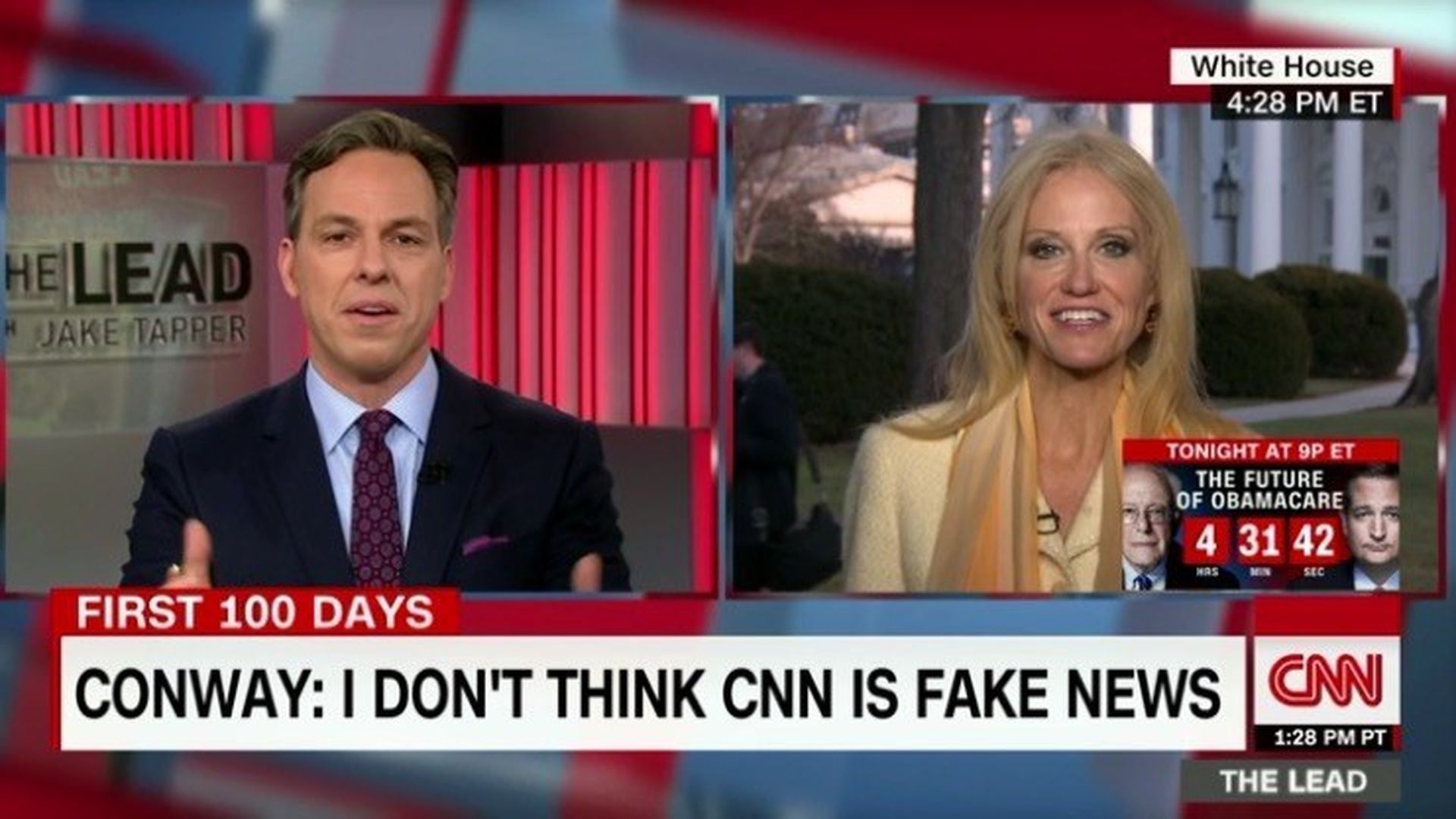 Epic interview between CNN's Jack Tapper on his 4 p.m. show "The Lead," and Kellyanne Conway, from the White House lawn: "We have a very high respect for the truth. ... We have a high regard for the facts. But I want you to see some of the other facts ... No, I don't think CNN is fake news. I think there are SOME reports everywhere ... that are not well-researched and are sometimes based on falsehoods."
"Conway said she was 'trying to reach out' to the media and 'put out the olive branch.' At one point, Conway seemed to argue that the President offering blatant falsehoods as truth should matter less than his perceived accomplishments. 'Are they (falsehoods) more important than the many things that he says that are true that are making a difference in people's lives?'"
https://www.axios.com/newsletters/axios-am-e8a3b7c9-bfff-4b9f-8fe0-ef570757e1f2.html?chunk=6#story6
7. Tops in tech: The app for paranoid Republicans
Confide — an encrypted messaging app that deletes chats after they're read — is fast becoming a tool of choice for Republicans in Washington, per Axios' Jonathan Swan and David McCabe:
Numerous senior GOP operatives and several members of the Trump administration have downloaded the app, spurred by the airing of hacked Democratic e-mails.
By default the app deletes messages after they are read.
https://www.axios.com/newsletters/axios-am-e8a3b7c9-bfff-4b9f-8fe0-ef570757e1f2.html?chunk=7#story7
8. Media trends: Colbert rising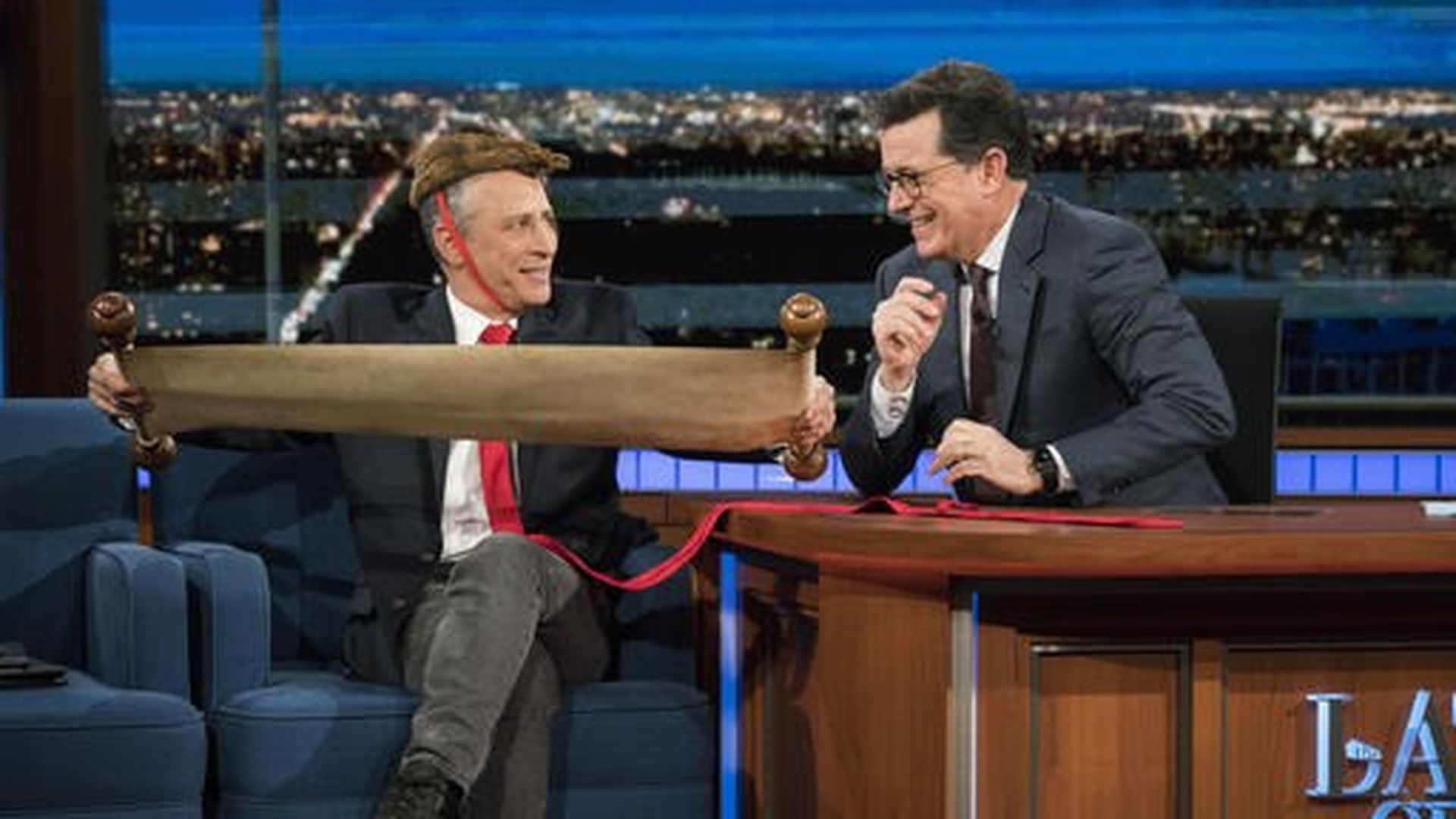 Stephen Colbert's "Late Show" on CBS beat NBC's Jimmy Fallon in Nielsens last week for the first time since Colbert replaced David Letterman in 2015, per AP's David Bauder:
"The margin was ... small — 2.77 million average for CBS, 2.76 million for NBC ... But it reflects a turnaround ... since former 'CBS This Morning' executive Chris Licht was put in charge ... and steered the show toward more topical content."
Colbert's monologue from last Monday -- his first night back from a week's vacation, and his first show of the Trump administration -- recorded 4 million views on YouTube.
"Saturday Night Live" is booming, with its most-watched season in 22 years.
https://www.axios.com/newsletters/axios-am-e8a3b7c9-bfff-4b9f-8fe0-ef570757e1f2.html?chunk=8#story8
9. Trending in business
Wall Street Journal front-pager, "Big Firms Cut Back Property Holdings": "Some prominent real-estate investors are reducing their holdings and getting more selective about new deals, in a sign that the eight-year bull market for U.S. commercial property is coming to a close."
https://www.axios.com/newsletters/axios-am-e8a3b7c9-bfff-4b9f-8fe0-ef570757e1f2.html?chunk=9#story9
10. 1 fun thing
New Yorker profile ... "Journeyman: Anthony Bourdain's moveable feast -- Guided by a lusty appetite for indigenous culture and cuisine, the swaggering chef has become a travelling statesman," by Patrick Radden Keefe: "The secret ingredient of the [CNN] show is the when-in-Rome avidity with which Bourdain partakes of indigenous custom and cuisine, whether he is pounding vodka before plunging into a frozen river outside St. Petersburg or spearing a fatted swine as the guest of honor at a jungle longhouse in Borneo."
"Like a great white shark, Bourdain tends to be photographed with his jaws wide open, on the verge of sinking his teeth into some tremulous delicacy. In Bourdain's recollection, his original pitch for the series was, roughly, 'I travel around the world, eat a lot of [stuff], and basically do whatever the [heck] I want.' The formula has proved improbably successful."