December 20, 2018
⚡ Good Thursday morning.
Breaking: "The Trump administration unveiled a plan [today] to force hundreds of thousands more Americans to hold jobs if they want to keep receiving food stamps, pursuing through executive powers what it could not achieve in Congress," the WashPost reports.
"The country's food assistance program ... already requires most adults without dependents to work if they collect food stamps for more than three months in a three-year period. But USDA regulations allow states to waive the requirement."
"The USDA is now proposing that states could waive the requirement only in areas where unemployment is above 7 percent." The current national rate: 3.7%.
1 big thing: Trump's lame-duck debacle
President Trump has botched the six weeks since the midterms, repeatedly making unforced errors that have produced weaker markets and political standing as he heads into next year's divided government and his re-election race:
Yesterday became "Dump on Trump" day for the president's usual allies, as Republican officials condemned his seemingly impulsive decision to withdraw 2,000 U.S. troops from Syria. Sen. Marco Rubio (R-Fla.) quoted a tweet from the Russian embassy in Washington that praised the decision, and added: "I found someone who is supportive of the decision to retreat from

#

Syria."
Inviting "Mission accomplished" comparisons, Trump declared: "We have defeated ISIS in Syria." Sen. Lindsey Graham (R-S.C.) called the withdrawal "an Obama-like mistake" that "would be a big win for ISIS, Iran, Bashar al Assad of Syria, and Russia. I fear it will lead to devastating consequences for our nation, the region, and throughout the world."
Trump got rolled on funding for the border wall, with conservative commentators roasting his cave from a shutdown threat with no assurance or even indication that full funding was in the offing. "WALL STALL ... TRUMP IN RETREAT," bannered Matt Drudge, who is usually supportive. And later: "PELOSI HOLIDAY CHEER ... DANCING AT BAR AFTER WALL WIN!"
Democratic leaders couldn't believe their good fortune when Speaker-designate Nancy Pelosi came to the White House intent on branding the funding fight "the Trump shutdown" and he did it for her, saying in front of cameras: "I am proud to shut down the government for border security. ... I will take the mantle. ... I'm not going to blame you for it."
Since Trump's rejection in the midterm election, the Dow Jones industrial average — with traders rallied over tariffs, tech and spreading pessimism — has lost 2,300 points, or 9%, with several slides following Trump comments. Stocks are on track for their worst December since 1931, during the Great Depression.
Trump's public auditioning of potential chiefs of staff made it look like he couldn't attract talent — then he hastily announced Mick Mulvaney as "acting" chief because, according to insiders, he was freaked out by news coverage suggesting the search was a debacle.
Be smart: All of this has happened before Democrats take over the House and get subpoena power. 
2. The year Zuckerberg's Facebook fix failed
Facebook is closing out 2018 the way it started — under attack for betraying users' trust and oversharing their personal information, Axios tech editor Scott Rosenberg writes from San Francisco.
The latest: a jaw-dropping New York Times report on how promiscuously Facebook shared user data with many partner companies.
That's not how it was supposed to go.
2018 was going to be the year Mark Zuckerberg finally fixed Facebook. In January, he posted his resolution for the year: "Facebook has a lot of work to do. ... My personal challenge for 2018 is to focus on fixing these important issues."
Instead, it became the year Facebook's founder and CEO began admitting that some of Facebook's problems couldn't be fixed.
Why it matters: With more than 2 billion users — and countless more on other platforms it owns, like Instagram and WhatsApp — Facebook is the biggest and most successful social network ever.
If it stays broken, so will the world.
By May, Zuckerberg was estimating the fix would take three years, and toward the end of the year, Zuckerberg began saying that Facebook's problems could only be managed, not solved.
"These are hard problems," he told reporters on one of a long series of conference calls aimed at cleaning up a P.R. mess. 'There's no perfect solutions here and these really aren't problems that you ever fully fix."
As 2018 began, Facebook was already under fire over a long list of security breaches and privacy lapses, foreign-sponsored misinformation campaigns in the 2016 election, and a suspicion among a growing throng of users that the addictive service was wasting their time.
In March, Facebook admitted that Cambridge Analytica — a consulting firm in the U.K. tied to the Trump campaign — had obtained access to scads of users' data without their consent.
The scandal mashed together Facebook's biggest trouble spots — misuse of users' personal data and election manipulation.
Appearances before Congress by Zuckerberg and Sheryl Sandberg failed to derail increasingly serious talk of new national privacy regulations in the U.S., following the introduction of a strict policy in the EU.
Since its earliest days — when the initial rollout of the News Feed in 2006 distressed many Facebook users — the company's crisis drill has been the same:
Apologize.
Fix things.
Move forward.
This year, though, Facebook kept getting stuck at "apologize," with the next disaster blowing up before the previous one had time to subside.
To the engineers who run Facebook, this is known as a "cascading failure."
What's next: When Uber faced a crisis pileup in 2017, the company responded by switching CEOs. That's almost certainly not going to happen at Facebook, where Zuckerberg still owns a controlling share of the company's voting stock.
Instead, Facebook is likely to accelerate new experiments in governance as it recognizes that algorithms can't always solve human problems.
In November, Zuckerberg announced a plan for a kind of Facebook "Supreme Court" to deal with complex content moderation choices.
3. We're getting fatter
Americans aren't getting taller, but they are gaining more weight, according to new CDC data.
Since 1999, the average weight of men has increased from 189 pounds to 198 pounds.
The average weight of women has gone up from 164 pounds to 171 pounds.
The bottom line, from Axios' Bob Herman: Obesity is more complicated than eating habits or exercise. But research has shown that gaining weight over time makes people more susceptible to other health risks like diabetes or heart disease.
4. Pic du jour
House Speaker Paul Ryan delivers his farewell address in the Great Hall at the Library of Congress on Capitol Hill yesterday:
Being against someone has more currency than being for anything. ... All of this gets amplified by technology, with an incentive structure that preys on people's fears, and algorithms that play on anger. Outrage is a brand. ...
[T]he drivers of our broken politics are more obvious than the solutions. This is a challenge I hope to spend more time wrestling with in my next chapter. ... [O]ur problems are solvable if our politics will allow it.
5. Putin warns of growing threat of nuclear war
"Russian President Vladimir Putin issued a chilling warning [today] about the rising threat of a nuclear war, saying 'it could lead to the destruction of civilization as a whole and maybe even our planet,'" AP reports.
Speaking at his annual news conference in Moscow, Putin warned that "there is a trend of lowering the threshold" of using nuclear weapons, adding that "lowering the threshold could lead to a global nuclear catastrophe."
"Putin pointed at the U.S. intention to withdraw from the 1987 Intermediate-Range Nuclear Forces (INF) Treaty."
"He said that if the U.S. puts intermediate-range missiles in Europe, Russia will be forced to take countermeasures."
6. Trump's pick for attorney general bashed Mueller
"William Barr, President Trump's choice for attorney general, sent an unsolicited memo earlier this year to the Justice Department that excoriated special counsel Robert Mueller's inquiry into potential obstruction of justice," The Wall Street's Journal's Sadie Gurman and Aruna Viswanatha report (subscription):
The 20-page document, "dated June 8 and sent to Deputy Attorney General Rod Rosenstein, argues that ... the president was acting well within his executive-branch authority" in his handling of then-FBI Director James Comey.
Barr described Mueller's approach as "grossly irresponsible" with "potentially disastrous implications" for the executive branch: "Mueller should not be permitted to demand that the President submit to interrogation about alleged obstruction."
"As I understand it, [Mueller's] theory is premised on a novel and legally insupportable reading of the law," Barr wrote. "Moreover, in my view, if credited by the Justice Department, it would have grave consequences far beyond the immediate confines of this case and would do lasting damage to the Presidency and to the administration of law within the Executive branch."
Why it matters: "Barr's reasoning is likely to be closely scrutinized in confirmation hearings before the Senate, where Democrats and some Republicans have already promised to press him on how he would handle the Russia investigation, as well as on his expansive views of executive power."
7. "What woman in her right mind would want to work there?"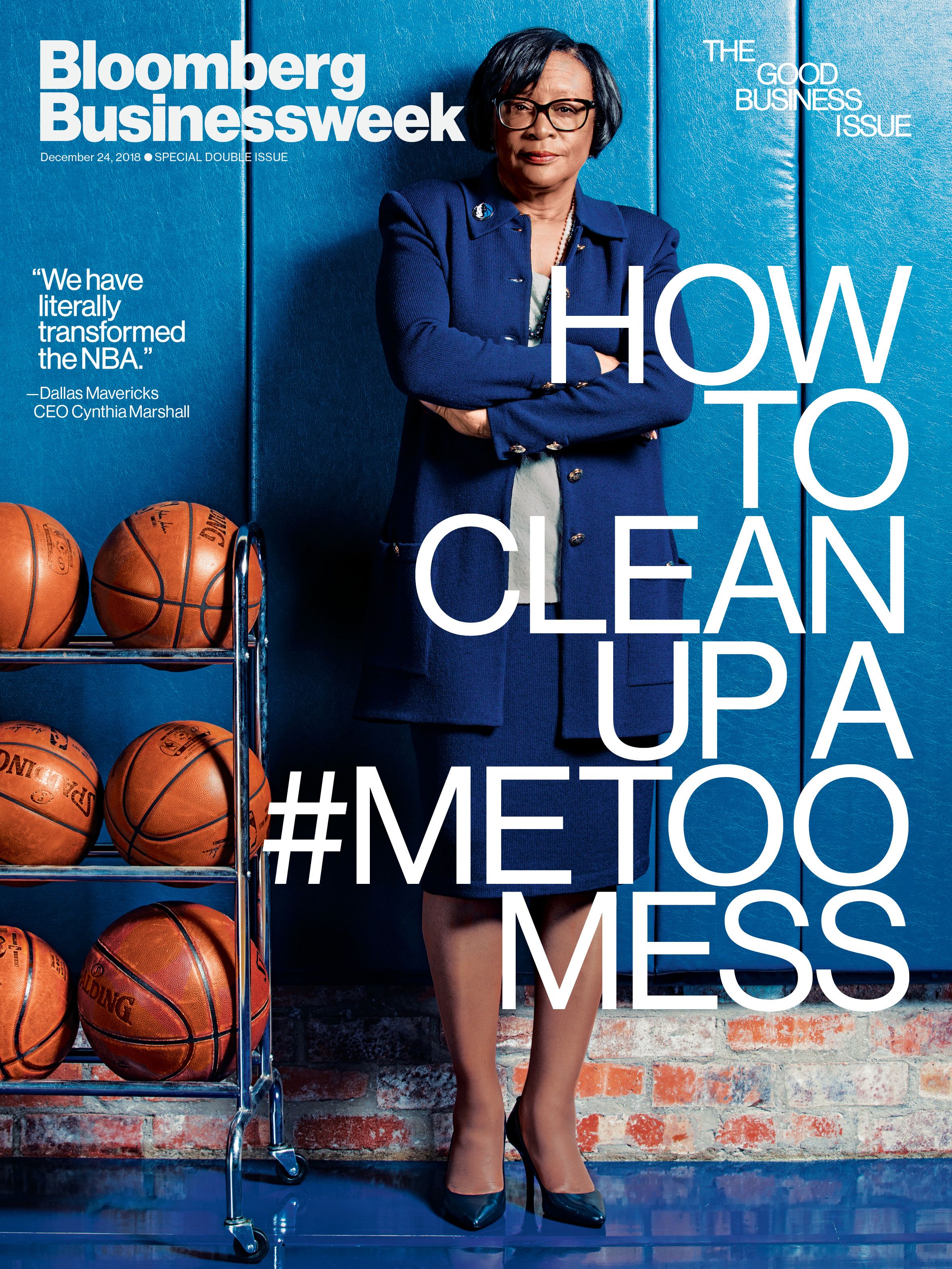 "Cynthia Marshall, the new CEO of Mark Cuban's Dallas Mavericks, is fixing the team's front office culture. The rest of the NBA is next," Mary Pilon writes for Bloomberg Businessweek:
In September, a report, compiled by investigators hired by the Mavericks, "had prompted owner Mark Cuban to announce that he would donate $10 million to groups dedicated to stopping domestic violence and developing women leaders in the sports industry."
"The media's response was mixed. Some saw it as a staggering sum given that the NBA caps fines against owners at $2.5 million. Others saw it as a small price to pay for the damage that had been done to the team's reputation."
"The report was the latest development in a saga that had been unfolding since February, when a story in Sports Illustrated revealed the 'corrosive' environment at the Mavs under former CEO Terdema Ussery."
Marshall, formerly head of human resources and chief diversity officer at AT&T Inc., recalled: "I read that article [in SI], and I thought, 'What woman in her right mind would want to work there?'" She drafted a 100-day turnaround plan:
"It consisted of four parts: modeling zero tolerance, creating a playbook for women in the organization, transforming the culture, and improving operational effectiveness."
"[S]he arranged for counselors to help the staff cope with what had happened — both the toxic culture and the public cloud surrounding it."
"She started a hotline for employees to submit anonymous reports of improper office conduct."
8. Rogue drones cripple airport
Tens of thousands of passengers were stuck at Gatwick in London as the airport's runway remained closed into a second day after drones were spotted over the airfield, per BBC:
"Gatwick's runway remains closed after two of the devices were seen nearby."
"Police were still hunting for the drone operator."
"Flights are unable to take off or land and Gatwick said 110,000 passengers on 760 flights were due to use the airport" today.
9. Michelle Obama knew she could change the life of a designer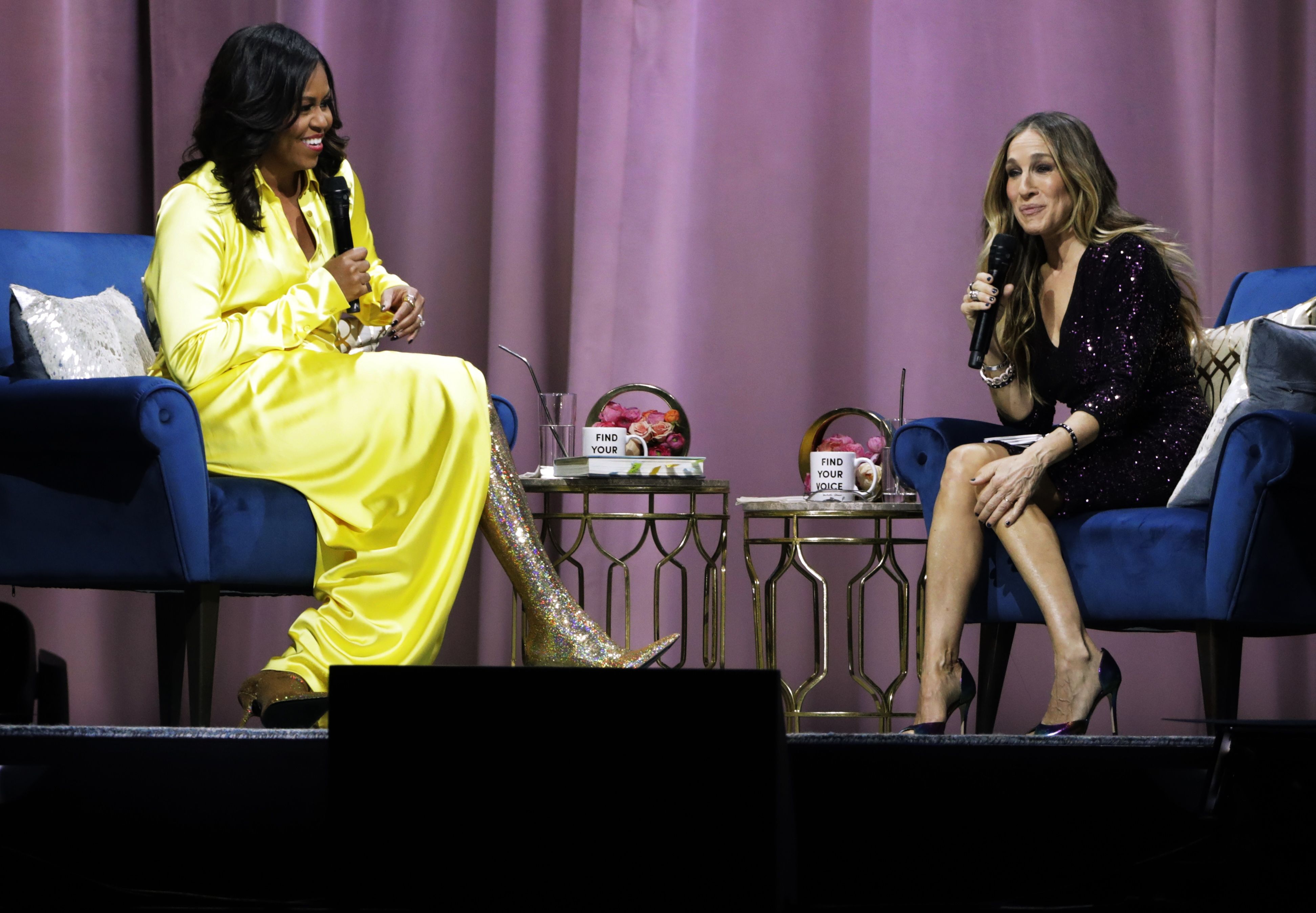 Michelle Obama to another fashion trendsetter, Sarah Jessica Parker, who moderated an event last night for the former first lady's "Becoming" book tour, at Barclays Center in Brooklyn:
I did know that my clothes were making a statement ... So we decided why don't we use this platform to uplift some young new designers who normally wouldn't get this kind of attention, because you can change their lives, which is one of the reasons why we chose Jason Wu for my inaugural gown. ...
You learn that there are people in this scene who feel entitled to these things because they've done it for a while, and I hated that feeling. There are whole lot of people out here who are trying to make it, there are young women and immigrants and black folk. ...
I didn't want to wear the clothes of someone who didn't have a good spirit, and you could hear these things, you could hear how they treated my staff or how they treated their works, so everyone I wore as far as I knew had a good spirit as well.
Why it matters: During Obama's eight years as first lady, a dress would sell out hours after she wore it.
10. 1 bud thing
"The maker of Budweiser is partnering with medical cannabis company Tilray in a $100 million deal to research cannabis-infused drinks for the Canadian market," AP reports:
"Anheuser-Busch InBev and Tilray Inc. said each would invest $50 million in the project to study non-alcoholic drinks containing cannabidiol, or CBD, which some claim has calming and healing affects, and THC, the cannabis compound known for its psychoactive effects."
"AB InBev ... said it will participate in the project through its subsidiary Labatt Breweries of Canada."
Coming attractions: "Coca-Cola, Pepsi and Guinness brewer Diageo have said they are closely watching the market for cannabis as it evolves."