Axios AM
June 29, 2017
Good Thursday morning, and happy 10th 🎂 to the iPhone.
1 big thing: White Hats v. Black Hats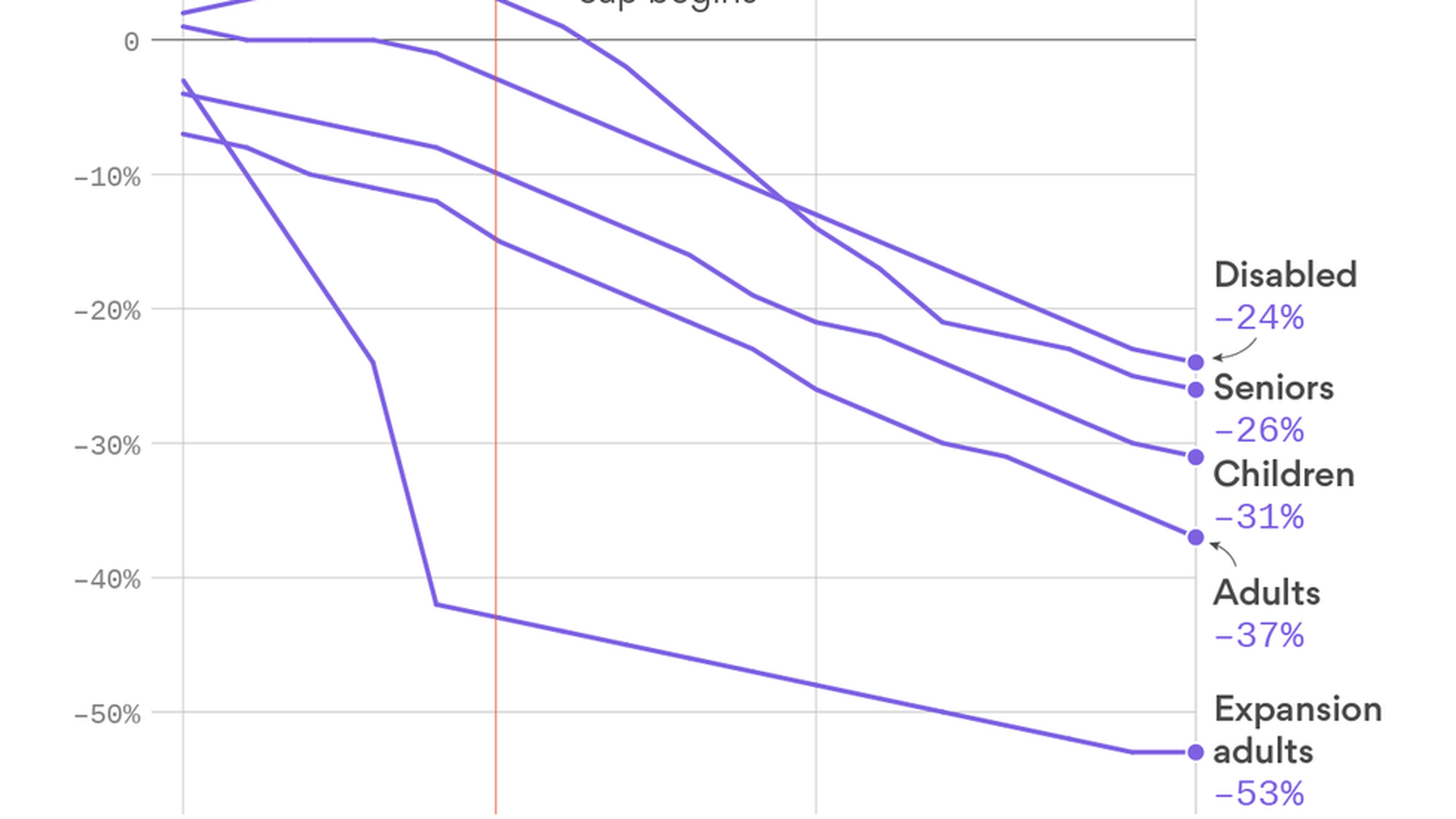 Good morning, Senator. This morning, the front page of the USA Todays throughout your state sport the huge headline, based on a Suffolk University survey, "POLL: ONLY 12% SUPPORT GOP HEALTH CARE PLAN."
The good news, if you're a Republican: 26% of Republicans support it! (Just skip down to "1 fun thing." )
Behind the curtain ... Yesterday afternoon, President Trump tweeted a graph of Medicaid spending under the Republican Senate bill. The line points up and the tweet reads: "Democrats purposely misstated Medicaid under new Senate bill — actually goes up."
It doesn't. There's a story behind that tweet, and Axios' Jonathan Swan dug it out in near real time:
In the Oval Office yesterday, Marc Short, the White House Legislative Affairs Director, showed the president a piece of paper with the graph of Medicaid spending pointing up. The president wanted to tweet it, according to a source told about the meeting.
Republicans hadn't framed the argument over Medicaid in terms of dollars going up (albeit at a slower rate than under current law). Some in the administration had (correctly) concluded it was an argument they couldn't win. But others, seeing they were getting killed every day in the press, wanted to reframe the argument as a growth in spending — and a slowing of the growth rate under Obamacare.HHS Secretary Tom Price has been making this argument, and tweeted a similar graph.Reality check, from FactCheck.org: "[T]he Senate bill would result in $772 billion less for Medicaid over the next decade, and ... the House bill would reduce it by $834 billion."Get smart fast ... Axios' Caitlin Owens, "How the Senate health bill would change Medicaid funding" ... Column by Kaiser Family Foundation President and CEO Drew Altman: "GOP health plan losing support among Trump voters."
Current status of the Senate negotiations:
There's a divide between Hill and White House: At the Capitol, Axios' David Nather and Caitlin Owens hear only pessimism. At the White House, Swan hears a more optimistic read.Best encapsulation of the White Hat (optimist) thinking, from an administration source: "I think we're going to pass this. I really think they'll bribe off the moderates with opioid money and then actually move policy to shore up Mike Lee and Ted Cruz. ... If it was going to fail, McConnell would've put it on the floor. He wants people on the record — put up or shut up. He would've said: 'F--- it, let's fail now and move onto tax reform.' ... Now he's going to eat up another two weeks of floor time. He's not going to waste those weeks unless he thinks he can do this."Best encapsulation of the Black Hat (pessimist) thinking, from a Republican close to Senate leadership: "I think the gap is too wide."Bottom line, from same source: "Unpopular presidents pushing unpopular proposals usually fail."
2. War plan for North Korea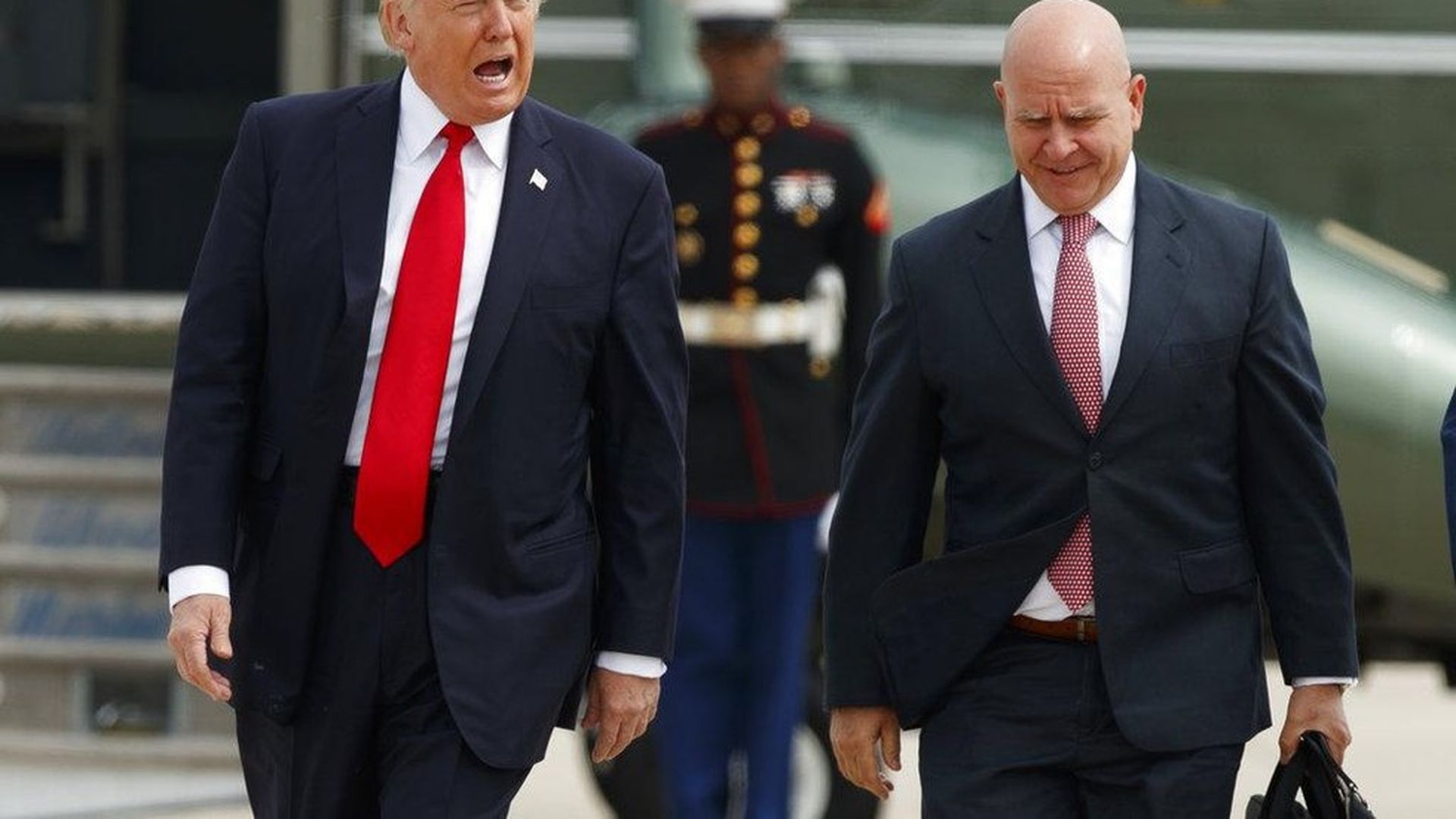 Revised U.S. military options for North Korea, including a military response, have been prepared and are ready to be presented to President Trump, CNN's Barbara Starr and Zachary Cohen report:
"The options ... will be presented to the president if Pyongyang conducts an underground nuclear or ballistic missile test that indicates the regime has made significant progress towards developing a weapon that could attack the US."
A day ahead of tonight's visit to the White House by South Korean President Moon for a reception and dinner, National Security Adviser H.R. McMaster told a think thank yesterday that South Koreans are being "held hostage" by the North Korean regime.
McMaster: "The threat is much more immediate now. We can't repeat the same failed approach of the past ... The President has directed us to not do that and to prepare a range of options, including a military option, which nobody wants to take.'"
Be smart: Administration officials say war with North Korea in our lifetimes is not impossible.
P.S. A ban on tourist travel to North Korea by U.S. citizens, which the House Foreign Affairs Committee may mark up as soon as next month, is being referred to as "Otto's Law," for the late U.Va. student Otto Warmbier.
3. It's not normal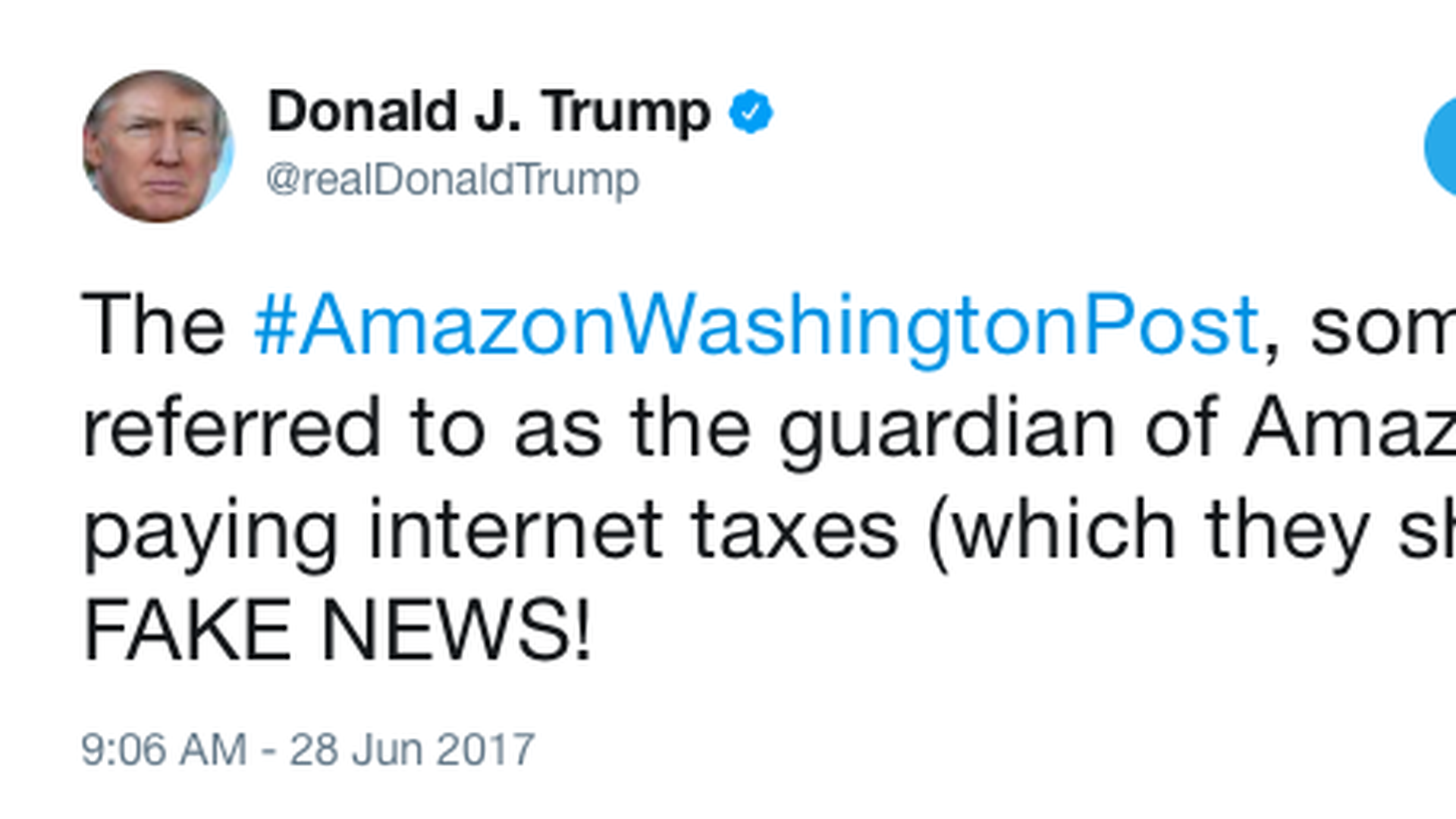 We can't remind you, or ourselves, often enough of the through-the-looking-glass weirdness of events that cascade over us all day, every day. (Today is Day 161 of President Trump, with 1,302 left in this term.)
This tweet by the president yesterday — combined with the previous day's "fake news" barrage against CNN, "the failing @nytimes & @washingtonpost," NBC, CBS and ABC — adds up to the most dangerous denigration of media since ... Nixon? Did Nixon attack six great news organizations by name in 24 hours?
The blast at Post owner (and Amazon founder Jeff Bezos) may have been prompted by a front-page story, "Unafraid of Trump, senators feel free to 'go their own way,'" that includes the line: "In private conversations on Capitol Hill, Trump is often not taken seriously."
A friend of ours said: "This is dictator-with-mirrored-sunglasses stuff."
In Brian Stelter's "Reliable Sources" newsletter last night, he pointed out: "In the past 24 hours... The White House told reporters they could cover Trump's first re-election fundraiser, but then made an abrupt change, 'closing the event to media in a break from past precedent' ... The W.H. prohibited TV cameras at the daily press briefing ... The president posted James O'Keefe's anti-CNN videos on his official @realDonaldTrump Instagram page, promoting the videos to millions of followers."
It's not normal.
4. ​Stop the madness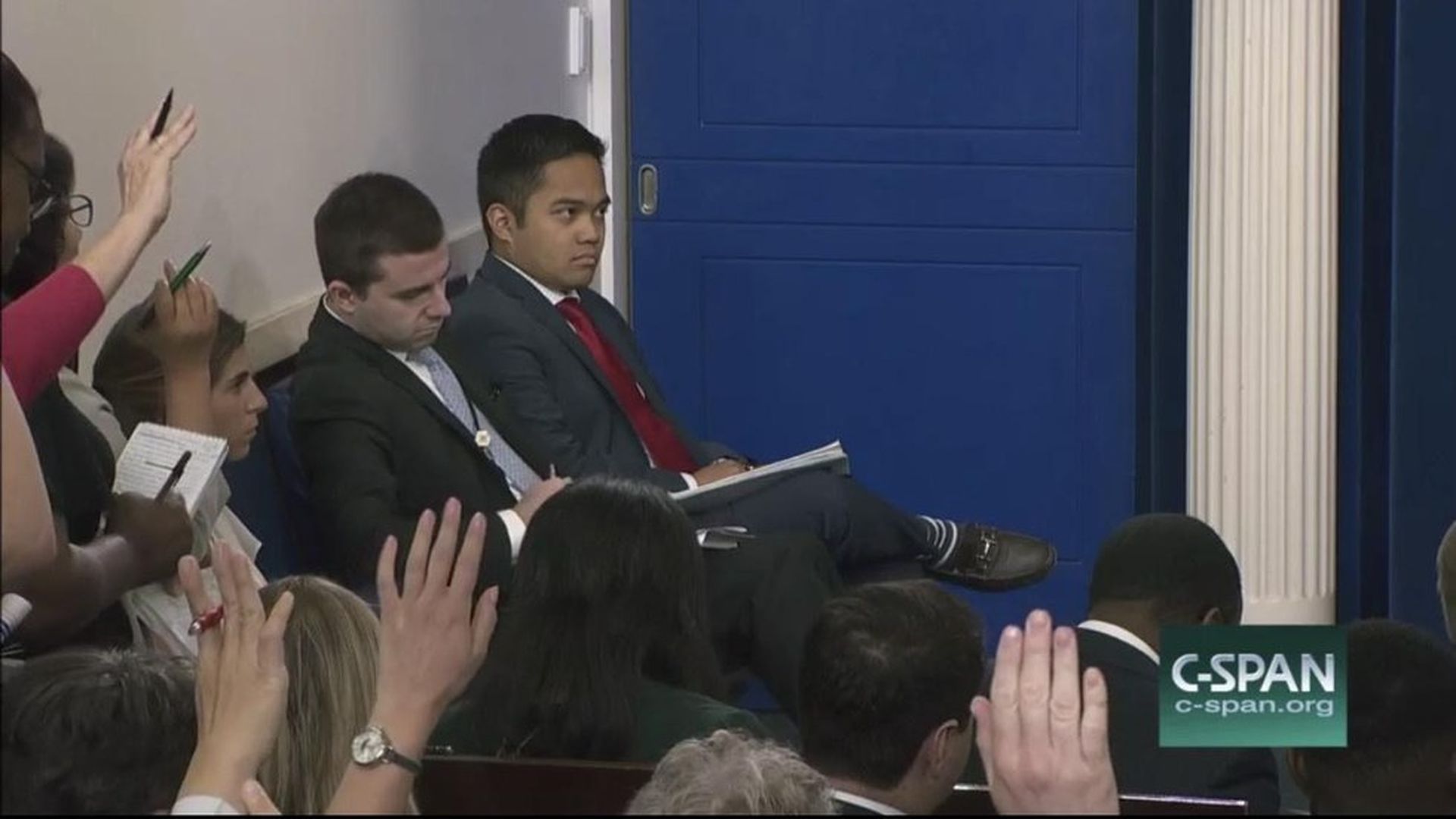 With all the legitimate gripes reporters have with this White House (see #4), perhaps the least worthy of your (or their) time and attention is the WWE-style smackdown over briefings. Every day, the White House hides or dodges. Every day, reporters protest and whine.
Here's an idea: Quit going.
Even if the spokespeople were fully looped in, appeared on camera, and shot straight, what would you miss by blowing it off? There are transcripts and this thing called Twitter, where the rare newsy nugget will quickly appear.
Truth is, with cable and the internet, the briefings were pretty useless, even pre-Trump. Government officials are paid to make little news, and spin the best take they can. It's low-grade propaganda at best, and full-blown B.S. at worst.
You're wasting time in your day you'll never get back. For a White House reporter who doesn't work in the building, it can take a good chunk of the workday to get to the briefing, sit through it, then complain about it afterward.
Work plugged-in sources instead. It's not as if this White House is a watertight ship: Aides are remarkably candid about the hour-by-hour intrigue, infighting and strategizing.
5. The iPhone went on sale 10 years ago today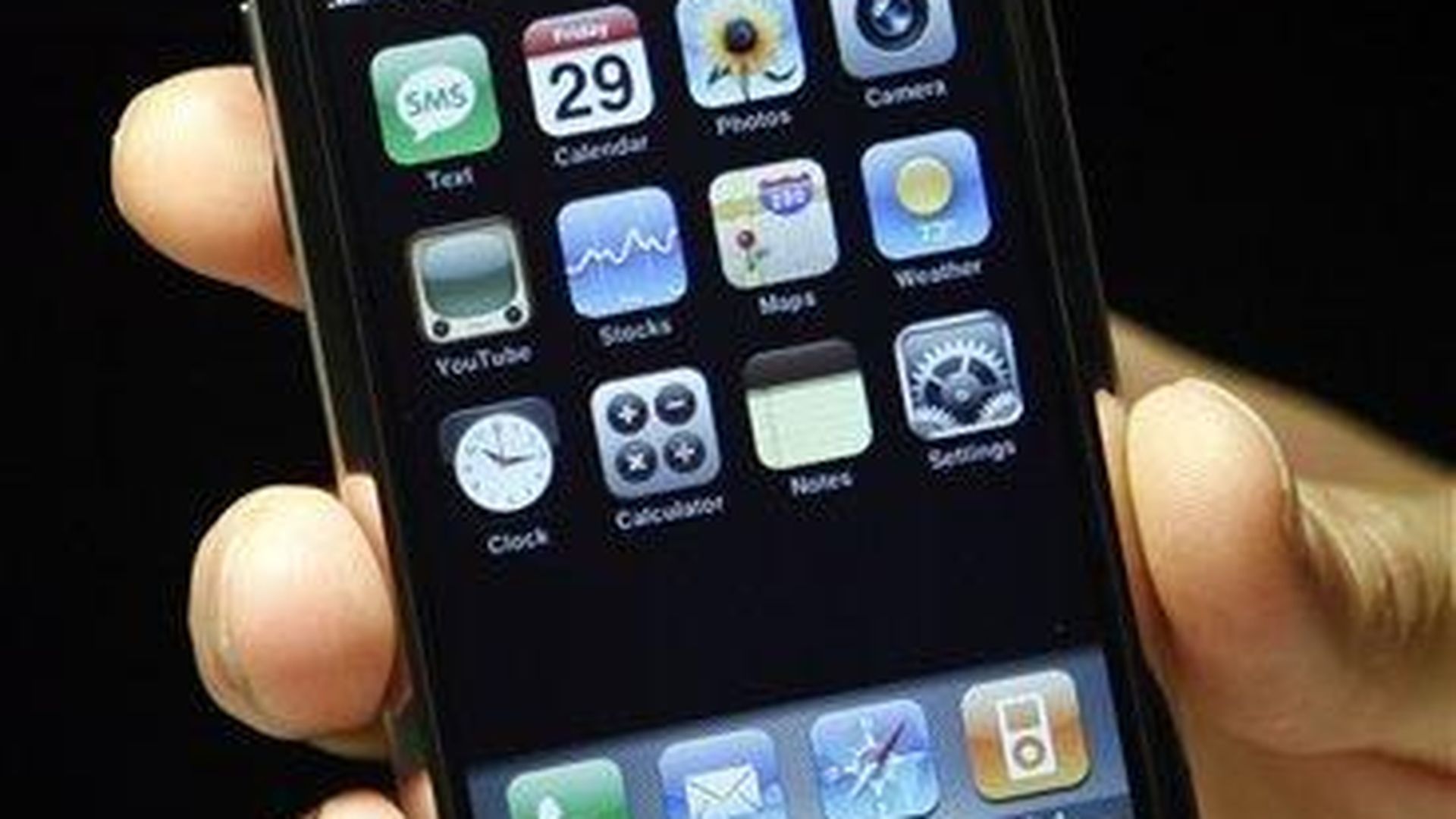 The Economist: "No product in recent history has changed people's lives more. Without the iPhone, ride-hailing, photo-sharing, instant messaging and other essentials of modern life would be less widespread. Shorn of cumulative sales of 1.2bn devices and revenues of $1trn, Apple would not hold the crown of the world's largest listed company. Thousands of software developers would be poorer, too: the apps they have written for the smartphone make them more than $20bn annually."
The next decade: "[T]he era of stand-alone electronic devices, however slick, is coming to an end. They will increasingly become a vehicle for — and be subsidized by — services based on machine learning and other artificial-intelligence techniques. The quality of these offerings will in turn largely depend on how much data developers have access to. The more questions a digital assistant hears, for example, the better its answers will be. Although Apple's Siri was one of the first digital assistants, Google's and Amazon's offerings are now much smarter."
6. Data du jour: They're listening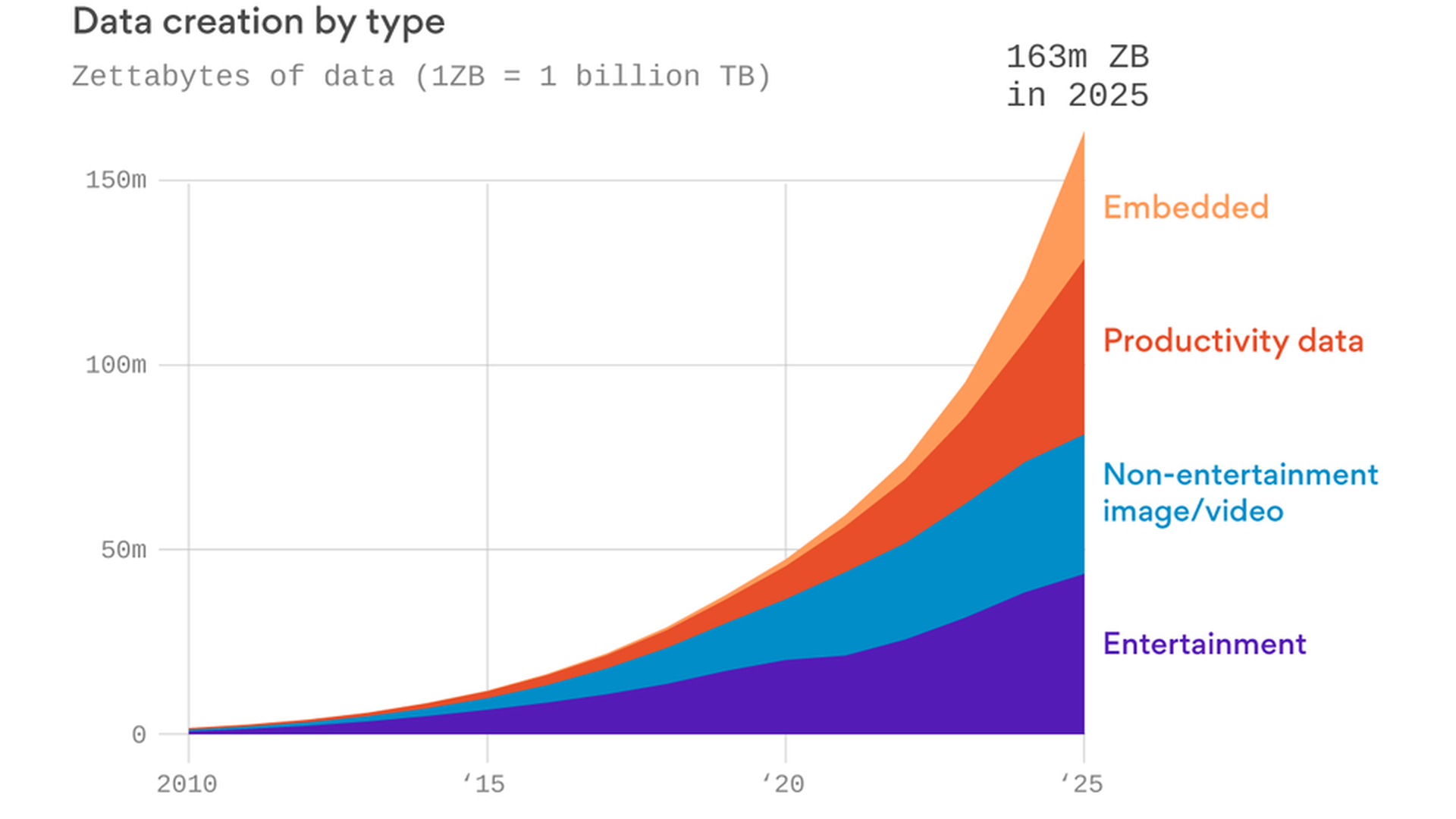 Explosion of personalized data: Data created by machines talking to other machines after/while interacting with people ("embedded data") will grow sharply over the next decade.
Why it matters: This data, which helps machines understand how we interact with technology, is the key to personalization, like Netflix recommendations. It's known as "content customizability," and it'll happen even when we don't notice it: The same study predicts that by 2025, the average connected person will interact with connected devices nearly 4,800 times per day, or once every 18 seconds.
7. Covering the future: The new space revolution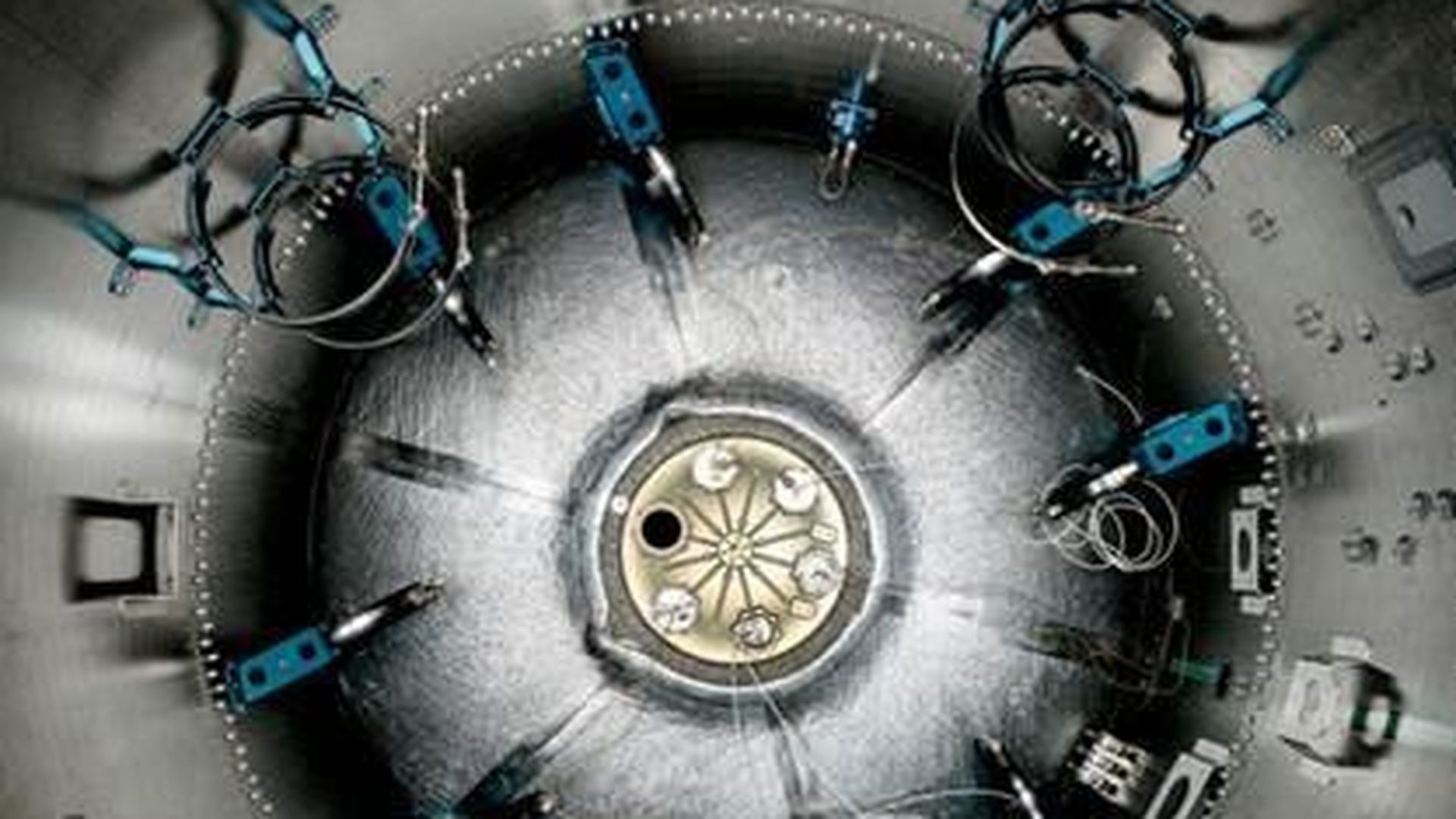 From Bloomberg Businessweek ... "The Tiny Satellites Ushering in the New Space Revolution: Planet Labs and other companies are sending hundreds of low-cost satellites into orbit. We're only beginning to understand how that will change life on Earth," by Ashlee Vance:
"[T]he relationship between humans and space is changing in ways unseen since Russia and the U.S. began sending rockets into orbit six decades ago. Thanks to modern software, artificial intelligence, advances in electronics and materials, and a generation of aggressive, unconventional entrepreneurs, we are awash in space startups.
"These companies envision an era in which rockets take off daily, filling the skies with satellites that sense Earth's every action—in effect building a computational shell around our planet. The people constructing this bustling new economic highway promise it will improve life down below, but the future they describe is packed with wonder and controversy in equal measure — and although few have noticed, it's coming to pass right now."
8. The talk of Hollywood: #OscarsLessWhite?
According to a front-page L.A. Times graphic, the Academy of Motion Picture Arts and Sciences (including a more diverse slate of 2017 invitees) is 87% white and 72% male.
The article — "They're starring in the academy's diverse sequel," by Josh Rottenberg — reports that in "its latest step toward diversifying the overwhelmingly white and male institution, the Academy [yesterday] opened its doors to its largest-ever class of new members. A whopping 774 industry professionals were invited to join the nearly 90-year-old organization — topping last year's record-setting class of 683 invitees."
"[T]his new class is 39% female (298 women), which brings the representation of women in the organization from 27% to 28%. Thirty percent (232) are people of color, bringing minorities' share of total academy membership from 11% to 13%. Last July, The Times estimated that the academy would need to add 85 people of color and 395 women to its ranks per year to reach its stated targets."
9. The future of media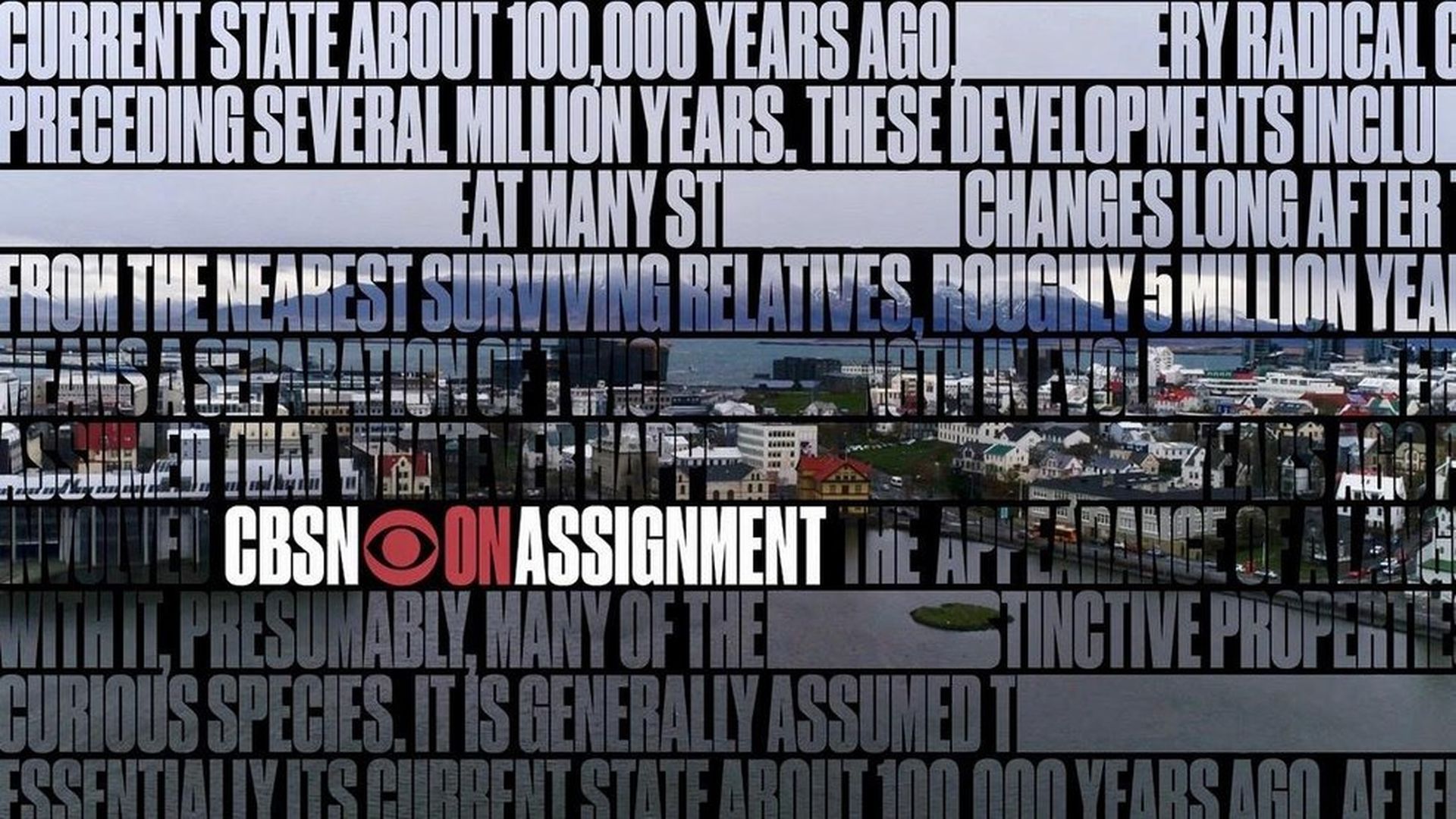 Streaming converging with broadcast ... For the first time, a show branded CBSN, the CBS News streaming service, will run on the broadcast network: On Monday, July 31, at 10 p.m., "CBS News will launch CBSN: ON ASSIGNMENT, a new primetime summer series featuring experiential reports driven by fresh voices and perspectives from around the world."
10. 1 fun thing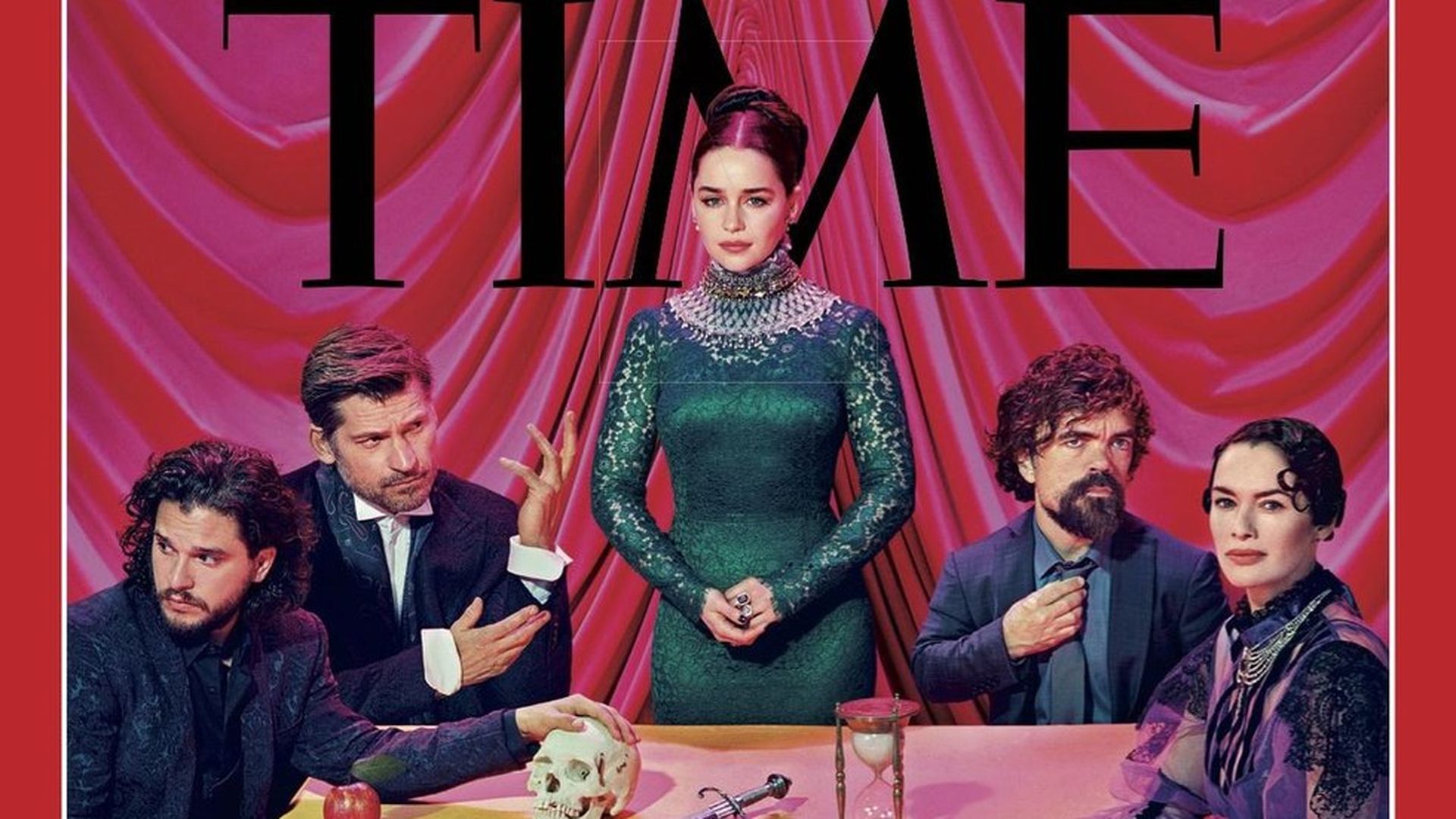 For this week's cover story, TIME television critic Daniel D'Addario goes behind the scenes of the filming of the seventh season of HBO's "Game of Thrones." On a pivotal scene that he saw being filmed while on set with the cast in Belfast: "One of [the] big events this season is a battle whose sheer scope, even before being cut together with the show's typical brio, dazzled me. In order to get on set, I agreed not to divulge the players or what's at stake…. It will be all the more impressive knowing that the cast and crew were shot through with a frigid North Atlantic wind that whipped everyone during filming, and sent them all flying back to the on-set coffee cart during resets…. "The setting is as grand as the action. The battle was filmed in what was once a Belfast quarry, drained, flattened out with 11,000 square meters of concrete and painted over with a camouflage effect. All of which took six months and required special ecological surveys. This kind of mountain moving, or leveling, is par for the course for Thrones."