Axios AM
October 25, 2017
You're invited ... Kasie Hunt, NBC News Capitol Hill correspondent and host of MSNBC's "Kasie D.C.," will join me tomorrow (Thursday) at 8 a.m. for a fast-paced Axios event in downtown D.C.: "Party wars! Is progress still possible?" My other guests will be Sen. Joe Manchin (D-W.Va.); Rep. Carlos Curbelo (R-Fla.), co-chair of the Future Caucus, aimed at millennials; Rep. Josh Gottheimer (D-N.J.), co-chair of the Problem Solvers Caucus; and Axios Media Trends expert Sara Fischer.
RSVP here — look forward to having breakfast with you.
1 big thing: Trump's grand old party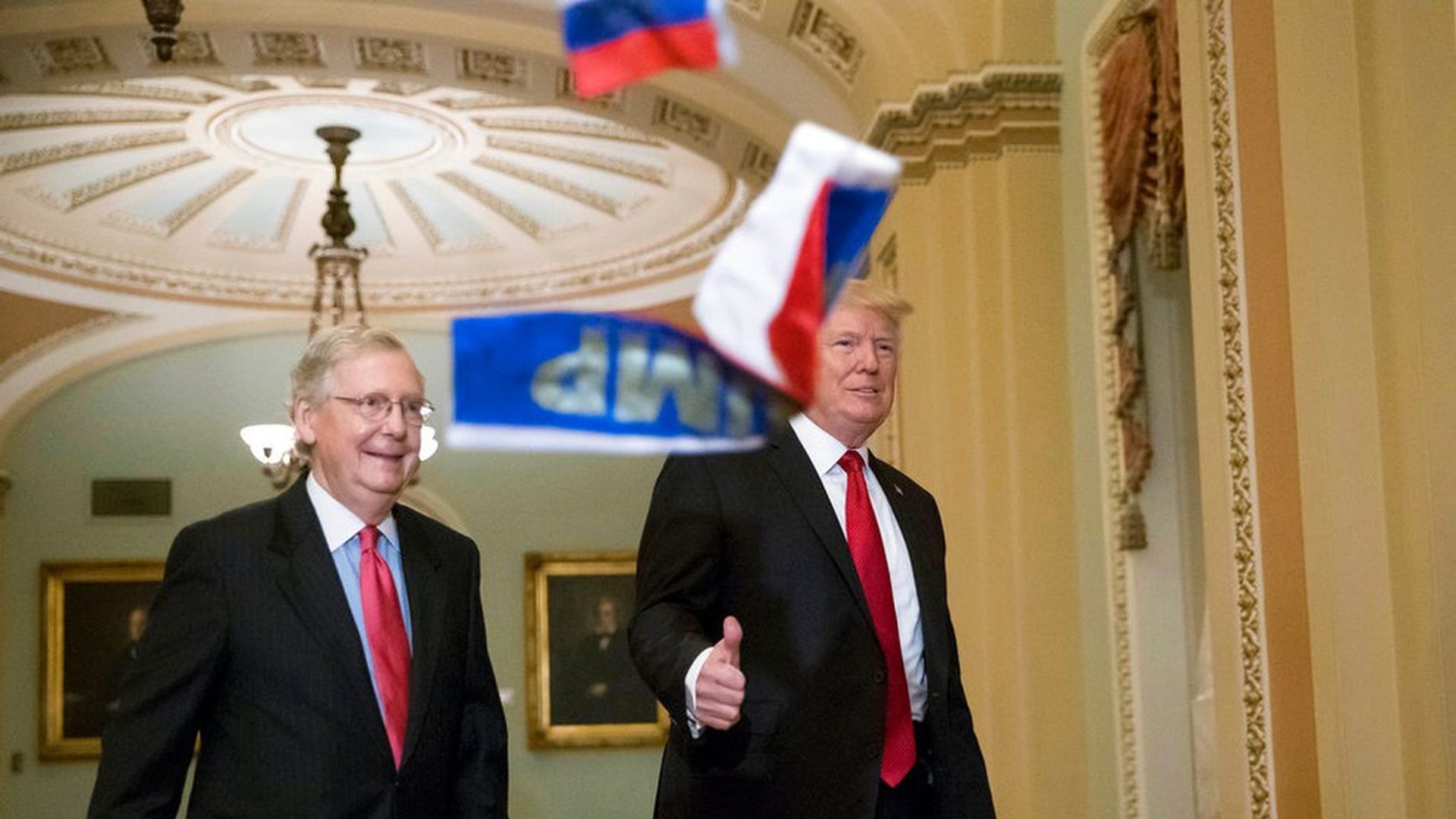 So much media coverage centers on four Republican Trump critics — one retired, two retiring and one facing a deadly, possibly career- or life-ending cancer: George W. Bush, Sen. Jeff Flake (Ariz.), Senate Foreign Relations Chairman Bob Corker (Tenn.) and Senate Armed Services Chairman John McCain (Ariz.).
Lost in this: President Trump enjoys public support (despite private gripes) from most of the 49 other Senate Republicans and 239 House Republicans, including every person in elected leadership.
Trump got standing ovations from Senate Republicans, with Corker in the room.
This flows from his strong, sustained support of GOP voters.
Corker is right: Republicans in private cringe at the thought of President Trump. But it's meaningless if they publicly bow to him, routinely vote for him and never condemn him.
This —​ not the criticism by the few —​ is the story of the moment and the first nine months: With few accomplishments, countless petty GOP fights and slights, Trump is strong as ever.
Flake is the proof. While cable lapped up his anti-Trump retirement speech ("I will not be complicit"), the truth is he was forced out because he wrote a book critical of the president and saw his base turn on him. If Flake ran, he was toast. Arizona Republicans prefer Trump to Flake.
Corker is proof, too. He sucked up to Trump before turning on him. Once Corker turned, he was probably toast, too. Tennessee Republicans prefer Trump to Corker, too.
Sound smart: For all the warnings of how harshly history will judge the Trump enablers, that history will need to be told in an exceptionally long book — because the vast majority of Republicans are forever marked as Trump Republicans.
2. Trump's downstream worries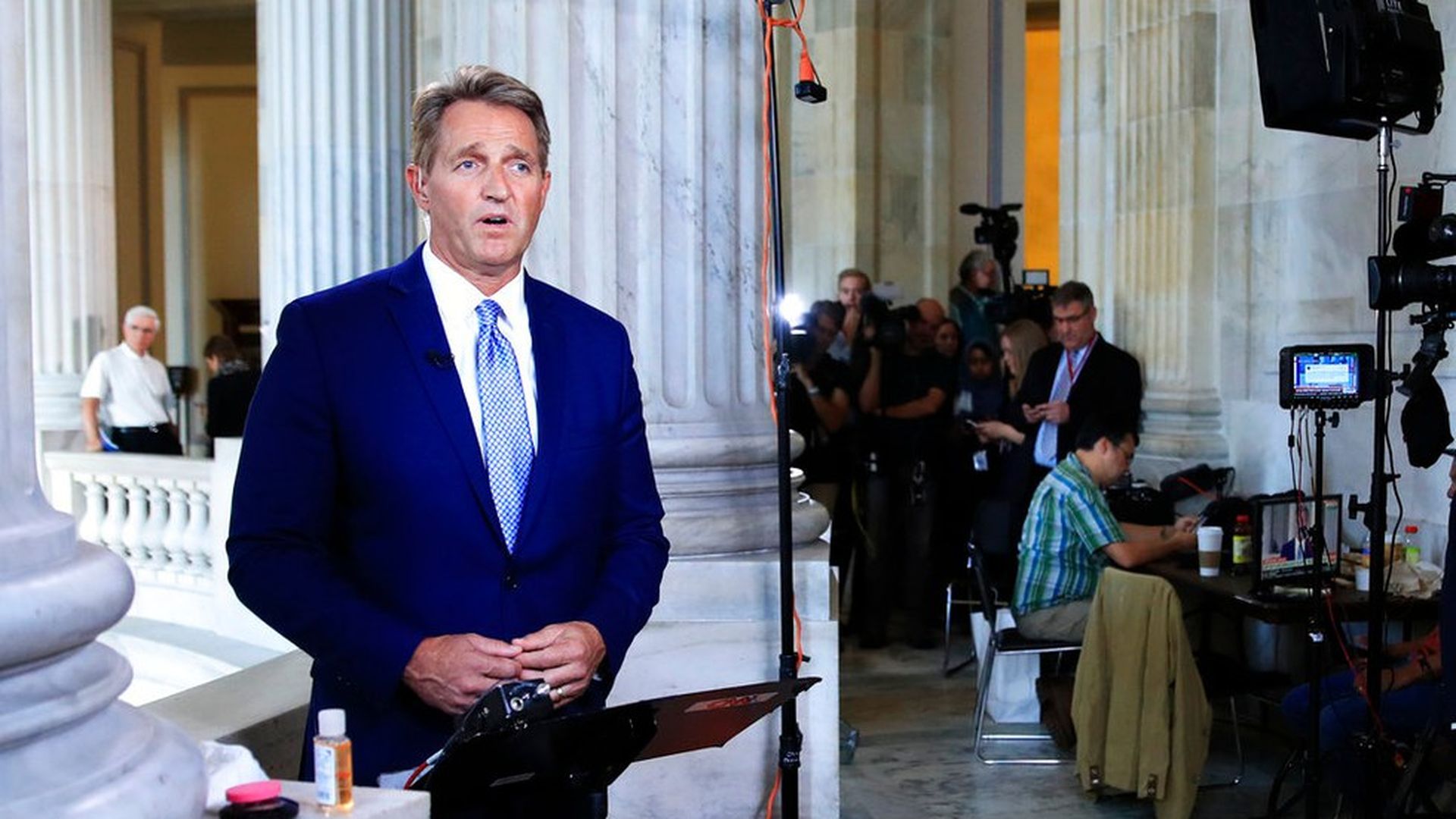 Despite the current Trump strength described above, some Republicans fear his inexplicable fights with GOP senators could have downstream consequences he doesn't seem to be considering:
Alienating members of his party could diminish the chances tax reform will pass, and therefore increase the chances Democrats will take back the House.
As tax reform's chances get squishier in the Senate, House members may be less likely to take a vote that hurts particular special interests and increases the deficit.
Why it matters ... Republican strategist Alex Conant emails: "To be successful, Trump needs a united Republican Party. A divided party loses elections."
How it's playing ... N.Y. Times 2-column lead, "IN BITING SPEECH, FLAKE DENOUNCES 'RECKLESS' TRUMP: Adds to Wave of Criticism Within G.O.P." (See the page) ... WashPost 5-column lead, "2 GOP senators issue blunt warnings on Trump" ... Wall Street Journal 5-column lead, "Rift Widens Among Republicans" ... Bloomberg: "Trump Courted a GOP Rebellion. Now He's Got One."
3. Dems secretly funded Trump dump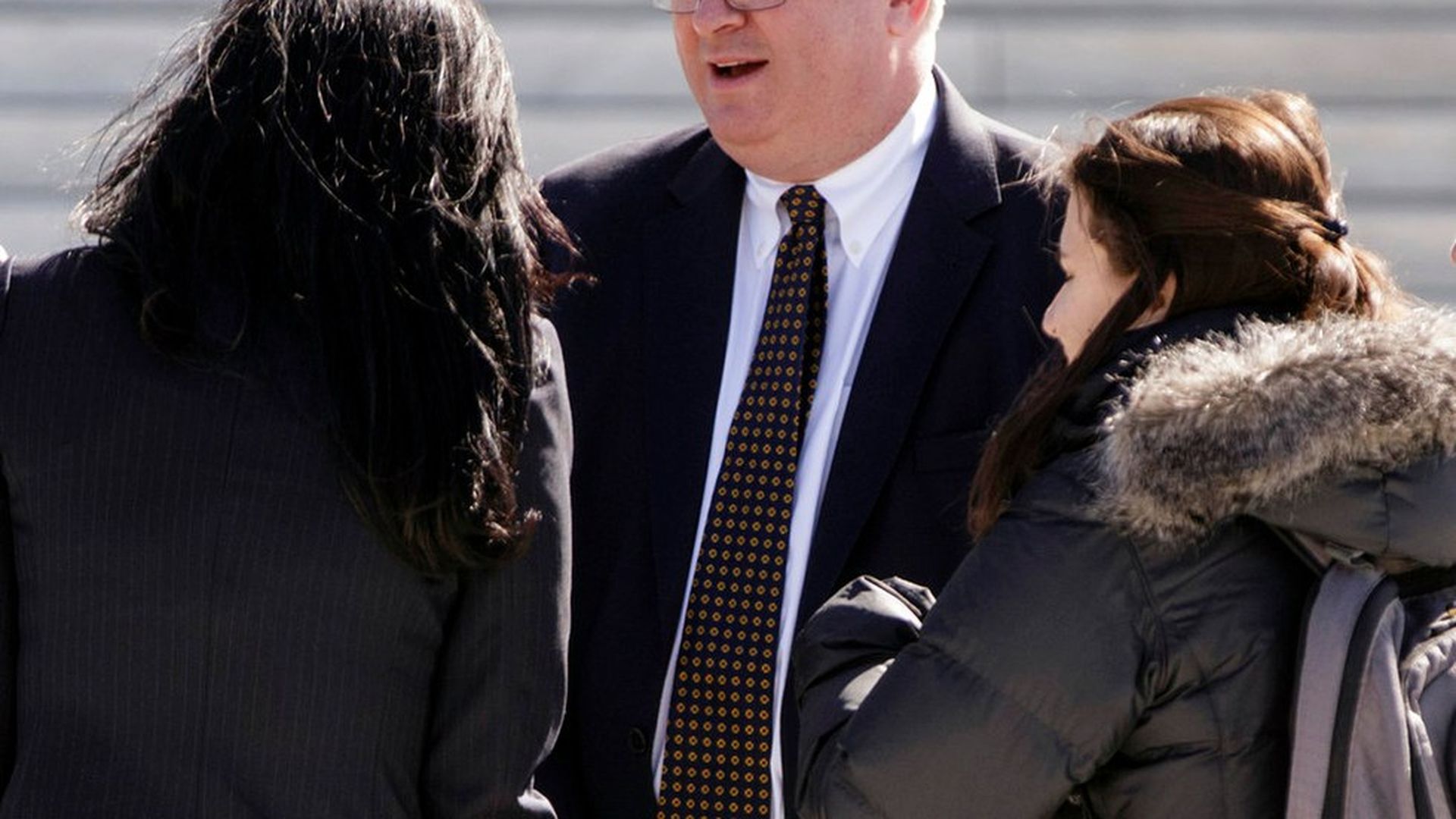 "The Hillary Clinton campaign and the Democratic National Committee helped fund research that resulted in a now-famous dossier containing allegations about President Trump's connections to Russia and possible coordination between his campaign and the Kremlin," the WashPost's Adam Entous, Devlin Barrett and Roz Helderman scoop:
What happened: "Marc E. Elias, a lawyer representing the Clinton campaign and the DNC, retained Fusion GPS ... Fusion GPS hired dossier author Christopher Steele, a former British intelligence officer with ties to the FBI and the U.S. intelligence community."
Why it matters: "The dossier has become a lightning rod amid the intensifying investigations into the Trump campaign ... Trump tweeted ... Saturday that the Justice Department and FBI should 'immediately release who paid for it.'"
"Elias and his law firm, Perkins Coie, retained the company in April 2016 ... The Clinton campaign and the DNC, through the law firm, continued to fund Fusion GPS's research through the end of October 2016."
Remaining mystery: "Before that agreement, Fusion GPS's research into Trump was funded by an unknown Republican client during the GOP primary."
Brian Fallon, former Hillary Clinton campaign spokesman, tweets: "I have no idea what Fusion or Steele were paid but if even a shred of that dossier ends up helping Mueller, it will prove money well spent."
4. Weinstein fallout: Statehouses say #MeToo
"The response to sexual harassment allegations against film producer Harvey Weinstein has spread to statehouses nationwide, with hundreds of lawmakers, lobbyists and consultants coming forward to say the problem is pervasive in the halls of political power," AP's Sophia Tareen reports from Chicago:
Why it matters: "Several risk factors for sexual harassment identified by the U.S. Equal Employment Opportunity Commission are deep-seated at state capitols: Lack of diversity, power disparities, tolerating or encouraging alcohol consumption, and many young staffers."
"Illinois became the latest to join the chorus, as signatures piled up [yesterday] on an open letter describing harassment and intimidation for women trying to negotiate legislation and work on campaigns."
"In California this week, the Senate hired a law firm to investigate after women described a culture of sexual intimidation."
"Lawmakers in Oregon and Rhode Island have spoken up to accuse male colleagues of inappropriate touching or suggesting that sexual favors be a condition for advancing bills."
What's next: "More women are coming forward with stories, some are naming names and states are making fresh promises of investigations and of legislation."
5. Pence breaks tie for banks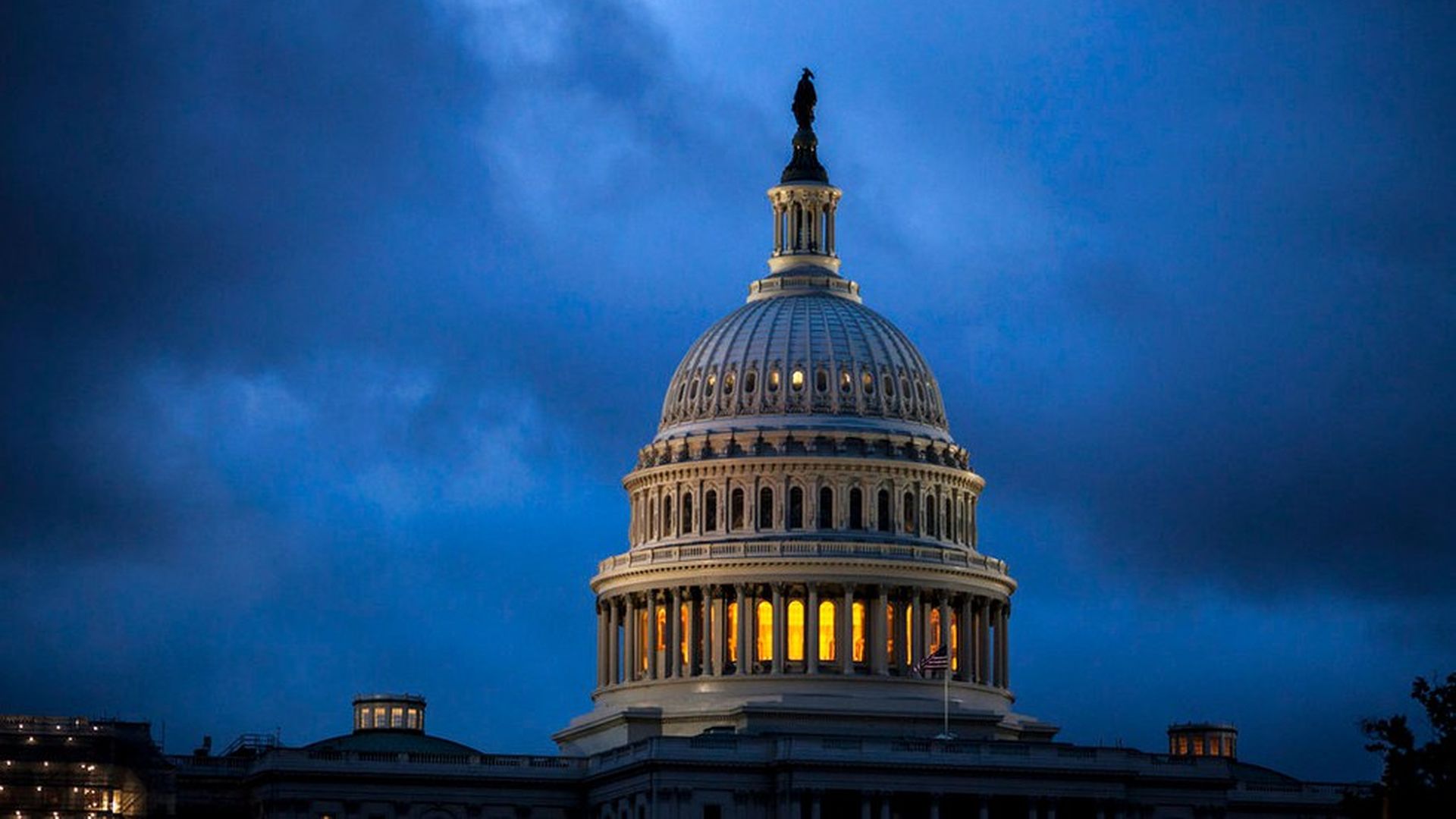 "Banks, credit card issuers and other financial companies will be able to block customers from banding together to sue over disputes, after the U.S. Senate ... narrowly killed a rule banning the firms from using 'forced arbitration' clauses," per Reuters:
"Vice President Mike Pence appeared on the Senate floor at 10:11 p.m. ... to cast the tie-breaking vote."
Why it matters: It's "the most significant roll-back of Obama-era financial policy since President Donald Trump took office."
"After a signature from Trump, expected soon, the resolution will abruptly end a years-long fight that has included multiple federal regulators, consumer advocacy groups, and financial lobbyists."
"Consumer Financial Protection Bureau ... Director Richard Cordray, a Democrat appointed by ... Obama, rarely comments on congressional action but ... said 'Wall Street won and ordinary people lost.'"
6. The world's most unpopular leaders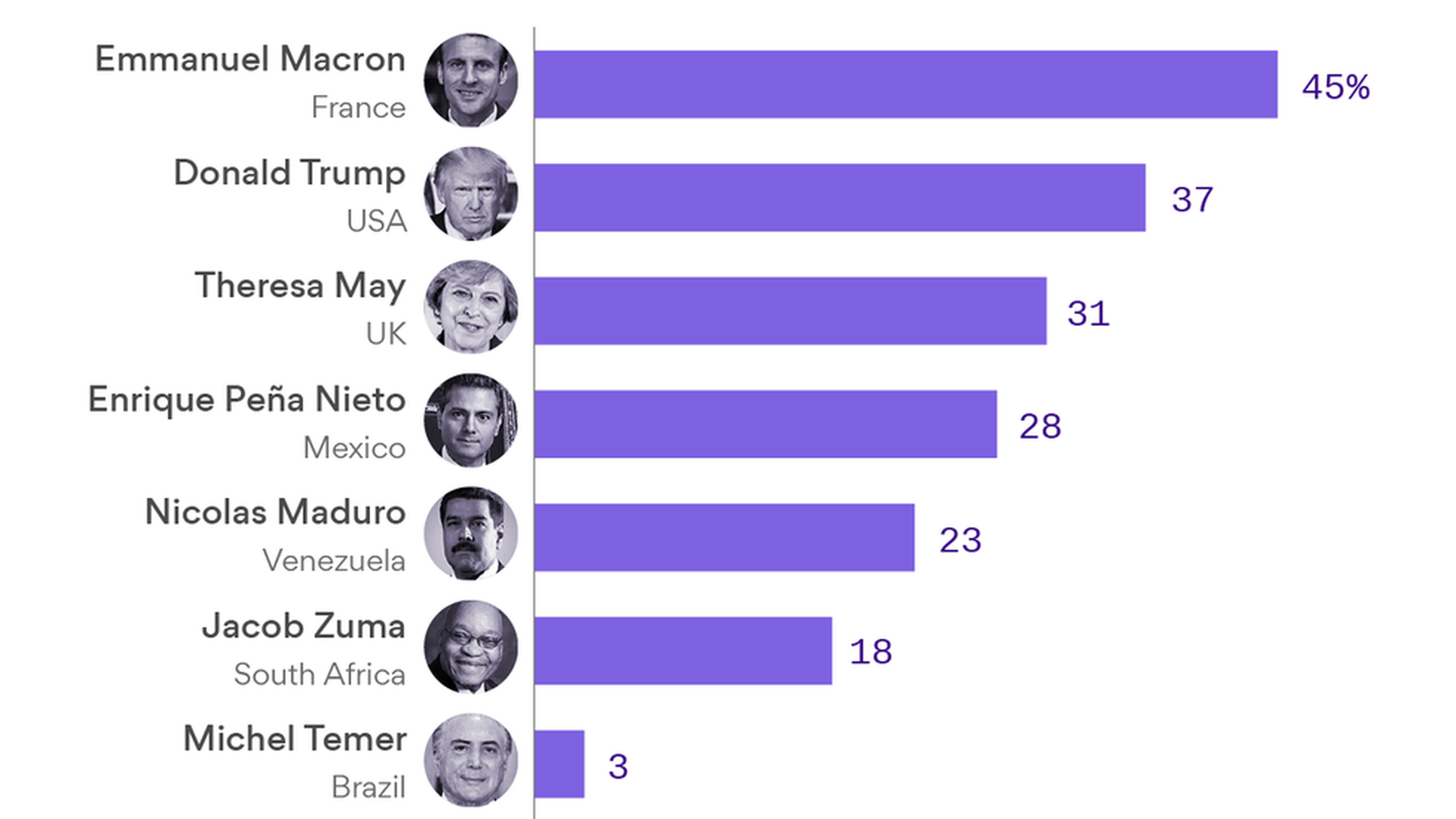 7. No Xi heir apparent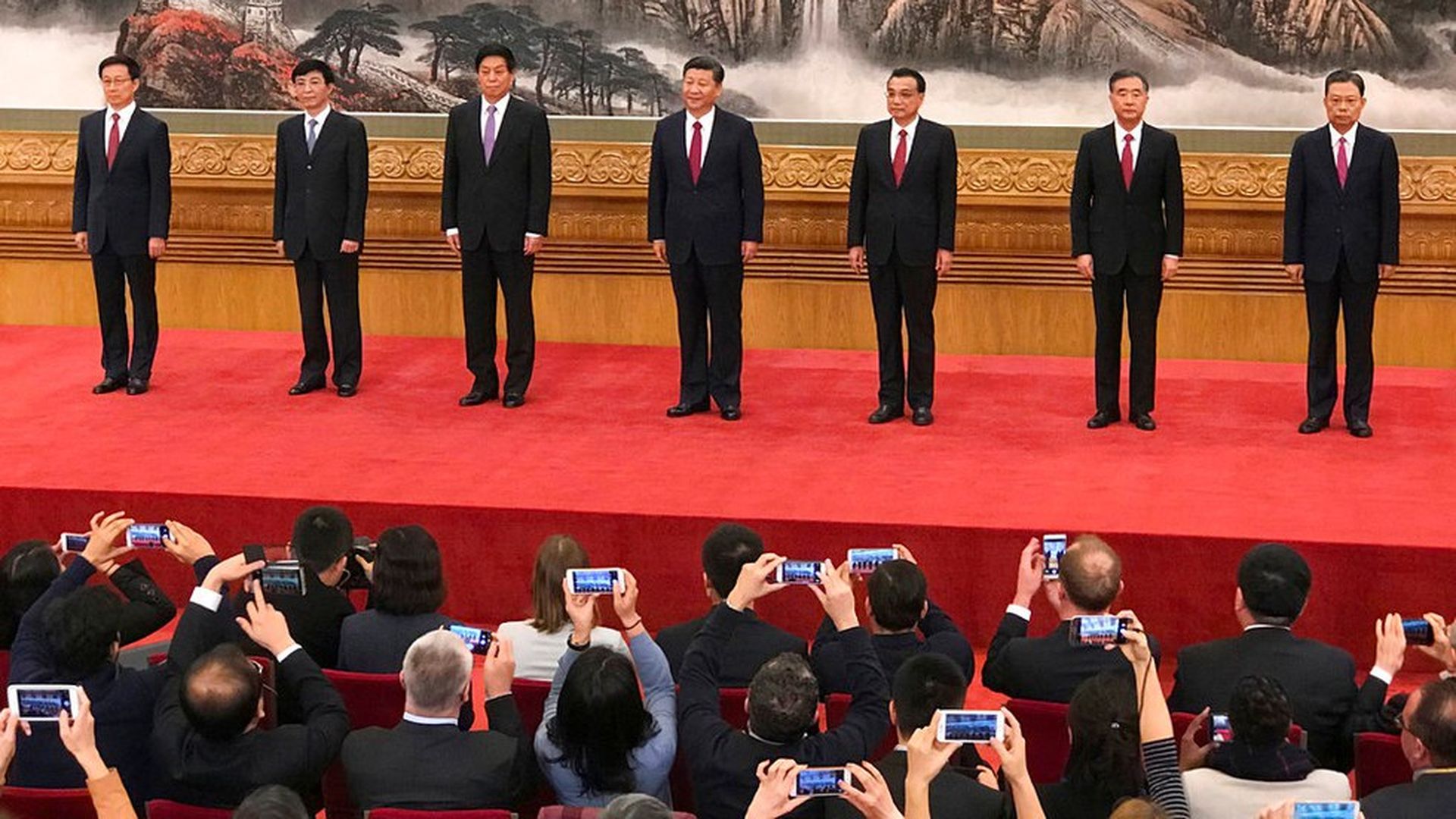 China revealed its Politburo Standing Committee, China's most powerful body, breaking with tradition by not including a clear successor to President Xi Jinping.
All members are ages 60 to 67.
Why it matters, via BBC: "The omission cements Mr Xi's grip on China for the next five years and possibly beyond, a day after his name was written into the constitution."
8. Icing ISIS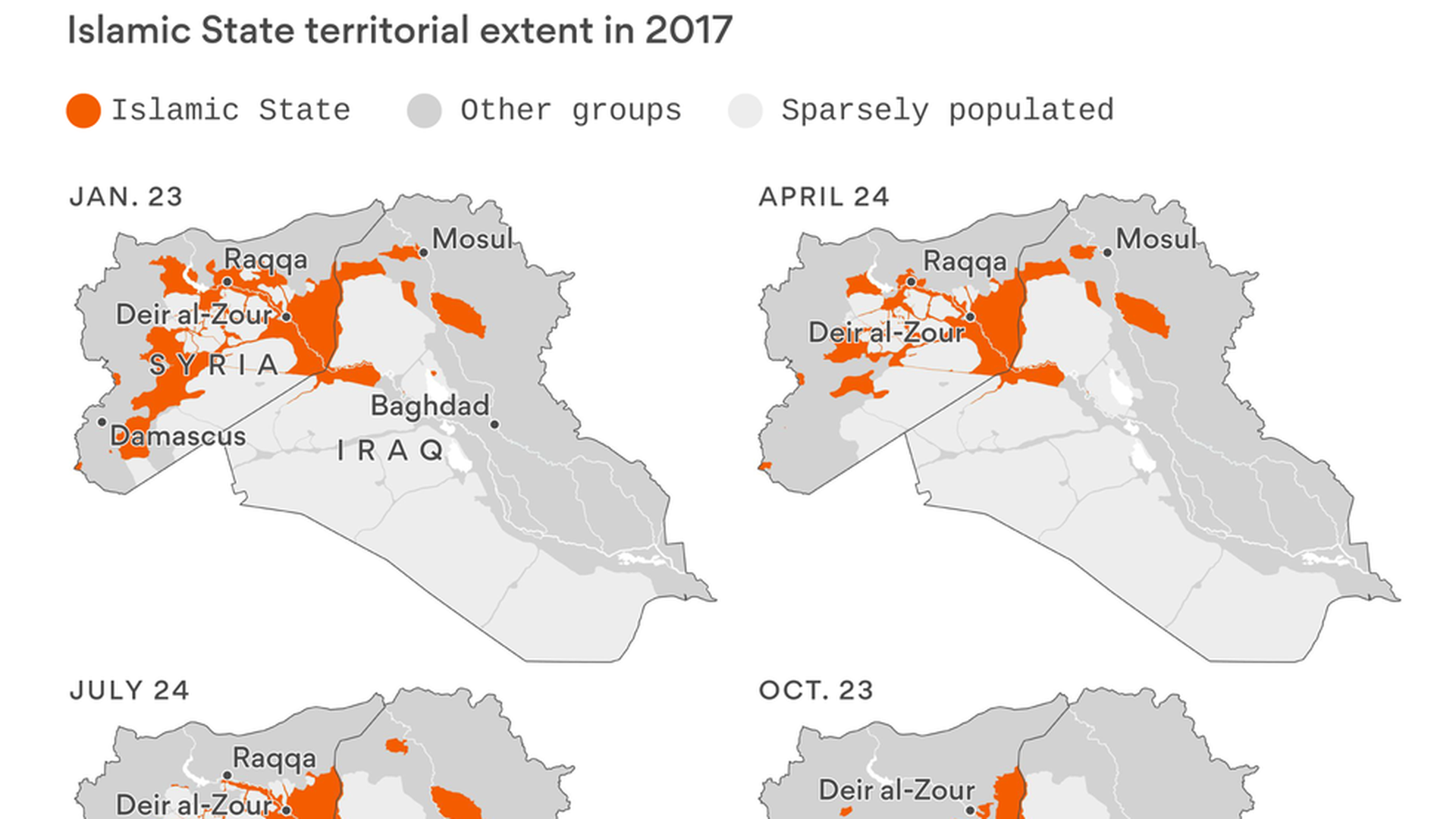 President Trump said in a statement Saturday: "With the liberation of ISIS's capital and the vast majority of its territory, the end of the ISIS caliphate is in sight."
9. Cable wars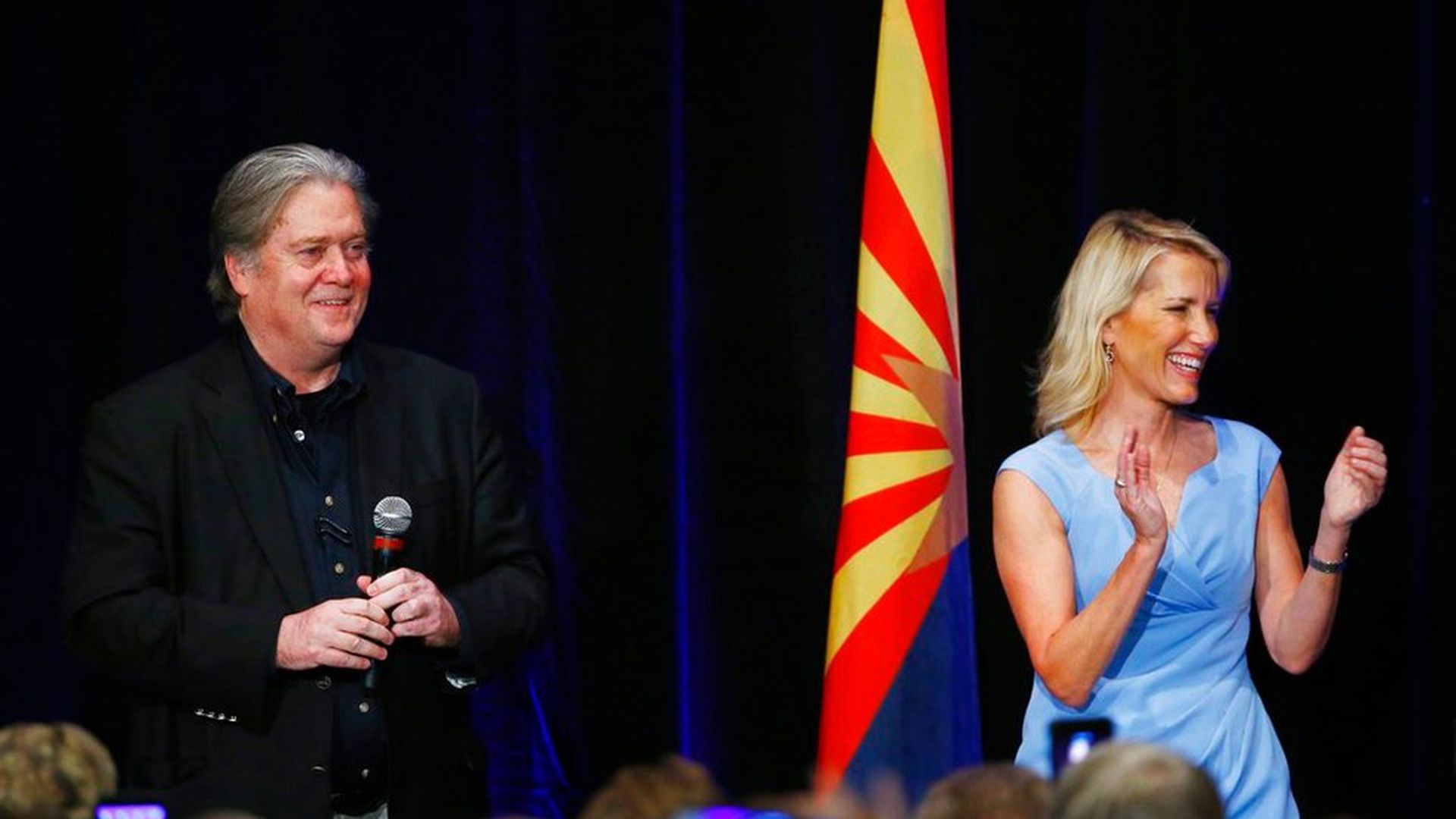 Laura Ingraham — who next week "will take over one of the most coveted slots on cable television," 10 p.m. on Fox News — tells the N.Y. Times' Michael Grynbaum when asked if she's bringing a Breitbart audience with her: "I wouldn't call it a Breitbart audience. I would call it America."
Brian Williams, anchor of MSNBC's 11 p.m. "The 11th hour," tells Emily Jane Fox of Vanity Fair's The Hive: "I tend to over-introduce my guests ... It is one of my things. ... I will never introduce someone only as an analyst. It's diminishing. I try to love on them."
"Williams happens to be a night owl."
NBC News President Andy Lack: "I've had many exchanges with him in the wee hours ... With him, 11 o'clock is just getting started."
Variety's Brian Steinberg: "In the third quarter of 2017, 'The 11th Hour' lured the most viewers of any cable-news show at 11 p.m., ... with an average of 1.6 million viewers."
Disclosure: NBC is an investor in Axios.
10. 1 shabby thing
Diplomatic dumps ... "[A]n only-in-D.C. phenomenon, where diplomatic protocol allows a string of abandoned buildings to fester, untouchable and tax-free," AP's Ashraf Khalil writes:
"The large building [former Pakistani consulate] at the corner of 22nd and R streets ... sticks out like a wart in the otherwise upscale neighborhood. Plywood covers the windows, sleeping bags and empty bottles litter the shuttered doorways and head-high weeds sprout through the asphalt of the empty fenced-off parking lot."
"Many of these eyesores are in some of the District's most high-end neighborhoods. The Sheridan-Kalorama area, where several are located, is home to former President Barack Obama, as well as ... Ivanka Trump and ... Jared Kushner. Jeff Bezos ... recently bought a massive house there."
"The area's most recent prominent resident is Secretary Of State Rex Tillerson, whose department is responsible for making sure these diplomatic properties are maintained."