24 hours from now ... Join me live on Facebook or Axios.com at 9 a.m. ET tomorrow for my interview with Facebook COO Sheryl Sandberg, the first public interview of a senior Facebook executive since revelations about Russian-backed groups buying election ads on the platform. "Like" our Facebook page to get the notification.
https://www.axios.com/newsletters/axios-am-e40e75da-d563-48dd-98fa-9945bbb876d7.html?chunk=0#story0
1 big thing: GOP's uncivil war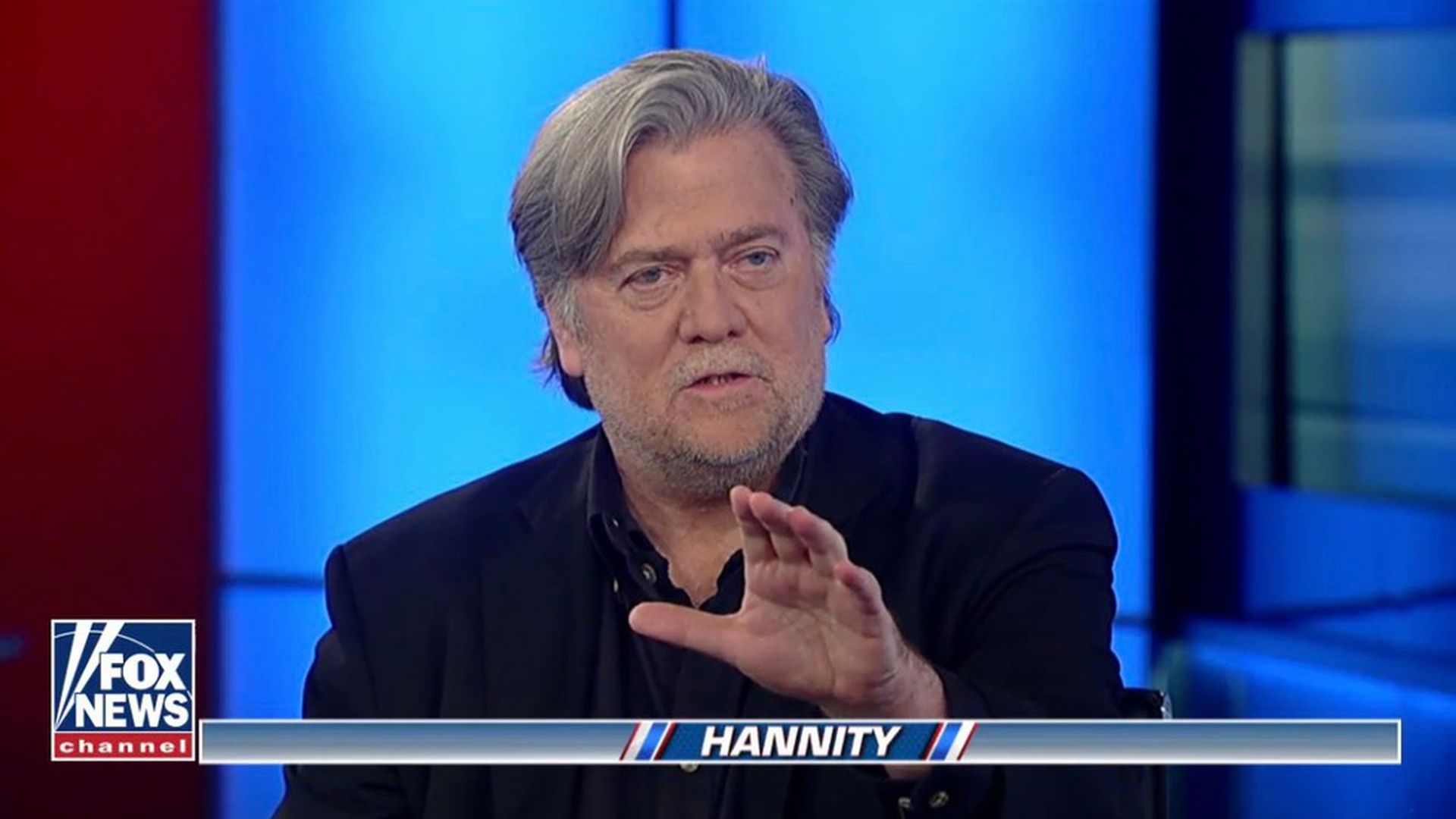 Establishment Republicans are getting squeezed to death from within.
In what should be nirvana — all-party control of Washington — they instead are jammed daily between a president who routinely ridicules them for ineptitude — and Steve Bannon, who's recruiting hardliners to extinguish their very existence.
Bannon's plans are more ominous than publicly known, sources tell Jonathan Swan and me:
Some of Bannon's candidates for Republican primaries have privately pledged they'll oppose Senate Majority Leader Mitch McConnell. It's becoming a de facto litmus test in Bannon's recruitment.
Bannon vows to support primary challengers against every incumbent Republican senator running for re-election in 2018 — with the sole exception of Ted Cruz. So that could mean seven Bannon GOP challengers, and he has as many as eight Democratic senators in his sights.
Bannon is also exploring gubernatorial and House races.
As Bannon told Fox's Sean Hannity this week: "Nobody's safe. We're coming after all of them."
"Steve views this thing as a coalition," says a source familiar with his plans. "It's a coalition of populists, constitutional conservatives and more libertarian types. But they all agree on Bannon's core issues of trade and immigration."
Why this matters: The Breitbart News chairman and former White House chief strategist is building a nationwide coalition that — in the words of a former Trump White House official — could "wreak havoc" across the map "if Bannon is even halfways successful."
The GOP establishment is skeptical but scared. Bannon has juice with the base, and feels emboldened about his "House of Pain" after his candidate, former Alabama Chief Justice Roy Moore, took down incumbent Sen. Luther Strange in last month's primary.
A former official in the Trump White House, dumbfounded and irritated, sent Swan a blitz of text messages: "You watching Bannon [on] Hannity? Most parties descend into civil war following defeat. We're about to have one 11 months after we won everything. How do you get tax reform, infrastructure or health care done in that climate? It's Bannon who could wind up nullifying Trump's presidency."
"It's Bannon who could hand a house of a Congress back to Dems."
Andy Surabian, a political adviser to Bannon, responded by saying this person was recycling a "tired talking point" that the Republican establishment got wrong in 2010, 2014, and 2016, when grassroots conservatives delivered Republicans the House and the Senate, and White House.
Surabian added: "If this former White House official really believes that Bannon's goal of electing more allies to President Trump who support his agenda is a bad thing, then maybe it's a good thing that this official is no longer anywhere close to 1600 Pennsylvania Ave."
One of the most in-demand Republican operatives says of Bannon: "One year from now everyone is going to reminisce about this in the same way 90s kids do about Ini Kamoza's 'Here Comes the Hotstepper' — 'Oh, yeah. I remember that song. What the hell happened to him? Just that one song, huh?"
This operative continues: "Steve Bannon has made himself the center of the campaign at this point and as with all vanity projects, they rise and fall rapidly. He is the single biggest impediment to the Trump agenda, period. Four months from now, it will be a liability beyond comprehension to be associated with Steve Bannon. And every candidate with any aspirations at all will experience that one way or another."
Be smart: Bannon can sound delusional about his power to disrupt the party. But make no mistake: the combo of his fame with the base + access to Mercer money + true belief in America first policies = big trouble for establishment Republicans in 2018 and beyond.
If Bannon were to field the slate he envisions, the Republican Party would have a civil war on its hands that makes 2010 look like a tea party.
https://www.axios.com/newsletters/axios-am-e40e75da-d563-48dd-98fa-9945bbb876d7.html?chunk=1#story1
2. Trump wanted 10x increase in nukes
"Trump said he wanted what amounted to a nearly tenfold increase in the U.S. nuclear arsenal during a gathering this past summer of the nation's highest ranking national security leaders," NBC's Courtney Kube, Kristen Welker, Carol E. Lee and Savannah Guthrie report:
"Trump's comments ... came in response to a briefing slide he was shown that charted the steady reduction of U.S. nuclear weapons since the late 1960s. Trump indicated he wanted a bigger stockpile, not the bottom position on that downward-sloping curve."
"Trump's advisers, among them the Joint Chiefs of Staff and Secretary of State Rex Tillerson, were surprised. Officials briefly explained the legal and practical impediments to a nuclear buildup and how the current military posture is stronger than it was at the height of the build-up."
"In interviews, they told NBC News that no such expansion is planned."
"It's unclear which portion of the Pentagon briefing prompted Tillerson to call the president a 'moron' after the meeting broke up and some advisers were gathered around. Officials who attended the two-hour session said it included a number of tense exchanges."
https://www.axios.com/newsletters/axios-am-e40e75da-d563-48dd-98fa-9945bbb876d7.html?chunk=2#story2
3. "Like a blowtorch"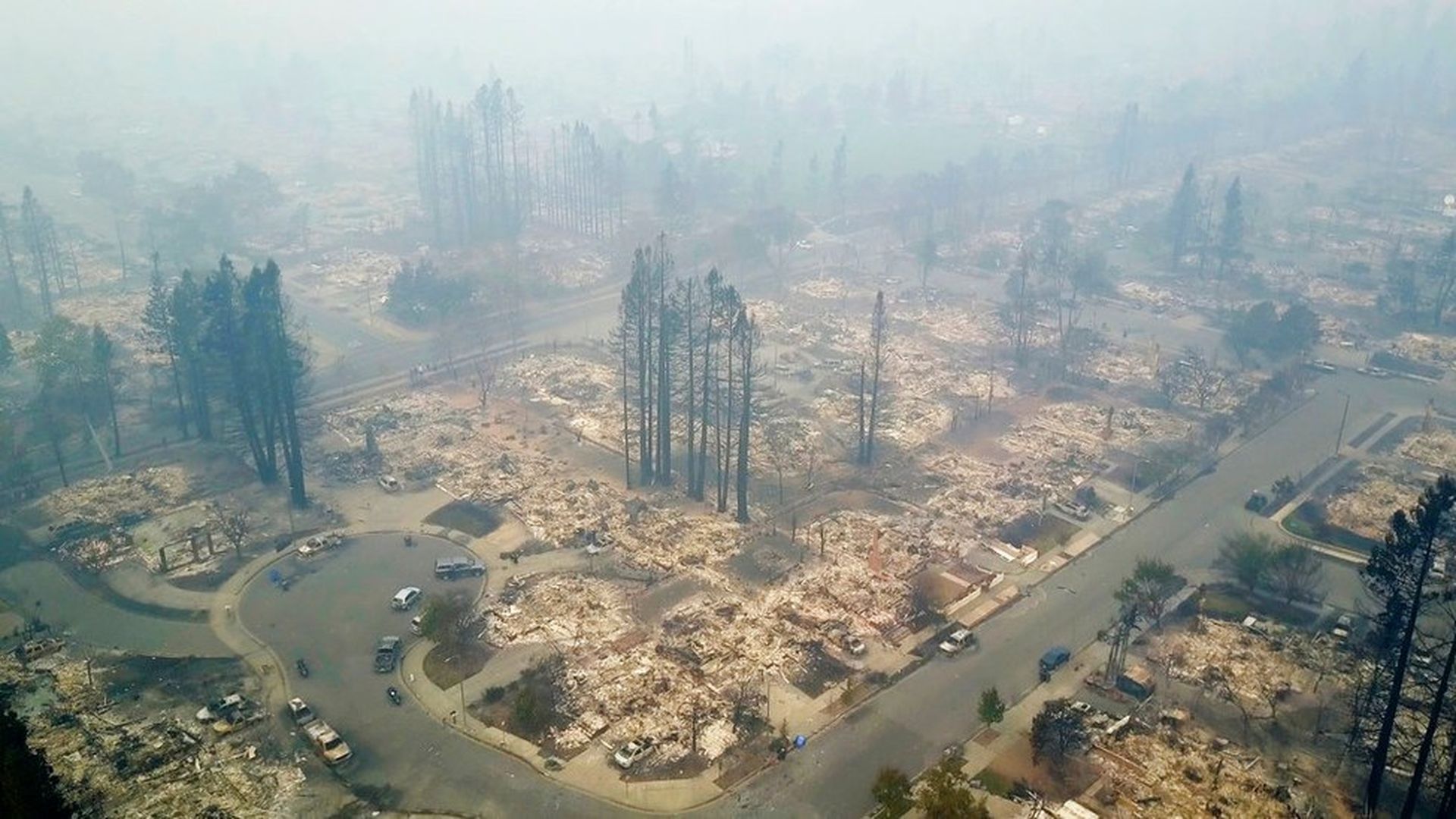 "Toll from Northern California firestorms sharply rise: 2,000 structures destroyed, at least 17 dead" — L.A. Times:
"The devastating losses establish firestorms among the most destructive in California history."
"[O]fficials fear the death toll will ... continue to rise. ... Sonoma County alone has received about 200 reports of missing people."
"The majority of the fatalities are from Sonoma County, where huge swaths of the city of Santa Rosa were leveled by the Tubbs fire. Eleven people have died in Sonoma County."
S.F. Chronicle: "The horror of the disaster was underscored by a desperate effort by people to find relatives who have not been heard from, a problem complicated by downed cell phone towers."
"Entire neighborhoods were turned to ash, forcing many people to run or drive for their lives late Sunday night and Monday morning. Entire mobile home parks were flattened. Among the businesses that were consumed were Signorello Estate Winery in Napa, a Hilton hotel in Santa Rosa and a nearby Kmart. Cardinal Newman High School in Santa Rosa suffered heavy damage."
Go deeper ... Axios map, "Where northern California's wildfires are raging," by Lazaro Gamio.
https://www.axios.com/newsletters/axios-am-e40e75da-d563-48dd-98fa-9945bbb876d7.html?chunk=3#story3
Bonus: Tweet du jour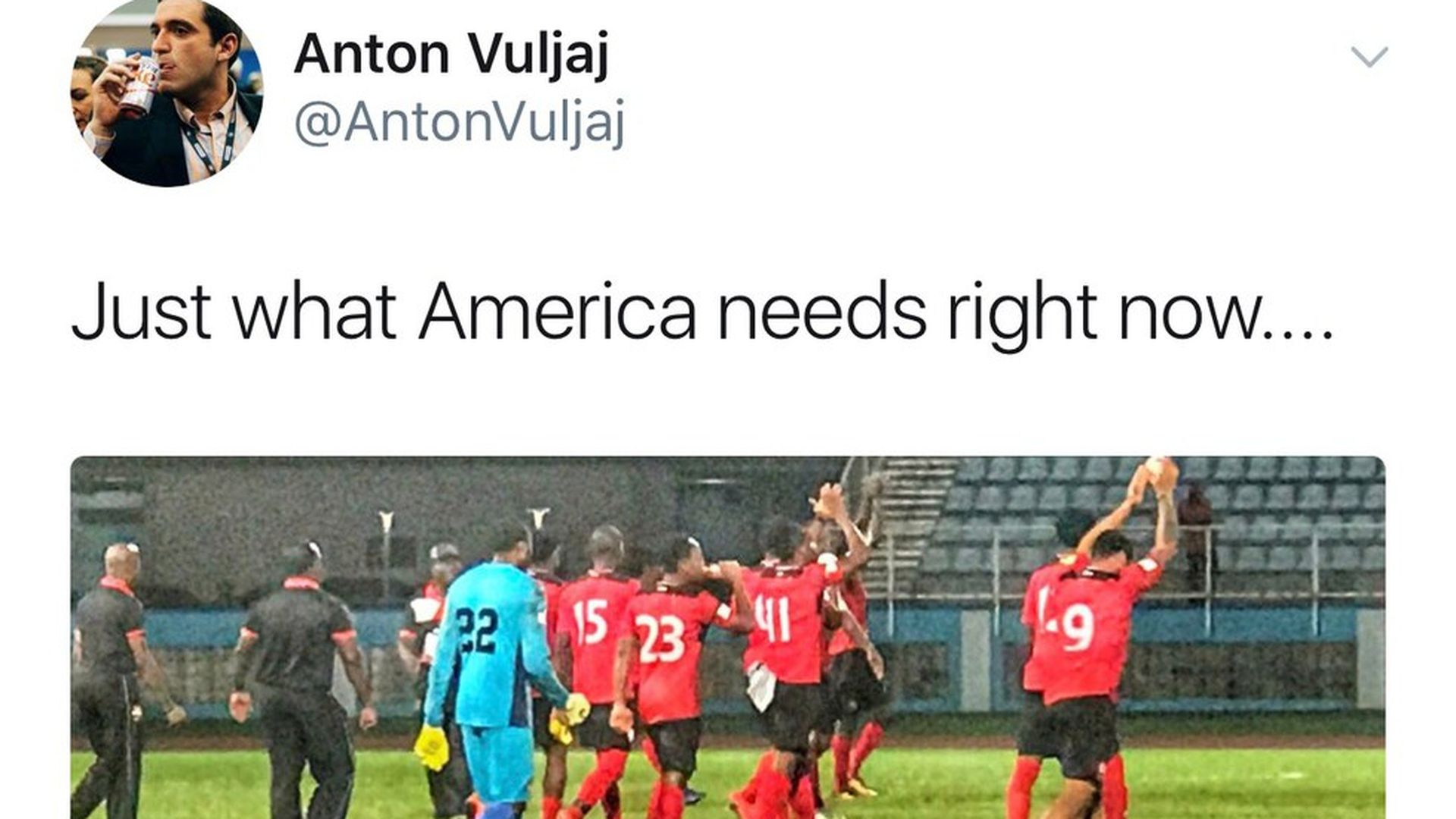 With a stunning 2-1 loss in/to Trinidad and Tobago last night, the U.S. men's national team fails to make the World Cup for the first time since 1986.
https://www.axios.com/newsletters/axios-am-e40e75da-d563-48dd-98fa-9945bbb876d7.html?chunk=4#story4
4. U.K. leapfrogs U.S. on regulating tech
U.K. Prime Minister Teresa May's administration said her cabinet is considering regulating Google and Facebook as news organizations, rather than being treated like pure tech companies, Axios' Sara Fischer and David McCabe report:
May's repeated pushes to hold Facebook, Twitter and Google's feet to the fire contrasts with American officials, who have acted slowly on concerns of misuse of Silicon Valley's platforms.
Why it matters: The speed of the U.K.'s actions means that the United States is falling behind, even though it was the U.S. election nearly a year ago that drew the most attention to the issue.
While May and her Cabinet rush to stop fake news and terrorism from spreading — threatening steep fines — in the United States, Congress has yet to hold its first hearing with the companies. Silicon Valley has also responded more slowly stateside than in Europe.
https://www.axios.com/newsletters/axios-am-e40e75da-d563-48dd-98fa-9945bbb876d7.html?chunk=5#story5
5. Trump's trade war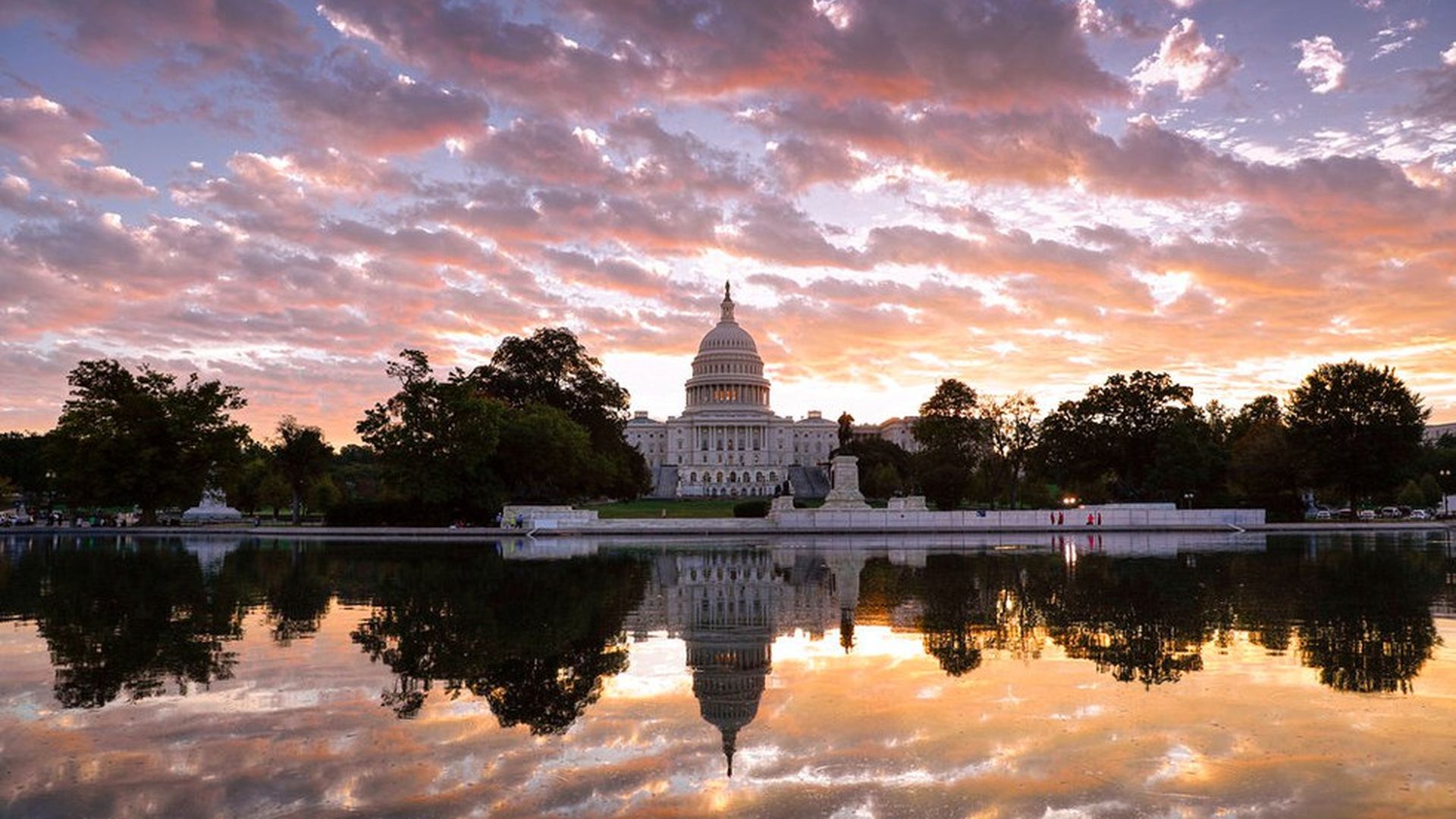 The Trump administration will present controversial proposals for NAFTA negotiations that are expected to attract vehement opposition from Congress, large sections of the U.S. business community and leaders in Canada and Mexico, Axios' Jonathan Swan reports:
Why this matters: Trade experts on and off Capitol Hill are worried that the Trump demands — which many on the Hill regard as unreasonable and inflexible — will torpedo the NAFTA negotiations and ultimately give Trump the justification he's been searching for to withdraw.
A senior congressional aide said the administration is pushing to include the following issues, which are troublesome to large sections of Congress and the business community:
Auto rules of origin: Requiring very high percentages of car parts and materials to be made by the NAFTA countries.
Five-year sunset: Every five years, the parties to the agreement — the U.S., Canada, and Mexico — would have to restate their willingness to continue the agreement, creating a virtual cliff every five years. A top trade lawyer in Washington described this proposal as "lunacy," saying it would discourage investors from building in North America on the expectation of NAFTA benefits.
Bottom line: Although these are just opening bids, many trade experts worry that Trump and chief trade negotiator Robert Lighthizer are being so aggressive and unreasonable that Canada or Mexico will see no choice but to walk away.
Go deeper ... See more of the demands.
https://www.axios.com/newsletters/axios-am-e40e75da-d563-48dd-98fa-9945bbb876d7.html?chunk=6#story6
6. Explaining the inexplicable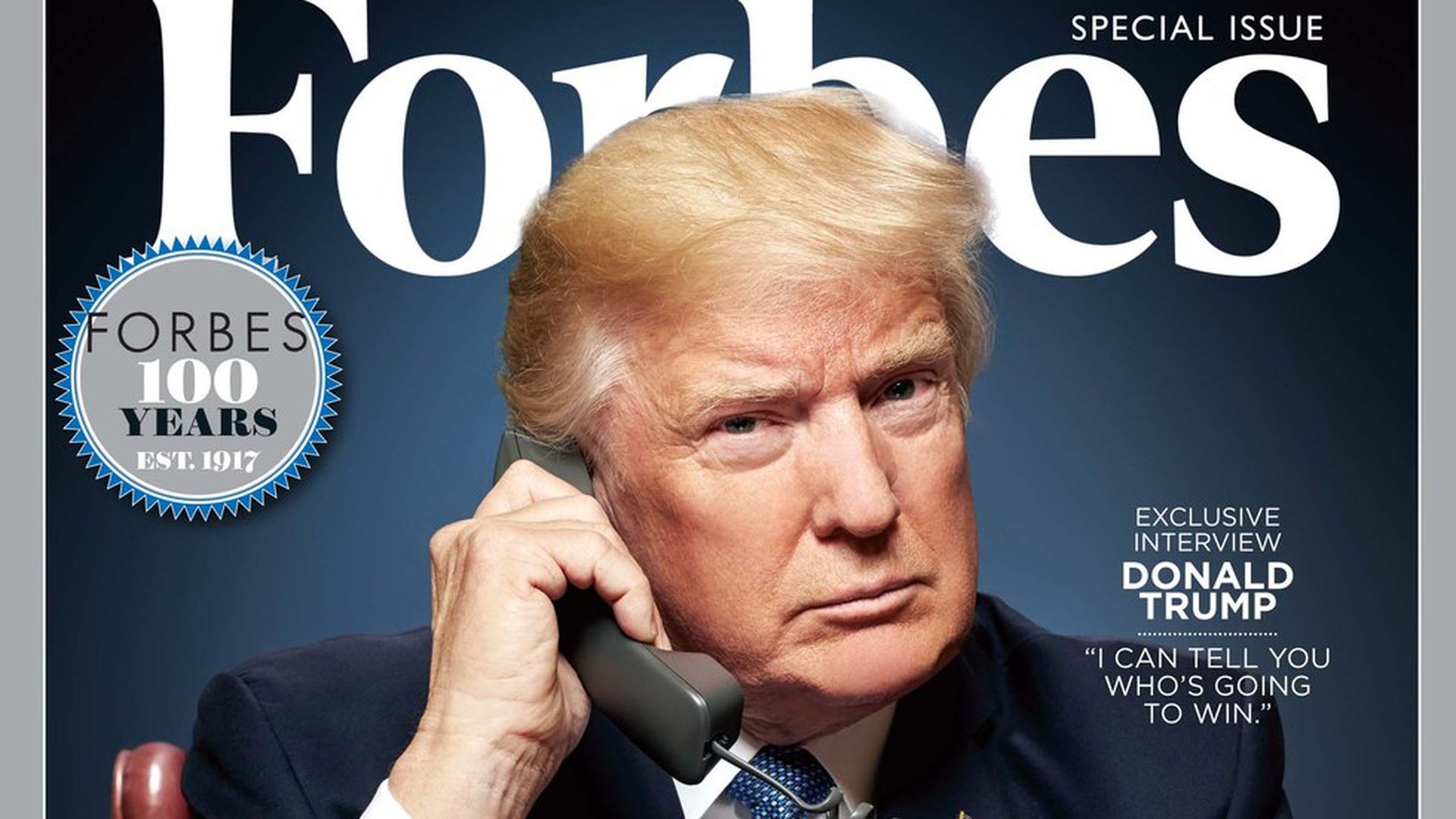 "Big numbers have always attracted Trump, regardless of their accuracy," writes Randall Lane, editor of Forbes, after the interview where the president challenged his SecState to an IQ comparison:
"He numbered the floors in Trump Tower to make the building seem taller, obsessed over his Apprentice ratings and lied about the square footage of his penthouse. All of this explains the inexplicable — the need to exaggerate crowd sizes or shoot the messenger any time a bad poll comes out."
"American business has fully embraced Big Data ... But Trump, for decades, has boasted about how he conducts his own research — largely anecdotal — and then buys or sells based on instinct. Numbers are then used to justify his gut.
"He governs exactly that way, sticking with even his most illogical campaign promises — the kind other politicians walk back from once confronted with actual policy decisions, whether making Mexico pay for a border wall when illegal immigration is historically low or pulling the U.S. from the Paris climate accords, despite the fact that compliance is voluntary."
Trump quote: "I'm generally not going to make a lot of the appointments that would normally be — because you don't need them ... I mean, you look at some of these agencies, how massive they are, and it's totally unnecessary. They have hundreds of thousands of people."
"Trump Unfiltered": See the transcript of Trump's interview.
https://www.axios.com/newsletters/axios-am-e40e75da-d563-48dd-98fa-9945bbb876d7.html?chunk=7#story7
7. Poll du jour
https://www.axios.com/newsletters/axios-am-e40e75da-d563-48dd-98fa-9945bbb876d7.html?chunk=8#story8
8. Axios on the road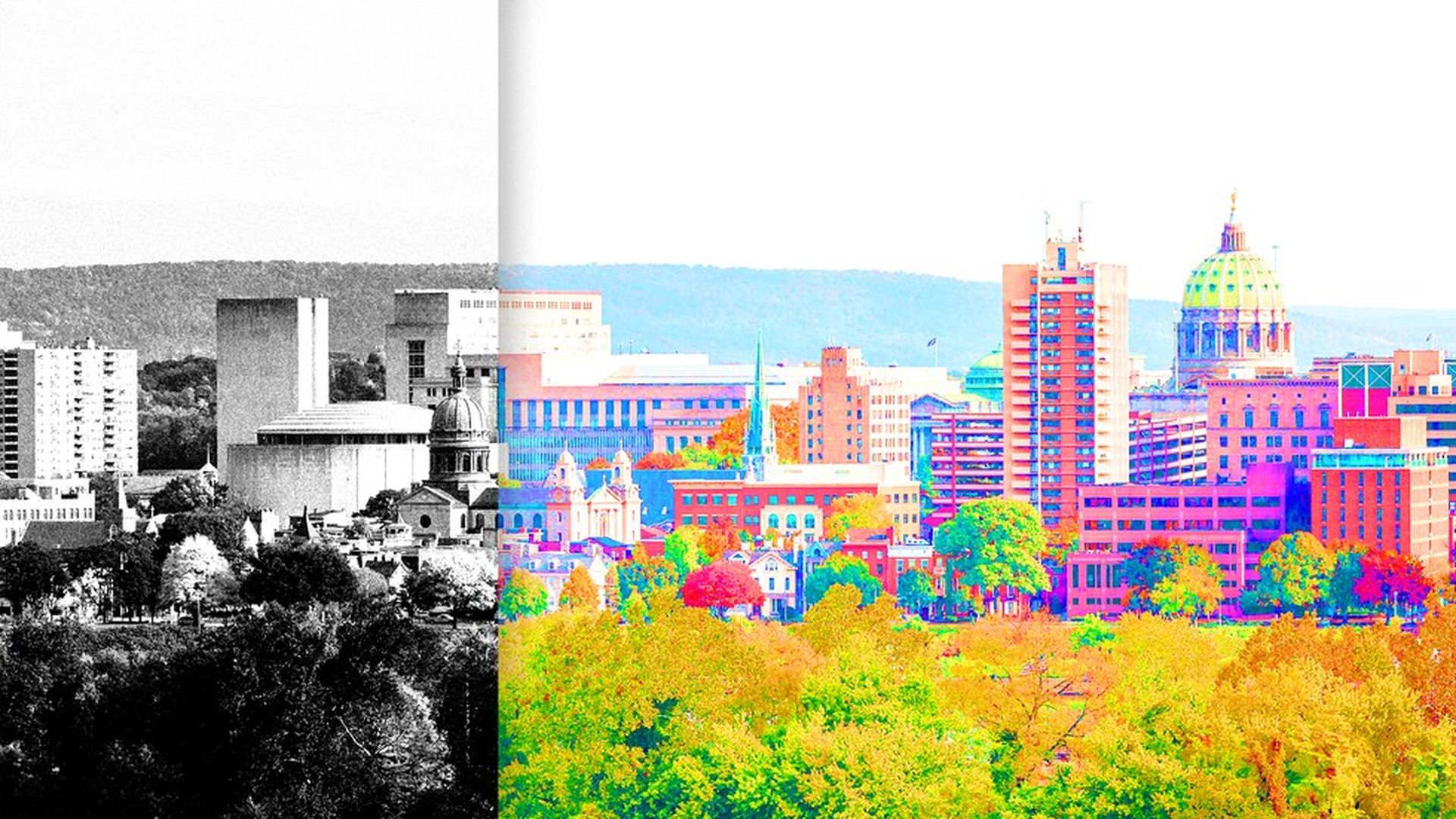 "How manufacturing is fueling robotics in central Pennsylvania," by Axios tech editor Kim Hart in York, Pa.:
For decades, Rust Belt cities have been seen as decaying manufacturing centers struggling to reinvent themselves. Now, central Pennsylvania — comprised of the smaller cities of York, Lancaster and Harrisburg — is trying to leverage its long history of manufacturing as the foundation for a vibrant robotics hub.
Why it matters: President Trump made dwindling manufacturing jobs a big theme of the presidential election, blaming globalization for the losses. Now many fear that artificial intelligence-infused technologies and robots will kill even more legacy jobs. Some small and mid-sized cities are looking to use their mechanical backgrounds to their advantage.
https://www.axios.com/newsletters/axios-am-e40e75da-d563-48dd-98fa-9945bbb876d7.html?chunk=9#story9
9. Weinstein flees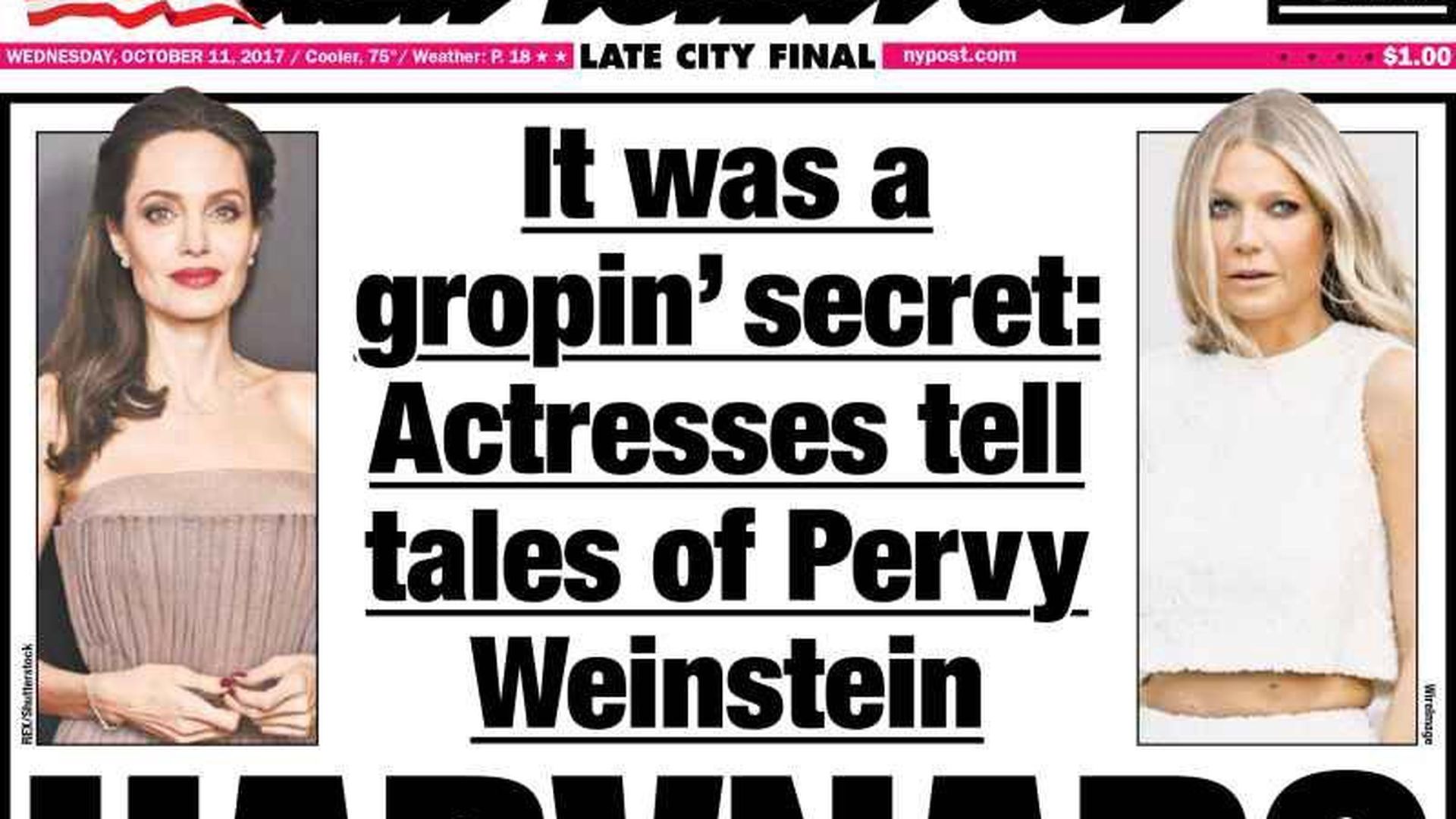 "Harvey Weinstein [planned to fly to] a rehab center in Europe for sex addiction ... and other behavioral issues," TMZ reported after a day of stunning new revelations, paired with repudiations by the Clintons and Obamas.
If you read only one thing ... Ronan Farrow in The New Yorker, "Weinstein's Accusers Tell Their Stories: Multiple women, including Mira Sorvino, Rosanna Arquette, and Asia Argento, share harrowing accounts of sexual assault and harassment by the film executive."
And on the N.Y. Times front page: "Gwyneth Paltrow, Angelina Jolie and Others Say Weinstein Harassed Them" .... "This way of treating women ends now," Paltrow said as she and other actresses accused the producer of casting-couch abuses."
Jeffrey Katzenberg's reply to Weinstein's plea for an endorsement: "Having watched your reactions, seen the actions you have taken and read your statement, I will tell you, in my opinion, you have gone about this all wrong and you are continuing to make a horrible set of circumstances even worse."
https://www.axios.com/newsletters/axios-am-e40e75da-d563-48dd-98fa-9945bbb876d7.html?chunk=10#story10
10. 1 fun thing: Maple is the new pumpkin
"Pumpkin spice fights maple to keep its fall flavor crown," per USA Today front page:
"The fall flavor fight is on. Pumpkin still reigns supreme, but maple is looking to steal the crown."
"Starbucks has introduced a Maple Pecan Latte for autumn."
"[S]ales of pumpkin-flavored items are slowing down."