https://www.axios.com/newsletters/axios-am-e3bd483d-bdc8-4848-8b3c-c7a38f8b98c0.html?chunk=0#story0
1 big thing: Trump's biggest day?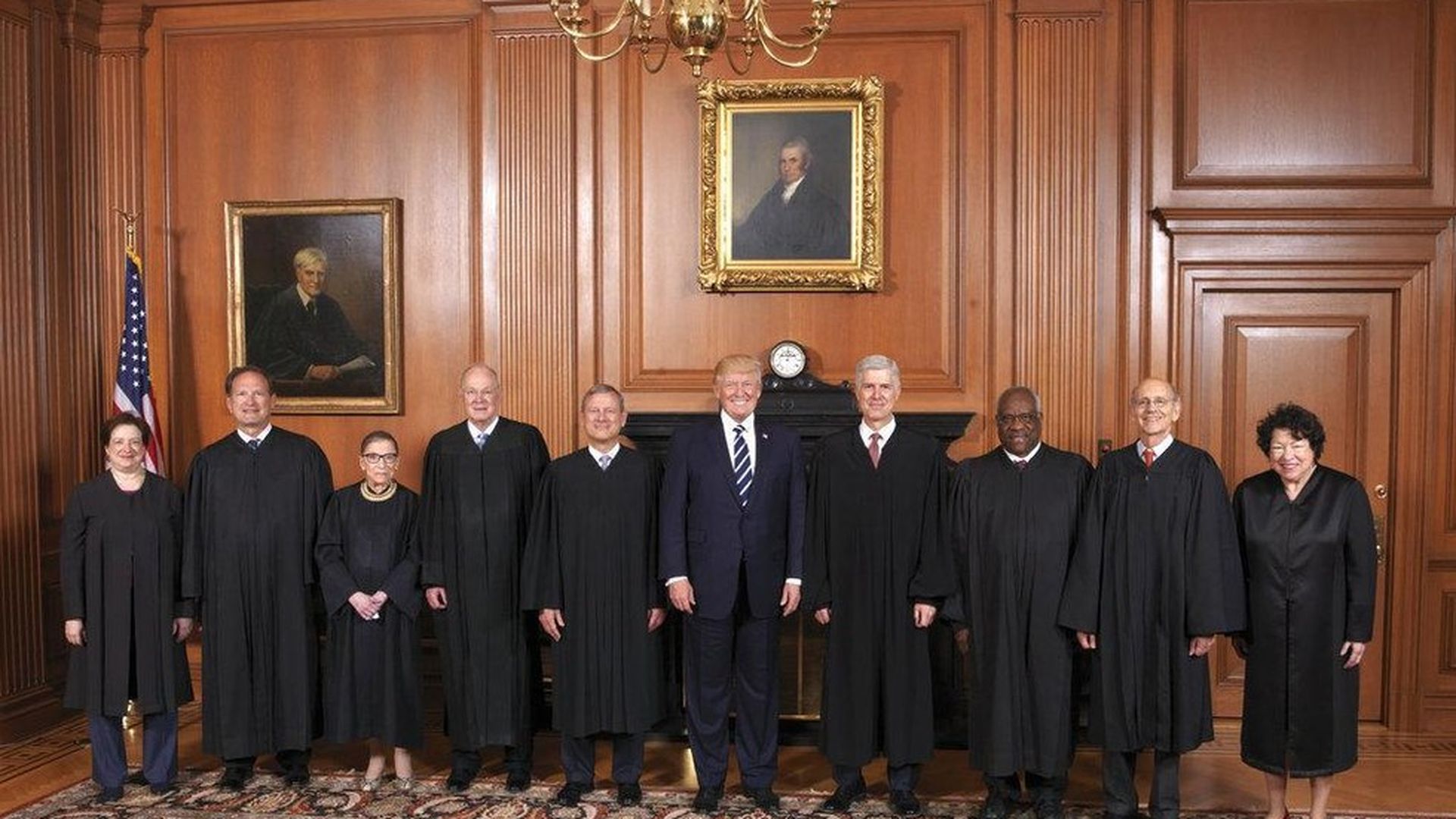 White House sources think Justice Anthony Kennedy, the Supreme Court's ideological fulcrum, may announce his retirement today, as the justices gather on the bench for the last time this term.
If that happens, Day 158 instantly becomes President Trump's biggest moment.
Trump's first Court appointment, of Justice Neil Gorsuch, was a one-for-one ideological swap for the late Justice Antonin Scalia.
Replacing Kennedy would be even more historic and consequential: a momentous chance to edge the Court right, since Kennedy is the center of the Court — the one most willing to listen to both sides. On a controversial case, both sides pitch to him. It's been called "Kennedy's Court."
No one's predicting: Court watchers say no one knows, and Kennedy has said nothing publicly. He could well wait one more year: The Court buzz is that it'll be this year or next.
Lyle Denniston, who has covered the Supreme Court for 58 years, headlines a post on his website, "High drama: Supreme Court term is ending": "[R]umors have continued to make the rounds that ... Kennedy, who will be 81 in July, could reveal plans [today] to end his career. ... The longest serving of the Justices, Kennedy joined the court more than 29 years ago."
Be smart: Few domestic developments could more instantly and decisively change the national conversation — blotting out almost everything else, and vastly reducing the sting for conservatives is healthcare tanks.
A Washington wise man emails: "With two court appointments and maybe one more, Trump's presidency will be consequential even if he has few legislative achievements. This week may well demonstrate both."
https://www.axios.com/newsletters/axios-am-e3bd483d-bdc8-4848-8b3c-c7a38f8b98c0.html?chunk=1#story1
2. McConnell's magic trick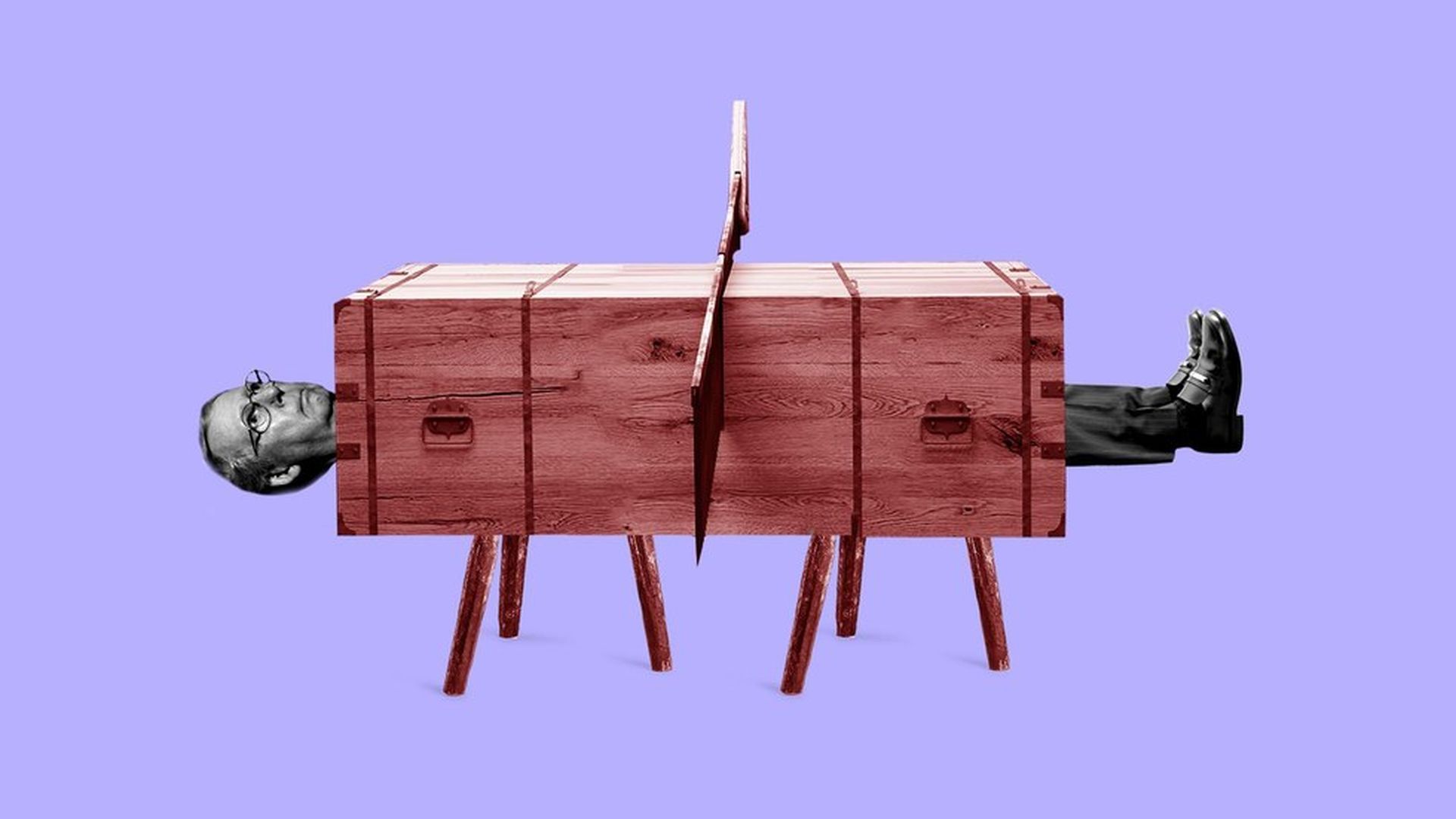 Pressure is growing for Senator Majority Leader Mitch McConnell to give the healthcare bill some breathing room past this week.
The plan had been to force a vote before the July 4 break, with votes possibly extending into early Saturday. The theory has been that passage won't get any easier with time, and the only hope was to just get it over with.
A source close to Senate leadership told me: "No need to let this bill fester if it's going to fail."
Now, with several crucial senators saying they want more time and have trouble envisioning passage this week, White House officials tell us they set no deadline: The hope is just for final passage before the August recess, and getting it out of the Senate this week would allow more time for it to go back through the House.
Be smart: White House officials expect a roller-coaster week, with cycles of the bill being declared dead, followed by supposed breakthroughs that may prove illusory. But the bill is so politically fraught that it's hard to see its chances improving if it's still in limbo when senators — skeptical themselves — go home to face constituents.
P.S. Sen. Ron Johnson of Wisconsin, one of the endangered Republican votes, has an Op-Ed in today's N.Y. Times, "Where the Health Care Bill Fails."
https://www.axios.com/newsletters/axios-am-e3bd483d-bdc8-4848-8b3c-c7a38f8b98c0.html?chunk=2#story2
3. Trump group gives Heller a second chance
Many Republicans wondered this weekend if it made sense for America First Policies, the outside group backing President Trump, to run attack ads against Sen. Dean Heller (R-Nev.) for wavering on healthcare, when his vote is desperately needed.
"Does Trump team think it's smart to attack the most endangered GOP senator, from a state Trump lost?" asked a longtime lion of the GOP. "This is the second dumbest thing Trump has done since firing Comey."
Well, I've learned that the group is giving Heller a chance to modify his blast at the bill, before unleashing an advertising attack in his home state.
The backstory: After Heller announced his surprise opposition to the Senate bill on Friday, the group said it planned a seven-figure buy in Nevada.
The drama: The attacks have not begun — and won't, if Heller retreats. The group could follow what it did with some wavering House members, and run ads of encouragement rather than opposition.
A Republican operative: "The content of the ad is really up to Senator Heller ... If [moderate] Congressman [Tom] MacArthur and [conservative] Congressman [Mark] Meadows can work together in the House to get to yes, I'd like to think Senator Heller could work with Leader McConnell to get to yes."
The arsenal: Phone banks that connect constituents with senators' offices are being run by America First Policies in the states of eight wavering senators: Ohio, Kentucky, Utah, Texas, Maine, Wisconsin, Louisiana and Alaska.
The longer game: Looking ahead to 2018, the group is running cable ads against Democrats in these eight states, starting this week: Michigan, Ohio, Montana, North Dakota, Virginia, Missouri, Indiana and West Virginia.
https://www.axios.com/newsletters/axios-am-e3bd483d-bdc8-4848-8b3c-c7a38f8b98c0.html?chunk=3#story3
4. Zeitgeist: "Just wait"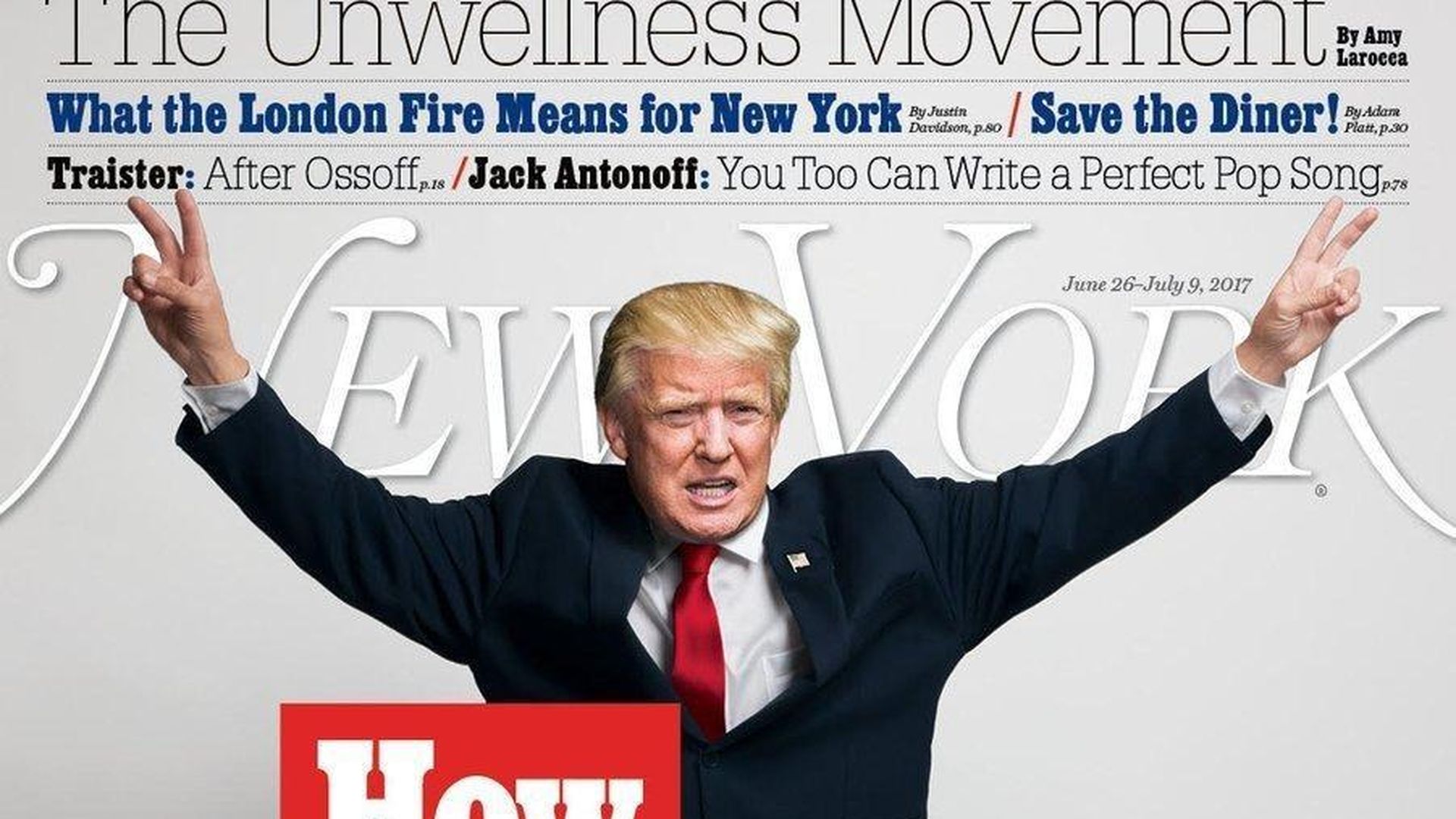 "Watergate didn't become Watergate overnight, either" — New York mag cover story, by Frank Rich :
"For all the months of sensational revelations and criminal indictments (including of his campaign manager and former attorney general, John Mitchell), a Harris poll found that only 22 percent thought Nixon should leave office. Gallup put the president's approval rating in the upper 30s, roughly where our current president stands now — lousy, but not apocalyptic. There had yet to be an impeachment resolution filed in Congress by even Nixon's most partisan adversaries. ... [A]fter Nixon hit a new low of a 27 percent approval rating in November 1973, he spiked to 37 in a Harris poll a month later. ...
"Looking back on it all, Elizabeth Drew would write, 'In retrospect, the denouement appeared inevitable — but it certainly didn't feel like that at the time.'"
P.S. John Dickerson "Notebook" on "Face the Nation": "Why would President Trump encourage Nixon obstruction of justice comparisons by talking about tapes?" (Video)
https://www.axios.com/newsletters/axios-am-e3bd483d-bdc8-4848-8b3c-c7a38f8b98c0.html?chunk=4#story4
5. Tracking power
The N.Y. Times has a top-of-front-page update on the surprising sidelining of one of Trump's invisible men, SecState Rex Tillerson — former Exxon CEO, and one of the more impressive "gets" for the Cabinet:
"Tillerson Finds Role Undercut By Oval Office," by David E. Sanger, Gardiner Harris and Mark Landler:
Tillerson's "first opportunity to use [his Middle East] experience — as a behind-the-scenes mediator in the dispute between Qatar and Saudi Arabia — has put Mr. Tillerson in exactly the place a secretary of state does not want to be: in public disagreement with the president who appointed him."
Takeaway 1: "Some in the White House say that the discord in the Qatar dispute is part of a broader struggle over who is in charge of Middle East policy — Mr. Tillerson or Jared Kushner."
Takeaway 2: "Others say it is merely symptomatic of a dysfunctional State Department that ... does not yet have in place the senior political appointees who make the wheels of diplomacy turn."
Optics: "[I]n the State Department's seventh-floor offices, ... the art and colors of the American West now hang, rather than paintings of long-dead diplomats."
R.C. Hammond, Tillerson's strategic adviser: "He thinks like a cowboy ... You carry a revolver with only six shots, and you don't waste your bullets."
P.S. L.A. Times lead story, "Nations feel cut off from the Trump White House: With few ambassadors and an anemic State Department, foreign envoys resort to novel ways to connect," by Tracy Wilkinson: "Of the most important positions, only the U.S. envoy to China, former Iowa Gov. Terry Branstad, has been confirmed by the Senate."
https://www.axios.com/newsletters/axios-am-e3bd483d-bdc8-4848-8b3c-c7a38f8b98c0.html?chunk=5#story5
6. Trump Nation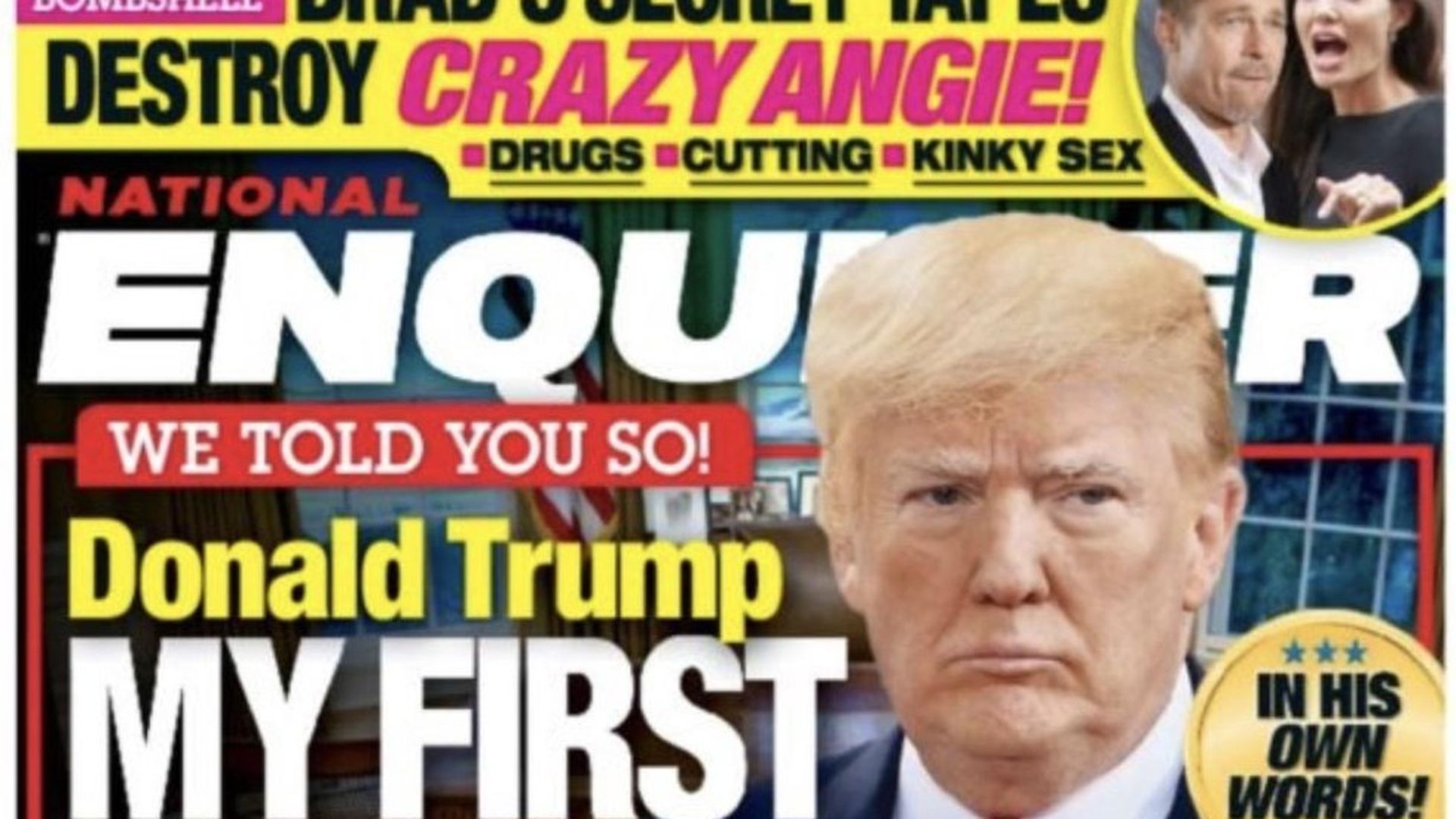 The New Yorker's Jeffrey Toobin digs into "The National Enquirer's Fervor for Trump: The tabloid is defined by its predatory spirit. Why has it embraced the President with such sycophantic zeal?"
Trump has been friends for decades with "David Pecker, the longtime chief executive of American Media, Inc., which owns most of the nation's supermarket tabloids and gossip magazines, including the Star, the Globe, the Examiner, and OK!, as well as the flagship Enquirer."
The Enquirer "made its first political endorsement ever, of Trump, last spring. Cover headlines promised, "Donald Trump's Revenge on Hillary & Her Puppets' and 'Top Secret Plan Inside: How Trump Will Win Debate!'"
Why it matters: "Pecker is now considering expanding his business: he may bid to take over the financially strapped magazines of Time, Inc., which include Time, People, and Fortune. ... Pecker would almost certainly direct those magazines, and the journalists who work for them, to advance the interests of the President and to damage those of his opponents."
https://www.axios.com/newsletters/axios-am-e3bd483d-bdc8-4848-8b3c-c7a38f8b98c0.html?chunk=6#story6
7. Wall Street starts to sweat climate change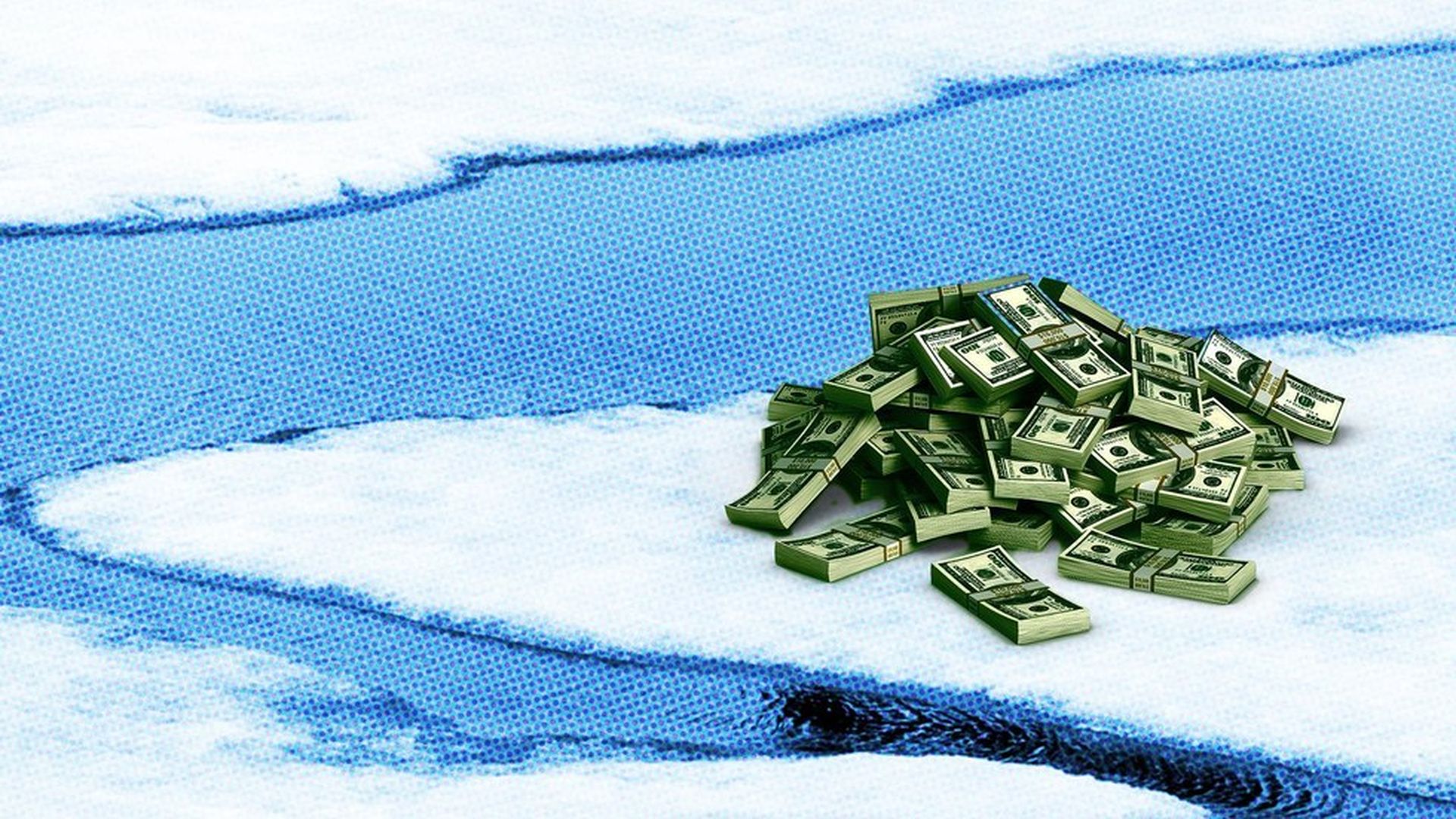 A record number of investors are pressuring fossil-fuel companies to reveal how climate change could hit their bottom lines, Axios' Amy Harder writes in her "Harder Line" energy column:
Efforts by shareholders to push resolutions on the risk related to carbon regulations are reaching a tipping point, with almost half of investors in fossil-fuel and utility companies backing resolutions, according to a new analysis by nonprofit group Ceres not yet published publicly.
Activist shareholders of publicly traded companies have been pushing resolutions on climate change for years and now the effort is going mainstream with new support from institutional investors.
Why it matters: With the U.S. government retreating on climate policy under Trump, corporate America is emerging as the central battleground.
https://www.axios.com/newsletters/axios-am-e3bd483d-bdc8-4848-8b3c-c7a38f8b98c0.html?chunk=7#story7
8. The talk of tech
"Google faces $1bn Brussels fine for abuse of dominance in search: Final decision by EU college of commissioners expected [Wednesday]," by Financial Times' Rochelle Toplensky (Subscription):
"Brussels plans to hit Google this week with a fine of more than €1bn for abusing its dominance in search, a decision that is likely to inflame already strained transatlantic relations."
"EU antitrust officials have formally recommended that the search giant be found in breach of competition regulations for using its near-monopoly in online search to steer customers unfairly to its own Google Shopping service."
Why it matters: "The longstanding transatlantic partnership has been shaken by Donald Trump's policy shifts and Brussels is wary of how the US president might react to a big EU fine against one of the country's corporate champions."
A Google spokesperson tells us: "We continue to engage constructively with the European Commission and we believe strongly that our innovations in online shopping have been good for shoppers, retailers and competition." (Google's background)
https://www.axios.com/newsletters/axios-am-e3bd483d-bdc8-4848-8b3c-c7a38f8b98c0.html?chunk=8#story8
9. Worst slogan ever?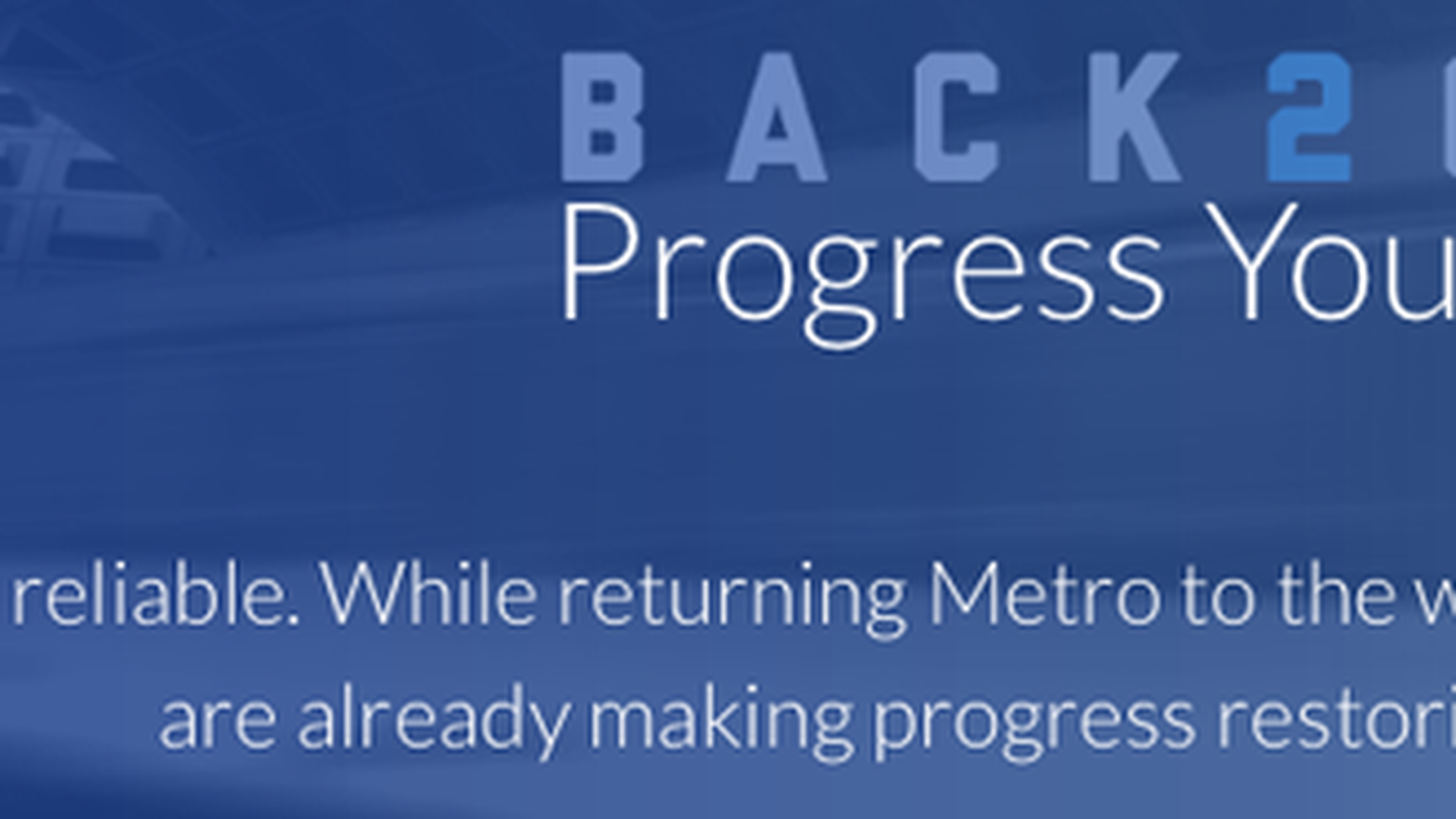 With yesterday's end of Metro's yearlong emergency maintenance blitz, SafeTrack, the N.Y. Times' Nicholas Fandos takes a foreign correspondent's look at the D.C. subway:
"Metro wraps up a yearlong, more than $150 million maintenance blitz aimed at bringing its aging infrastructure back from the brink of collapse. Its leaders say the program, SafeTrack, was a success, making the system significantly less dangerous — and, as riders returning after the blitz ends Sunday will hopefully find, more reliable."
"The costs have been high. Rail ridership was down 10 percent through March compared to the last fiscal year. And ridership is down close to 20 percent, about 150,000 trips per weekday on average, since it peaked a decade ago."
"The system is younger than Boston's or New York's — the Red Line opened in 1976 — and its leaders spent much of their time and money on expanding it deeper into Maryland and Virginia rather than maintaining what was already built."
"Riders returning on Monday will be greeted by a new public relations campaign, Back2Good, which though not exactly inspiring, has found its way onto posters across the system citing improvements like new escalators and on-platform Wi-Fi."
https://www.axios.com/newsletters/axios-am-e3bd483d-bdc8-4848-8b3c-c7a38f8b98c0.html?chunk=9#story9
10. 1 fun thing