❄️ Good Wednesday morning. Bulletin ... Early this morning, the Austin bombing suspect killed himself with an explosive device as police closed in, per Austin American-Statesman. Details at #4.
Check out this clip from today's Axios "1 Big Thing" segment, airing on MSNBC's "First Look" at 5:55 a.m., in the lead-in to "Morning Joe."
Situational awareness: Teachers in Oklahoma may walk next, per N.Y. Times.
If you're in D.C. with a snow day ... Please join me at 3 p.m. at Howard University for a conversation about "Defining the Future," on the fourth leg of our Axios Smarter Faster Revolution campus tour. RSVP here. 
https://www.axios.com/newsletters/axios-am-e3580159-3183-4687-b853-bd5e48c555f2.html?chunk=0#story0
1 big thing: Stunning leak rattles Trump, aides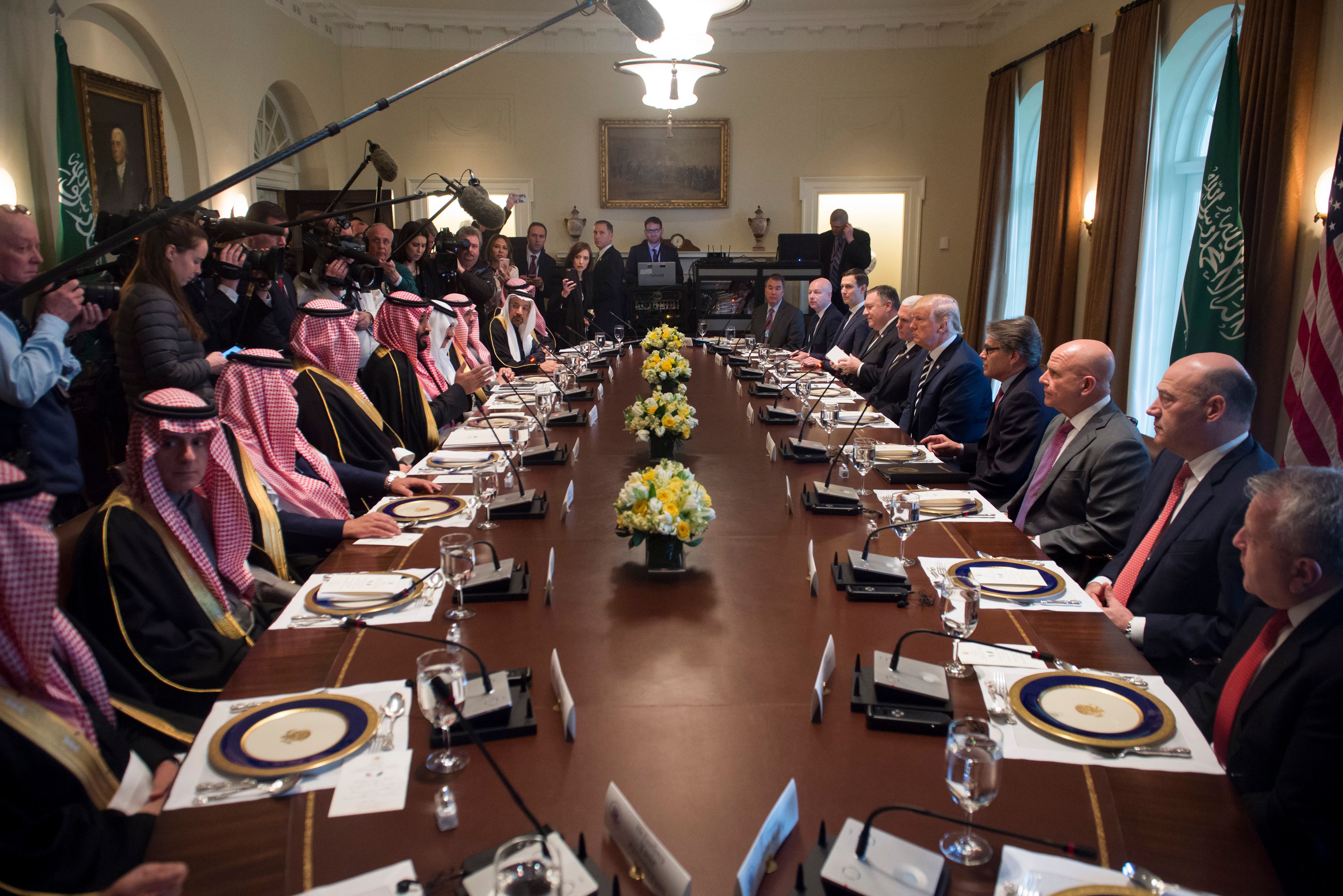 President Trump holds a lunch meeting with Saudi Crown Prince Mohammed bin Salman in the Cabinet Room. (Saul Loeb / AFP / Getty Images)
One of the most startling leaks — and stunning revelations — of this whole administration has left President Trump and his senior staff furious and rattled.
The WashPost reports in its lead story: "Trump did not follow specific warnings from his national security advisers [yesterday] when he congratulated ... Putin on his reelection — including a section in his briefing materials in all-capital letters stating 'DO NOT CONGRATULATE.'"
"Trump also chose not to heed talking points from aides instructing him to condemn the recent poisoning of a former Russian spy in Britain with a powerful nerve agent," The Post added.
Axios' Jonathan Swan reports that the speed and sensitivity of the leak prompted immediate finger-pointing within the administration, as aides reeled from a leak that could only have come from a small group of people, each of whom is trusted with sensitive national secrets.
Possible motives include concern about how Trump is handling Putin, frustration by the officials about Trump ignoring their advice, or internal power games.
A White House official, furious about the WaPo story, told Swan: "This is the way Trump is. If he's doing business with you or working with you in some way, he's going to congratulate you."
The official said: "The idea he's being soft on Russia is crap. He approved Javelin missiles to Ukraine, closed the consulate in San Francisco, approved the sanctions. ... But ... he doesn't want his personal relationship [with Putin] to be acrimonious."
Trump's view is there's a lot of business to be done, and overlapping interests, and if the relationship between the two countries "is to rebuilt, the line has to be through the personal, leader-to-leader level."
Trump had nonchalantly disclosed his message to Putin, while speaking to reporters during an Oval Office appearance with Saudi Crown Prince Mohammed bin Salman.
Trump told reporters: "I had a call with President Putin and congratulated him on ... his electoral victory."
"We had a very good call, and I suspect that we'll probably be meeting in the not-too-distant future to discuss the arms race, which is getting out of control — but we will never allow anybody to have anything even close to what we have. And also to discuss Ukraine and Syria and North Korea and various other things."
"So I think, probably, we'll be seeing President Putin in the not-too-distant future."
Why it matters, from the WashPost: "The president's conversation with Putin ... prompted fresh criticism of his muted tone toward one of the United States' biggest geopolitical rivals amid the special counsel investigation."
https://www.axios.com/newsletters/axios-am-e3580159-3183-4687-b853-bd5e48c555f2.html?chunk=1#story1
2. Scoop: Zuckerberg finally plans to speak
Axios is told that Facebook CEO Mark Zuckerberg plans to speak out in the next 24 hours on the data-harvesting revelations that have hammered his stock price, inflamed lawmakers in D.C. and Europe, and trapped his social network in a crisis of trust.
"It's a big deal, and he knows it," said a source close to Zuckerberg.
We're told that Zuckerberg was initially more focused on how to fix the problems than on what to say.
But that left a vacuum that provoked merciless coverage, increased lawmakers' suspicions, and even left some employees demoralized.
The coverage, like the stock drop, is brutal: A USA Today headline calls the Cambridge Analytica crisis a "catastrophic moment" for Facebook. An online N.Y. Times opinion piece is headlined, "Facebook's Surveillance Machine."
We're told that Zuckerberg's remarks will be aimed at rebuilding trust, and that he wanted to say something meaningful rather than just rushing out.
Behind the scenes, Zuckerberg has been having detailed conversations with product engineers about things that can be done to make Facebook more secure, and to make people feel their data is more secure.
Be smart: A problem with that argument is that Facebook has long known about these vulnerabilities. And the commercial use of your personal data, in ways you may not knowingly approve, has always been part of the business model.
Wall Street Journal front page, "Facebook's Lax Data Policies Led to Cambridge Analytica Crisis ... Social-media giant's loose policing of app developers went on for years" (subscription):
How it happened: "The Cambridge Analytica crisis has its roots in a 2007 decision by Facebook to open access to its so-called social graph — the web of friend connections, 'likes' and other Facebook activity."
"Although Facebook had rules stating the terms under which developers could accumulate data, it appeared not to be able to ensure its rules were being followed."
https://www.axios.com/newsletters/axios-am-e3580159-3183-4687-b853-bd5e48c555f2.html?chunk=2#story2
3. New divide: Social media v. rest of tech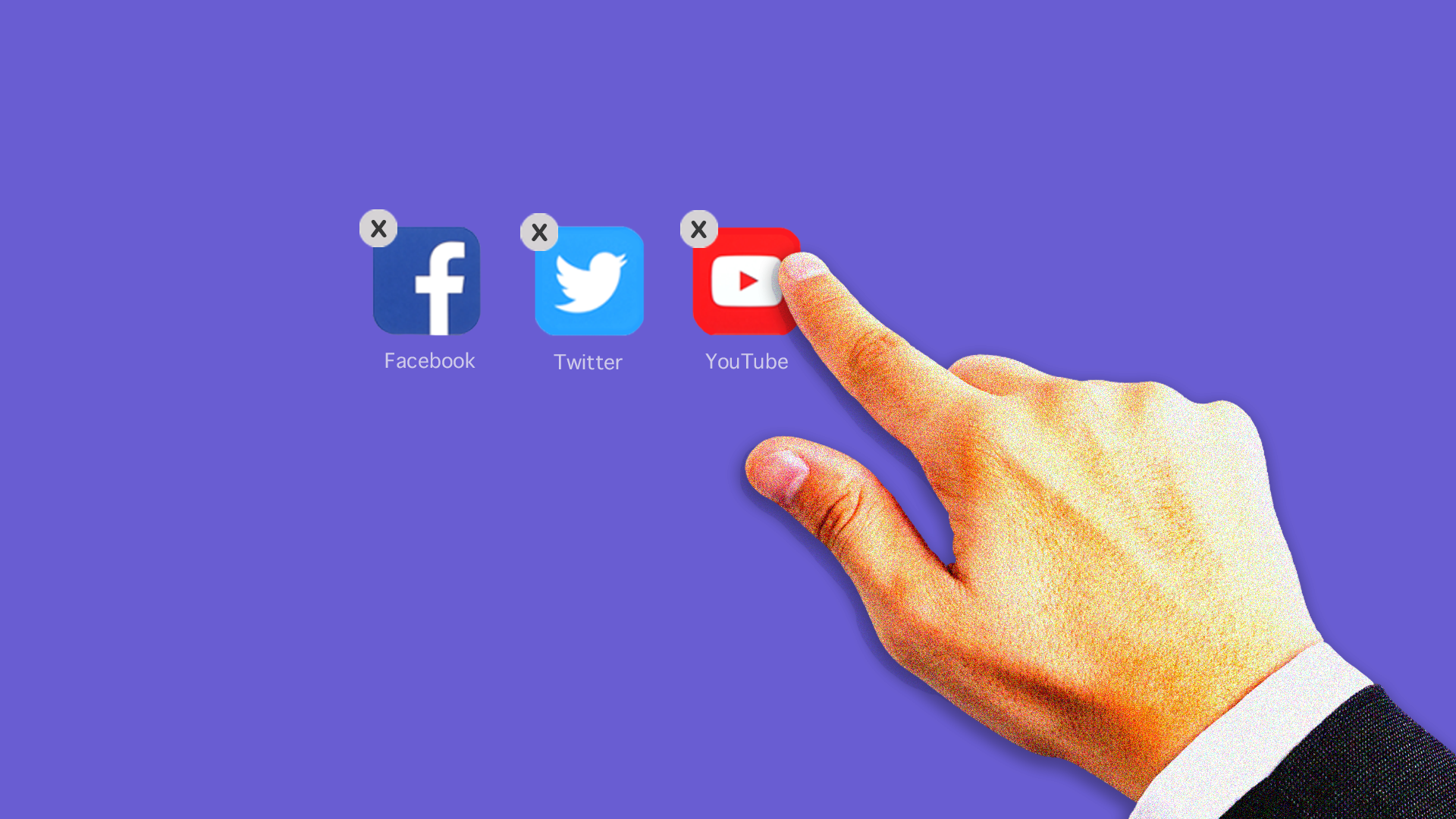 Not so long ago, social media companies were the poster children of the internet's power to connect, Axios managing editor Kim Hart writes:
But now that they're being hammered over mischief on their platforms — including Facebook's Cambridge Analytica scandal — other tech companies are parting ways with them on policy fights, and dropping not-so-subtle hints about the need for greater social responsibility.
The tech industry is splintering in the wake of the controversies surrounding social platforms like Facebook, Twitter and Google's YouTube:
A wide range of companies — from legacy Silicon Valley firms like IBM and Oracle to business-focused firms like Salesforce and Cisco — want to be seen as responsible players who can be trusted to make wise decisions when faced with tough calls.
A senior official at a major tech company said: "We don't want to be collateral damage. We're very nervous that the behavior of these companies is going to give the whole industry a black eye."
What's changed: For years, the tech industry has more or less traveled in a pack in Washington, joining forces to both push for and fight against specific policies. But as new skepticism — and new threats of regulation — come down on a few big names, their Bay Area brethren don't want to be painted with the same broad "Big Tech" brush.
IBM, Oracle and Hewlett Packard Enterprise have broken with the social media firms on big policy positions.
IBM also called for internet media companies to "embrace their responsibility to usher in new technology in ways that are transparent and readily explainable."
Chris Padilla, IBM's V.P. of government and regulatory affairs, in a blog post this month: "People want to know how their data is being used, who owns it, where it is stored, and how the algorithms that give them information work."
Salesforce CEO Marc Benioff said regulators should be more aggressive in reining in big technology companies for creating addictive services, comparing it to the cigarette industry.
The big trend, even beyond tech: Companies of all stripes are trying to explain more clearly what they do, why they're different, and how they benefit society.
https://www.axios.com/newsletters/axios-am-e3580159-3183-4687-b853-bd5e48c555f2.html?chunk=3#story3
Bonus: Pic du jour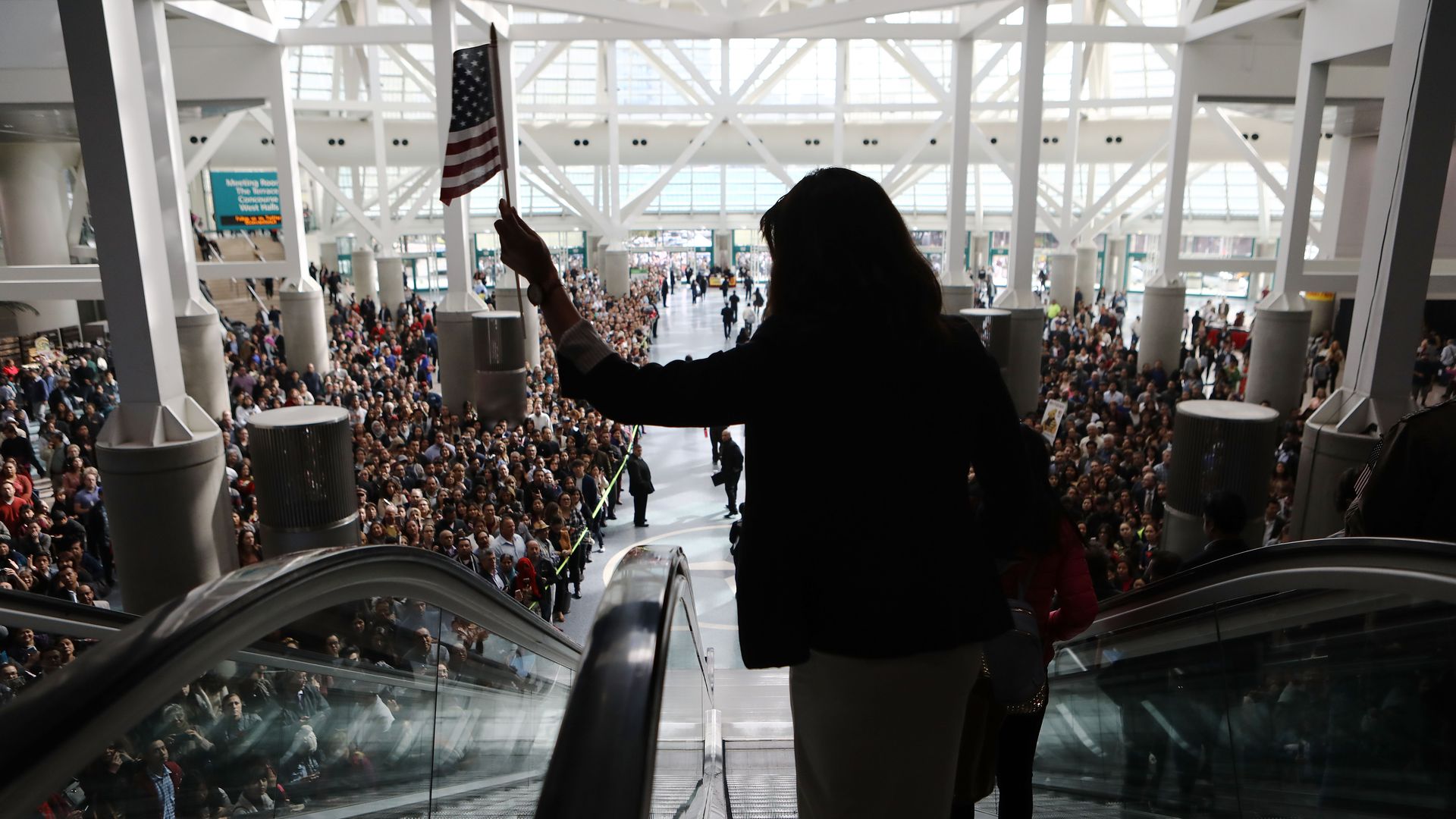 A new U.S. citizen waves an American flag while departing a naturalization ceremony yesterday in Los Angeles.
The ceremony welcomed more than 7,200 immigrants from over 100 countries, who took the citizenship oath and pledged allegiance to the American flag.
During FY 2016, the U.S. added 752,800 new citizens.
https://www.axios.com/newsletters/axios-am-e3580159-3183-4687-b853-bd5e48c555f2.html?chunk=4#story4
4. How they tracked down the Austin bomber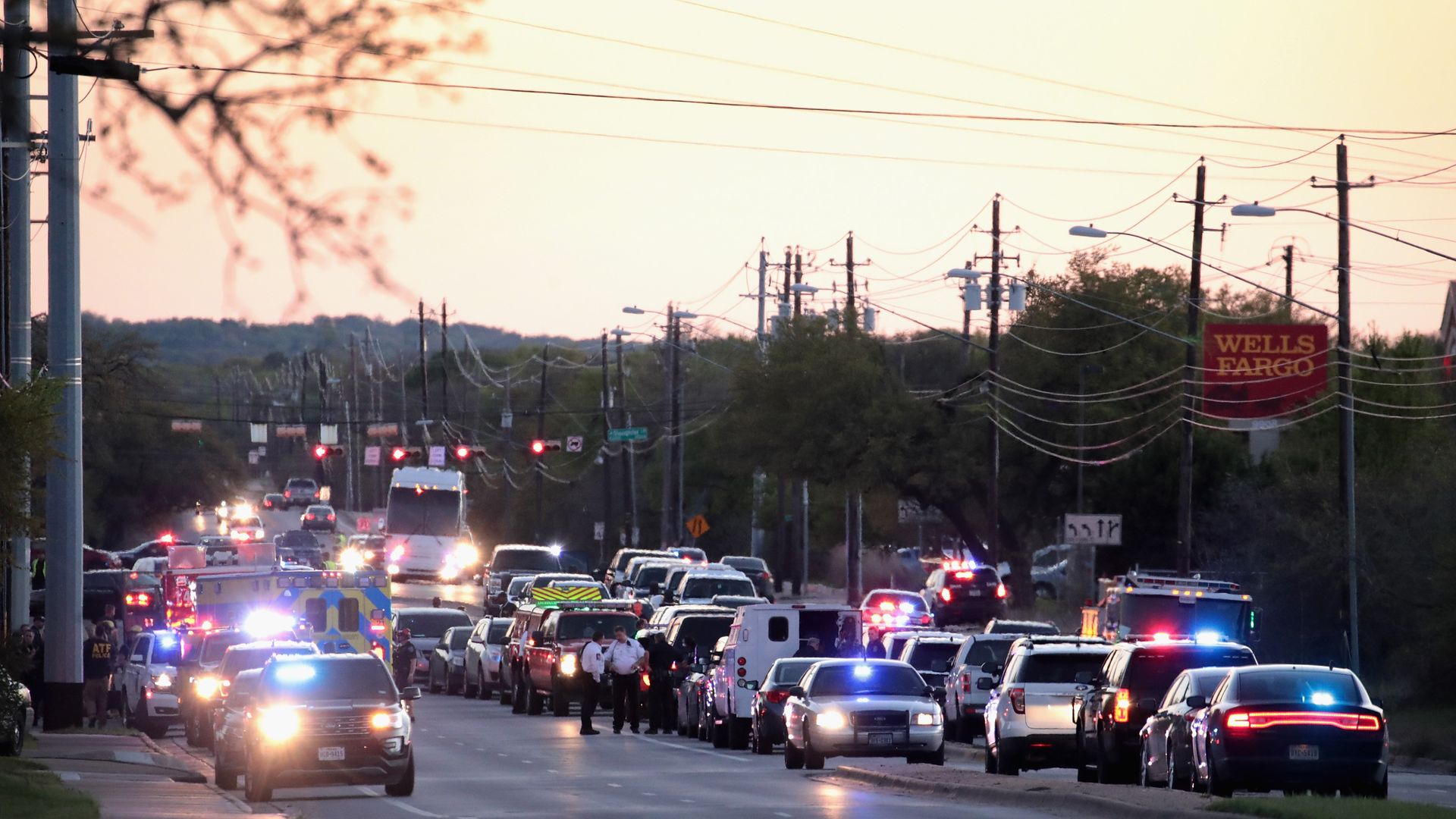 "A man whom authorities were attempting to arrest early [today] in a string of bombing attacks in Austin killed himself with an explosive device as authorities closed in," per the Austin American-Statesman:
"[A]uthorities identified a suspect in the past 24 hours based largely on information gained after police said the suspect shipped an explosive device from a FedEx store in Sunset Valley, a suburb surrounded by Austin."
"That evidence included security video."
"Authorities also relied upon store receipts showing suspicious transactions from the person and obtained a search warrant for his Google search history that showed him conducting searches they considered suspicious."
"Authorities relied upon cell phone technology to trace the suspect to a hotel."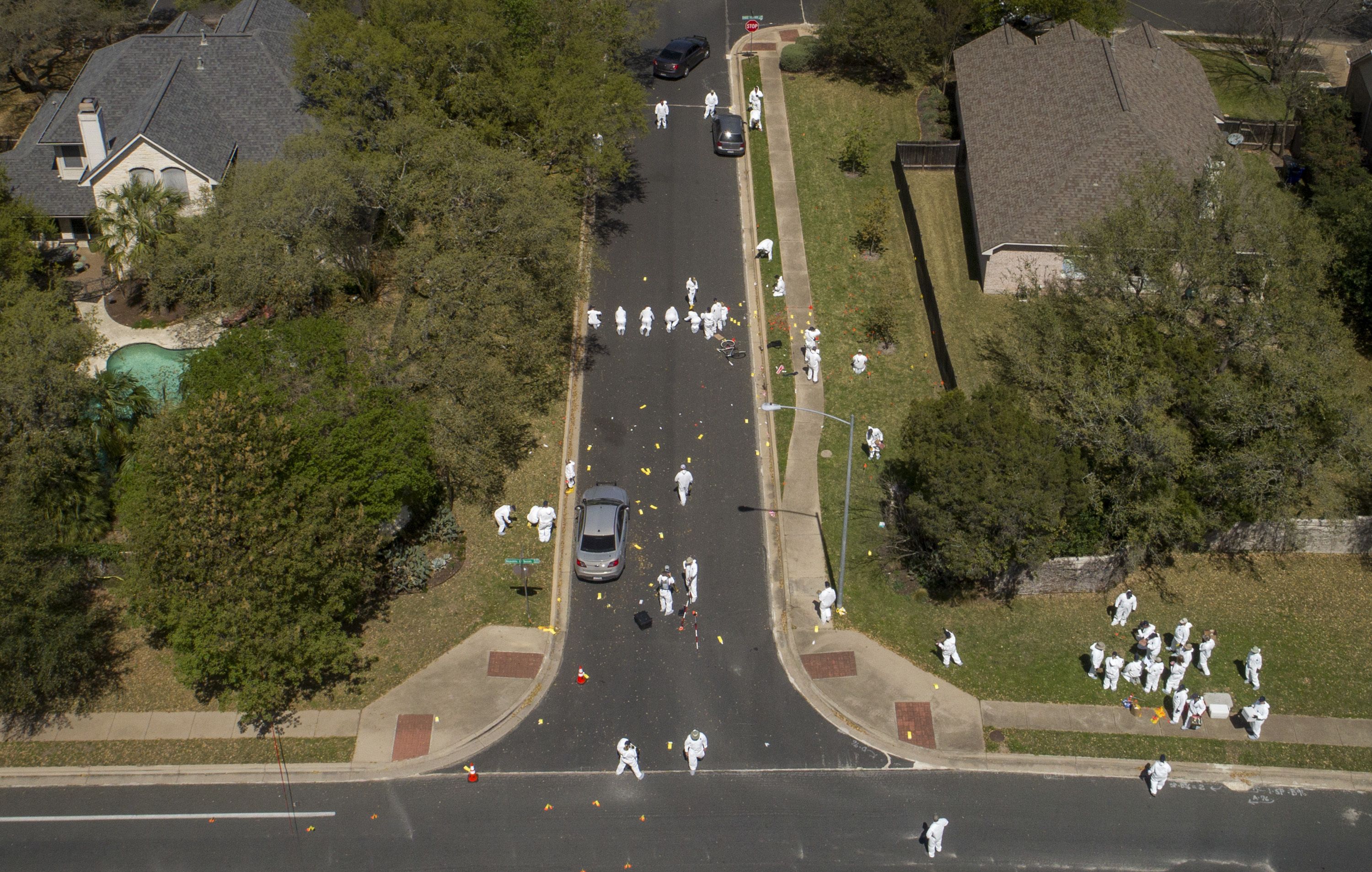 Investigators work at the scene of a bomb explosion on Dawn Song Drive in Austin. (Jay Janner / Austin American-Statesman via AP)
https://www.axios.com/newsletters/axios-am-e3580159-3183-4687-b853-bd5e48c555f2.html?chunk=5#story5
5. Trump scandals piling up in courts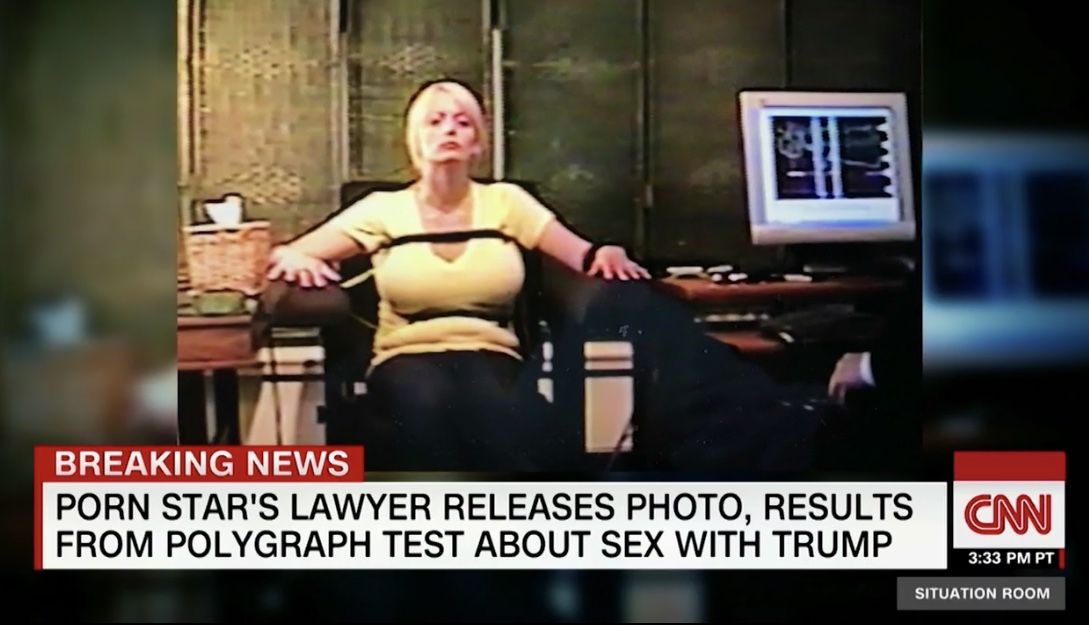 Stormy Daniels in 2011 (Screenshot from CNN)
"President Trump faced new legal and political jeopardy ... as a former Playboy Playmate and alleged paramour [Karen McDougal] sued to break a confidentiality agreement and a judge rejected his move to quash a lawsuit stemming from a charge of sexual assault," the L.A. Times' Mark Z. Barabak and Michael Finnegan report on A1:
Why it matters: "The developments, coming on opposite coasts, promised months — if not years — of legal skirmishing, keeping Trump's personal conduct at the fore of this election season and complicating GOP efforts to protect their congressional majorities in November."
With three separate lawsuits, "the president is confronting salacious accusations from his days as a footloose — albeit married — reality TV star and man about Manhattan."
https://www.axios.com/newsletters/axios-am-e3580159-3183-4687-b853-bd5e48c555f2.html?chunk=6#story6
6. New gig for Travis
"Former Uber CEO Travis Kalanick ... is joining a startup called City Storage Systems that focuses on repurposing distressed real estate assets like parking lots or abandoned strip malls and turning them into spaces suited for new industries, such as food delivery or online retail," Recode reports:
"The company was formerly called CloudKitchens and was led by Diego Berdakin, ... a Los Angeles-based entrepreneur and an early Uber investor."
"Kalanick will be the new CEO and is investing $150 million into the 15-person startup, a sum that will buy out most of the existing outside investors, ... including previous backers like prominent Silicon Valley venture capitalist Chamath Palihapitiya, whose Social Capital quietly led the company's most recent financing round."
https://www.axios.com/newsletters/axios-am-e3580159-3183-4687-b853-bd5e48c555f2.html?chunk=7#story7
7. The conversation: a Digital Protection Agency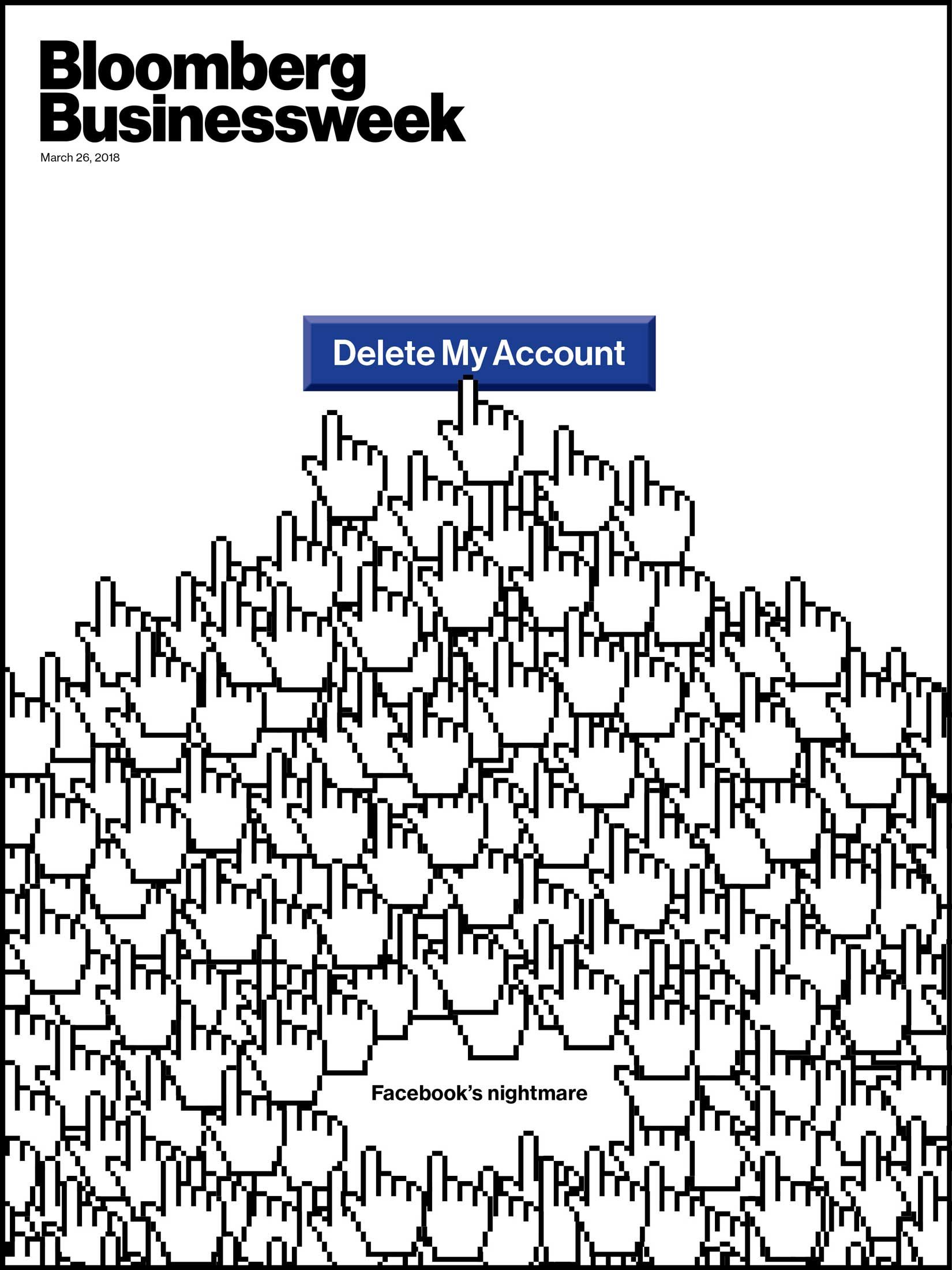 Courtesy Bloomberg Businessweek
"It's not just the Cambridge Analytica debacle. Ethics don't scale," Paul Ford writes in Bloomberg Businessweek's cover story:
"What's been unfolding for a while now is a rolling catastrophe so obvious we forget it's happening. Private data are spilling out of banks, credit-rating providers, email providers, and social networks and ending up everywhere."
"So this is an era of breaches and violations and stolen identities. Big companies can react nimbly when they fear regulation is actually on the horizon — for example, Google, Facebook, and Twitter have agreed to share data with researchers who are tracking disinformation, the result of a European Union commission on fake news."
"But for the most part we're dealing with global entities that own the means whereby politicians garner votes, have vast access to capital to fund lobbying efforts, and are constitutionally certain of their own moral cause."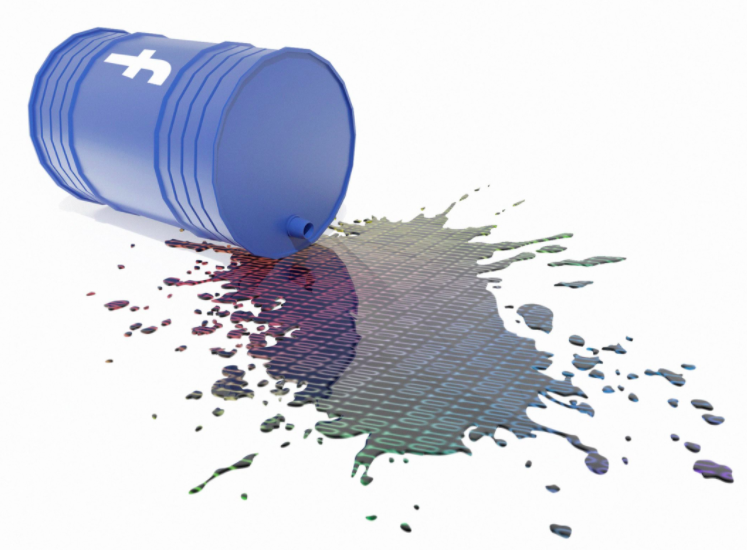 Bloomberg Businessweek / Used by permission
https://www.axios.com/newsletters/axios-am-e3580159-3183-4687-b853-bd5e48c555f2.html?chunk=8#story8
8. Data du jour: Top cities for food trucks

U.S. Chamber of Commerce Foundation
"The once-fledgling food truck industry reached a record $2.7 billion in forecasted revenue in 2017 and has seen an annual growth rate of 7.9 percent," according to a U.S. Chamber of Commerce Foundation report out today.
"Local regulations on food trucks vary widely across America. These rules mandate review processes for food safety, business operations, insurance, fire safety, and more. Similarly, financial obligations, including licensing, permits, and mandatory food safety training, of food trucks differ substantially."
5 friendliest food truck cities:
Portland, Ore.
Denver
Orlando
Philadelphia
Indianapolis,
5 most challenging food truck cities:
Boston
Washington
San Francisco
Minneapolis
Seattle
https://www.axios.com/newsletters/axios-am-e3580159-3183-4687-b853-bd5e48c555f2.html?chunk=9#story9
9. Remembering Pete Peterson ...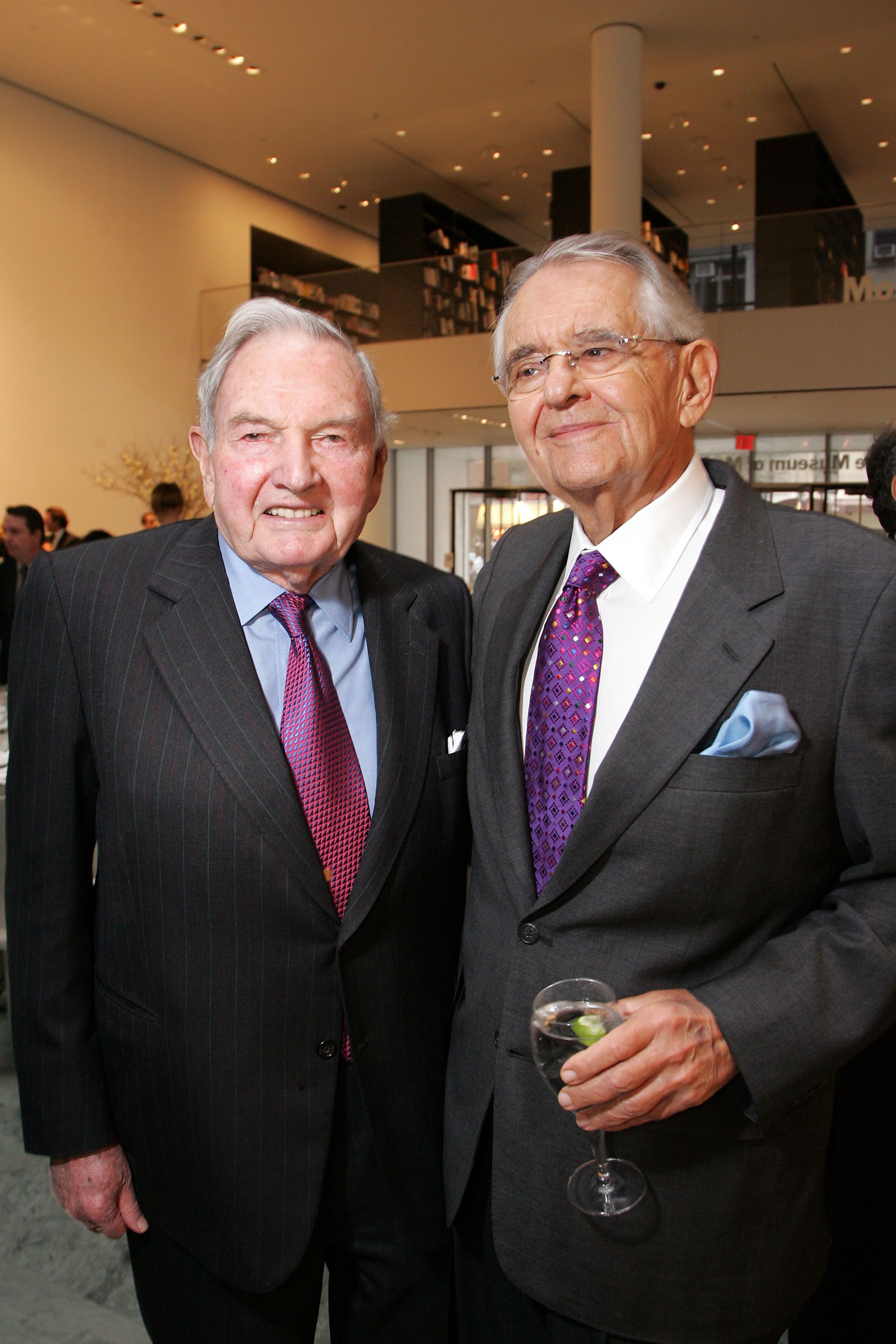 David Rockefeller (left), former CEO of Chase Manhattan Corp., and Pete Peterson, senior chairman and co-founder of Blackstone Group, in New York in 2008, at a Museum of Modern Art luncheon to honor Peterson with the David Rockefeller award (Rich Press / Bloomberg via Getty Images)
... "a Power From Wall St. to Washington," per N.Y. Times' Robert D. Hershey Jr. (one of the great bylines of my youth):
"Peter G. Peterson, the billionaire financier and philanthropist who combined a spectacular career in industry and Wall Street with public policymaking and dogged advocacy of government fiscal prudence, died [yesterday] at his home in Manhattan. He was 91."
Why he mattered: "Peterson was one of the few captains of business whose reach extended into the public sphere. ... He was secretary of commerce under President Richard M. Nixon, led government commissions and advisory bodies and for 22 years was chairman of the influential Council on Foreign Relations in New York, succeeding the banker

David Rockefeller, who died last year

, also on March 20."
"As a fiscal watchdog, he created a well-financed foundation that addresses a spectrum of fiscal issues and holds conferences that draw America's top financial and political leaders."
https://www.axios.com/newsletters/axios-am-e3580159-3183-4687-b853-bd5e48c555f2.html?chunk=10#story10
10. ⚾️ 1 fun thing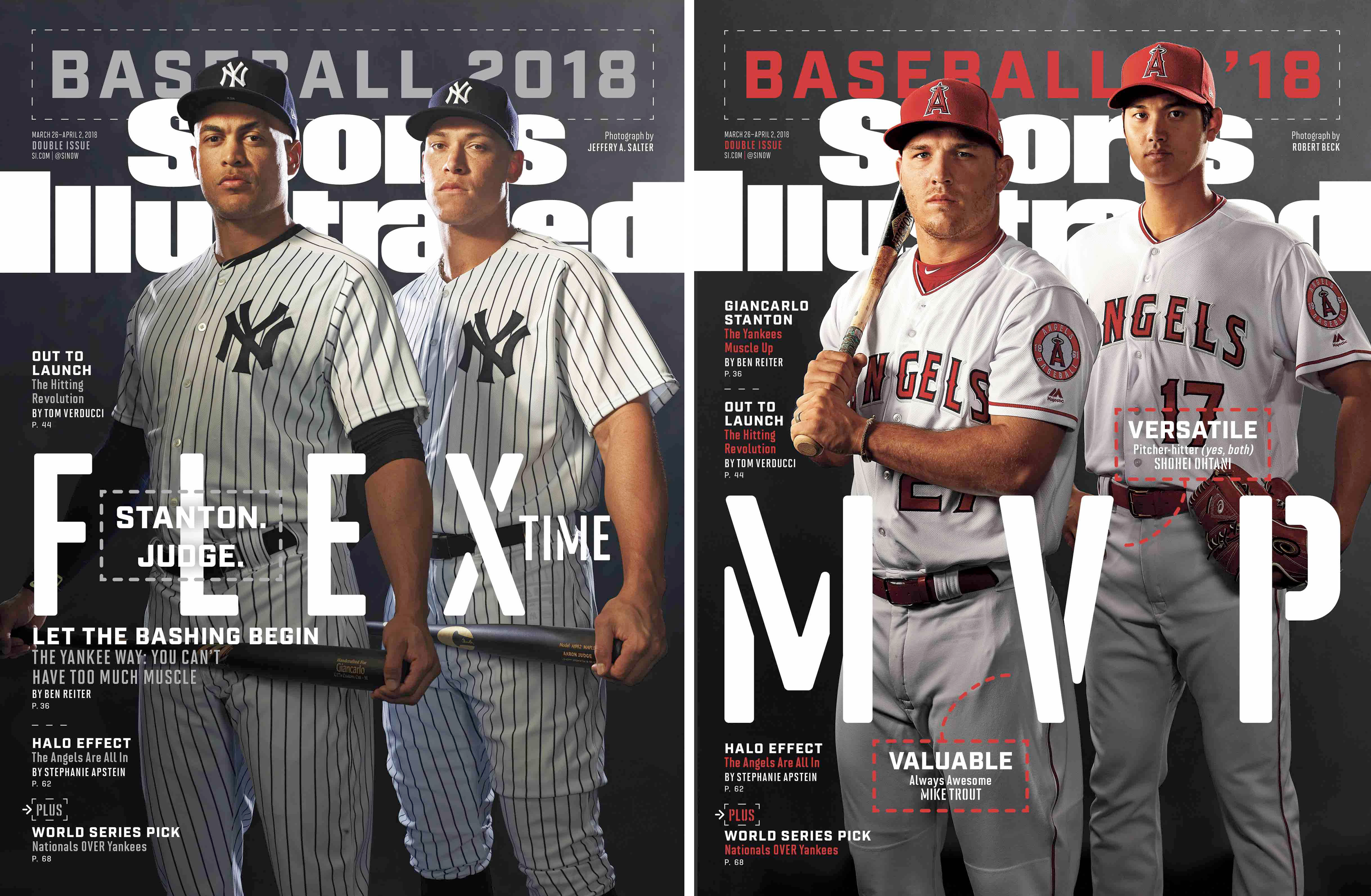 Courtesy Sports Illustrated
Sports Illustrated's 2018 MLB Preview issue hits newsstands tomorrow, with this World Series prediction: Washington Nationals over the Yankees!
"The Nationals won 97 games last season ... This year's Washington team has a good chance to be even better. Adam Eaton, last winter's big acquisition, is back after tearing his ACL in April and should be an upgrade over Jayson Werth in leftfield. Sean Doolittle, Ryan Madson and Brandon Kintzler, acquired midway through last season to prop up the perpetually beleaguered Nats bullpen, will have a chance to make a greater impact in a full season. Washington also solidified the back of the rotation by adding Jeremy Hellickson."
"As for the American League side, SI is going with the Yankees to win their first pennant since 2009."
The issue features two regional covers: