Good Sunday morning. It's Day 185. Situational awareness: With congressional leaders agreeing yesterday on "sweeping sanctions legislation to punish Russia," the N.Y. Times frames Trump's tough choice: "veto the bill — a move that would fuel accusations that he is doing [Putin's] bidding ... — or sign legislation imposing sanctions his administration has opposed."
As expected, Russia's ambassador to Washington, Sergei Kislyak, ended his tenure yesterday.
https://www.axios.com/newsletters/axios-am-e262c034-bd63-4638-ac6e-e0bc61acedff.html?chunk=0#story0
1 big thing: How Trump thinks about pardons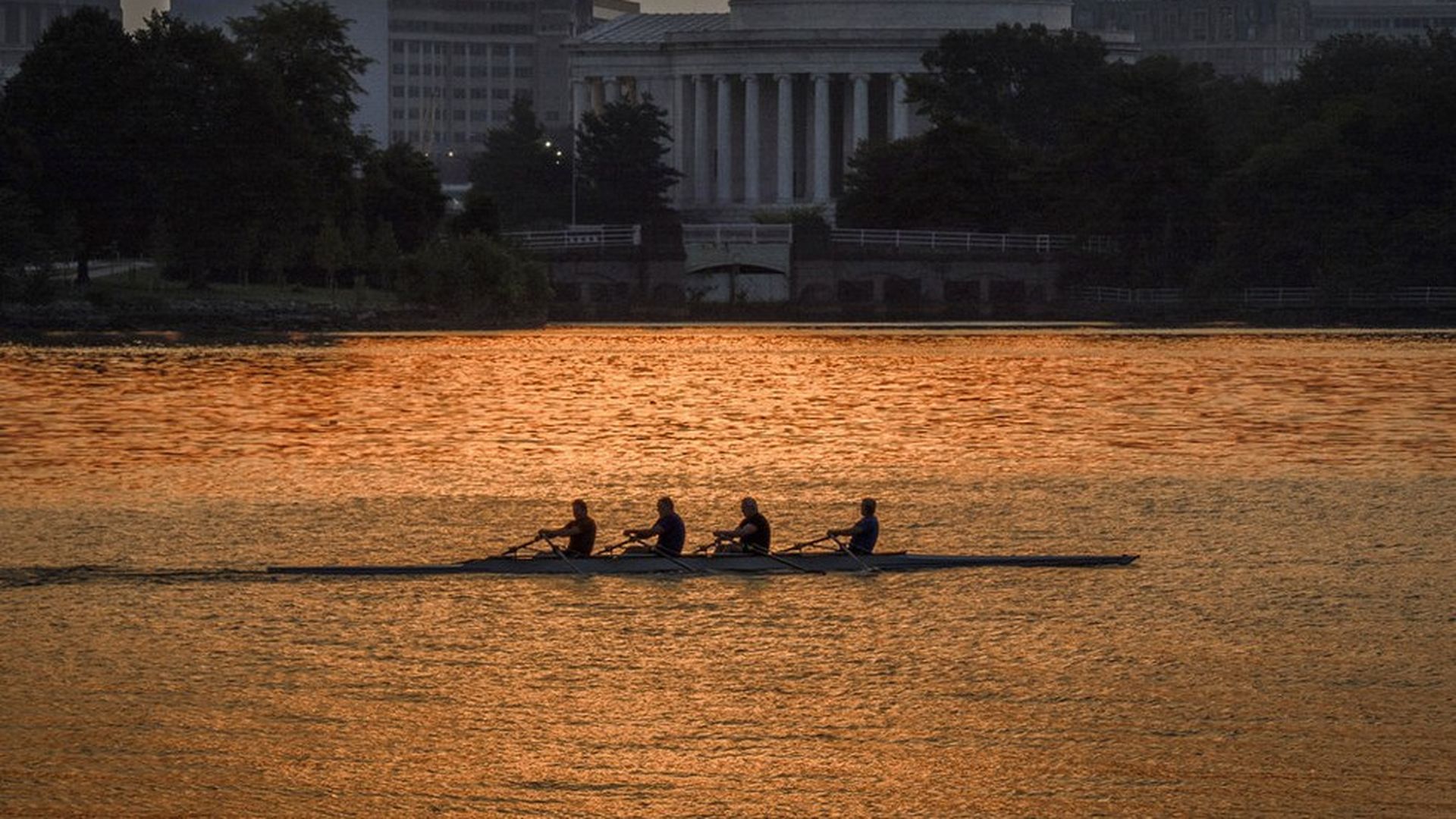 President Trump triggered front-page coverage across the land by tweeting yesterday that "all agree the U. S. President has the complete power to pardon." (WashPost lead story: "Trump asserts 'power to pardon'")
All don't agree. But associates say Trump's position on pardons (and willingness to fire special counsel Bob Mueller) is no surprise in light of the contempt he showed for a 40-year tradition by refusing to release his tax returns, and his decision to fire FBI Director Jim Comey against the advice of some top West Wing officials (to say nothing of the fact that it was one of the dumbest political mistakes in the modern era).
The takeaway: When Trump makes decisions, he doesn't think in terms of constitutional or ethical lines. He doesn't torture himself over the separation of powers. Instead, he still thinks of himself as a CEO trying to gain advantage in transactions. He wants to brawl, and he doesn't care how it looks.
Remember his litigious past: This isn't a unique approach for him. It's standard operating procedure.
A self-pardon by Trump would be "a first in all of human history," according to a WashPost op-ed today ("Trump can't pardon himself") by Harvard's Larry Tribe, along with Richard Painter (chief White House ethics lawyer for President George W. Bush) and Norman Eisen (chief White House ethics lawyer for President Obama).
"We know of not a single instance of a self-pardon having been recognized as legitimate. Even the pope does not pardon himself."
A more likely scenario would involve pardoning relatives or associates. That, though, could trigger defections from Republican lawmakers that could weaken Trump's hold on office.
Harvard Law Professor Noah Feldman tells CNN's Laura Jarrett that the structural arrangement putting the president in charge of law enforcement as the head of the executive branch "works just fine until the president or those close to him come under investigation."
"So if the President tries to fire Mueller or gets him fired, 'it would expose a deep flaw in constitutional design.'"
Be smart: Aides say the quickest way to get Trump to do something is to tell him he can't, or argue that it's contrary to tradition. You always have to give him an alternative, and sometimes you can persuade him.
https://www.axios.com/newsletters/axios-am-e262c034-bd63-4638-ac6e-e0bc61acedff.html?chunk=1#story1
2. Human trafficking in the U.S.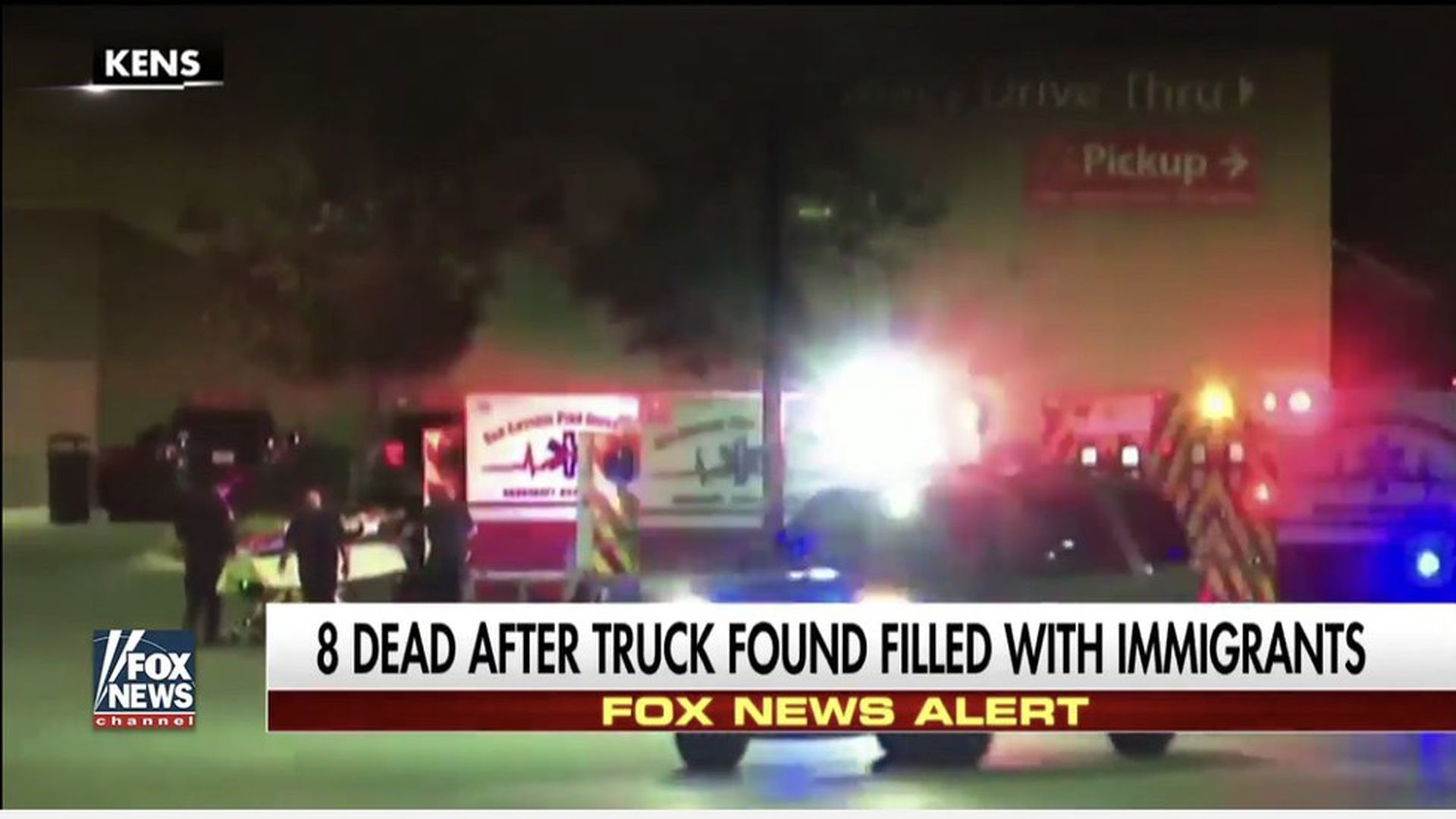 Breaking ... "8 people found dead in truck in 'human trafficking crime'" — AP/San Antonio: "Eight people were found dead in a tractor-trailer loaded with at least 30 others outside a Walmart store in Texas' stifling summer heat in what police are calling a horrific human trafficking case. The driver was arrested."
"Twenty other people in extremely critical or serious condition and eight more with lesser injuries including heat stroke and dehydration were found inside the truck, which didn't have a working air conditioning system despite blistering temperatures that topped 100 degrees."
"A person from the truck initially approached a Walmart employee in a parking lot and asked for water late Saturday night or early Sunday morning, said police in San Antonio, where temperatures on Saturday reached 101 degrees."
"The employee gave the person the water and then called police, and when officers arrived they found the eight people dead in the back of the trailer and 30 other survivors inside."
"Investigators checked store surveillance video, which showed vehicles had arrived and picked up other people from the tractor-trailer."
"[M]any of those inside the truck appeared to be adults in their 20s and 30s but also apparently two school-age children."
https://www.axios.com/newsletters/axios-am-e262c034-bd63-4638-ac6e-e0bc61acedff.html?chunk=2#story2
3. "Can the President Be Indicted?"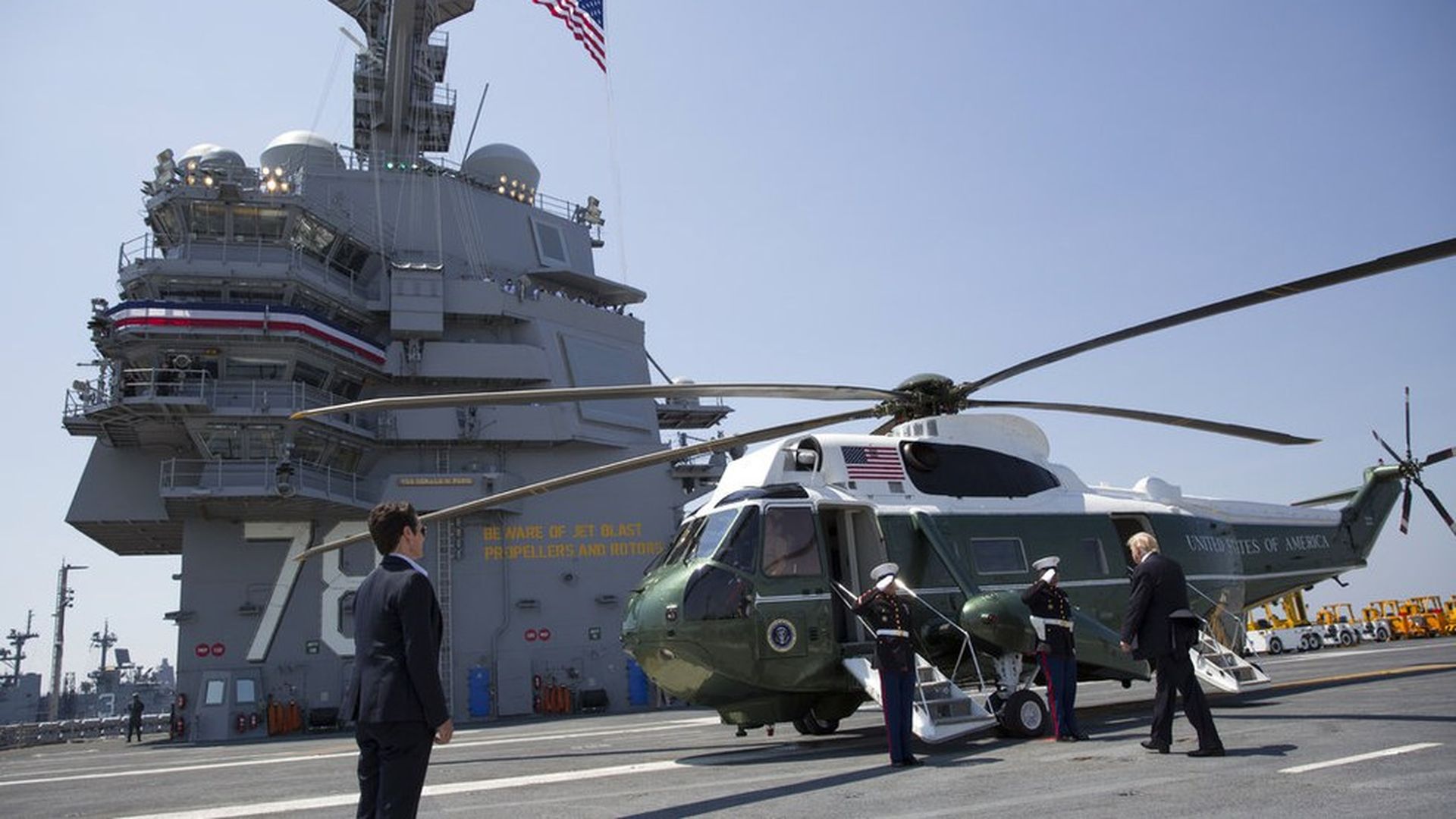 "A Long-Hidden Legal Memo Says Yes," by N.Y. Times' Charlie Savage:
"A newfound memo from Kenneth W. Starr's independent counsel investigation into President Bill Clinton ... raises the possibility that Mr. Mueller may have more options than most commentators have assumed."
The 56-page memo was written for Starr by constitutional scholar Ronald Rotunda, "locked in the National Archives for nearly two decades and obtained by The New York Times under the Freedom of Information Act."
The memo concludes: 'It is proper, constitutional, and legal for a federal grand jury to indict a sitting president for serious criminal acts that are not part of, and are contrary to, the president's official duties ... In this country, no one, even President Clinton, is above the law.'"
"In 1974, the Watergate special counsel, Leon Jaworski, had also received a memo from his staff saying he could indict the president."
See the Starr memo, posted by The Times.
P.S. Turning Manafort ... Mueller team hopes to use money-laundering accusations to push Paul Manafort to cooperate against others in the Russia probe, per Reuters' Julia Edwards Ainsley and John Walcott.
Manafort's spokesman, Jason Maloni: "Paul Manafort is not a cooperating witness."
https://www.axios.com/newsletters/axios-am-e262c034-bd63-4638-ac6e-e0bc61acedff.html?chunk=3#story3
Bonus: Global confidence in U.S. plummets
Over the past two years, almost every country in a Pew Research survey lost confidence in the U.S. president "to do the right thing" regarding world affairs, Axios' Becca Rotenberg Chris Canipe write.
Russia's significant increase stands out — jumping from 11% in 2011 under Obama to 53% under Trump.
Other takeaways from the report: Merkel, Xi or Putin have more positive ratings globally than Trump. Arrogant was the most common word globally associated with Trump's characteristics.
https://www.axios.com/newsletters/axios-am-e262c034-bd63-4638-ac6e-e0bc61acedff.html?chunk=4#story4
4. Trump's Mini-Me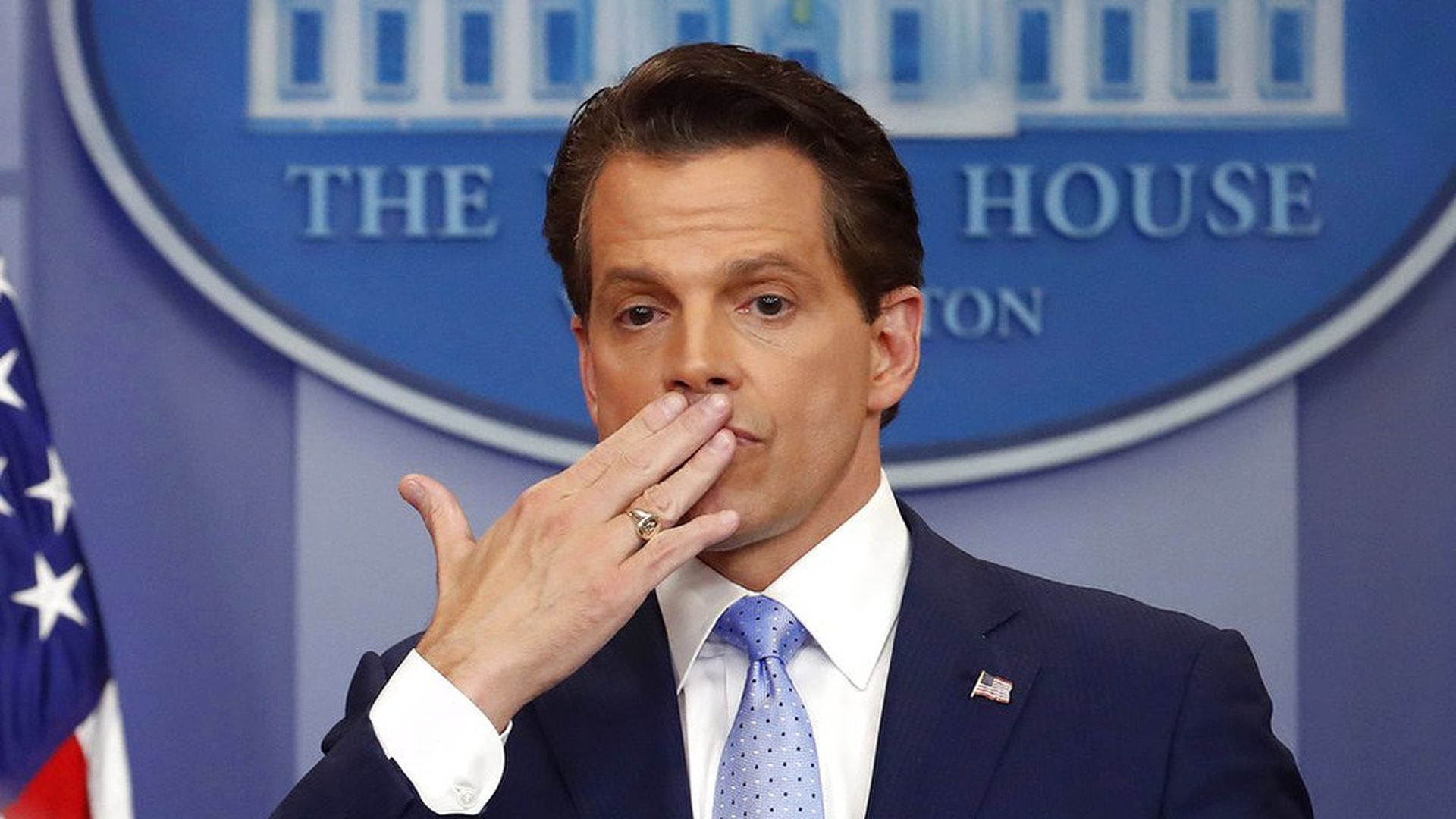 Look for ... Anthony Scaramucci, the incoming White House communications director, to take the White House podium more often than his predecessors. In past administrations, it has been a largely behind-the-scenes position, with the press secretary doing the daily on-camera talking.
"He's good at it and he's competitive," one friend said. "He's going to want to be out there on the days with the biggest sh--storms. He likes the game. He likes to spar, but he's not nasty about it. And he likes the controversy — he's a typical Wall Street guy."
Nevertheless, Mooch plans to elevate the cachet of the new press secretary, Sarah Huckabee Sanders. Expect her to do the vast bulk of on-camera briefings.
Deletes tweets, but here they are.
Talker column by Maureen Dowd on "The Mooch And the Mogul": "A wealthy mini-me Manhattan bro with wolfy smile and slick coif who will say anything and flip any position. A self-promoter extraordinaire and master salesman who doesn't mind pushing a bad product — and probably sees it as more fun. ... The Mogul and the Mooch is a tender love story with dramatic implications for the imploding White House.
"Both enjoy stirring the pot ... They savor counterpunching ... But a change in communications personnel will not solve the central problem for President Trump. He doesn't understand that Robert Mueller is not a contractor he's in a civil litigation dispute with, someone he can intimidate and wear down and threaten and bleed out."
https://www.axios.com/newsletters/axios-am-e262c034-bd63-4638-ac6e-e0bc61acedff.html?chunk=5#story5
5. Smartphones gobble up tablets
"Global tablet sales declined for the first time in 2015, but the number of tablets in active use is expected to decline for the first time this year," Recode's Rani Molla writes, citing a new forecast by research firm Forrester.
"Over the next five years, the number of tablets in use is expected to decline an average of 1 percent each year while the number of smartphones should increase by about 7 percent annually."
P.S. "Next Leap for Robots," by Wall Street Journal's Brian Baskin: "Robot developers say they are close to a breakthrough — getting a machine to pick up a toy and put it in a box. ... [F]or retailers it has been a big hurdle to automating one of the most labor-intensive aspects of e-commerce: grabbing items off shelves."
https://www.axios.com/newsletters/axios-am-e262c034-bd63-4638-ac6e-e0bc61acedff.html?chunk=6#story6
6. 1 fun thing: 29 days from now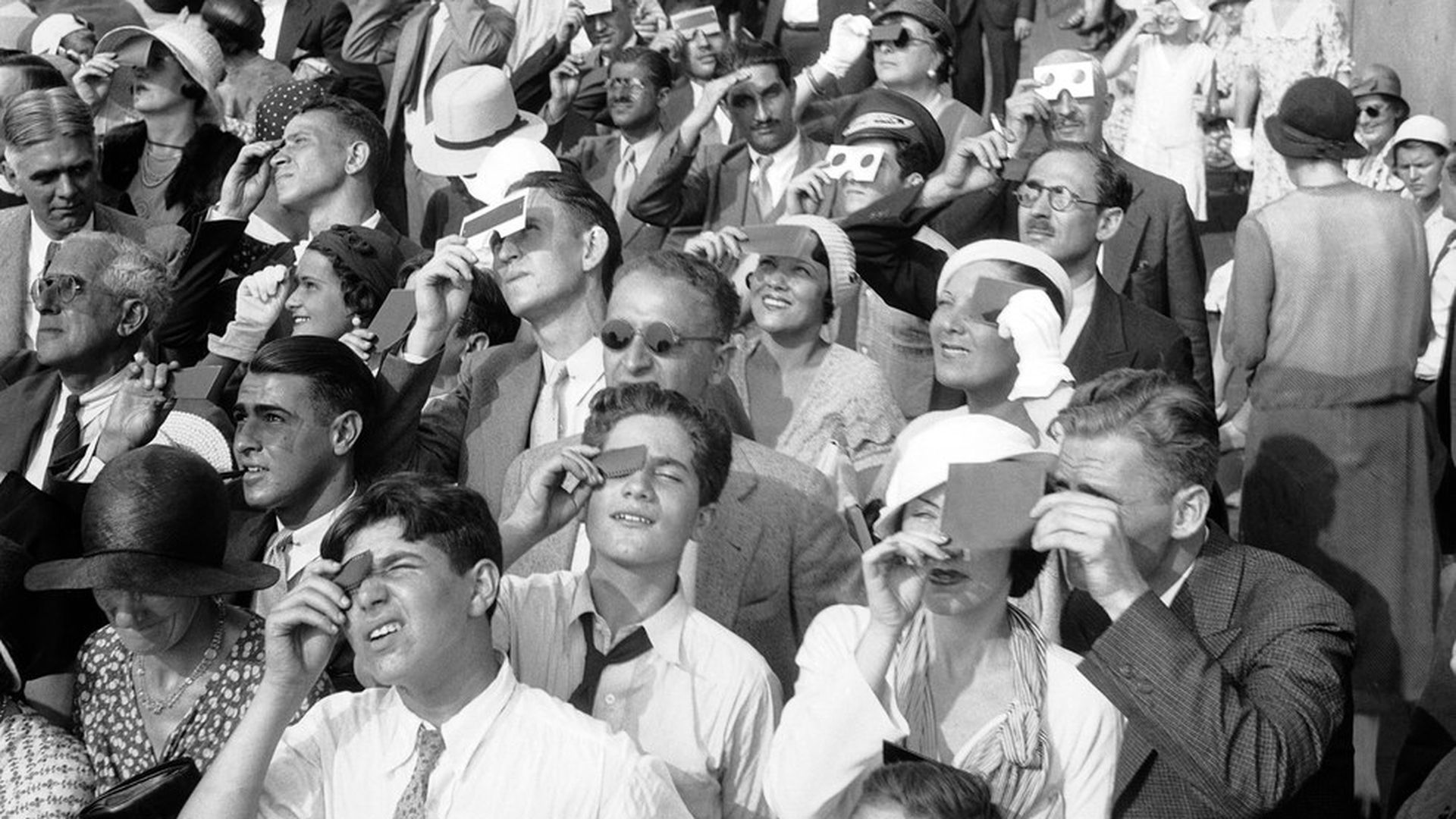 "Eclipse fever builds: From coast to coast, towns anticipate celestial event of a lifetime ... Parades, parties and port-a-potties" — L.A. Times front-pager by science reporter Deborah Netburn:
"[T]he moon's shadow will race across the United States [during the day] on Aug. 21, tracing a 2,800-mile arc from Oregon to South Carolina. It will take about 90 minutes for the eclipse to travel from coast to coast, plunging a roughly 70-mile-wide swath of land into a twilight-like darkness in the process."
"Only in this so-called path of totality will the world grow dark enough to see the stars as the moon blots out the sun. The temperature will drop, crickets will begin to chirp and farm animals will lie down and go to sleep. If skies are clear, observers will be able to see the sun's halo-like corona, which is usually obscured by the brightness of the photosphere.
"An estimated 12 million Americans are fortunate enough to live in the path of totality. But for the rest of us, viewing the first total solar eclipse to stretch across the continental U.S. since 1918 will take some strategizing.
Hopkinsville, Ky., is calling itself Eclipsville: "We put in a request with Kentucky Gov. Matt Bevin to have 85 National Guard military police, simply to assist with the immense amount of traffic that we anticipate."
Search for your address ... Very cool L.A. Times map of continental U.S. shows the bands for 50%, 75%, 90% and total eclipse. The totality band includes Salem, Ore.; Idaho Falls; Casper, Wyo.; Lincoln, Neb.; St. Louis; Nashville; Knoxville; Greenville, S.C.; and Charleston.