July 08, 2018
Good Sunday morning.
Bulletin ... CNN from Thailand: "WITNESS: THREE BOYS HAVE EMERGED FROM CAVE."
1 big thing: North Korea schools Trump on premature celebration
President Trump prides himself on negotiating savvy. But North Korea is trying to outfox him with a return to harsh public rhetoric immediately after the first overnight visit by Secretary of State Mike Pompeo, who came with press in tow.
After last month's Singapore summit, Trump tweeted: "There is no longer a Nuclear Threat from North Korea. ... sleep well tonight!" He assured reporters: "[T]hat problem is largely solved." On Tuesday, he congratulated himself: "If not for me, we would now be at War with North Korea!"
But then Pyongyang issued a statement accusing Pompeo of trying to jam them with denuclearization demands: "The U.S. is fatally mistaken if it went to the extent of regarding that [North Korea] would be compelled to accept, out of its patience, demands reflecting its gangster-like mindset."
This was entirely predictable, and was predicted by experts, Jonathan Swan points out:
People who've worked with the president, both at the Trump Organization and in the White House, say he viscerally fears being played for a sucker and humiliated.
But Trump has made himself quite vulnerable to embarrassment in the North Korea talks, which suggests he won't have a great deal of patience for the entirely predictable shenanigans from Pyongyang.
Remember how abruptly he cancelled (and then reinstated) the talks when Kim insulted Vice President Pence? We're now in a situation where China could "rescue" the talks and leverage its power with North Korea to get a better trade deal by doing so.
The bottom line: There's a long road ahead to any satisfactory peace deal with North Korea; but a very short road to renewed hostilities. Should a few more things go wrong, Trump could swing abruptly against Kim Jong-un.
A smart reading-between-the-lines of the North Korean statement comes from Vipin Narang, an MIT specialist on North Korean nukes, who tweeted:
"This is not the end of the process. It's a negotiating tactic, but signals several serious things: (1) We aren't unilaterally disarming. Stop saying it. Stop asking for it. Never going to happen. (2) Any other stuff short of that? Gonna cost you chief. And burn a lot of clock."
Be smart ... Frank Lavin, former Singapore ambassador under George W. Bush and former National Security Council summit organizer, tells me:
"The more the Trump administration celebrates any success, the more North Korea is disincentivized from actually delivering."
"A public proclamation of a triumph takes North Korea off the hook."
"Better for Trump to understate the North Korea talks and label them the first step of a long journey."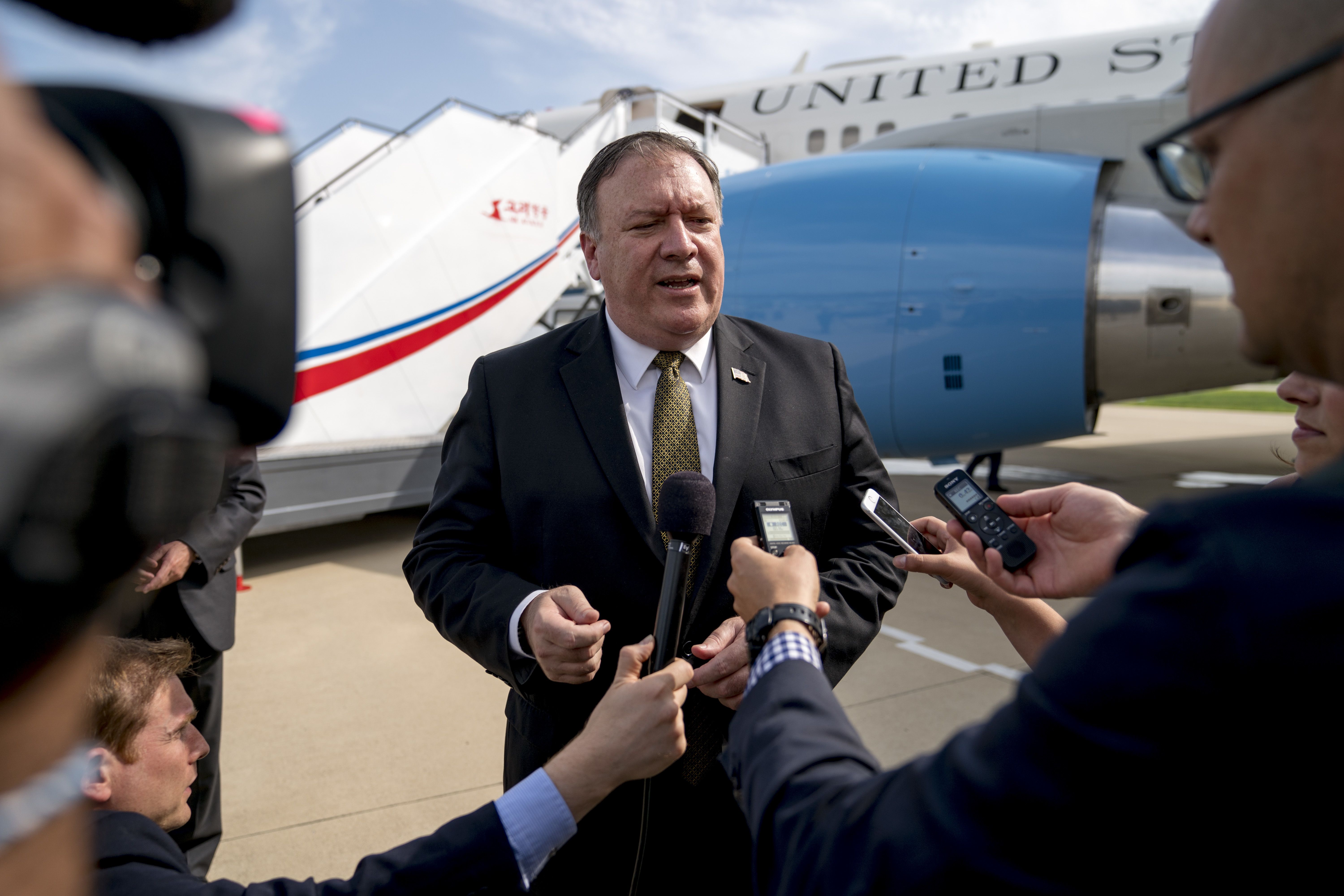 2. Kids as young as 1 in immigration court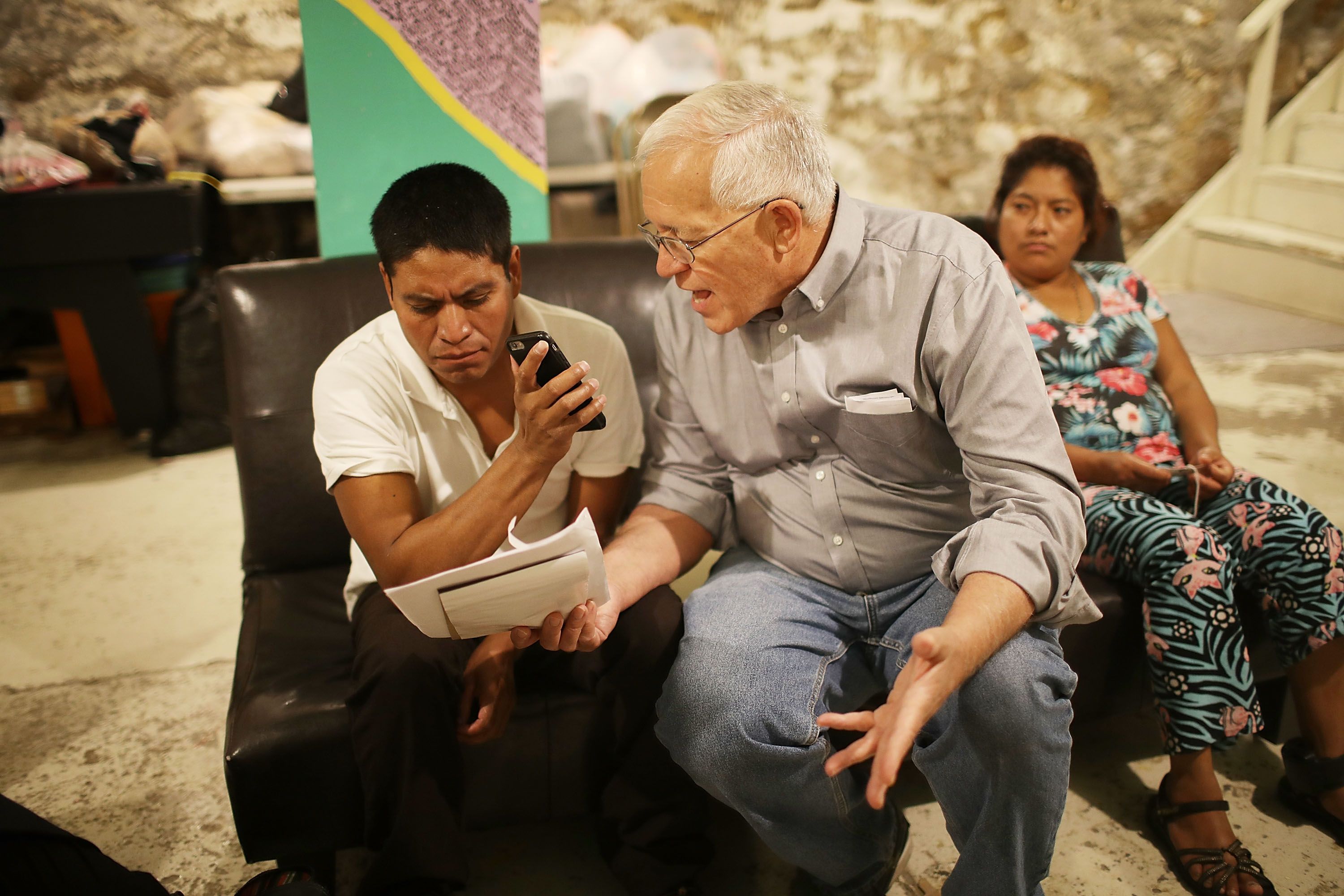 "The 1-year-old boy in a green button-up shirt drank milk from a bottle, played with a small purple ball that lit up when it hit the ground and occasionally asked for 'agua,'" AP's Astrid Galvan writes from Phoenix:
"Then it was the child's turn for his court appearance before a Phoenix immigration judge, who ... asks immigrant defendants whether they understand the proceedings."
Judge John W. Richardson told the lawyer representing the 1-year-old: "I'm embarrassed to ask it, because I don't know who you would explain it to, unless you think that a 1-year-old could learn immigration law."
"The boy is one of hundreds of children who need to be reunited with their parents after being separated at the border, many of them split from mothers and fathers as a result of the Trump administration's 'zero-tolerance policy.'"
"[T]he nation's immigration court system ... requires children — some still in diapers — to have appearances before judges and go through deportation proceedings while separated from their parents."
"Such children don't have a right to a court-appointed attorney, and 90 percent of kids without a lawyer are returned to their home countries, according to Kids in Need of Defense, a group that provides legal representation."
"In Phoenix on Friday, the Honduran boy named Johan waited over an hour to see the judge. His attorney told Richardson that the boy's father had brought him to the U.S. but that they had been separated, although it's unclear when. He said the father, who was now in Honduras, was removed from the country under false pretenses that he would be able to leave with his son."
"For a while, the child wore dress shoes, but later he was in just socks as he waited to see the judge. He was silent and calm for most of the hearing, though he cried hysterically afterward for the few seconds that a worker handed him to another person while she gathered his diaper bag. He is in the custody of the U.S. Health and Human Services Department."
"Johan was granted a voluntary departure order that would allow the government to fly him to Honduras so that he could be reunited with his family. An attorney with the Florence Project, an Arizona-based nonprofit that provides free legal help to immigrants, said both his mother and father were in Honduras."
The big picture: "The boy's case was heard on the same day that the Trump administration said it needed more time to reunite 101 children under 5 years old to ensure the children's safety and to confirm their parental relationships."
3. Putin bonds with Trump: "fake news," "deep state"
"Trump's lack of preparation has added a further level of unpredictability to his interactions with foreign leaders," per the WashPost:
"The president rarely reads his nightly briefing book, which focuses on issues likely to come up in meetings ... To slim down Trump's workload, aides have sometimes put the most critical information in a red folder."
"Some White House officials worry that Putin ... plays on the president's inexperience and lack of detailed knowledge about issues while stoking Trump's grievances":
"The Russian president complains to Trump about 'fake news' and laments that the U.S. foreign policy establishment — the 'deep state,' in Putin's words — is conspiring against them."
"It's not us," Putin has told Trump. "It's the subordinates fighting against our friendship."
4. Pic du jour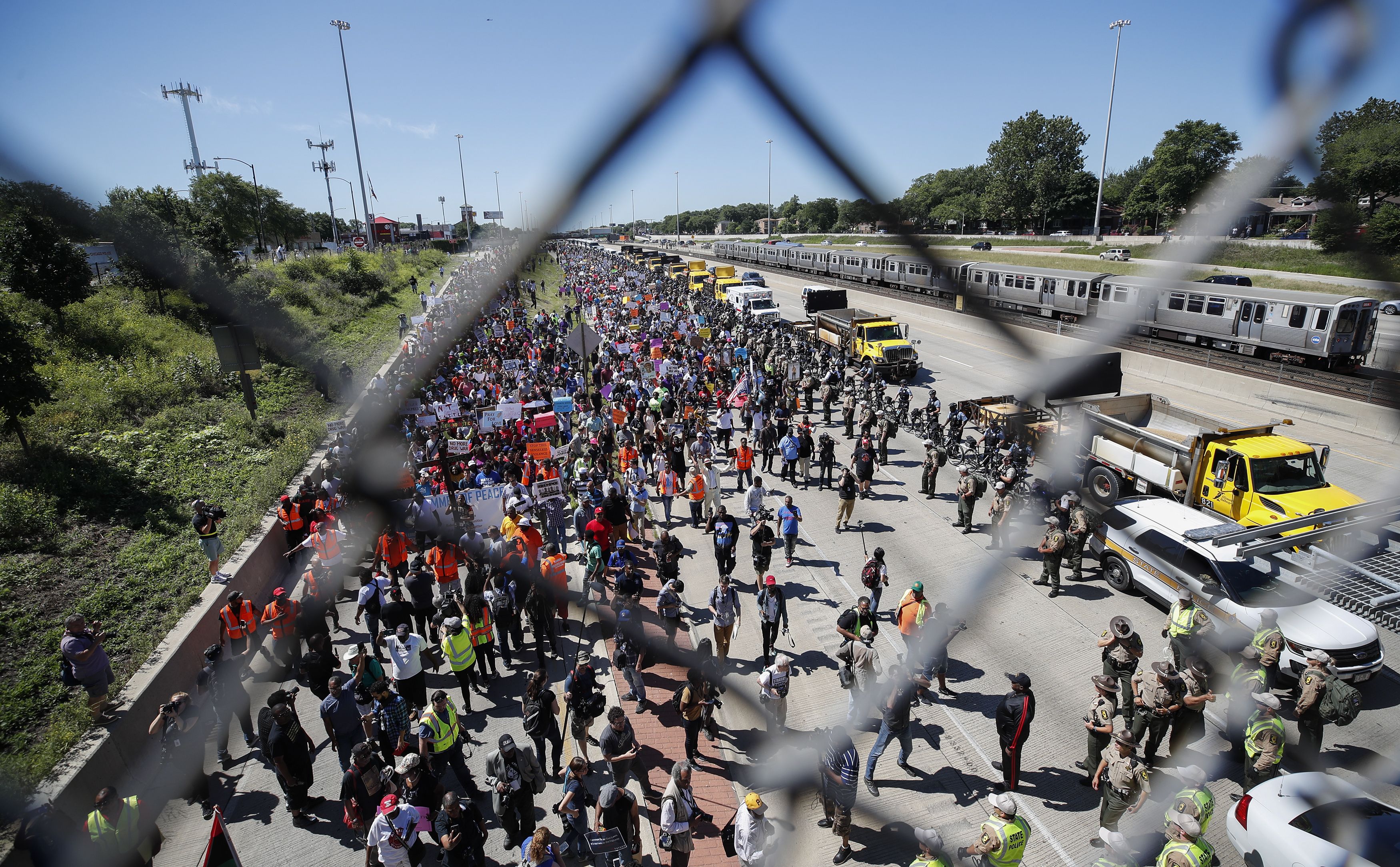 In Chicago ... "Anti-violence demonstrators [including the Rev. Jesse Jackson] shut down a section of the Dan Ryan Expressway with a spirited march [yesterday], snarling traffic and igniting a war of words between [Illinois] Gov. Bruce Rauner [R] and Mayor Rahm Emanuel." (Chicago Tribune)
P.S. "Organizers of pro-gun rallies lament low turnout," per WashPost:
"Student-led rallies around the country [yesterday] aimed to show support for gun rights, but their effort drew smaller-than-expected crowds."
"Organizers ... said many conservative students feel as though their views are not being taken into consideration in the debate about school shootings."
"Planning ... started in April ... [O]rganizers ... expected a modest turnout, ... but far fewer people showed up than organizers had hoped."
5. 2020 watch: Fight or unite?
In Sen. Elizabeth Warren (D-Mass.) and former Massachusetts governor Deval Patrick, two ways to take on Trump — Boston Globe's Matt Viser:
The two "seem to be positioning themselves for 2020 presidential runs — perhaps against each other. ... They've both met with Obama, and they have taken meetings with potential donors in Manhattan."
"On the issues, they are almost twins. But ... their contrasting approaches offer a window into the debate coursing through the Democratic Party: ... how best to take on the strangely formidable force that is Donald Trump."
"Warren, whose most recent book is called 'A Fighting Chance,' relishes her image as a fighter ... Patrick's memoir was called 'A Reason to Believe,' and he built much of his career as a hopeful politician attempting to bring together disparate viewpoints."
Why it matters: "An eye for an eye? Or eyes on the prize? The party could turn to a challenger who makes no effort to conceal disdain for Trump ... Or it could look for someone who offers a more positive message that can unite a fractured electorate."
6. ⚽️ 1 kick thing
World Cup final four ... Russia, host country, is out! I'm sure Putin will take it very well.
Tuesday: France v. Belgium.
Wednesday: Croatia v. England.
Thanks for reading. See you for all-day updates on Axios.com.