Good Sunday morning. CNN's Kevin Liptak posts the letter President Obama left President Trump on Inauguration Day: "Congratulations on a remarkable run. Millions have placed their hopes in you, and all of us ... should hope for expanded prosperity and security during your tenure. ... [W]e are just temporary occupants of this office. That makes us guardians of those democratic institutions and traditions — like rule of law, separation of powers, equal protection and civil liberties — that our forebears fought and bled for. ... Good luck and Godspeed, BO." Read the letter.
And a bulletin: Treasury Secretary Mnuchin tells "Fox News Sunday" Harvey funds must be tied to raising debt ceiling.
https://www.axios.com/newsletters/axios-am-de4eb121-5eaa-4bb6-a825-119ccc61d29c.html?chunk=0#story0
1 big thing: Diplo-tweeting and the cycle of escalation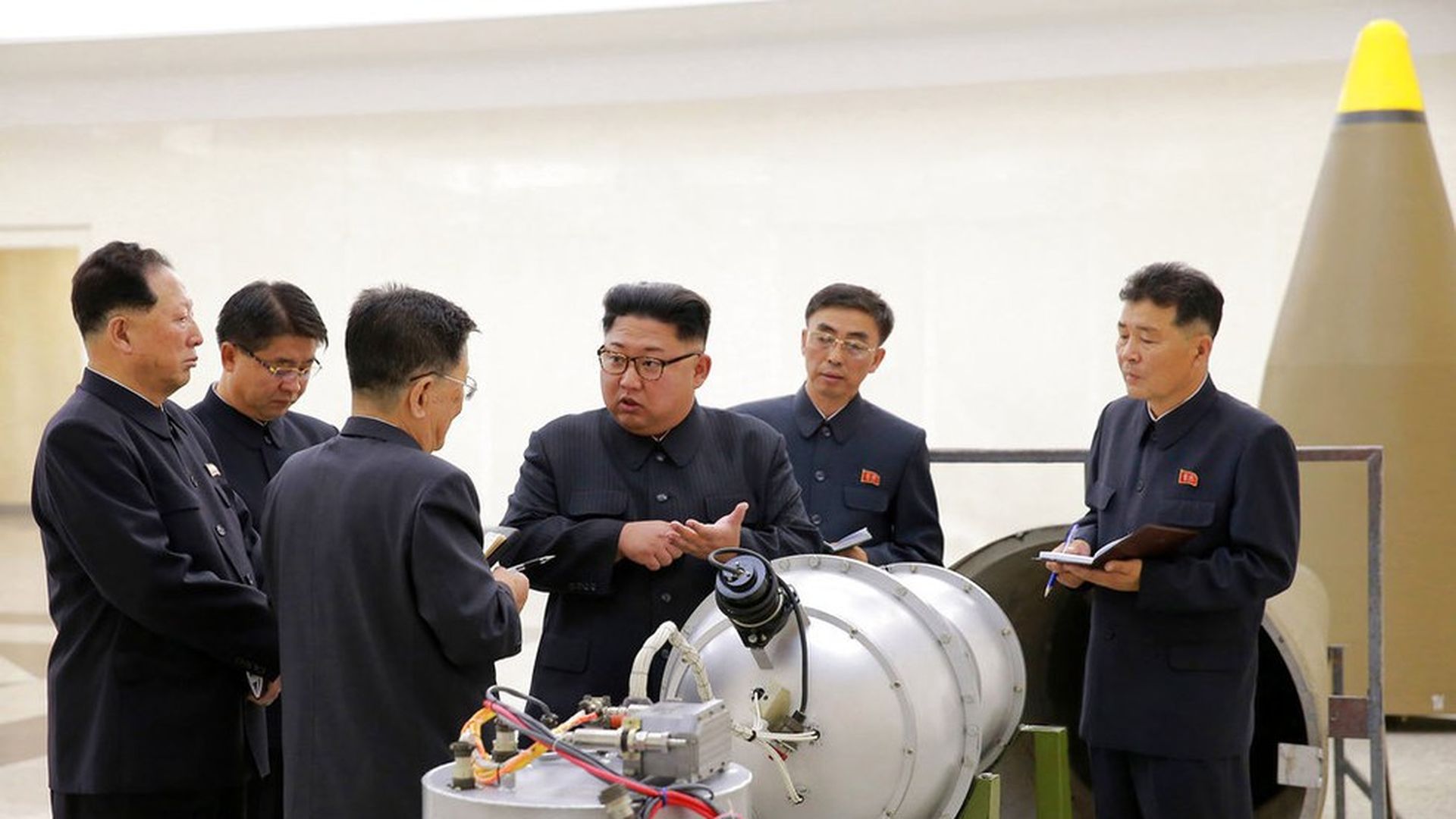 https://www.axios.com/newsletters/axios-am-de4eb121-5eaa-4bb6-a825-119ccc61d29c.html?chunk=1#story1
2. Article of the day
"To Understand Rising Inequality, Consider the Janitors at Two Top Companies, Then and Now," by Upshot's Neil Irwin, on the N.Y. Times Business cover:
Gail Evans, now a global chief information officer, was a janitor in Building 326 at Eastman Kodak's campus in Rochester in the early 1980s. Marta Ramos cleans at Apple's headquarters.
"In the 35 years between their jobs as janitors, corporations across America have flocked to a new management theory: Focus on core competence and outsource the rest. The approach has made companies more nimble and more productive, and delivered huge profits for shareholders. It has also fueled inequality and helps explain why many working-class Americans are struggling even in an ostensibly healthy economy."
"[I]n the 21st-century economy, many millions of workers find themselves excluded from [foosball tables and free sushi]. Rather than being treated as assets that companies seek to invest in, they have become costs to be minimized."
P.S. "Behind a $13 shirt, a $6-an-hour worker: Web of contractors insulates retailers from wage law," by L.A. Times' Natalie Kitroeff and Victoria Kim, on the front page: "Like other major clothing retailers, Forever 21 avoids paying factory workers' wage claims through a tangled labyrinth of middlemen that stands between the racks in its stores and the people who sew the clothes."
https://www.axios.com/newsletters/axios-am-de4eb121-5eaa-4bb6-a825-119ccc61d29c.html?chunk=2#story2
3. 1 inspiring thing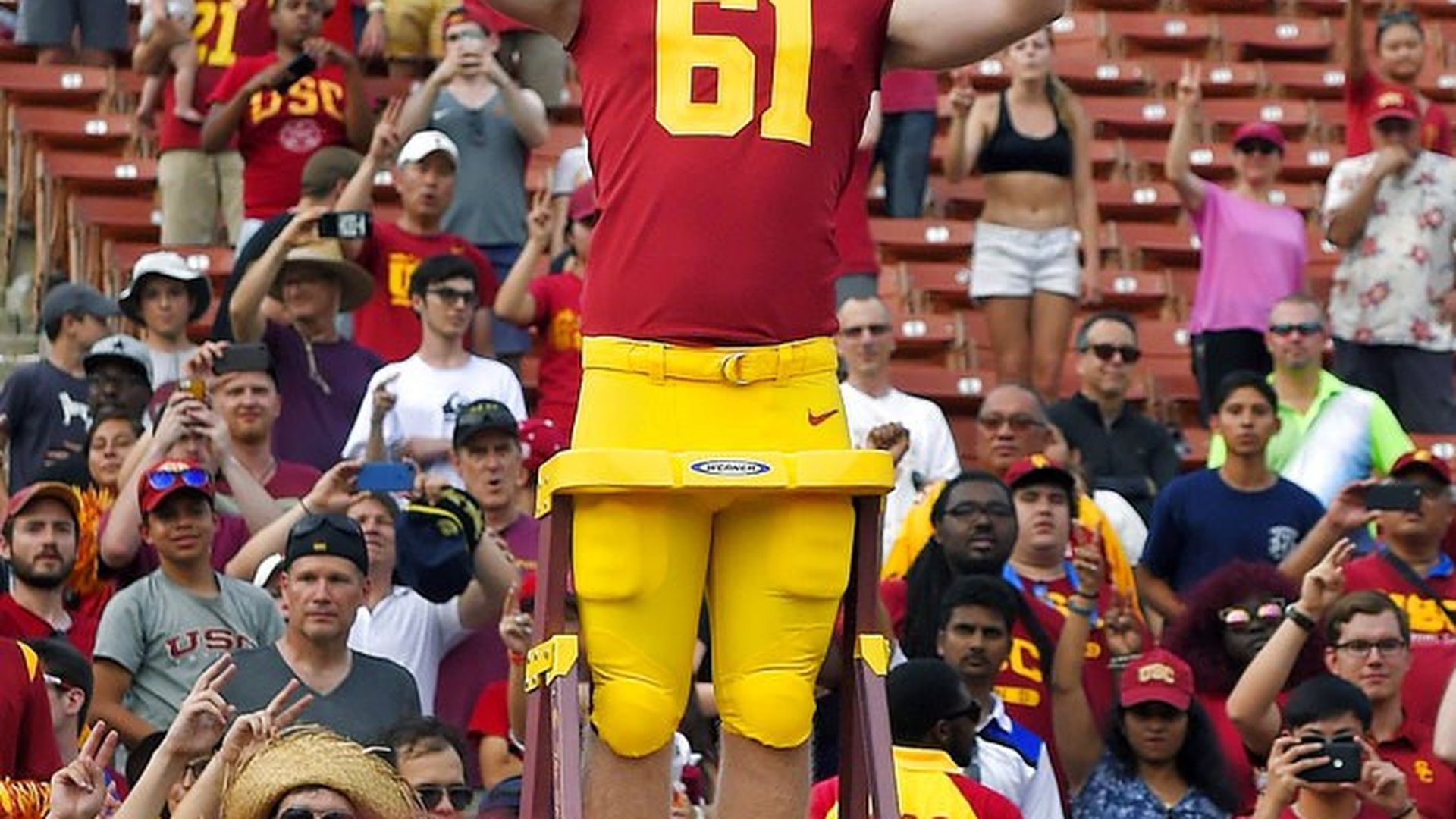 "USC called a timeout after its last touchdown. ... Coach Clay Helton was putting in a new long snapper, Jake Olson. Olson is blind. His snap was perfect, the point-after attempt was good and Olson got a big ovation" at the Coliseum, per the L.A. Times.
"Eight years after the USC football program adopted him after he lost both of his eyes to retinoblastoma, a rare form of [retinal] cancer, and three years after he joined the team as a walk-on [on a scholarship for disabled athletes], Olson snapped the ball in an official game for the first time."
Olson, sweating through his uniform after the game: "There's a beauty in it ... If you can't see how God works things out, then I think you're the blind one."
USC beat Western Michigan, 49-31.
https://www.axios.com/newsletters/axios-am-de4eb121-5eaa-4bb6-a825-119ccc61d29c.html?chunk=3#story3
Bonus: What the president is reading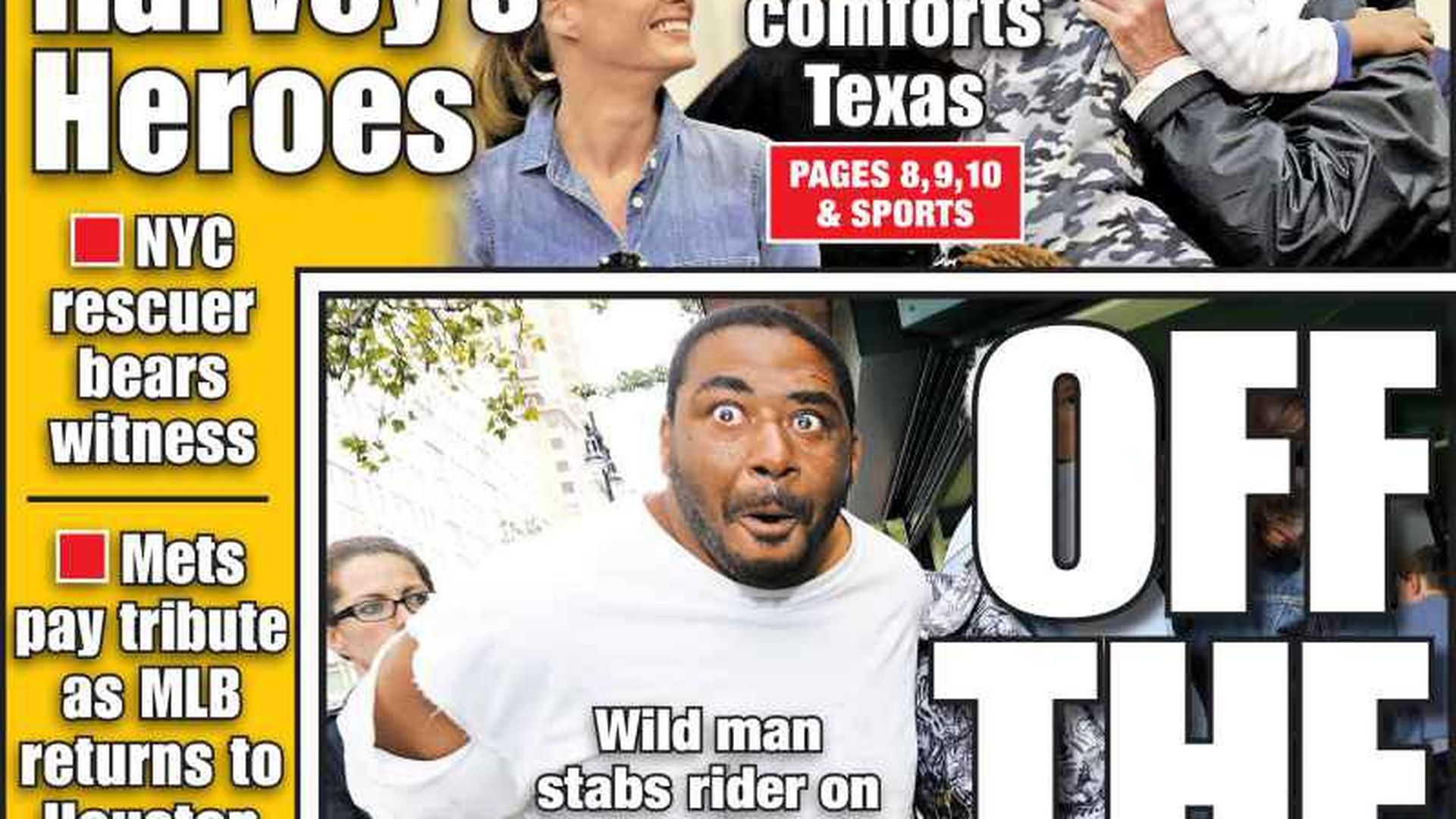 https://www.axios.com/newsletters/axios-am-de4eb121-5eaa-4bb6-a825-119ccc61d29c.html?chunk=4#story4
4. The spirit of Houston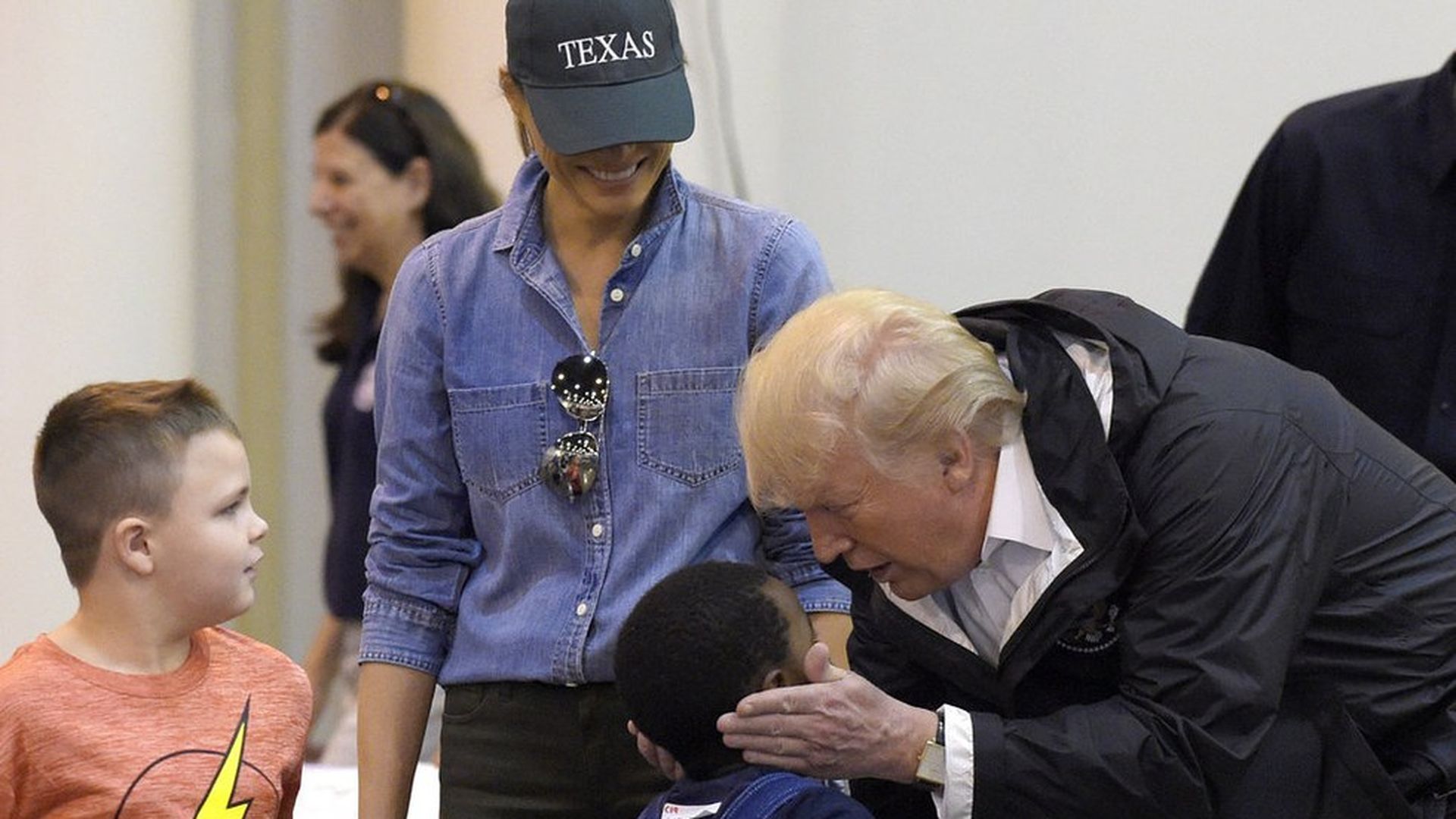 "Do-it-yourself rescues are part of the Texas way," by WashPost's Kevin Sullivan and Peter Holley, on A1:
"[A] remarkable network of boat owners with smartphones, worried neighbors with laptops and digital wizards with mapping software popped up to summon and support an army of Good Samaritans who motored, rowed and waded into dangerous waters to save family, friends and total strangers."
"The 'We the People' response seemed distinctly Texan, an outgrowth of the state's almost genetic disinclination to rely on the government for anything — and in some cases, resolute willingness to defy it. Just as some Texans defied mandatory evacuation orders ahead of the storm, many rescuers ignored repeated official warnings to stay off streets flooded with treacherous and fast-flowing waters."
"Texas officials, in turn, repeatedly emphasized the importance of personal responsibility. They warned people not to call 911 unless their life was in immediate peril."
The great David Von Drehle, who left TIME and has returned to the WashPost as a twice-weekly opinion columnist, today writes on "The radical flood and the spirit of Houston":
"Charlottesville. Berkeley. Houston. Three dots that lead to something urgent about our politics. Let's connect them."
"Charlottesville and Berkeley are rampaging reminders that the political spectrum is much broader than we Americans are used to acknowledging. The spectrum runs far beyond Republicans and Democrats, from fascism to communism and from tyranny to anarchy. Conservatives and liberals are actually shoulder to shoulder at the center of this range."
"We need leaders who can read the clouds of Charlottesville and Berkeley for the genuine menace they pose. Who, in the spirit of Houston, can shelve their differences, climb into their boats, and begin collecting all the stranded Americans they can find."
https://www.axios.com/newsletters/axios-am-de4eb121-5eaa-4bb6-a825-119ccc61d29c.html?chunk=5#story5
5. Pic du jour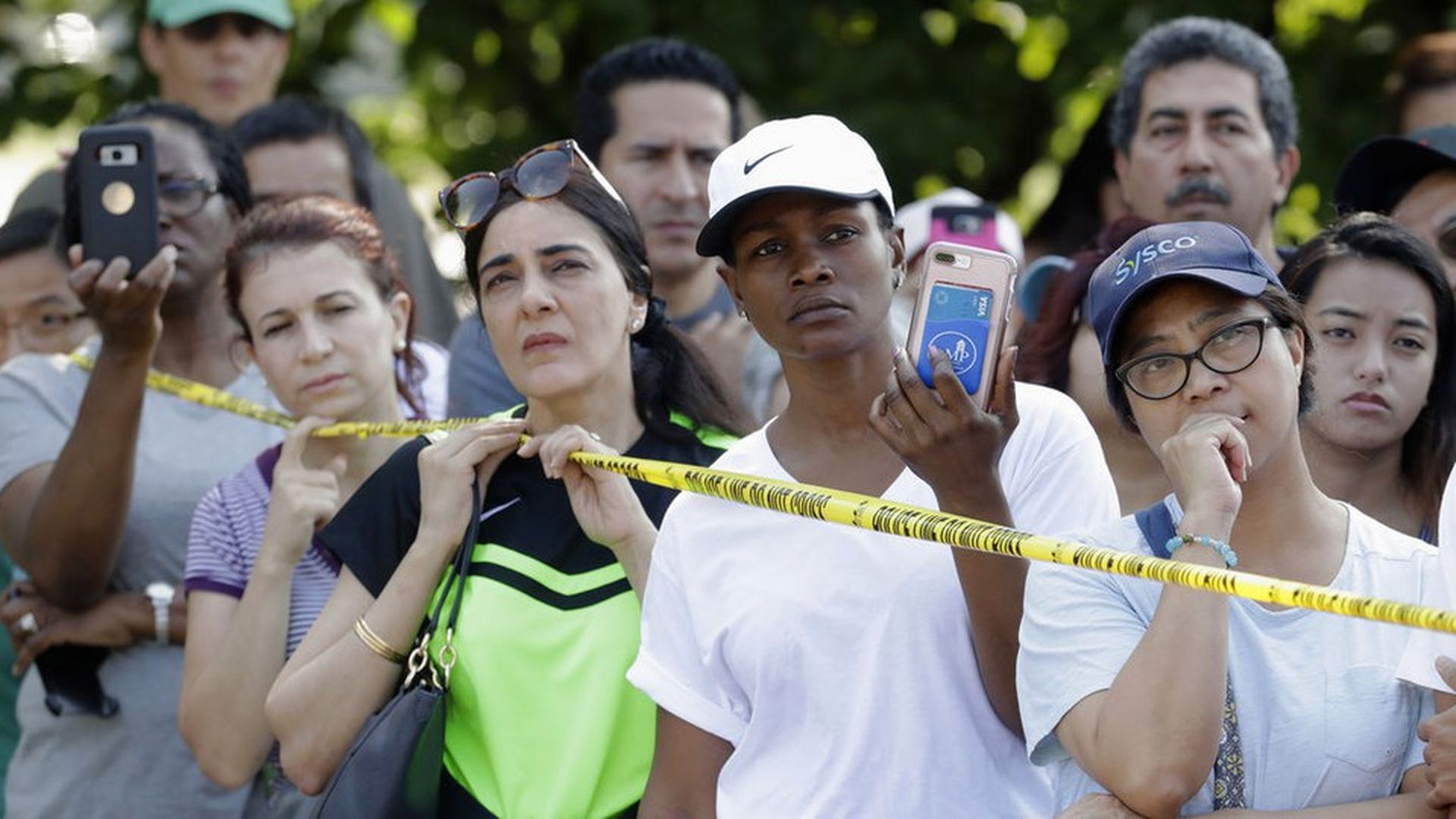 Residents of Katy, Texas, listen to officials yesterday at a roadblock of their Canyon Gate neighborhood, which was flooded when the Barker Reservoir reached capacity in the aftermath of Harvey.
They gathered at the checkpoint to vent their frustrations about not being able to get back into their homes, which will remain flooded for several more days while the reservoir drains.
"In line and in life, Harvey's victims wait and worry," by AP National Writer Matt Sedensky:
"It's just past 10 a.m. at the makeshift relief center in this community southeast of Houston, and already some 150 people are queued up for supplies. The line stretches through the mall entrance back into a deserted office, where those who wait are presented a checklist of items they need, from toilet paper to blankets to clothing. They'll wind through banks of cubicles where volunteers have sorted clothes into sizes, and amassed all sorts of things — school supplies, dog food, walkers."
https://www.axios.com/newsletters/axios-am-de4eb121-5eaa-4bb6-a825-119ccc61d29c.html?chunk=6#story6
6. Never mind
"The Justice Department said in a court filing Friday evening that it has no evidence to support President Donald Trump's assertion in March that his predecessor, Barack Obama, wiretapped the phones in Trump Tower before last year's election." (CNN's Deirdre Walsh)
P.S. Today is John Kelly' 35th day as White House chief of staff. The N.Y. Times reports chatter about when he'll leave:
"The question now is how long Mr. Kelly will stay, with estimates ranging from a month to a year at the most. White House officials say that Mr. Kelly has given no indication he intends to leave anytime soon. He has thrown himself into long-term planning of the administration's tax reform push, the president's Asia trip in November and scheduling for the next several months."
https://www.axios.com/newsletters/axios-am-de4eb121-5eaa-4bb6-a825-119ccc61d29c.html?chunk=7#story7
7. 2020 arrives coyly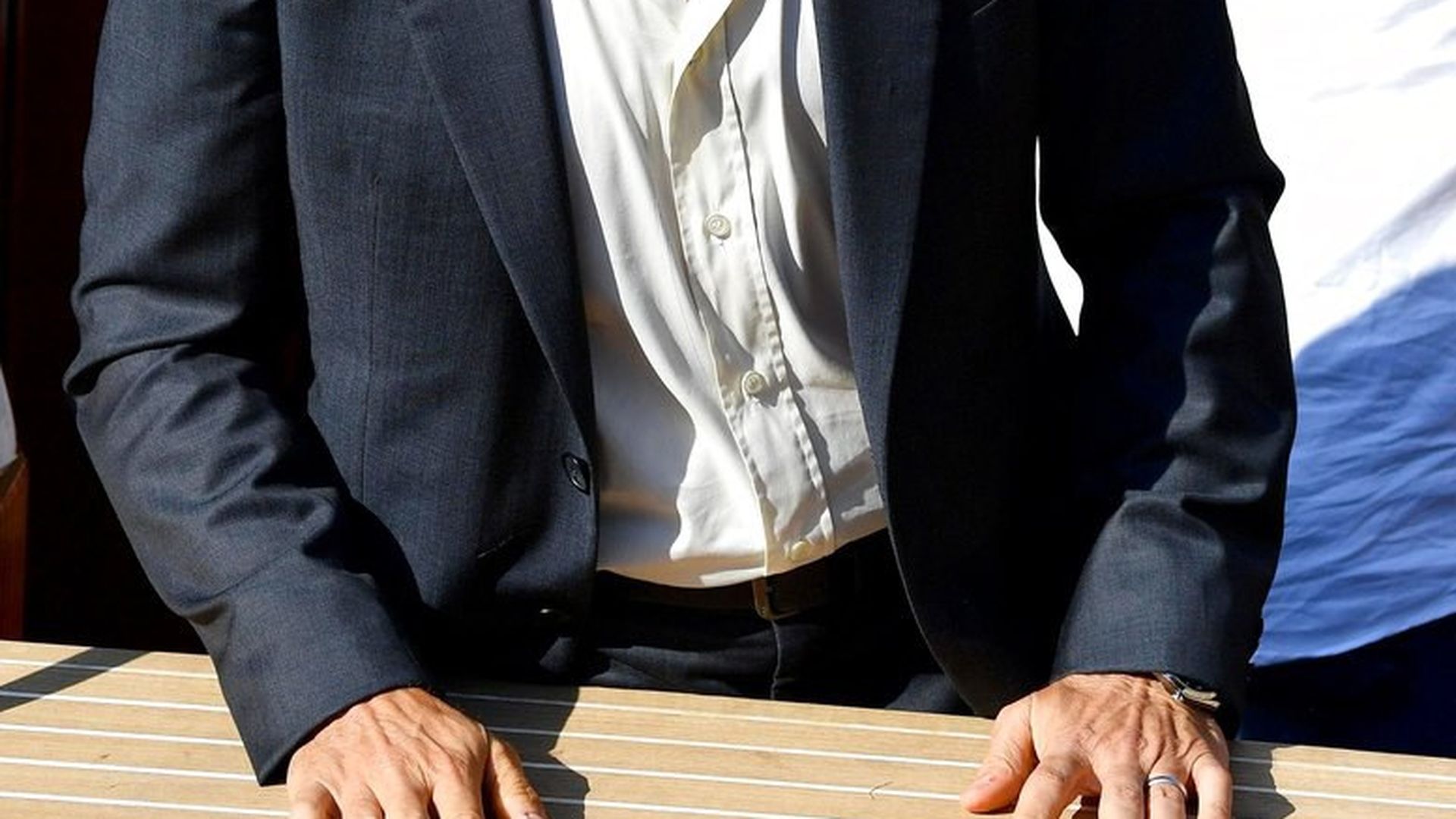 We told you Friday that 2020 hopefuls are beginning to put out feelers to potential staff and donors. The N.Y. Times' Ken Vogel and Rachel Shorey find a clear "shadow campaign," although the players remain coy:
"Aides to Senator Kamala Harris of California say that her fund-raisers in Martha's Vineyard and the Hamptons this summer have been all about helping Democrats in 2018. Former Vice President Joseph R. Biden Jr.'s allies say his new political group is building an email list so he can communicate directly with his supporters about the future of the party and the country. And Representative Tim Ryan of Ohio says he has been traveling to Iowa and New Hampshire in part because 'I like being out around the country.'"
Two potential candidates who are being closely watched in both parties:
George Clooney says at the Venice Film Festival that "Suburbicon" — a satirical film noir he directed, starring Matt Damon and Julianne Moore — is an angry movie for an angry U.S.: "A lot of us are angry — angry at ourselves, angry at the way that the country is going, angry at the way the world is going." (AP)
The Boston Globe front-pages a feature on religion as a "constant part of Elizabeth Warren's life": "Warren ... doesn't have a home church she regularly attends, but she frequently visits a variety of houses of worship — including many African-American churches — around the state."
https://www.axios.com/newsletters/axios-am-de4eb121-5eaa-4bb6-a825-119ccc61d29c.html?chunk=8#story8
8. Power centers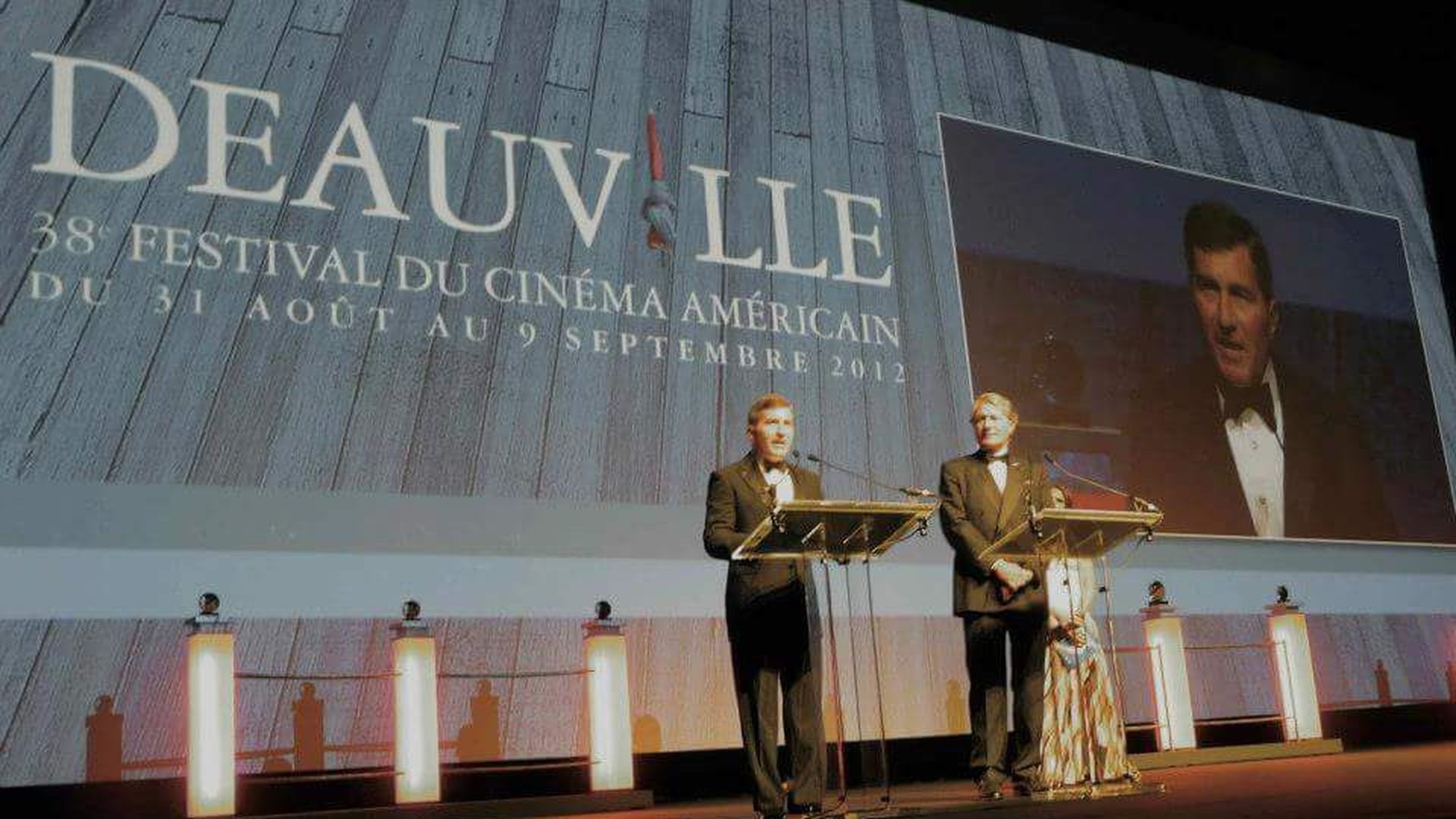 "New MPAA chief Charles Rivkin [age 55; starts Tuesday as CEO] aims to be a diplomat for Hollywood at an uncertain time," by L.A. Times' Ryan Faughndxr:
"Upon arriving in Paris as the new U.S. ambassador to France and Monaco in 2009, Charles Rivkin used his show business pedigree to charm President Nicolas Sarkozy with a gift: a framed poster of Rita Hayworth."
"Rivkin's diplomatic skills are about to be put to their biggest test yet as he takes the helm of the Motion Picture Assn. of America, ... replacing Christopher Dodd, who has held the job since 2011."
"Rivkin will be the top Washington lobbyist for Hollywood at a time of great uncertainty driven by changes in consumer behavior."
"The biggest challenge: to wrangle consensus among six major studios — Disney, Universal, Warner Bros., Fox, Sony and Paramount — whose interests often conflict."
"As for the Trump administration, Rivkin says the entertainment industry is more aligned with the president's agenda than it seems. 'What we need to do is get the word out and help everyone understand that when you invest in this industry, you invest in American jobs.'"
https://www.axios.com/newsletters/axios-am-de4eb121-5eaa-4bb6-a825-119ccc61d29c.html?chunk=9#story9
9. To tell your kids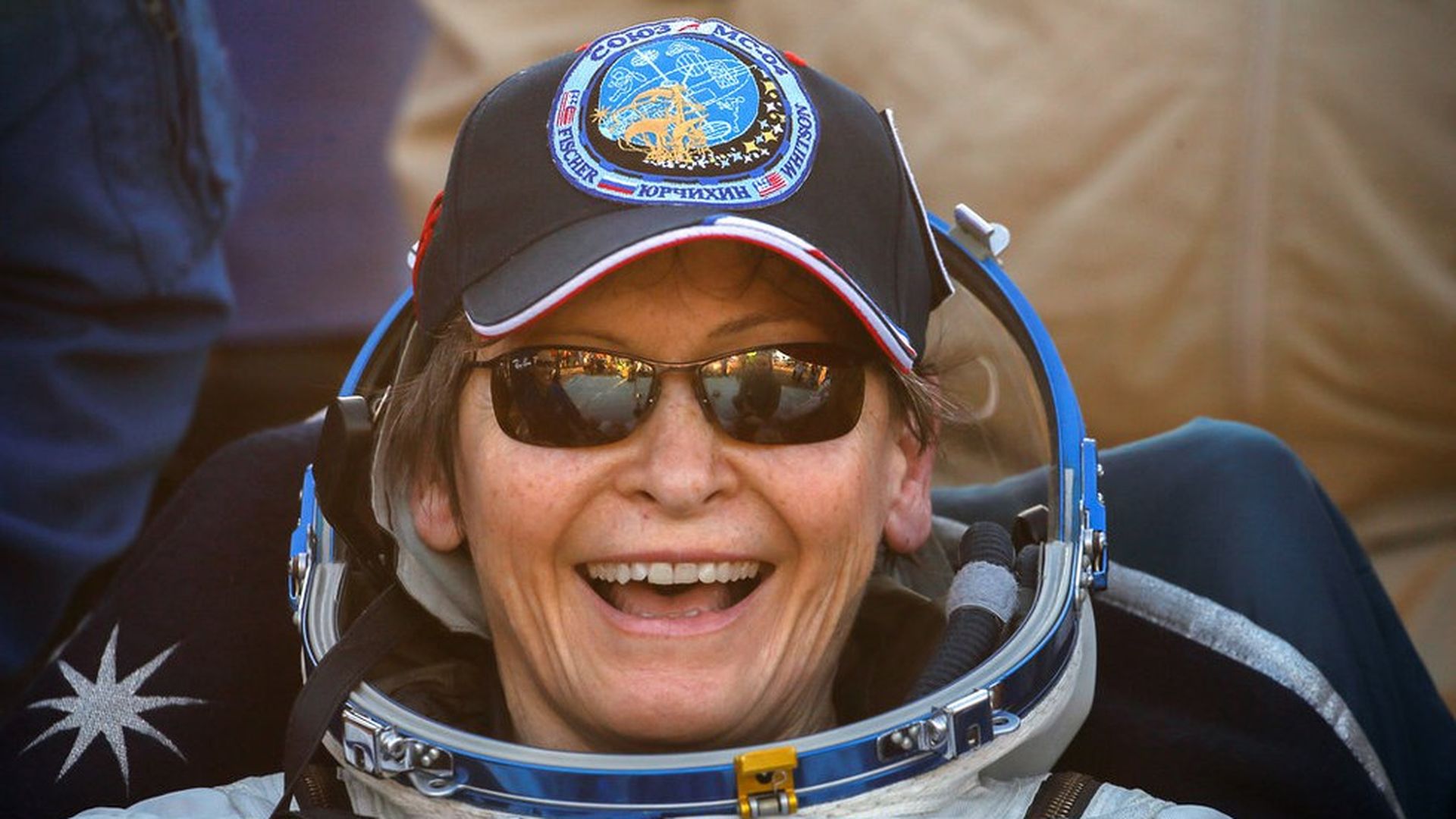 "NASA astronaut Peggy Whitson and two crewmates made a parachute touchdown in Kazakhstan on Saturday, capping a career-total 665 days in orbit, a U.S. record," Reuters reports.
"Whitson, 57, ended an extended stay of more than nine months aboard the International Space Station, a $100 billion research laboratory that flies about 250 miles ... above Earth."
"During her third mission aboard the station, Whitson spent much of her time on experiments, including studies of cancerous lung tissue and bone cells."
"She also completed four spacewalks, adding to her six previous outings, to set a record for the most time spent spacewalking by a woman."
https://www.axios.com/newsletters/axios-am-de4eb121-5eaa-4bb6-a825-119ccc61d29c.html?chunk=10#story10
10. 1 fun thing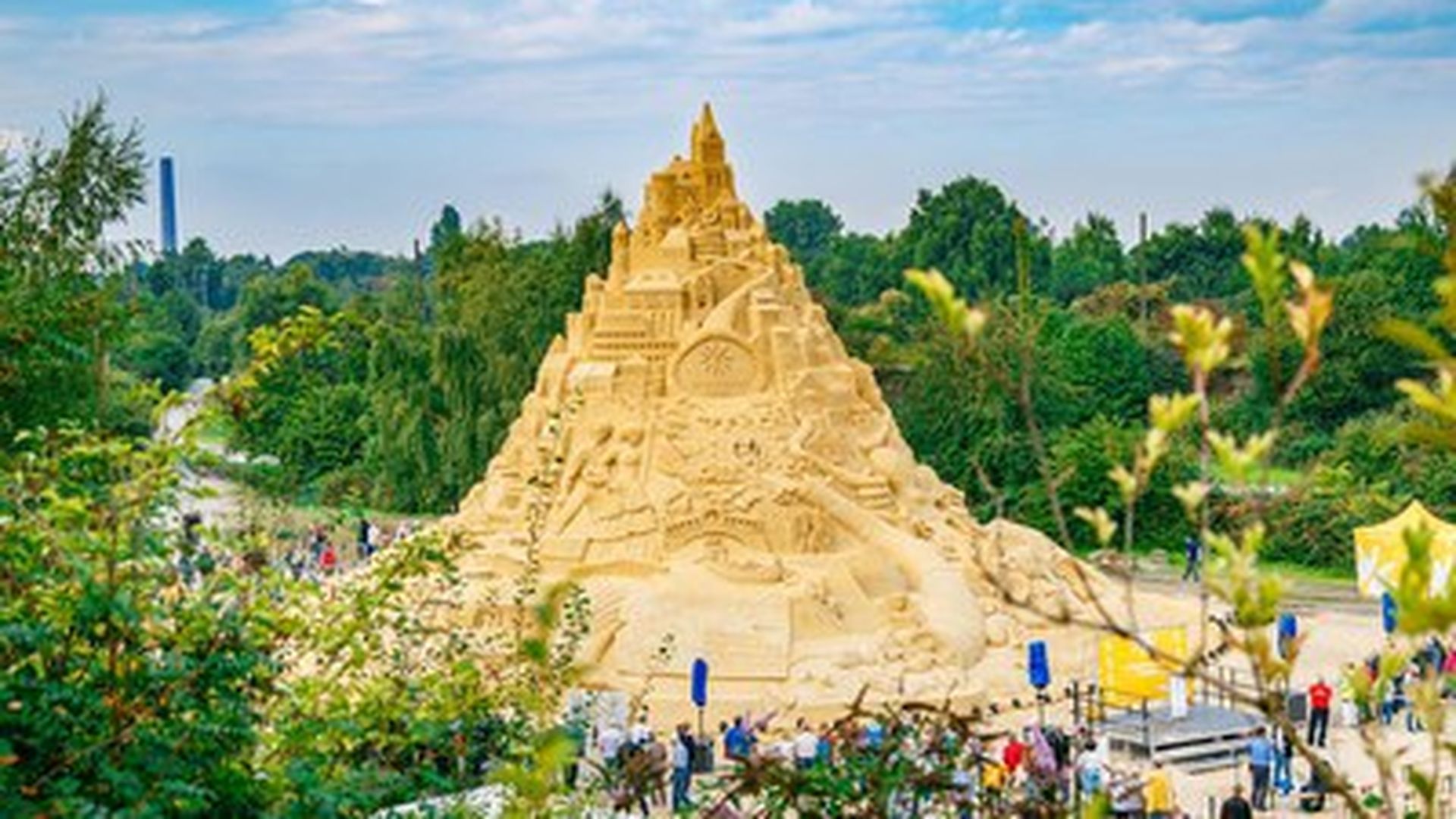 "The world's tallest sandcastle was built in Duisburg [Germany by 19 'sand artists'] in just 25 days," per a press release from the German travel service Schauinsland-Reisen.
"Made from 3,500 tonnes of sand, this sculpture is exactly 16.68 meters [18 yards] tall and therefore 184 centimeters [2.75 feet] higher than the previous world record, which was set in India. Jack Brockbank, Official Adjudicator at Guinness World Records, measured the sandcastle ... using laser technology."