Axios AM
April 17, 2019
Good Wednesday morning. It's Mueller Eve!
President Trump tweets his 2020 prediction: "I believe it will be Crazy Bernie Sanders vs. Sleepy Joe Biden as the two finalists ... I look forward to facing whoever it may be. May God Rest Their Soul!"
Was this email forwarded to you? Get your own Axios AM and PM! Sign up here.
1 big thing: The digital babysitter generation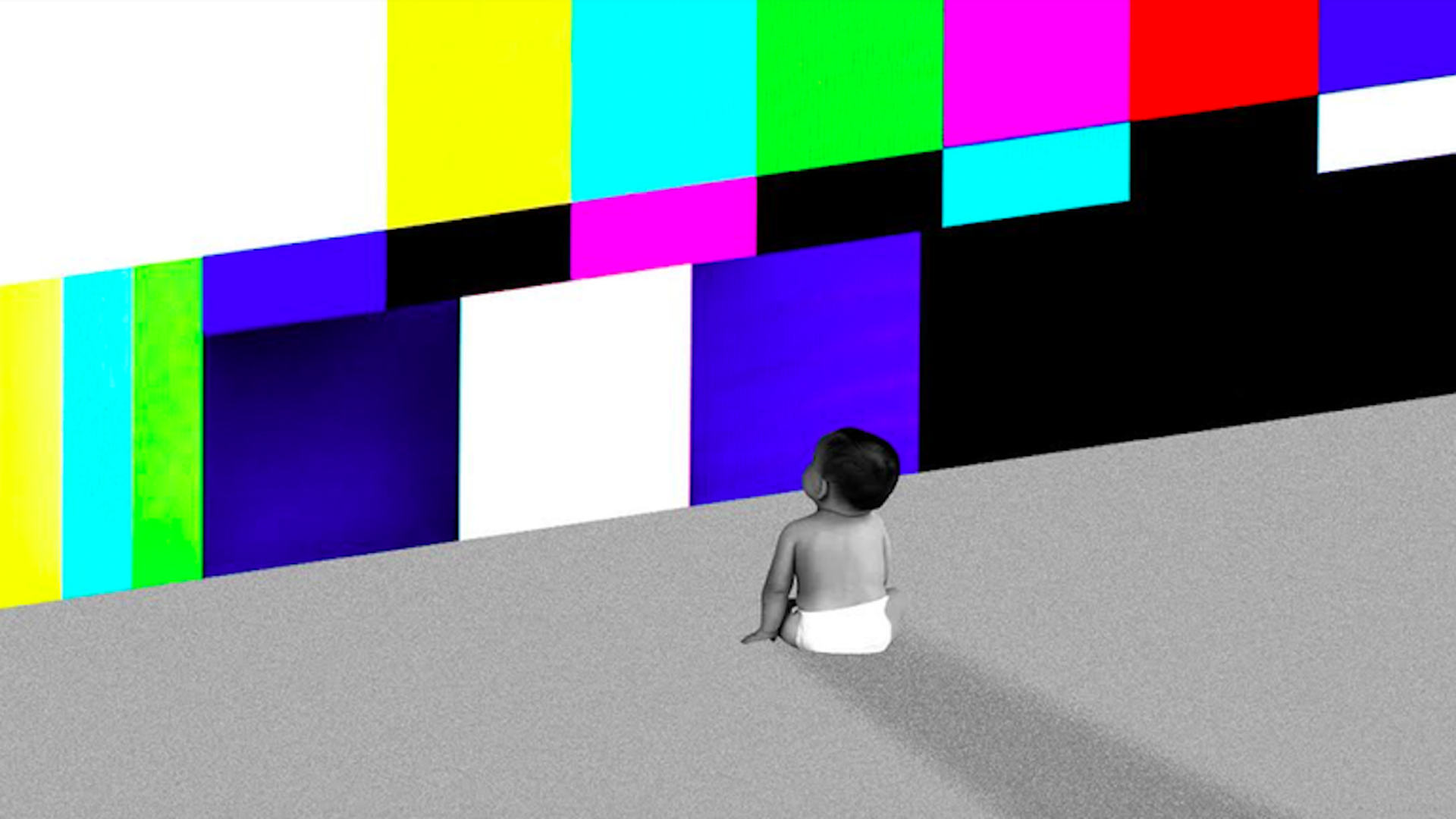 Parents are relying more than ever on digital babysitters and device-led playtime to entertain their children, making it increasingly difficult to monitor what their kids are seeing, Axios' Kim Hart and Sara Fischer report.
Why it matters: This goes beyond the old challenges of kids watching too much TV. Modern parents struggle to keep up with the immense variety of kids' programming across a multitude of apps.
Plus, controlling what kids are exposed to on platforms like YouTube can feel like an unwinnable battle with algorithms.
While the impact of technology on kids is still relatively unknown due to a lack of long-term research, researchers attribute more screen time to increased demands on parents and the convenience of always-on smartphones and tablets.
Mediating what children are exposed to is getting more challenging, with the ever-increasing amount of kid-targeted content and algorithms pushing out the next piece of content, said Shelley Pasnik, director of the nonprofit Center for Children and Technology.
Baby boomers and Gen-X-ers often reminisce about the days of meeting up with friends at the neighborhood cul-de-sac or mall. But today, many parents are less comfortable sending their children outside to play unattended.
2. Zuckerberg in charge, knuckles bared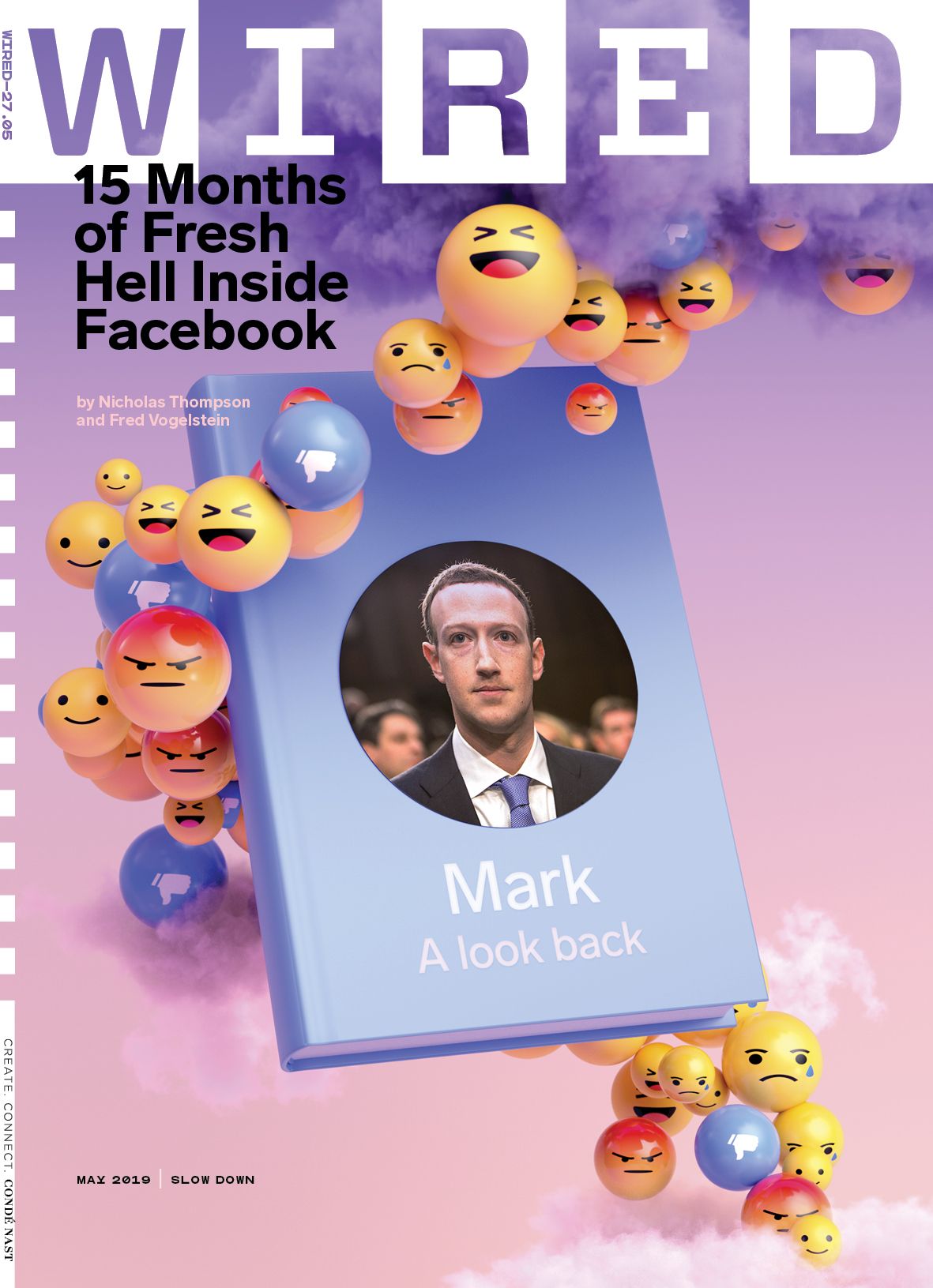 New in-depth reports on Facebook portray Mark Zuckerberg as a tough negotiator and shrewd wielder of power — miles from the geeky whiz kid image that kicked off his public life, Axios' Sara Fischer and Scott Rosenberg write.
Why it matters: Zuckerberg controls Facebook's voting stock. And Facebook controls much of the world's information diet.
NBC's Olivia Solon and Cyrus Farivar reviewed 4,000 pages of documents — including emails, webchats, presentations and meeting summaries — mostly from 2011 through 2015, leaked from the proceedings of a U.K. lawsuit brought by the maker of a now-defunct app against Facebook.
The NBC story concludes that Zuckerberg personally oversaw plans years ago to use consumer data as leverage to disadvantage consumers, and that he worked with Facebook's communications team to help spin the narrative that changes to its policies were attributable to privacy concerns.
Facebook told NBC the documents were "cherrypicked" by its legal adversary.
A WIRED account of Facebook's crisis-plagued last year sheds new light on the company's seeming paralysis in the aftermath of the Cambridge Analytica revelations a year ago.
Reasons for the silence included: Facebook didn't know all the facts, didn't understand how angry its critics and the public were, and believed that the data Cambridge Analytica accessed wasn't very valuable.
But also, Nick Thompson and Fred Vogelstein write: "Executives didn't want a repeat of Zuckerberg's ignominious performance after the 2016 election."
Since then, Zuckerberg has been on a roll.
His belated response to the Cambridge Analytica story was gaffe-free.
His answers a month later to fuzzy-minded questioning from Congress gave critics no further ammunition.
Today, he's on a PR offensive that includes hosting a series of conversations on the future of technology and society.
The big picture: Despite Facebook's endless trials, Zuckerberg has never been more in charge.
3. Veto signals Trump nadir with Senate GOP
What's new: In the second veto of his presidency, President Trump last evening vetoed a resolution passed by Congress to end U.S. military assistance in Saudi Arabia's war in Yemen. Congress lacks the votes to override the veto, AP reports.
The resolution, which invoked the War Powers Act, "was a rebuke of Mr. Trump's support for Saudi Arabia even after the killing of the dissident journalist Jamal Khashoggi," per the N.Y. Times.
Why it matters, from Jonathan Swan: Trump's relationship with the Senate is at an all-time low in his presidency.
It frayed amid the shutdown (which never had an endgame), followed by the border emergency declaration, which divided the Republican conference.
That followed Trump's order of a withdrawal from Syria, which delighted Sen. Rand Paul (R-Ky.) but infuriated mainstream Republicans.
We won't overstate it: Trump has a hold over the party and remains popular with Republican voters, so lawmakers will still side with him when it counts. But acts of defiance are becoming more frequent, and should worry the White House.
4. Pics du jour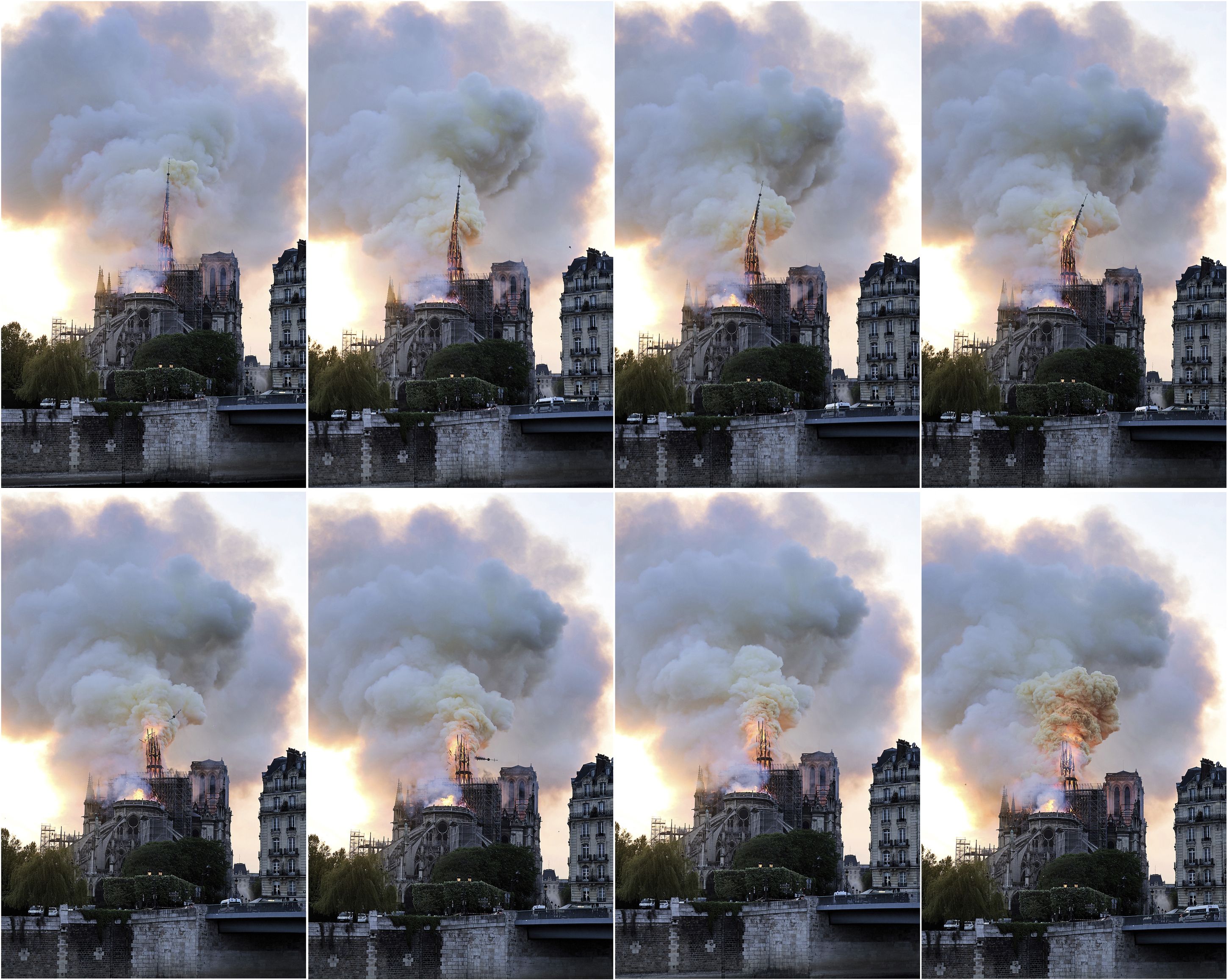 Above, flames and smoke rise as the spire of Notre Dame Cathedral collapses in Paris on Monday.
French President Emmanuel Macron vowed to rebuild Notre Dame "even more beautifully" within five years, as all of France's cathedrals prepared to ring their bells today to mark 48 hours since the colossal fire began, AFP reports.
"Macron announced the speedy timescale for restoration — a process some experts had said would take decades — in an address to the nation where he [said] the disaster had shown the capacity of France to mobilize and unite."
P.S. ... "$1 billion raised to rebuild Paris' Notre Dame after fire," per ABC News.
5. Notre Dame, before and after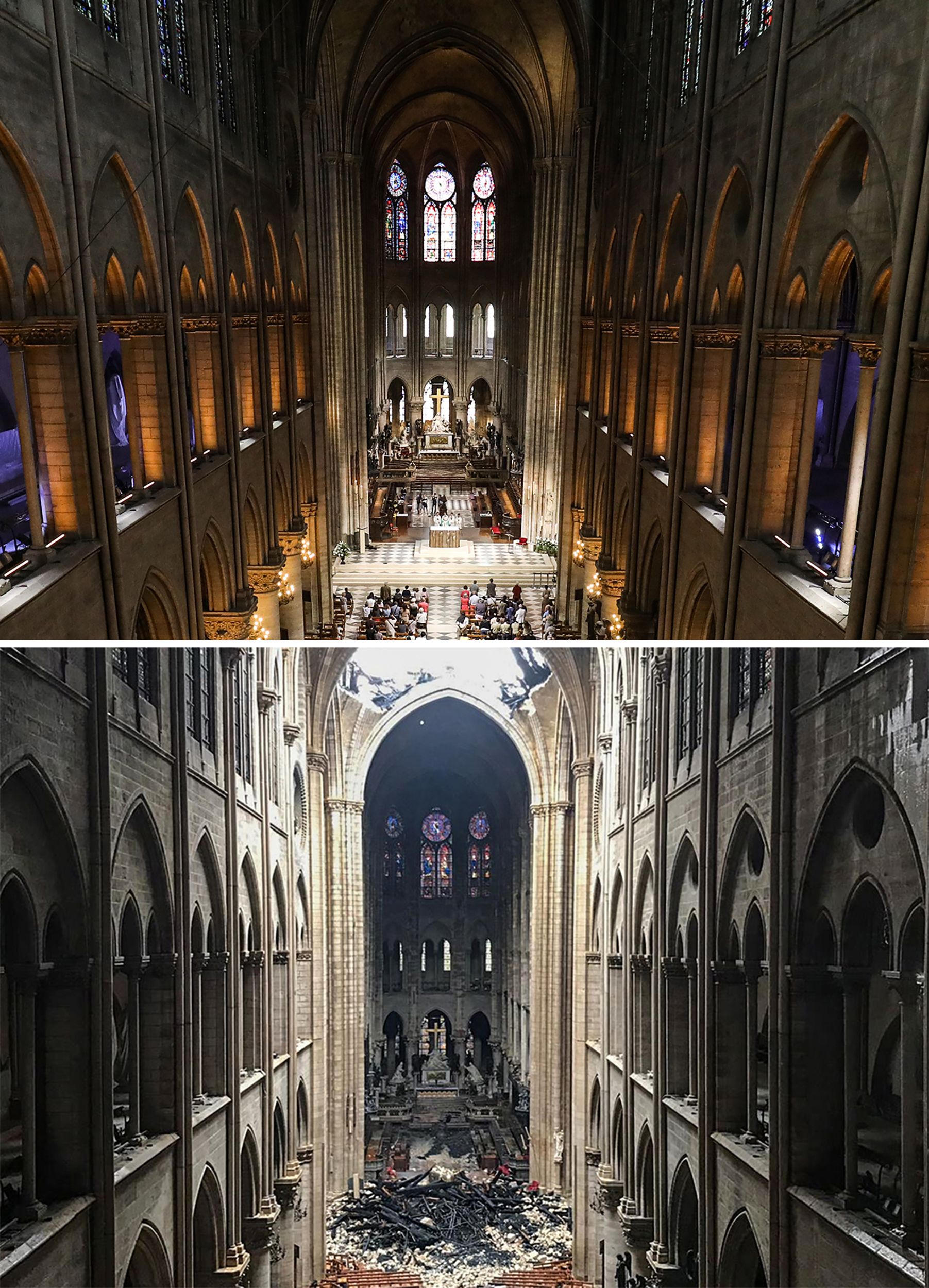 Above, worshippers arrive for mass at the cathedral on June 26, 2018.
Below is the same view in the aftermath of the Holy Week inferno.
6. Scoop: Moulton tapes 2020 launch video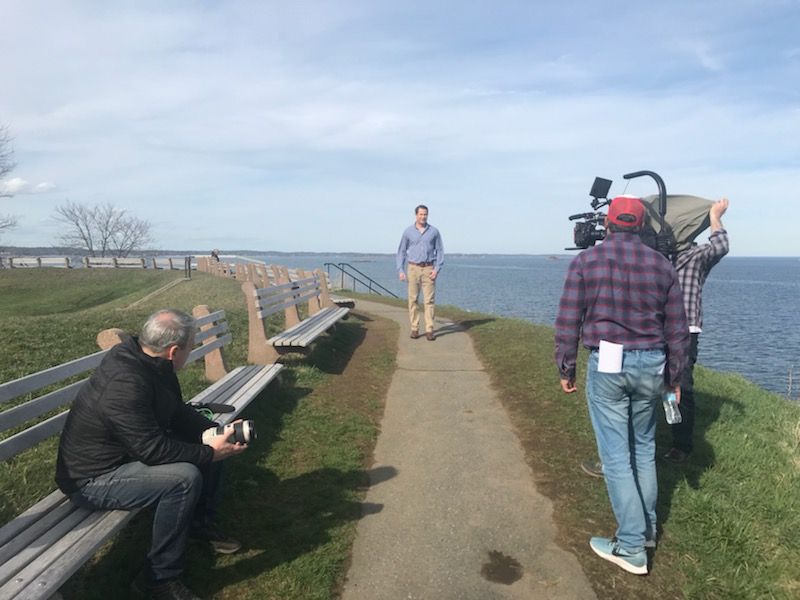 The iPhone age is providing a new form of intelligence for political reporters, who used to depend on whispers about a secret campaign launch.
Joe Biden was recently spotted at his childhood home in Scranton, Pa., obviously taping a commercial for a campaign launch that's expected after Easter.
And we can tell you about another imminent announcement.
The photo above is Rep. Seth Moulton (D-Mass.) in his hometown of Marblehead, Mass., taping for a presidential announcement that's expected within a week, according to a source close to Moulton.
Moulton's key issues will be foreign policy, national security and defense.
Moulton was also spotted taping recently in Vegas (photo below), where he held three meetings with veterans.
Moulton, 40, ran on "bringing a new generation of leadership to Washington."
The congressman joined the Marines after graduating from Harvard, and led an infantry platoon in Iraq.
His bio says: "He served four tours in a war that he didn't agree with."
Matt Corridoni, a Moulton aide, tells me: "Seth has said he's seriously thinking about running and will announce his decision by the end of the month."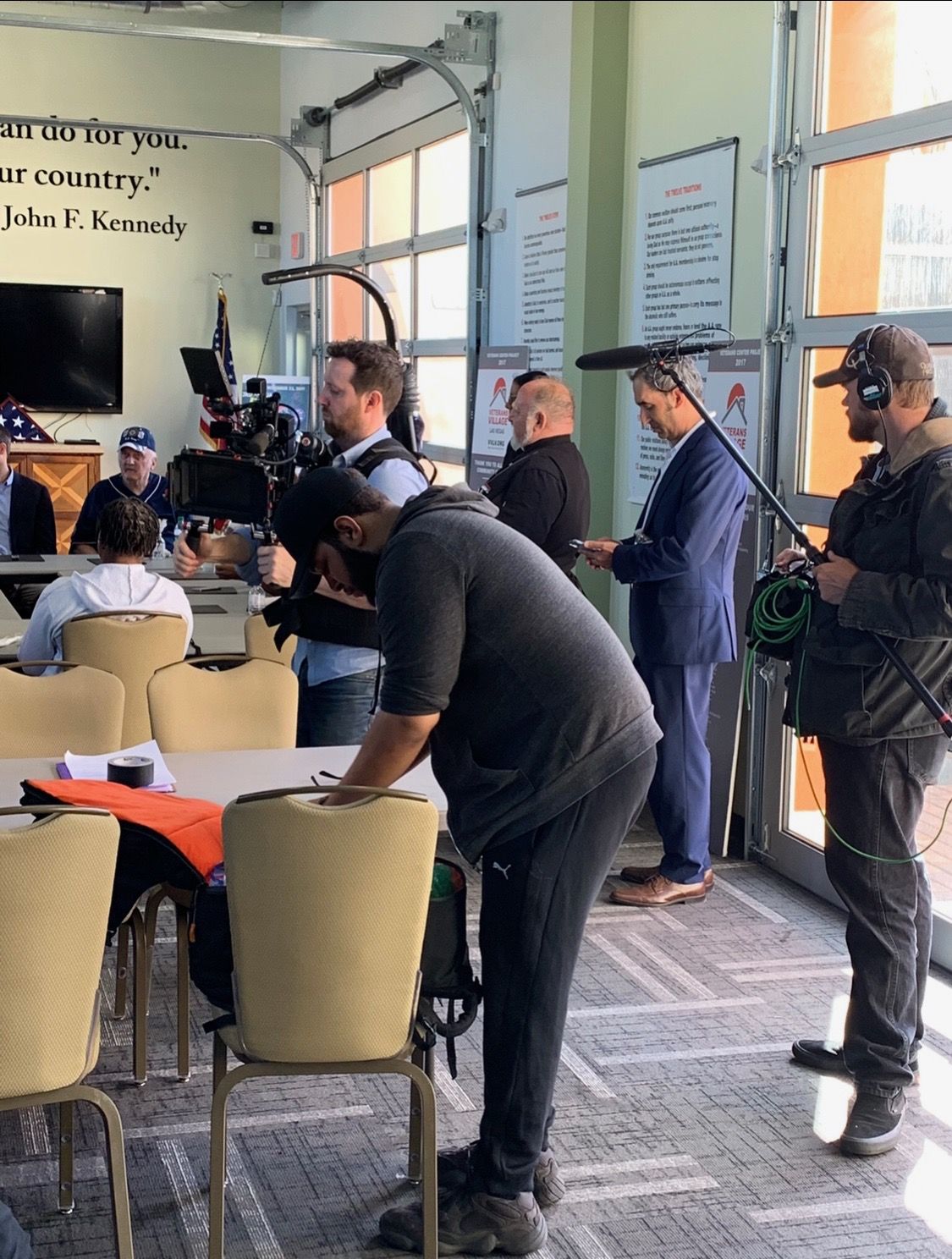 7. Ohio swing voters view Beto as top Trump threat
Ohio swing voters think that among the younger 2020 candidates, President Trump should be most concerned about Beto O'Rourke — but they're not sure the Democrat can win, Axios' Alexi McCammond reports from Bowling Green.
This was a takeaway from an Engagious/FGP focus group last week.
Participants were shown two-minute video clips of O'Rourke, Julián Castro, Tulsi Gabbard, and Pete Buttigieg, and asked to score them based on who Trump should be most concerned about heading into his re-election.
Although these voters — who have flipped between parties in past presidential elections — ranked Beto as the biggest threat among the four candidates, they only scored him a 5.7 out of 10.
Castro and Buttigieg tied at 3.8, and Gabbard came in at 2.1.
This is amazing: Five of the 12 participants scored Joe Biden a zero on recognizability — as in they had no idea who he was.
When they were shown a photo of Joe Biden.
After watching videos of the four candidates, the voters were asked to rate the Democratic Party's future, on a scale where zero is "dim" and 10 is "bright."
The average score was just over 7, suggesting these swing voters think younger candidates like Beto will carry the party in a positive direction.
8. Wall Street reckons with climate risk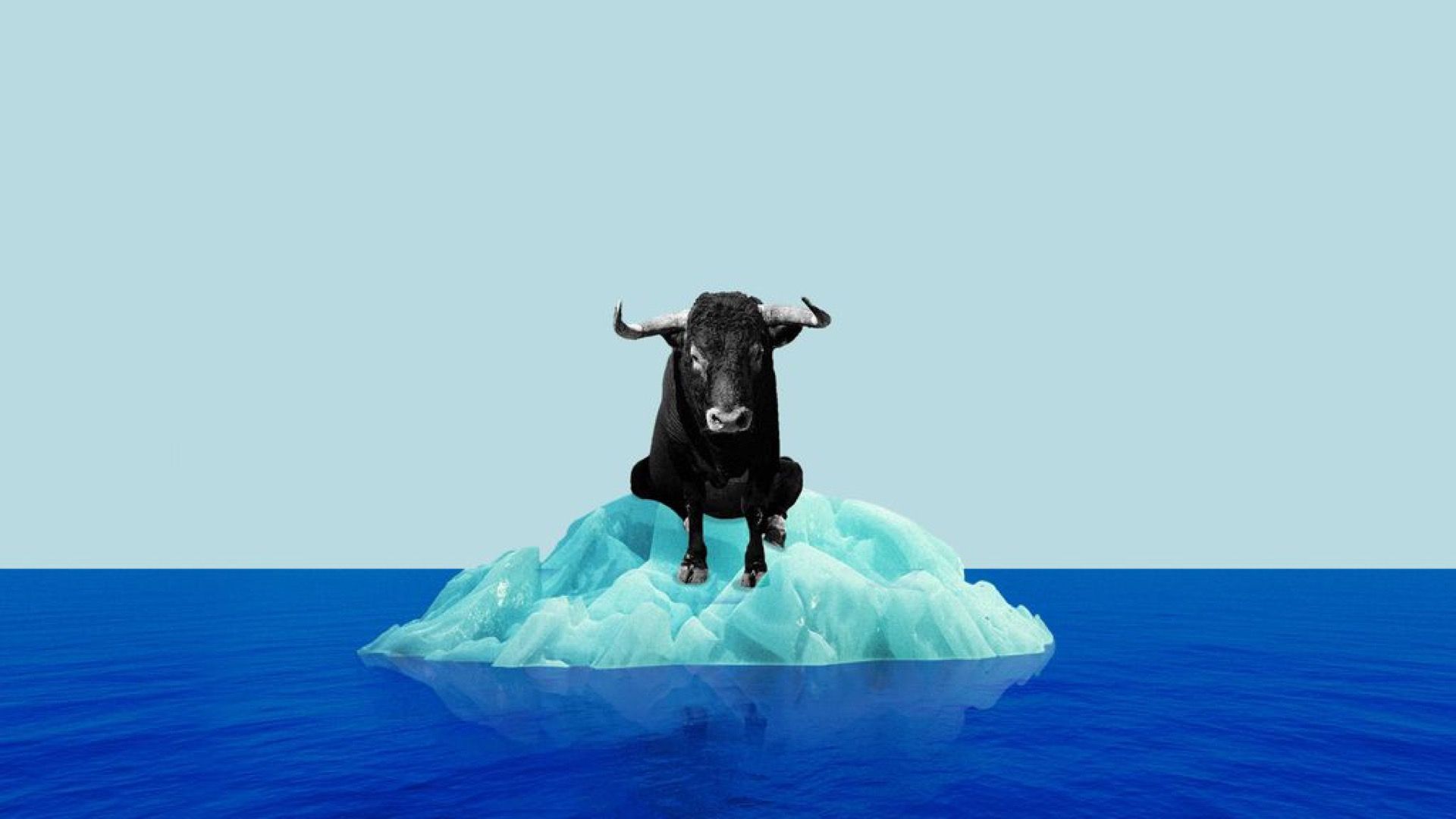 Some of the biggest names on Wall Street are partnering with climate science groups to produce the first countrywide, property-level maps attempting to financially navigate the age of extreme weather-driven calamity, reports Axios future editor Steve LeVine.
These maps are so granular that they can pick out individual commercial buildings and electric power stations, and thus advise investors about the potential impact to their specific assets through the end of the century.
Their early conclusion: An all-but oblivious Wall Street is underpricing the risk of intense heat, wildfires, drought, storms and floods to their investments.
9. Two 📺 stats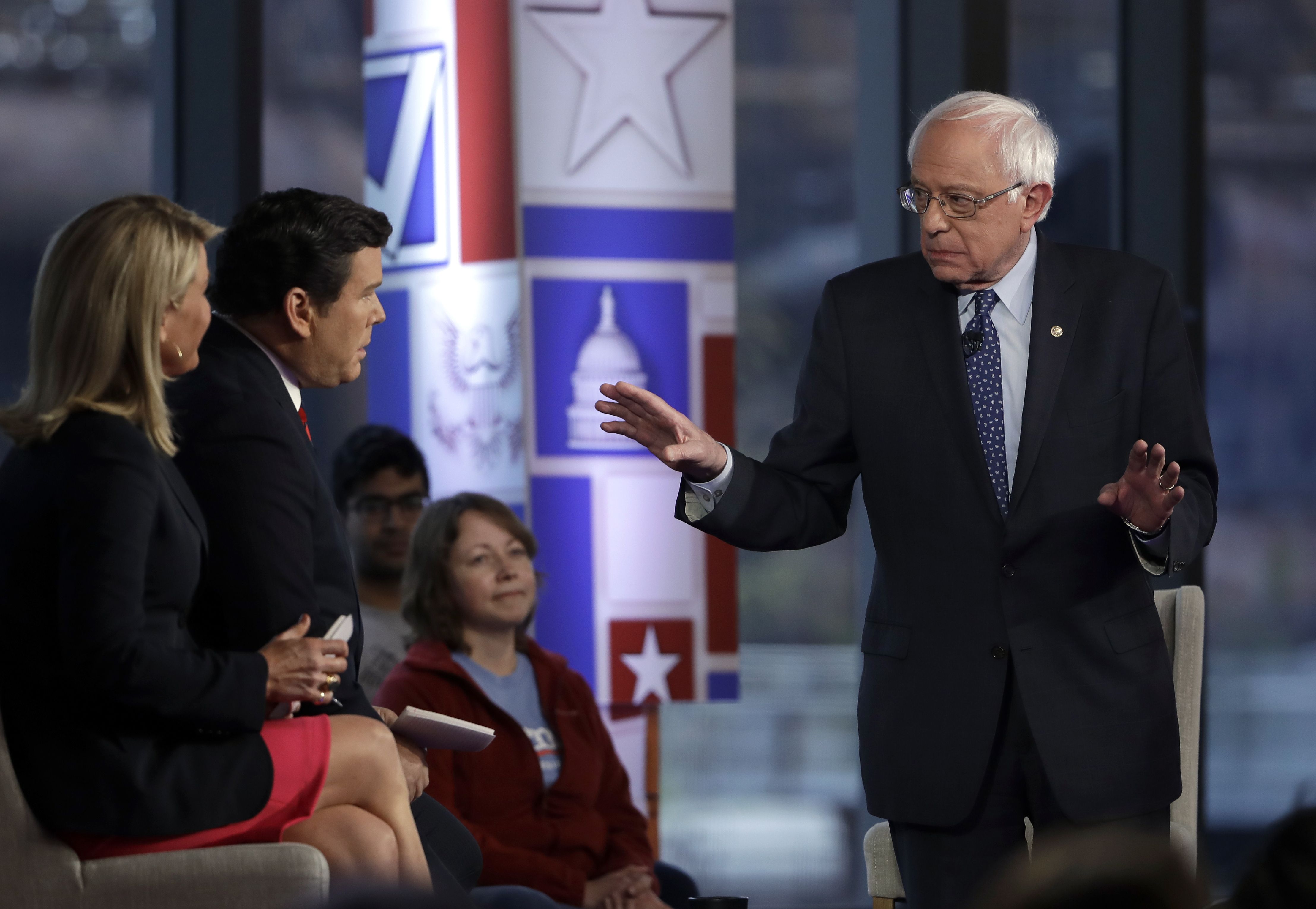 Sen. Bernie Sanders' town hall on Fox News on Monday was the most-watched Democratic event of 2020 so far, AP reports.
Nielsen estimates 2.55 million people saw the town hall in Bethlehem, Pa., beating the 1.35 million who saw Sanders on CNN on Feb. 25.
Sen. Kamala Harris' CNN town hall in January was seen by 1.95 million viewers, the previous high for a 2020 Dem.
Sunday's "Game of Thrones" season premiere was the most-watched one-day event in the history of HBO.
17.4 million watched live on the network at 9 p.m., streamed through HBO's on-demand service or during two reruns that aired later that night, per AP.
Nielsen can't account for people who watched more than once.
10. What the f---? The f-word goes mainstream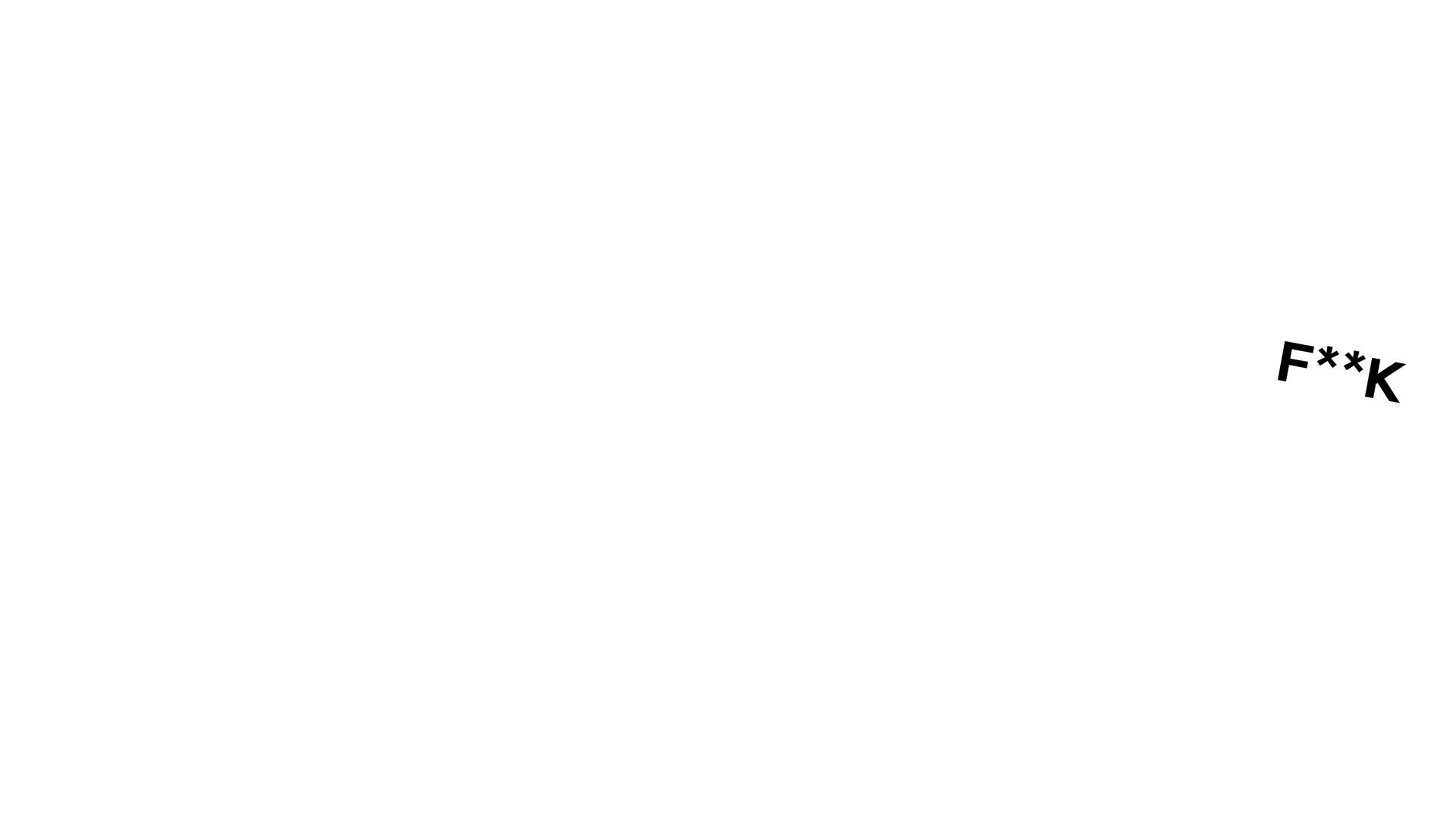 Suddenly the f-word is everywhere: Two presidential candidates. A Supreme Court case. Bookstore bestsellers.
Why it matters: A casual, ever-coarser culture has embraced a word that once shocked, and now bores. The ultimate epithet is now everyday conversation.
What we've lost: A surefire device for cutting through life's white noise.
The tone comes from the top: Back during the 2016 campaign, a New York Times editor wrote a column responding to "an onslaught of reader mail" after the "Access Hollywood" tape surfaced: "Printing Donald Trump's Vulgarities."
In March, during two-hour remarks to the Conservative Political Action Conference, Trump twice used "B.S." (only not abbreviated) in referring to investigations of him. The White House transcript faithfully recorded it.
The curse is now commonplace. Just this week:
Olivia Nuzzi writes in a New York magazine cover story about Mayor Pete: "I asked Buttigieg if he was afraid he would [eff] this up." He replied: "Anytime you're in a position of responsibility, you're afraid of [effing] it up."
During Supreme Court oral arguments on Monday in a trademark and First Amendment case involving the clothing line FUCT, Chief Justice John Roberts daintily described it as the "vulgar word at the heart of the case," per AP.
And the internet loved it back in November, when Beto O'Rourke said on live TV, during his concession speech for U.S. Senate in Texas:
"I'm so [effing] proud of you guys."
For 121 weeks (and continuing next weekend), the N.Y. Times bestseller list for advice books has included "The Subtle Art of Not Giving a F*ck: A Counterintuitive Approach to Living a Good Life," by blogger Mark Manson.
Manson's message: Positive thinking is overrated.
"F**k positivity," he writes. "Let's be honest, shit is f**ked and we have to live with it."
"Not giving a [f---] does not mean being indifferent; it means being comfortable with being different."
The paperback is coming in January, prolonging our f-storm.
Back in December, Slate asked: "Why Are There So Many F**king Best-sellers Right Now With F**k in the Title?"
Thank you for reading AM! Get your friends to sign up!