https://www.axios.com/newsletters/axios-am-ddcc215f-73d1-4382-a51f-a9a0eab998ac.html?chunk=0#story0
1 big thing: Trump's retaliation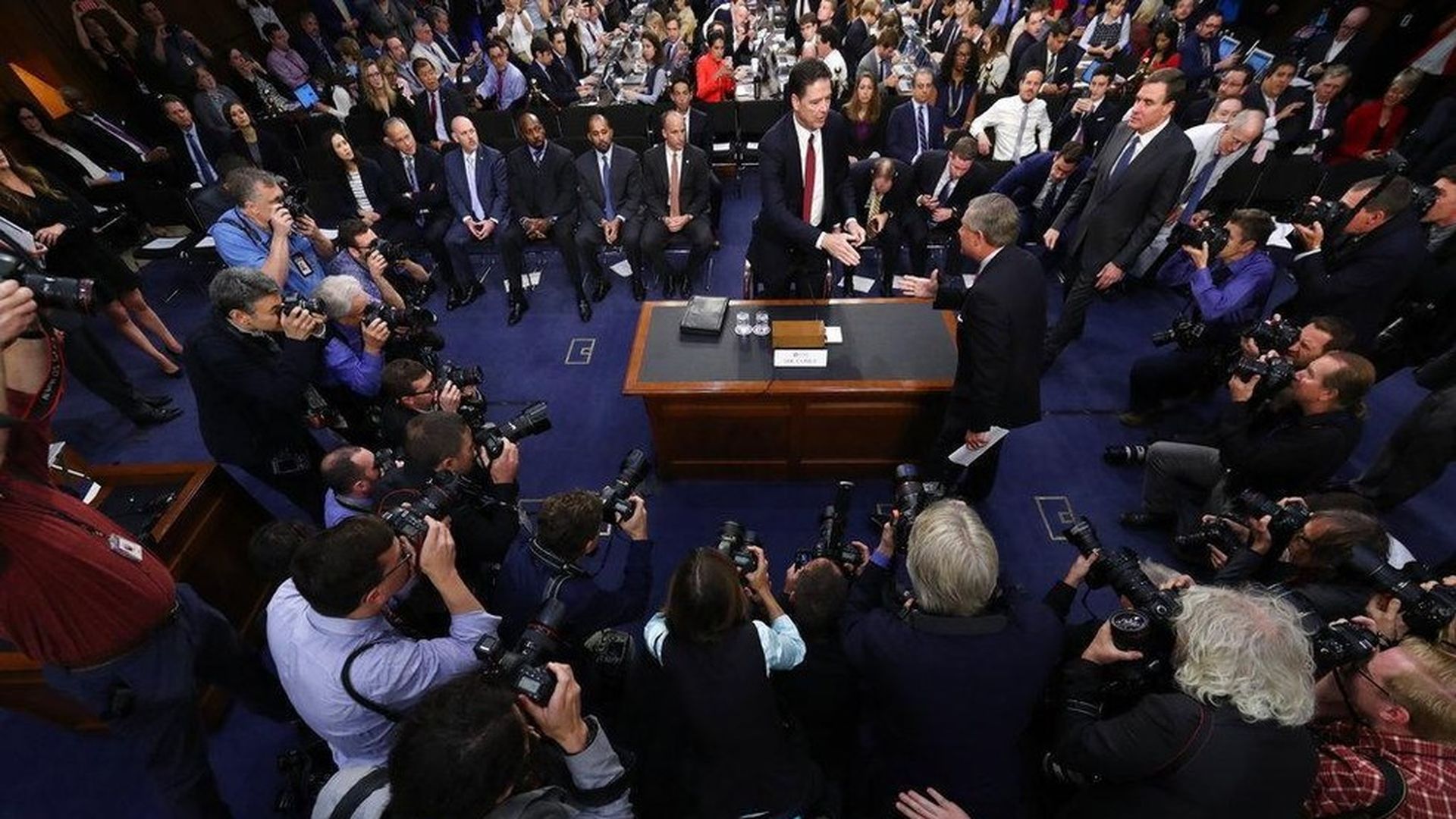 President Trump's advisers feared Jim Comey had held back some devastating cards, and would unfurl new facts that could speed Trump's legal or political troubles. Instead, they considered yesterday's mesmerizing testimony a damaging but not cataclysmic public spectacle.
"The threat level to the presidency is less than it was," a White House adviser said.
Mainly, they were relieved that POTUS didn't tweet yesterday.
Trump tweeted this morning: "Despite so many false statements and lies, total and complete vindication...and WOW, Comey is a leaker!"
Look for Trump and his allies to scream four things:
Comey's a liar: After the hearing, Marc Kasowitz, Trump's personal lawyer, escalated the combat: "The president ... never told Mr. Comey, quote, 'I need loyalty, I expect loyalty.'"
Comey's a leaker: Kasowitz also said: "Comey admitted that he unilaterally and surreptitiously made unauthorized disclosures to the press of privileged communications with the president."
Clinton did it, too: Republicans instantly jumped on Comey's charge that Loretta Lynch, Obama's attorney general, had encouraged him to echo Clinton campaign lingo in discussing the email probe.
Comey agrees: Fake news! If Trump enjoyed any moment of the hearing, it was surely when Comey said a memorable New York Times story was untrue.
But don't lose sight: There is no way to spin away that this was a very dark and damning day for Trump. The head of the FBI testified he so distrusted his own president and White House that he took detailed notes of his conversations to prove he felt pressure to drop an investigation of collusion with the Russians. He then felt so strongly he leaked those notes to the press to force a special prosecutor. Imagine Act 2!
Be smart: This wasn't the end but the beginning of a long, agonizing process for the Trump White House. What they fear most is the probes into central figures around Trump, and what happens when investigators dig into the context for so many meetings with the Russians.
Up next: Attorney General Jeff Sessions' testimony before a Senate appropriations subcommittee becomes high drama. And the Senate Intelligence Committee expects Jared Kushner to meet with committee staffers.
Top Comey quote: "[T]here should be no fuzz on this whatsoever. The Russians interfered in our election during the 2016 cycle. They did it with purpose. They did it with sophistication. They did it with overwhelming technical efforts. And it was an active-measures campaign driven from the top of that government. There is no fuzz on that."
N.Y. Times Quote of the Day ... Comey: "The president surely knows if there are tapes. If there are, my feelings aren't hurt. Release the tapes."
The buzz: Is the flat denial by Trump's lawyer that he said something Comey attributed to him during the Green Room dinner ("I need loyalty") a clue that there aren't tapes?
https://www.axios.com/newsletters/axios-am-ddcc215f-73d1-4382-a51f-a9a0eab998ac.html?chunk=1#story1
2. New threats to Trump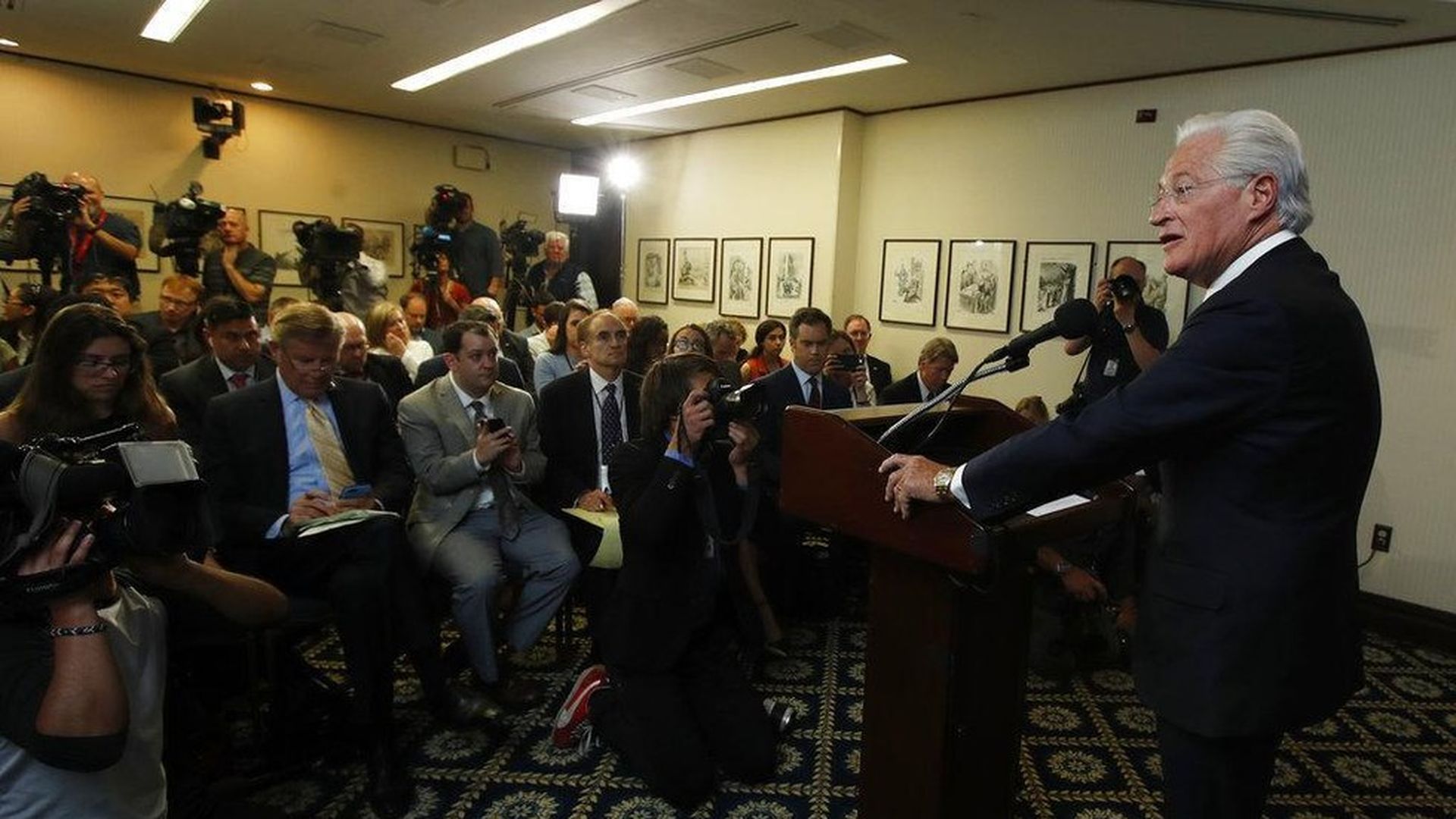 Many of Trump's mounting perils are self-inflicted:
From a New York Times front-pager by Peter Baker, "For Trump, a Looming 'Cloud' Just Grew That Much Darker": "Comey ... revealed that he had turned over memos of his conversations with Mr. Trump to that newly appointed special counsel, Robert S. Mueller III, suggesting that investigators may now be looking into whether Mr. Trump obstructed justice by dismissing the F.B.I. director."
Comey testified that he arranged the leak of his private conversations with Trump after the president tweeted a threat at Comey.
CNN: "Comey told senators in a closed hearing [after his public testimony] that Attorney General Jeff Sessions may have had a third interaction with Russia's ambassador to the US."
Sound smart: Imagine how much the public would never have known if Trump hadn't canned Comey.
https://www.axios.com/newsletters/axios-am-ddcc215f-73d1-4382-a51f-a9a0eab998ac.html?chunk=2#story2
3. Media hit, too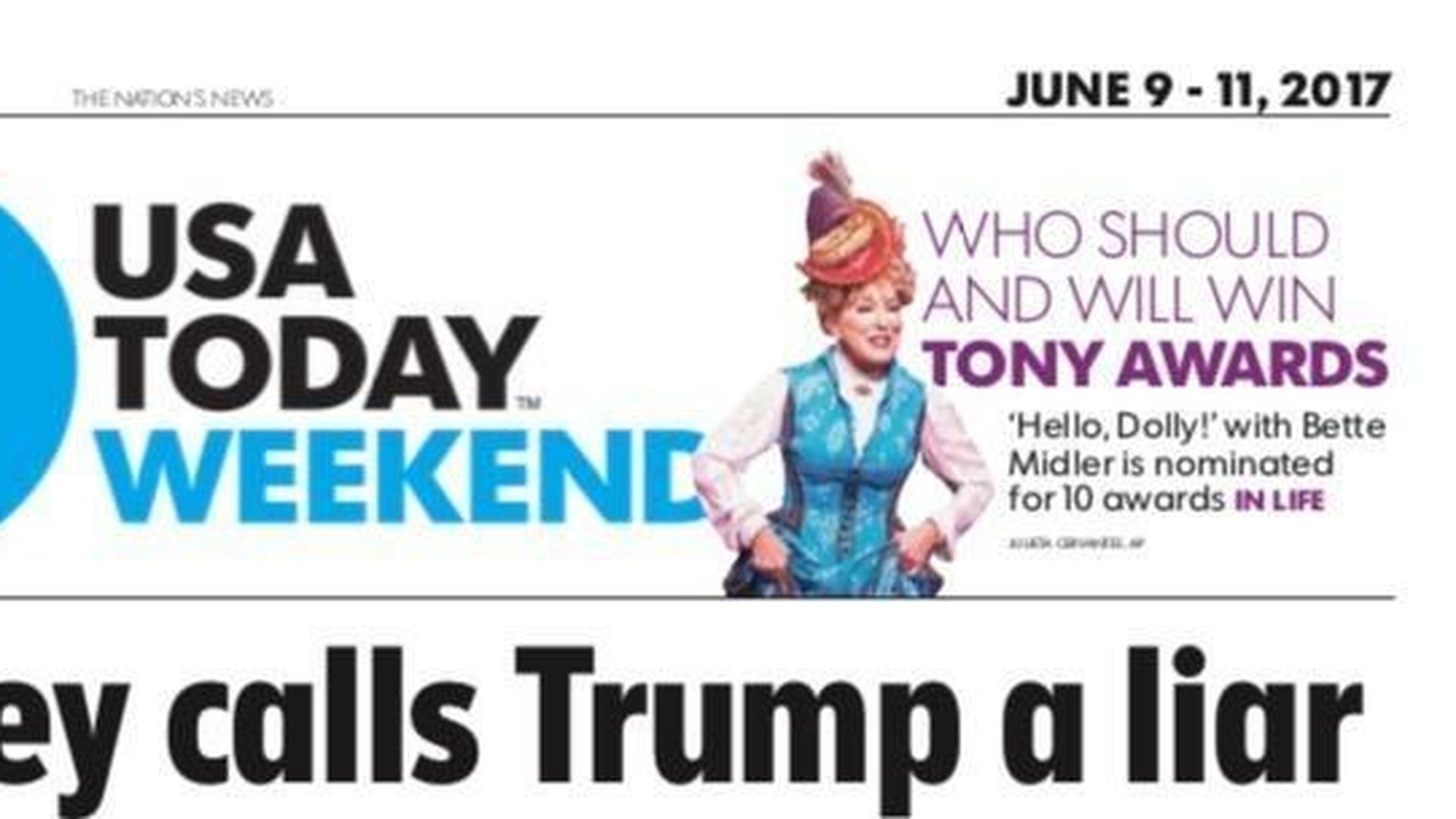 Comey declared that a New York Times front pager from Feb. 14 — "Trump Aides Had Contact With Russian Intelligence" — was "in the main ... not true. ... [W]e don't call the press to say, 'Hey, you got that thing wrong about this sensitive topic.' We just have to leave it there."
The article's lead: "Phone records and intercepted calls show that members of Donald J. Trump's 2016 presidential campaign and other Trump associates had repeated contacts with senior Russian intelligence officials in the year before the election, according to four current and former American officials."
In today's paper, the same three authors write: "Comey did not say exactly what he believed was incorrect about the article ... The original sources could not immediately be reached after Mr. Comey's remarks, but in the months since the article was published, they have indicated that they believed the account was solid."
On the other hand, Comey said another Times scoop — reporting that Comey had written an in-the-moment memo saying Trump had asked him to shut down the investigation of former national security adviser Michael Flynn — had been spoon-fed to the paper through a friend.
CNN had to backtrack from an article originally headlined "Comey expected to refute Trump," with this correction: "The article and headline have been corrected to reflect that Comey does not directly dispute that Trump was told multiple times he was not under investigation in his prepared testimony released after this story was published."
Be smart: CNN's lapse, and the charge against The New York Times, provide ammunition for Trump partisans to shout "Fake news!" in an effort to discredit other reporting that is perfectly valid.
https://www.axios.com/newsletters/axios-am-ddcc215f-73d1-4382-a51f-a9a0eab998ac.html?chunk=3#story3
4. "Gut feel ... it's ... important ... that I make records"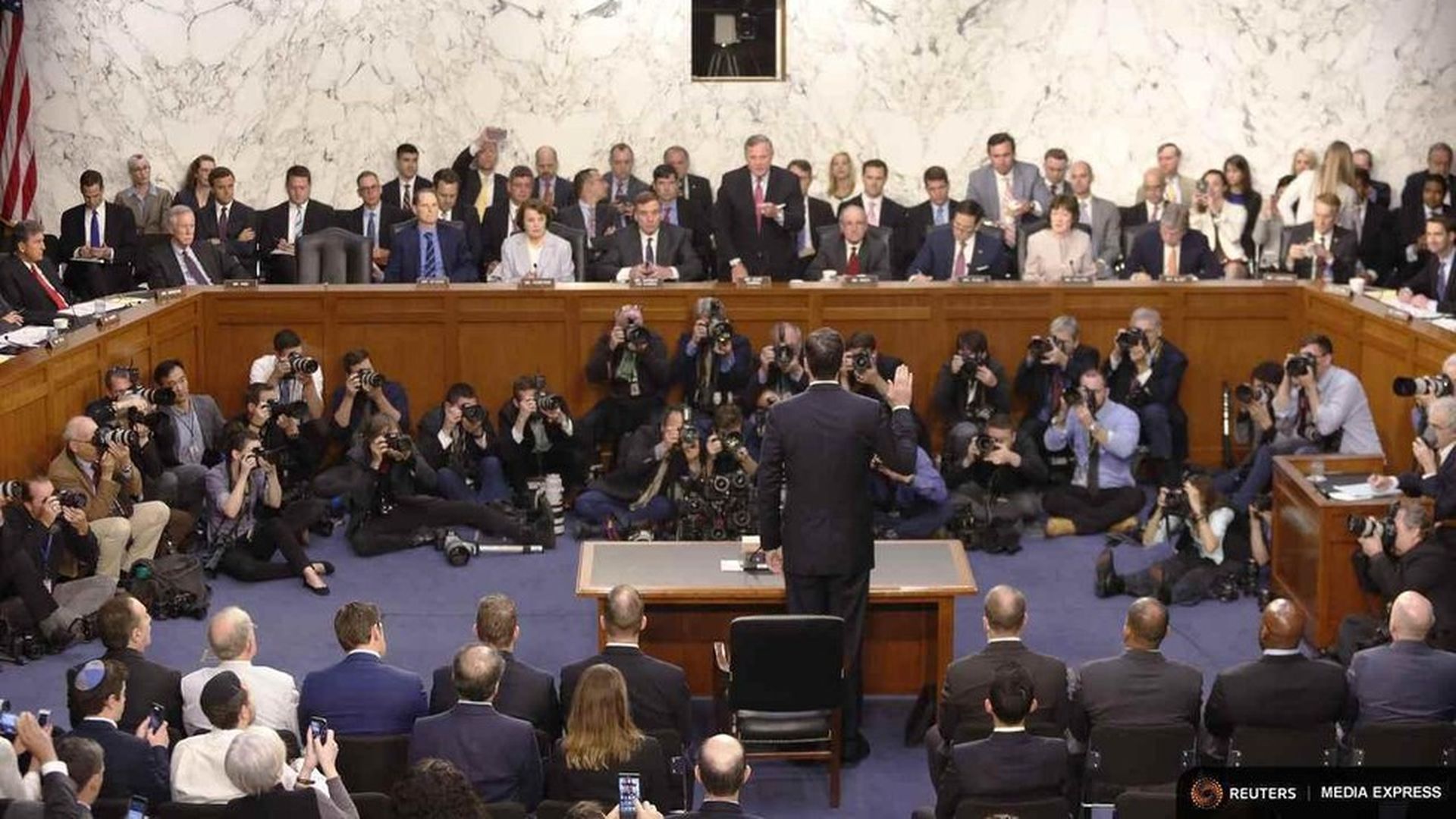 Two of the most memorable exchanges ... Sen. Dianne Feinstein (D-Calif.): "You're big. You're strong. I know the Oval Office, and I know what happens to people when they walk in. There is a certain amount of intimidation. But why didn't you stop and say, 'Mr. President, this is wrong. I cannot discuss this with you'?" Comey: "Maybe if I were stronger, I would have. I was so stunned by the conversation that I just ... took it in. ... [L]ook, ... I've seen the tweet about tapes. Lordy, I hope there are tapes." ...
"I remember saying, 'I agree [Flynn is] a good guy,' as a way of saying, 'I'm not agreeing with what you just asked me to do.' Again, maybe other people would be stronger in that circumstance ... I hope I'll never have another opportunity. Maybe if I did it again, I would do it better." ...
Sen. Joe Manchin (D-W.Va.): "Do you believe there were any tapes or recordings of your conversations with the president?"
Comey: "It never occurred to me until the president's tweet. ... I'm not being facetious, I hope there are, and I'll consent to the release of them."
https://www.axios.com/newsletters/axios-am-ddcc215f-73d1-4382-a51f-a9a0eab998ac.html?chunk=4#story4
5. Britons break the anti-elite fever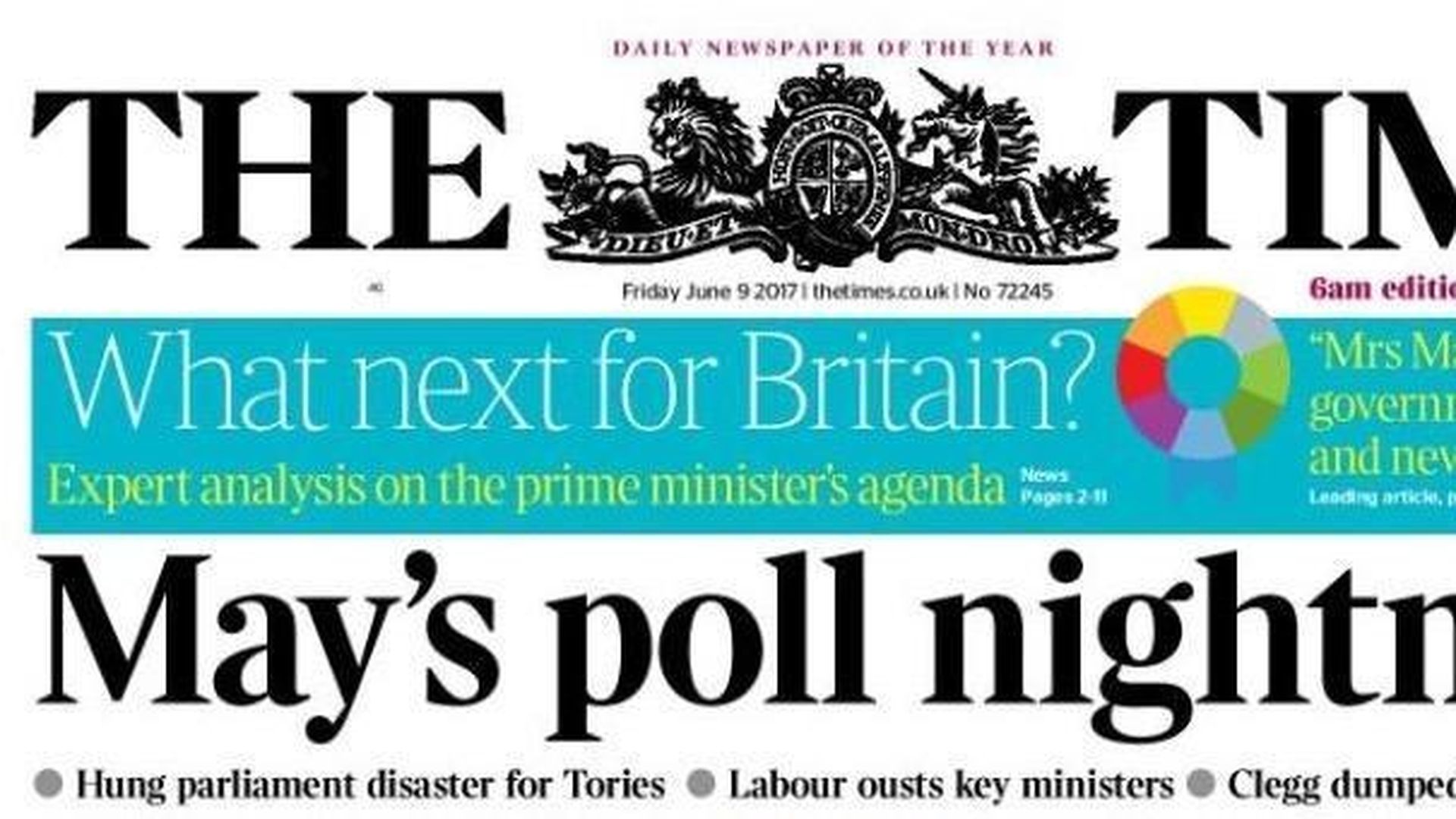 Breaking ...
Get smart fast ... Axios' Steve LeVine: "The U.K.'s repudiation of Theresa May marks a definitive break in the wave of anti-establishment politics that for more than a year have roiled Brazil to the Philippines, and the U.S. to Austria. European elections have now spurned the trend in three straight elections in the Netherlands, France and the U.K."
What's next: "Elections are scheduled in the fall in Germany and Austria, and Italy may hold one, too. But while extremist and anti-establishment politics are not dead, they no longer seem to threaten the major institutions created in the aftermath of World War II."
The takeaway: "Europeans remain restless — 'unhappy with the status quo and seeking change, but they don't know what that change should be.'"
"Softer Brexit" possible — Reuters: With Brexit talks with Brussels set to begin June 19, the result increases chances of "a softer deal on Britain's planned departure from the European Union than the 'hard Brexit' that markets have worried May would deliver."
"[I]f we get more of a softer Brexit or more of a globalist stance from the UK ... it's good for Europe, the UK and U.S. assets."
Malcolm Barr, economist at JPMorgan, in a research note: "Perhaps the most obvious conclusion is that the likelihood of the UK needing to request a delay in the Brexit process has risen substantially, given the chance that political developments in the UK disturb what is already a time-compressed process," said Malcolm Barr, economist at JPMorgan, in a research note." (Via Reuters)
https://www.axios.com/newsletters/axios-am-ddcc215f-73d1-4382-a51f-a9a0eab998ac.html?chunk=5#story5
6. Expert voices: Death of bricks and mortar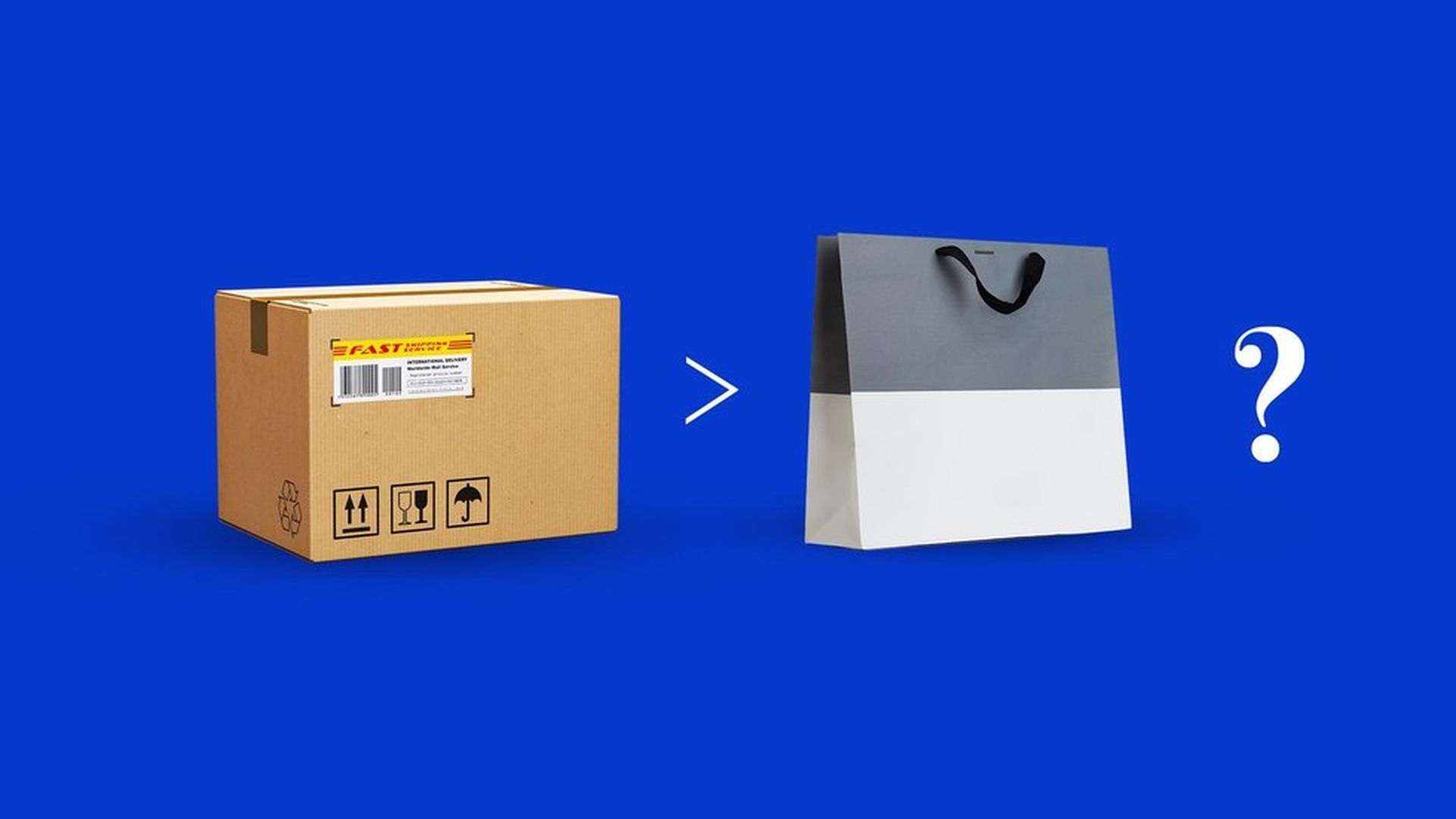 With sales plunging, more than 8,000 U.S. brick-and-mortar stores could close this year — twice the number as 2016, per Axios' Steve LeVine.
Why it matters: Among the chief victims are retail workers. Amazon says it's adding 100,000 employees, but a multiple of that number have lost their jobs in recent years. One in 9 Americans work in bricks-and-mortar retail, almost 16 million people in all.
https://www.axios.com/newsletters/axios-am-ddcc215f-73d1-4382-a51f-a9a0eab998ac.html?chunk=6#story6
7. A debate that'll get louder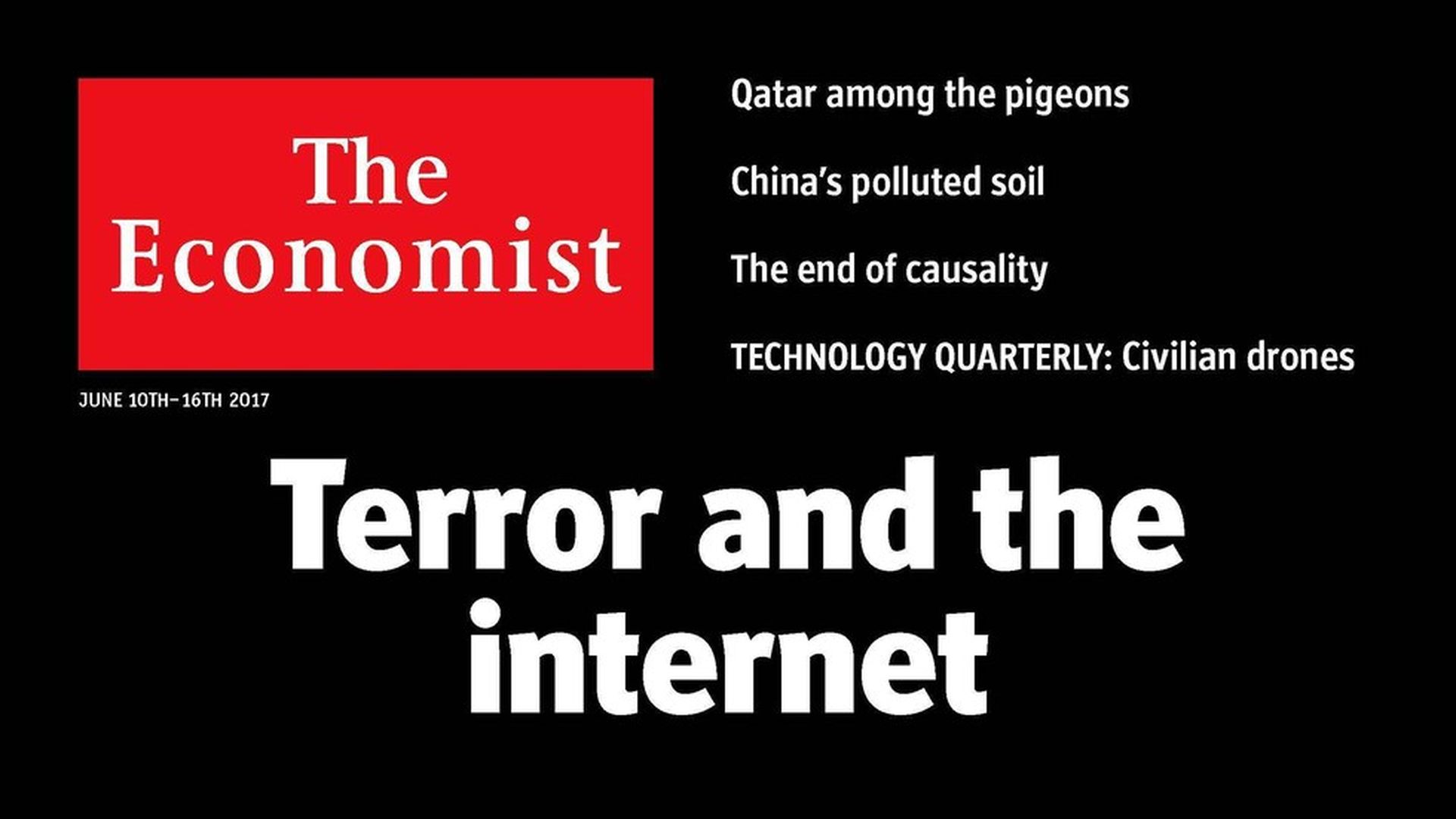 Economist cover leader (editorial) ... "Terror and the internet: Tech firms could do more to help stop the jihadists":
[T]he firms can act when they want to. Before Edward Snowden exposed them in a huge leak in 2013, they quietly helped American and British intelligence monitor jihadists. Whenever advertisers withdraw business after their brands ended up alongside pornographic, violent or extremist material, they respond remarkably quickly. ...
In the past, internet firms have tended to "build it first, figure out the rules later". However, the arguments about terrorism and extremist content are a stark reminder that the lawless, freewheeling era of the early internet is over. Technology firms may find that difficult to accept. But accept it they must, as part of the responsibility that comes with their new-found power and as part of the price of their success.
https://www.axios.com/newsletters/axios-am-ddcc215f-73d1-4382-a51f-a9a0eab998ac.html?chunk=7#story7
8. The talk of tech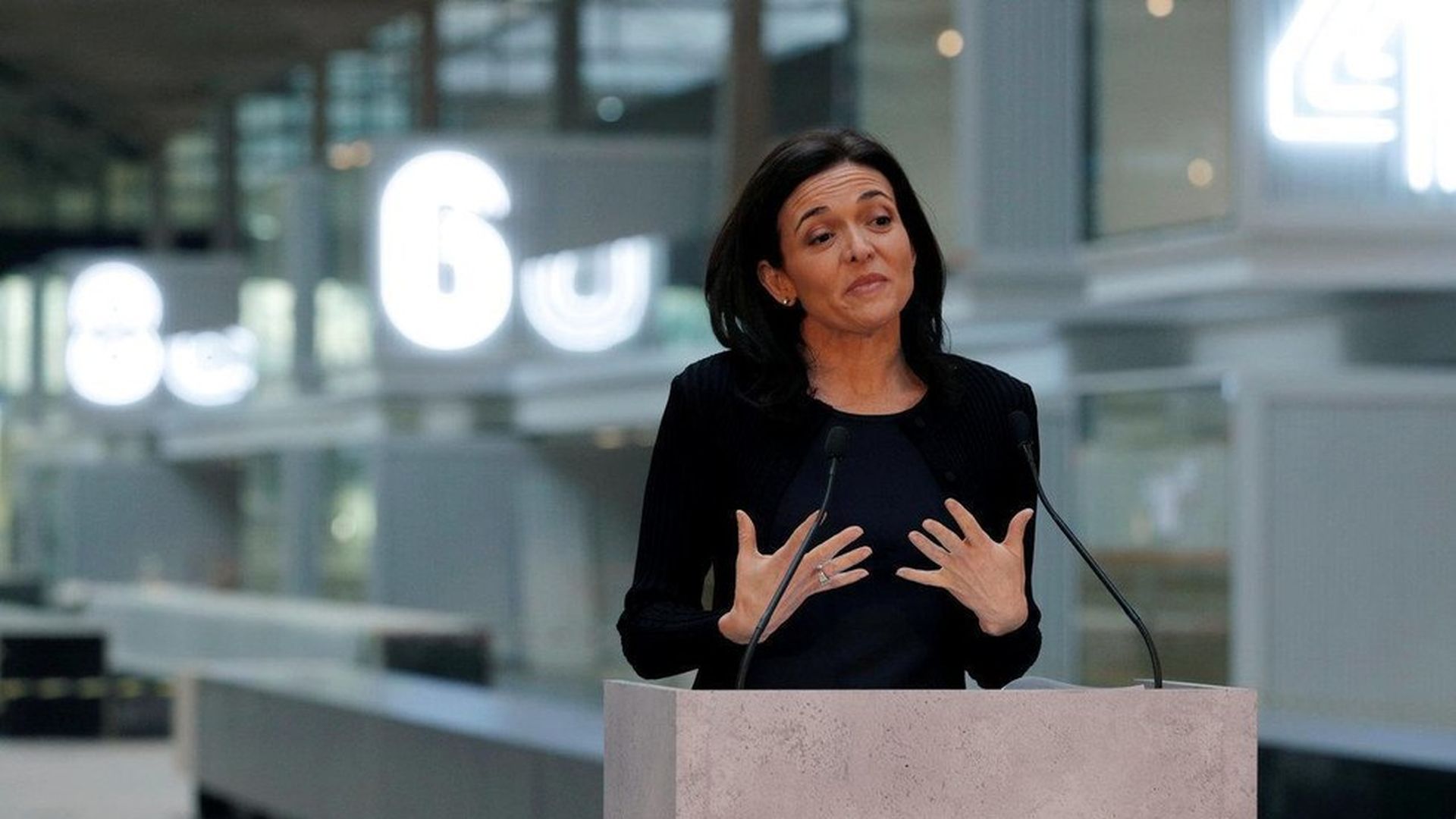 "Facebook Is Determined to Build Ties With Automakers," by Bloomberg's Jamie Butters and Sarah Frier:
COO Sheryl Sandberg, in Detroit yesterday for an annual Facebook Automotive Summit, "shared a stage with [GM CEO] Mary Barra at a women's-only event ... before the two toured a factory and spoke with about 200 GM employees."
Sandberg: "Our industries are converging. Detroit's writing software and Silicon Valley is building hardware."
"Mark Zuckerberg visited Ford ... headquarters and an F-150 truck plant in April to rub elbows with Executive Chairman Bill Ford."
The plot: "Facebook is focused on boosting sales for video advertising, ... which should help take a cut of the $70 billion television ad market."
Key stat: "The U.S. automotive industry is the second-largest spender on digital advertising behind retail."
Why it matters: "Autos and real estate are among the last categories that aren't transacting online, and it's taken longer for Facebook to break into categories with expensive purchases like travel and cars."
https://www.axios.com/newsletters/axios-am-ddcc215f-73d1-4382-a51f-a9a0eab998ac.html?chunk=8#story8
9. Warming to Gore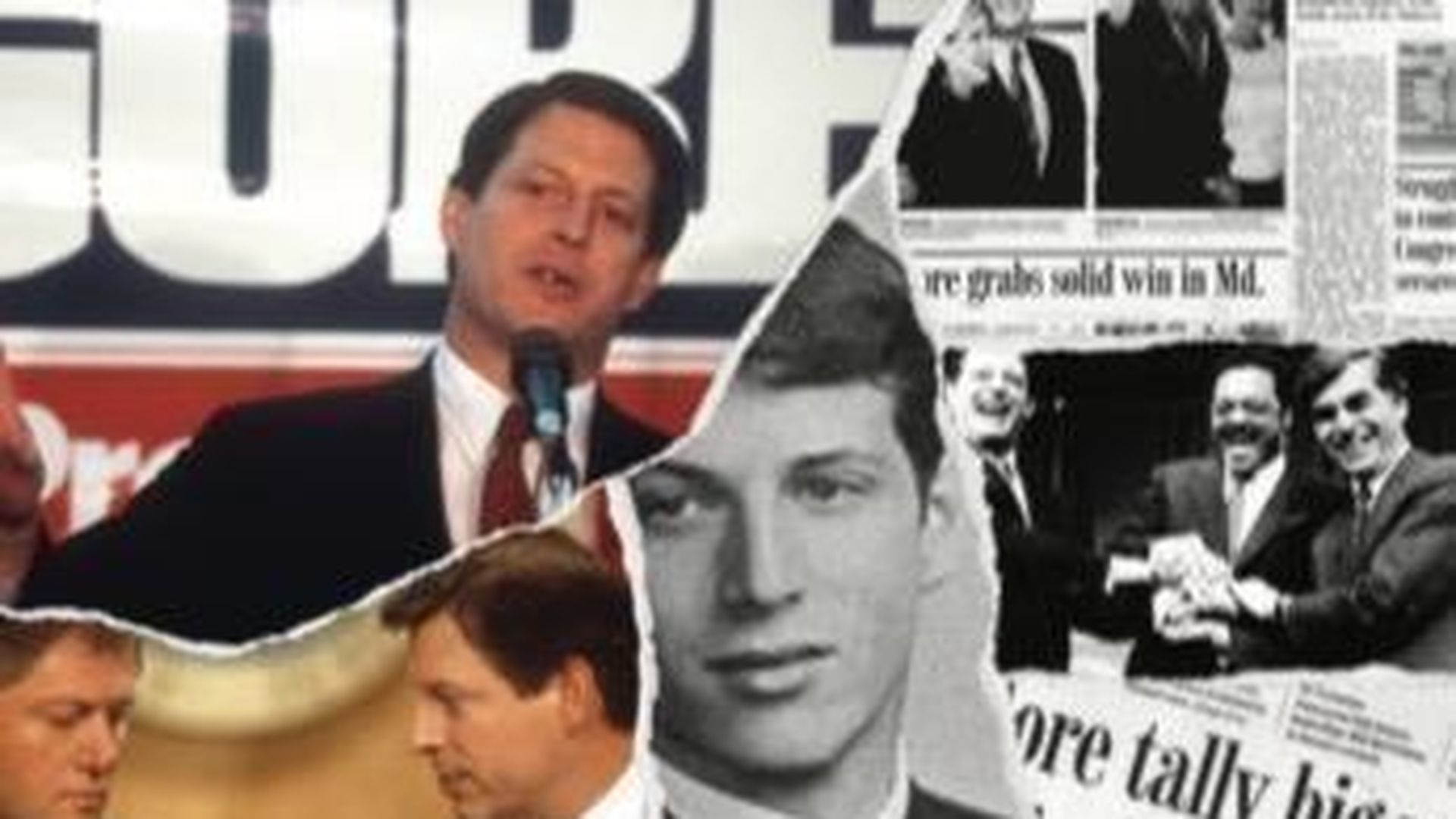 Al Gore interview in Interview magazine, by editor-in-chief Nick Haramis, ahead of the July 28 nationwide release of the documentary "An Inconvenient Sequel: Truth to Power":
On not getting stale while traveling the world leading seminars for climate activists:
I update my slide show almost every day. I have a personal staff of ten in Nashville that helps me scour the internet and other media around the world for the latest scientific peer-reviewed findings, the latest examples of climate-related extreme weather events, and the latest examples of progress.
On maintaining a positive outlook:
I had the privilege of working with the late economist Rudi Dornbusch, who once said, "Things take longer to happen than you think they will, and then they happen faster than you thought they could." Where solar energy is concerned — and wind energy and battery storage and electric vehicles and efficiency technologies — that is what we are now seeing.
On parallels between climate deniers and gay-rights opponents:
I think they're more similar than different. The gay rights movement of recent years has been an inspiring victory for humanity and it is in the tradition of the civil rights movement ...
God intends for us to take responsibility for how we treat God's creation, and if we choose to use the thin shell of atmosphere surrounding our planet as an open sewer for 110-million tons of global-warming pollution every day, the consequences are attributable to us.
https://www.axios.com/newsletters/axios-am-ddcc215f-73d1-4382-a51f-a9a0eab998ac.html?chunk=9#story9
10. 1 fun thing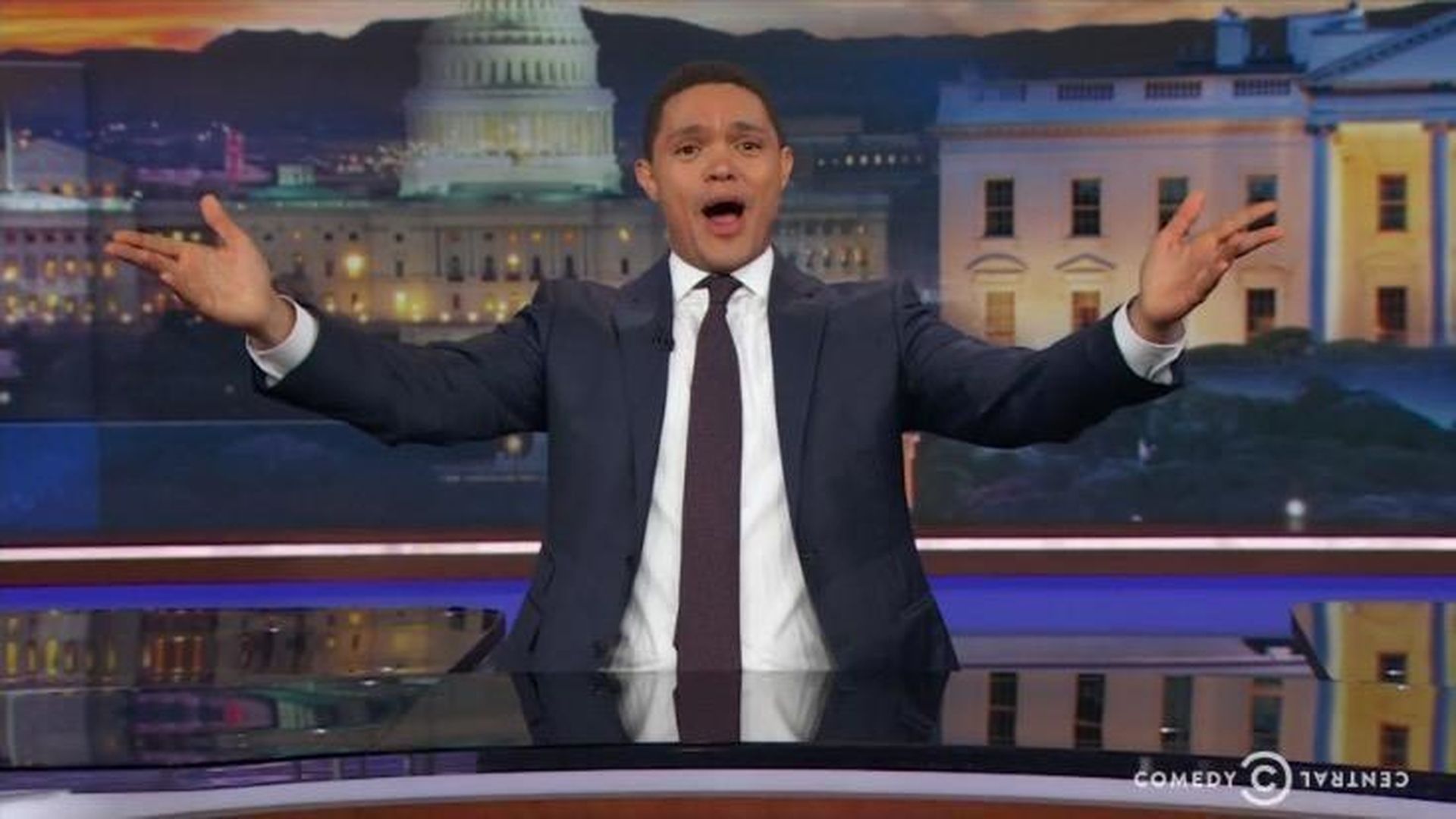 "Trevor Noah strikes a nerve — and ratings gold — as he steers 'The Daily Show' into the Trump era," by L.A. Times' Greg Braxton: "[A]lmost two years after his debut [as Jon Stewart successor], Noah ... notched his most-watched week ever in May, with more than 1 million viewers."
Is there any potential danger of "Trump fatigue"?
I definitely think so. But I believe people aren't often good with separating Trump from what is happening within the the world he inhabits. Donald Trump is the president of the United States. That is something that some people still refuse to acknowledge, nor do they wish to accept as a reality. That's the first mistake people make, in my opinion. And this president in particular has an impressive ability to create and sustain scandal and news like no one before.
I don't think of Donald Trump as the story. I see this as America's story, and Donald Trump is the antagonist. America is dealing with Donald Trump, not the other way around. That character offers up the opportunity to have conversations about things that people may not have otherwise been interested in. On the griddle of "The Daily Show's" barbecue, we cook different foods every day. But the fuel we use to cook that food is Donald Trump.
What are you reading these days?
"The Hip Hop Wars" by Tricia Rose.
I'm re-reading "The Autobiography of Malcolm X."
"The New Jim Crow" by Michelle Alexander.