October 05, 2018
1 big thing ... Bigger than Brett: Why this is so personal for women
There's a reason Brett Kavanaugh's confirmation saga has exposed so much raw anger and deep sadness among women, Axios managing editor Kim Hart writes:
It has struck many of them as a reminder that much of the country still doesn't take their darkest, most personal experiences seriously.
The big picture: For many, this news cycle has felt like an excavation of the wounds of women.
While the #MeToo movement was focused on sexual harassment at the workplace, the reaction to Christine Blasey Ford's testimony — separate even from the politics of the confirmation battle — took many women back to their girlhoods, to high school and college, to now-distant worlds with different moral codes and long-buried pain that is scarier to face.
Nearly every woman has experienced, or has friends or family who have experienced, an unwanted sexual encounter. The resulting confusion, shame and distrust were etched into their memories and became defining moments in formative years.
That's why Ford's testimony has touched off something bigger than Kavanaugh — women revisiting these experiences, sharing on Facebook and group texts, even calling into C-SPAN.
But not all women side with Ford: Some believe the judge has been treated unfairly, and worry about what the new #MeToo climate means for their husbands and sons
Why it matters: Whether you believe Kavanaugh or Ford, the emotions will resonate long after this debate, because it's not just about him anymore.
This saga has spurred complex, and sometimes conflicting, reactions:
Relief in not being alone — but horror in how many women had similar experiences.
Optimism that women are being heard — but rage that so many people assume they're lying because they didn't speak up sooner.
Hope for a national conversation — but dread that sexual assault has become a partisan issue that divides with suspicion rather than uniting with empathy.
The bottom line: This turmoil may lead us to a better place in the long run. But in the short run, it's going to feel like the country is coming apart.
Worthy of your time: In Slack, Kim Hart asked women at Axios, in and out of the newsroom, why this battle feels like such a pivotal moment. Click here to see a sampling of the nearly two dozen responses.
2. "We don't have 50"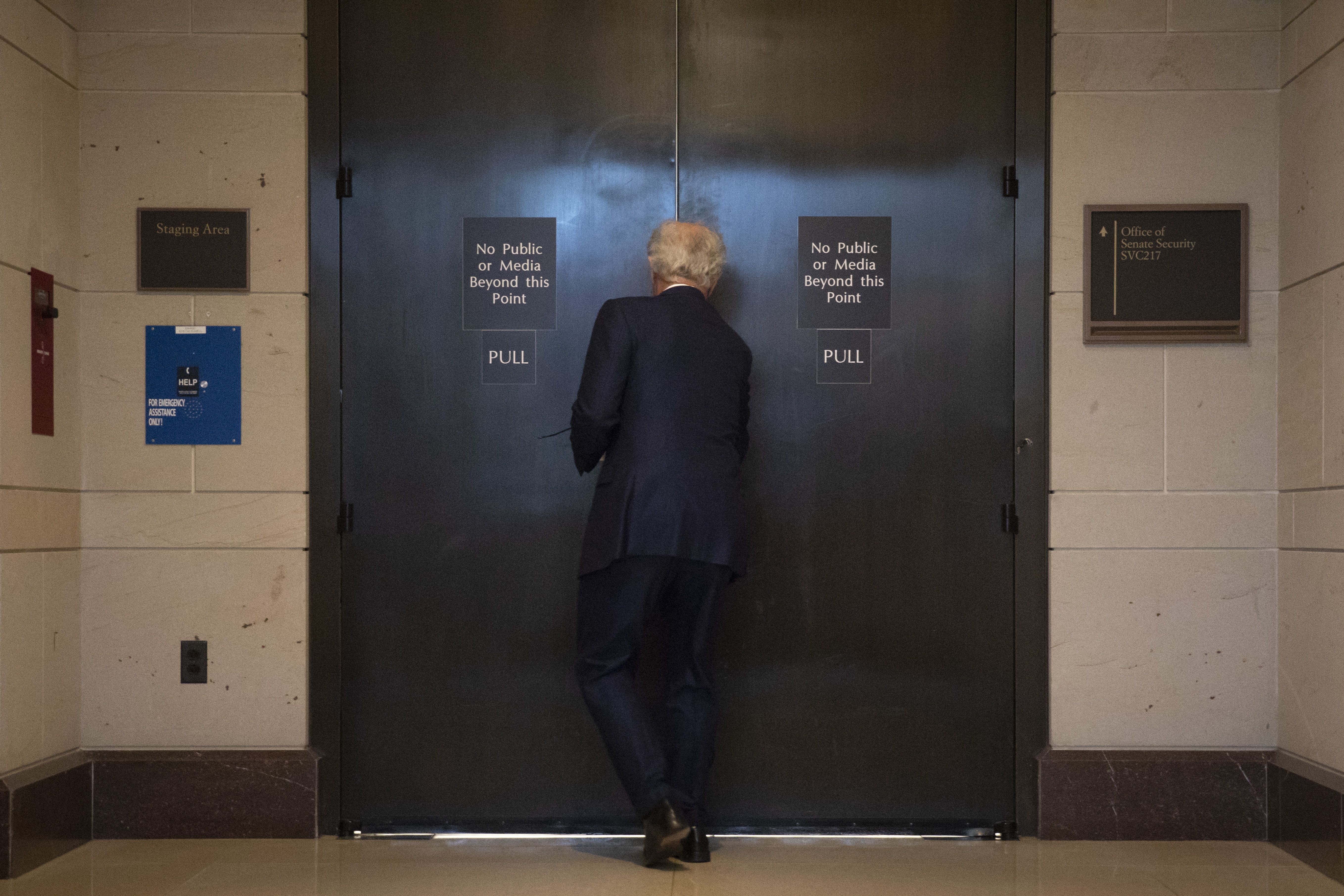 Sources involved with Brett Kavanaugh's confirmation were nervous going into today's 10:30 a.m. test vote, Jonathan Swan reports:
Four senators are undecideds: Jeff Flake (R-Ariz.), Susan Collins (R-Maine), Lisa Murkowski (R-Alaska) and Joe Manchin (D-W.Va.).
A senior source involved in the process told Swan fairly late last night:
"We're going into this vote and we don't have 50 right now."
"There's been a lot of work that was done today, by members wading through this material. I don't want to put my thumb on the scale. Things keep moving — so much, it feels like we're walking on quicksand. So I don't even want to say confidence or not confidence."
"Sometimes you just have to vote," the source added. "But what if ... something f—g happens in the morning? This whole process has just been ... so much drama, so many balls coming out at the last minute."
At 7:30 last night, Kavanaugh gave his final argument in a Wall Street Journal op-ed, "I Am an Independent, Impartial Judge: Yes, I was emotional last Thursday. I hope everyone can understand I was there as a son, husband and dad."
"I might have been too emotional at times. I know that my tone was sharp, and I said a few things I should not have said."
Be smart: The piece looks wildly desperate. It's a sign of how worried Team Kavanaugh is that a Supreme Court nominee felt he had to publish a last-minute op-ed to promise he's not going to be emotional, but rather an independent, impartial Supreme Court justice.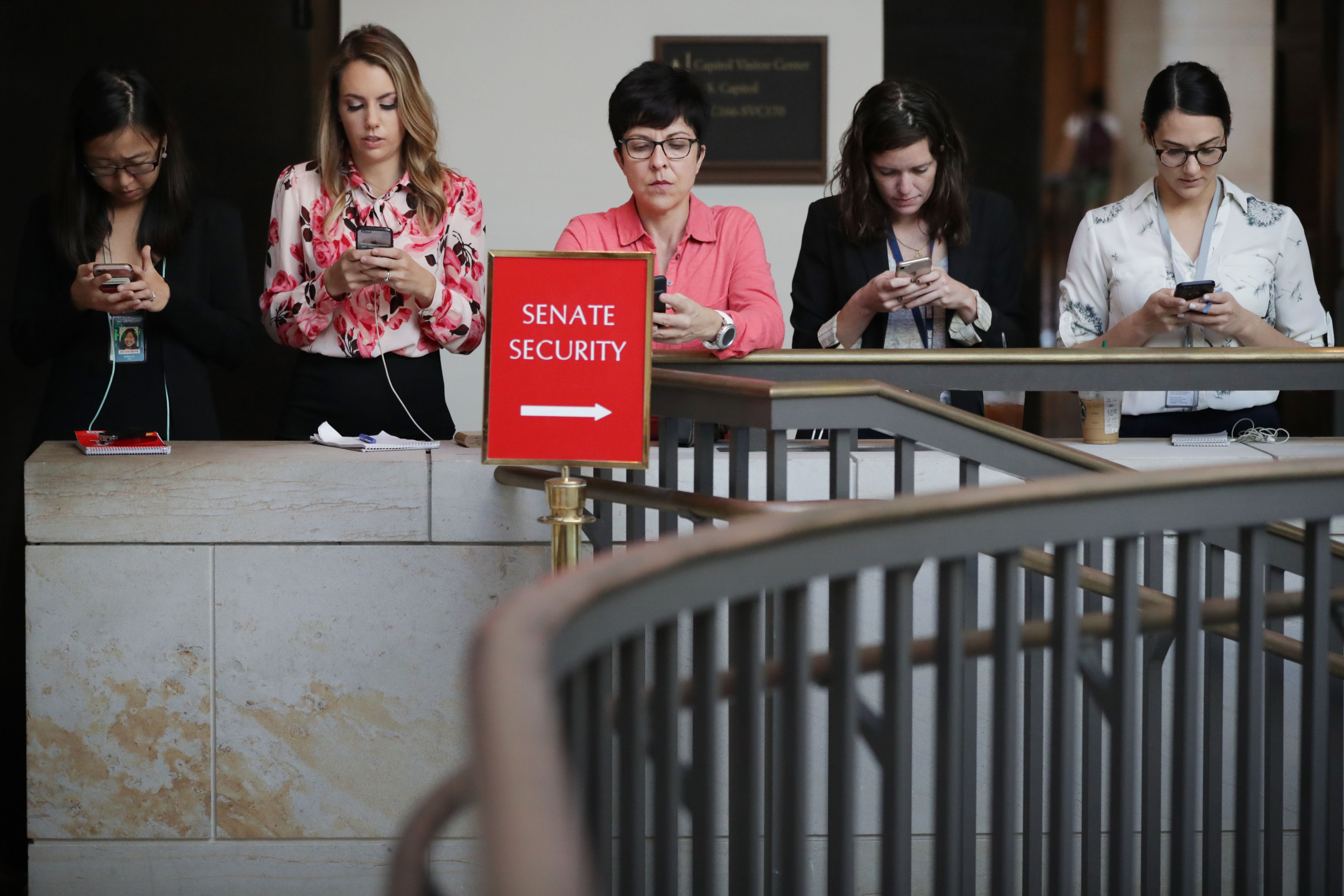 3. Pelosi's Internet Bill of Rights
House Democratic Leader Nancy Pelosi plans sweeping regulation of tech if Dems win the majority, Recode's Kara Swisher reports in a New York Times essay:
"In an interview, ... Pelosi even suggested that a new agency could be created to manage tech's growing impact."
"Six months ago, Ms. Pelosi charged Ro Khanna — the Democratic representative whose California district is home to Apple, Intel and Yahoo — with the creation of" a list of principles.
"Call it a Bill of Rights for the internet."
Kara reports Khanna's list: ... "You should have the right":
to have access to and knowledge of all collection and uses of personal data by companies;
to opt-in consent to the collection of personal data by any party and to the sharing of personal data with a third party;
where context appropriate and with a fair process, to obtain, correct or delete personal data controlled by any company and to have those requests honored by third parties;
to have personal data secured and to be notified in a timely manner when a security breach or unauthorized access of personal data is discovered;
to move all personal data from one network to the next;
to access and use the internet without internet service providers blocking, throttling, engaging in paid prioritization or otherwise unfairly favoring content, applications, services or devices;
to internet service without the collection of data that is unnecessary for providing the requested service absent opt-in consent;
to have access to multiple viable, affordable internet platforms, services and providers with clear and transparent pricing;
not to be unfairly discriminated against or exploited based on your personal data; and
to have an entity that collects your personal data have reasonable business practices and accountability to protect your privacy.
4. Pics du jour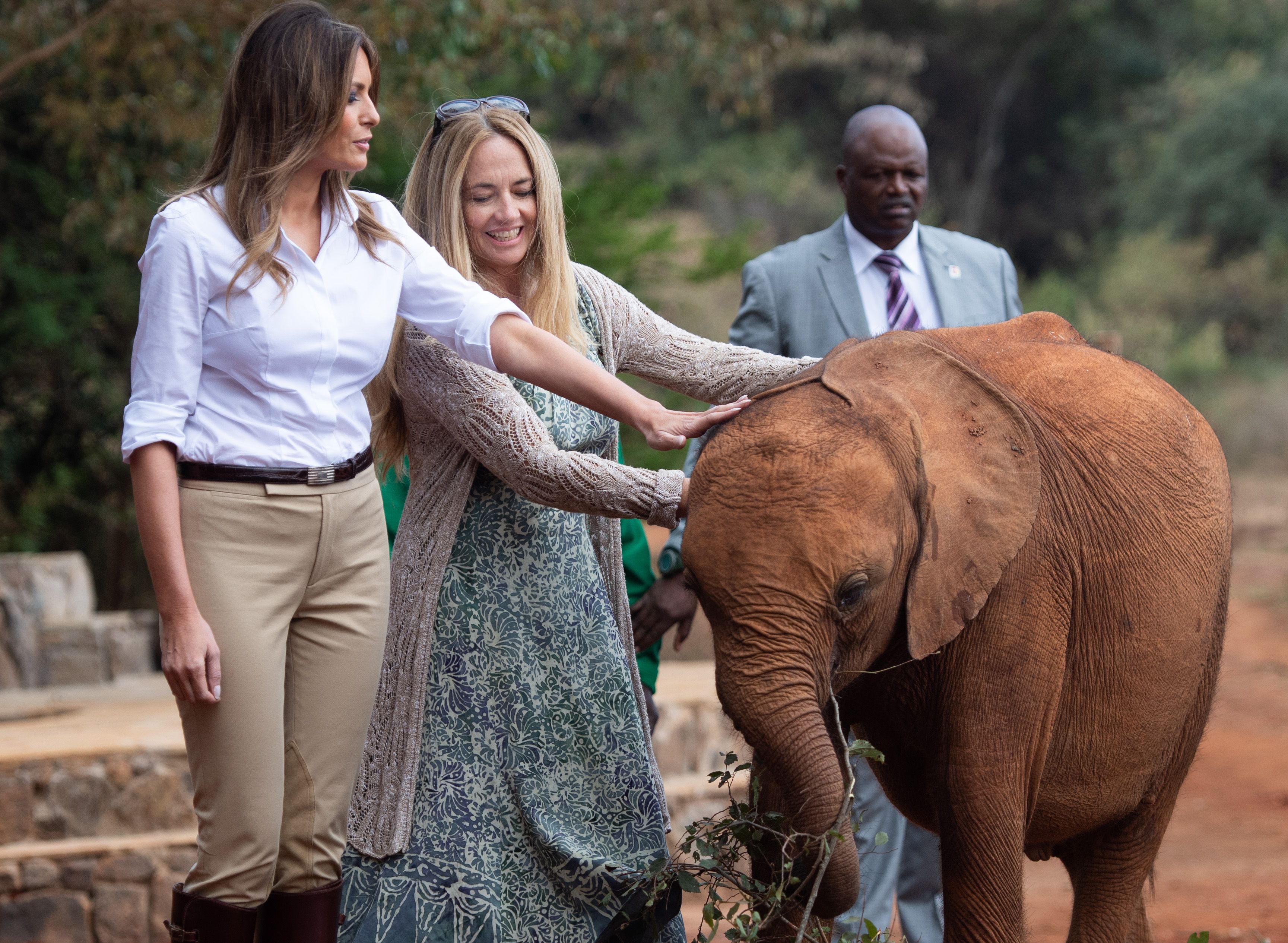 First Lady Melania Trump pets a baby elephant at the David Sheldrick Elephant Orphanage in Nairobi, Kenya, today.
AP: "Kenya is the third stop on her Africa tour, which began Tuesday in Ghana and continued in Malawi on Thursday. Her first-ever visit to Africa is also her first extended solo international trip as first lady."
Melania Trump is giving a sit-down interview to ABC News' Tom Llamas, traveling with her in Africa. "Being Melania — The First Lady," a special edition of "20/20," will air next Friday, Oct. 12, at 10 p.m.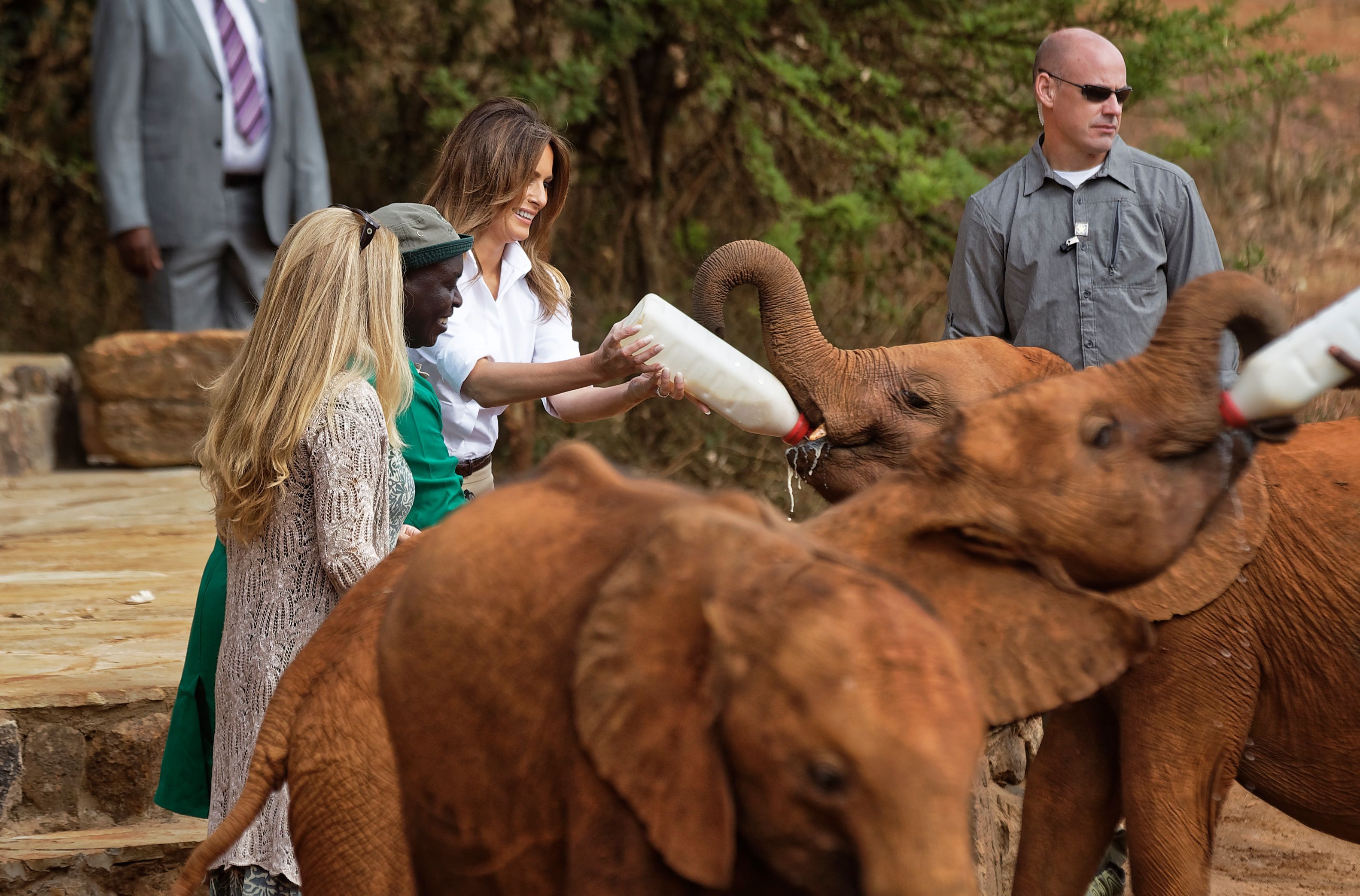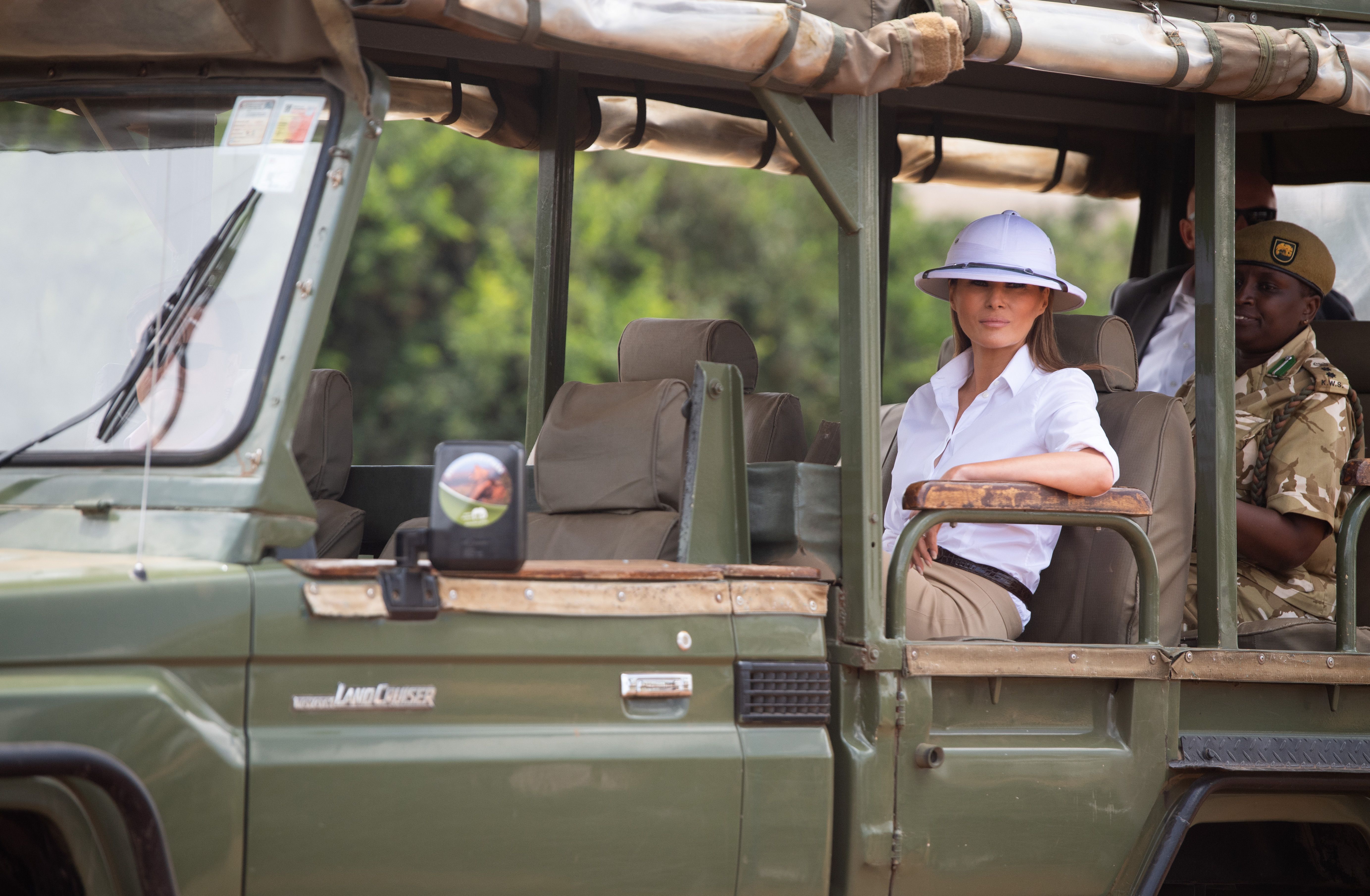 5. Exclusive poll: Americans talk Kavanaugh at work
More than half of Americans say they have had conversations about Kavanaugh at work, and almost three-quarters have been talking about the debate with their friends and families, according to an Axios/SurveyMonkey poll taken this week.
Axios managing editor David Nather reads between the lines:
Encouraging news: More than three-quarters of Americans say their discussions with each other have been civil.
50% disapprove of Kavanaugh's nomination, while 45% approve. That's about the same as the margins in early September.
The gender gap is substantial: Just 36% of women approve of Kavanaugh, compared to 55% of men.
But not among Republicans: 89% of Republican men and 86% of Republican women approve of the Kavanaugh nomination.
Among Democrats, 92% of women disapprove of Kavanaugh, compared with 82% of men.
Independent women are largely against Kavanaugh: 54% oppose him, while 29% support.
6. 👻 Snap goal: 2019 profit
CEO Evan Spiegel has given Snap Inc. the directive of achieving full-year profitability in 2019 and has refocused the company around a new set of strategic goals, according to a 15-page memo sent to employees last week," Cheddar's Alex Heath reports:
Spiegel admits Snapchat "rushed our redesign, solving one problem but creating many others. ... In our excitement to innovate and bring many new products into the world, we have lost the core of what made Snapchat the fastest way to communicate."
Why it matters: "Spiegel's memo ... surfaces at a time when the company's stock is trading at all-time lows."
7. GM CEO Mary Barra: Why self-driving cars need federal regulations
Mary Barra, the chairman and CEO of General Motors, writes for Axios Expert Voices: "Federal legislation is essential to enabling" a smooth transition to a world of driverless cars.
The big picture: "Zero crashes, zero emissions and zero congestion — this is General Motors' vision. These potential benefits of self-driving technology can only be fully realized when self-driving cars are deployed in large numbers, and when riders feel comfortable and secure."
What's needed: "Federal legislation would provide a path for manufacturers to put self-driving vehicles on the roads safely, while allowing continued innovation. Current federal law prohibits deployment of self-driving vehicles without steering wheels and other conventional driver controls. And other regulations for self-driving cars vary from state to state."
What to watch: "The SELF-DRIVE Act, passed by the House of Representatives, and the AV START Act, pending in the Senate, would direct the National Highway Traffic Safety Administration to issue new and revised safety regulations on an expedited basis. The bills would allow safe self-driving deployment during the period between enactment and NHTSA's issuance of new regulations, but only by manufacturers that prove their self-driving cars are as safe as human drivers."
Go deeper: Read the entire piece.
8. "Just like Trump": Populist leads Brazil's presidential race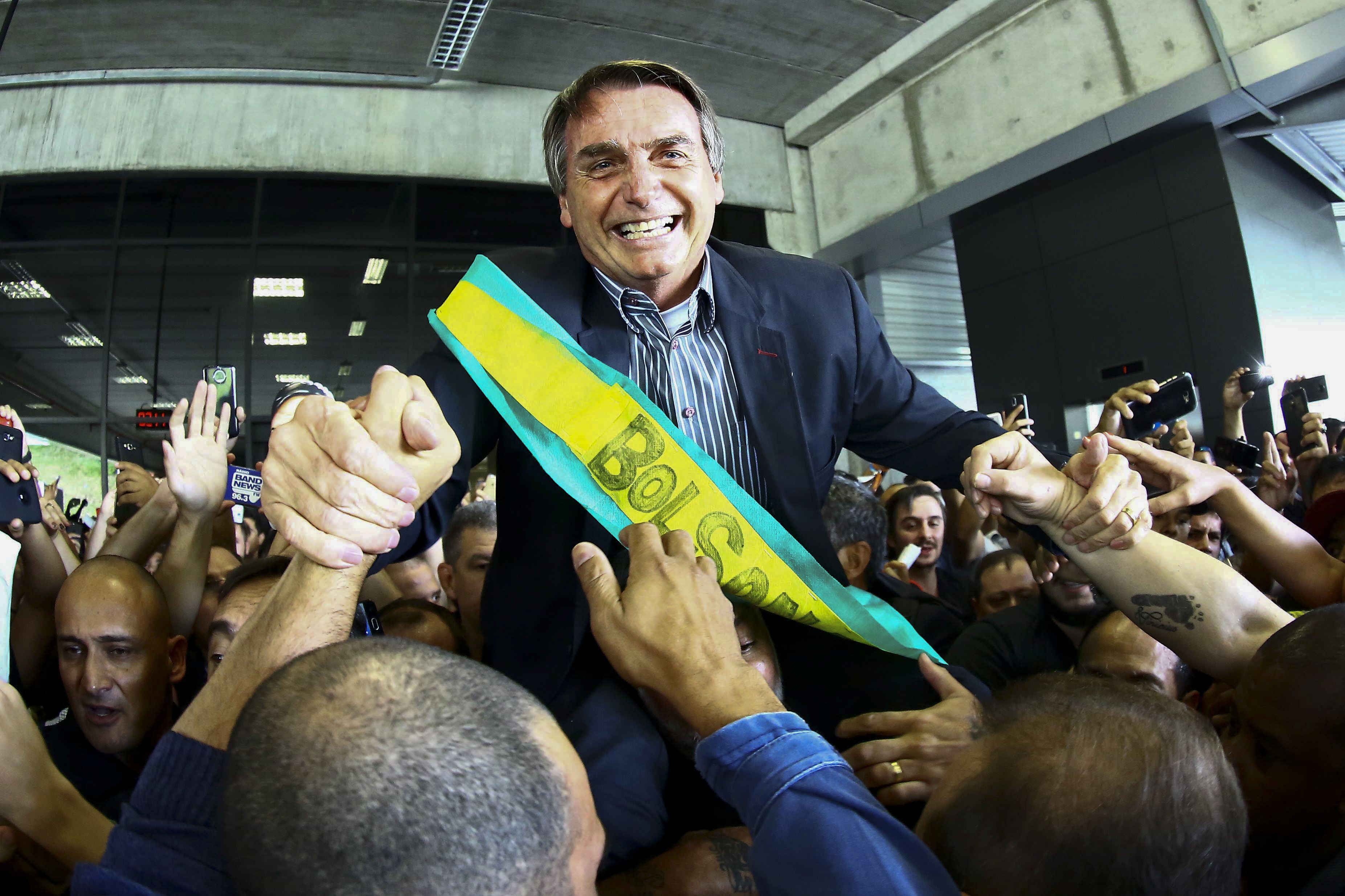 "Brazil for years reveled in its image as a post-racial, left-leaning society. Now Jair Bolsonaro [63] — a far-right outsider who says he 'loves' President Trump — has surged to the front of the pack in Sunday's presidential election, sharply dividing Latin America's largest nation," the WashPost's Anthony Faiola and Marina Lopes report from São Paulo:
"To tackle runaway crime, Bolsonaro says, police should gun down more criminals. 'A gay son is the result of a lack of beatings,' he once quipped."
Why he matters: "Like Trump, he embraces social media to reach legions of loyal followers. His rallies have become outlets for white men rattled by social and economic change. He has vowed to drain the swamp in the capital and make Brazil 'great.'"
"Brazil is a polarized, angst-filled place. The economy is floundering. Huge swaths of its political class are tainted by corruption. The homicide rate has reached epic highs.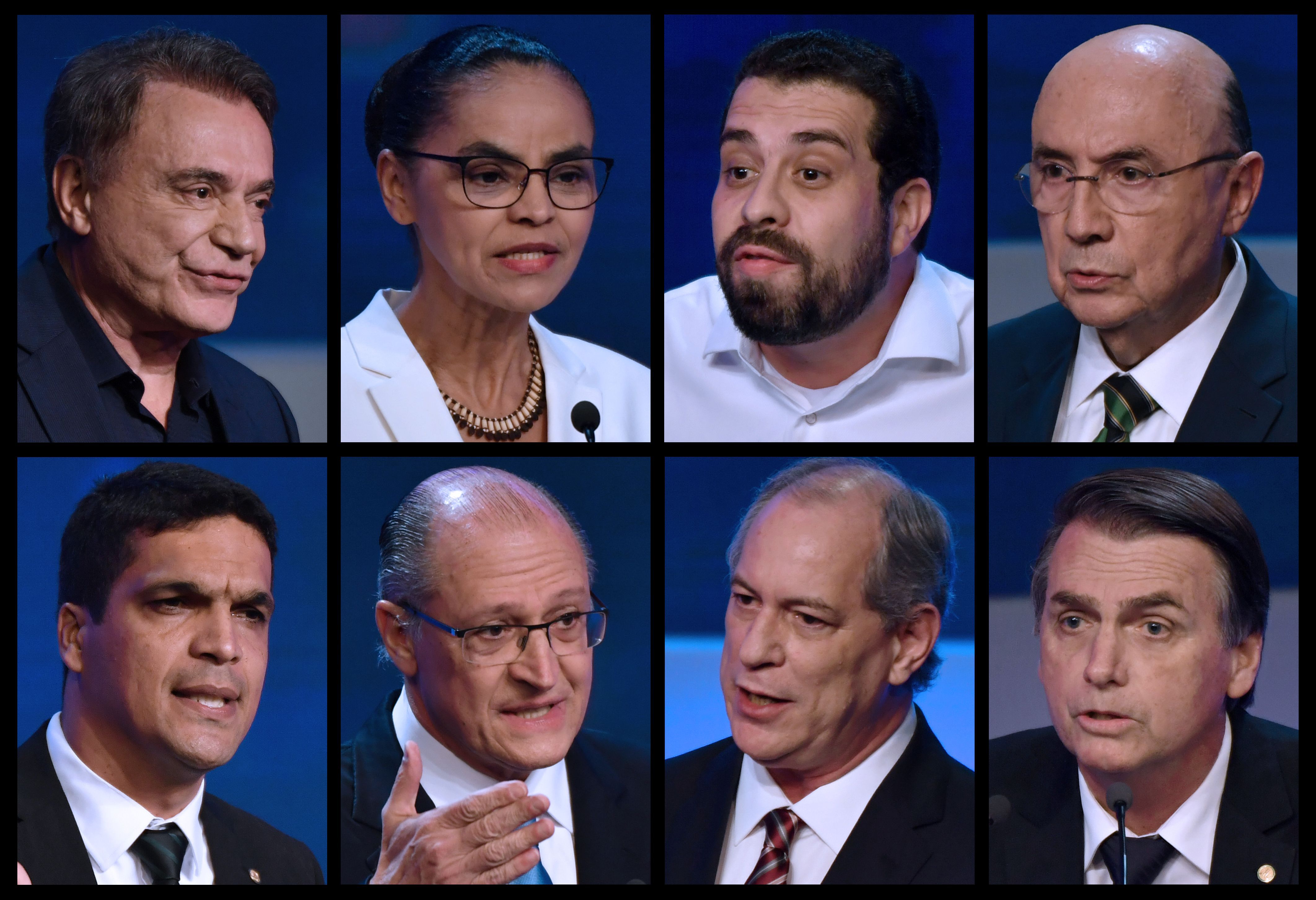 9. "Genius grants"
The MacArthur Foundation named 25 people — academics, activists, artists, scholars, scientists — to receive $625,000 over five years to use as they please (via AP):
Matthew Aucoin: Composer, conductor and artist-in-residence, Los Angeles Opera.
Julie Ault: New York City artist and curator.
William J. Barber II: Pastor of Greenleaf Christian Church, Goldsboro, North Carolina.
Clifford Brangwynne: Biophysical engineer and associate professor, Princeton University.
Natalie Diaz: Associate Professor, Department of English, Arizona State University.
Livia S. Eberlin: Assistant professor Department of Chemistry, University of Texas-Austin.
Deborah Estrin: Computer scientist and professor, Department of Computer Science, Cornell Tech.
Amy Finkelstein: Health economist, professor of economics, Massachusetts Institute of Technology.
Gregg Gonsalves: Global health advocate, assistant professor of epidemiology, Yale University.
Vijay Gupta: First violin, Los Angeles Philharmonic, co-founder and artistic director of Street Symphony.
Becca Heller: New York lawyer, co-founder of International Refugee Assistance Project.
Raj Jayadev: Co-founder Silicon Valley De-Bug, San Jose, California.
Titus Kaphar: Painter, founder and president NXTHVN, New Haven, Connecticut.
John Keene: Writer, Department of African American and African Studies, Rutgers University.
Kelly Link: A Northampton, Massachusetts writer.
Dominique Morisseau: Playwright, Signature Theatre, New York City.
Okwui Okpokwasili: Choreographer and performer, New York City.
Kristina Olson: Associate professor, Department of Psychology, University of Washington.
Lisa Parks: Professor, comparative media studies and writing, Massachusetts Institute of Technology.
Rebecca Sandefur: Legal scholar, Department of Sociology, University of Illinois.
Allan Sly: Professor, Department of Mathematics, Princeton University.
Sarah T. Stewart: Professor, Department of Earth and Planetary Sciences, University of California, Davis.
Wu Tsang: New York City filmmaker and performance artist.
Doris Tsao: Neuroscientist and professor of biology, Division of Biology and Biological Engineering, California Institute of Technology.
Ken Ward Jr.: Investigative journalist, Charleston Gazette-Mail, West Virginia.
10. 1 pricey thing
Pickups with features like automatic open-close tailgates are pricing out the average new vehicle buyer, reports Jamie LaReau of the Detroit Free Press:
"[T]he average transaction price for a full-size pickup [this year] is $48,377, a 48-percent boost from 10 years ago and a 19-percent hike from 2013 ... For that price, a person could buy a Mercedes-Benz or BMW luxury sedan."
"[T]he surge in prices over the years is driven by added bells and whistles to the trucks as well as consumers increasingly using them as family vehicles instead of strictly for work. Low gasoline prices help drive demand."
"Only 15 percent of full-size pickup buyers use the trucks for business."