Philly readers ... You're invited! Please join me Wednesday at 3:30 p.m. at the National Constitution Center as I interview former Vice President Biden and Dr. Jill Biden, along with tech entrepreneur Sean Parker, on the future of cancer care. RSVP here.
Axios China ... Sinocism's Bill Bishop, one of the world's most wired experts on China, is moving his weekly newsletter to Axios! Bill will bring Axios China subscribers news/analysis on the most important U.S.-China news of the week. Sign up here.
Situational awareness ... WashPost: "At least 9 people in Trump's orbit had contact with Russians during campaign, transition" ... "60 Minutes": "More than 100,000 people have left the island since Maria" ... "AP journalists counted 18 NFL players protesting during the national anthem."
https://www.axios.com/newsletters/axios-am-dc04bbc3-4957-45f0-b4be-ee3a47d6c2b5.html?chunk=0#story0
1 big thing: 2 Dems ready for 2020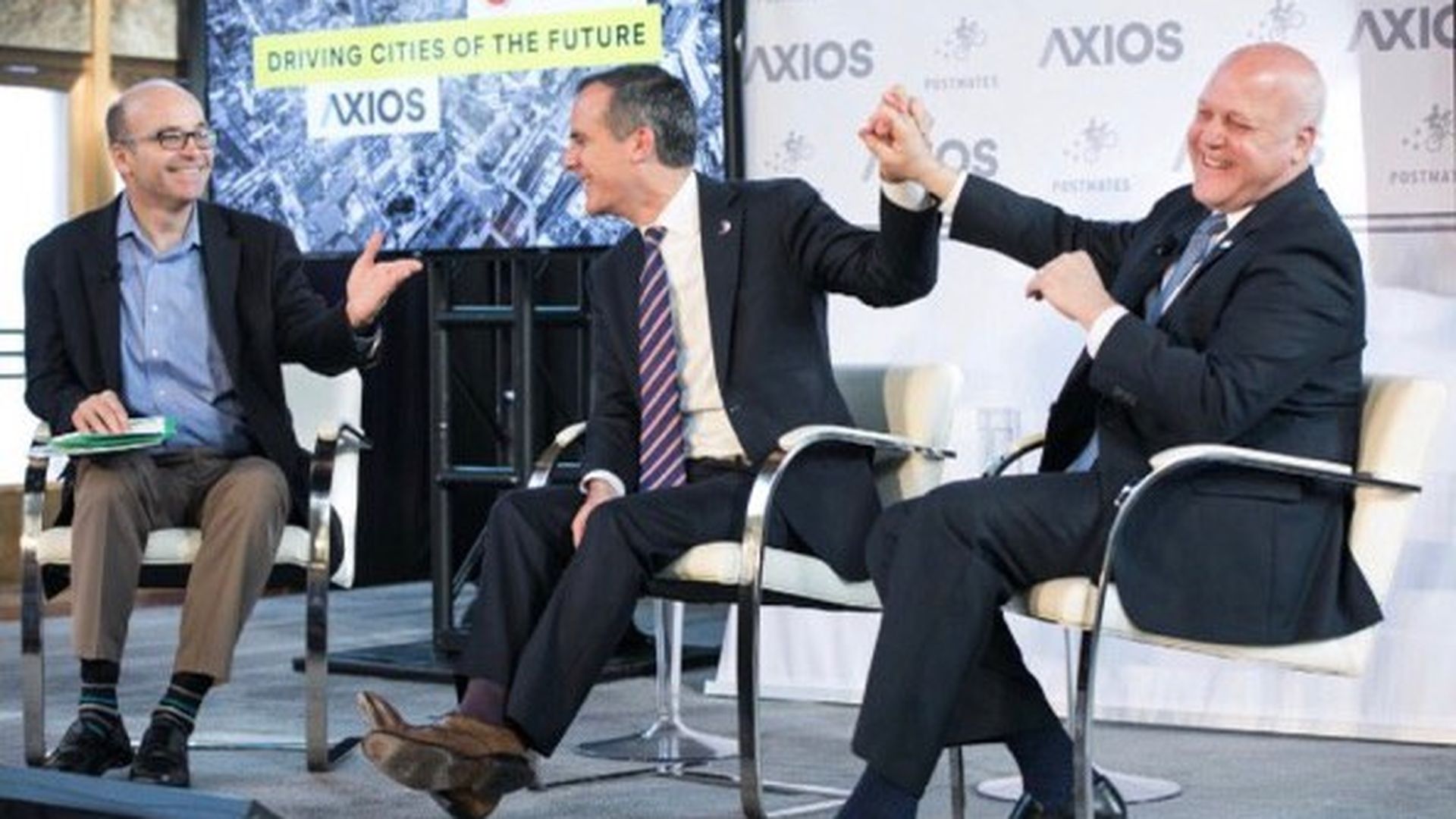 Here's something unusual and refreshing: There are two highly ambitious Democrats who don't even bother hiding their strong desire to run in 2020 — and to reshape the party: Los Angeles Mayor Eric Garcetti and New Orleans Mayor Mitch Landrieu, president of the U.S. Conference of Mayors.
Both joined me Friday for an Axios event on the vast ticket concourse of L.A.'s historic Union Station:
They're ready to go: Garcetti, 46, doesn't even bother with the ritual denials about running. Landrieu, 57, seems clearly interested, despite saying he'll take time off after leaving office in May, following 30 years in public life.
The two have done their buddy act together before: The photo above captures the moment when I asked the chances they'd face each other in a primary. Garcetti instantly quipped: "I was hoping you'd say 'ticket.'"
Garcetti jokingly calls himself "your average Mexican-American, Jewish, Italian guy — if you can't get elected with that, good luck."
They each have intriguing backstories: Landrieu, who has remade his city post-Katrina, gave a speech in May about the removal of Confederate monuments (titled "Truth") that was memorably attuned to the times.
But it was listening to the mayors that convinced me that Dems may be led back from the wilderness by someone surprising:
Garcetti: "We're too busy talking to ourselves, and about ourselves. ... People don't care about our inner workings, or even our inner leadership battles. ... [W]e've got to get back to speaking plain English. We are so inside baseball right now. ... Are you a Bernie person? Are a you Hillary person?"
Riffing spontaneously about panelists who had preceded him, Garcetti said: "It's exciting to hear about [a] hyperloop. But of course if you're the truck driver, you're going: 'Hmm, do I have a job?' It's exciting to hear about the flying ambulance. If you're a firefighter, you're wondering: Will I have a pension?"
Landrieu, on the bipartisan work of the Conference of Mayors: "The one thing we never do in any of our meetings is think about what the Democratic caucus or the Republican caucus in Washington, D.C., is doing. It never enters our mind. ... People in America are feeling unbalanced right now."
Be smart: When I asked top Dem donors and operatives about candidates like these, the consistent answer was that for the first time in our lifetimes, D.C. experience may be a vulnerability rather than an asset when running for president.
One of my favorite Democratic sounding boards emails: "Mayors are fantastic. They actually do things, and that really energizes them. They don't talk like D.C. types or cautious governors who have to wrangle with state legislatures. They tend to love their jobs and people really like them. It's the one level of government in which Dems have a huge advantage and a deep well of talent."
https://www.axios.com/newsletters/axios-am-dc04bbc3-4957-45f0-b4be-ee3a47d6c2b5.html?chunk=1#story1
2. Deadliest church shooting in U.S. history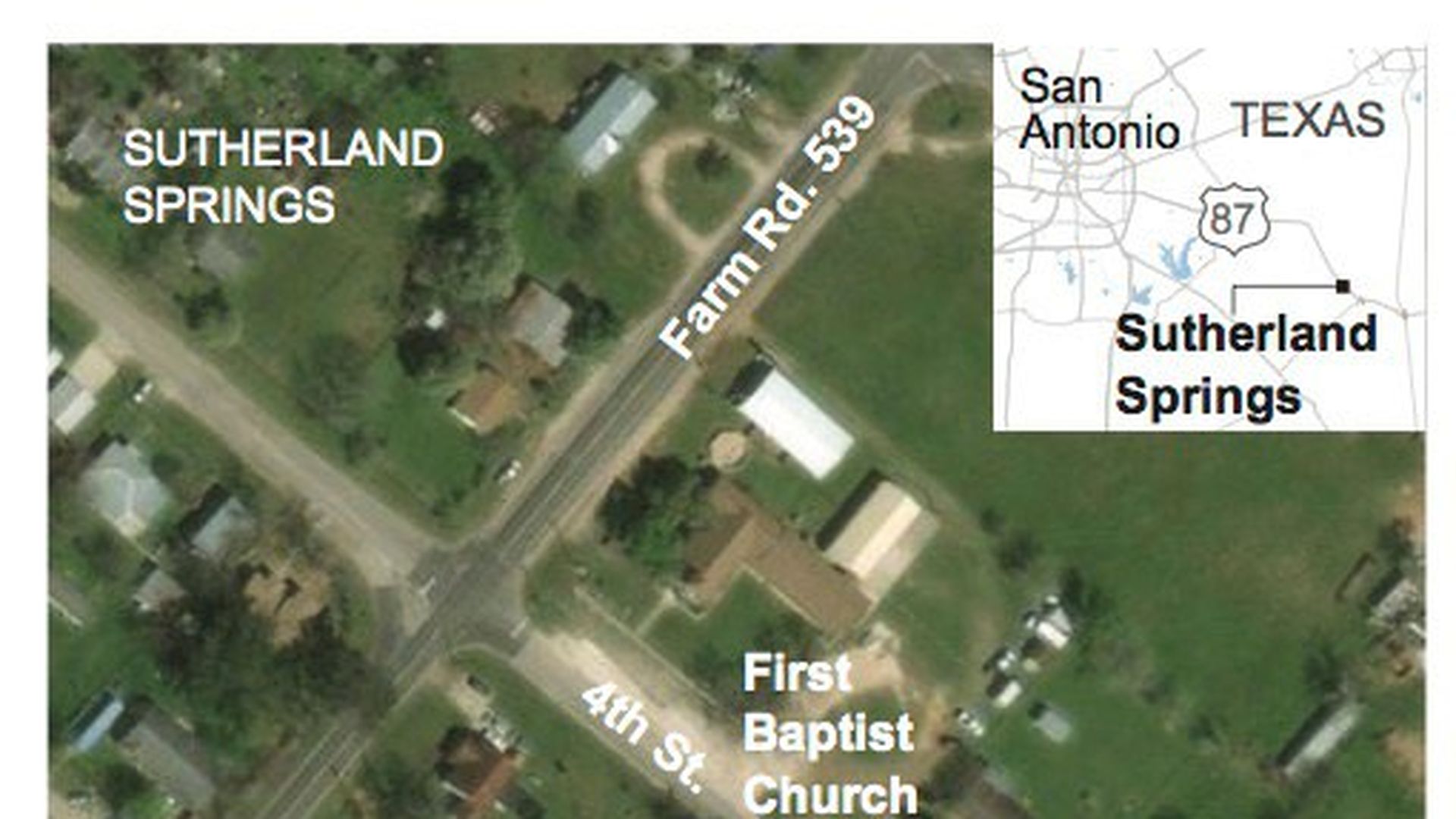 Yesterday's carnage at tiny First Baptist Church in Sutherland Springs, Texas — which killed 26, including the pastor's 14-year-old daughter — means that three of the five deadliest mass shootings in modern U.S. history have happened in the past 17 months. The others: Orlando in June 2016, and Vegas just last month.
The latest:
N.Y. Times: "A gunman clad in all black, with a ballistic vest strapped to his chest and a military-style rifle in his hands, opened fire on parishioners."
San Antonio Express-News: "Those killed range in age from 5 to 72 years old."
The gunman died shortly after the attack; unclear if killed by police or himself. He was identified as Devin Patrick Kelley, 26, who had served in the Air Force and was court-martialed and discharged in 2012 on charges of assaulting his wife and child.
In Japan, President Trump, orders that American flags flown at the White House, all public buildings and grounds, and military posts be flown at half-staff through sunset on Thursday.
Catch up quick with fast facts from Axios' Erica Pandey.
https://www.axios.com/newsletters/axios-am-dc04bbc3-4957-45f0-b4be-ee3a47d6c2b5.html?chunk=2#story2
Praying after the shooting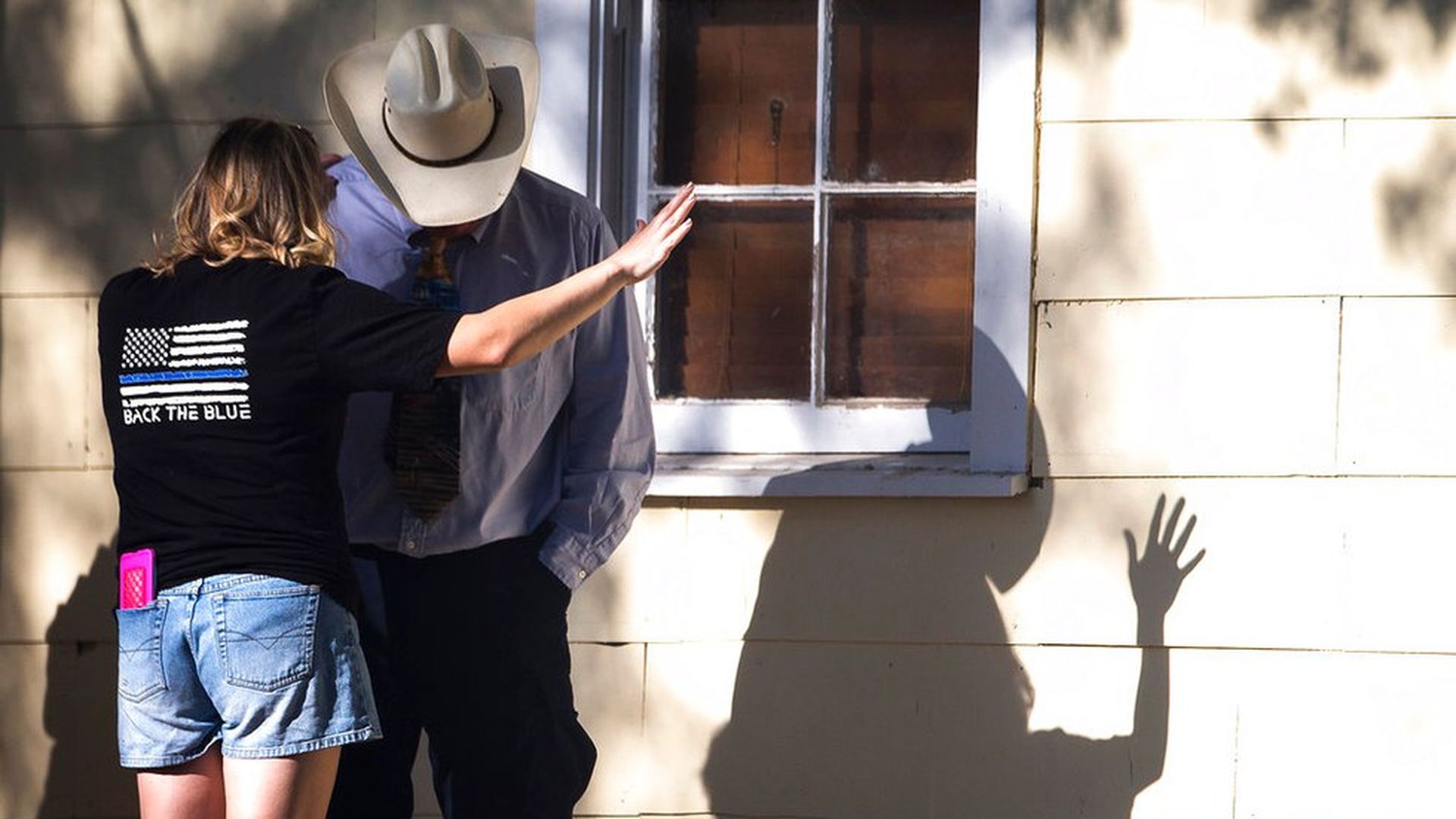 https://www.axios.com/newsletters/axios-am-dc04bbc3-4957-45f0-b4be-ee3a47d6c2b5.html?chunk=3#story3
Bonus pic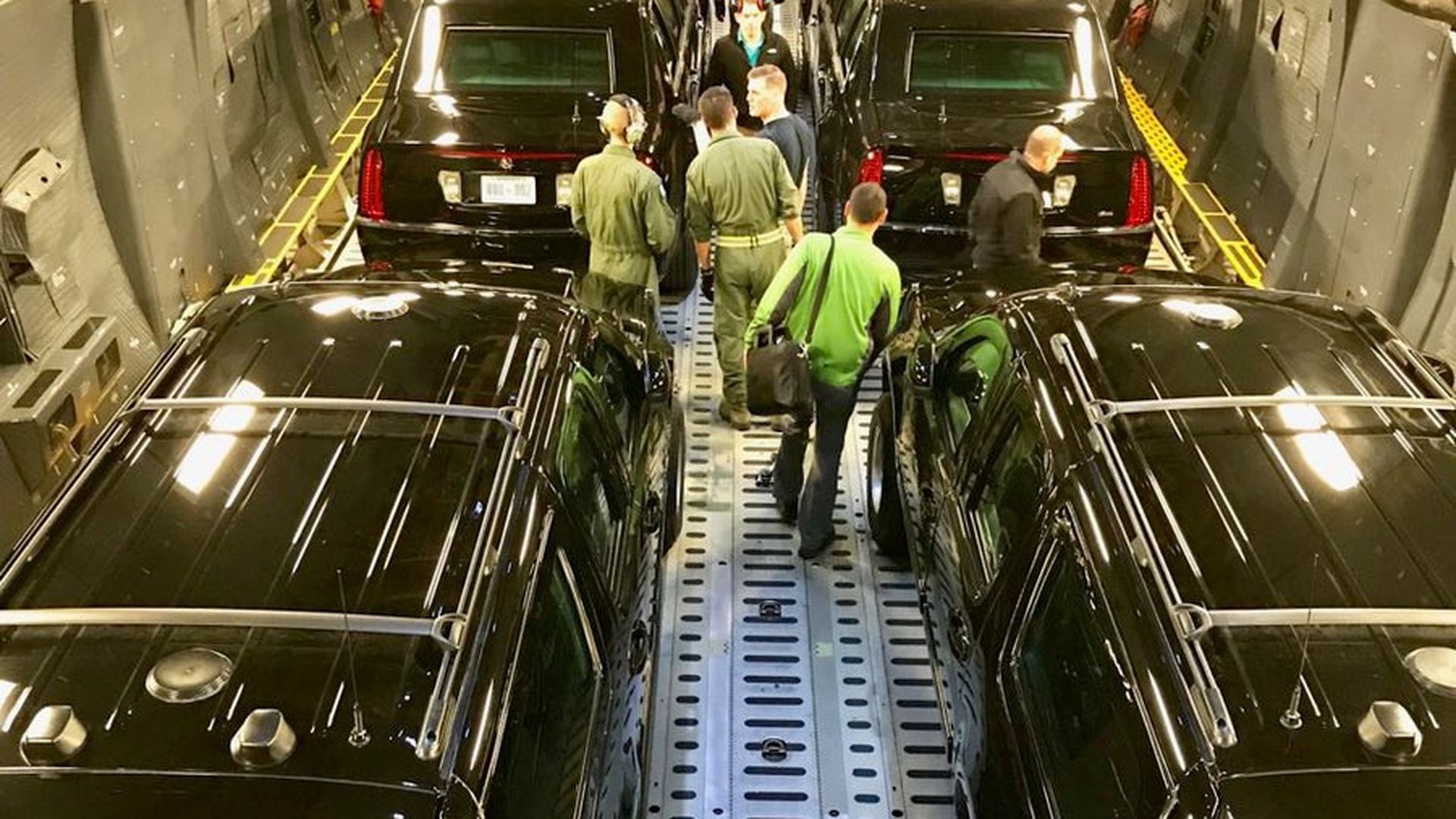 Here's a rare behind-the-scenes view of two of President Trump's limousines (the Secret Service calls the president's bomb- and ballistic-resistant ride "The Beast"), being flown to Asia.
https://www.axios.com/newsletters/axios-am-dc04bbc3-4957-45f0-b4be-ee3a47d6c2b5.html?chunk=4#story4
3. "Trump's Inheritor"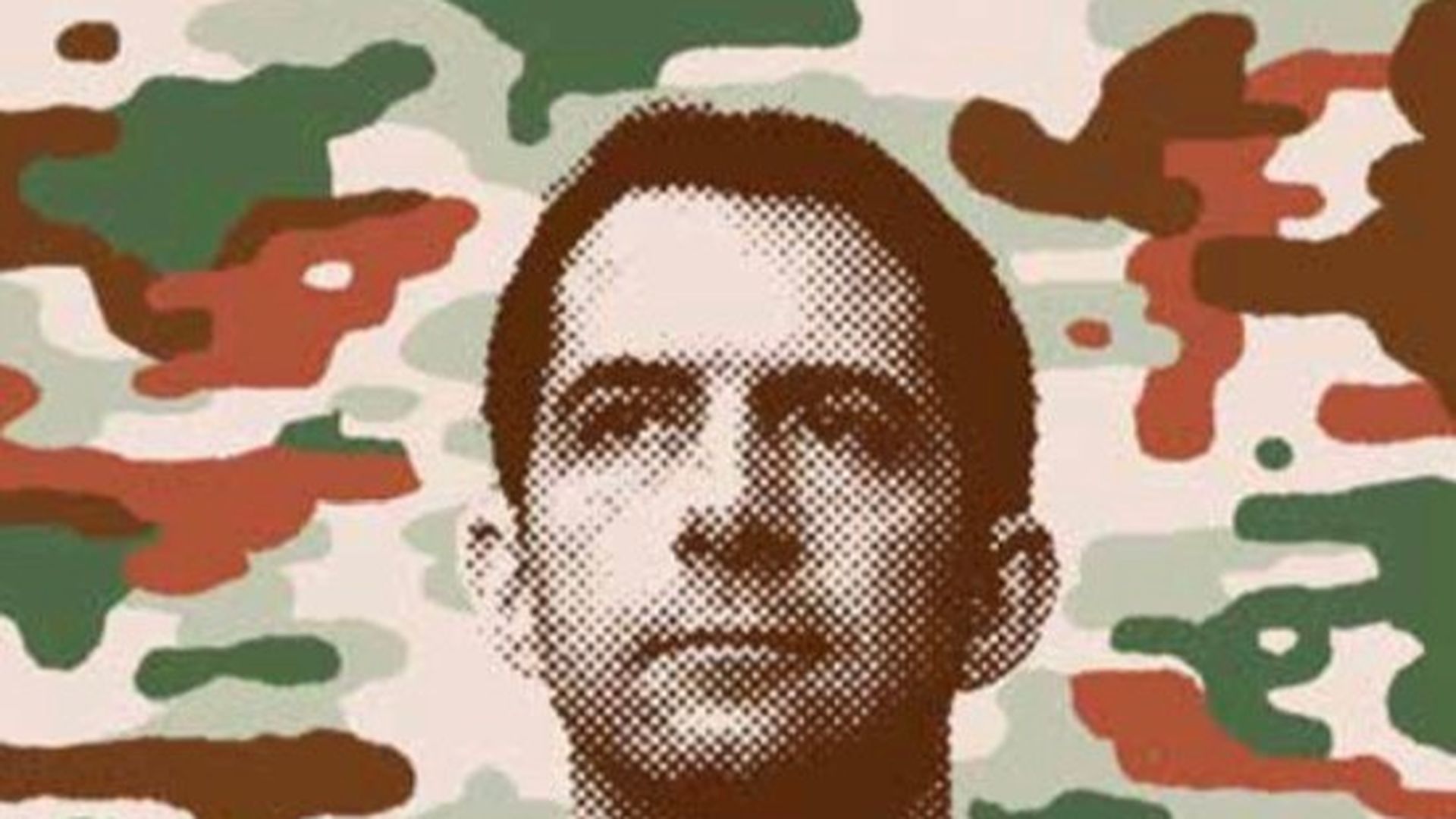 Sen. Tom Cotton (R-Ark.), 40 — who "plays successfully to the warring constituencies of the Republican Party" — gets a seven-page spread in The New Yorker, with a piece by Jeffrey Toobin, who traveled to the cow-calf farm in Yell County, Ark., where the senator grew up:
"[S]everal Republican Senators have denounced Trump ... Cotton has made a different bet, offering only the gentlest of criticisms of the President. When ... I asked Cotton about one or another of Trump's controversial statements or tweets, he always responded in the same manner. 'The President puts things sometimes in a way that I would not.'"
Cotton influences Trump "from behind the scenes. [Steve] Bannon told me, 'He spent a lot of time in my little war room, and he gave us a lot of good advice. He was the one who told us about John Kelly,' the former Marine Corps general who is now Trump's chief of staff. ... In recent months, ... Cotton's influence has become more apparent, as Trump has embraced some of his most high-profile positions."
Why he matters: "Cotton appears to be a hybrid of insurgent and old guard ... As Bannon put it, 'How many guys in town can give a speech at the Council on Foreign Relations and also get kudos in the pages of Breitbart? The answer is, one guy.'"
What's next: "The only thing everyone agrees on is that he wants to be President someday."
https://www.axios.com/newsletters/axios-am-dc04bbc3-4957-45f0-b4be-ee3a47d6c2b5.html?chunk=5#story5
4. Trump in Tokyo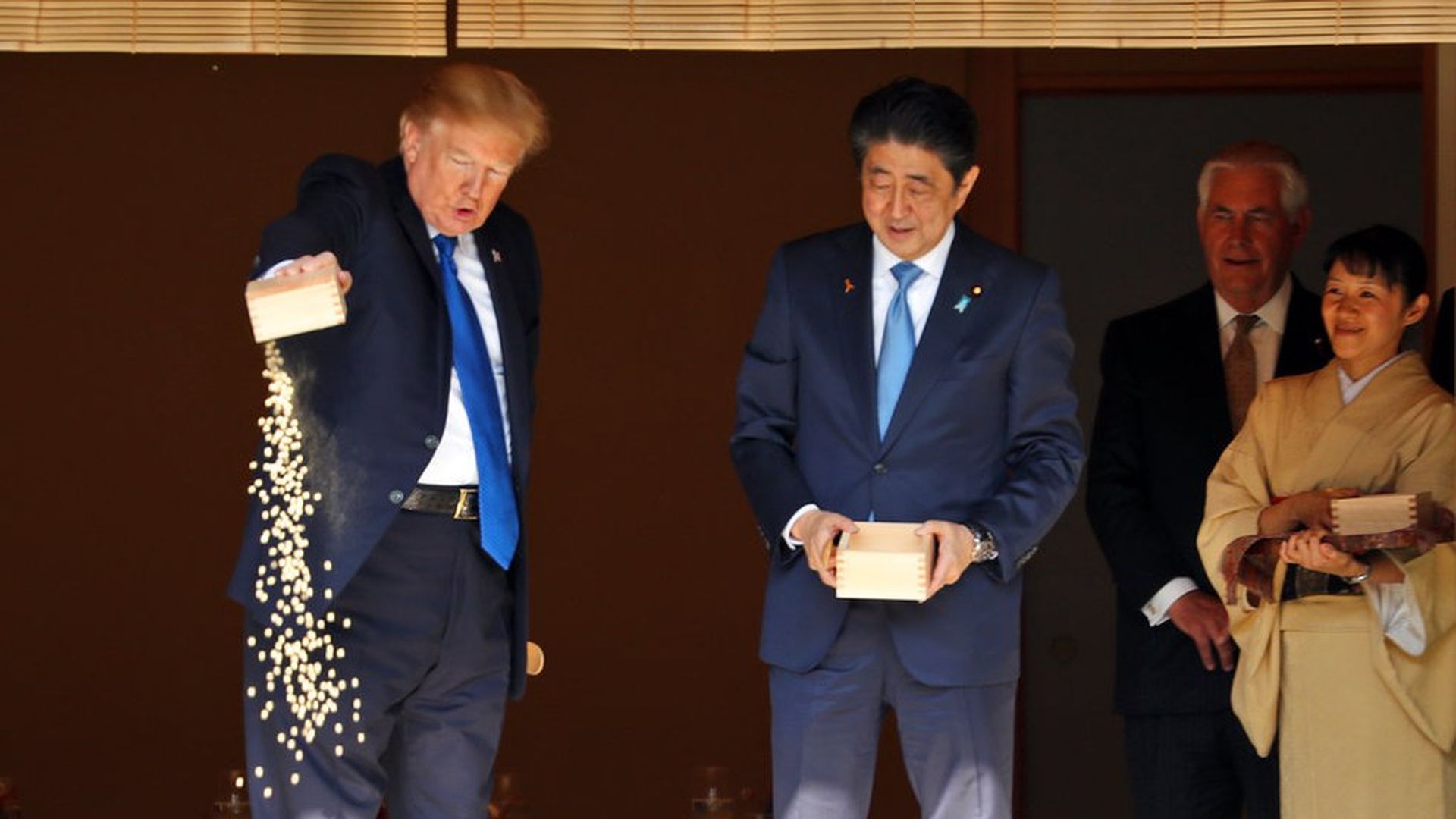 President Trump, at a news conference with Japan Prime Minister Shinzo Abe, refused to rule out eventual military action against North Korea, "a threat to the civilized world and international peace and stability."
https://www.axios.com/newsletters/axios-am-dc04bbc3-4957-45f0-b4be-ee3a47d6c2b5.html?chunk=6#story6
5. "How did this happen?"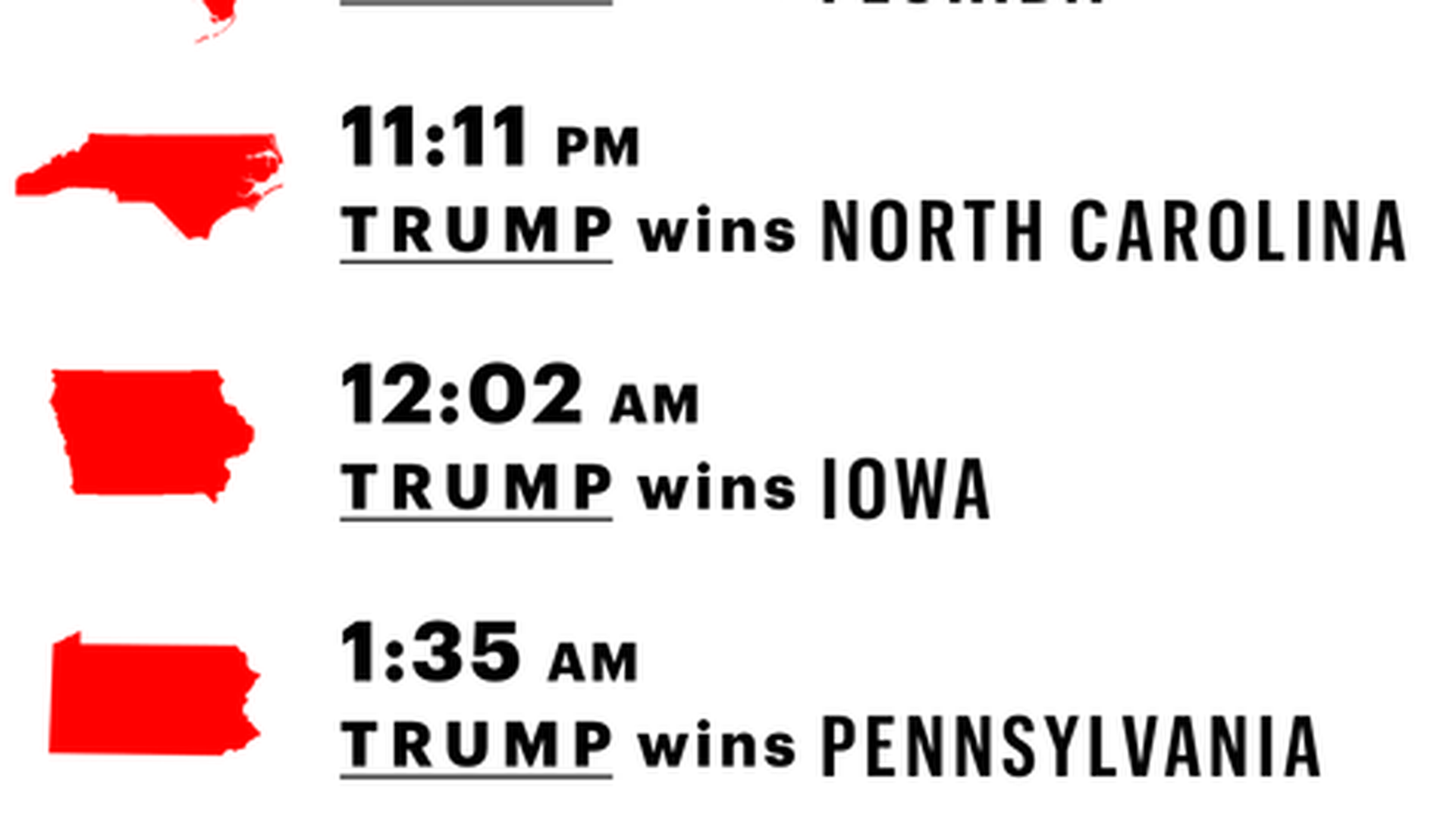 This week is one year since Trump's shock victory, and Esquire has a delicious oral history, "The Untold Stories of Election Day 2016."
Deputy Editor John Hendrickson tells me: "15 people ... did the interviews, a mix of staffers and freelancers, then another 5 ... helped with supplemental editing and art as we hit the home stretch. Our last transcription came in as late as 5:30 p.m. this past Friday night."
A few gems:
Steve Bannon: "Jared [Kushner] and I were out on this balcony in Trump Tower. We looked at it on Jared's iPhone. And the numbers were so bad that we regrouped inside. We look at each other and we go, 'This can't be right. It just can't.' And Jared goes, 'I got an idea, let's call Drudge.' And Drudge says, 'The corporate media—they've always been wrong the entire time — these numbers are wrong.'"
Ashley Parker of WashPost, then of N.Y. Times: "The RNC thought they were going to lose. The Trump campaign supporters thought they were going to lose. They were rushing to get their side out of the blame game. I spent part of my day lining up interviews for later that night or the next morning to get their version of events."
Maggie Haberman of N.Y. Times: "One Trump supporter sent me a message saying, 'You're [screwed].' [Laughs] If you use that, please recall me laughing about it. It was really something."
Michael Barbaro of N.Y. Times: "I went home and woke up my husband, I think it was 4 or 5 in the morning, and asked him what the next steps should be journalistically. Should I move to Washington? Should I change jobs? It was pretty disorienting."
https://www.axios.com/newsletters/axios-am-dc04bbc3-4957-45f0-b4be-ee3a47d6c2b5.html?chunk=7#story7
6. After Panama Papers, now the Paradise Papers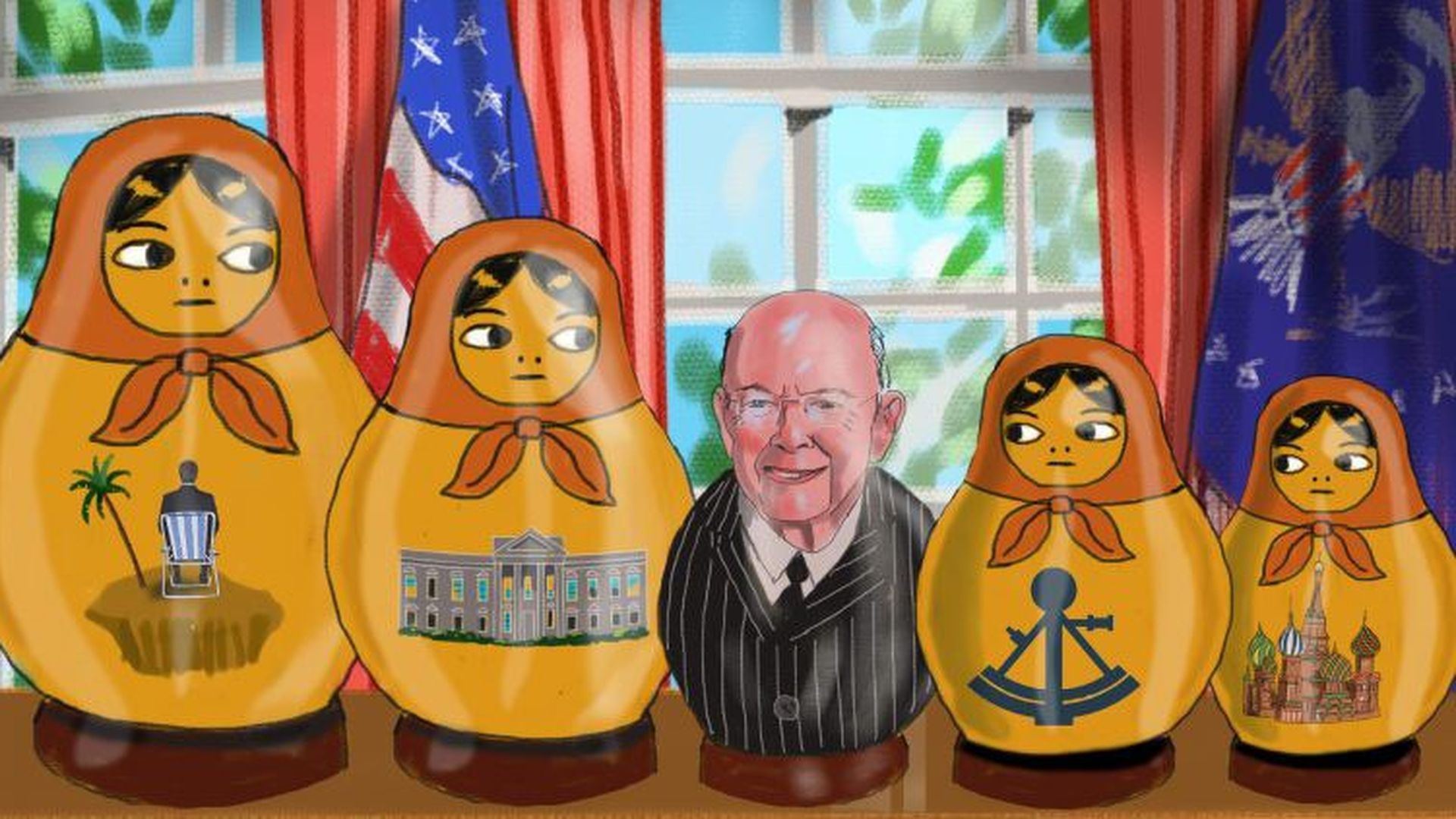 A consortium of more than 90 news organizations around the world unveiled the Paradise Papers, a leak of 13.4 million financial documents that throw light on the top end of the world of offshore finance, per the BBC:
"It's a week-long expose of how politicians, multinationals, celebrities and high-net-worth individuals use complex structures to protect their cash from higher taxes."
"As with last year's Panama Papers leak, the documents were obtained by the German newspaper Süddeutsche Zeitung, which called in the International Consortium of Investigative Journalists (ICIJ) to oversee the investigation."
"The Paradise Papers name was chosen because of the idyllic profiles of many of the offshore jurisdictions whose workings are unveiled, including Bermuda, the HQ of the main company involved, Appleby."
One of the biggest finds ... Commerce Secretary Wilbur Ross "kept a financial stake in a firm whose major partners include a Russian company part-owned by President Vladimir Putin's son-in-law."
Why the Ross revelation matters, from the N.Y. Times: "While several Trump campaign and business associates have come under scrutiny, until now no business connections have been reported between senior administration officials and members of Mr. Putin's family or inner circle."
https://www.axios.com/newsletters/axios-am-dc04bbc3-4957-45f0-b4be-ee3a47d6c2b5.html?chunk=8#story8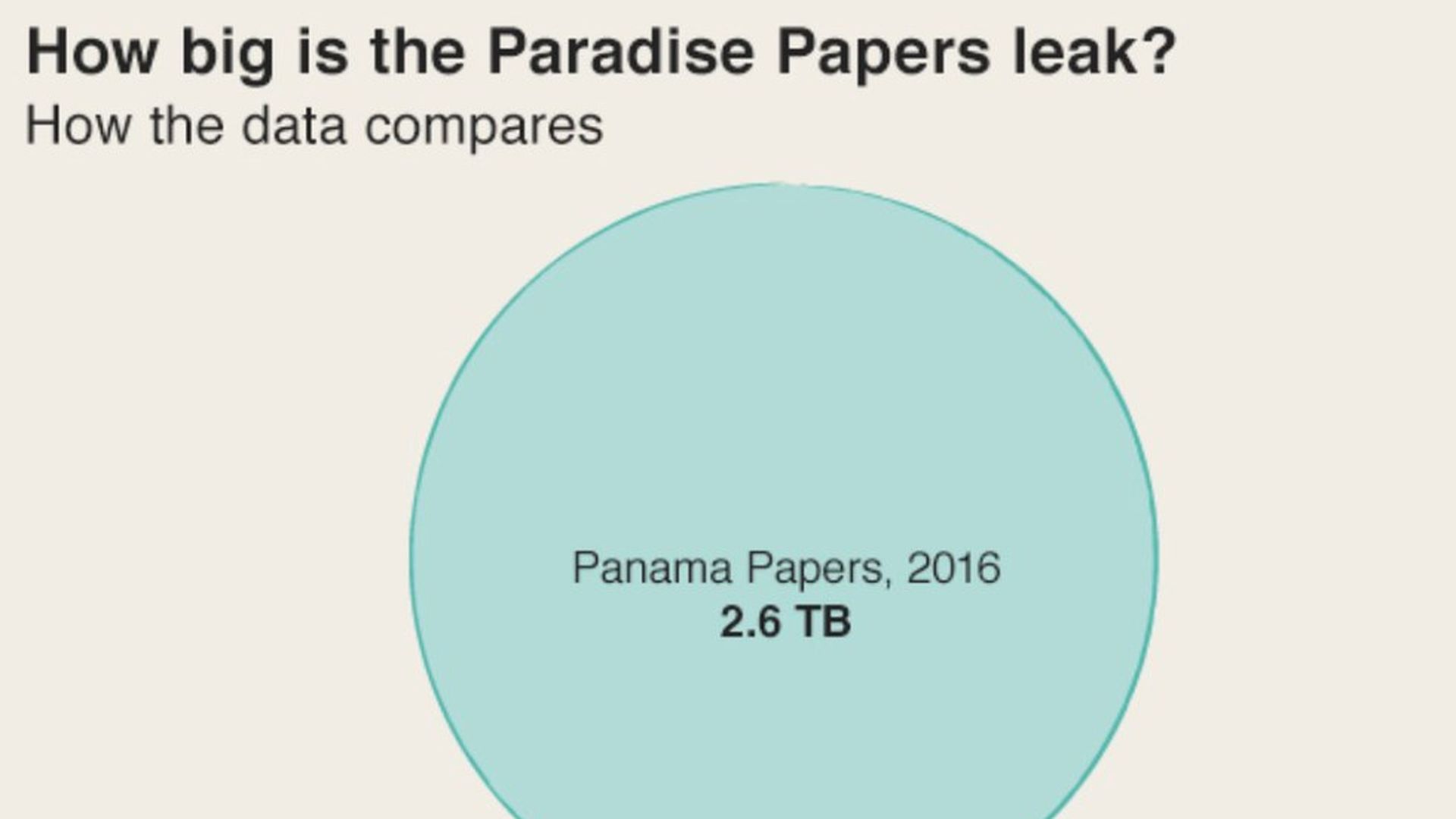 https://www.axios.com/newsletters/axios-am-dc04bbc3-4957-45f0-b4be-ee3a47d6c2b5.html?chunk=9#story9
7. Why the Ritz roundup matters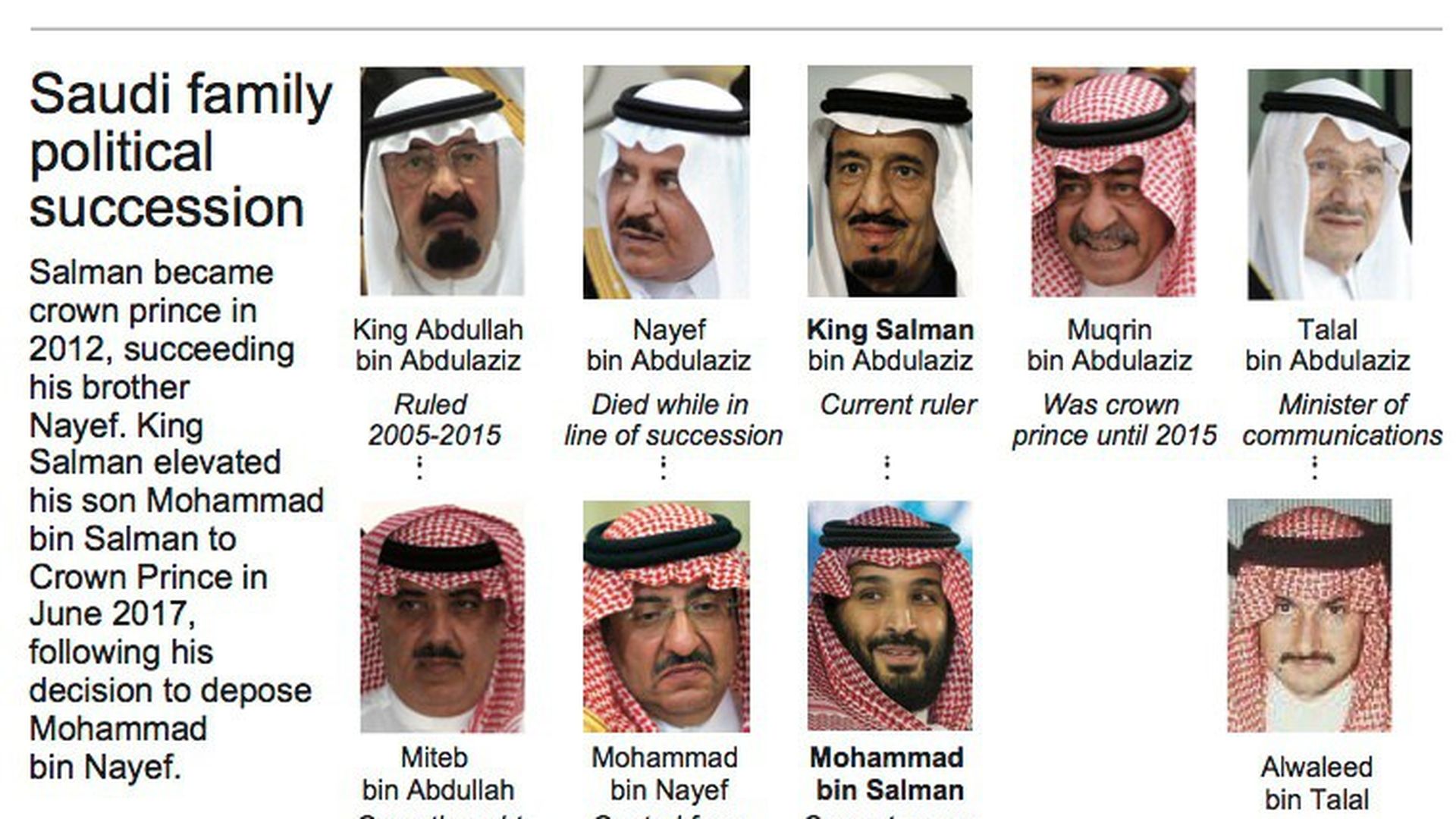 "[T]he crown prince has cowed businessmen and royals across the kingdom by taking down the undisputed giant of Saudi finance," the N.Y. Times' David Kirkpatrick writes:
"Apolitical scholars who used to speak freely in cafes now look nervously over their shoulders, as Crown Prince Mohammed has achieved a degree of dominance that no ruler has attained for generations."
Chas W. Freeman, a former United States ambassador: ""It is the coup de grâce of the old system ... Gone. All power has now been concentrated in the hands of Mohammed bin Salman."
Be smart ... AP points out: "The moves in Saudi Arabia mirror those in China, where President Xi Jinping has used corruption charges 'as a battering ram to consolidate his own power and authority.'"
https://www.axios.com/newsletters/axios-am-dc04bbc3-4957-45f0-b4be-ee3a47d6c2b5.html?chunk=10#story10
8. Misguided notion of peak oil demand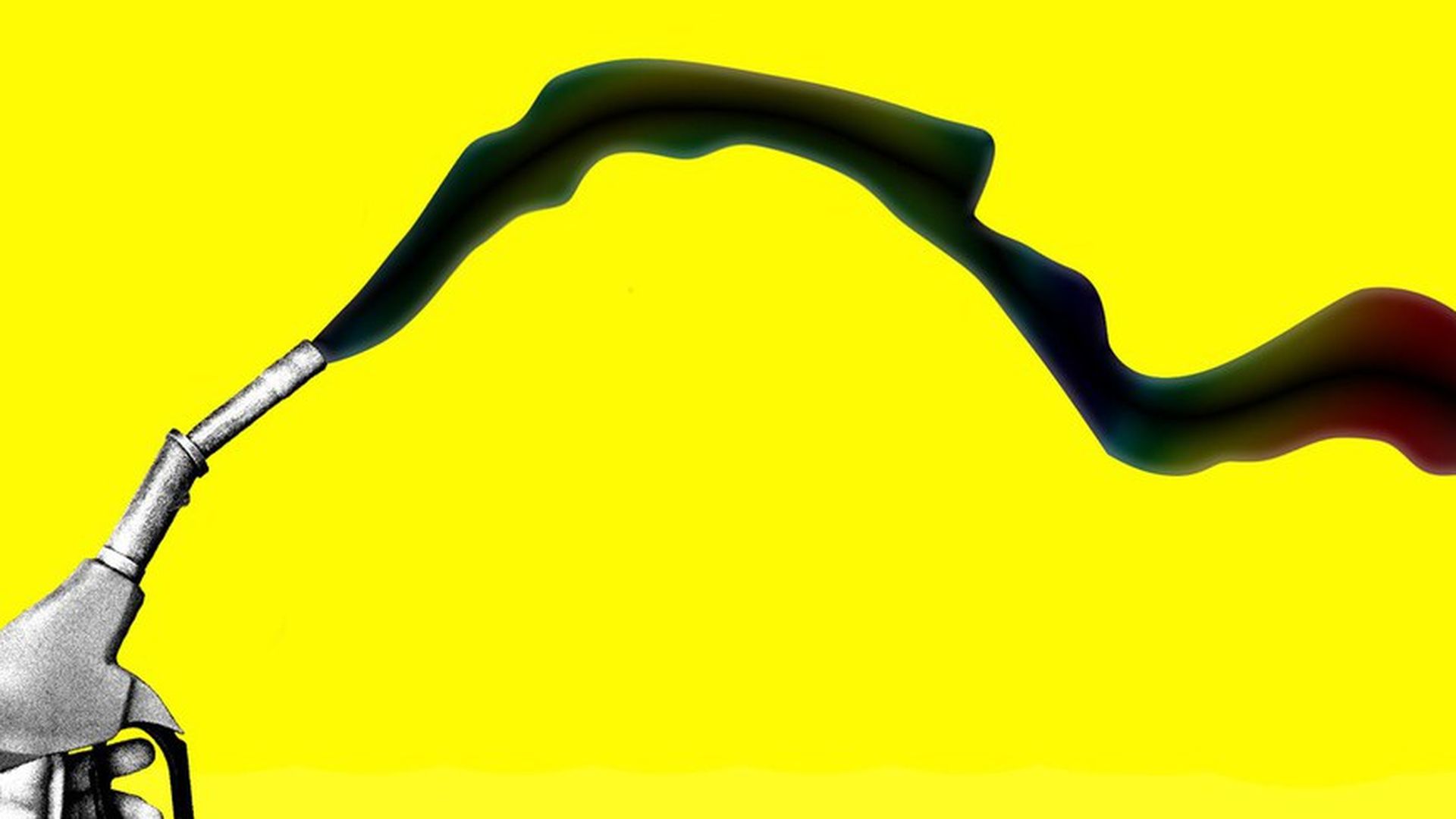 "Short of an apocalyptic event that wipes out large swaths of the world economy, the moment that global oil demand peaks and falls will never happen," Axios' Amy Harder writes in her weekly "Harder Line" energy column. "Our lives are too dependent upon the fuel."
What's new: OPEC, "the oil cartel of Middle Eastern countries, releases its world outlook tomorrow, and will project oil demand to keep increasing through at least 2040."
Why it matters: "Any reduction in the world's demand for oil in the coming decades has profound implications for the companies and countries built upon oil."
https://www.axios.com/newsletters/axios-am-dc04bbc3-4957-45f0-b4be-ee3a47d6c2b5.html?chunk=11#story11
9. Virginia governor's election tomorrow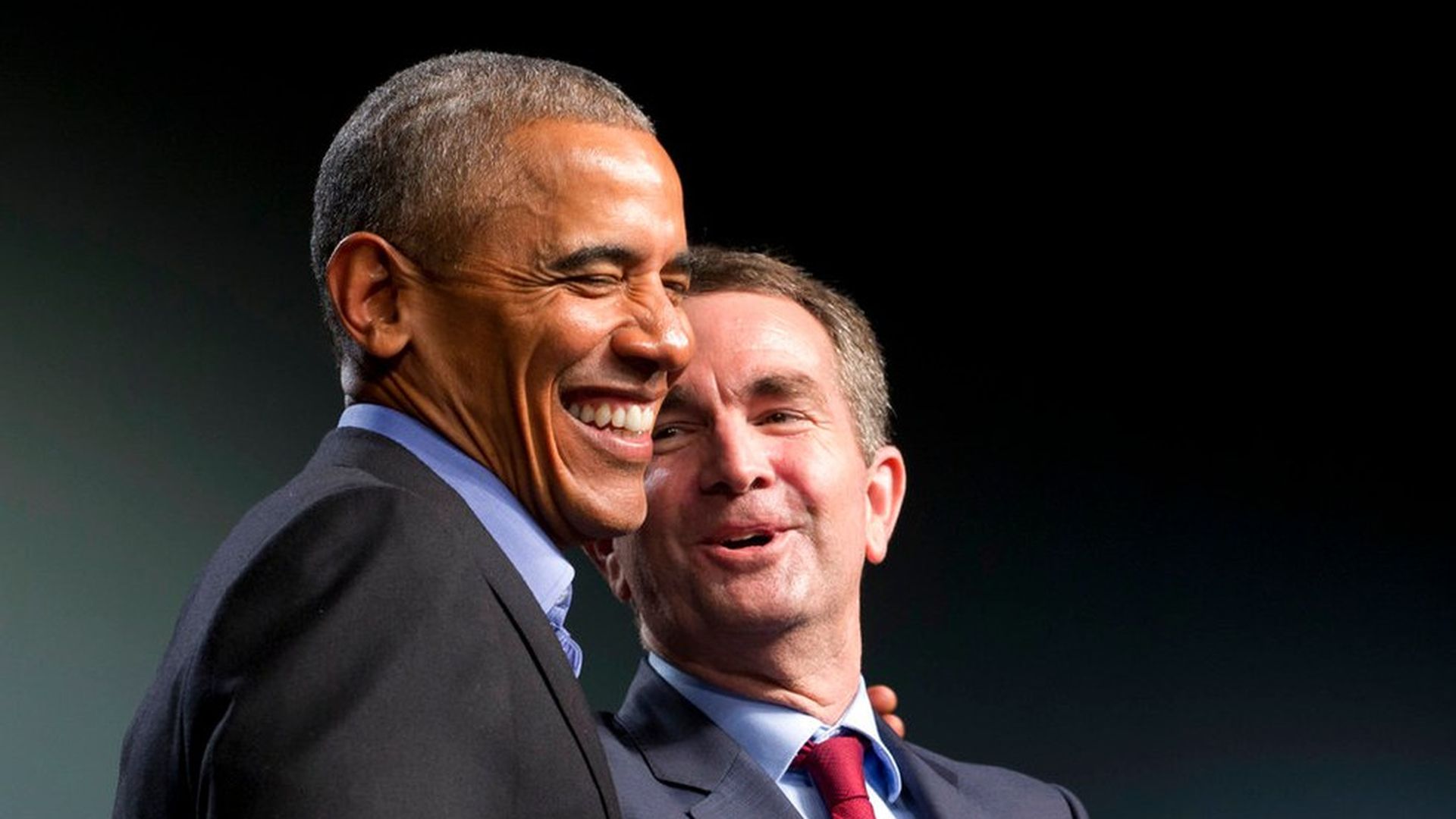 The N.Y. Times' Jonathan Martin, a Virginia resident and expert on Old Dominion politics, has your talking points for tomorrow's gubernatorial election:
"Should [Republican Ed] Gillespie win or narrowly fall short, he will have handed 2018 candidates in competitive races a playbook for Trump-era campaigns: deploy the president's politics but avoid Mr. Trump himself."
"What ultimately may save [Democrat Ralph] Northam ... Virginia Democrats, especially in the Washington suburbs, view this election as an exercise in cathartic revenge against Mr. Trump."
Real Clear Politics polling average: Northam by 2.
https://www.axios.com/newsletters/axios-am-dc04bbc3-4957-45f0-b4be-ee3a47d6c2b5.html?chunk=12#story12
10. 1 run thing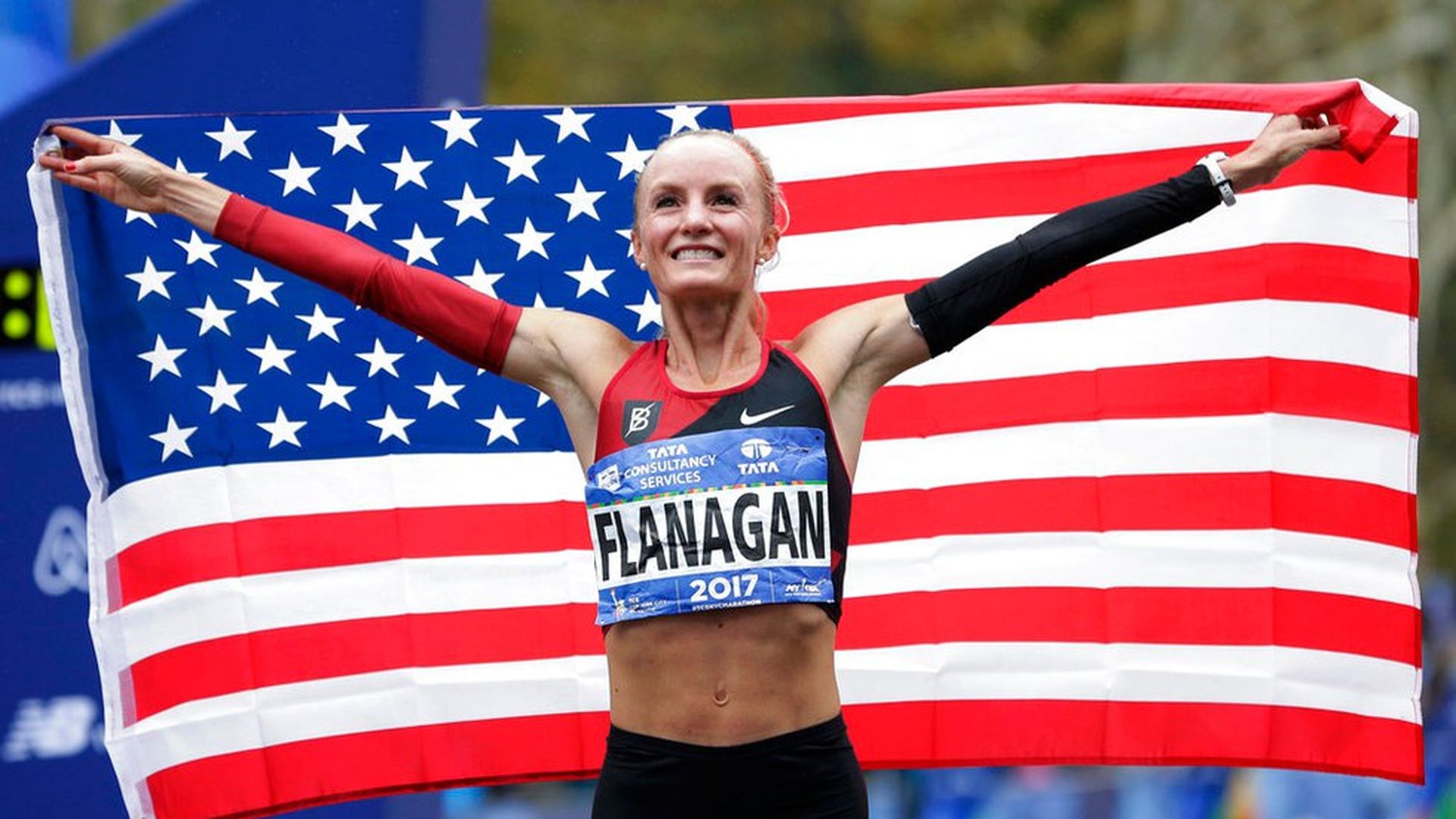 For the first time in 40 years (1977), an American woman won the New York City Marathon: 36-year-old Olympic medalist Shalane Flanagan broke the tape at 2 hours, 26 minutes and 53 seconds, beating three-time defending champion Mary Keitany of Kenya by a minute and one second.Per CNN, she's a Marblehead, Mass., native who now lives in Portland, Ore., and is a former UNC athlete."Flanagan made her debut at the NYC Marathon in 2010, finishing second with a time of 2 hours, 28 minutes and 40 seconds — at the time, the best finish by an American woman in 20 years. Before this year, she hadn't competed in the race since 2010."
P.S. N.Y. Times Quote of the Day ... Simon Wheatcroft, a visually impaired athlete who set out to run the New York City Marathon led by an armband that guides its wearer with vibrations. The device had some technical difficulties: "It's 26 miles of reverse parking. There might be a few dings in the bumper at the end. As long as there's only paint damage, we'll be O.K."