Good Monday morning. Situational awareness: The party congress continuing in Beijing this week shows Xi Jinping, China's strongest leader in decades, has "an iron grip on power and a strategy to reach global preeminence," Kevin Rudd, former Australian prime minister and now president of the Asia Society Policy Institute, writes in the Financial Times: "The inference is we will see Mr Xi in office through to the 2030s."
Breaking: Mueller investigating Tony Podesta and the Podesta Group, per NBC News.
NFL: AP counted 22 players protesting during anthems yesterday.
https://www.axios.com/newsletters/axios-am-d3bc84da-7ab4-478b-af96-b81756b67e03.html?chunk=0#story0
1 big thing: The slow motion "mass-casualty event"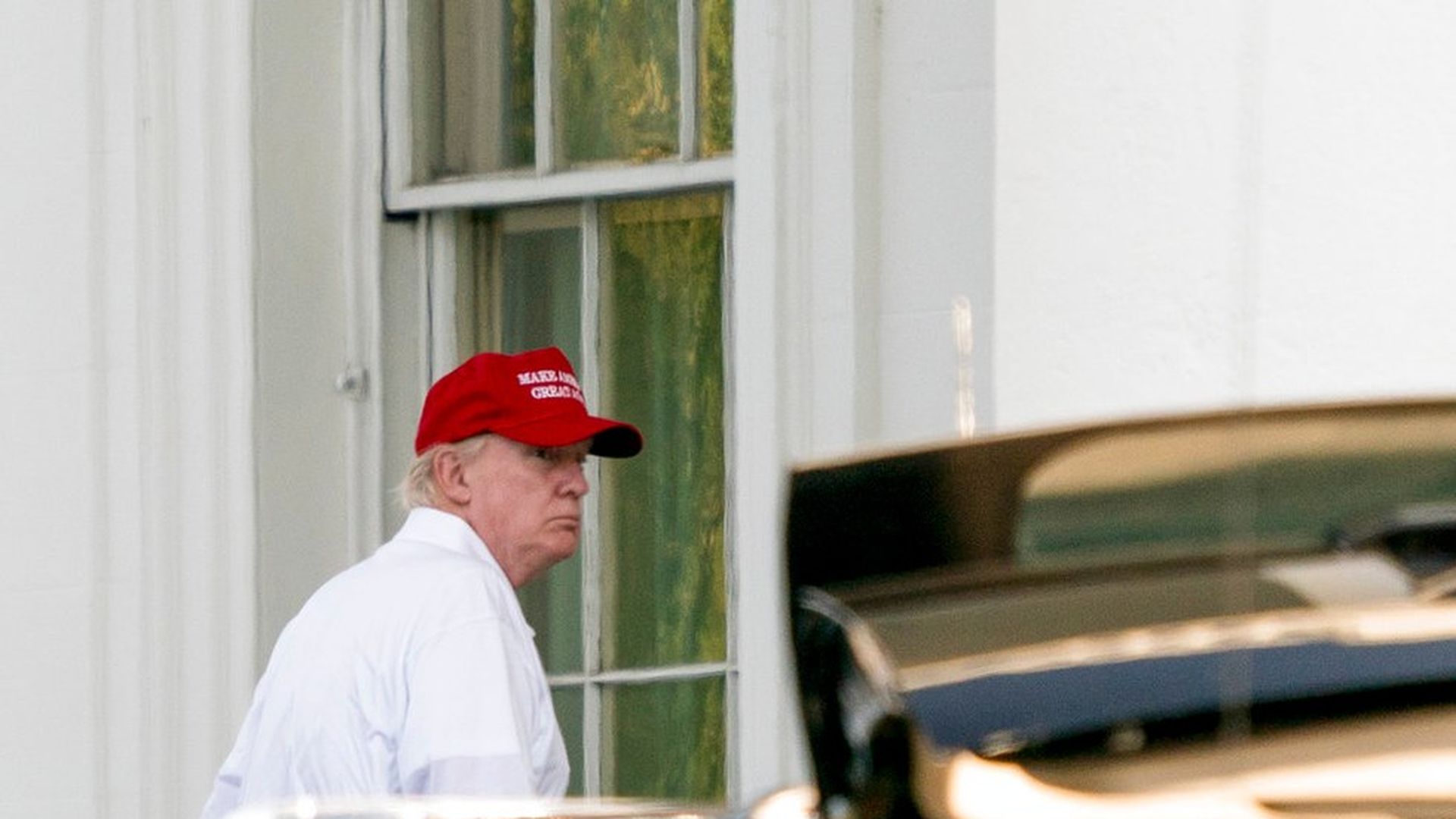 The Trump administration this week will make its official declaration of the opioid crisis as a national public-health emergency, and President Trump will speak Thursday on combating the epidemic.
Trump will sign an executive document directing Cabinet agencies to take actions addressing the crisis, a top administration official tells Jonathan Swan.
We're told this will be an administration-wide effort that includes Melania Trump, who last month held a White House roundtable on opioid abuse. Ivanka Trump has also spoken on the subject.
The administration is working on a massive advertising and public-relations campaign to reach Americans.
Congress will be involved because there will be requests for funds. The administration response has been questioned on Capitol Hill.
Why it matters: The New Yorker's Margaret Talbot — who wrote a memorable piece about heroin in West Virginia, "The Addicts Next Door" — writes in this week's issue that Trump's upcoming moves are "a welcome, but belated, response to a problem that has been growing inexorably for nearly two decades."
"For all the coverage the opioid epidemic has received, the reaction to it has been consistently muted. No group of activists quite as angry and eloquent as ACT UP has emerged to make the crisis an urgent priority."
Opioids kill more than 50,000 Americans a year, 10,000 more than AIDS did at the peak of that epidemic.
"Something about the nature of this epidemic delayed the sense of calamity. As the coroner of Montgomery County, Ohio, has said, it's a 'mass-casualty event,' but one played out in slow motion."
Be smart: The opioid crisis has hit hard in Trump country — rural areas, and economically depressed white communities. For Washington, it's been out of sight, out of mind for too long — and a reminder of the blinders we have in the bubbles, which also delayed recognition of Trump's heartland strength.
https://www.axios.com/newsletters/axios-am-d3bc84da-7ab4-478b-af96-b81756b67e03.html?chunk=1#story1
2. Dems sweat tightening Va. governor's race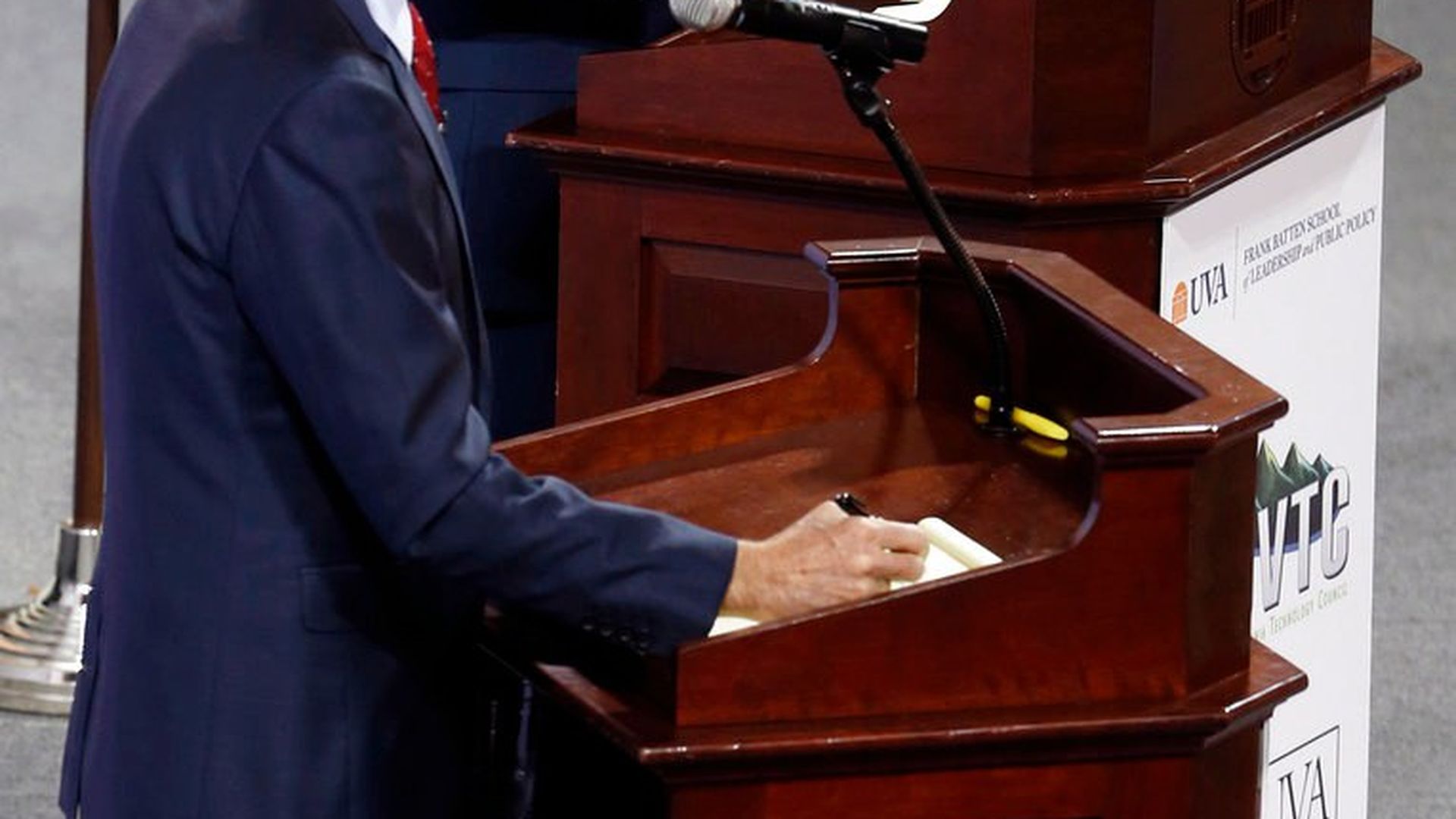 "The Democratic National Committee gathered [in Vegas] over the past week with one worry on every activist's mind: We'd better not lose the Virginia governor's race" 15 days from now, the WashPost's Dave Weigel and Ed O'Keefe write on A1:
"It's a surprising case of the jitters over a place that hasn't elected a Republican to statewide office in eight years — and that voted resoundingly against Donald Trump last year. But nationally, Democrats haven't won a marquee race since losing the presidency. They lag Republicans in fundraising."
"A loss for Lt. Gov. Ralph Northam against Republican Ed Gillespie on Nov. 7 could stir doubts about message and strategy just as the party is gearing up nationally for next year's ... midterm elections."
Why it matters: "Defeat in Virginia could ... prompt another brawl between progressive activists and the party's establishment. Northam ... won his nomination over Sen. Bernie Sanders-backed former congressman Tom Perriello — a race that some activists saw as a replay of the 2016 Democratic presidential primaries."
Be smart: I live in Virginia and covered Old Dominion politics in my well-spent youth, so I hear a lot about this race. The Real Clear Politics average has Northam, the Democrat, ahead by 5.8 points. Most people I talk to in both parties assume he'll win: Gillespie is the underdog because Trump plays so poorly in "vote-rich Northern Virginia."
But some Republicans who have been pessimistic are now more hopeful that there are silent pockets of Trump voters in rural areas who could make this more of a brawl than polls have suggested.
https://www.axios.com/newsletters/axios-am-d3bc84da-7ab4-478b-af96-b81756b67e03.html?chunk=2#story2
3. Bite of the day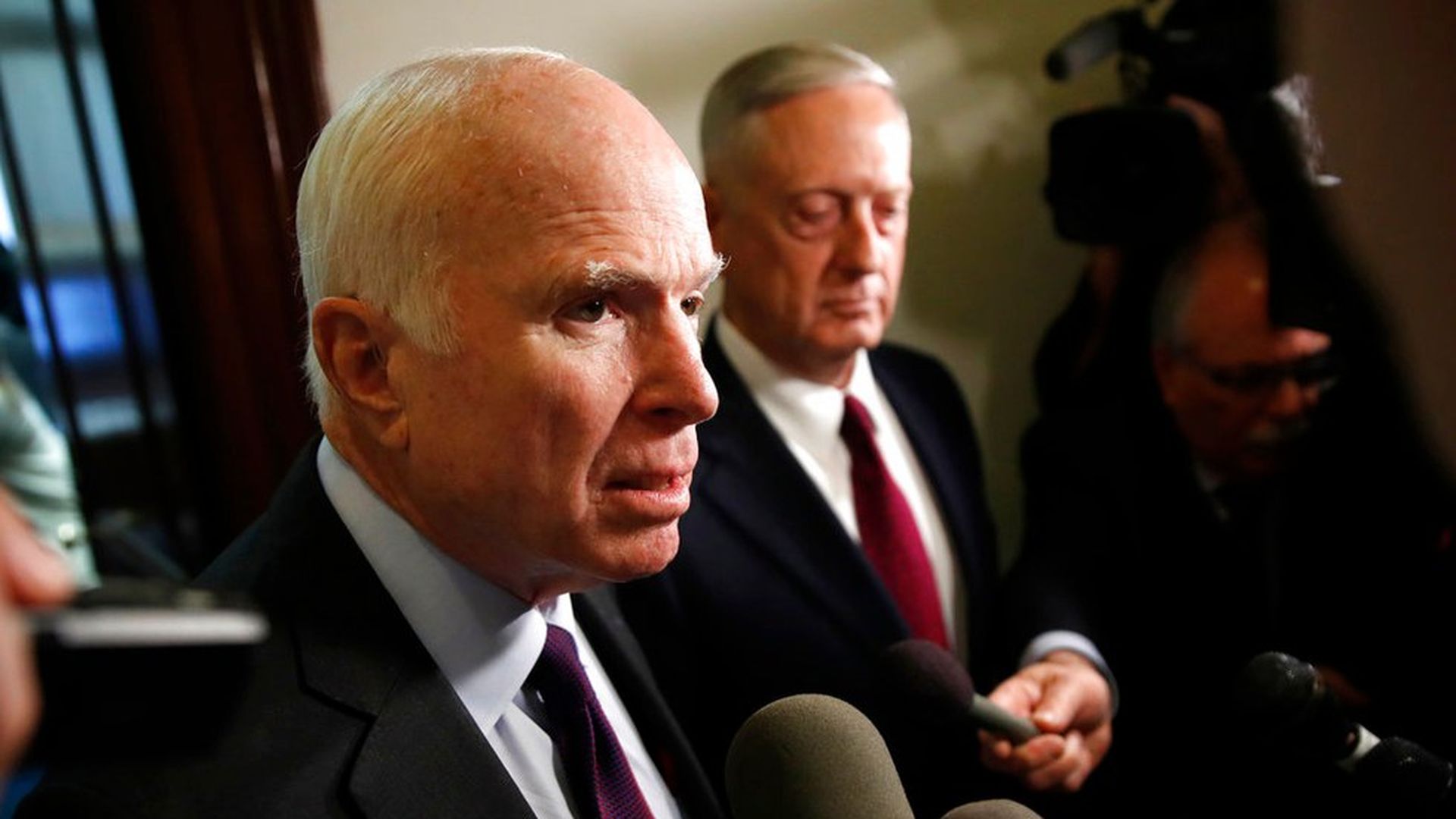 Sen. John McCain this weekend retweeted a N.Y. Times article, "McCain in Twilight: An Unfettered Voice Against Trumpism," calling him "elder statesman and truth-teller."
In an interview about the Vietnam War's legacy aired on C-SPAN last night, McCain said: "[W]e drafted the lowest income level of America and the highest income level found a doctor that would say that they had a bone spur. That is wrong. That is wrong."
Why it stings: Trump, while not named by McCain, received five draft deferments, including one for a bone spur.
Go deeper: Axios' Haley Britzky rounds up what McCain has been saying about Trump.
P.S. Sheryl Gay Stolberg wries in the Times piece: "As he walks the halls of the Capitol, often surrounded by reporters .... McCain is his usual irreverent, prickly self. ... But he has grown thinner in recent weeks, and sometimes looks fatigued. Those who know him well see the cancer treatment wearing on him."
https://www.axios.com/newsletters/axios-am-d3bc84da-7ab4-478b-af96-b81756b67e03.html?chunk=3#story3
Bonus: Tweet du jour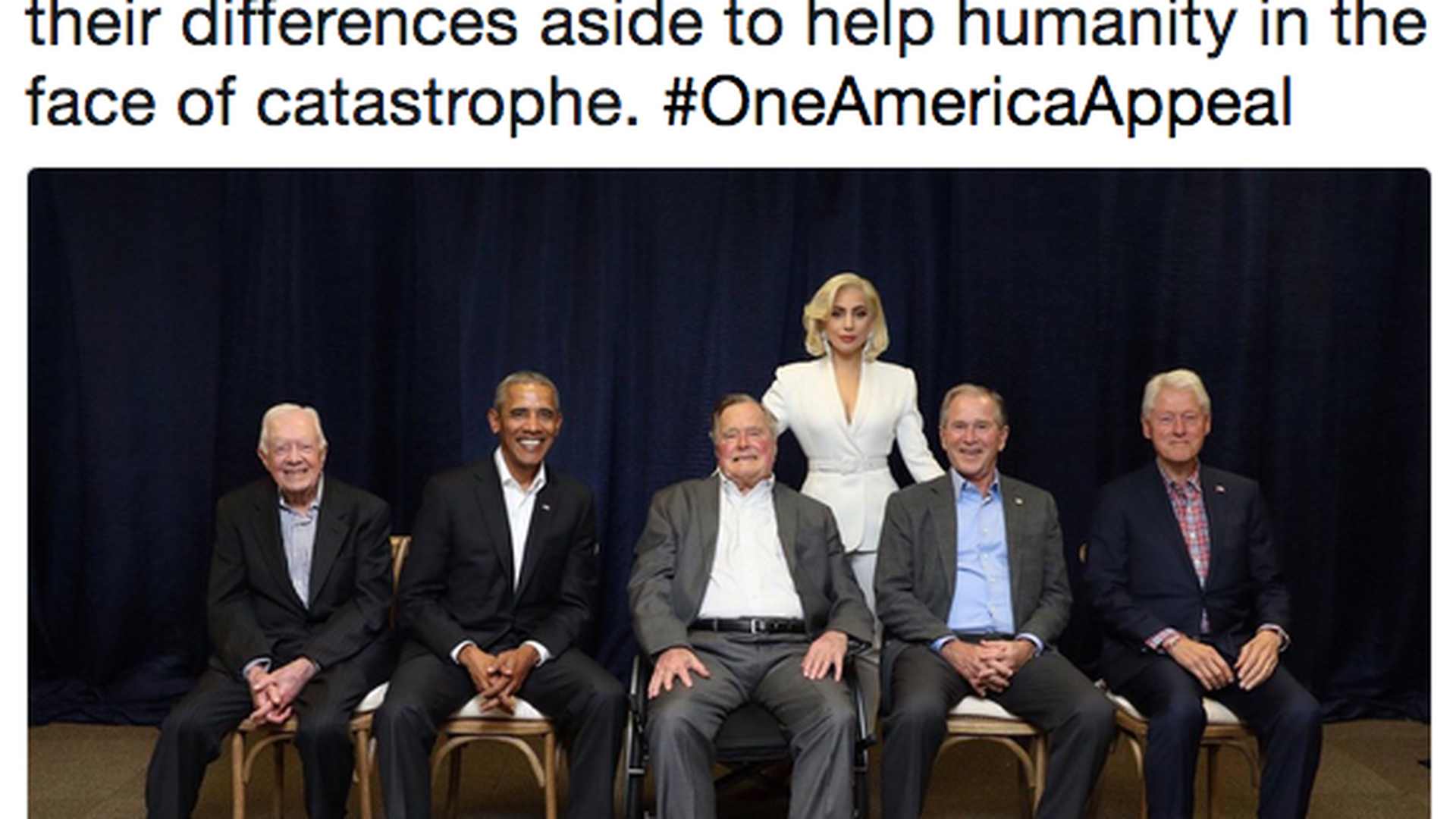 https://www.axios.com/newsletters/axios-am-d3bc84da-7ab4-478b-af96-b81756b67e03.html?chunk=4#story4
4. What would you grab?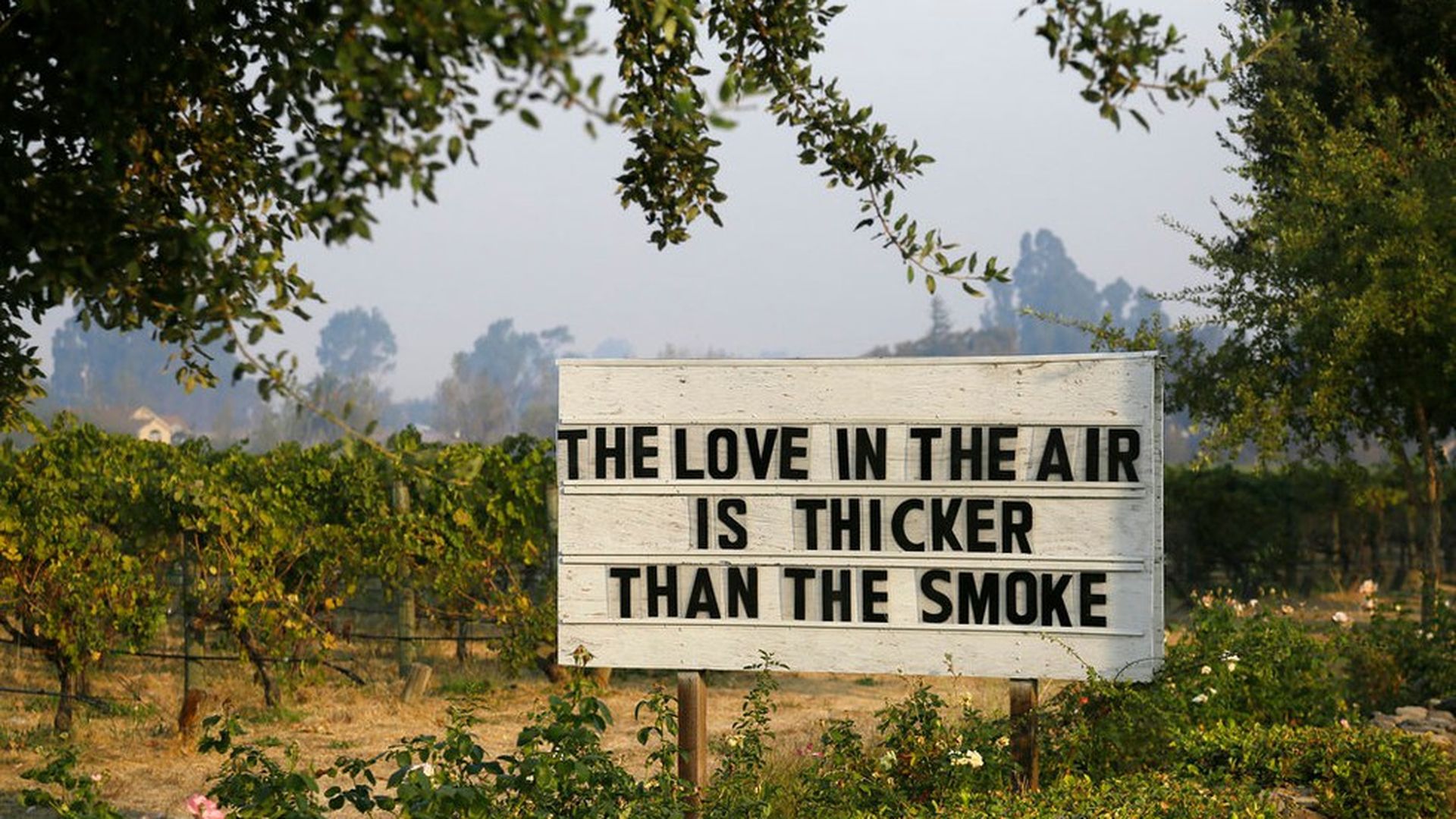 This post-wildfire story by the San Francisco Chronicle's Trisha Thadani makes you think ... "As flames barreled toward their homes, devouring block after block, residents had 15 minutes — in some cases, 15 seconds — to grab what they needed."
"Hurricane-force winds whipped the fire closer, stunning people awake as neighbors banged on doors yelling 'Get out! Get out!' All suddenly faced the same dilemma: What to bring, and what to spare?"
"A musician opted for the violin. A golfer grabbed his clubs. A bride-to-be remembered her dress. Many dived for the practical — toiletries and clothes. Others fumbled though boxes and old photo albums, desperate to save memories."
Why it matters: "Time up. Still in their pajamas, they ran."
"Under the glow of flames, the explanation for what people grabbed was often simple: It was something they defined themselves by, something they couldn't replace or something that would bring them comfort among all the grief and loss that lay ahead."
"Some had planned for this moment with 'go-bags' of clothes or fire-safe boxes with important documents. But others couldn't reason why they plunged for the toothbrush over the wedding ring."
"An 82-year old woman grabbed her walker and— of all things — a hairbrush, but forgot her husband's thyroid medication."
https://www.axios.com/newsletters/axios-am-d3bc84da-7ab4-478b-af96-b81756b67e03.html?chunk=5#story5
5. "Political morass": Hill's Russia probes flailing
"All three committees looking into Russian interference — one in the House, two in the Senate — have run into problems, from insufficient staffing to fights over when the committees should wrap up their investigations," the N.Y. Times' Nicholas Fandos writes on A1:
A "political morass ... is crippling the House Intelligence Committee's investigation."
"The Senate Judiciary Committee's inquiry has barely started, delayed in part by negotiations over the scope of the investigation.
"Leaders of the Senate Intelligence Committee, while maintaining bipartisan comity, have sought to tamp down expectations about what they might find."
Why it matters: "Nine months into the Trump administration, any notion that Capitol Hill would provide a comprehensive, authoritative and bipartisan accounting of the extraordinary efforts of a hostile power to disrupt American democracy appears to be dwindling."
Be smart: Mueller was always going to be the last word. Turns out he may have the only definitive word.
Rising on the right ... Trump said during a press avail last week: "Your real Russia story is uranium and how they got all of that uranium -- a vast percentage of what we have. That is, to me, one of the big stories of the decade."
Trump added in an interview with Fox Business' Maria Bartiromo that aired yesterday, declaring "zero collusion": "I will say this, the uranium situation with Russia getting uranium, they better look into that. That is looking like a very serious situation."
The backstory: "The Senate Judiciary Committee [chaired by Sen. Chuck Grassley] has launched an investigation into a Russian nuclear bribery case ... During his 2016 campaign, Trump frequently cited the deal for the uranium ... and has returned to the issue at rallies during his presidency."
https://www.axios.com/newsletters/axios-am-d3bc84da-7ab4-478b-af96-b81756b67e03.html?chunk=6#story6
6. The ethanol empire strikes back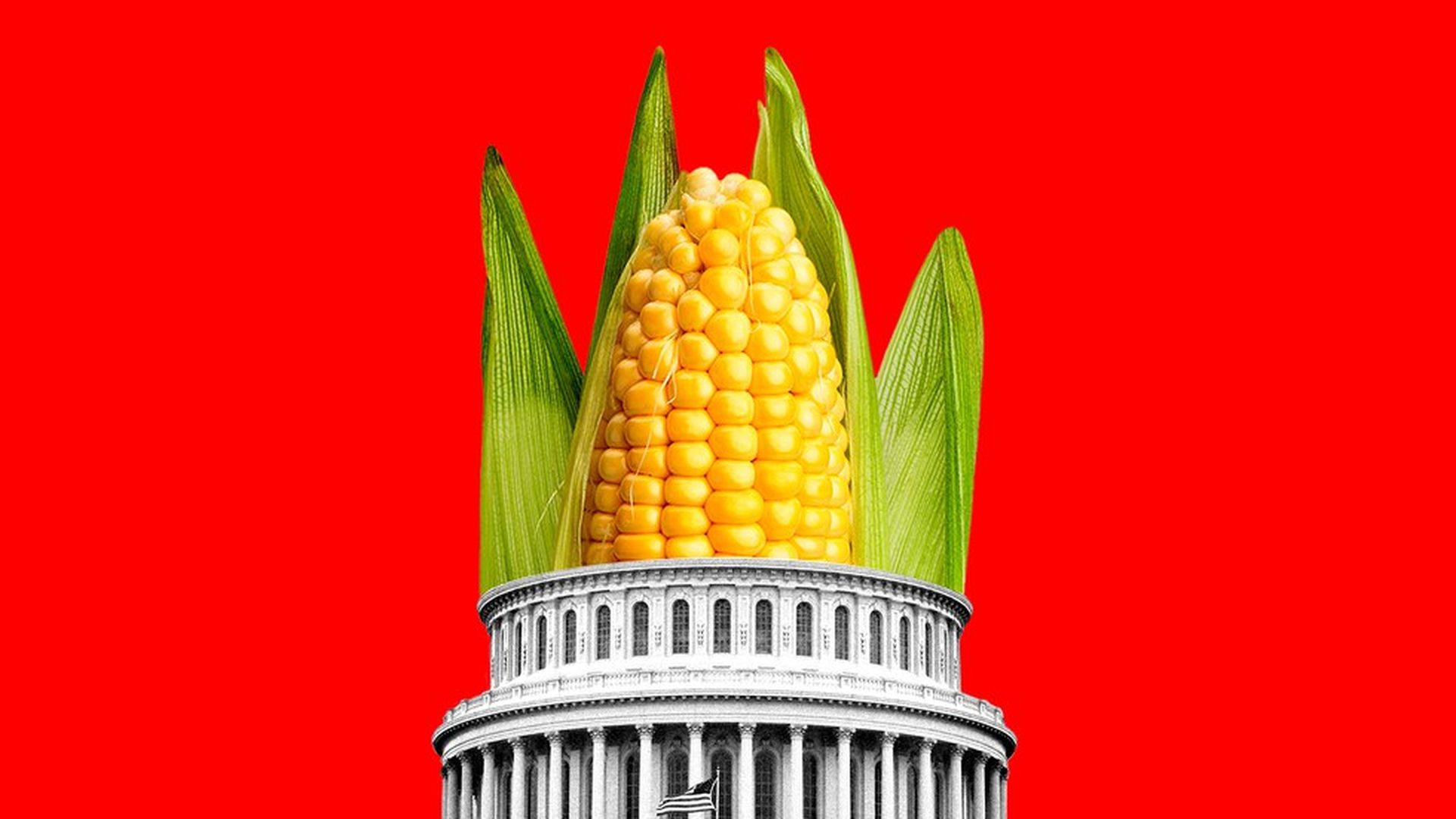 Ethanol is hot like it's the Iowa caucuses. It may be October in an off-cycle year, but President Trump is suddenly facing unusually intense pressure from Midwestern politicians and ethanol companies to keep his campaign promises on this issue, Axios' Amy Harder writes in her weekly "Harder Line" energy column:
What's next: The EPA faces a Nov. 30 deadline to issue quotas for how much biofuels refineries must blend into the gasoline supply. Iowa Gov. Kim Reynolds, a Republican, visits Washington this week and has meetings planned with Vice President Mike Pence and EPA Administrator Scott Pruitt. The oil refining industry will also be scrambling.
Go deeper: Amy's "Fights du jour."
https://www.axios.com/newsletters/axios-am-d3bc84da-7ab4-478b-af96-b81756b67e03.html?chunk=7#story7
7. Who needs me today?
Sen. Ben Sasse (R-Neb.) tweeted a Scientific American article that's worth pondering during your commute ... "The Secret to a Better Night's Sleep: A Sense of Purpose? Intriguing new research suggests a positive sleep role for a meaningful life":
Developing a sense of purpose in life may simultaneously convey other benefits ... in addition to better sleep. Research has linked experiencing purpose in life to a variety of other positive outcomes including better brain functioning, reduced risk of heart attack, and even a higher income. A person with a greater sense of purpose in their life would surely be better off while also serving as a positive example in the lives of those they know.
https://www.axios.com/newsletters/axios-am-d3bc84da-7ab4-478b-af96-b81756b67e03.html?chunk=8#story8
8. Disrupting education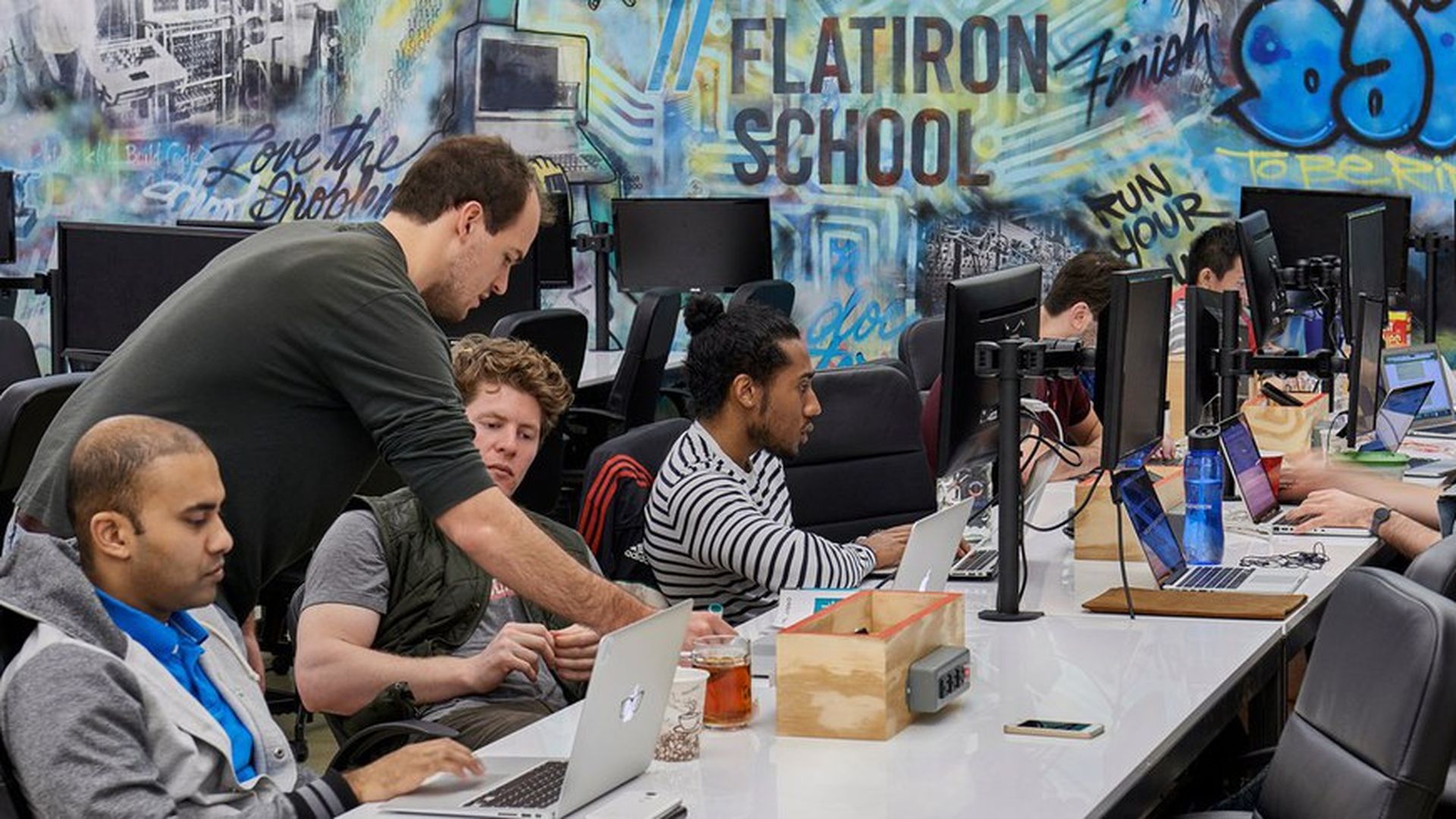 WeWork, the office-space giant serving startups, plans to open coding academies in all 237 of its global coworking locations (55 cities), Axios' Steve LeVine scoops:
Why it matters: This will test the growing idea of bypassing college, at least in the U.S. tech world.
WeWork acquired the New York-based Flatiron School, a private coding academy, in a gamble on 15-week, $15,000 vocational education as opposed to far more expensive four-year college degrees.
It's the first acquisition by WeWork, which at $20 billion is tied for the sixth most-valuable startup in the world.
The big picture: At a time many experts and politicians are questioning the assumption that college is for everyone, the deal bets on a fashionable form of vocational education — coding — as a route to well-paying software jobs.
https://www.axios.com/newsletters/axios-am-d3bc84da-7ab4-478b-af96-b81756b67e03.html?chunk=9#story9
9. The future is now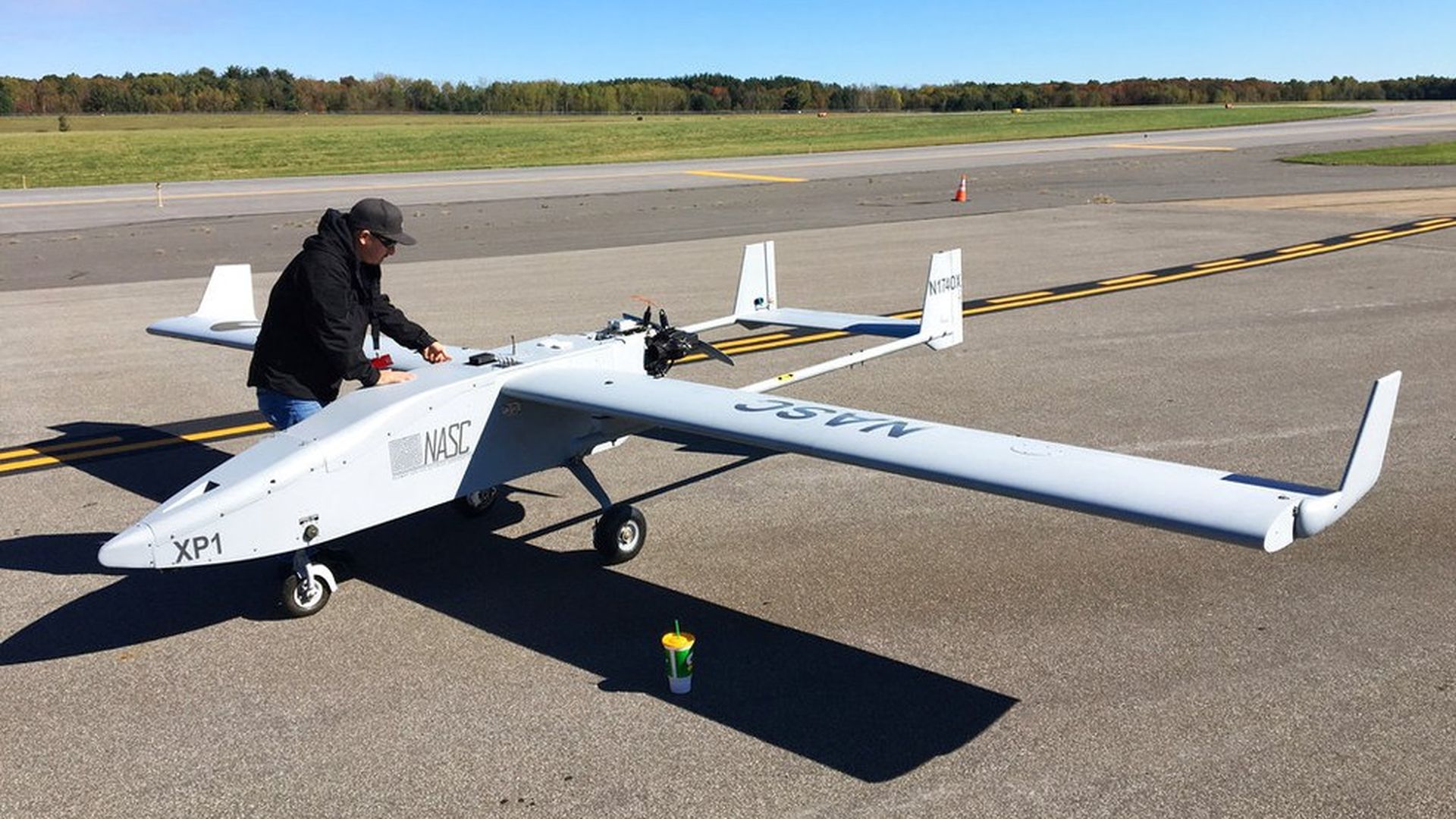 "Envisioning a day when millions of drones will buzz around delivering packages, watching crops or inspecting pipelines, a coalition is creating an airspace corridor in upstate New York where traffic management systems will be developed and unmanned aircraft can undergo safety and performance testing," AP's Mary Esch reports:
"The [Rome, N.Y.] airport is one of seven places around the country designated by the [FAA] as an unmanned aircraft systems test site. Other sites are in Virginia, North Dakota, New Mexico, Texas, Nevada and Alaska."
What's next: "Like self-driving cars, unmanned aircraft will ultimately need onboard sensors allowing them to detect and avoid obstacles including other aircraft."
https://www.axios.com/newsletters/axios-am-d3bc84da-7ab4-478b-af96-b81756b67e03.html?chunk=10#story10
10. 1 fading thing: Freeways fall from favor
"Exit the Expressway ... Once So Chic and Swooshy, Freeways [in-city highways] Are Falling Out of Favor: Several cities face pressure to tear down the 1960s-era mega-roads and reinstate pedestrian-friendly streets," by N.Y. Times' Steven Kurutz:
"[S]everal cities have removed or decommissioned existing highways, including Paris; Seoul, South Korea; Boston; and Portland, Ore. Last year, Rochester buried a portion of a downtown expressway known as the Inner Loop, a stretch of sunken highway the city's mayor likened to a 'moat.' It is being replaced with a boulevard on the same grade as the rest of the streetscape."
"[B]ecause of a confluence of factors, including the embrace of ride-hailing services like Uber and the rebirth of cities as places to live, work, raise families and retire to, advocates ... see an 'incredible opportunity' to remove even more pavement."
"Many in-city highways were built during the post-World War II boom years with easy money from the 1956 Federal-Aid Highway Act. They hail from an age when the automobile was ascendant and were built to quickly move commuters in and out of urban centers; many of these highways were used by white suburbanites and built in low-income minority neighborhoods."
"Perhaps the greatest argument that removal advocates have is that so much of this infrastructure is nearing the end of its life span. In this era of tight budgets and political gridlock, it may be cheaper for local and state governments to remove a freeway rather than repair or build a new one."