Good Sunday morning. Situational awareness: The N.Y. Times reports on A1 that the White House has rejected a scorched-earth approach with Mueller and instead is "cooperating with the special counsel in the hope that Mr. Mueller will declare in the coming months that Mr. Trump is not a target of the Russia inquiry. ... One administration official said it was not yet clear how the White House would make its request for Mr. Mueller to publicly exonerate Mr. Trump."
https://www.axios.com/newsletters/axios-am-d26d6702-b46a-4b64-8171-60587bfc2d98.html?chunk=0#story0
1 big thing: Trump's gamble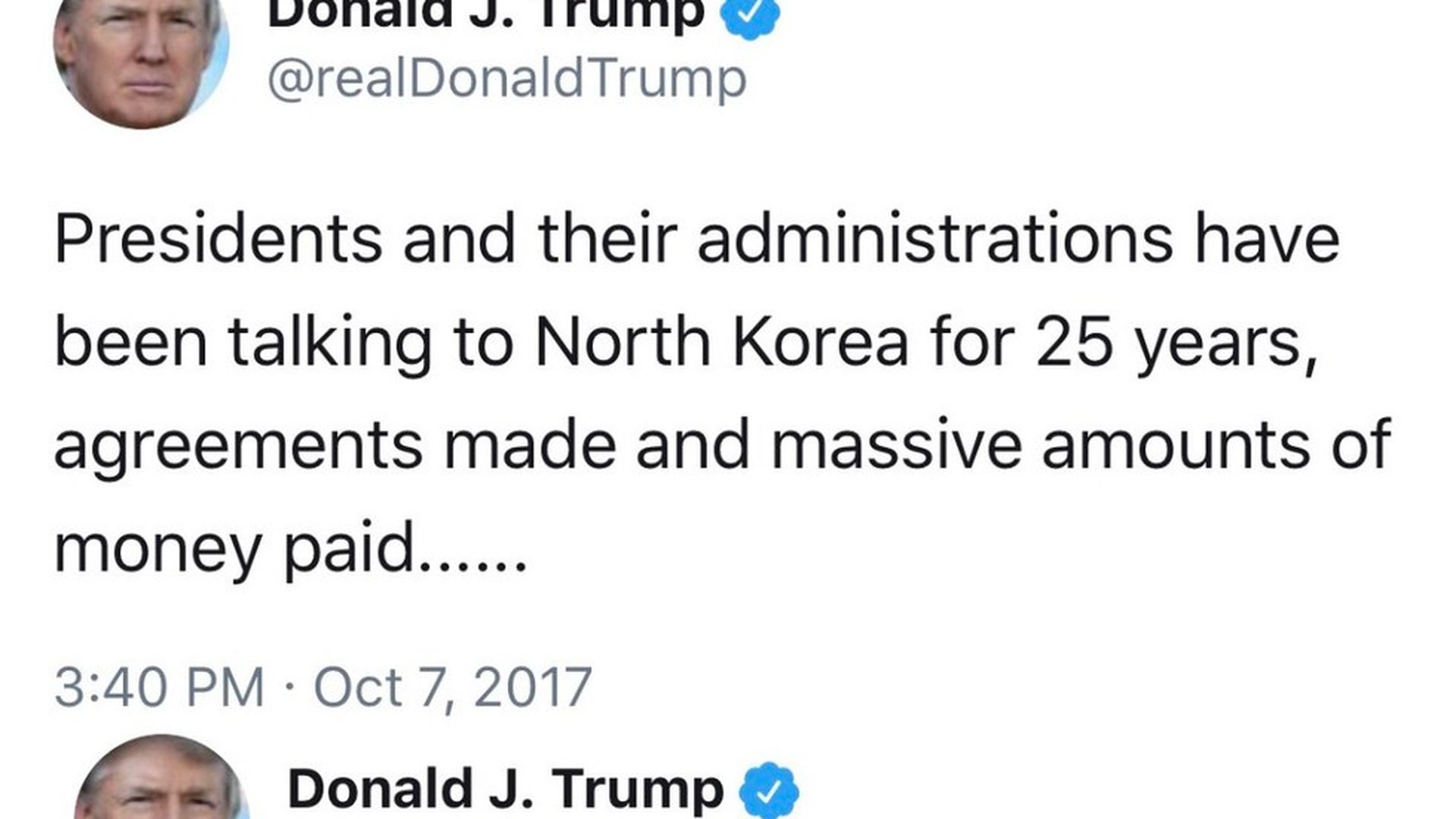 I got a spate of "Yikes!" emails after President Trump's "only one thing will work" tweet yesterday, which looks like pretty blatant saber-rattling against North Korea.
A White House official, asked to elaborate on "only one thing," said: "The President is a decisive leader and when there is more to say or understand, you will know. Until then, the world is watching."
Ian Bremmer, president of Eurasia Group, tweeted in response to a question about how other world leaders react to these tweets: "They mostly recognize they're completely disconnected from policy."
And that's usually our advice to you: Watch what he does, not what he says or tweets.
It's the assumption of many people around Trump, and perhaps the president himself, that these outbursts are cost-free: It gets the media in a tizzy, and diverts attention from current problems to a new cliffhanger.
But what if Kim Jong-un takes the bait? We saw during the campaign that Trump is adept at getting an opponent's goat (see water-guzzling "Little Marco").
So we're counting on an unstable, insecure 33-year-old (with nukes!) to brush off Trump's taunts.
There was a bit of reassurance this week from a top CIA official, who said at George Washington University that Kim's actions aren't those of a madman, but a "rational actor" motivated by long-term goals that revolve around ensuring regime survival, CNN reported.
And a senior administration official told Jonathan Swan recently that the U.S. government doesn't believe Kim Jong-un is suicidal: There's a reason he's threatening to fire rockets within range of Guam, not at Guam.
One student of Trump emails: "Trump thinks he is leveraging Kim's fear of war. Trump believes Kim will fear Trump's unpredictability. This is an unsophisticated and uninformed view of Kim."
Richard Haass, president of the Council on Foreign Relations, told me that Trump "seems to think that this sort of threat will persuade North Korea or China or both to reconsider their ways."
"It will have just the opposite effect with North Korea, and is highly unlikely to get China to change its policy, as he has not given them any incentive to do so. I also expect these tweets will cause consternation in Seoul."
"Why "the opposite effect"? "Trump's threats will reinforce North Korea's sense that it needs nuclear weapons, and long-range missiles, in order to deter American military action and efforts to bring about regime change. They look at Ukraine and Iraq and Libya and see nukes as a security blanket."
A former top Obama national-security official told me the tweets are "certainly bolstering the madman storyline" — that there's no telling what Trump may do. But the official offered this reality check:
There are 28,500 U.S. troops in South Korea right now, and 230,000 additional U.S. citizens (including families of those service members).
Keep an eye on flights to Japan: Evacuation drills are conducted every year. If the U.S. ever had to evacuate its citizens, that's where they'd go first.
"Just something to keep an eye on if this is anything more than mind games."
Be smart: None of this may matter. Ian Bremmer told me yesterday that the U.S. is on the road to eventually recognizing North Korea as a nuclear power, regardless of Trump.
https://www.axios.com/newsletters/axios-am-d26d6702-b46a-4b64-8171-60587bfc2d98.html?chunk=1#story1
2. How they see us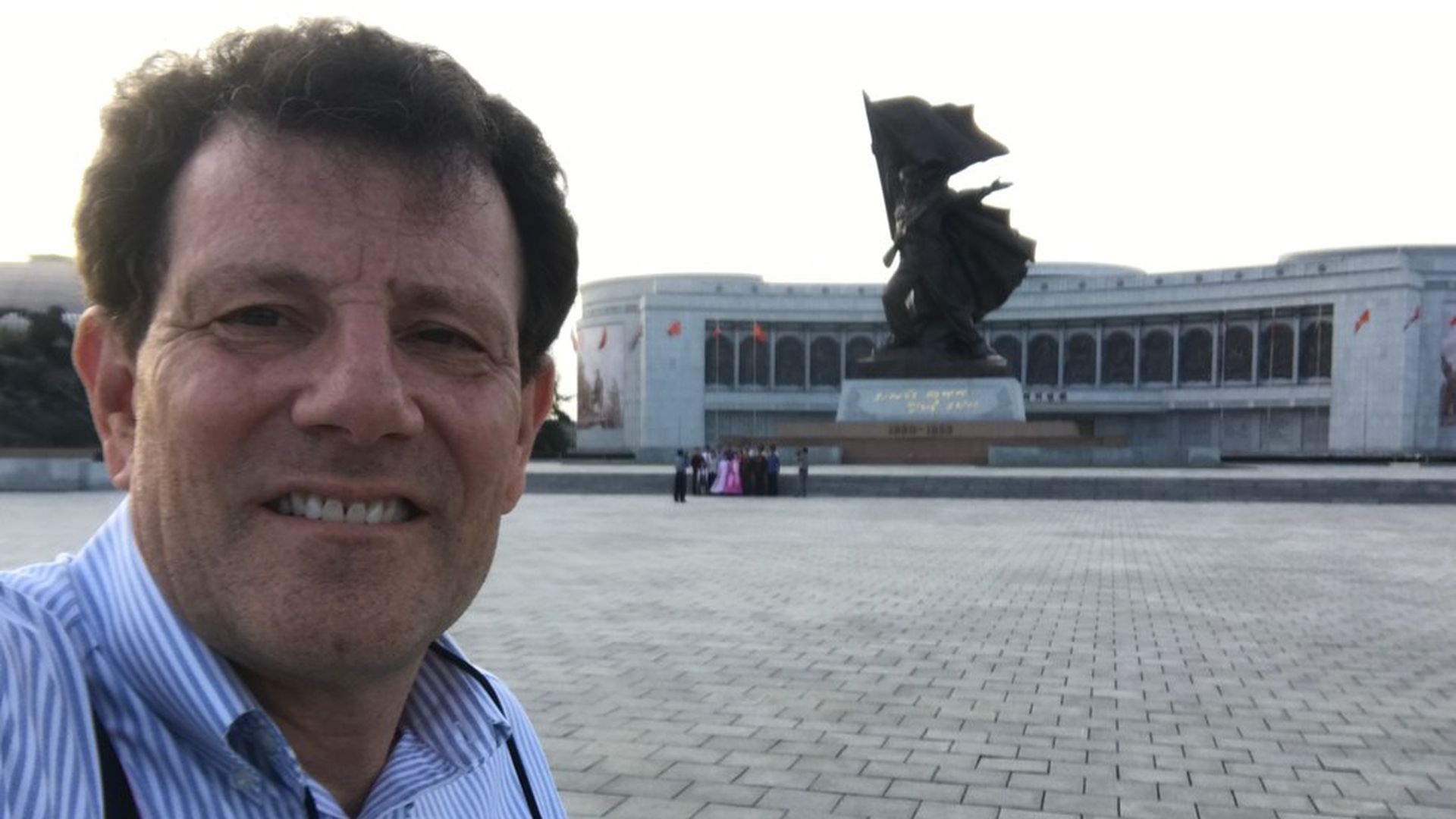 "I've been covering North Korea on and off since the 1980s, and this five-day trip has left me more alarmed than ever about the risks of a catastrophic confrontation," N.Y. Times columnist Nick Kristof writes from Pyongyang:
"Officials offered no apology [for leaving U.V.a student Otto Warmbier in a coma] and gave no ground, reflecting a hard line toward the United States that I found everywhere on this visit; [senior Foreign Ministry official Choe Kang-il] derided President Trump as 'a crazy man,' 'a thug' and 'a pathetic man with a big mouth.'"
Why it matters: "Far more than when I previously visited, North Korea is galvanizing its people to expect a nuclear war with the United States."
"High school students march in the streets in military uniform every day to denounce America. Posters and billboards along the public roads show missiles destroying the U.S. Capitol and shredding the American flag."
"[I]mages of missiles are everywhere — in a kindergarten playground, at a dolphin show, on state television."
"This military mobilization is accompanied by the ubiquitous assumption that North Korea could not only survive a nuclear conflict, but also win it."
The whole column is worthy of your time.
https://www.axios.com/newsletters/axios-am-d26d6702-b46a-4b64-8171-60587bfc2d98.html?chunk=2#story2
3. The global megacity boom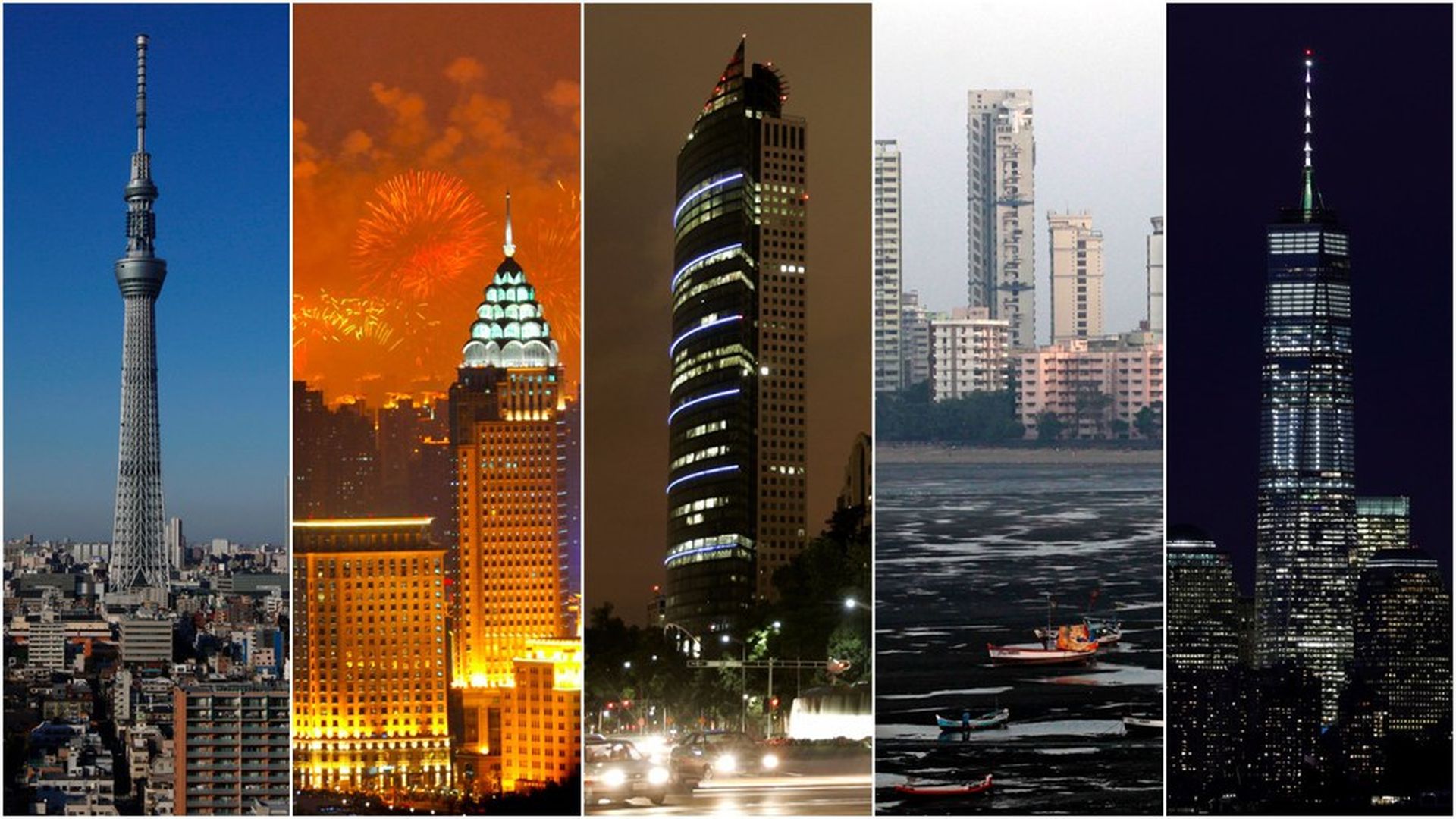 In 1975, the world had three metro areas with at least 10 million people — Tokyo, New York and Mexico City.
Now there are 31 megacities with at least 10 million people, and most of them are in the developing world, Axios Dave Lawler writes:
The UN projects 10 more will join the list by 2030. All but one (Bogotá) is in Africa or Asia.
Of the world's 31 megacities, 6 are in China and 5 are in India. By 2030, each country will have 7 megacities.
In 1975, the 10 largest cities included Paris (now 25th), Moscow (22nd) and Los Angeles (21st).
See the world's biggest metro areas (Toyko is #1, New York is #10).
https://www.axios.com/newsletters/axios-am-d26d6702-b46a-4b64-8171-60587bfc2d98.html?chunk=3#story3
4. 100,000 Facebook ads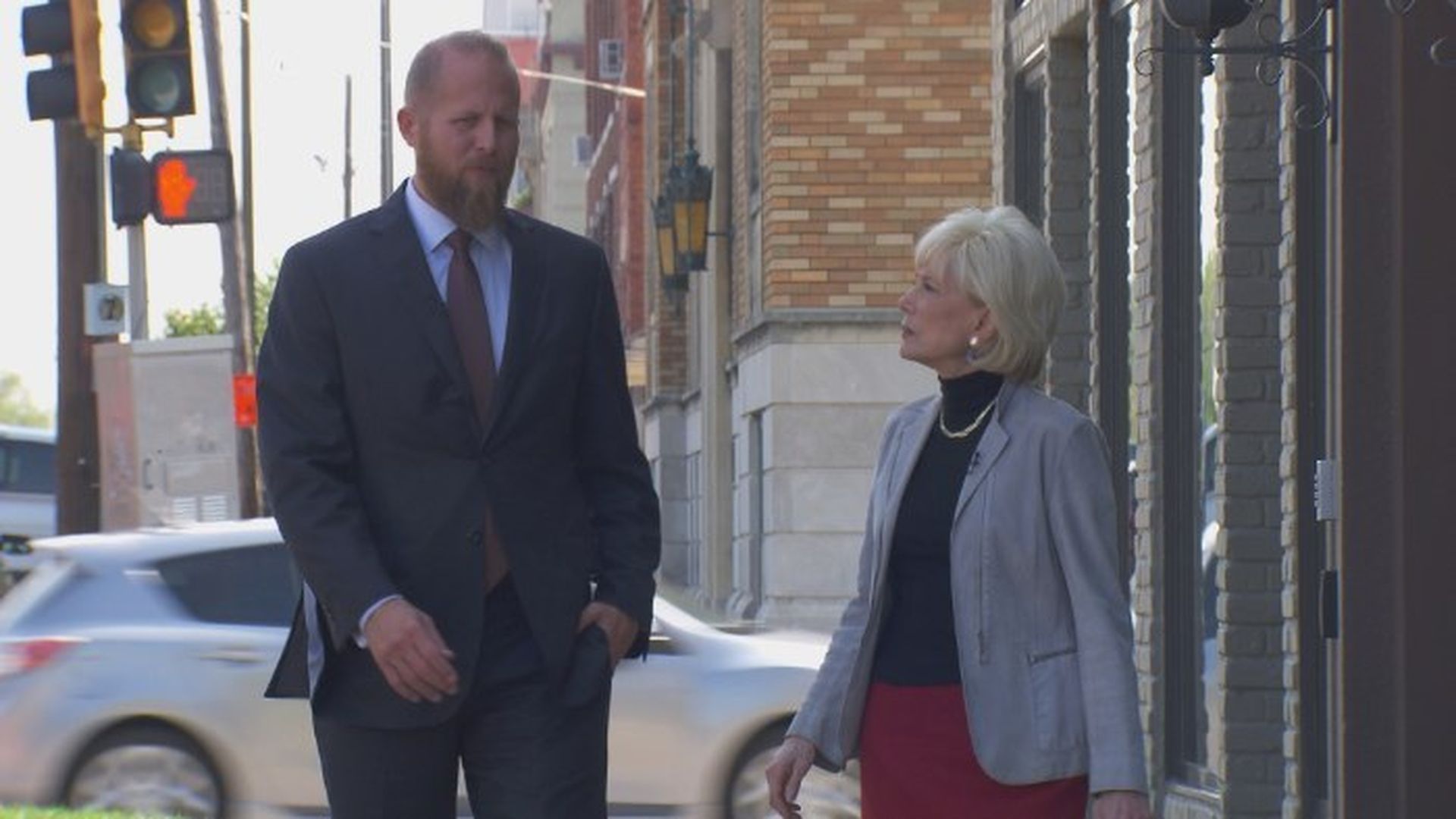 Brad Parscale, the Trump campaign's digital director, tells Lesley Stahl on tonight's "60 Minutes" that the campaign averaged 50,000 to 60,000 different Facebook ad versions every day, some days peaking at 100,000 separate iterations (with minute shifts in design, colors, backgrounds, words).
Why it matters ... Parscale: "Twitter is how [Trump] talked to the people, Facebook was going to be how he won."
Parscale says he used the majority of his digital ad budget on Facebook, which were particularly efficient in reaching the rural vote: "Facebook lets you get to…15 people in the Florida Panhandle that I would never buy a TV commercial for."
Infrastructure proved to be a powerful theme: "I started making ads that showed the bridge crumbling … That's micro targeting … I can find the 1,500 people in one town that care about infrastructure. Now that might be a voter that normally votes Democrat."
Parscale received help from Facebook "embeds" provided by the company, who showed up to work at his office multiple days a week. He says they had to be Republican, and he questioned them to make sure: "I wanted people who supported Donald Trump."
Parscale: "These social platforms are all invented by very liberal people on the West and East Coast. And we figure out how to use it to push conservative values. I don't think they thought that would ever happen."
https://www.axios.com/newsletters/axios-am-d26d6702-b46a-4b64-8171-60587bfc2d98.html?chunk=4#story4
5. Understanding America
The most memorable story in the Sunday papers besides the Kristof column is the cover story of WashPost Business, "'Hire American'? Tough job ... A landscaper's 'hire American' plan ended with bringing in Mexican workers to finish the job," by Tracy Jan in Denver:
"Jesus 'Chuy' Medrano, founder and owner of CoCal Landscape, ... spent more than $32,000 recruiting and securing visas for ... Mexican migrants after scrambling to find Americans willing to do backbreaking work under the Colorado sun."
"Medrano's extraordinary recruitment effort — which included three days in Ciudad Juarez while the U.S. Consulate processed the work visas — encapsulates the complex relationship between American employers and temporary foreign workers."
Why it matters: "In landscaping, tourism, seafood processing and other seasonal industries, employers are desperate to find Americans who will stay on the job for the pay they are able to offer — $14 an hour is the starting salary at Medrano's firm."
https://www.axios.com/newsletters/axios-am-d26d6702-b46a-4b64-8171-60587bfc2d98.html?chunk=5#story5
6. 1 Tom thing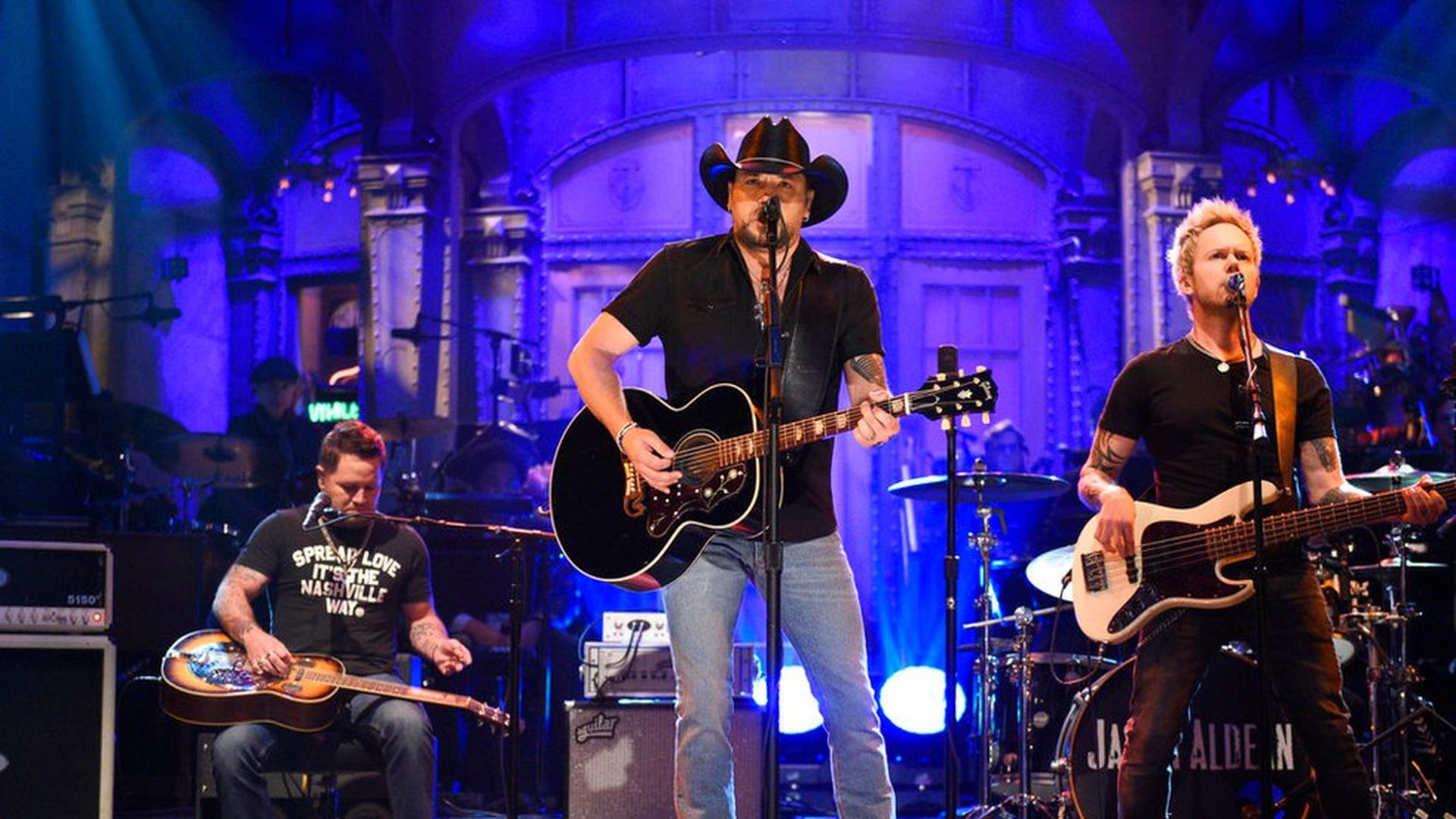 Country star Jason Aldean, who was performing at the outdoor concert in Vegas when the gunfire started, took the stage for the "Saturday Night Live" cold open. He then performed Tom Petty's defiant anthem "I Won't Back Down," in tribute to the late rocker and the massacre victims.
Aldean, via N.Y. Times' Dave Itzkoff: "This week, we witnessed one of the worst tragedies in American history. Like everyone, I'm struggling to understand what happened that night and how to pick up the pieces and start to heal. So many people are hurting. There are children, parents, brothers, sisters, friends. They're all part of our family."
"So I want to say to them: We hurt for you, and we hurt with you. But you can be sure that we're going to walk through these tough times together, every step of the way. Because when America is at its best, our bond and our spirit — it's unbreakable."
https://www.axios.com/newsletters/axios-am-d26d6702-b46a-4b64-8171-60587bfc2d98.html?chunk=6#story6
Bonus: Mitch Landrieu's 6 big things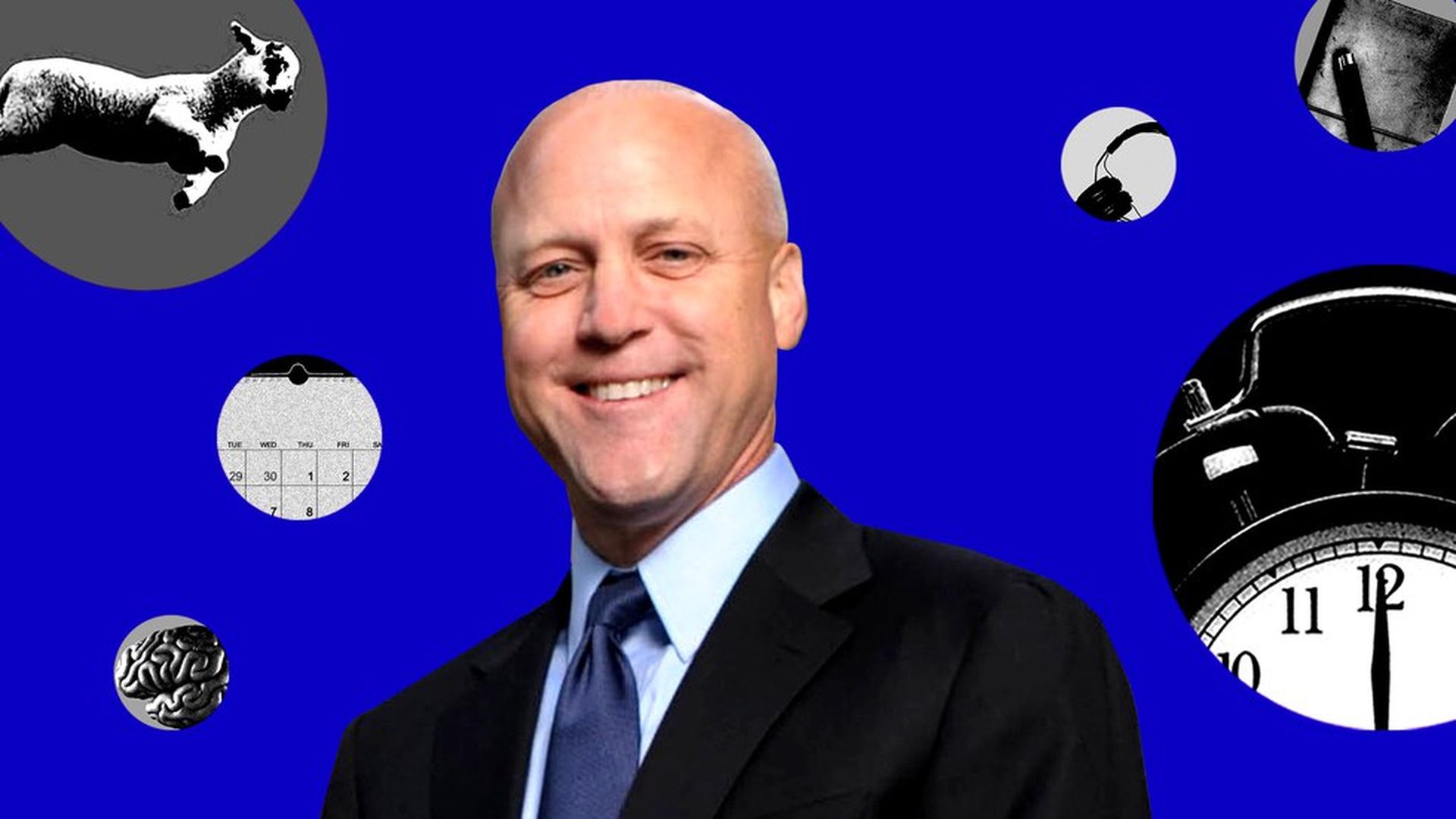 New Orleans Mayor Mitch Landrieu, whose speech in May on the removal of Confederate monuments elevated him in the 2020 Democratic presidential stakes, talks with Axios for our monthly feature on the quirks, hacks and habits of some of our most consequential neighbors.