Good Tuesday morning. Situational awareness: Market strategists say the shaky economic conditions that tend to foretell a bear market are absent. (Reuters) ... Sea level rise, based on 25 years of satellite data, has quickened. (AP) ... N.Y. Times CEO Mark Thompson: "I believe at least 10 years is what we can see in the U.S. for our print products." After that, "We'll decide ... simply on the economics." (CNBC)
https://www.axios.com/newsletters/axios-am-ce4ef8c4-95b3-4c81-ab87-eb7494d74c07.html?chunk=0#story0
1 big thing: Bill Gates warns Big Tech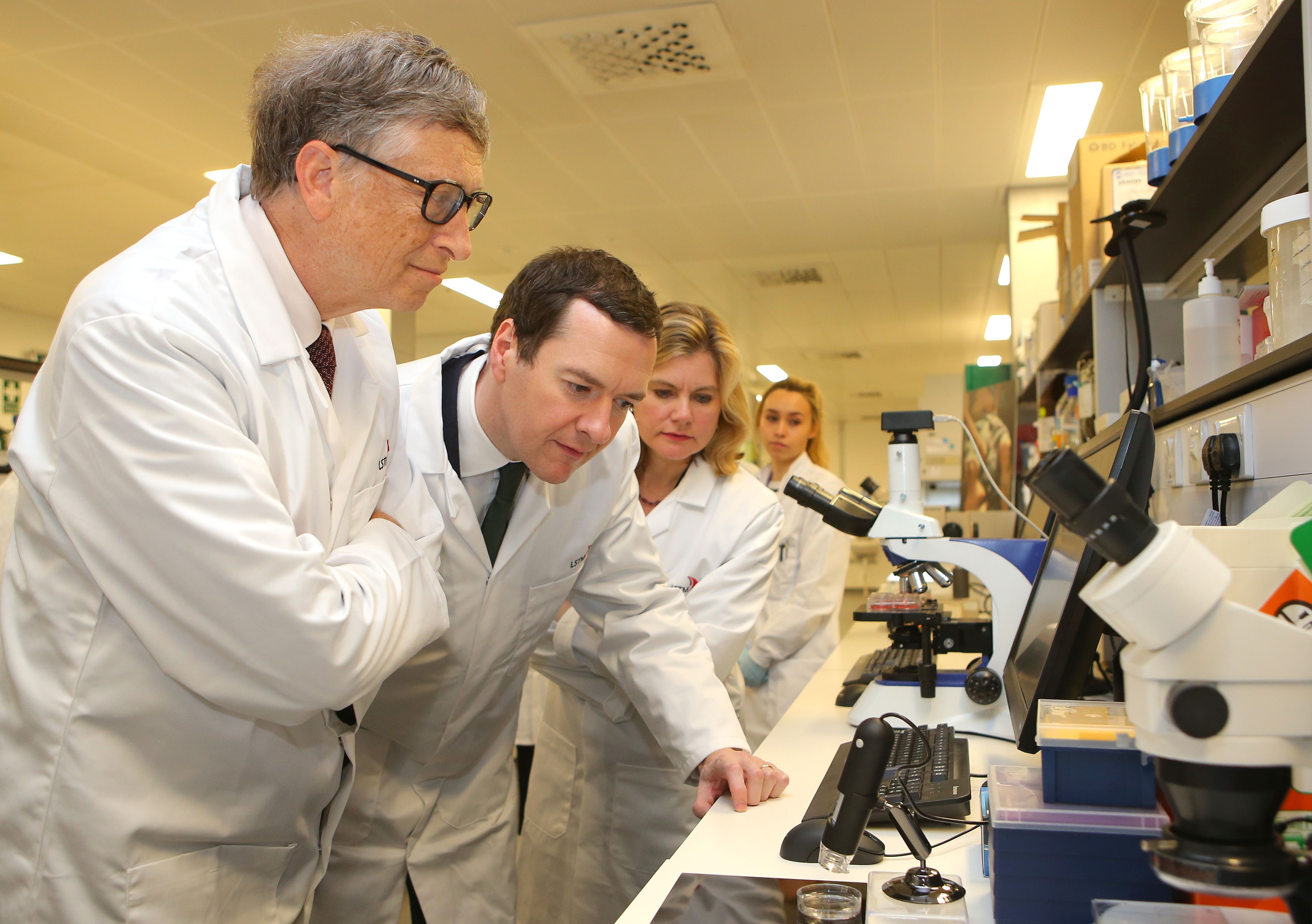 Bill Gates, announcing a pledge to help end malaria deaths, looks through a microscope at the Liverpool School of Tropical Medicine, in England in 2016. (Dave Thompson / WPA Pool / Getty Images)
In an interview with Axios, Bill Gates warned Apple and other tech giants that they risk the kind of nightmarish government intervention that once plagued his Microsoft if they act arrogantly:
Gates, in an interview ahead of today's release of the annual letter of the Bill & Melinda Gates Foundation, told me: "The companies need to be careful that they're not ... advocating things that would prevent government from being able to, under appropriate review, perform the type of functions that we've come to count on."
Asked if he sees instances of that now, Gates replied: "Oh, absolutely."
Why it matters: With the Big Tech companies feeling they're suddenly drawing unfair scrutiny, this is Microsoft's co-founder saying they're bringing some of the problems on themselves, by resisting legitimate oversight.
Gates said in a phone interview: "The tech companies have to be ... careful that they're not trying to think their view is more important than the government's view, or than the government being able to function in some key areas."
Asked for an example, Gates pointed to the companies' "enthusiasm about making financial transactions anonymous and invisible, and their view that even a clear mass-murdering criminal's communication should never be available to the government."
When I said he seemed to be referring to being able to unlock an iPhone, Gates replied: "There's no question of ability; it's the question of willingness."
Gates is a huge optimist. So I asked him what big trends scare him:
"There's always the question how much technology is empowering a small group of people to cause damage. ... [S]maller groups might have access to ... nuclear weapons or, even worse, bioterror or cyber" weapons.
"[I]t's easier for kids to do genetics in a laboratory. That's a really good thing, unless a few people decide to make human-transmissible smallpox and spread that into the world."
"A small group can have an impact — in the case of nuclear, on millions; and in the case of bio, on billions. That is scary to me."
In a first, this year's letter from Bill and Melinda Gates (complete with handwritten notations) is in the form of 10 Tough Questions, including how President Trump's policies are affecting the foundation's work:
"Although we disagree with this administration more than the others we've met with, we believe it's still important to work together whenever possible. We keep talking to them because if the U.S. cuts back on its investments abroad, people in other countries will die, and Americans will be worse off."
Go deeper: Read the annual letter .... Follow Bill Gates' blog, Gates Notes (including book picks) ... AP: "Bill, Melinda Gates turn attention toward poverty in America."
https://www.axios.com/newsletters/axios-am-ce4ef8c4-95b3-4c81-ab87-eb7494d74c07.html?chunk=1#story1
2. Big Tech red flags continue to be ignored
Illustration: Rebecca Zisser / Axios 
Technologist Aviv Ovadya, one of the first to identify the fake news catastrophe in early 2016, tells BuzzFeed he is worried about an "information apocalypse" in which people give up on finding the truth.
Why it matters, from Axios' Sara Fischer and David McCabe: Red flags are being waved by engineers, academics, lawmakers and technologists about tech dangers, yet little is being done to stop the crisis:
Marketers continue to spend more and more advertising dollars on these platforms, which led them to record earnings last quarter.
Lawmakers are talking about the power of these companies, but no piece of legislation is likely to pass any time soon.
Tech companies are trying to do damage control, but the bad content still sweeping their platforms shows they can't get ahead of the problem.
Our thought bubble: Facebook is starting to see consumer health and perception as a long-term way of sustaining its business. 
https://www.axios.com/newsletters/axios-am-ce4ef8c4-95b3-4c81-ab87-eb7494d74c07.html?chunk=2#story2
3. Inside the two years that shook Facebook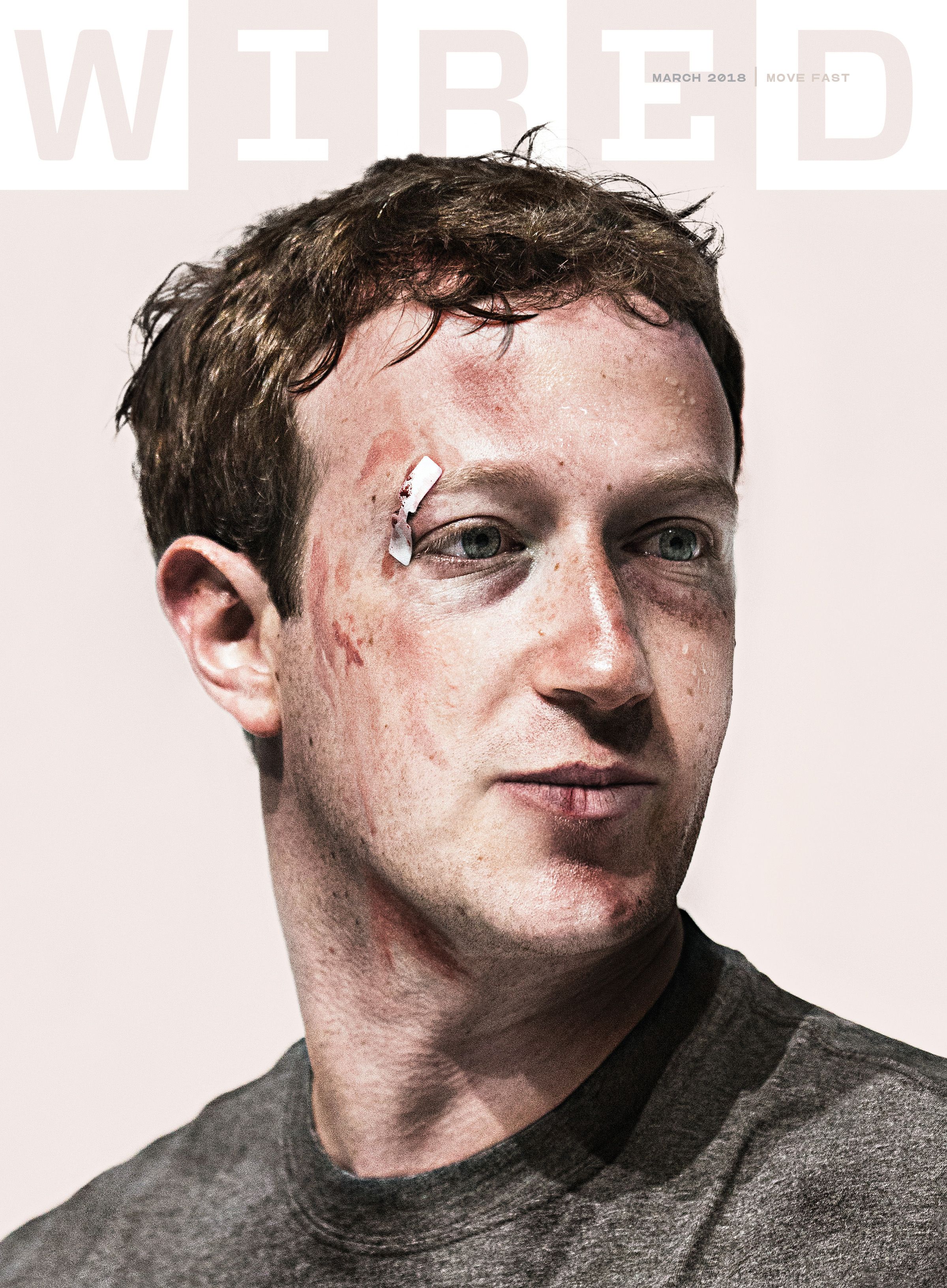 Courtesy Wired
"How a confused, defensive social media giant steered itself into a disaster, and how Mark Zuckerberg is trying to fix it all" — Wired cover story by editor-in-chief Nick Thompson and contributing editor Fred Vogelstein:
The narrative: "a company, and a CEO, whose techno-optimism has been crushed as they've learned the myriad ways their platform can be used for ill."
"Zuckerberg pursued a strategy he has often deployed against competitors he cannot buy: He copied, then crushed."
"It appears that Facebook did not ... carefully think through the implications of becoming the dominant force in the news industry. "
"Even current Facebookers acknowledge now that they missed what should have been obvious signs of people misusing the platform."
After what the Facebook CEO took as a threatening encounter with Rupert Murdoch at the Sun Valley media conference in July 2016, Zuckerberg "told his employees that things had to change. They still weren't in the news business, but they had to make sure there would be a news business. And they had to communicate better."
"It's not easy to recognize that the machine you've built to bring people together is being used to tear them apart, and Mark Zuckerberg's initial reaction to Trump's victory, and Facebook's possible role in it, was one of peevish dismissal."
https://www.axios.com/newsletters/axios-am-ce4ef8c4-95b3-4c81-ab87-eb7494d74c07.html?chunk=3#story3
Bonus: Pics du jour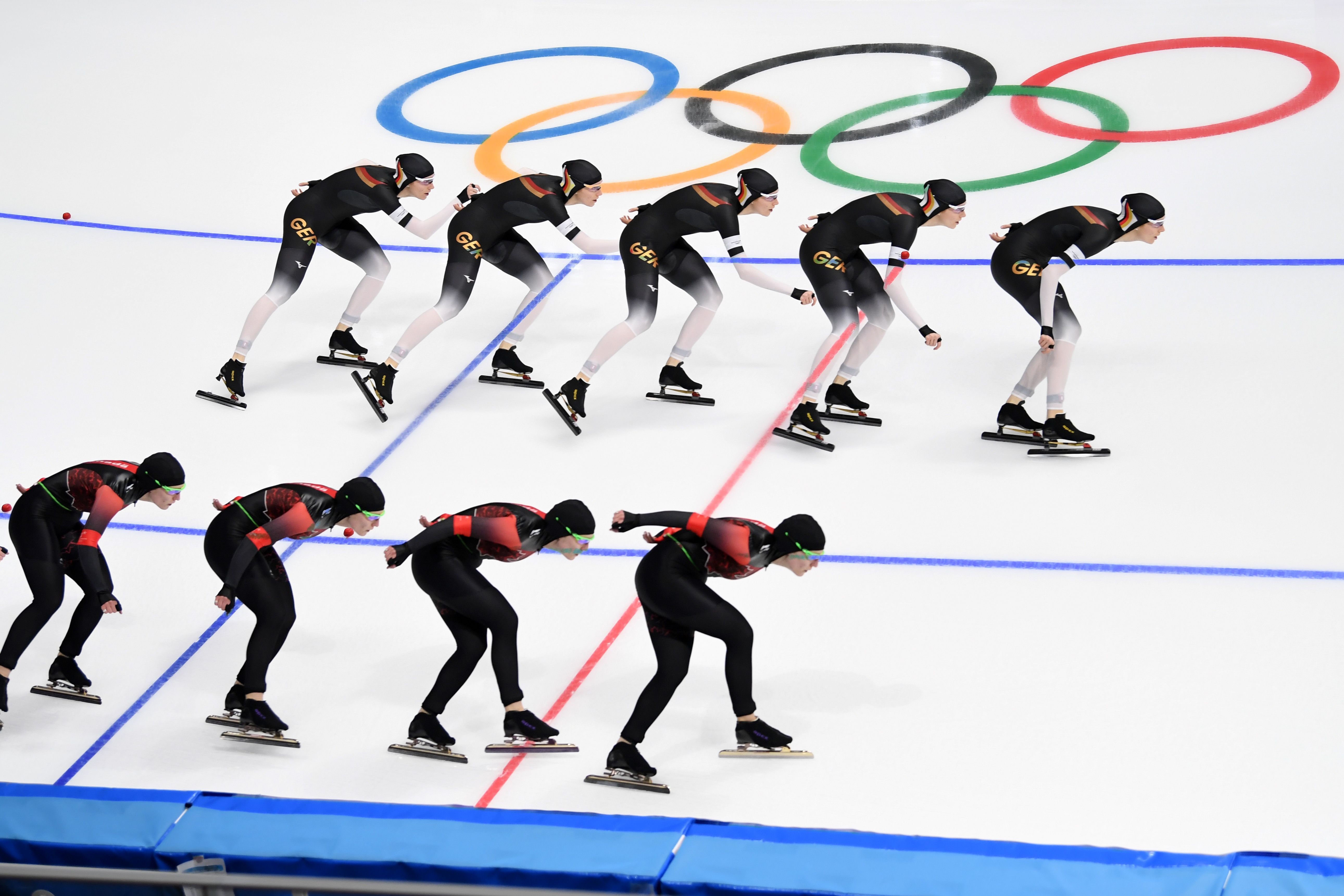 Watch them race ... This multiple-exposure photo shows Germany's Roxanne Dufter (top) and Canada's Kali Christ competing in women's 1,500-meter speed skating. (Roberto Schmidt / AFP / Getty Images)
The Winter Olympics are too cold — poised to be the coldest in two decades, per Bloomberg:
"The freezing weather, combined with wind gusts of more than 45 miles an hour at some venues, has delayed three alpine skiing competitions and fueled concerns over the safety and performance of athletes."
"The cold and wind is standing in the way of potential sporting glory they've been aspiring to after years of preparation."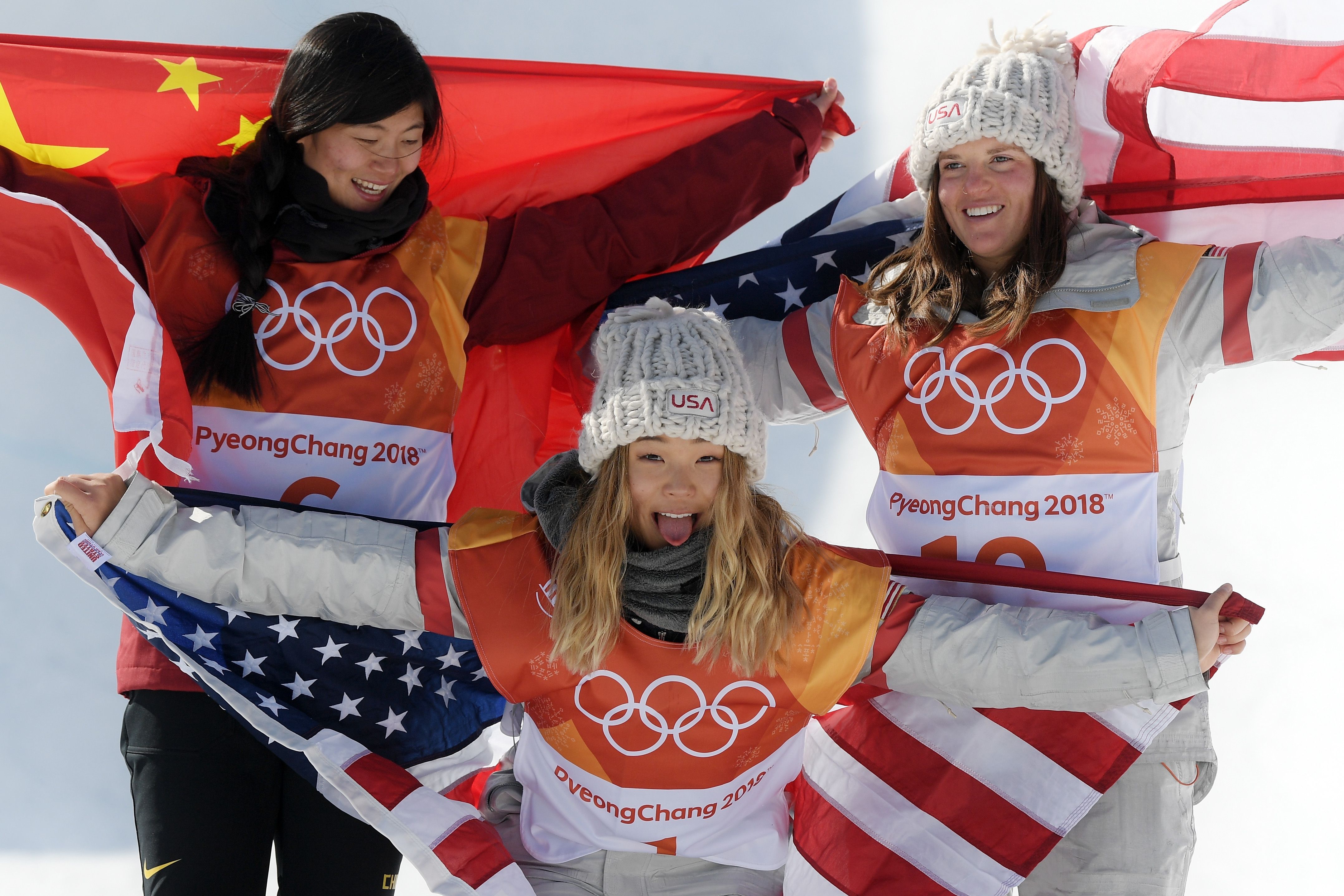 Left to right, silver medalist Jiayu Liu of China, gold medalist Chloe Kim of the USA and bronze medalist Arielle Gold of the USA celebrate today during the victory ceremony for the snowboard women's halfpipe final. (David Ramos / Getty Images)
https://www.axios.com/newsletters/axios-am-ce4ef8c4-95b3-4c81-ab87-eb7494d74c07.html?chunk=4#story4
4. David Brooks: Our two parties will splinter
Megatrend ... N.Y. Times columnist David Brooks, "The End of The Two-Party System":
"[T]he style of politics that Trump's scarcity mind-set demands has been a disaster for conservative governance. He insists on perpetual warfare."
Why it matters: "All of this would be survivable if the mentality was going away in a few years. But it is not going away. The underlying conditions ... are only going to get worse. ... Trump will be succeeded by some other warrior."
"Eventually, those who cherish the democratic way of life will realize they have to make a much more radical break than any they ever imagined."
"When this realization dawns the realignment begins."
"Even with all the structural barriers, we could end up with a European-style multiparty system."
https://www.axios.com/newsletters/axios-am-ce4ef8c4-95b3-4c81-ab87-eb7494d74c07.html?chunk=5#story5
5. The Obamas, for posterity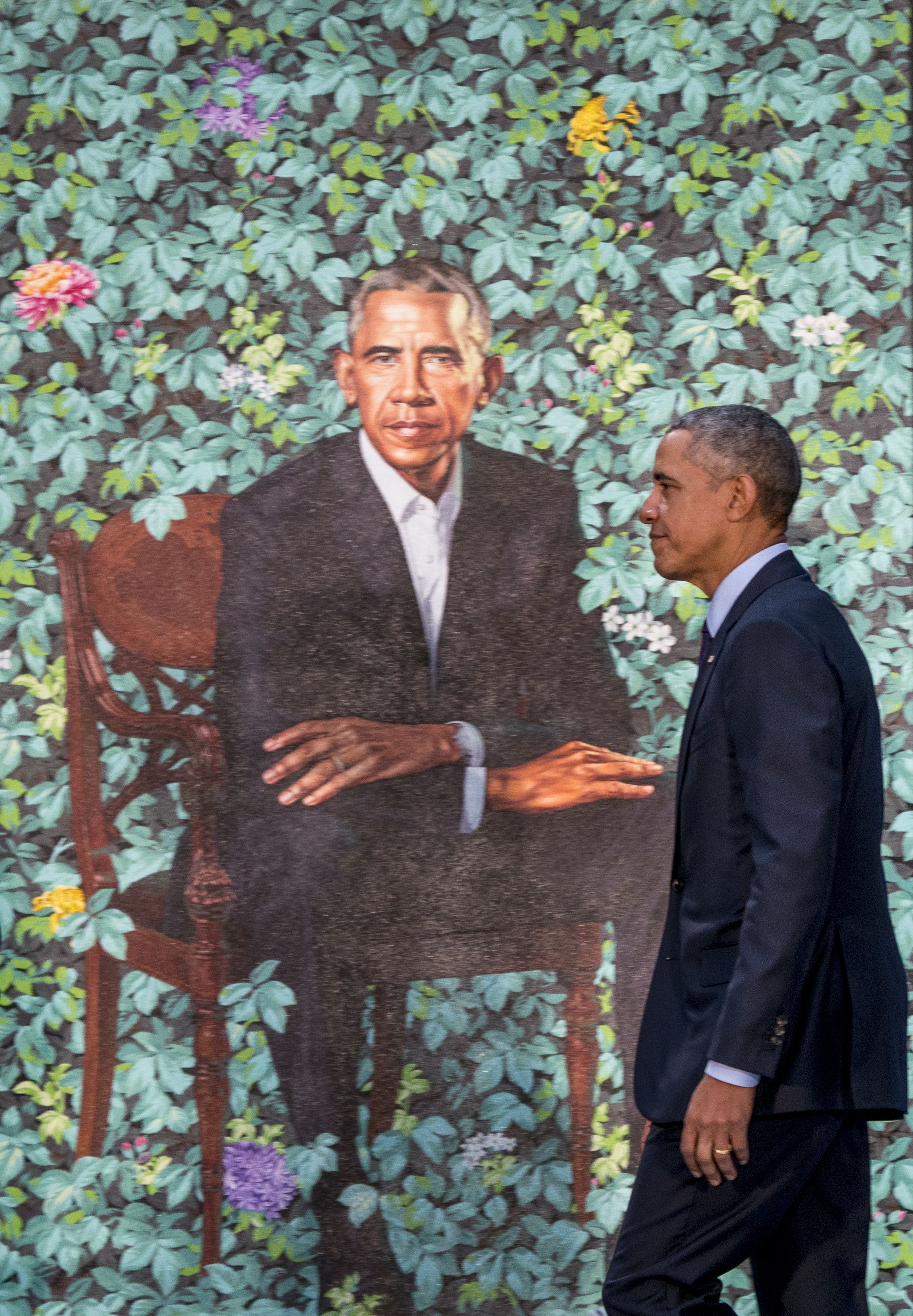 Former President Obama walks past his portrait during yesterday's unveiling at the Smithsonian's National Portrait Gallery. (AP's Andrew Harnik)
N.Y. Times art critic Holland Cotter on the Obamas' official portraits, unveiled yesterday:
Why it matters: "It doesn't take #BlackLivesMatter consciousness to see the significance of this racial lineup within the national story as told by the Portrait Gallery."
"Whereas Mr. Obama's predecessors are, to the man, shown expressionless and composed, Mr. Obama sits tensely forward, frowning, elbows on his knees, arms crossed, as if listening hard. ... He's still troubleshooting, still in the game."
"His engaged and assertive demeanor contradicts — and cosmetically corrects — the impression he often made in office of being philosophically detached from what was going on around him."
Amy Sherald's "image of Mrs. Obama overemphasizes an element of couturial spectacle, but also projects a rock-solid cool."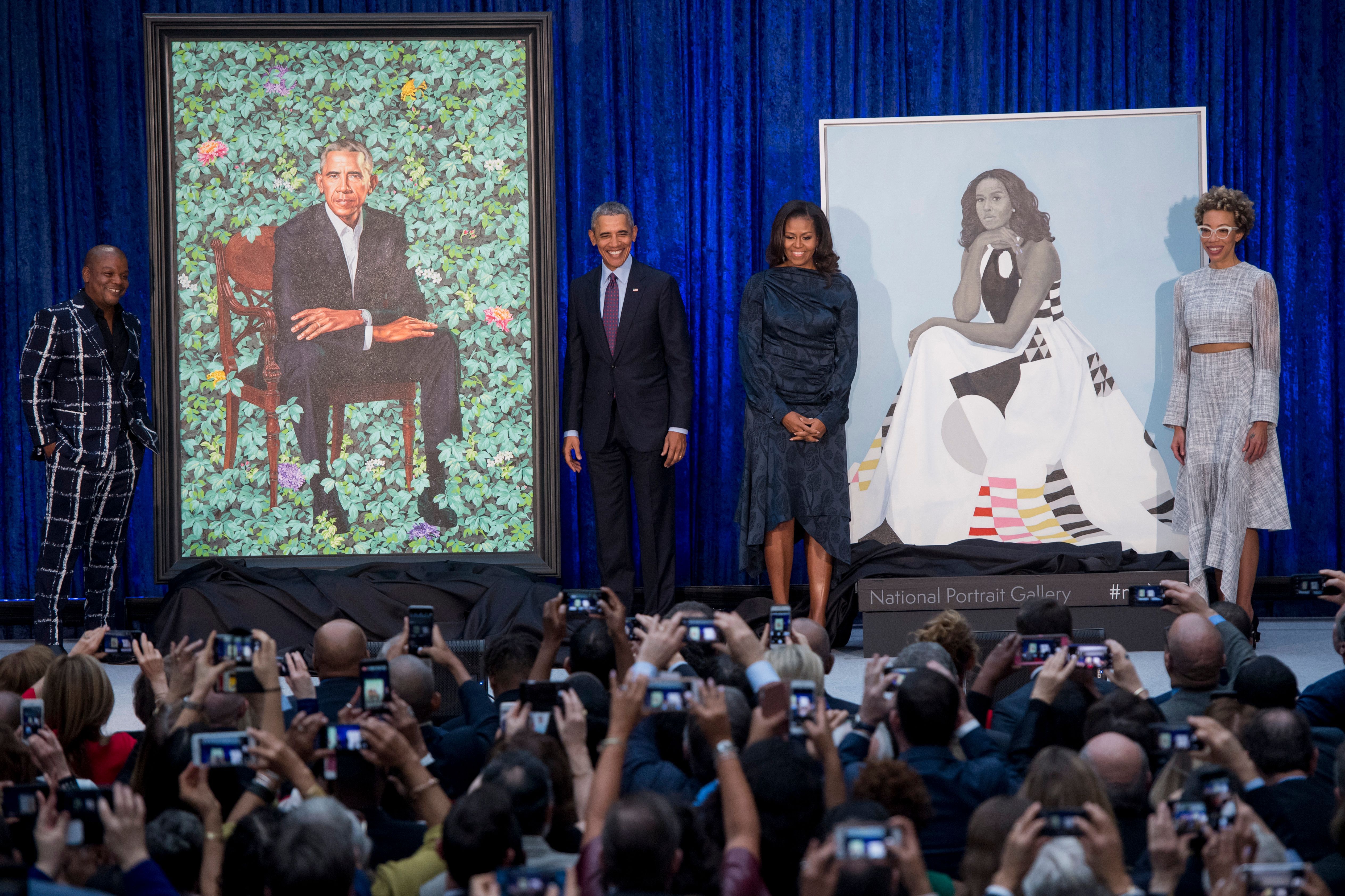 Obama and First Lady Michelle Obama stand beside their portraits and the artists: Kehinde Wiley (far left) and Amy Sherald (right). (Saul Loeb / AFP / Getty Images)
https://www.axios.com/newsletters/axios-am-ce4ef8c4-95b3-4c81-ab87-eb7494d74c07.html?chunk=6#story6
6. First look: Surprise! CEOs back protectionism
First look ... A new survey finds that business executives across the globe — typically a chorus of free traders — favor barriers that would protect and foster tech advances in their own countries, Axios future editor Steve LeVine writes:
Quick take: A survey for GE of 2,090 executives, in 20 major economies, diverges from seven decades of broad business support for liberalized trade.
By the numbers: In the survey, conducted by Edelman Intelligence, 55% of the executives said protectionism would make their business sector more competitive.
Marco Annunziata, GE's former chief economist, tells Axios he was shocked by the result: "We have known that protectionist winds were blowing, but always thought that business was the last bastion of open markets and globalization. It's a bit of a reality check."
Sue Siegel, GE's chief innovation officer, called the sentiment "a short-term, opportunistic approach" to domestic economic policy: "Long-term health relies on open free trade."
https://www.axios.com/newsletters/axios-am-ce4ef8c4-95b3-4c81-ab87-eb7494d74c07.html?chunk=7#story7
7. Tax cuts, new spending drive up debt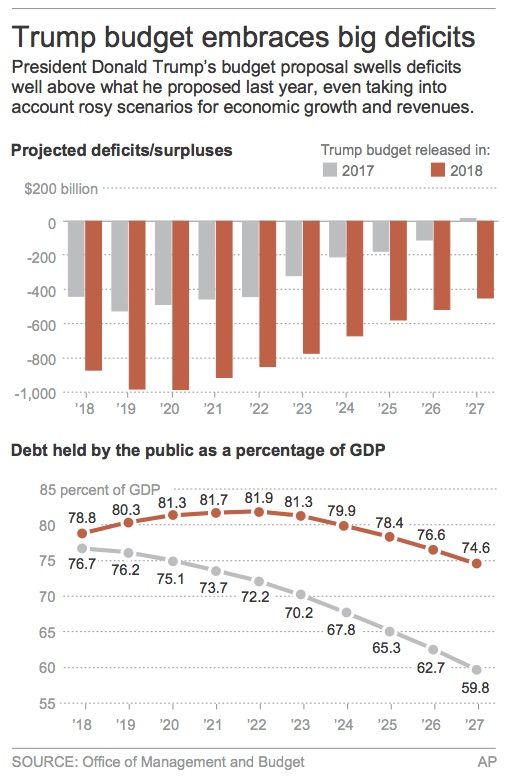 "The White House and Congress have shown little willingness to cut back on spending, finding it easier to cut taxes and increase spending during Trump's presidency," the WashPost reports in its lead story:
Why it doesn't matter: "The deep safety-net cuts in Trump's budget may play to his base, but they will go nowhere in the Senate, where support would be needed from Democrats."
Go deeper: Agency-by-agency highlights of Trump's 2019 budget.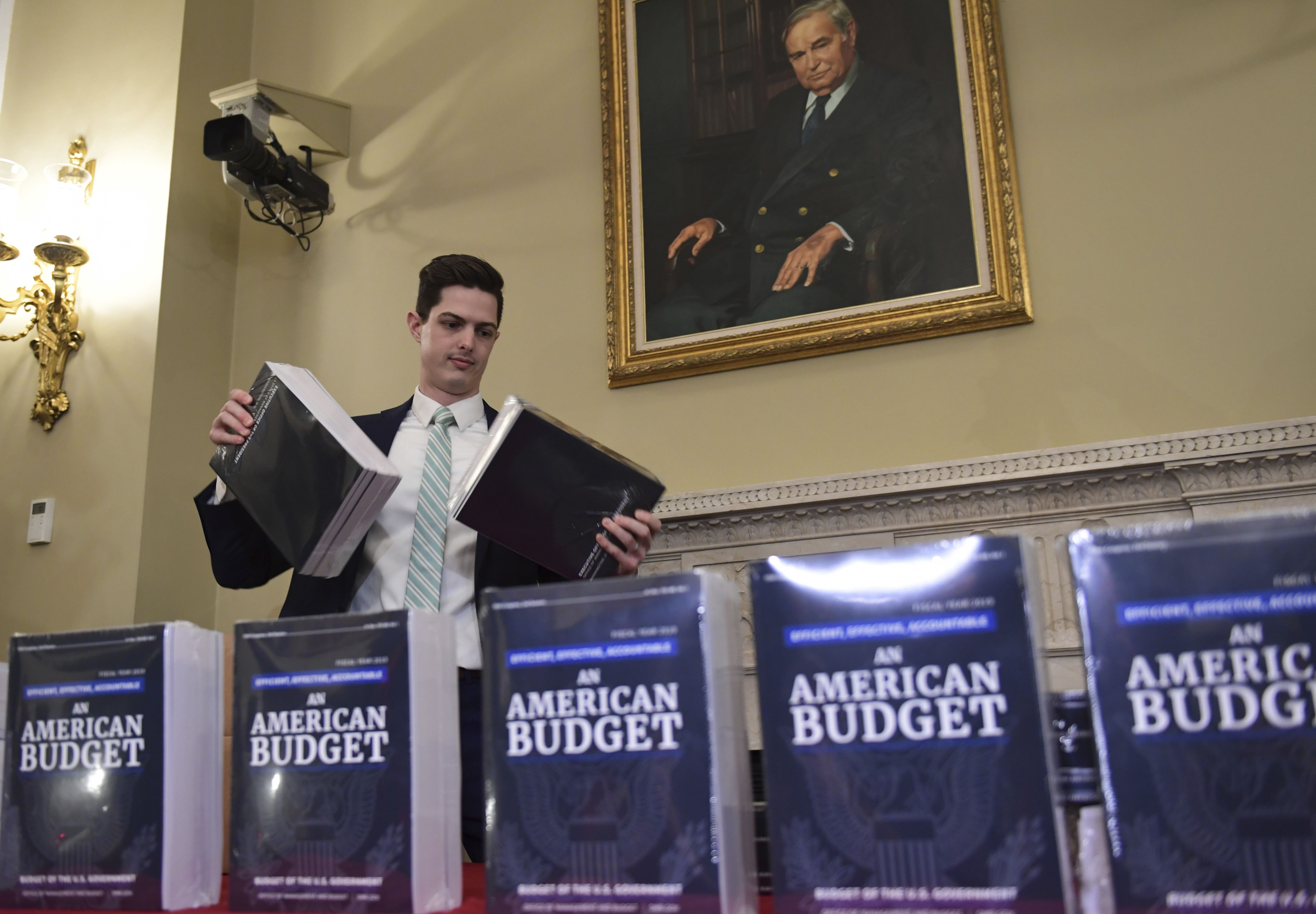 James Knable unpacks President Trump's Fiscal Year 2019 Budget (on the cover: "EFFICIENT, EFFECTIVE, ACCOUNTABLE") at the House Budget Committee. (AP's Susan Walsh)
https://www.axios.com/newsletters/axios-am-ce4ef8c4-95b3-4c81-ab87-eb7494d74c07.html?chunk=8#story8
8. First look: Jake Sullivan on post-Trump world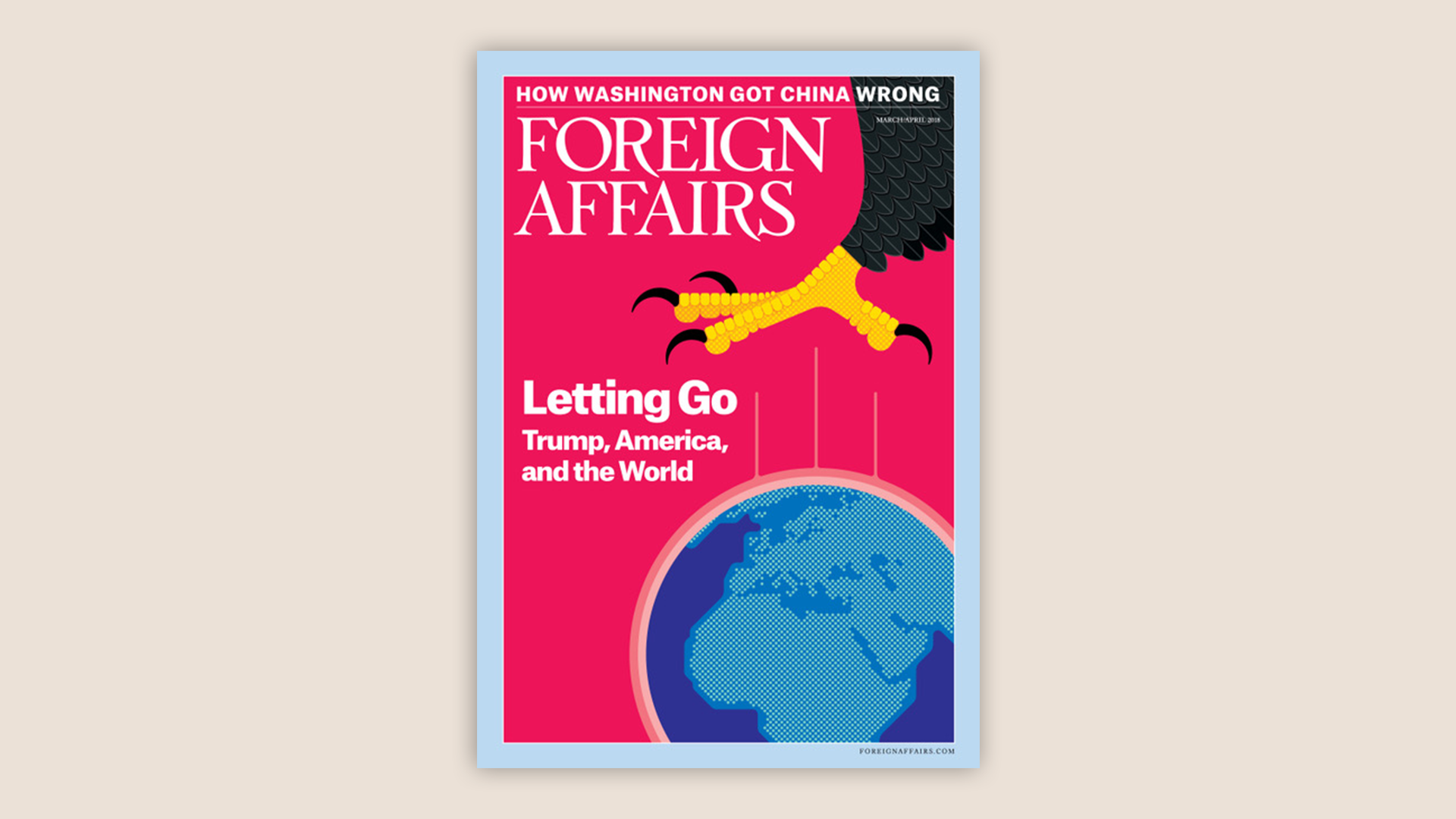 Special first look for Axios AM readers ... "The World After Trump: How the System Can Endure," by Jake Sullivan — Hillary Clinton's chief foreign-policy adviser, now at the Carnegie Endowment (served in the Obama administration as State Department director of policy planning, and national security adviser to Vice President Biden) — in the March/April issue of Foreign Affairs:
"Trump ... has thus far been unable to do the level of systemic damage in foreign affairs that he threatened on the campaign trail. He has ... been constrained by Congress, by his own national security team, and by reality."
"[H]is reelection would confirm that Trumpism is in fact the new normal in the United States, not an aberration, causing other countries to take more decisive steps to rearrange their relationships and commitments."
"On the other hand, the election of a new president in 2020 would say something quite different — and allow the United States to resume its leadership role."
Key sentence: "In every dimension — from technology to security, development to diplomacy, economic dynamism to human capital — the United States' advantages are still significant."
"The opportunity remains to reconstitute the old consensus on new terms."
Guest pass for Axios AM readers (free registration required to read full article).
https://www.axios.com/newsletters/axios-am-ce4ef8c4-95b3-4c81-ab87-eb7494d74c07.html?chunk=9#story9
9. How Kennedy country became Trump country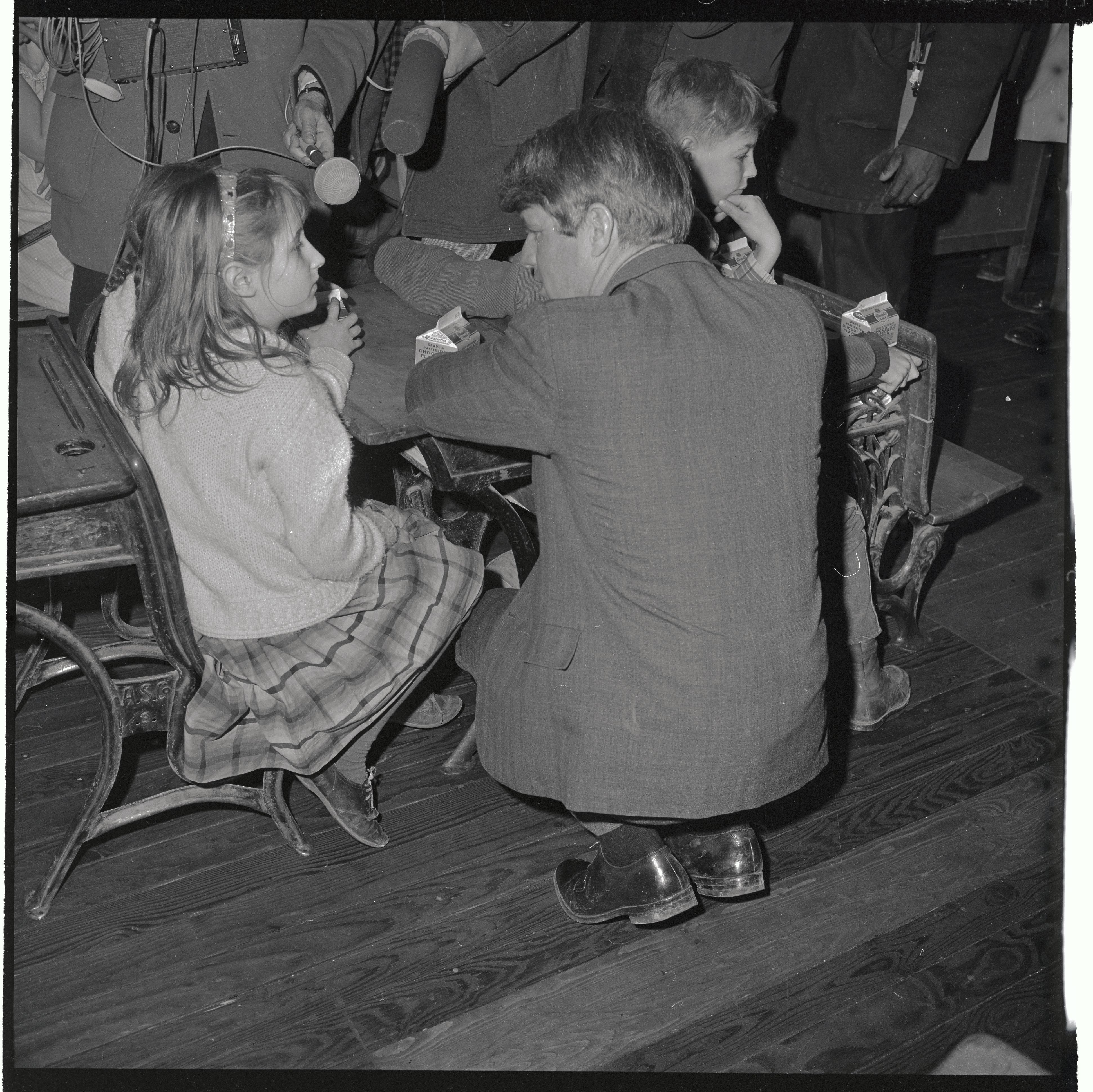 50 years ago today: Sen. Robert F. Kennedy (D-N.Y.) stoops chat during a visit to a one-room schoolhouse on Feb. 13, 1968, during a two-day tour of eastern Kentucky's poverty pockets. (Bettmann Archive)
RFK's visit to Appalachia, 50 years later ... "The line of big cars pulled up outside the one-room schoolhouse, which had a potbelly stove for heat and an outhouse in back," USA Today's Rick Hampson writes from Barwick, Ky.:
"The senator burst in the door, followed by a pack of politicians, aides and journalists."
"Robert F. Kennedy had come to learn about rural poverty. Instead, his arrival petrified the students, who sat riveted to their ancient desks with their heads down, afraid to even look at the great man and his entourage."
"Instead of making a speech for the media, Kennedy moved quietly among the students, stopping to reassure them. He'd squeeze a hand, murmur in an ear. 'What did you have to eat today?' he asked one girl. 'I know you're scared,' he told a boy, 'but it's gonna be all right.'"
"That was 50 years ago — Feb. 13, 1968. Bobby Kennedy was a month from declaring for president and four months from an assassin's bullet."
"For two days, he met people as poor and isolated as he was rich and famous."
What's new: "Beginning in 2004, the six counties Kennedy visited began to shift Republican in presidential races. And in 2016, Donald Trump carried each with 70% to 80% of the vote."
Why it matters: "What was Kennedy country is Trump country. Children of Kennedy Democrats are Trump Republicans."
https://www.axios.com/newsletters/axios-am-ce4ef8c4-95b3-4c81-ab87-eb7494d74c07.html?chunk=10#story10
10. 1 fun thing: A new exercise fad
"Runners, even ultramarathoners, are going in reverse for an exercise boost and to change up the routine," per the Wall Street Journal's A-Hed:
What's new: "Special events for backward runners are growing, including the 'retro' world championship."
"Long a staple of football or soccer practice, coaches for other sports are adding reverse, or retro, racing to training regimes."
Why it matters: "Researchers say the practice improves coordination and balance, offers relief for knee and hamstring injuries, boosts performance in forward races and shakes up repetitive training routines."
"Another bonus: It burns more calories."