Good summer Sunday morning. Situational awareness: N.Y. Times reports from London: "The incineration of Grenfell Tower on June 14 [was] the deadliest fire in Britain in more than a century [79 dead, with toll likely to rise] ... London police ... blamed flammable materials used in the facade ... and said the investigation could bring charges of manslaughter." Watch for a global reexamination of fire codes. The highly combustible cladding isn't allowed in the U.S., but is sold around the world.
https://www.axios.com/newsletters/axios-am-cdc9a48c-0c14-4c96-864a-023b8f2fb473.html?chunk=0#story0
1 big thing: Health care wheeler-dealers
There's a bit of fakery going on with the Senate healthcare bill that's due for a vote this week.
Jim always asks the barista to "leave room" for a splash of cream. Well, it turns out the drafters of the Senate bill have left room to accommodate holdout senators. So they can make high-profile demands (some unrelated to healthcare), then go home and claim victory: "I know it has all these problems, but I used my muscle to make it so much better."
This'll be fun to watch, because there are more holdouts than there is room. At least 10 Republican senators have expressed reservations, and the White House and GOP leaders can only lose two. That's why our handicappers have suddenly gone from "more likely than not" to "coin flip."
Trump hinted he may play hardball, tweeting yesterday: "I cannot imagine that these very fine Republican Senators would allow the American people to suffer a broken ObamaCare any longer!"
The state of play:
Kickback Watch: After Axios AM reported yesterday that Sen. Dean Heller (R-Nev.) may get some assurances on the Yucca Mountain nuclear dump in return for his vote, "Pod Save America" co-host Tommy Vietor tweeted: "If @SenDeanHeller tries to negotiate big concessions for Nevada don't forget Ben Nelson and the 'Cornhusker Kickback.'"
Lingo: David Di Martino of Blue Engine Media, an alumnus of former Sen. Ben Nelson, emails: "The new Cornhusker Kickback is the Desert Dole-out."
What else is on the menu? Sources tell us a Medicaid working group — including Sens. Rob Portman of Ohio, Shelly Moore Capito of West Virginia and Cory Gardner of Colorado — has asked for more than $40 billion over 10 years for opioid programs, up from $2 billion in the current bill.
The truth: They won't get that much, but there's definitely room — the amount depends on the Congressional Budget Office score, because the Senate has to match deficit reduction in the House bill.
Look for: historic levels of amendments, with a vote-a-rama ("a marathon of rapid-fire votes") that could extend into Saturday morning.
A top Hill source, on the giveaway to come: "I don't think there's much that can be accommodated in the base text. Vote-a-rama is another story. You can't stop senators from offering. And if it's something that can meet [the parliamentarian's] tests and get the rest of their conference, I'm sure we'll be taking a look."
https://www.axios.com/newsletters/axios-am-cdc9a48c-0c14-4c96-864a-023b8f2fb473.html?chunk=1#story1
2. "Trump's toxicity in doubt for 2018"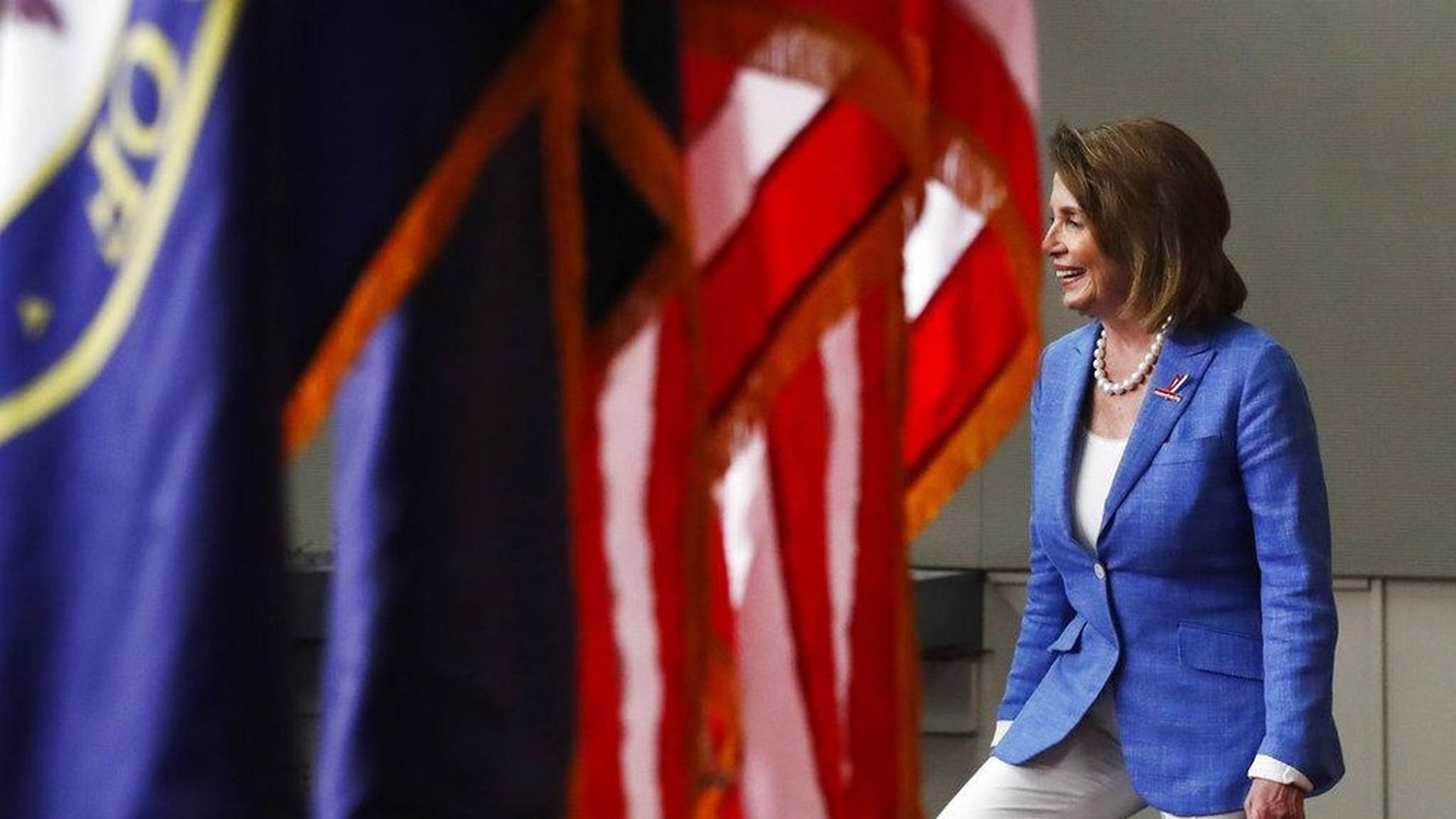 Besides the fact that Republicans historically have been more reliable midterm voters, Democrats may have another problem in 2018: Trump isn't the disaster for his party that so many had assumed.An L.A. Times front-pager by Cathleen Decker points to Dems' string of special-election losses this year:"Trump is so distinctive a politician that it's hard to persuade voters that other Republican candidates are carbon copies of the president. Trump's outsized persona makes even those Republicans who share his views seem more moderate, an important attribute to swing voters." Why it matters: "[V]oters' complicated views of Trump may give Republicans more running room than his popularity figures suggest. The votes cast by individual Republican incumbents [like healthcare in the Senate this week] may be more important to their survival than any linkage with the president."P.S. Dan Balz "The Sunday Take" column on WashPost p A2, "After Ossoff's loss, do Democrats have a message?": "Right now, the one discernible message is opposition to President Trump. ... What's needed is a message that attracts voters beyond the blue-state base of the party.""Fault lines and fissures exist between the ascendant progressive wing at the grass roots and those Democrats who remain more business-friendly. ... Trump might not succeed in draining the swamp, but he has tapped into sentiments about Washington that Democrats ignore at their peril."
https://www.axios.com/newsletters/axios-am-cdc9a48c-0c14-4c96-864a-023b8f2fb473.html?chunk=2#story2
3. Inside the West Wing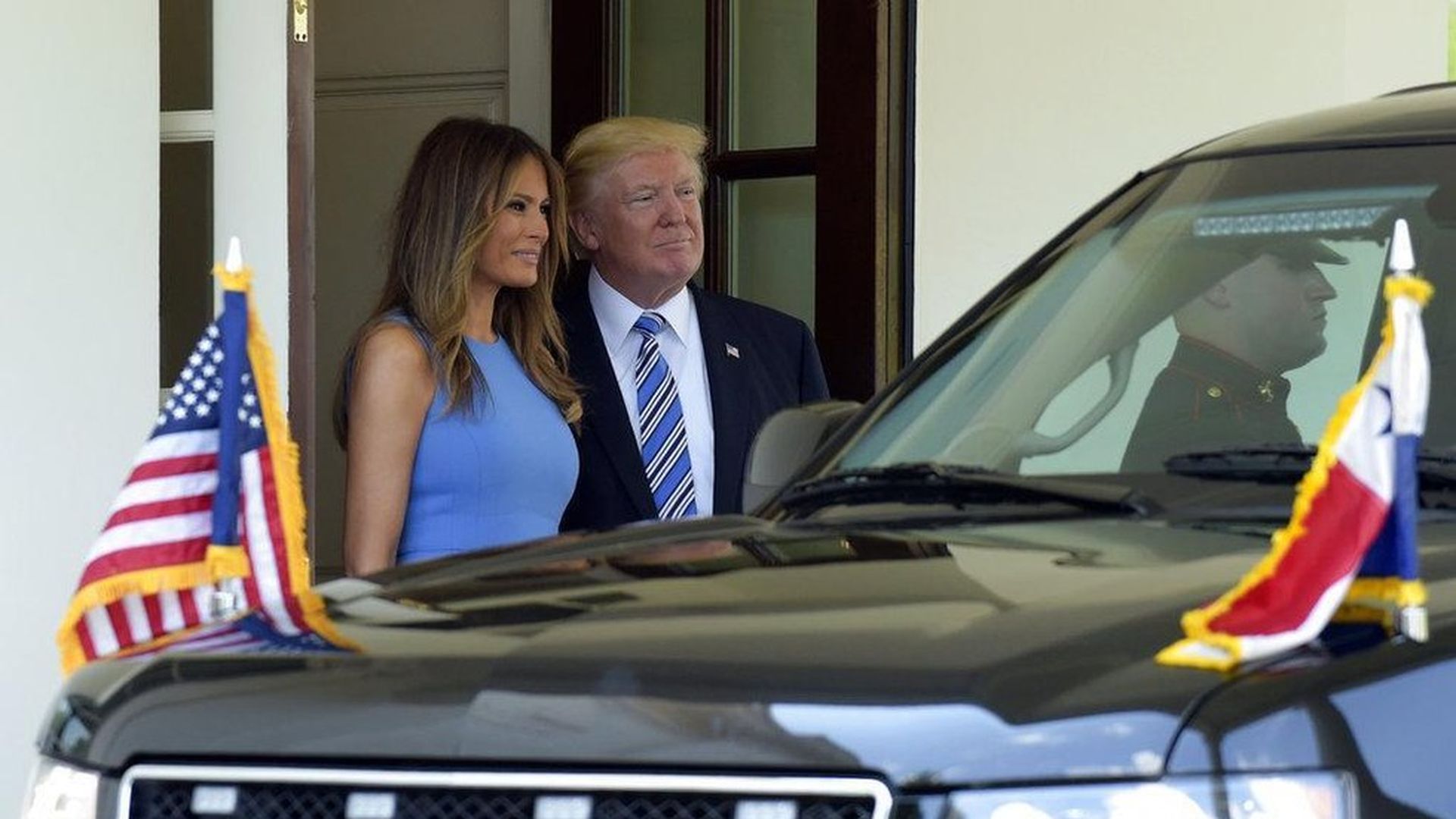 Trump tweets, apparently in response to WashPost's "Hacking Democracy" takeout on "Obama's secret struggle to retaliate against Putin's election assault" (in AM yesterday; front page today):
"Since the Obama Administration was told way before the 2016 Election that the Russians were meddling, why no action? Focus on them, not T! ... Obama Administration official said they 'choked' when it came to acting on Russian meddling of election. They didn't want to hurt Hillary?"
N.Y. Times' Peter Baker responds: "Trump asks fair question: What did Obama do about Russian meddling before election? Also fair question: What has Trump done about it since?"
P.S. Peter leads the Sunday Review section with "The Anti-Legacy; Can President Trump tear Barack Obama from the pages of history?": "The [Asia] trade deal? Canceled. The climate pact? Forget it. Cuba? Partially reversed. ... [R]arely has a new president appeared so determined not just to steer the country in a different direction but to actively dismantle what was established before his arrival."
Worth the click ... Jerusalem Post, "Trump's team faces reality in the Middle East," by diplomatic correspondent Herb Keinon: "Washington is adopting a much different approach to peacemaking than the previous administration, a sign that it has learned from US President Barack Obama's mistakes."
"The Trump administration ... is making no public demands. ... And, all the while, it is probing the sides to see what they are –... willing to give, and then trying to see if there are ways to bridge the gaps. And it is doing this all very much behind closed doors, without megaphone diplomacy, without public threats of laying down an American blueprint, or dangling promises of high-profile summits."
https://www.axios.com/newsletters/axios-am-cdc9a48c-0c14-4c96-864a-023b8f2fb473.html?chunk=3#story3
Bonus: Tweet du jour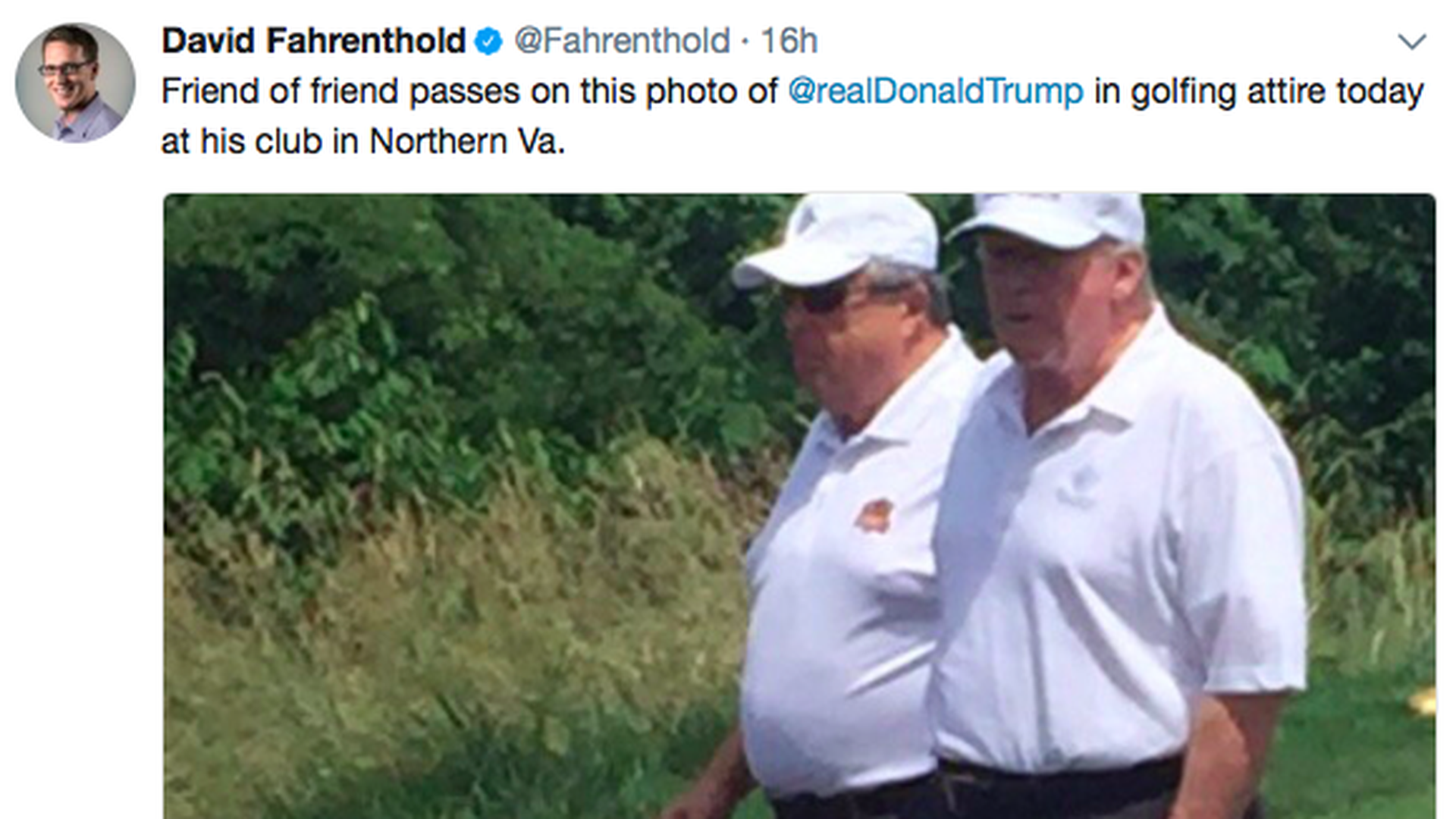 Chaser ... From final report by yesterday's White House pooler, Politico's Darren Samuelsohn, who accompanied the motorcade to Trump National Golf Club in Sterling, Va.:
"The person ... who was wearing golf attire was ... Melania Trump's father, Viktor Knavs. ... Still no WH update on whether the president played any golf this morning. Members of Trump National have told your pooler there was a member-member tournament."
https://www.axios.com/newsletters/axios-am-cdc9a48c-0c14-4c96-864a-023b8f2fb473.html?chunk=4#story4
4. Backstory on Gary Cohn leaving Goldman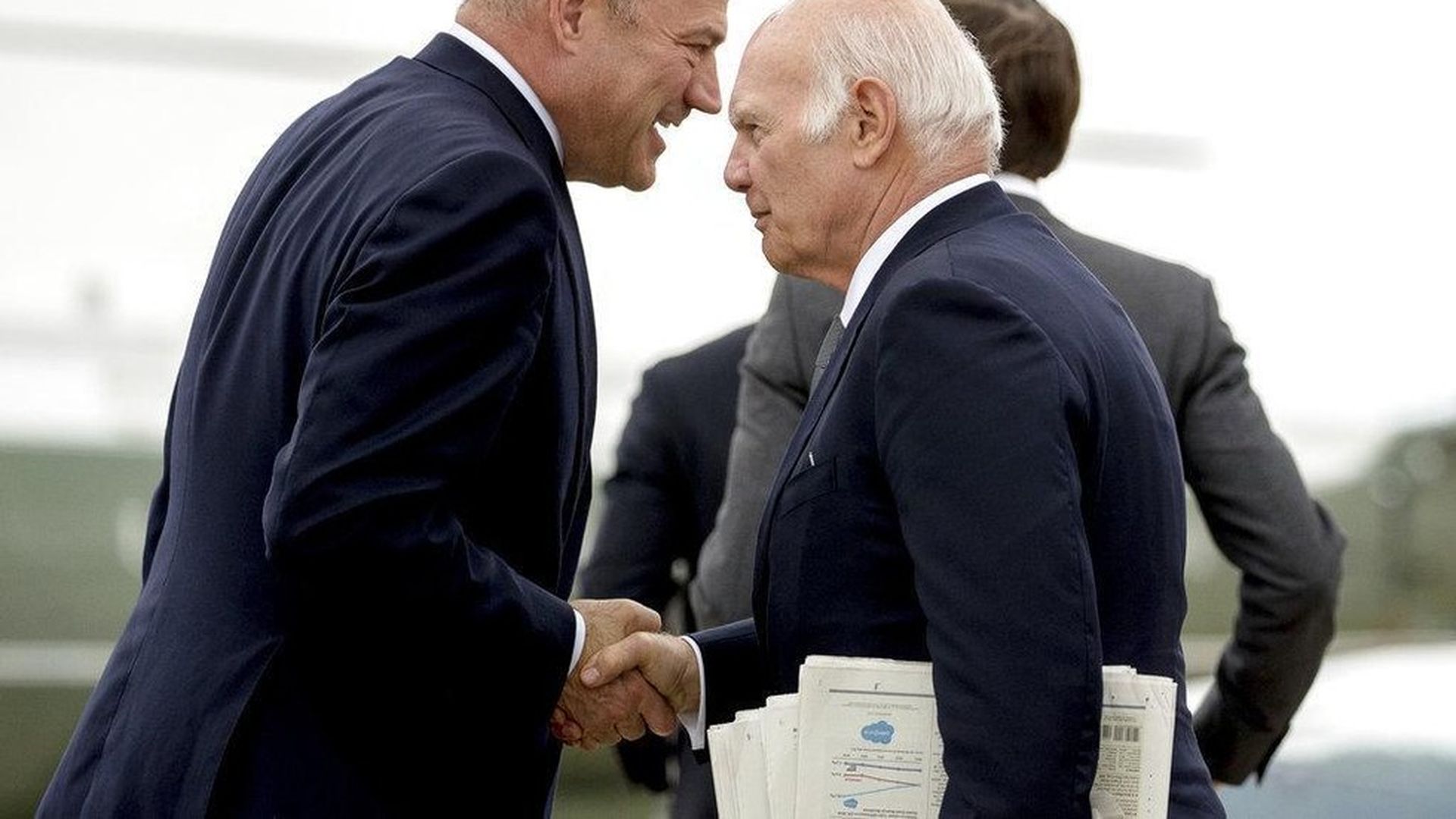 From Vanity Fair's August issue, out July 6, "A Very Goldman White House," by Bill Cohan:
"Gary Cohn, a lifelong Democrat, left Goldman [where he was #2] to accept Trump's offer [to be] director of the National Economic Council [and] follow in the footsteps of two illustrious Goldman senior partners: Robert Rubin and Stephen Friedman."
"In September 2015, [CEO Lloyd] Blankfein announced the shocking news that he had lymphoma. ... While Blankfein was recuperating, ... [Cohn] decided to inquire of several of his fellow board members about becoming C.E.O., even as Blankfein was responding well to his chemotherapy treatments. 'Gary made a play to replace Lloyd,' according to a former Goldman partner. It didn't work. The board was 'noncommittal.'"
"A source close to the situation describes what happened at Goldman differently. 'The honest-to-goodness story is: did Gary have lunch with Bayo [Adebayo Ogunlesi], Goldman's lead director, once or twice? Absolutely. Did he ever make a power play to become C.E.O.? He absolutely did not. He met with Bayo and said, "Look, is the board comfortable with Lloyd staying on?' Bayo said, "Yeah."
"Gary said, 'Well, look, that's great. I know where I am. I'm not in any hurry and I'm not threatening, but we should all be on the same page that I've been president and chief operating officer for 10 years.' Gary gets a lot of phone calls for opportunities. He told Bayo he was going to start listening when his phone rang."
https://www.axios.com/newsletters/axios-am-cdc9a48c-0c14-4c96-864a-023b8f2fb473.html?chunk=5#story5
5. Get smart fast: GOP's huge structural advantage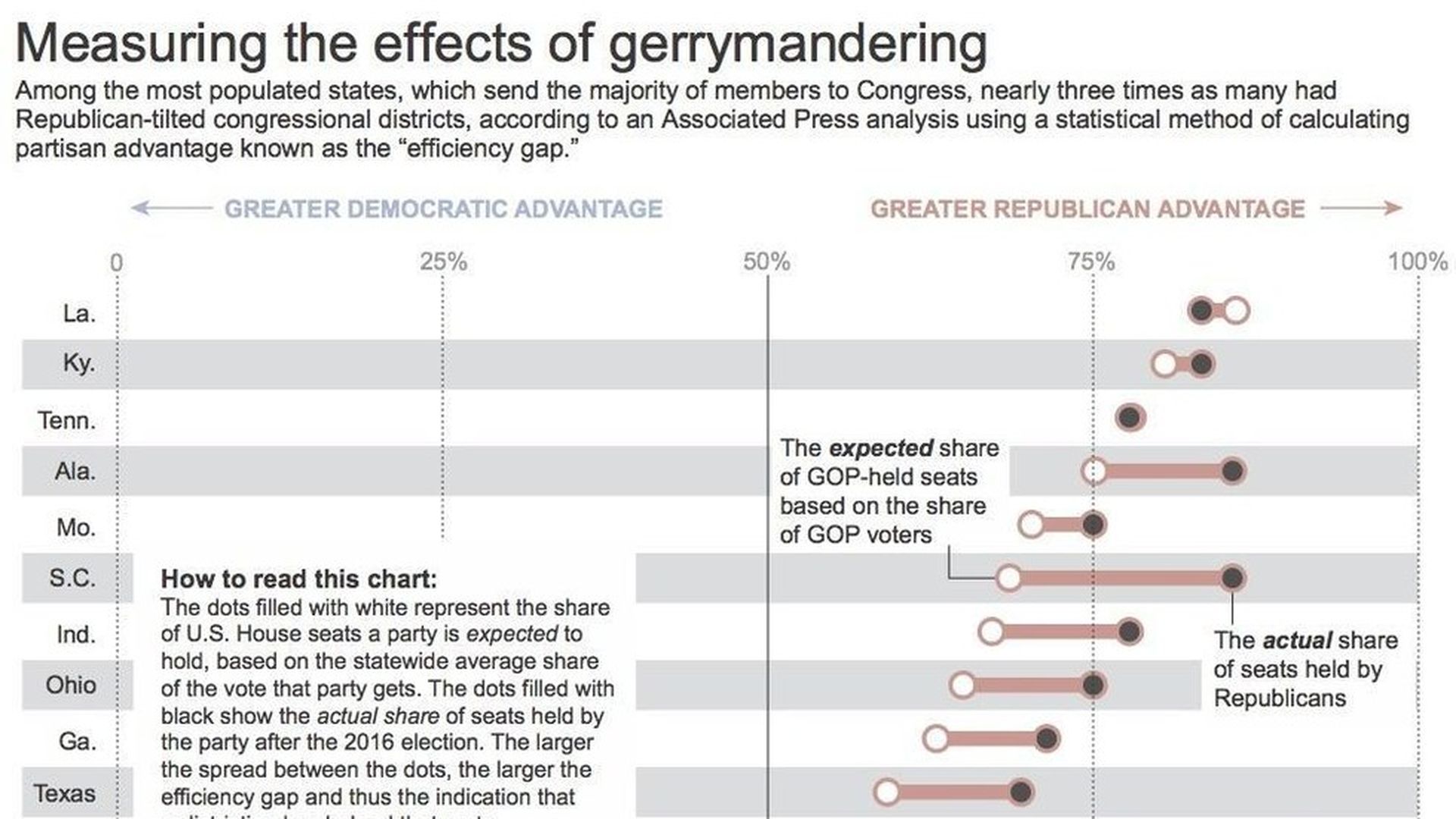 Republican gains in statehouses during Obama's first midterm produced a priceless advantage when House districts were redrawn after the 2010 census, and AP has quantified that in a fascinating way:
"Republicans [last year] won as many as 22 additional U.S. House seats over what would have been expected based on the average vote share in congressional districts across the country. That helped provide the GOP with a comfortable majority over Democrats instead of a narrow one."
That's the most striking finding of a project the AP has been planning with members for weeks, "Redrawing America: Imbalance of Power ... how gerrymandering benefited GOP in 2016," by David Lieb:
"The AP scrutinized the outcomes of all 435 U.S. House races and about 4,700 state House and Assembly seats up for election last year."
"The analysis found four times as many states with Republican-skewed state House or Assembly districts than Democratic ones. Among the two dozen most populated states that determine the vast majority of Congress, there were nearly three times as many with Republican-tilted U.S. House districts."
"Traditional battlegrounds such as Michigan, North Carolina, Pennsylvania, Wisconsin, Florida and Virginia were among those with significant Republican advantages in their U.S. or state House races. All had districts drawn by Republicans after the last Census in 2010."
"[E]ven if Democrats had turned out in larger numbers, their chances of substantial legislative gains were limited by gerrymandering."
https://www.axios.com/newsletters/axios-am-cdc9a48c-0c14-4c96-864a-023b8f2fb473.html?chunk=6#story6
6. 1 sign of the times: Music festival over-saturation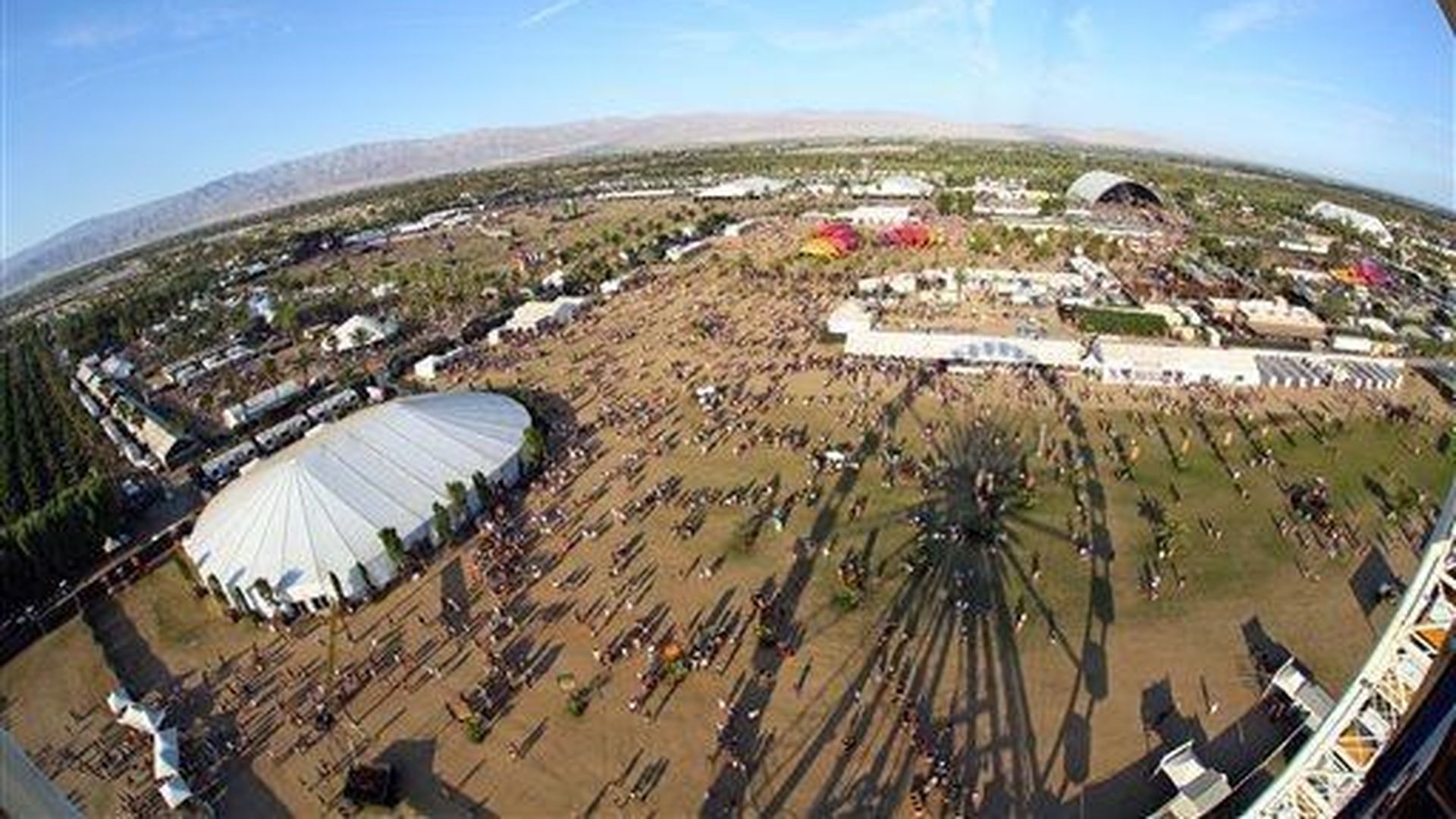 A culture of super festivals took over the live music scene, but promoters are starting to think smaller, tailoring offerings to specific audiences, per the L.A. Times' Gerrick Kennedy and August Brown:
"[S]ome promoters are reassessing the demand for — and their ability to execute — new mega-events on the scale of Coachella."
"Over the last 15 years, the festival economy has grown dramatically; according to a 2015 Nielsen Music survey, 32 million people attend at least one music festival in the U.S. each year (nearly half are [millennials])."
"Promoters remain eager to tap into that growth with new events, but there are signs of over-saturation."
Why it matters: "On average, those who attend a festival spend more on live concerts, digital music and streaming subscriptions than the general population."