Axios AM
September 21, 2017
Good Thursday morning. Chris Krueger, in his "D.C. Download" for Cowen Washington Research Group, has perfect headline for GOP's health-care repeal-quest: "What Is Dead May Never Die."
1 big thing: Mueller's tapes, Spicer's notes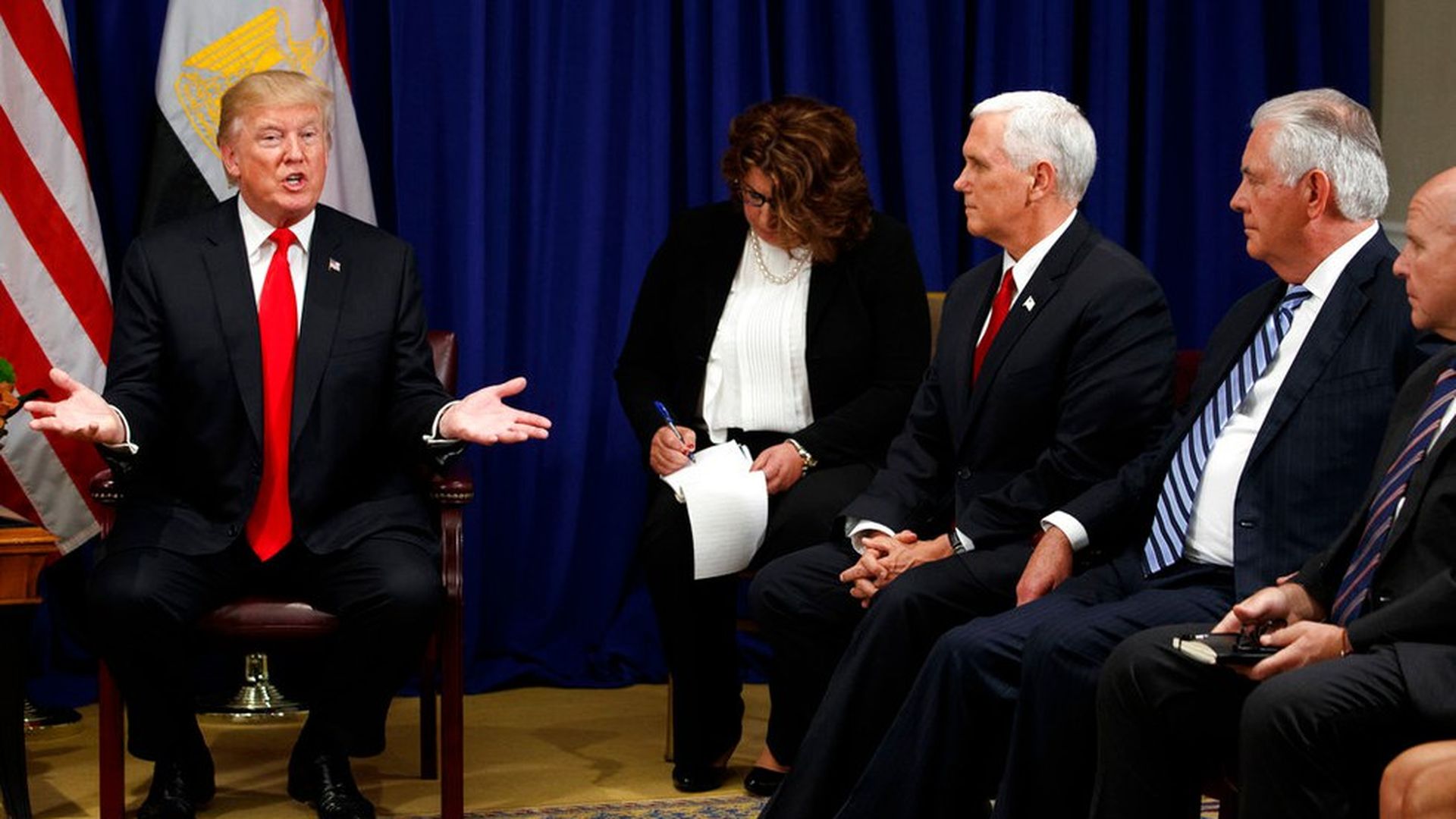 The Watergate resonance of the Bob Mueller probe rose this week with a CNN report that the special counsel has details of wiretaps of "former Trump campaign chairman Paul Manafort under secret court orders before and after the election."
Now we can tell you about another potential honey pot for Mueller. Former colleagues of Sean Spicer tell Axios that he filled "notebook after notebook" during meetings at the Republican National Committee, later at the Trump campaign, and then at the White House.
When Spicer worked at the RNC, he was said to have filled black books emblazoned with the party's seal. Spicer was so well-known for his copious notes that underlings joked about him writing a tell-all.
One source familiar with the matter said that the records were just to help him do his job.
"Sean documented everything," the source said.
That surprised some officials of previous White Houses, who said that because of past investigations, they intentionally took as few notes as possible when they worked in the West Wing.
When we texted Spicer for comment on his note-taking practices, he replied: "Mike, please stop texting/emailing me unsolicited anymore."
When I replied with a "?" (I have known Spicer and his wife for more than a dozen years), he answered: "Not sure what that means. From a legal standpoint I want to be clear: Do not email or text me again. Should you do again I will report to the appropriate authorities."
The WashPost reported Sept. 8 that Mueller "has alerted the White House that his team will probably seek to interview" Spicer and five other top current and former Trump advisers.
One White House official told me: "People are going to wish they'd been nicer to Sean. … He was in a lot of meetings."
About an hour after Spicer's texts, he replied to a polite email I had sent earlier, seeking comment:
Per my text:
Please refrain from sending me unsolicited texts and emails
Should you not do so I will contact the appropriate legal authorities to address your harassment
Thanks
Sean M Spicer
2. "A feeling of inevitability"
Brian Williams said on his MSNBC show last night that Mueller has "become a vacuum cleaner":
"Probe casts wide net toward White House" — WashPost front-pager by Carol Leonnig and Roz Helderman: "White House lawyers are now working to turn over internal documents that span 13 categories."
"Mueller has asked for all documents related to meetings between Trump and Comey while Comey served at the FBI, records of any discussions regarding Comey's firing and any documents related to a statement by then-press secretary Sean Spicer made on the night Comey was fired. He has also asked for any documents related to a meeting Trump held in the Oval Office with Russian Foreign Minister Sergei Lavrov the day after Comey was fired."
Quote du jour, from a government official: "I am convinced that no matter where they end up, this investigation will run to completion even if they fire Mueller. ... There is a feeling of inevitability now that we didn't have before — not of the outcome of the investigation but that there will be an outcome. There is no escaping this thing, whatever the conclusions."
WashPost lead story by Tom Hamburger, Roz Helderman, Carol Leonnig and Adam Entous: "Less than two weeks before Donald Trump accepted the Republican presidential nomination, his campaign chairman offered to provide briefings on the race to a Russian billionaire closely aligned with the Kremlin," Oleg Deripaska, an aluminum magnate with whom Manafort had done business in the past.
Manafort email on July 7, 2016: "If he needs private briefings we can accommodate."
"People close to Manafort believe Mueller's goal is to force the former campaign chairman to flip on his former Trump associates and provide information."
Go deeper: "How the Russia probe closed in on Paul Manafort" — timeline by Axios' Dave Lawler.
3. "Read every message"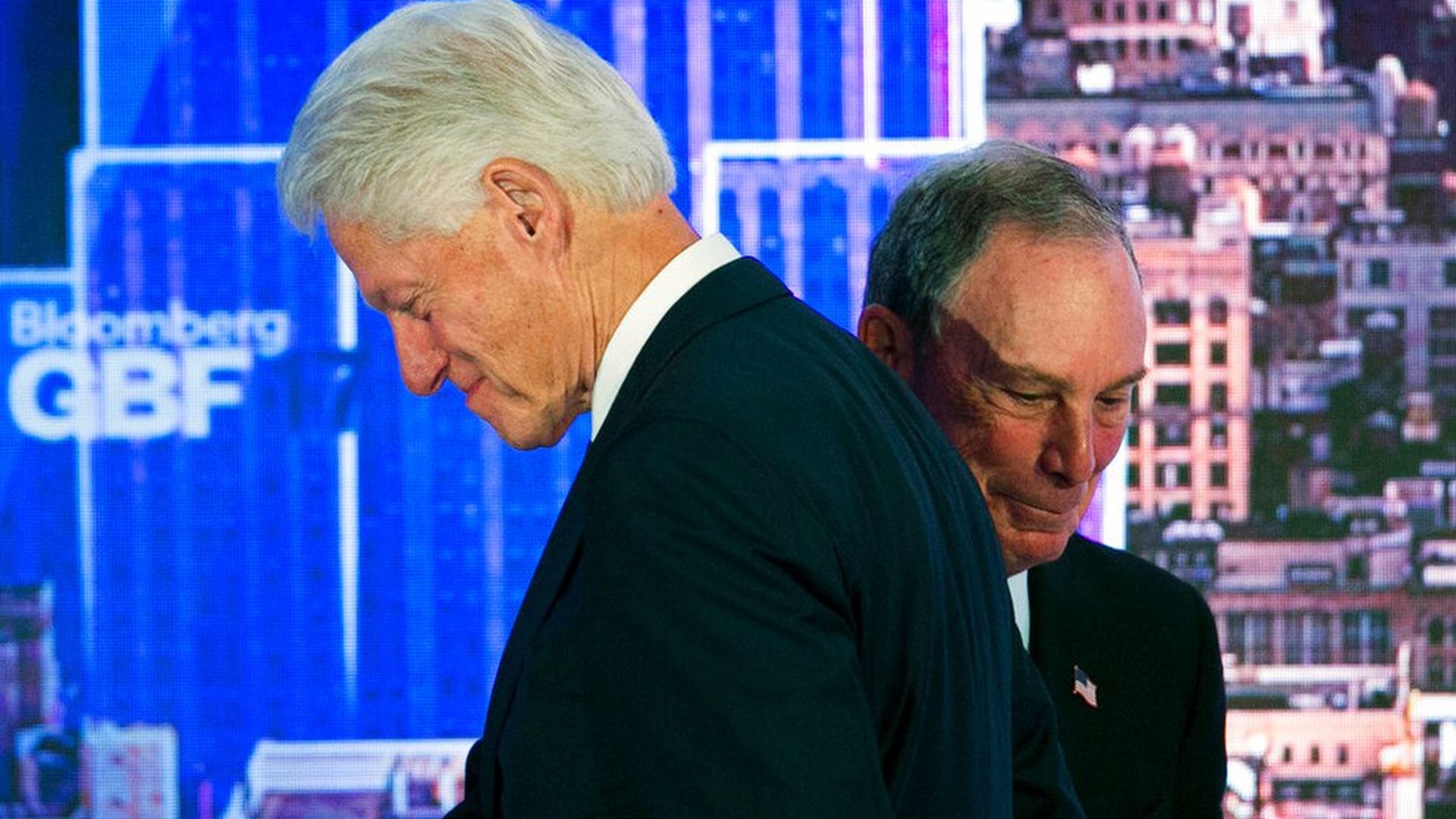 Former New York Mayor Michael Bloomberg told me in an interview yesterday at his inaugural Bloomberg Global Business Forum in New York that the Russian fake news and paid propaganda from the last election were "killing democracy," and that Facebook should "read every message" if that's what's needed:
"It's not all their fault, but they have a responsibility. And if they say, 'Well, there's no ways to do it other than maybe we're going to have a human being read every message,' I'm sorry. You're going to have to do that."
"[I]f they build the technology that makes it difficult to regulate and to control, that's their problem. It's not society's problem. We have to make them give us the ability to protect ourselves. The first fundamental thing is to keep this country safe, keep democracy for all of our citizens."
"The platforms, generally, absolutely, have to be more aggressive. They cannot sit there. The banks, for example, are responsible under the law to make sure you don't launder money. The telephone company is responsible to know where calls come from, whatever it is. ... [W]e have laws to protect you. Those laws should apply to social media as well."
"We just cannot let terrorists, for example, plant a bomb and set it off by hitting a button on their iPhone and the FBI or the CIA or the NSA can't find out in advance they're going to do it and protect us.
4. "A big, enticing target"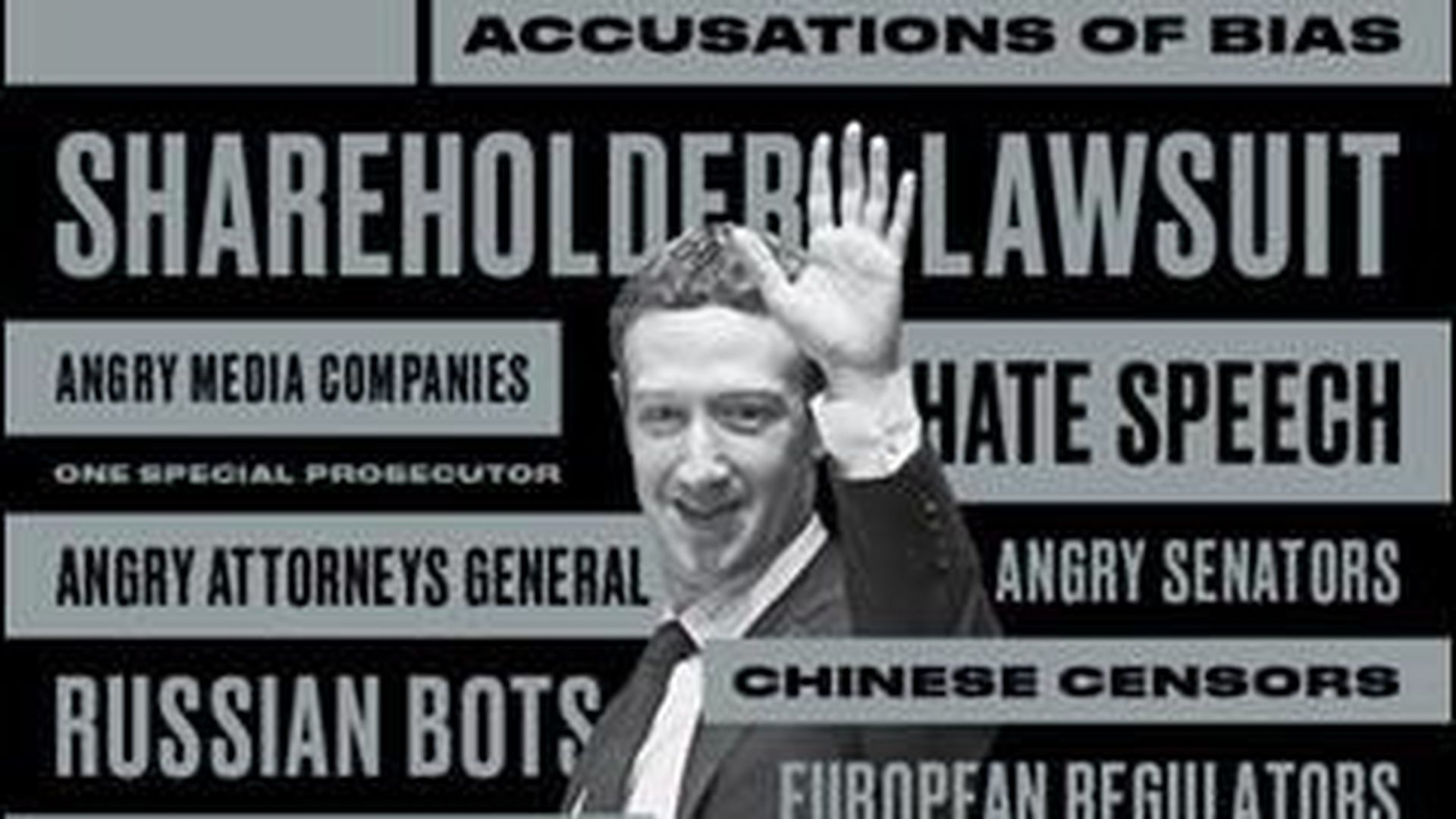 "Facebook has 2 billion users, record profits, vast influence, and big problems in Washington," write Max Chafkin and Sarah Frier in Bloomberg Businessweek's forthcoming cover story:
Why it matters: "Zuckerberg has become a big, enticing target for both liberal Democrats, who see him as a media-devouring monopolist, and for nationalist Republicans, who see an opportunity to rail against the company that embodies globalization more than any other."
"Zuckerberg's political awakening began a little more than a year ago. 'I guess it was while the primaries were going on,' he says. Trump was on the ascent, thanks to a nationalist message Zuckerberg saw as an attack on the global connectivity Facebook has long promoted… 'I mean, for most of the existence of the company, this idea of connecting the world has not been a controversial thing .. Something changed.'"
"In surveys of users, only 100 million people told Facebook they use the site to connect with groups they find 'meaningful.'"
"Zuckerberg finds the figure disappointing and has told employees they should seek to increase the level tenfold. 'It'll take years,' he says, 'but if we can get to a billion more people in meaningful groups online, that will reverse the decline in community membership and start strengthening the social fabric again.'"
"Throughout the interview, he seems irritated that his actions could be viewed as anything other than expansive benevolence."
P.S. "Twitter Inc. representatives will meet with the U.S. Senate Select Committee on Intelligence staff next week in relation to inquiries into the 2016 U.S. presidential election." (Reuters)
5. Data du jour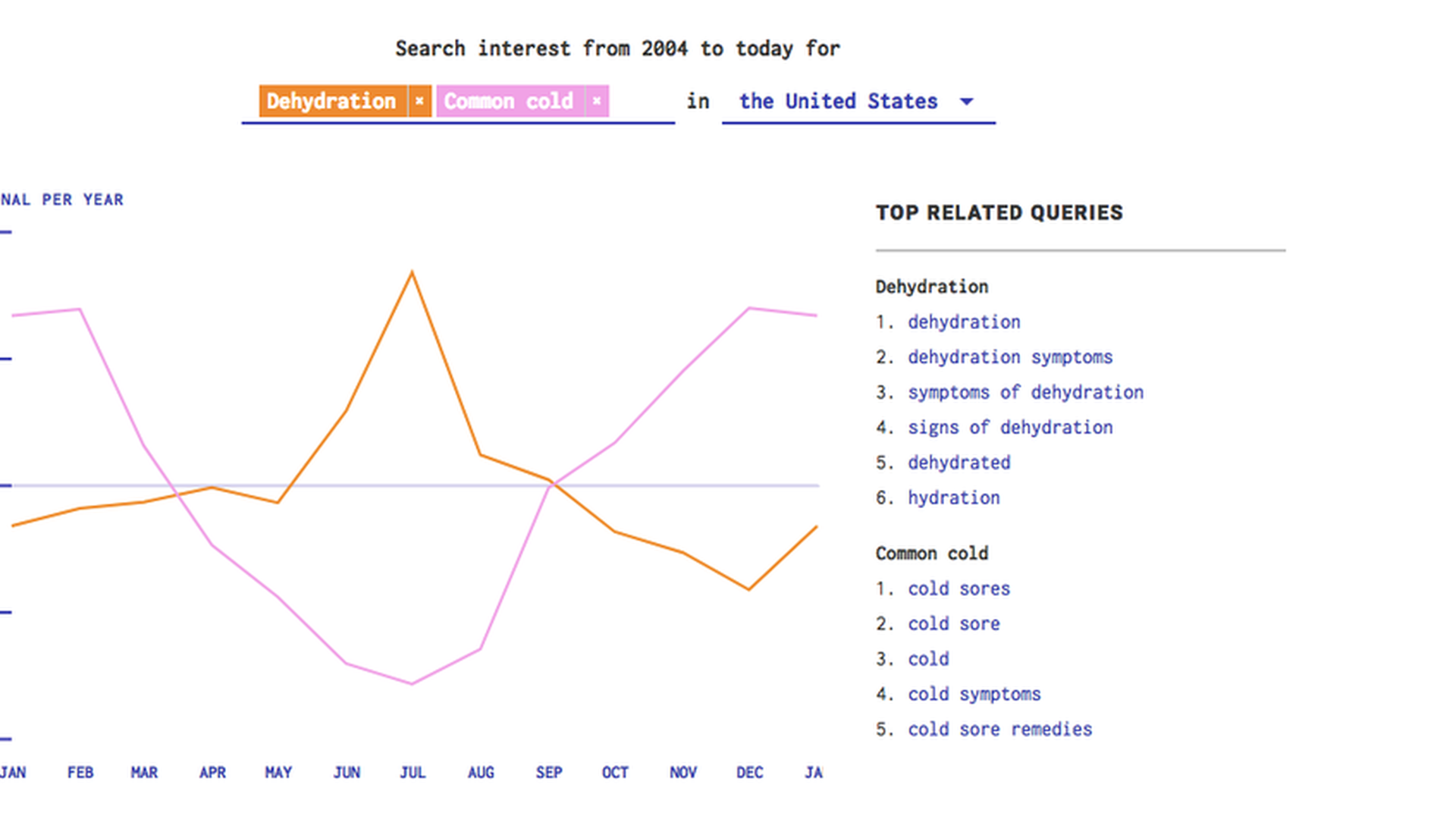 Most searched, per Axios' Stef Kight using Google Trends data: Since 2004, around the world, the most common searches for health issues were pain, then cancer, with diabetes most commonly coming in third. It was occasionally replaced by acne and in 2004, HIV/AIDS.
6. Day of disaster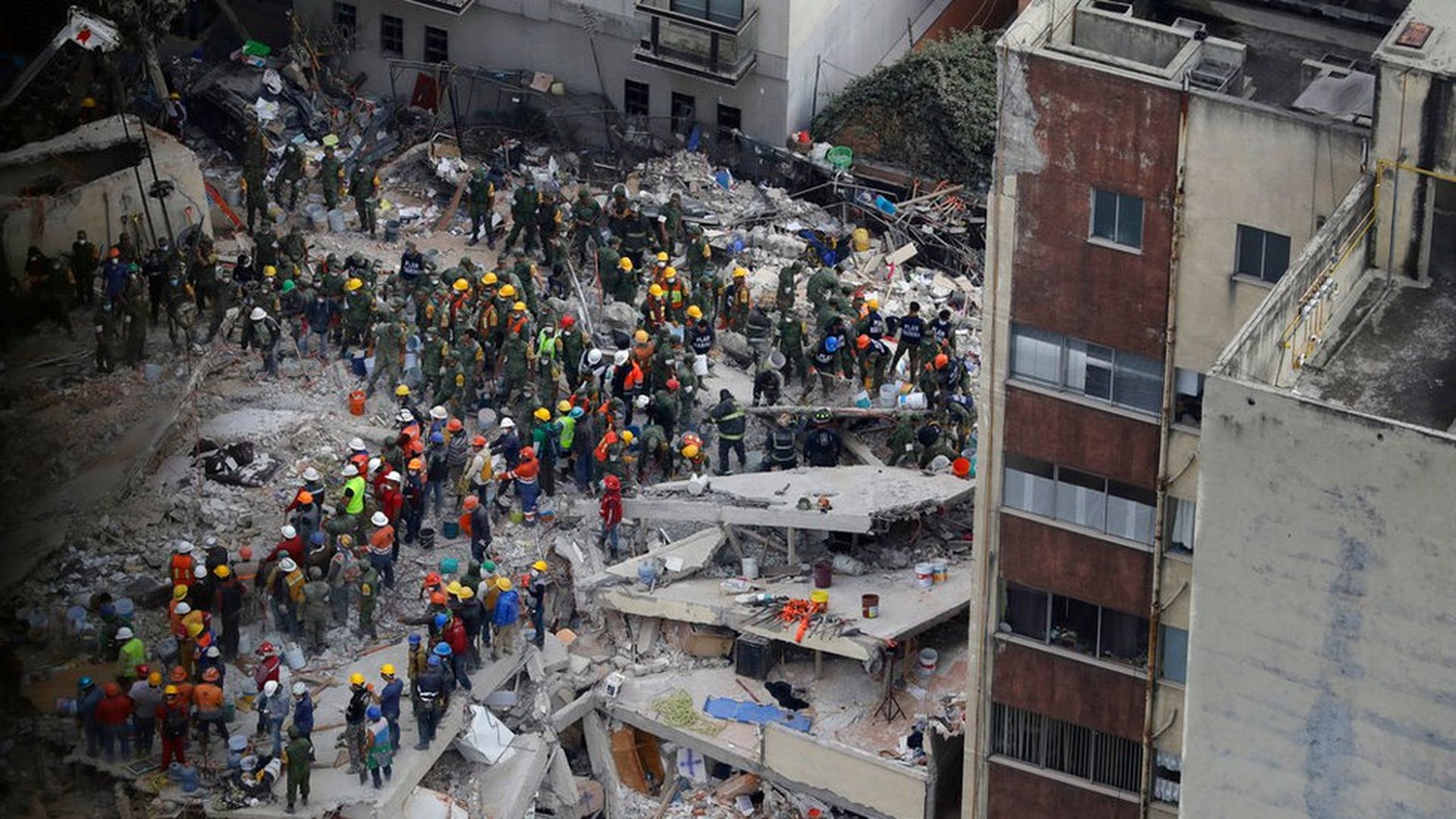 "Puerto Rico: '100% without power,'" per CNN: "'The island's energy grid took such a severe blow from Maria that restoring power to everyone may take months."
In Mexico City, "With anxious parents gathered outside awaiting news of missing children, civil protection volunteer Enrique Gardia announced that a thermal scanner had detected survivors trapped between slabs of concrete." (BBC)
7. The wilderness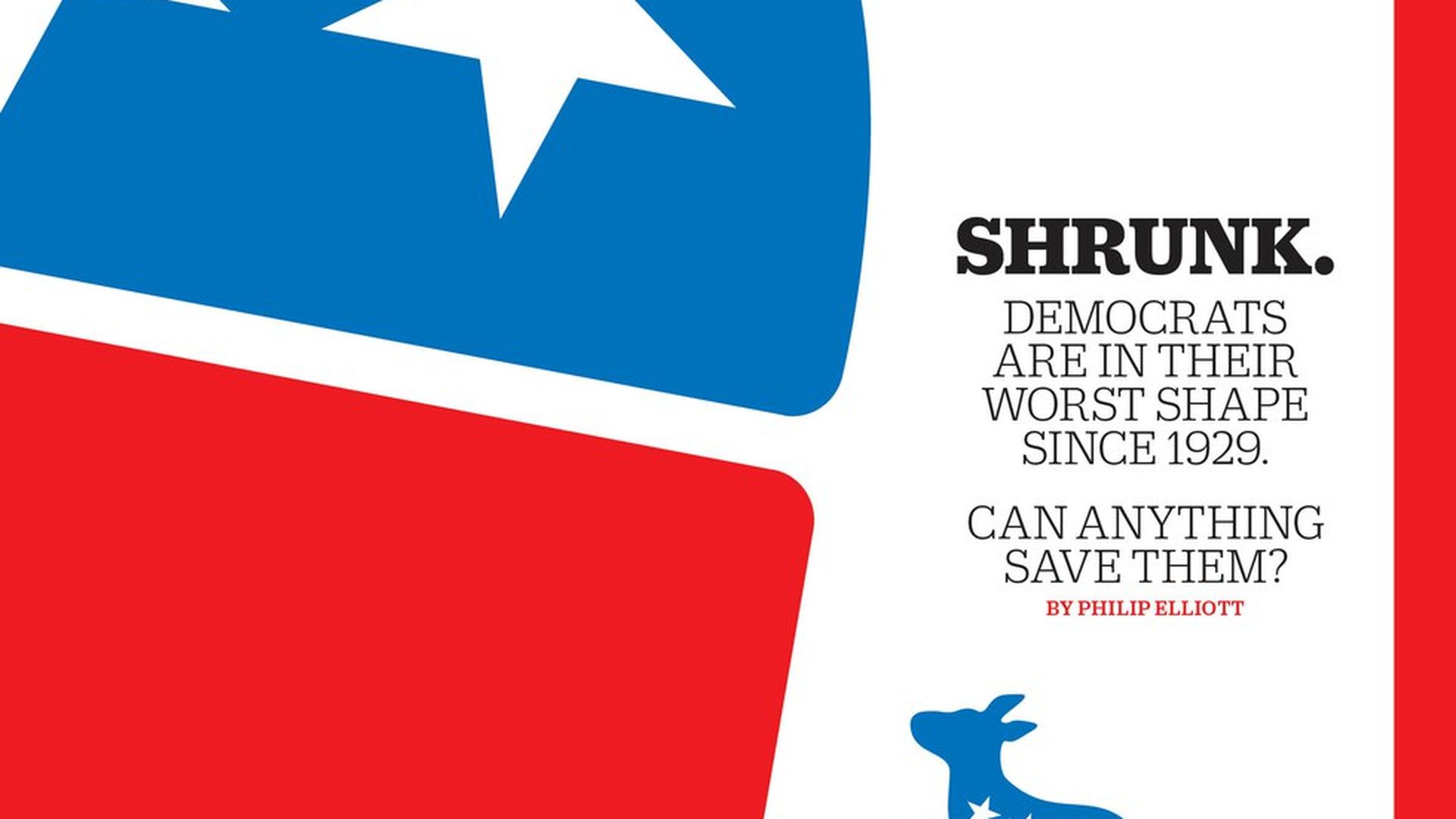 TIME's Phil Elliott cover story on Democrats:
"[E]ight months into the Trump presidency, the party looks to face its toughest odds since Ronald Reagan won 49 states in 1984."
"The Democrats are in their deepest congressional rut since the class of 1946 was elected, and hold the fewest governors' mansions — 15 — since 1922."
"Of the 98 partisan legislatures in the U.S., Republicans control 67. During Barack Obama's presidency, Democrats lost 970 seats in state legislatures."
"The median age of their congressional leadership is 67, and many of the obvious early presidential front runners will be in their 70s by the 2020 election."
On the need to focus on the heartland: "28% of House Democrats hail from states that don't touch the Atlantic or Pacific oceans, down from 37% in 2007."
8. Jimmy Kimmel v. GOP
"Jimmy Kimmel Escalates Senator War ... Kimmel's feud with Bill Cassidy over health care reform plans continued for a second night," by Hollywood Reporter's Lauren Huff:
"Kimmel has a lot more to say about Sen. Bill Cassidy [R-La.] and his and Sen. Lindsey Graham's [R-S.C.] recent health care bill: "Oh I get it, I don't understand because I'm a talk show host right? Which part am I not understanding?"
Read more of Kimmel's words.
P.S. L.A. Times, top of column 1, "Millions could lose insurance under GOP bill," by Noam Levey: "The latest Republican bid to roll back the Affordable Care Act would likely leave millions of currently insured Americans without health coverage in the coming decades, and strip benefits and protections from millions more, a growing number of independent studies suggest."
"Healthcare safety nets in dozens of states stand to lose more than $200 billion by 2026 and hundreds of billions of dollars more in the years that follow, the analyses indicate."
9. Google's big hardware deal
"Google said it would buy part of struggling Taiwanese smartphone maker HTC Corp. for $1.1 billion in cash, as it accelerates its efforts to crack the handset market," per Wall Street Journal and others:
"Google said an HTC team that helped develop Google's flagship Pixel smartphone will join the company."
Why it matters: "Google's deal with HTC should settle the question of whether it is serious about making its own phones.
P.S. "SEC Discloses Edgar Corporate Filing System Was Hacked in 2016," per Wall Street Journal front-pager:
"Breach may have allowed trading that profited from nonpublic information."
Why it matters: "The intrusion shows how confidential information that can yield easy trading profits has increasingly become a target of hackers."
10. 1 fun thing
"Justice Ginsburg surprise speaker at Jewish new year service," by AP's Jessica Gresko:
"Supreme Court Justice Ruth Bader Ginsburg was a surprise guest speaker Wednesday evening during services for the Jewish new year in Washington, telling worshippers she believes being Jewish helped her empathize with other minority groups."
"Ginsburg spoke at services for Rosh Hashana ... organized by Sixth & I, a historic synagogue that hosts a range of Jewish and cultural events."
"She said during about 20 minutes of answering questions from attorney Kenneth Feinberg: 'If you are a member of a minority group, particularly a minority group that has been picked on, you have empathy for others who are similarly situated.'"
"Ginsburg is one of three Jewish justices on the nine-member Supreme Court. Justices Stephen Breyer and Elena Kagan are also Jewish, and Breyer spoke at services organized by Sixth & I last year. The 84-year-old Ginsburg, who has served on the court since 1993, noted that she is now the longest-serving Jewish justice."