Axios AM
August 18, 2017
1 big thing: The man with no plan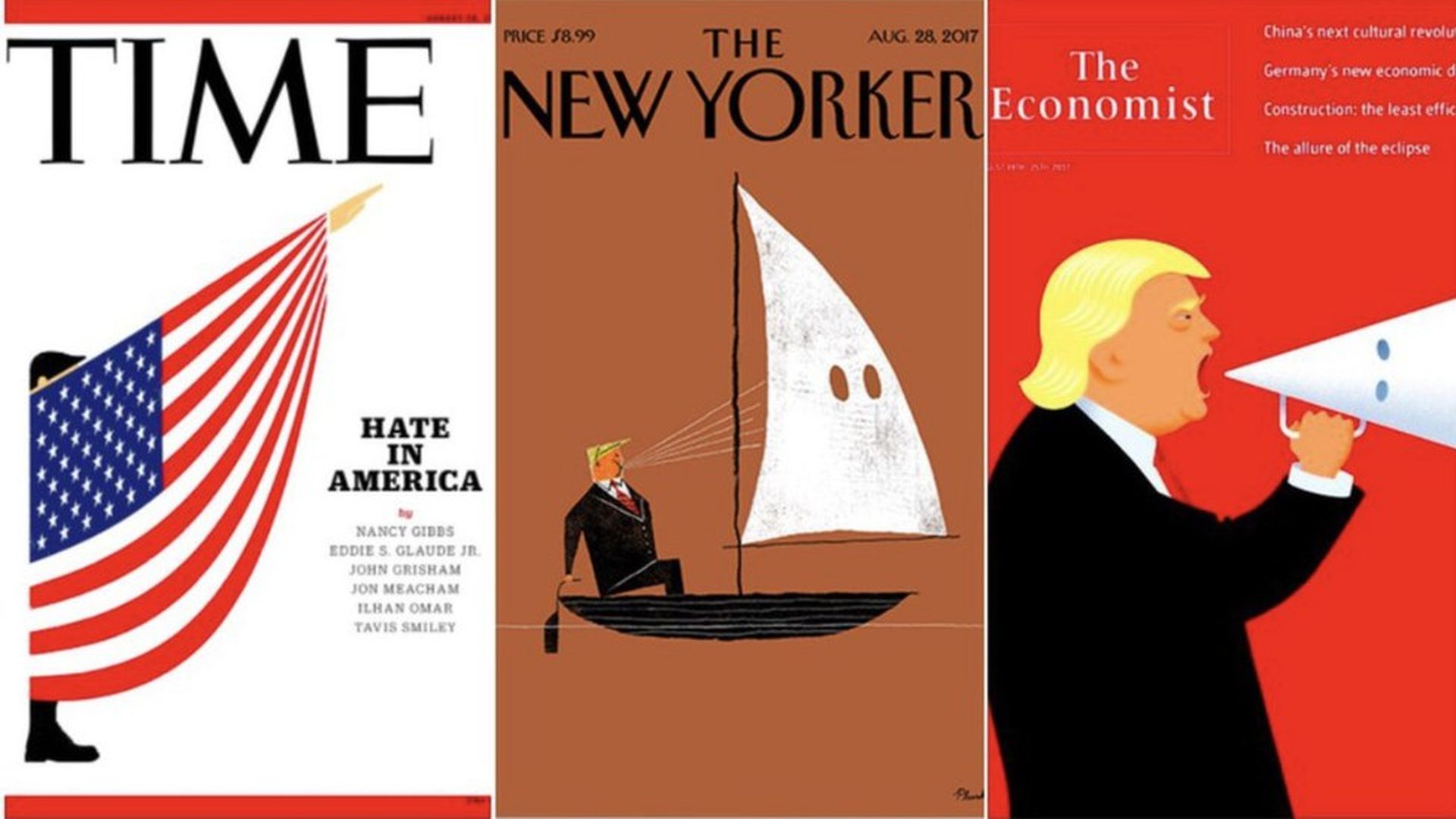 White House staffers sound dejected and deflated. They're not surprised; they're not mad. They just realize that President Trump, self-indulgent and self-destructive, has wound up in a cul-de-sac of his own making.
Their new fear: An erratic Trump — with few friends, and fires all around — will get nothing done legislatively and roil markets, thus undoing the one consistently good indicator of '17.
After folding its other two business groups, the White House on Day 210 threw in the towel on forming a President's Advisory Council on Infrastructure — giving up a key tool for building outside support for the legislative priority with the most prayer of drawing some Democratic support.
In the last week, Trump has attacked more Republican senators than Democrats — including the party leader.
Senate Foreign Relations Chairman Bob Corker (R-Tenn.), who was a possibility to be Trump's vice president, called for a "radical" White House shakeup, the latest sign of Republicans willing to go to war with their president.
Then Sen. Tim Scott of South Carolina, the only black Republican in the Senate, told Vice News that Trump's "moral authority is compromised": "I'm not going to defend the indefensible."
That's one day. When he's on vacation.
CNN's Steve Collinson: "Trump drives his few political friends away."
L.A. Times lead story: "Trump puts shrinking base before healing."
N.Y. Times, top of col. 1, "Volume Rising In Nativist Talk From President."
On the stock market's worst day since May (Dow off 274 points, or 1.2%), CNBC and Bloomberg TV speculated all day about whether economic adviser Gary Cohn might resign because of Trump's Charlottesville remarks:
Swan moved markets when he reported authoritatively that Cohn was staying.
The Cohn obsession is a proxy for doubts about Trump. One guru called Cohn "the security blanket for Wall Street … the alpha adult in the room": "There's this fear that if he leaves, there'll be a domino effect."
Sound smart: The markets are so fragile that the mere rumor of a senior staffer leaving rattles confidence and prices.
2. First look: Poll du jour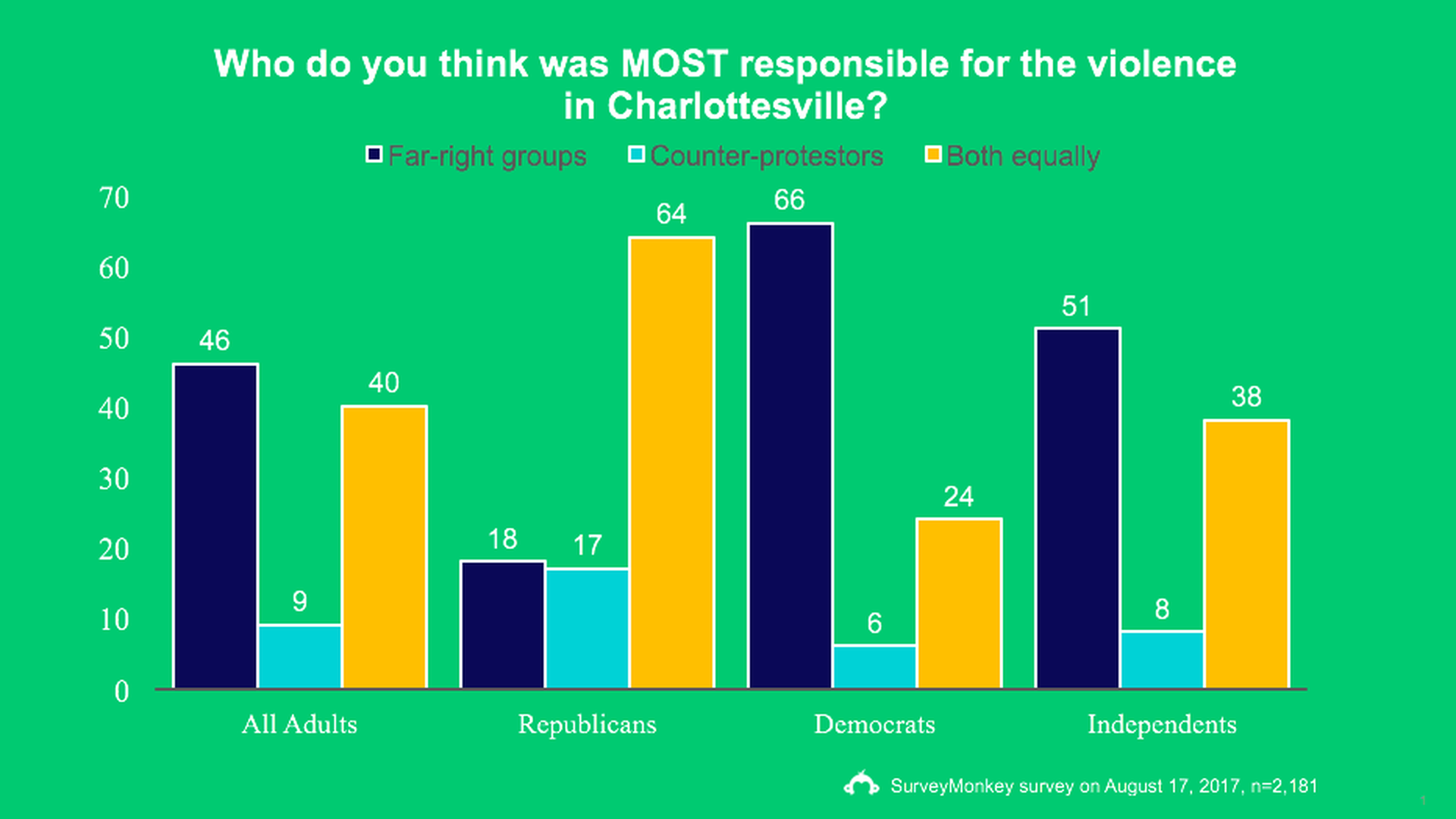 Watching media coverage, you'd think Trump is nearly alone in believing "both sides" share fault for the Charlottesville violence. Turns out, most Republicans have his back.
SurveyMonkey findings, previewed first for Axios readers, for an online poll yesterday with 2,181 respondents:
When presented with a verbatim quote from President Trump on Tuesday ("You had a group on one side that was bad, and you had a group on the other side that was also very violent"), more disagree (53%) than agree (43%).
Republicans agreed, 87%-11%. Democrats disagreed, 83%-15%. Independents disagreed, 59%-39%.
Far more blame "the far right groups" for Charlottesville (46%) than "the counter-protesters" (9%), but a remarkable 40% concur with Trump's assertion that both were equally responsible.
"Beneath the surface, we see the same partisan division: Two-thirds of Democrats (66%) blame the far-right groups rather than the counter-protesters (6%), while Republicans overwhelmingly blame both sides equally (64%). About the same proportion of Republicans blame the far-right groups (18%) as the counter-protestors (17%)."
Why it matters: These findings reflect the fact that, because of the nation's partisan divide and fractured media, we no longer agree on basic facts. That makes civil debate impossible.
3. "No good Nazis"
James Murdoch — CEO of 21st Century Fox, which includes Fox News — sent this email to friends last evening with the subject line, "Personal note from James Murdoch re: ADL":
"I'm writing to you in a personal capacity, as a concerned citizen and a father. ... [W]hat we watched this last week in Charlottesville and the reaction to it by the President of the United States concern all of us as Americans and free people."
"These events remind us all why vigilance against hate and bigotry is an eternal obligation."
"I can't even believe I have to write this: standing up to Nazis is essential; there are no good Nazis. Or Klansmen, or terrorists. Democrats, Republicans, and others must all agree on this, and it compromises nothing for them to do so."
"Kathryn and I are donating 1 million dollars to the Anti-Defamation League, and I encourage you to give what you think is right as well. We hardly ever talk about our charitable giving, but in this case I wanted to tell you and encourage you to be generous too."
Be smart: The sentiment is unsurprising: The Rupert Murdoch sons, James and Lachlan, have a globalist perspective and have never supported Trump. But the harsh letter is a memorable milestone in Trump's march away from parts of the establishment with whom the Manhattanite might have been expected to make common cause in service of his agenda.
P.S. Starbucks chairman Howard Schultz, at an employee forum in Seattle: "The moral fiber, the values, and what we as a country have stood for is literally hanging in the abyss." (AP)
4. Walls closing in on tech giants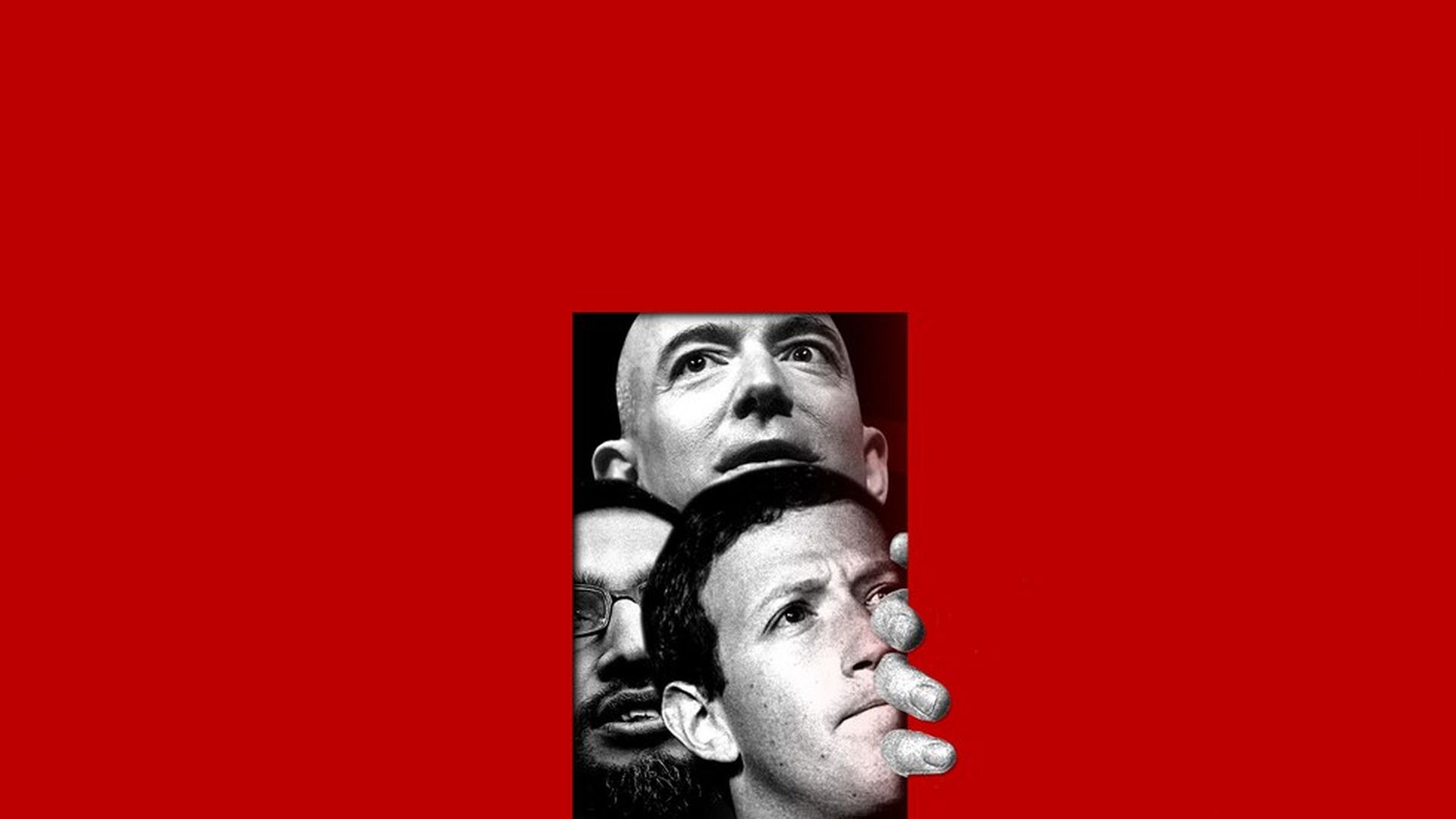 As Jim VandeHei just tweeted: "This is the most consequential change/story overshadowed by a national fixation on Trump."
Tech behemoths Google, Facebook and Amazon are feeling the heat from the far-left and the far-right, and even the center is starting to fold, Axios' David McCabe writes.
Why it matters: Criticism over the companies' size, culture and overall influence in society is getting louder as they infiltrate every part of our lives. Though it's mostly rhetoric rather than action at the moment, that could change quickly in the current political environment.
See David's breakdown of the three biggest fights they're facing.
P.S. Wall Street Journal front page: "The government review of AT&T Inc.'s $85 billion takeover of Time Warner Inc. has reached an advanced stage, ... a significant milestone in a deal that was closely watched for signs of how the Trump administration would view large mergers."
"AT&T lawyers are discussing merger conditions with the Justice Department."
Why it matters: "An approval could underscore the administration's pro-business credentials at a time when ... Trump's ties with America's CEOs are under severe stress."
5. Barcelona suspect is 18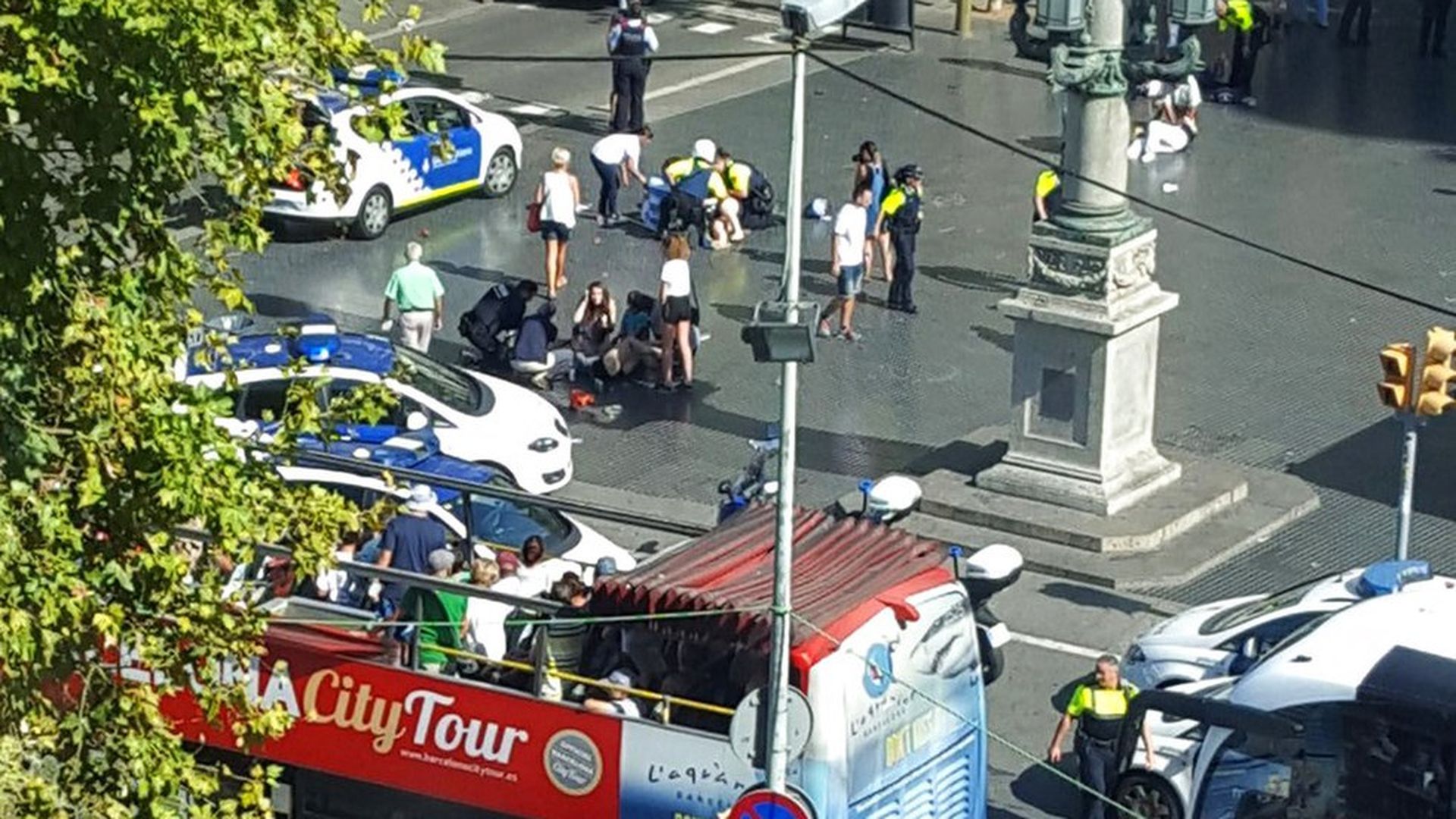 Terrorists have turned to vans and trucks to murder more than a hundred people across Western Europe in a matter of months — Daily Mail: "Low tech attacks using stolen and hired vehicles to randomly rammed into crowds, have been increasingly used by terrorists unable to get hold of guns and explosives."
Why it matters: "It is 'nigh on impossible' for security services to monitor and stop potential terrorists planning such murders and the only way to prevent them is by using barriers to protect pedestrians, according to one expert.
Barcelona latest — BBC: "Spanish police say they have shot dead five suspected terrorists in the town of Cambrils in a second vehicle attack, hours after another in Barcelona killed 13 people and injured dozens. Police said the men were linked to the Barcelona attack, which [ISIS] said it had carried out."
"Police are still hunting the man who drove his van into crowds on Las Ramblas in Barcelona on Thursday. Spanish media have named Moussa Oubakir, 18, as the suspect."
6. The conversation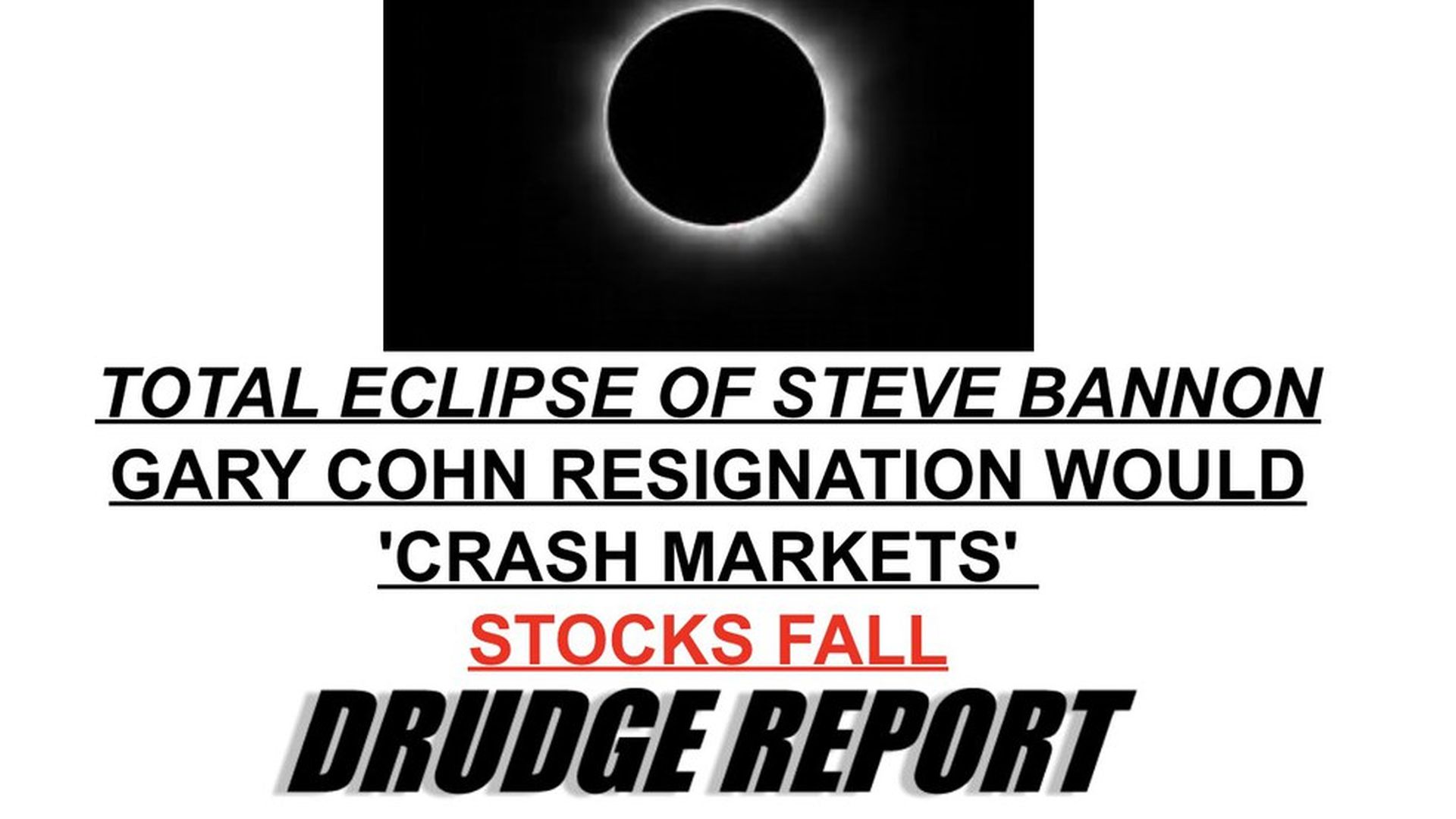 BuzzFeed's Ben Smith: Bannon is "playing for — or at least fantasizing about — a major realignment of American politics. He's been saying the same thing for years to anyone who will listen: that trade and manufacturing are the core issues for working Americans, who also want their sons and daughters back from foreign wars; and that a president who can deliver that will 'get 60% of the white vote, and 40% of the black and Hispanic vote and we'll govern for 50 years,' as he told Michael Wolff in the heady days of mid-November."
"Trump's attacks could leave him friendless if impeachment comes," by Reuters' Richard Cowan: "More than half of the 11 Republicans on the Senate Judiciary Committee, which would be central to any proceeding to remove Trump from office, have tangled with the Republican president."
The Economist's lead editorial (leader), "Trump has no grasp of what it means to be president: U-turns, self-regard and equivocation are not what it takes": "This is a dangerous moment. America is cleft in two. After threatening nuclear war with North Korea, musing about invading Venezuela and equivocating over Charlottesville, Mr Trump still has the support of four-fifths of Republican voters. Such popularity makes it all the harder for the country to unite."
7. Worth the click
"A 2:15 Alarm, 2 Trains and a Bus Get Her to Work by 7 A.M.: Like many in the housing-starved San Francisco region, Sheila James has moved far inland, gaining affordable space at the price of a brutal commute," by N.Y. Times' Conor Dougherty and Andrew Burton, from Stockton, Calif.:
Long commutes are a byproduct of the region's tech boom, which has given rise to a full-blown housing crisis. As home prices have escalated beyond middle-class reach, areas far inland have become an oasis of (relative) affordability. Ms. James wakes up in a city where the median home price is below $300,000 ... Prices rise steadily along her commute until she gets off her last train in San Francisco, where a typical home costs more than $1 million.
8. Dispatch from Trump country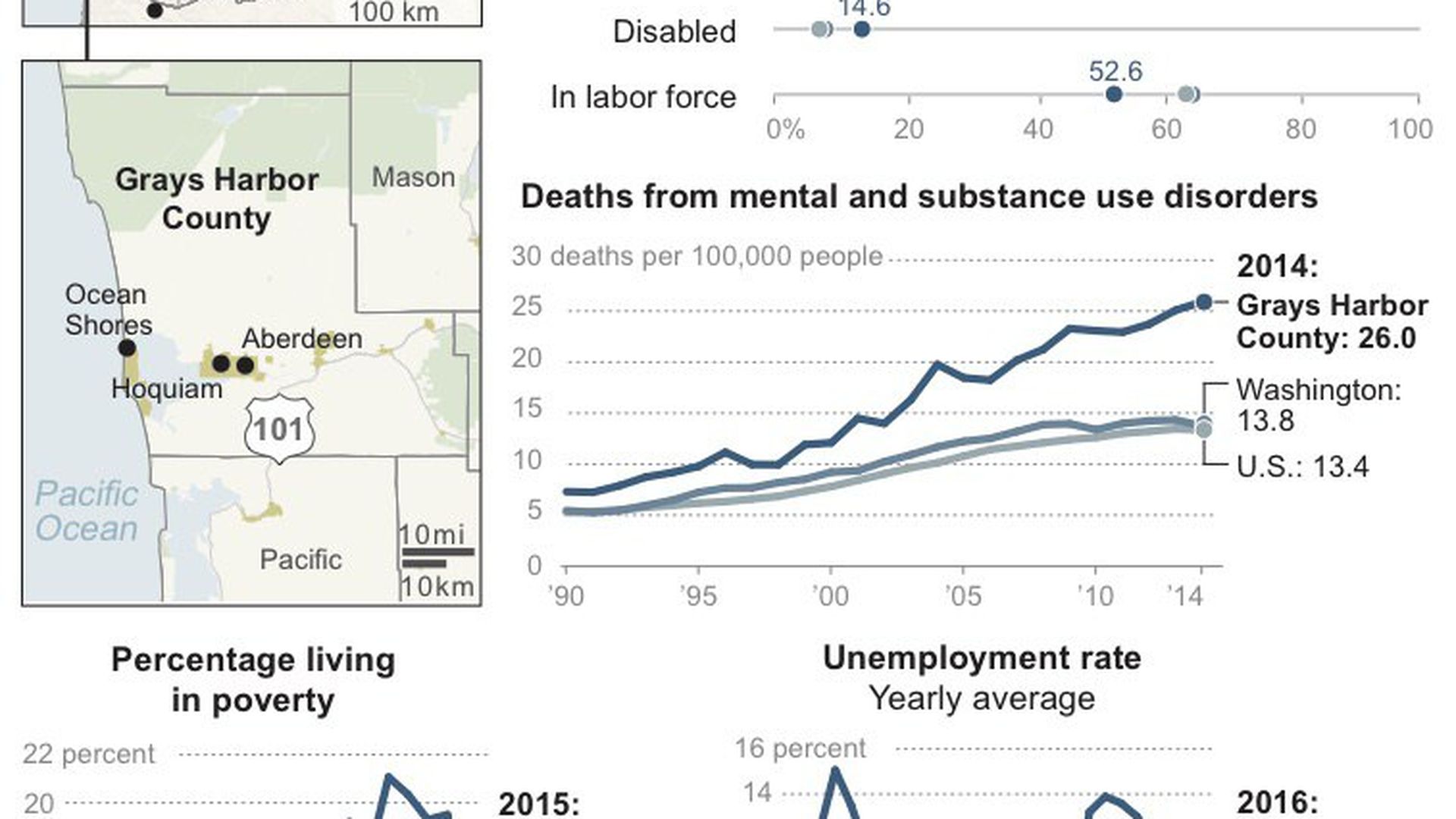 "Battling Demons in Community Looking to Trump for Change" — AP from Aberdeen, Wash.:
"In Grays Harbor County, a rural community on the coast of Washington state, the rate at which people die from despair — from drugs, alcohol and suicide — is nearly twice the national average."
"The county embraced Donald Trump's call to America's forgotten corners, and flipped Republican in a presidential election for the first time in 90 years."
"The logging economy collapsed decades ago and was replaced by a simmering sense of injustice that outsiders took the lumber, built cities around the world and then left the community to decay."
"Grays Harbor sank into despair. Suicides increased, drug and alcohol abuse rose. A crowded tent city of the desperate and addicted has taken over the riverbank, and some here who are fighting to stay alive worry about losing health coverage that helps them get clean."
Why it matters: "[S]ome maintain confidence that Trump will rise above the chaos to deliver on his pledge to resurrect the American dream. But others fear new depths of hopelessness if he fails."
9. Scoop: Snapchat show posts monster numbers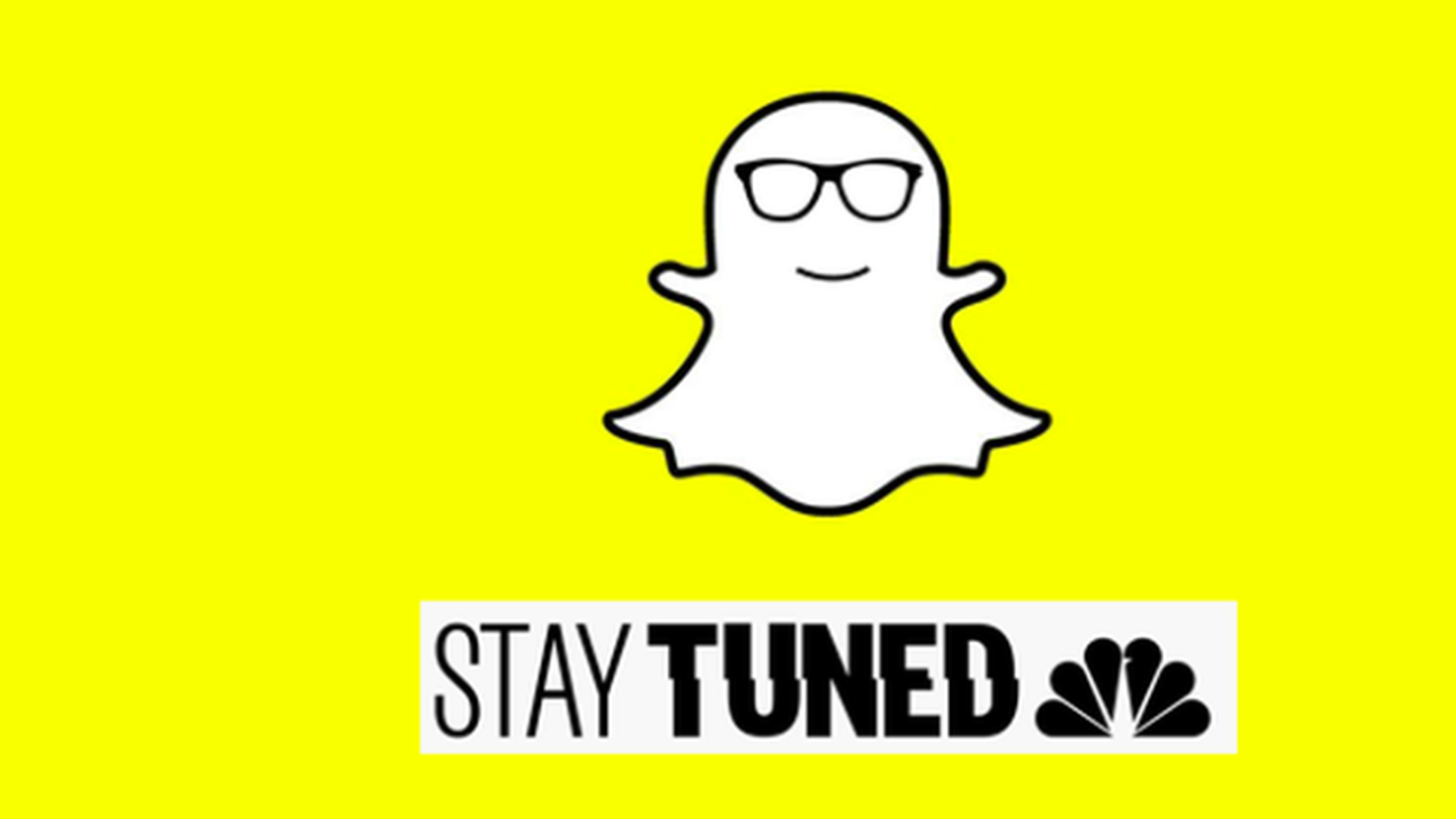 In less than a month, more than 29 million unique viewers have watched "Stay Tuned," NBC News' daily Snapchat Discover show, Axios' Sara Fischer writes:
Why it matters: Millennials are actually watching news shows: Getting nearly 30 million young people to watch a hard news show is an enormous feat.
The success of "Stay Tuned" — combined with the strength of Snapchat's original political newscast, "Good Luck America" — demonstrate a major shift in how TV news will transition to mobile in the digital age.
"Stay Tuned" speaks to Snapchat's ability to successfully serve hard news content to its millennial audience, not just tabloid gossip and reality TV.
Gadi Schwartz and Savannah Sellers alternate as hosts for the twice-daily iterations of the show. The two host 2-3 minute segments daily that feature on-camera guests and field interviews.
Disclosure: NBC is an investor in Axios.
10. 1 change worth making
The glow of the tech in our bedrooms cuts through the darkness and tricks our brain into thinking it's daytime, the Houston Chronicle's Jenny Deam writes on the front page.
"Just by slapping on a pair of cheap orange sunglasses a few hours before bedtime while still using their regular devices, .. melatonin levels [for participants in a University of Houston study] shot up by 58 percent. Melatonin [tells your brain] it's time to sleep."
"By simply shifting the visual hue from blue to orange (think sunset), the group reported drifting off earlier and more easily, plus staying asleep longer. Most added about a half-hour to their sleep total; one volunteer caught an extra hour and a half."
Why it matters: 1 in 3 of us report being sleep-deprived.