The Thursday Night Twister (or "How President Trump Celebrated Six Months in Office"): The POTUS team explores pardons and digs dirt on Mueller. He offers the job of White House communications director to Anthony Scaramucci, without telling other top West Wing officials. Mark Corallo quits Trump's legal team. Remember health care? Or "Made in America Week"?
https://www.axios.com/newsletters/axios-am-c9233e1f-c6db-434d-bef6-d0adcb6e9ed3.html?chunk=0#story0
1 big thing: Speaking his language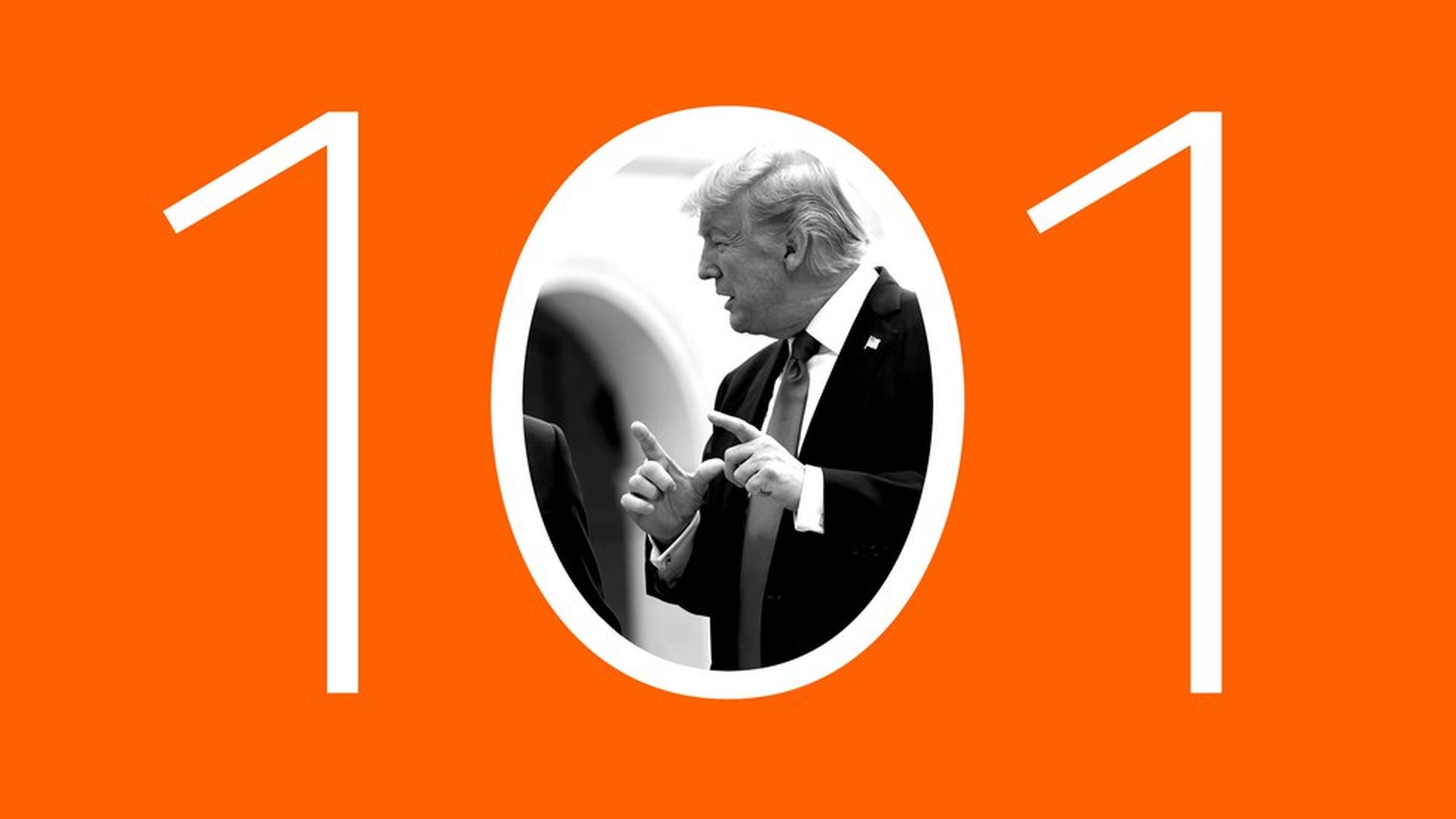 One of the more elusive skills in this White House is the ability to communicate effectively with President Trump. It's no secret he likes things short, simple, graphical.
Someone who was doing it all wrong (although better lately), according to colleagues, is national security adviser H.R. McMaster. It's one of several reasons the two men often don't click.
McMaster has briefed in a certain way his whole career: crisp, linear, dry, like a good military man, and leaves nothing to chance. The formality doesn't work with Trump, who sometimes simply tunes McMaster out.
"Can you believe this guy?" he once asked in a joking-not-joking tone.
What doesn't work: Sources who've watched McMaster in action say he over prepares to brief the President. He knows the outcome he wants and wants to stick rigidly to his plan. But Trump likes to be discursive and will frequently turn to others or meander into other subjects while McMaster is briefing him. When Trump finishes his riff, McMaster will often return precisely to the point he left off.
This bothers Trump, who has openly wished for the return of Michael Flynn, who was more spontaneous.
Lately, McMaster has started to adjust by making shorter points and a more colloquial tone, according to colleagues. He can be hilarious when telling war stories to his staff, but always transforms into a stiffer guy when he's running a meeting or briefing a superior.
But McMaster's disconnect with Trump extends beyond presentation, to policy. McMaster wants to solve problems with military solutions, and Trumps wants to make a deal. And McMaster has been among the top advisers who have been warning Trump that Putin is not to be trusted — part of the West Wing's divisions on the issue, AP reported.
But, but, but: McMaster is still proving to be effective in some key moments. He got his way on troop increases in Afghanistan and on Trump's recent decision, against his instincts, to recertify Iran's compliance with the terms of the nuclear deal. While Trumps growls and sulks, he nevertheless seems to give into generals. But the relationship remains awkward.
What works: A more successful approach with Trump is a more conversational, anecdotal style with lots of references to him — his theories and beliefs, things he has said in the past. Dina Powell, the deputy national security adviser, has been especially adroit at this: She gets the same place McMaster would go, but does it in a personal, leisurely style that engages the boss.
Ditto with Gary Cohn, who goes with the conversational flow, and Treasury Secretary Steven Mnuchin, who'll say when talking about Chinese currency manipulation, for instance: "But that was before you were on the world stage." Trump is all ears.
https://www.axios.com/newsletters/axios-am-c9233e1f-c6db-434d-bef6-d0adcb6e9ed3.html?chunk=1#story1
2. How Trump found his new face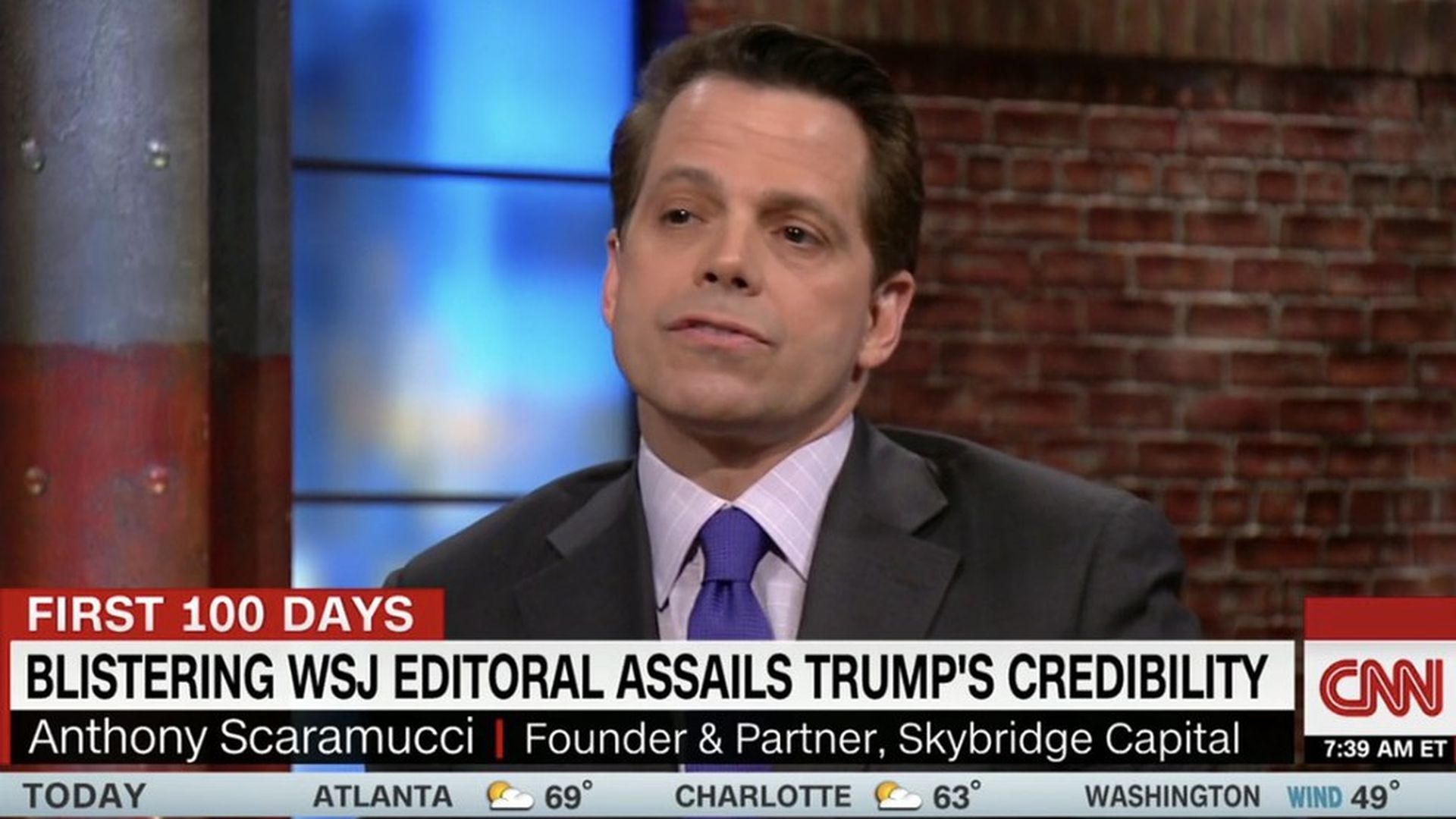 Watching cable news, President Trump admired the scrappy style of Anthony Scaramucci, a brash Wall Streeter widely known as "Mooch," and would ask aloud why the financier wasn't working for him.
Scaramucci endeared himself even more when he fought back against a CNN story tying him to the Russia investigation, and won a retraction and the resignation of three CNN journalists.
Now, as Axios' Jonathan Swan scooped last night, Trump is expected to announce Scaramucci as White House communications director, a job that's been open since Mike Dubke resigned in May.
The President frequently vents about his press and comms operation, and he liked the ideas Mooch presented.
Scaramucci, who met with President Trump and Ivanka Trump at 4:30 p.m. yesterday, is supported by Ivanka, Jared Kushner and Hope Hicks, the director of strategic communications.
But he's walking into a buzz saw of internal opposition from aides who think he's unqualified for the job, which traditionally has focused on strategy and planning.
The intrigue: At 10 a.m. today, Trump will hold a meeting about Scaramucci that will include Chief of Staff Reince Priebus and Chief Strategist Steve Bannon, who may try to block or delay the hiring.
Who he is: "Mooch" is a major Republican donor who supported Trump during the general election campaign — after fundraising during the primaries for Scott Walker and Jeb Bush. He frequently appears on Fox News and is a longtime friend of Sean Hannity.
Scaramucci recently sold his stake in his hedge fund, SkyBridge Capital (making an estimated $100 million), but was left stranded after an initially planned job in the White House didn't materialize. Scaramucci is currently working at the Export-Import Bank.
https://www.axios.com/newsletters/axios-am-c9233e1f-c6db-434d-bef6-d0adcb6e9ed3.html?chunk=2#story2
3. "A looming showdown"
"Seeking leverage" ... "Trump's lawyers and aides are scouring the ... backgrounds of investigators hired by the special counsel Robert S. Mueller III, looking for conflicts of interest they could use to discredit the investigation — or even build a case to fire Mr. Mueller or get some members of his team recused," The N.Y. Times reports in a front-pager by Mike Schmidt, Maggie Haberman and Matt Apuzzo:
"[I]t includes scrutinizing donations to Democratic candidates, investigators' past clients and Mr. Mueller's relationship with James B. Comey."
Why it matters: "The effort to investigate the investigators is another sign of a looming showdown between Mr. Trump and Mr. Mueller."
Mueller is taking "a broad view, an expansive view of his mandate," going back at least a decade ... Bloomberg scoops that Mueller "is examining a broad range of transactions involving Trump's businesses as well as those of his associates."
"FBI investigators and others are looking at Russian purchases of apartments in Trump buildings, Trump's involvement in a controversial SoHo development in New York with Russian associates, the 2013 Miss Universe pageant in Moscow and Trump's sale of a Florida mansion to a Russian oligarch in 2008."
"The investigation also has absorbed a money-laundering probe begun by federal prosecutors in New York into Trump's former campaign chairman Paul Manafort."
Be smart: These stories are very much tied together. West Wing confidants tell us that if Mueller goes too far beyond Russia-related matters, Trump could move to "quash it" (fire Muller), arguing a fishing expedition designed to humiliate him.
https://www.axios.com/newsletters/axios-am-c9233e1f-c6db-434d-bef6-d0adcb6e9ed3.html?chunk=3#story3
4. Trump shuffles legal team, again
CNN: "Marc Kasowitz, Trump's longtime personal attorney who has been the lead lawyer on the Russia investigation, will see his role recede ... John Dowd, along with Jay Sekulow, will now be the President's primary personal attorneys for the investigation ... Ty Cobb will take the lead from inside the White House ... when he formally starts his job on July 31."
"Mark Corallo has resigned from his position as spokesman and communications strategist for Trump's legal team."
https://www.axios.com/newsletters/axios-am-c9233e1f-c6db-434d-bef6-d0adcb6e9ed3.html?chunk=4#story4
5. Pardon me
https://www.axios.com/newsletters/axios-am-c9233e1f-c6db-434d-bef6-d0adcb6e9ed3.html?chunk=5#story5
6. His own reality
The N.Y. Times posted a "Fact Check" by Linda Qiu on its 50-minute interview with Trump, under the headline "Trump made several misleading claims in times interview." Here are the eight headings:
He misrepresented how health insurance works.
He falsely said the wife of the Japanese prime minister "doesn't speak English," not even "hello."
He said news about Russia "wasn't hot" when his son met with a Russian lawyer in June 2016.
He said he discussed adoptions with Mr. Putin. That's a proxy for sanctions.
He incorrectly recounted the history of the F.B.I. and falsely said its director "really reports directly to the president of the United States."
He described savings from health care and tax cuts as a "windfall" for the middle class. The cuts are generally more beneficial to the wealthy.
He incorrectly said Rod J. Rosenstein, the deputy attorney general, was "from Baltimore."("Rosenstein grew up in Philadelphia ... He was appointed the United States attorney for Maryland, based in Baltimore, in 2005 by President George W. Bush, a Republican. Mr. Rosenstein lives in Bethesda, Md.")
He offered a distorted history of Paris and Napoleon.
https://www.axios.com/newsletters/axios-am-c9233e1f-c6db-434d-bef6-d0adcb6e9ed3.html?chunk=6#story6
7. Top-eds: "preemptive concession"
Denis McDonough, President Obama's last chief of staff (2013-17), for WashPost, "Preventing a 'next time'": [T]he intelligence community was dead right: Russia poses a threat to our democracy. Yet the past several months have also seen too much denial, finger-pointing and partisan posturing on this issue. Instead, we must build on the experience of past year, find a bipartisan path to complete a comprehensive review of what happened — and ensure that renewed efforts by Russia will not succeed."
WashPost column by Michael Gerson, former George W. Bush speechwriter, "Russia first": "Trump is alienating Republicans from their own heroic foreign policy tradition. The conduct of the Cold War was steadied and steeled by Ronald Reagan, who engaged with Soviet leaders but was an enemy of communism and a foe of Soviet aggression. ... Now Trump pursues a policy of preemptive concession with a Russia that is literally on the march in places such as Georgia and the Ukraine."
Peggy Noonan column in tomorrow's Wall Street Journal, "Trump, ObamaCare and the Art of the Fail": "Republicans on the Hill need a popular president with the quasi-mystical clout presidential popularity brings. Mr. Trump does not have it. They need someone who has a serious understanding of his own policies and can gently knock heads together."
"[A]t some point baseline political competence is going to become part of the story. If the president continues to show he doesn't have the toolbox for this job, he's going to go from not gaining support, which is where he is now, to losing support. He's not magic and they're not stupid."
https://www.axios.com/newsletters/axios-am-c9233e1f-c6db-434d-bef6-d0adcb6e9ed3.html?chunk=7#story7
8. The talk of business
"Sears Links With Amazon, Jolting Appliance Industry" — Wall Street Journal front-pager by Suzanne Kapner and Laura Stevens: "Sears ... said ... it will start selling its Kenmore appliances on Amazon, loosening its grip on one of its historic product lines and becoming the latest big American brand to capitulate to the online-retail giant."
Why it matters: "Amazon's rapid growth has displaced traditional stores and left even powerful brands unable to ignore it. Nike Inc., one of the biggest holdouts, recently decided to start selling directly to Amazon."
https://www.axios.com/newsletters/axios-am-c9233e1f-c6db-434d-bef6-d0adcb6e9ed3.html?chunk=8#story8
9. The talk of tech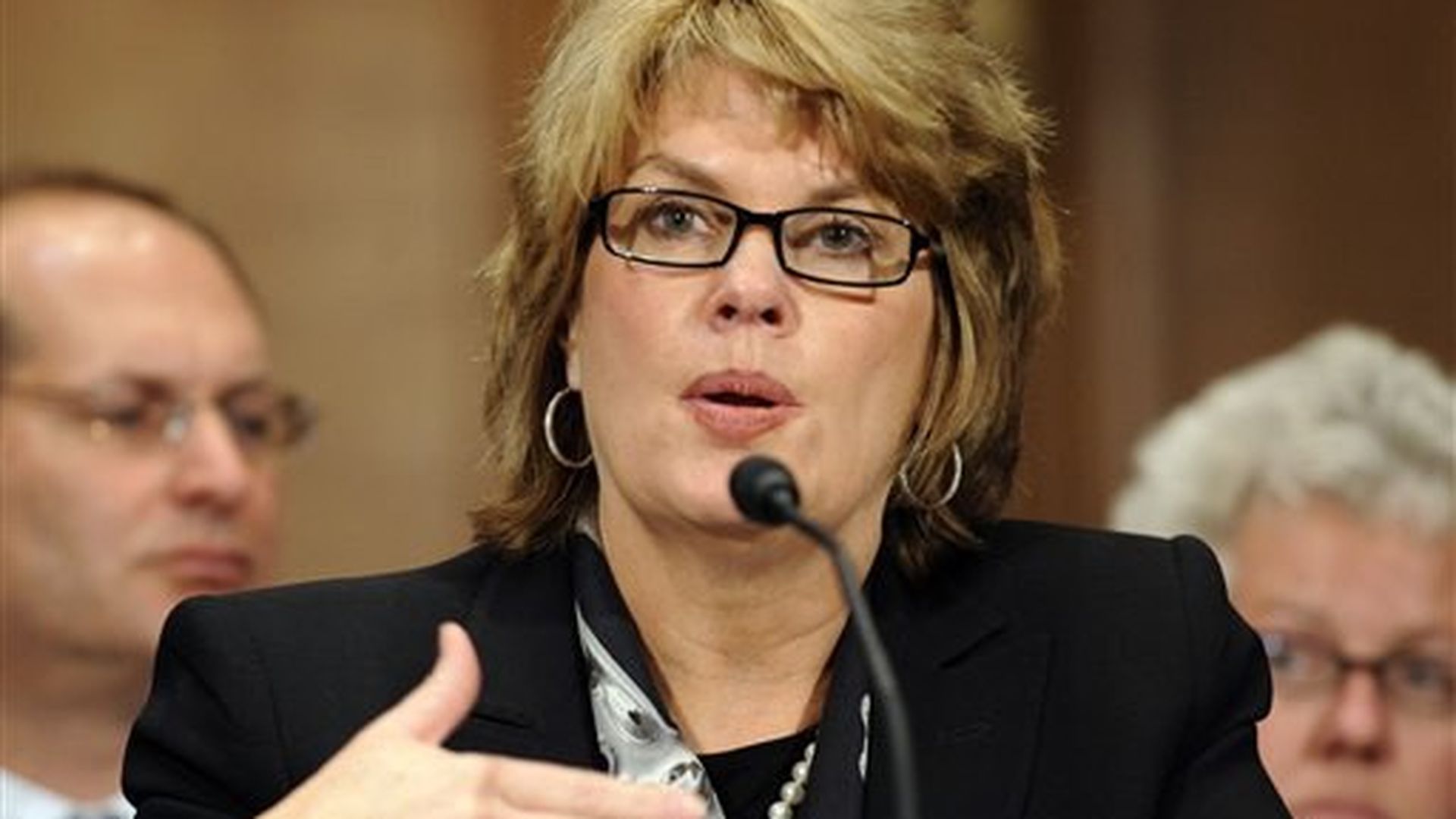 Another Axios scoop, by deals whisperer Dan Primack ... "Multiple individuals close to Uber's board of directors have reached out to Bank of America vice chairman Anne Finucane about the company's CEO position, which has been vacant since Travis Kalanick resigned in June."
Why she would make sense: "Plenty of experience with crisis management and brand rehab, given that she led global strategy and marketing for Bank of America after the financial crisis. Uber is said to favor hiring a female CEO, given its well-publicized issues with sexual harassment and gender discrimination.... Longtime Wall Street experience that would lend itself to Uber's eventual IPO plans."
https://www.axios.com/newsletters/axios-am-c9233e1f-c6db-434d-bef6-d0adcb6e9ed3.html?chunk=9#story9
10. 1 fun thing: Maybe Trump needs a dog?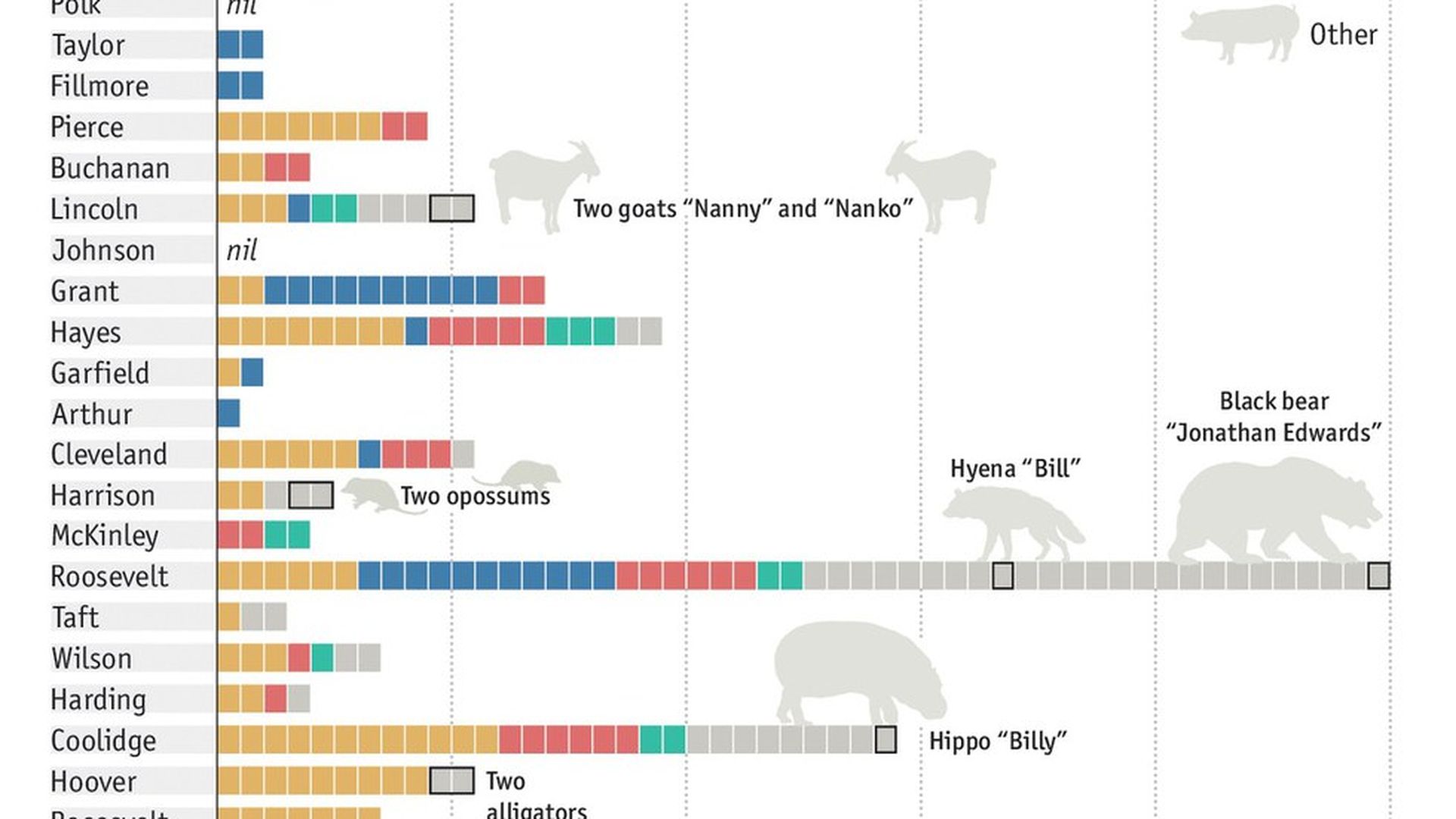 Per The Economist: "The last pet-less leader in American history was Andrew Johnson, who left office in 1869 and is best-known for being one of only two presidents to be impeached (the other, Bill Clinton, had a dog and a cat). According to the Presidential Pet Museum, the White House has been home to over 300 animals, ranging from dozens of dogs, horses and birds to the occasional bear, tiger and alligator."
"Theodore Roosevelt had by far the most impressive menagerie: while in office, the famed outdoorsman and conservationist cared for some 50 animals, including a badger, a barn owl and a one-legged rooster. Although animals are beloved by Americans of all political stripes, their appeal in the Oval Office has not been quite so bipartisan: Democratic presidents have averaged six pets each compared with nine for Republican ones."