Good Monday morning. You're invited ... Gary D. Cohn, director of the National Economic Council, joins me Wednesday at 8 a.m. for an onstage News Shapers interview in downtown D.C. We'll go behind the scenes of the tax negotiations, and look ahead to next year's agenda. RSVP here.
https://www.axios.com/newsletters/axios-am-c9065399-0391-4d91-b752-436b5d2e4c73.html?chunk=0#story0
1 big thing: Muddying Mueller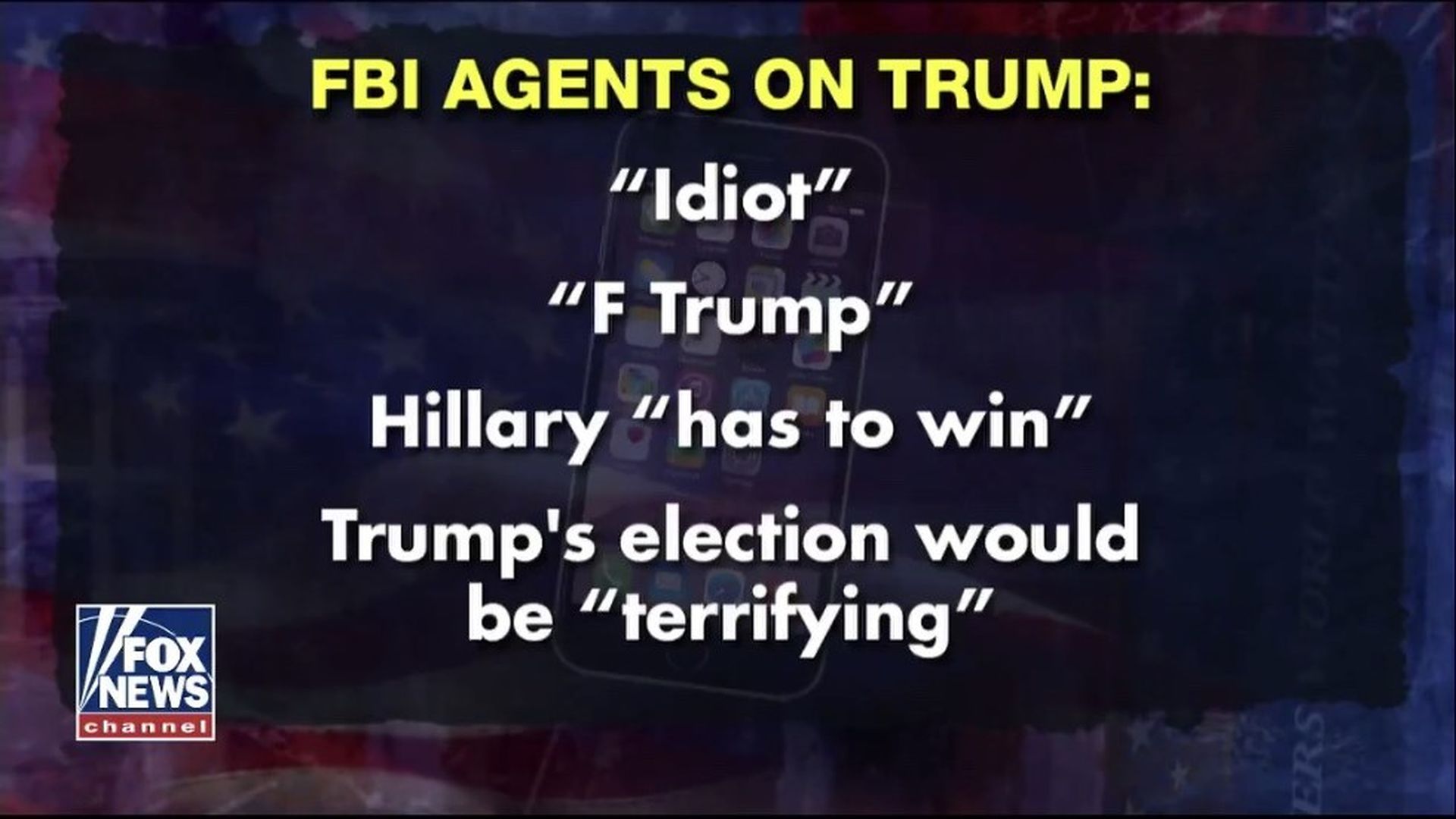 President Trump said yesterday "No, I'm not" when asked if he's considering firing Special Counsel Bob Mueller. Truth is, his high-level Republican allies don't think he will need to:
The rising conservative drumbeat to discredit the investigation and the investigators is gaining GOP converts.
Sen. John Cornyn (Texas), the chamber's #2 Republican, said on ABC yesterday that it would be "a mistake" to fire the special counsel. But Cornyn tweeted a day earlier: "Mueller needs to clean house of partisans."
Trump said yesterday when asked about the tens of thousands of transition emails Mueller had obtained from the GSA, which ran the server: "Not looking good. It's not looking good. It's quite sad to see that. My people are very upset about it. ... A lot of lawyers thought that was pretty sad."
A source close to the White House said: "You're starting to win over mainstream conservatives to the backlash over overreach."
The source said that Trump, not known for patience, has attacked the investigation but mostly resisted personalizing attacks on Mueller. One sign: Trump isn't calling Mueller by a demeaning nickname.
The N.Y. Times' Michael Schmidt reports that "as the investigation has reached deeper into Mr. Trump's inner circle, ... Trump's lawyers and supporters have significantly increased their attacks on Mr. Mueller":
"[T]he F.B.I. has handed them fresh ammunition to claim that the agents investigating the president may be biased."
But, but, but: "Legal experts said there was no indication that Mr. Mueller, who has wide power to obtain documents through written requests, subpoenas and search warrants, improperly obtained the transition emails."
Fox News' Jesse Watters (one of the 45 Twitter accounts Trump follows) used the onscreen headline "A COUP IN AMERICA?" this weekend as he decried what he called "smoking-gun evidence" the probe of Trump is tainted:
Watters: "Is the FBI part of the resistance? It's like the FBI had Michael Moore investigating the president of the United States. ... The investigation into Donald Trump's campaign has been crooked from the jump."
CNN's Brian Stelter dissects the "War on Mueller" feedback loop: "The right-wing commentary and President Trump's criticism of the FBI are part of a vicious circle. The TV hosts encourage Trump, then Trump supplies sound bites for their shows, and then the hosts are even more emboldened."
Be smart: The Trump lawyers' strategy is to cooperate with Mueller on the inside game. The outside chorus tries to rough up Mueller, in case his findings are trouble for POTUS.
https://www.axios.com/newsletters/axios-am-c9065399-0391-4d91-b752-436b5d2e4c73.html?chunk=1#story1
2. Codifying "America first"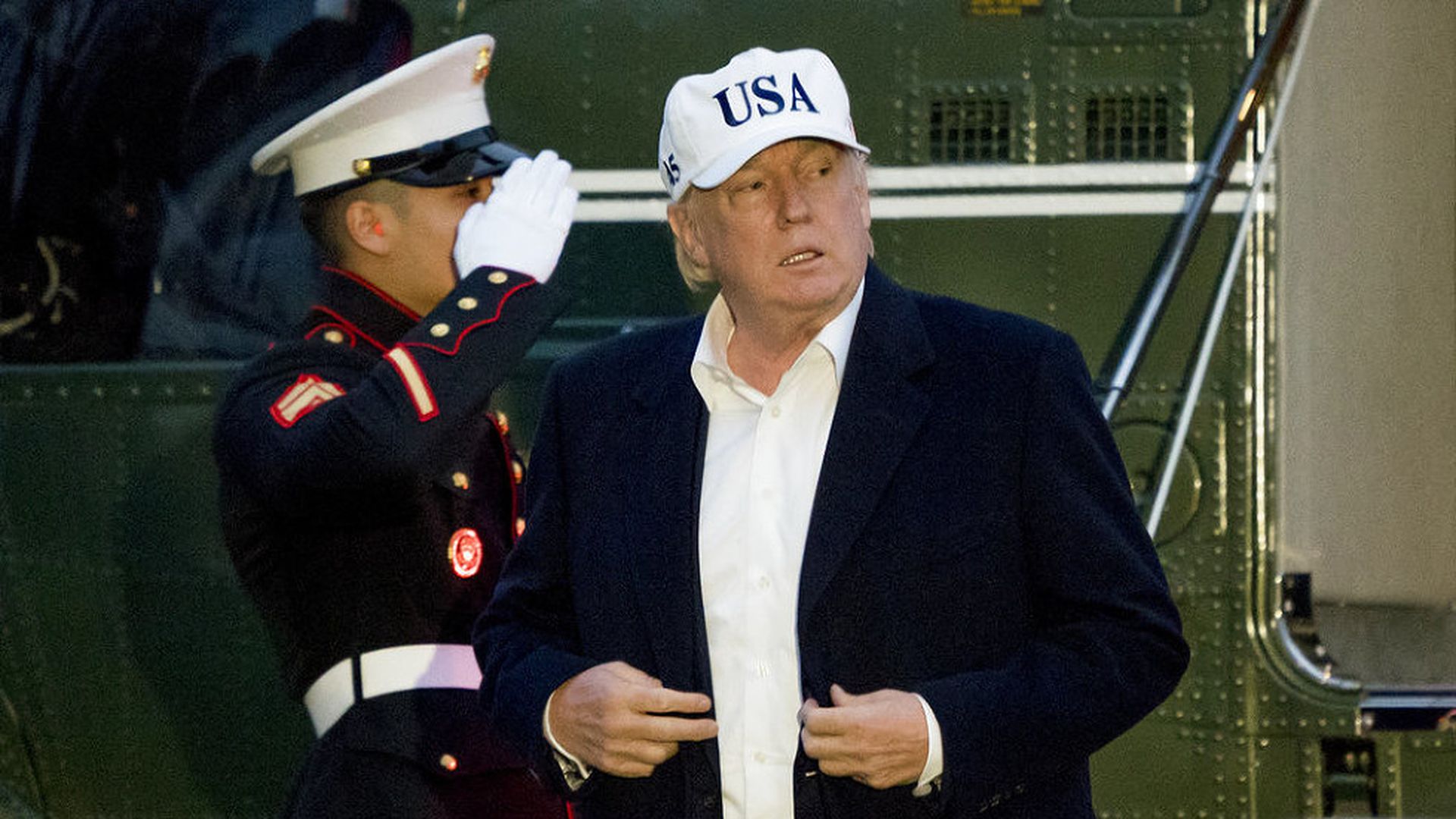 At 2 p.m. today, President Trump announces a National Security Strategy with the implicit message, according to an administration source: "A strong America is back on the international stage."
A briefing for reporters yesterday forecast a mostly muscular document with these four pillars: protect the homeland, promote American prosperity, preserve peace through strength, and advance American influence.
Amid phrases like "American resilience," the document includes avenues for cooperation. "America first does not mean America alone," a senior administration official said.
China is called a "strategic competitor."
Climate change is not identified as a threat to national security, but environmental stewardship is discussed.
Another administration official said the message is: "'America first' makes sense. ... How could we not want America to win, .... to preserve our principles and values?"
The official pointed to this piece by Tom Friedman ("Saudi Arabia's Arab Spring, at Last") as a sign the Trump approach is working.
Opposition to this approach is strong in some parts of the administration's national-security apparatus:
One official involved in the preparation of the document calls it a "Frankenstein strategy": "It is hard to say the document is cohesive, reflecting key inputs from the interagency. The doc doesn't reflect a lot of input from State (and intel community).""It fits a domestic political narrative."
How it's playing ... L.A. Times front page: "U.S. set to flex its pecs for the world."
https://www.axios.com/newsletters/axios-am-c9065399-0391-4d91-b752-436b5d2e4c73.html?chunk=2#story2
3. Tweet du jour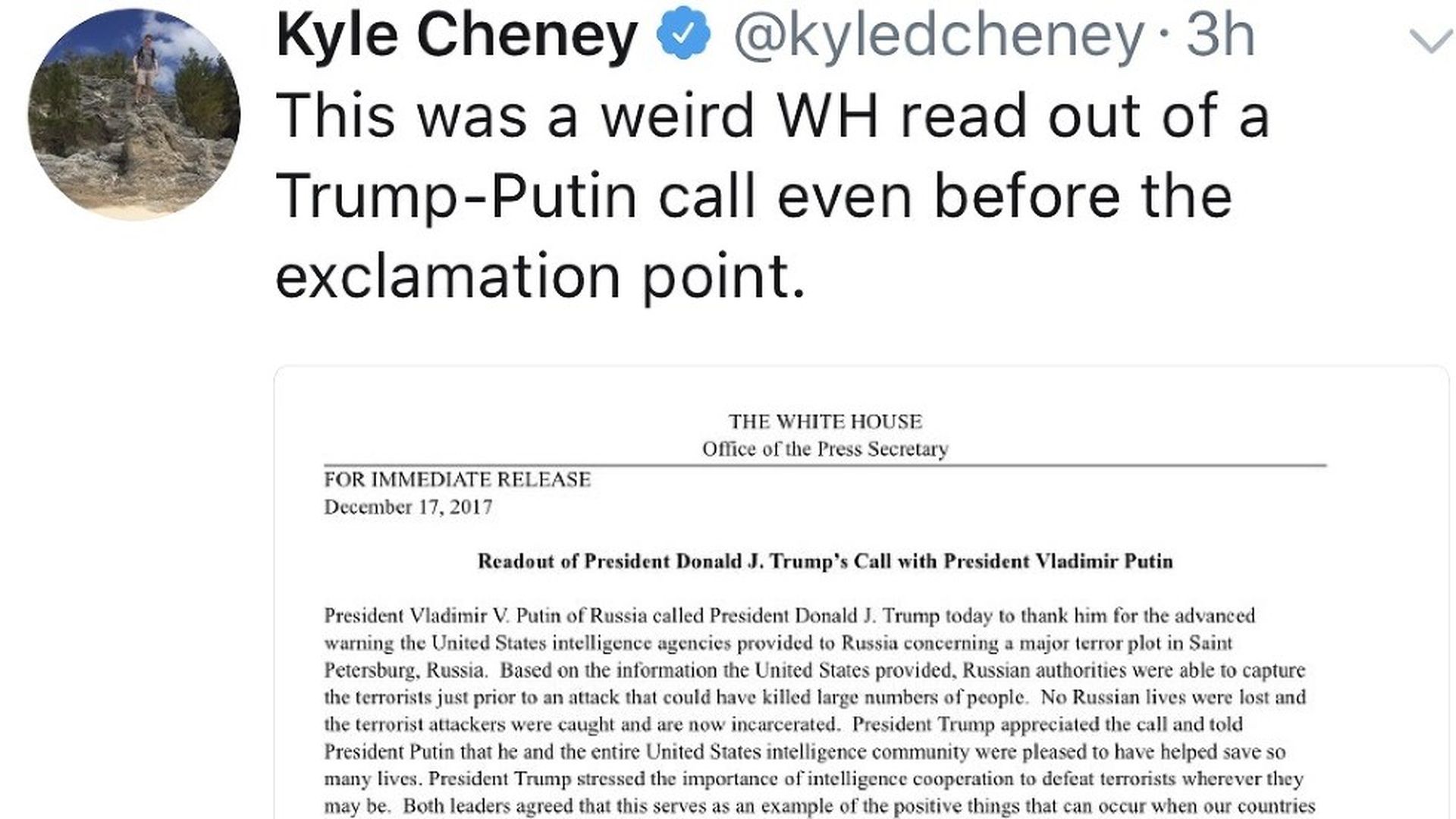 https://www.axios.com/newsletters/axios-am-c9065399-0391-4d91-b752-436b5d2e4c73.html?chunk=3#story3
Bonus: Pic du jour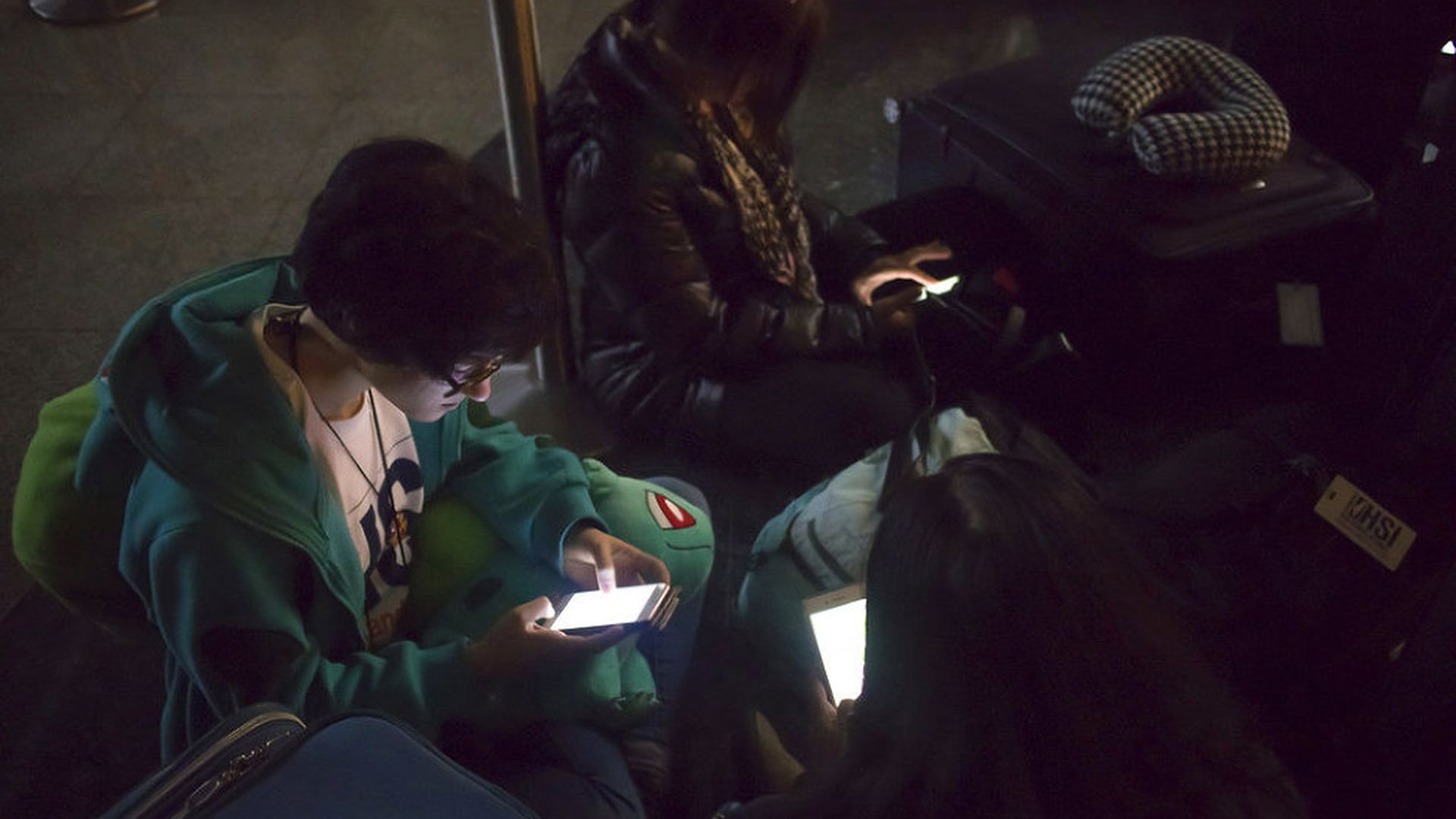 Isabelle Jacobs waits for her flight to New York in a dark terminal at Atlanta's Hartsfield-Jackson International Airport, the world's busiest airport by passenger count.
Atlanta Journal-Constitution: "Georgia Power said it believes a failure of its equipment may have started a fire that led to a massive power outage ... causing more than 1,000 flight cancellations Sunday, disrupting flights for travelers from around the world."
Power was fully restored shortly after midnight.
The ripple effects continue: Delta Air Lines has already canceled 300 flights for today.
https://www.axios.com/newsletters/axios-am-c9065399-0391-4d91-b752-436b5d2e4c73.html?chunk=4#story4
4. Blaze could rage into January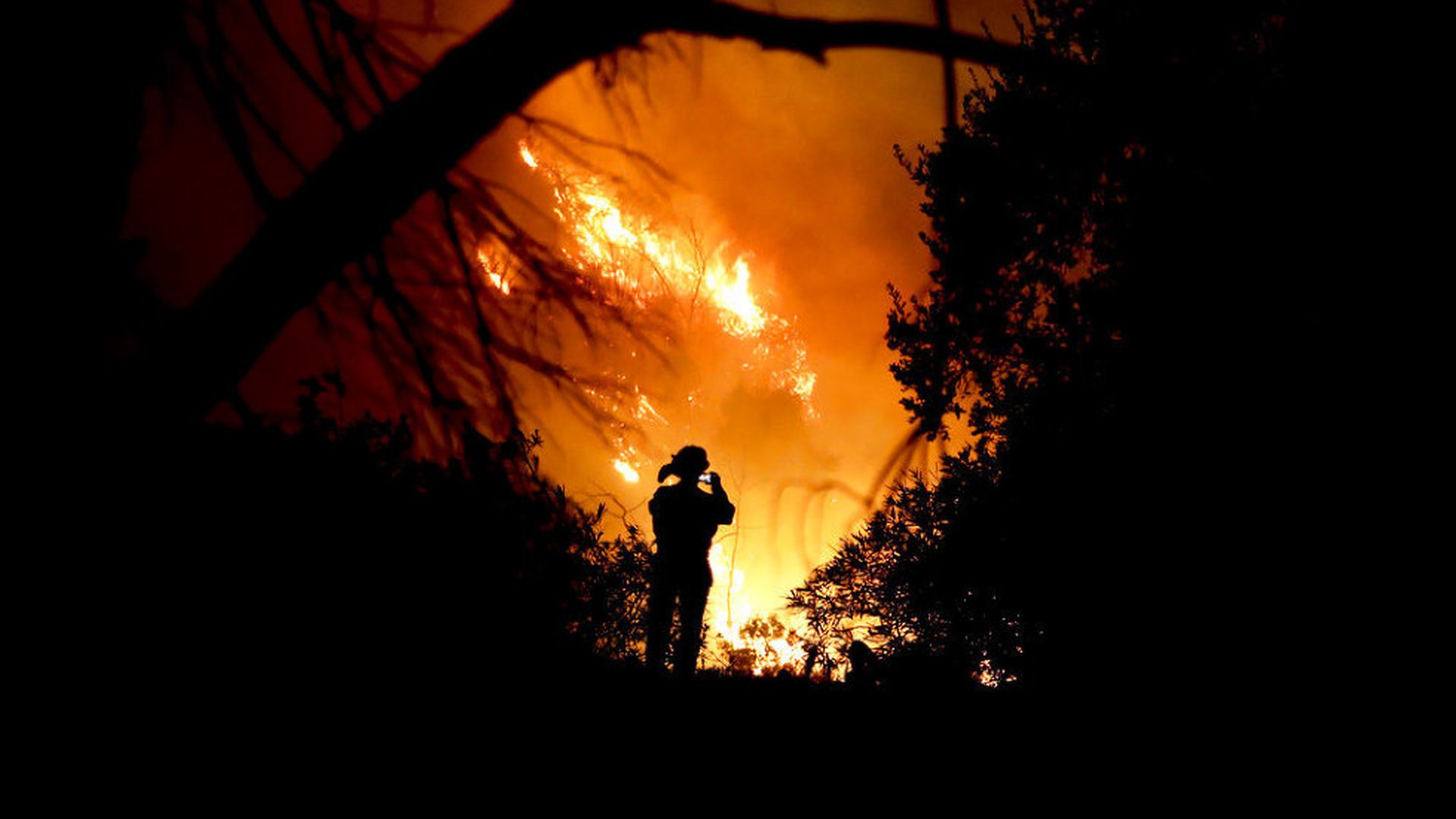 A firefighter takes a cellphone picture Saturday during a wildfire in Montecito, Calif. The Thomas Fire is now the third-largest in California history.
L.A. Times: "Although an epic firefight Saturday was largely a success, preventing the mammoth Thomas fire from sweeping into whole neighborhoods in Montecito and Santa Barbara, some expensive homes were lost in this affluent coastal community known for its celebrity residents."
"Capt. Steve Concialdi of the Orange County Fire Authority estimated that firefighters won't have full containment of the blaze until Jan 7."
Orange County Register banner today: "BLAZE GROWS AMID SHIFTING WINDS."
https://www.axios.com/newsletters/axios-am-c9065399-0391-4d91-b752-436b5d2e4c73.html?chunk=5#story5
5. How clumsy Congress picks winners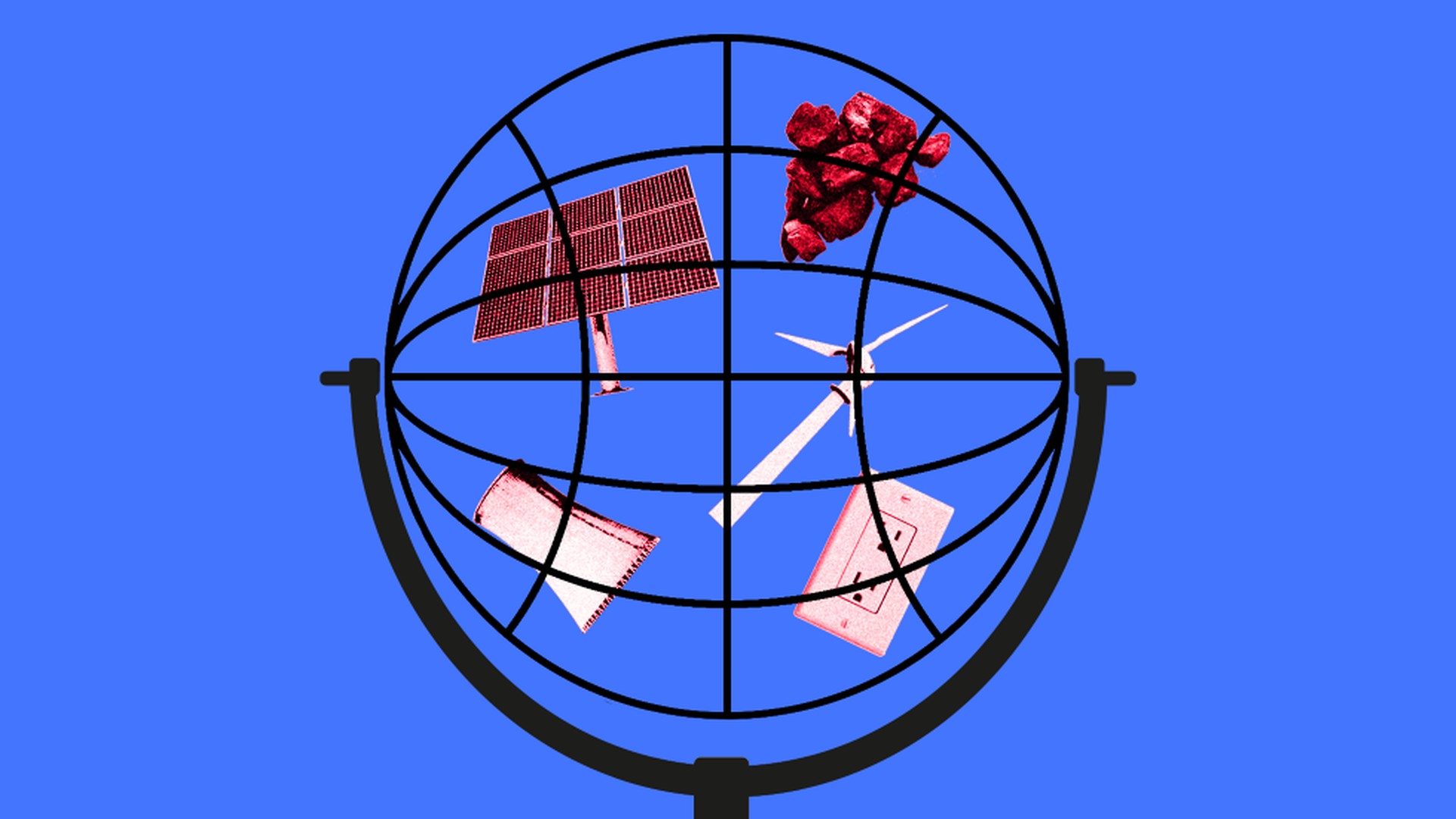 Congress doubles down on the least efficient, most expensive way to advance energy and climate policy: a multibillion-dollar maze of tax subsidies, Axios' Amy Harder writes in her weekly "Harder Line" energy column:
Why it matters: The massive tax bill Congress is set to approve this week does little to simplify complicated tax laws that impact the energy industry, keeping intact most energy subsidies, totaling tens of billions.
The prospect of a tax on carbon emissions, which would both raise revenue for the federal government and help level the playing field between polluting and non-polluting energy resources, never had a chance.
https://www.axios.com/newsletters/axios-am-c9065399-0391-4d91-b752-436b5d2e4c73.html?chunk=6#story6
6. Airdrop on Capitol Hill
"Trump, Real Estate Investors Get Last-Minute Perk in Tax Bill," by Bloomberg's Lynnley Browning and Benjamin Bain report:
"Lawmakers scrambling to lock up Republican support for the tax reform bill added a complicated provision late in the process — one that would provide a multimillion-dollar windfall to real estate investors such as President Donald Trump."
"The change, which would allow real estate businesses to take advantage of a new tax break that's planned for partnerships, limited liability companies and other so-called 'pass-through' businesses, combined elements of House and Senate legislation in a new way."
"Republican Senator Bob Corker of Tennessee ... wrote [yesterday] to Senate Finance Committee Chairman Orrin Hatch seeking an explanation for how the provision came to be included in the final bill after being asked about it by a reporter."
Corker: "The suggestion was that it was airdropped into the conference without prior consideration by either the House or the Senate."
N.Y. Times Quote of the Day ... Jeff Lajqi, manager of a Jewish deli in Livingston, N.J., where residents worry about the economic shock from Republican plan to limit how much property tax they can deduct on federal returns:
"If they're raising the taxes, you know what's going to happen: Everyone's going to raise prices. Raise my taxes, I raise your challah."
https://www.axios.com/newsletters/axios-am-c9065399-0391-4d91-b752-436b5d2e4c73.html?chunk=7#story7
7. Worthy of your time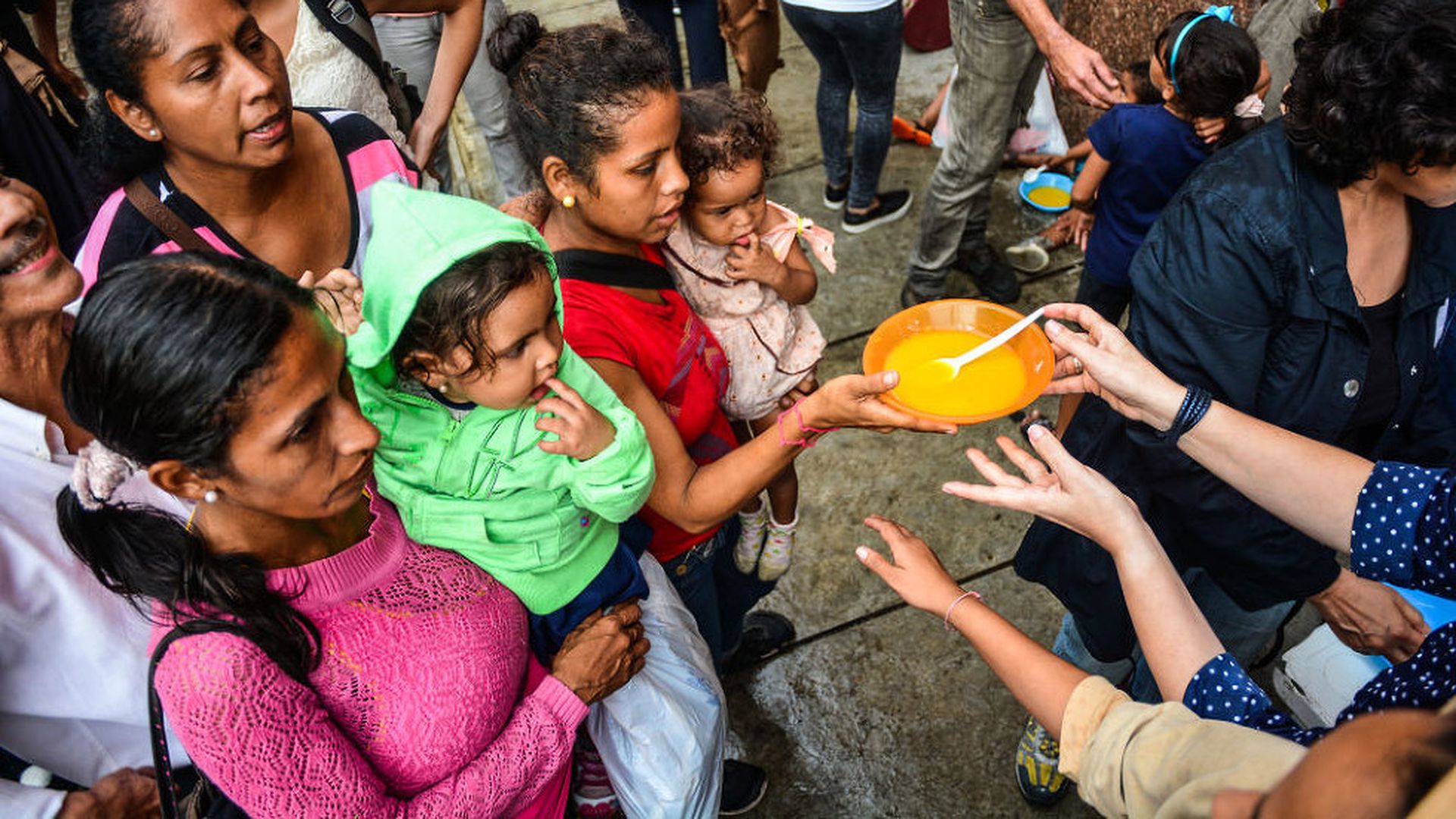 "As Venezuela Collapses, Children Are Dying of Hunger: For five months, The New York Times tracked 21 public hospitals in Venezuela [on the northern hump of South America]. Doctors are seeing record numbers of children with severe malnutrition. Hundreds have died":
"Venezuela has the largest proven oil reserves in the world. But in the last three years its economy has collapsed" — the legacy of inflation, mismanagement, corruption under the late President Hugo Chávez."
"Riots and protests over the lack of affordable food, excruciating long lines for basic provisions, soldiers posted outside bakeries and angry crowds ransacking grocery stores have rattled cities, providing a telling, public display of the depths of the crisis."
Why it matters: "For many low-income families, the crisis has completely redrawn the social landscape. Parents ... go days without eating, shriveling to the weight of children themselves. Women line up at sterilization clinics to avoid having children they can't feed. Young boys leave home and join street gangs to scavenge for scraps ... Crowds of adults storm Dumpsters after restaurants close. Babies die because it is hard to find or afford infant formula, even in emergency rooms."
"President Nicolás Maduro has acknowledged that people are hungry in Venezuela, but he has refused to accept international aid, often saying that Venezuela's economic problems are caused by foreign adversaries like the United States, which he says is waging an economic war against his country."
https://www.axios.com/newsletters/axios-am-c9065399-0391-4d91-b752-436b5d2e4c73.html?chunk=8#story8
8. Am I cheating NOW?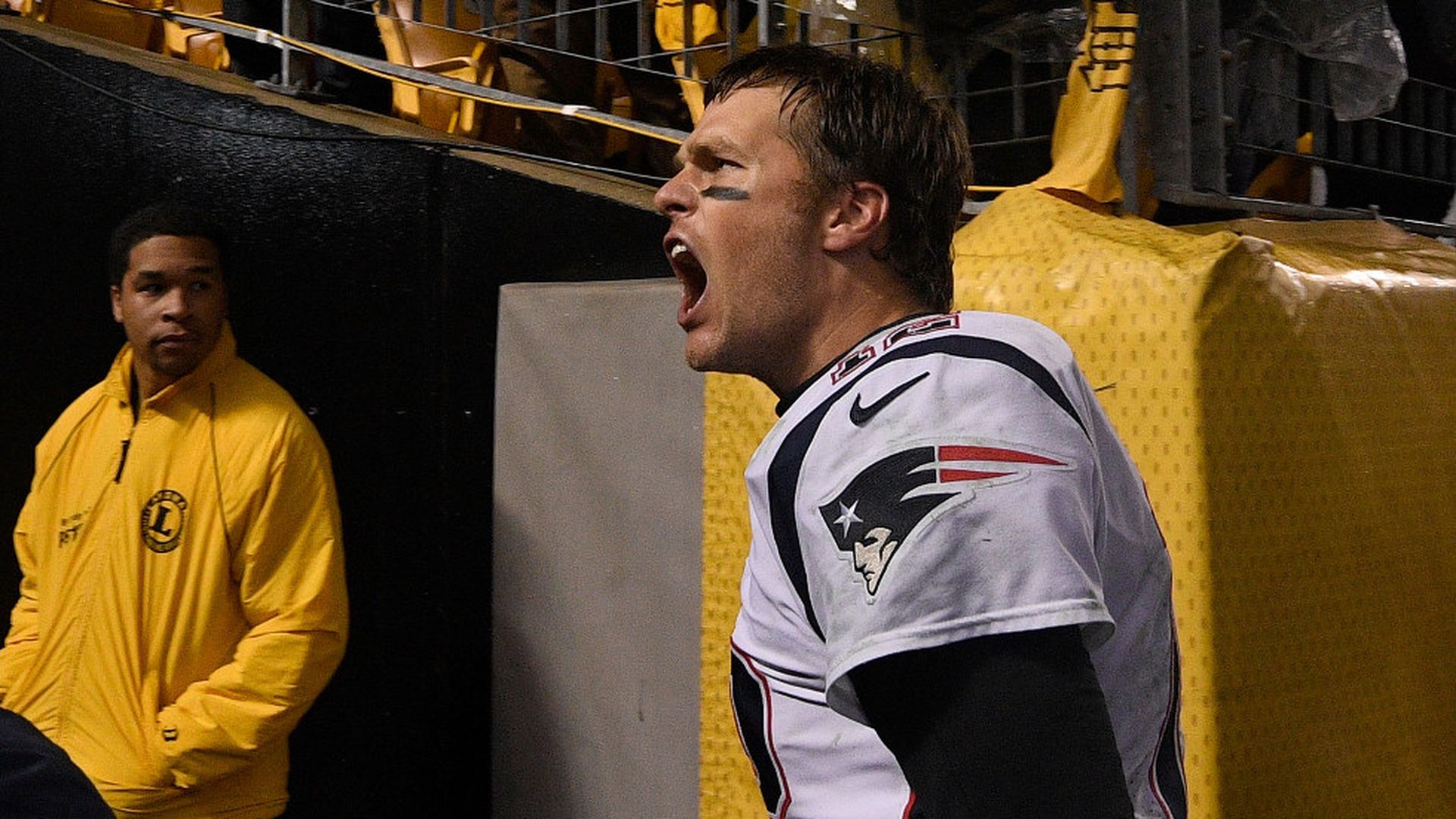 New England Patriots QB Tom Brady walks off Heinz Field in Pittsburgh after beating the Steelers, 27-24, in a bonkers regular-season game between the NFL's two best teams — a preview of the AFC championship.
WashPost's Mark Maske wrote before the game: "It can be argued ... that the winner of this game will emerge as the likely Super Bowl champion in February."
https://www.axios.com/newsletters/axios-am-c9065399-0391-4d91-b752-436b5d2e4c73.html?chunk=9#story9
9. An epic year: 16 of 30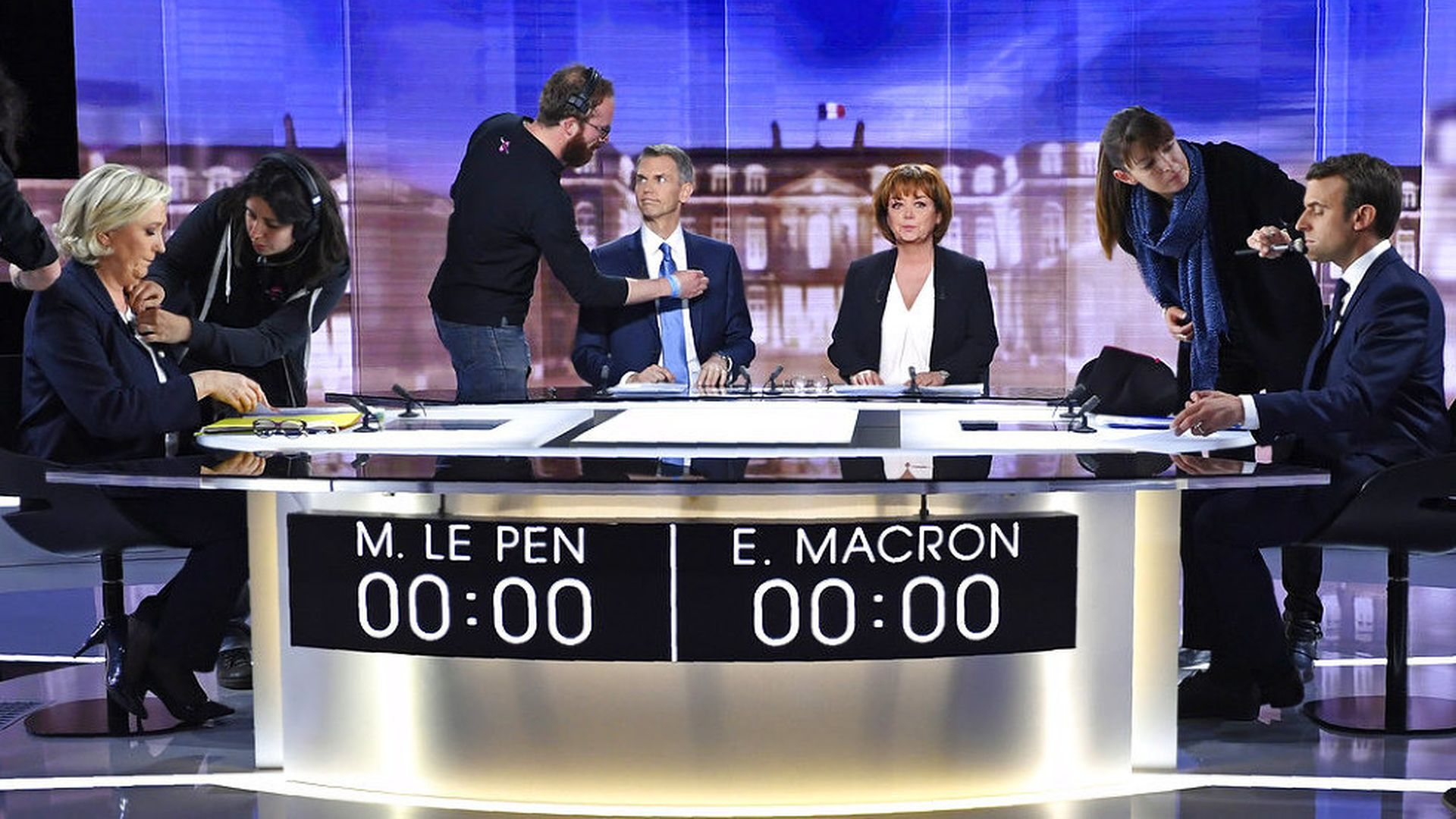 Reliving 2017 in 30 images ... In May, Emmanuel Macron of the En Marche! movement (right) is elected French president over Marine Le Pen of the far-right Front National party (left), seen here preparing for a live televised debate.
https://www.axios.com/newsletters/axios-am-c9065399-0391-4d91-b752-436b5d2e4c73.html?chunk=10#story10
10. 1 fun thing: The new Crock-Pot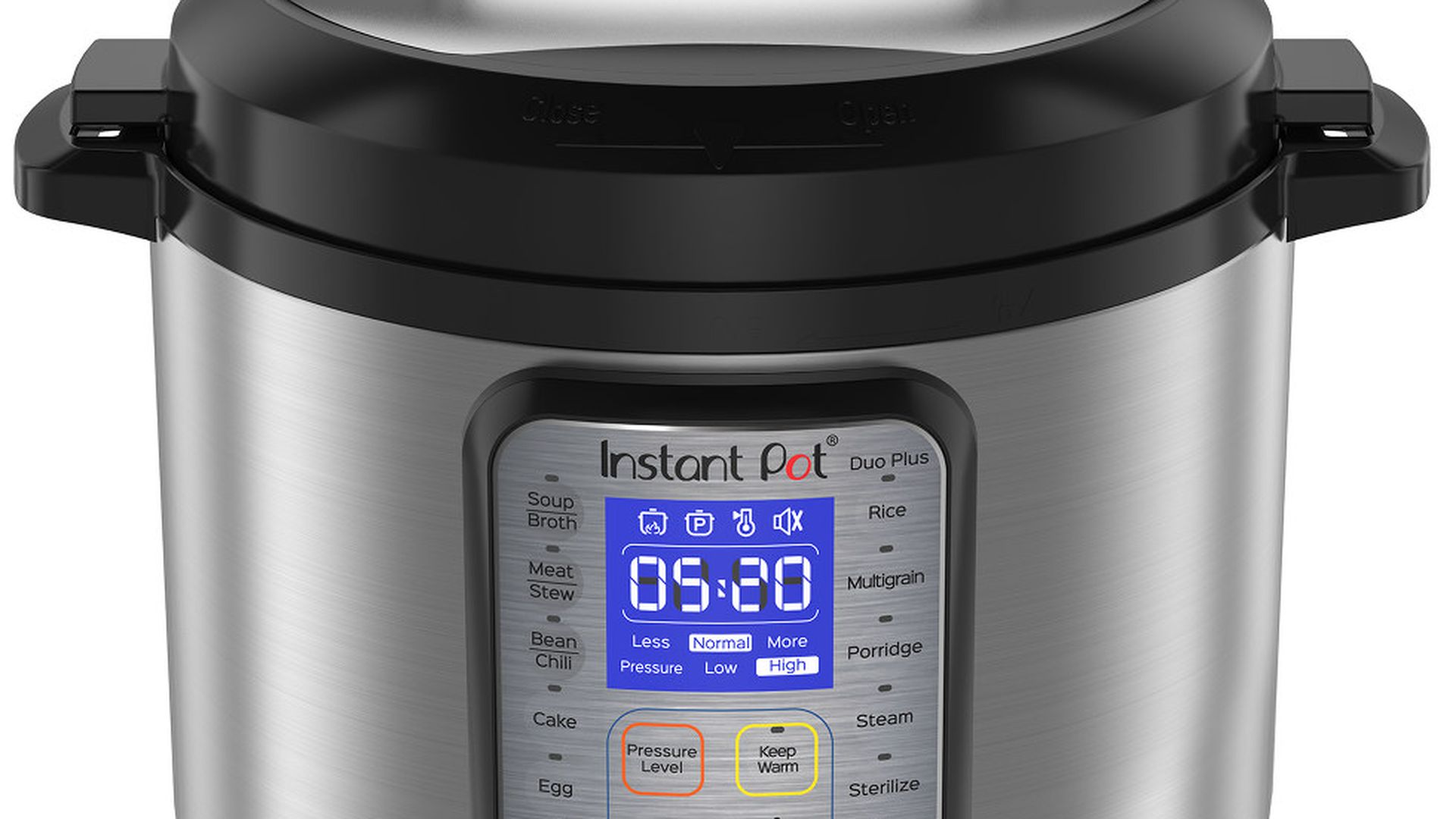 "Inside the Home of Instant Pot, the Kitchen Gadget That Spawned a Religion: The electric multicooker is a true viral phenomenon," by N.Y. Times "The Shift" columnist Kevin Roose, on the Business Day front:
"[D]evotees — they call themselves 'Potheads' — use their Instant Pots for virtually every kitchen task imaginable: sautéing, pressure-cooking, steaming, even making yogurt and cheesecakes. Then, they evangelize on the internet."
"The Instant Pot is hardly the fanciest appliance on the market; several models sell for under $100. But it has upended the home-cooking industry. During this year's Black Friday sales, the Instant Pot was among the Top 5 items sold by Amazon and Target, and among the Top 3 best-sellers at Kohl's."
Why it matters: "What I found [in a visit to the HQ, in Canada] was a remarkable example of a new breed of 21st-century start-up — a homegrown hardware business with only around 50 employees that raised no venture capital funding, spent almost nothing on advertising, and achieved enormous size primarily through online word-of-mouth."
"It is also a testament to the enormous power of Amazon, and its ability to turn small businesses into major empires nearly overnight."