Axios AM
July 24, 2018
Good Tuesday morning.
Situational awareness: 463 migrant parents may have been deported without kids from whom they were separated when they entered the U.S. illegally, according to a joint court filing on Monday by the federal government and the ACLU. (Reuters)
Venezuelan inflation could top 1 million percent by year's end as the government continues to print money.
1 big thing ... Bad news for Trump: Rising GOP chance of losing House
Democrats' chances of winning the House are rising, thanks to a rapidly expanding number of GOP-held seats in play, Axios' Alexi McCammond reports:
Larry Sabato of the University of Virginia, a leading analyst of House races, projects this morning for the first time that Democrats have a better than 50% chance: "[T]he Democrats now look like soft favorites to win a House majority with a little more than 100 days to go."
Sabato, along with his Crystal Ball team at the University of Virginia Center for Politics, has been among the most conservative analysts, repeatedly telling us that House control was a coin flip, despite widespread projections of a Democratic takeover.
But this morning, the Crystal Ball moves its ratings for 17 House races — every one of them in Democrats' favor. 
David Wasserman of the Cook Political Report recently moved 11 races toward Democrats, and tells us he sees a "blue wave" on Election Day, driven by suburban professionals.
Why it matters: The broad trend lines are bad for Republicans.
The number of districts in play is rising fast, and the vast majority are Republican seats. Numerous at-risk seats is the essential ingredient for a wave election. 
Democrats are raising more money overall than Republicans, which is exceptionally rare for a party out of power. Money can't buy wins, but it sure as hell helps. 
Democrats have turned out in record numbers in elections since Trump won. This is the most constant and reliable sign of sustained momentum. 
Be smart: Republicans count on the strong economy, and could be helped by a lack of excitement among millennials and Hispanics.
But presidential and party approval ratings are similar to those before past wave elections — bearish weather for the party in power.
Go deeper: Sabato's Crystal Ball.
2. How Facebook could dodge fake news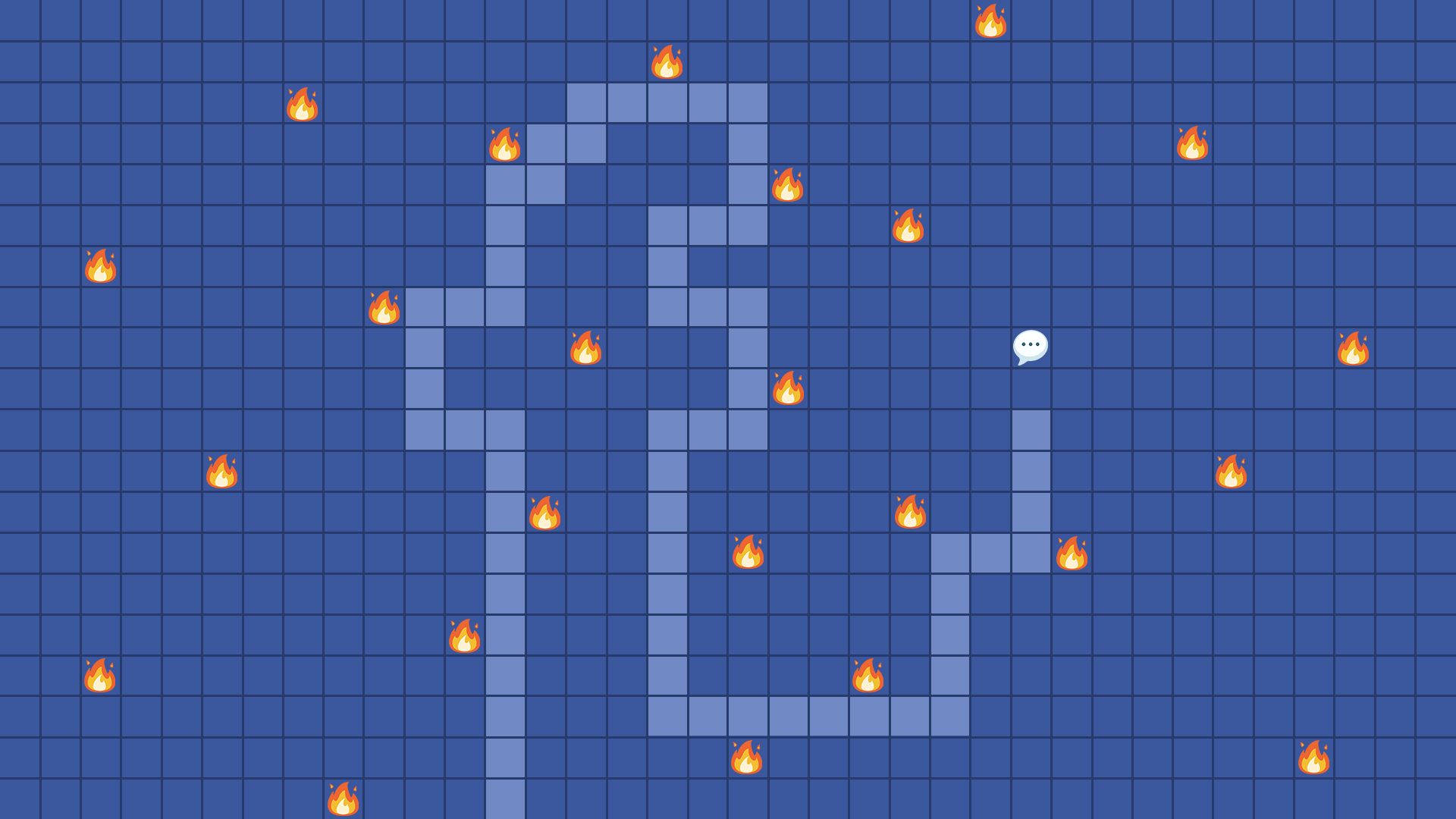 Experts argue Facebook could do a number of things to reduce fake news, but almost every option could hit its bottom line or would challenge CEO Mark Zuckerberg's long-term vision for the company, Axios' Sara Fischer reports:
Sources say that Zuckerberg prefers to manage the fake news problem through rational, careful experiments and modest changes. He often sees this as a P.R. problem, not a foundational one.
But other Facebook executives are pushing for more radical changes, realizing the free-speech zeal that brought them fame and riches is causing constant and growing problems.
The most drastic changes Facebook could make to its policies include:
Removing news from the platform altogether.
Pre-approving content before letting users post it.
Removing all monetization efforts around news.
Some experts suggest more realistic options:
1. Ramp up its enforcement regime: Facebook has committed to hiring 20,000 moderators by the end of the year to help monitor content for fake news and misinformation. Many critics argue 20,000 people could not realistically monitor the billions of photos, posts, and videos uploaded to the platform daily.
2. Draw tighter lines around what's considered harmful content.
3. Lower the threshold of removal. Facebook won't publicly say how many pieces of nefarious content a Page or person needs to post before being removed, out of fear that it could lead bad actors to abuse the system.
4. Use stricter authentication of users: Currently, Facebook requires that users must be over the age of 13, and it requires users to use their "everyday names" and valid email accounts to set up a profile. It also requires advertisers to have further credentials, like mailing addresses.
5. Remove more financial incentives for spreading fake news.
6. More clearly show when content comes from an established brand: Facebook has made minor adjustments, like adding news brands logos to stories.
7. Separate news from social media.
The big picture: Critics and the media are beginning to take a slightly more empathetic view towards Facebook's tricky position.
Case-in-point: A number of media and tech journalists, like TechCrunch's Josh Constine, The Washington Post's Margaret Sullivan and The Information's Jessica Lessin have recently come out in support of Facebook avoiding broad censorship of viewpoints on the platform.
The bottom line: Facebook may not be able to do much more than it has already tried, unless it makes a drastic change to its business and long-term vision.
3. Global trend: Elected leaders making world less democratic
"Organizations that monitor the health of democracies are converging around a similar idea: On average, the world is becoming less democratic for the first time in several decades," Bloomberg's Lauren Leatherby and Mira Rojanasakul report:
"The surprising twist is that it's happening as more and more countries hold elections."
The U.S. became less democratic between 2015 and 2017, "stemming primarily from weakening constraints on the executive," in the V-Dem Liberal Democracy Index, published at the University of Gothenburg in Sweden.
"In contrast to military coups or violent revolutions in the 20th century or the foreign invasions that toppled democracies ahead of World War II, most countries that are now experiencing a democratic decline have elected leaders."
"The integrity of those elections has been called into question at times, but citizens in many countries have gravitated toward these strongmen in the first place. And once elected, leaders keep up regular elections."
Why it matters: "Would-be autocrats are taking note of the tools other leaders have implemented to tighten their grip on power. Emboldened leaders have contributed to the steep drop in democracy scores in many countries."
Bonus: Pic du jour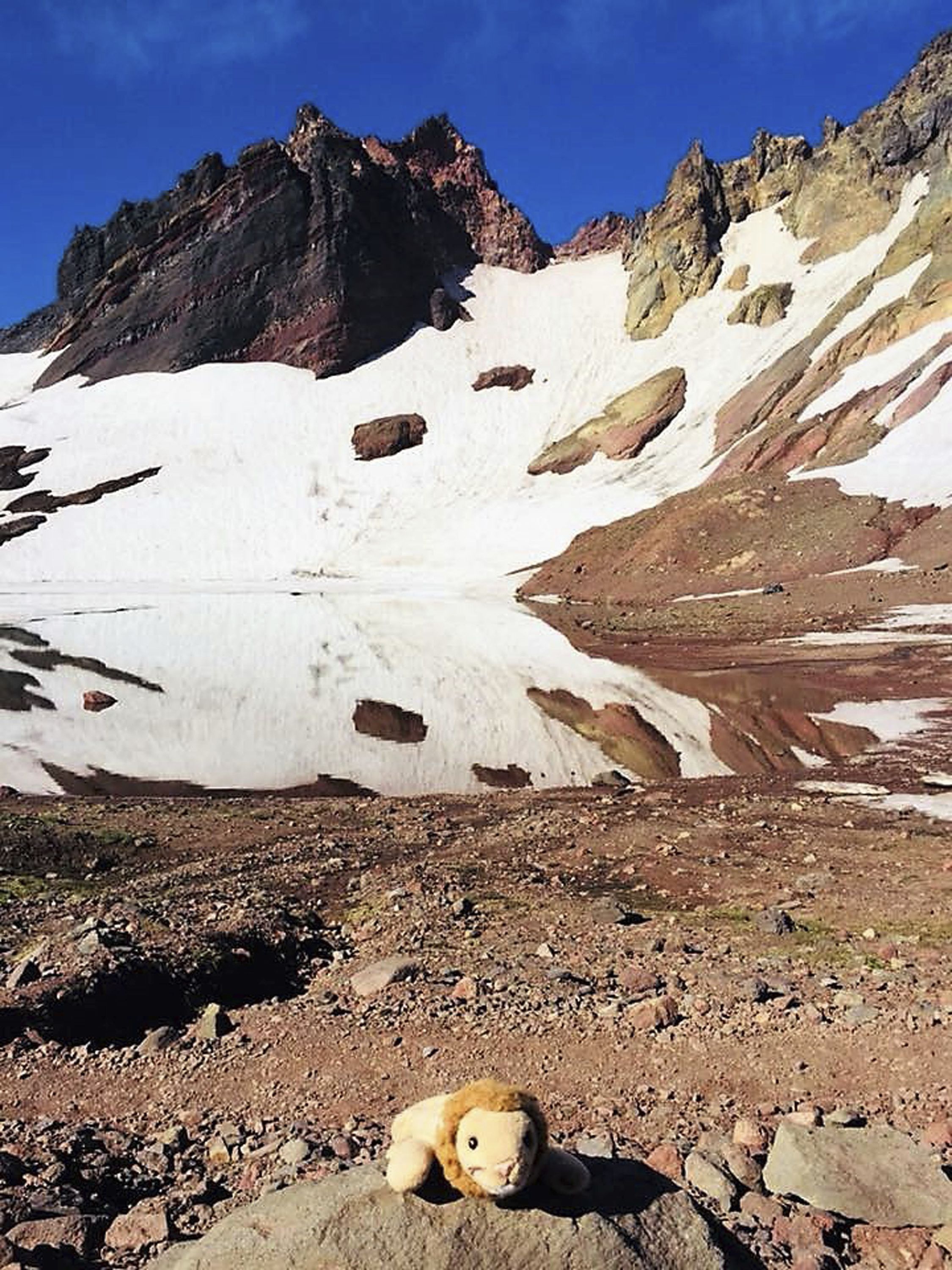 A 7-year-old girl who lost her beloved stuffed lion, Kitty, on a hike in the Oregon backcountry was reunited with the toy over the weekend after a community effort to find her, AP reports.
On her way up Broken Top Trail, hiker Holly Spaman had run into the girl, who was distraught after Kitty fell out of her mother's backpack.
When Spaman happened to spot the toy, she put Kitty on a rock, snapped a photo and posted it.
After a week of community effort, Audrianna and Kitty are together again.
4. Trump threatens to punish security critics
"President Trump is considering revoking the security clearances of at least half a dozen well-known former national security officials, ... in an extraordinary expression of his desire to punish increasingly vocal critics from past administrations," per the L.A. Times' Chris Megerian and Eli Stokols:
"Among the president's targets, Press Secretary Sarah Huckabee Sanders said, are former CIA Director John Brennan, former Director of National Intelligence James R. Clapper and former national security advisor Susan Rice, who all served under President Obama."
"She also named Michael Hayden, who was head of the National Security Agency and then CIA director under President George W. Bush, as well as James B. Comey, the former FBI director ... whom Trump fired last year, and Andrew McCabe, the former FBI deputy director also removed by Trump."
"However, neither Comey nor McCabe still have clearances."
Why it matters, per WashPost: "The move immediately prompted accusations of political retaliation by current and former officials, as well as security analysts, who said Trump would set a dangerous precedent by punishing political speech."
"Several of the officials he cited have written books questioning his leadership."
"It's routine for the former directors of intelligence agencies and other senior officials to maintain their security clearances, so they can share their expertise with current leaders or be called in for consultations."
5. All-caps war tweet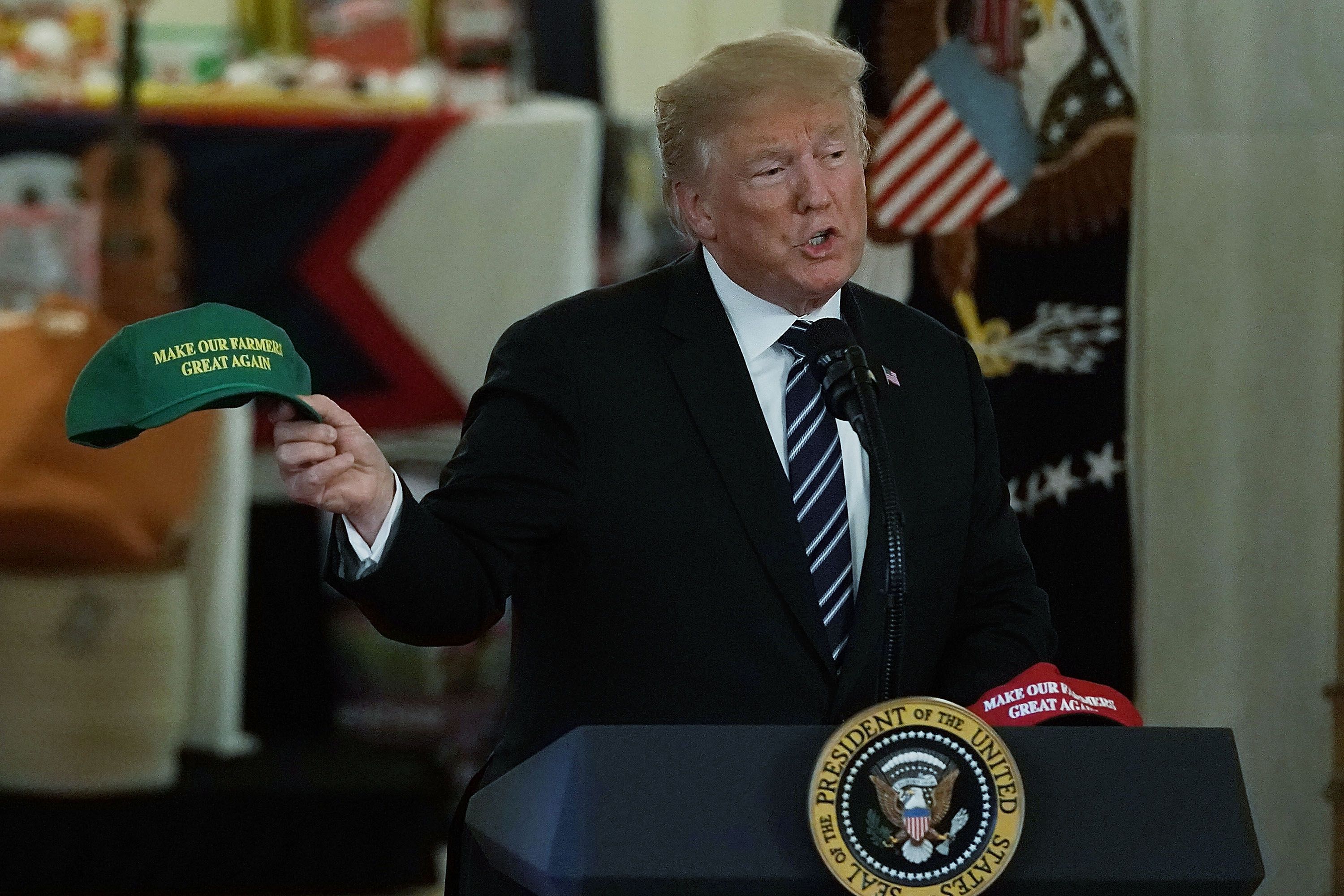 President Trump's all-caps war threat against Iran President Hassan Rouhani is a way for Trump to look like a tough guy at a time when that's being questioned because of his handling of Vladimir Putin.
But it also builds a Trump comfort zone with Republican lawmakers, who remain publicly supportive of him while privately expressing frustration with his handling of a host of issues.
Sen. Lindsey Graham (R-S.C.) — an on-again, off-again critic of Trump — is off-again because of the administration's Iran offensive, especially a tough speech by Secretary of State Mike Pompeo.
Graham told Fox News' Martha MacCallum last night: "The Trump doctrine when it comes to Iran was the Reagan doctrine when it came to the Soviets."
Graham said Trump "is letting the Iranian president know there's a new sheriff in town."
Graham told me in the green room before his appearance that he plans to introduce a resolution of support for the Iranian people that he believes will draw support from almost all Republican lawmakers, plus many Democrats: "This is a moment in history."
Graham said the sense of the resolution will be: "We're all going on record to say we stand with you in your desire to determine your own destiny, pick your own leaders, express yourself and live in peace with your neighbors."
6. What happens if Roe v. Wade is overturned
The nomination of Brett Kavanaugh throws the future of Roe v. Wade into uncertainty, and Axios' Kerrie Villa looks ahead to the possible fallout:
Where access would be restricted: Four states — Louisiana, Mississippi, North Dakota and South Dakota — have trigger laws that would immediately make abortion illegal. In seven states, pre-Roe restrictions on abortion would take effect.
Where access would be protected: There are 17 states that have either laws or court rulings protecting access to abortion regardless of Roe.
Uncertain: The remaining 23 states are without explicit laws or court decisions. Abortion access would be determined by state legislatures and governors. Of the "uncertain" states, three lean pro-choice and 12 lean pro-life, based on the pro-choice group NARAL's categorization of state governors and legislatures. States with mixed governments (8) appear gray.
7. Nevada may have first majority female statehouse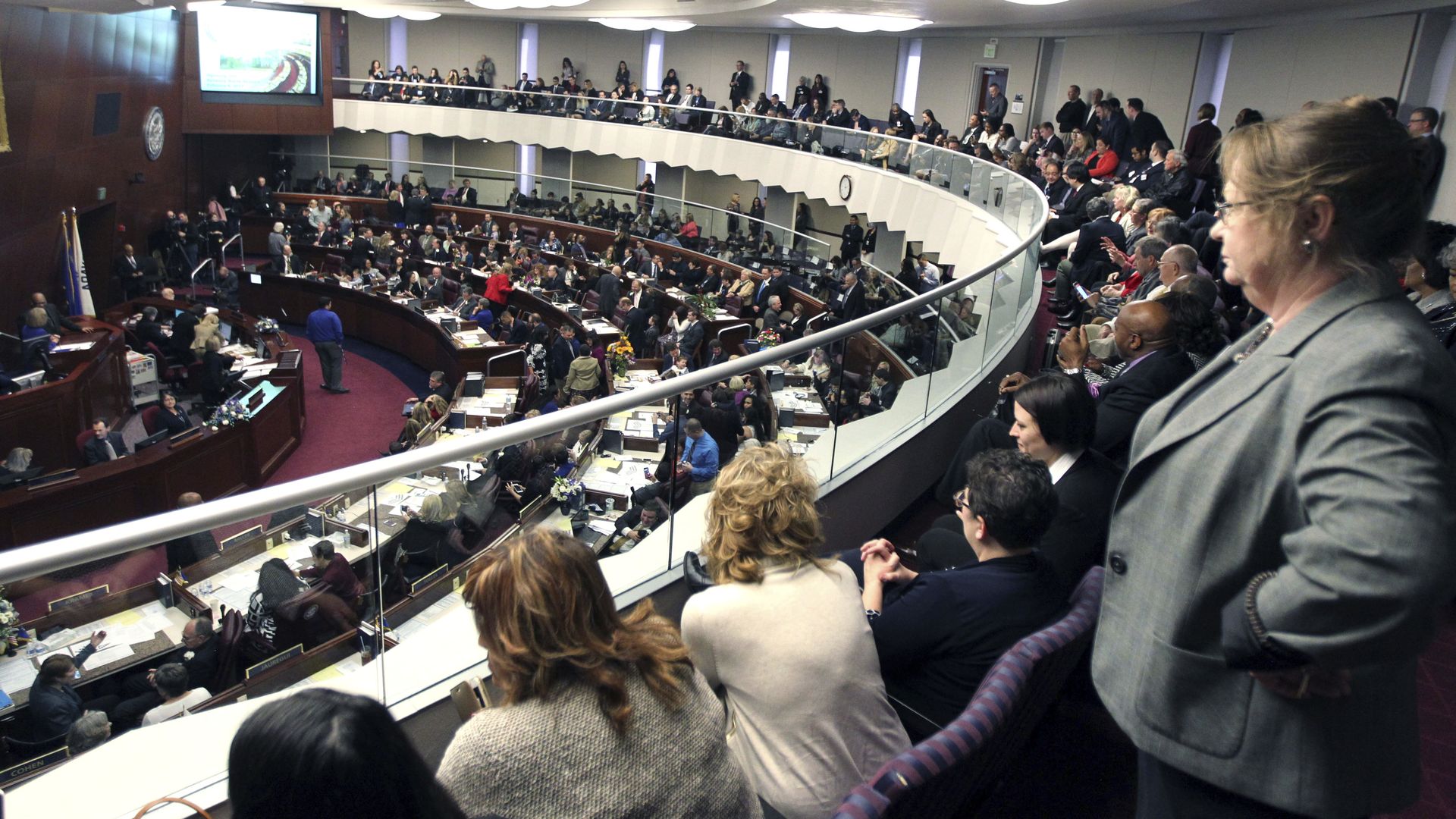 "Nevadans could soon make history by electing the nation's first female-majority state legislature," the Reno Gazette Journal reports:
"Women already make up nearly 40 percent of those elected to serve in Carson City and — after winning a record number of primary contests in June — could make up nearly two-thirds of the statehouse by Nov. 7."
"Groups that helped recruit and train female candidates credit the #MeToo movement ... for helping develop new office-seekers."
The N.Y. Times says that while Nevada has the best chance at being the first state with a majority-female legislature, "at least eight more have a shot at reaching or surpassing the 50 percent mark in November":
Maine ... Colorado ... Oregon ... Maryland ... California ... North Carolina ... Illinois ... South Dakota.
But in most of those states, a woman would have to "win the general election in every district where at least one is running, a difficult feat."
8. Housing weakness may muddy economic picture
"Home sales have now declined on an annual basis in five of the first six months this year, a worrying trend since housing is considered a crucial indicator of overall economic health," per The Wall Street Journal's Laura Kusisto and Sharon Nunn (subscription):
Why it matters: "By a number of measures, the economy looks to be accelerating after a long stretch of subpar growth. Economists are forecasting U.S. growth to exceed 4% for the second quarter when numbers are released on Friday. Jobless claims are falling, and corporate profit growth continues to looks strong. But weakness in the housing market could muddy the picture."
9. 🐔 Business models: Chik-fil-A tests meal kits
"Chick-fil-A will become the first quick service restaurant to offer full meal kits next month as a trial at its Atlanta outlets helps the chain decide whether to roll out the cook-at-home offering nationwide," USA Today's Paul Davidson reports:
"The meal kits will provide fresh, premeasured ingredients customers can pick up at the drive-thru or front counter, or via the Chick-fil-A one app."
"The trial will run from Aug. 27 to Nov. 17 at 150 restaurants in the Atlanta area," where the company is based."
"[T]he company will offer five recipes: Chicken Parmesan, Chicken Enchiladas, Dijon Chicken, Pan Roasted Chicken and Chicken Flatbread. Each will cost $15.89 and serve two people. They can be cooked at home in about 30 minutes."
10. 1 fun thing: Brevity for academia
"Economists Can't Write Economically, Driving Demand for Brevity"— Wall Street Journal A-hed by Ben Leubsdorf (subscription):
"The average length of a published economics paper has more than tripled over the past four decades."
The American Economics Association "announced last year it would launch a journal dedicated to publishing only concise papers, at least by economists' standards — nothing longer than 6,000 words, or about 15 double-spaced pages. (For comparison, this article is a svelte 967 words)."
And this screen is 86 words. Enjoy your saved time.
Thanks for reading. Updates all day — and tonight on Georgia's GOP governor's runoff — on Axios.com.