Good Saturday morning. Situational awareness: The CEOs of nearly every major Hollywood studio, TV network and record label agreed to found and to fund a group to be chaired by Anita Hill, the Commission on Sexual Harassment and Advancing Equality in the Workplace. The group grew out of a meeting called by "Star Wars" producer Kathleen Kennedy and several other prominent women in the industry. (AP
https://www.axios.com/newsletters/axios-am-c7ad1b2d-21cf-4db7-86f2-275cb42b0874.html?chunk=0#story0
1 big thing ... The next battle: Trump to take on China
As part of an assertive "America First" national security strategy that President Trump will unveil Monday, he will accuse China of "economic aggression," the Financial Times' Demetri Sevastopulo and Shawn Donnan scoop (subscription):
One person familiar with the strategy says it is "likely to define China as a competitor in every realm. Not just a competitor but a threat, and therefore, in the view of many in this administration, an adversary."
What it means: This is "a strong sign that he has become frustrated at his inability to use his bond with China's President Xi Jinping to convince Beijing to address his trade concerns."
Why it matters ... Michael Allen, a former Bush official, now a Beacon Global Strategies managing director: "The national security strategy is the starting gun for a series of economic measures against the Chinese ... the Rosetta Stone for translating campaign themes into a coherent governing document."
Winner: Steve Bannon. When I texted him the FT article, he replied: "#winning."
Flashback: This is what Jonathan Swan forecast when he reported that the National Security Strategy will "explain how Trump's 'America First' mantra applies to the vast range of threats America faces, including Chinese economic competition, Russian influence operations, and the weaponization of space."
Losers: Several top officials within the Trump adminstration's national-security apparatus, who opposed adding what one called a "political lens" to the strategy.
A senior Trump national-security official tells me: "This was added to be one of the headlines of the Strategy, for domestic political audiences."
The official added: "The Trump China trip didn't reflect this policy, both the public reported comments and the private conversations. ... If we truly believe China is 'aggressor,' there is a while suite of policy shifts that would need to correspond" that aren't currently planned."
CFR President Richard Haass — author of "A World in Disarray" (paperback out Jan. 2) — tells Axios from in-flight Wi-Fi that slapping Beijing could be costly:
"There are legit criticisms of China's trade policy ... But starting a trade war would leave both countries worse off.  U.S. exporters would pay a significant price.  Whatever Chinese inclination exists to work with us re North Korea would diminish."
"Why did this administration withdraw from the TPP [Trans-Pacific Partnership]?  It provided the basis for a regional trading system that either would have isolated China, or forced it to accept much more stringent terms if it wanted to be a full participant in regional trade. In short, there appears to be a serious disconnect between the NSS and Administration policy."
"The use of the word 'aggression' is a questionable choice.  Unfair trade practices, for sure. But aggression is a serious escalation on our part. Hard to see how it paves the way to a compromise, or does not contribute to an overall deterioration in the relationship at a time we need it re NK."
https://www.axios.com/newsletters/axios-am-c7ad1b2d-21cf-4db7-86f2-275cb42b0874.html?chunk=1#story1
2. The tax plan cometh
Axios card deck, "How the tax code is about to change."
After the conference report bridging House and Senate differences on tax reform was signed yesterday, House Speaker Paul Ryan said Republicans are "on the door step of something truly historic," Axios' Caitlin Owens reports:
What's next: The House will vote on the bill on Tuesday, according to House Majority Leader Kevin McCarthy. The Senate will follow. House Republicans will meet Monday night and Tuesday morning.
Three big things about the final version:
The child tax credit has been made more refundable than in the Senate bill. It's now $2,000 per child, with $1,400 of this refundable for families who have no income tax liability.
The corporate rate will be 21% beginning in 2018.
The top individual rate is 37%. There are seven brackets, and the lowest rate is 10%.
Go deeper ... See a 2-page PDF of the official House-Senate summary.
"How Sen. Marco Rubio Won a Concession": Wall Street Journal's Siobhan Hughes on "gamesmanship around a more generous tax credit for people with children."
P.S. The cover of Barron's is about the fiscal challenges that tax reform presents to state and local governments, "Shaking Up the Market for Municipal Bonds":
"Combined with the restriction on deductions on mortgage interest, Standard & Poor's worries that the SALT [state and local taxes] restrictions will 'likely have an impact on property values over time.'"
https://www.axios.com/newsletters/axios-am-c7ad1b2d-21cf-4db7-86f2-275cb42b0874.html?chunk=2#story2
3. Americans loathe Washington but like home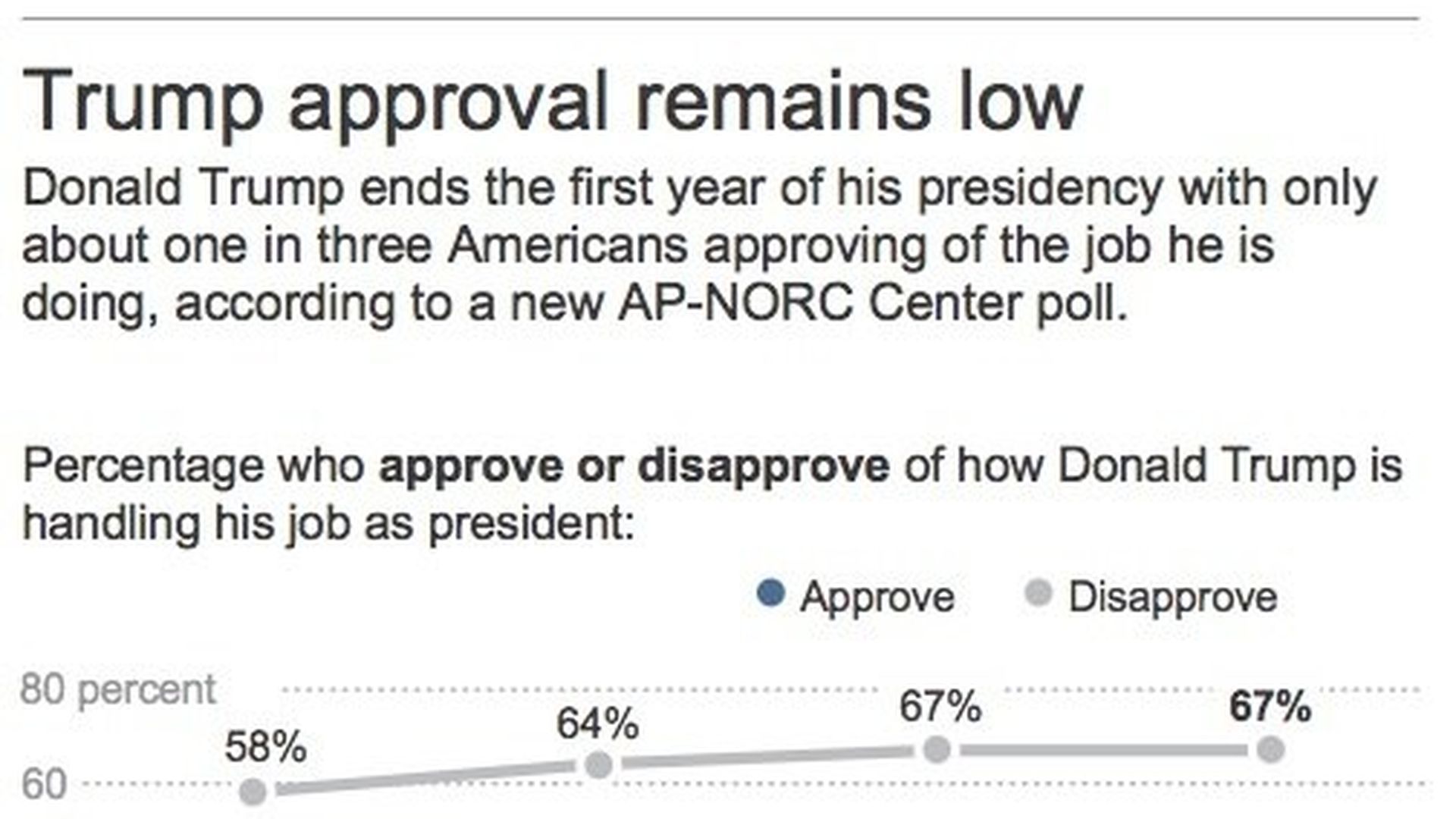 Americans are pessimistic about Washington and think the country is on the wrong track (69%), but are optimistic about their local communities.
That's the encouraging finding of an AP-NORC (University of Chicago) poll:
9% think the country has become more united under Trump, while 67% think the country is more divided. (44% of Americans said in a poll last year that Obama's presidency had further divided the country.)
Even Republicans think Trump has divided America more than uniting it, 41% to 17%.
But, but, but ... "[P]essimism about the president and national politics doesn't extend to local communities. ... [A]bout half of Americans said they feel optimistic about their local communities" — 55% of Ds and 50% of Rs.
https://www.axios.com/newsletters/axios-am-c7ad1b2d-21cf-4db7-86f2-275cb42b0874.html?chunk=3#story3
4. Another reckoning: fraternity hazing
"[A]mid worries about endemic binge drinking, sexual assault and a startling spate of deaths, schools are going beyond the old practice of shutting down individual [fraternity] houses to imposing broad restrictions on all Greek life," the N.Y. Times' Anemona Hartocollis reports atop column 1:
"Activities like fraternity parties and initiations have been suspended or curtailed at colleges including Ball State, Indiana University, Ohio State and the University of Michigan, as well as at least five where deaths have occurred this year: Florida State, Louisiana State, Penn State, Texas State and Iowa."
Why it matters ... Tracy Maxwell, founder of HazingPrevention.org: "There is definitely this moment in time where society is not willing to accept behavior that in the past has been acceptable."
https://www.axios.com/newsletters/axios-am-c7ad1b2d-21cf-4db7-86f2-275cb42b0874.html?chunk=4#story4
5. Facebook confronts "well-being"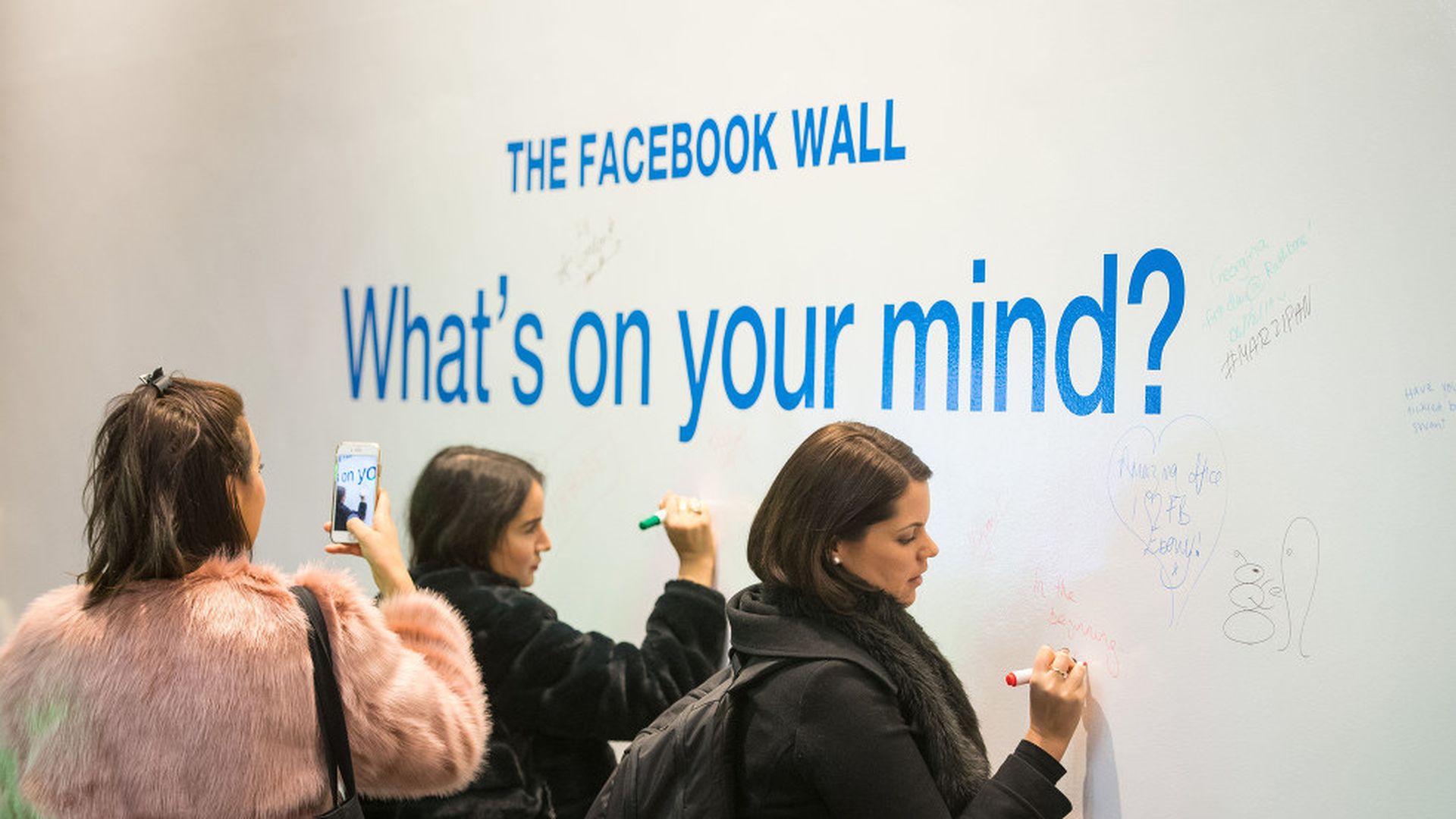 Facebook posts a new article on its "Hard Questions" blog, "Is Spending Time on Social Media Bad for Us?" by David Ginsberg, Facebook director of research, and Facebook research scientist Moira Burke:
Facebook's bottom line: '[I]t really comes down to how you use the technology."
"The bad: "[W]hen people spend a lot of time passively consuming information ... they report feeling worse afterward. In one experiment, University of Michigan students randomly assigned to read Facebook for 10 minutes were in a worse mood at the end of the day than students assigned to post or talk to friends on Facebook. ... [One] theory is that the internet takes people away from social engagement in person."
"The good: On the other hand, actively interacting with people — especially sharing messages, posts and comments with close friends and reminiscing about past interactions — is linked to improvements in well-being."
What Facebook is doing: "We employ social psychologists, social scientists and sociologists, and we collaborate with top scholars to better understand well-being."
How it's playing ... A tease on the cover of the N.Y. Post: "Facebook: We're not the problem, you are" ... CNBC, linked on Drudge: "Facebook just admitted that using Facebook can be bad for you."
https://www.axios.com/newsletters/axios-am-c7ad1b2d-21cf-4db7-86f2-275cb42b0874.html?chunk=5#story5
6. Hulu has key role in Disney plan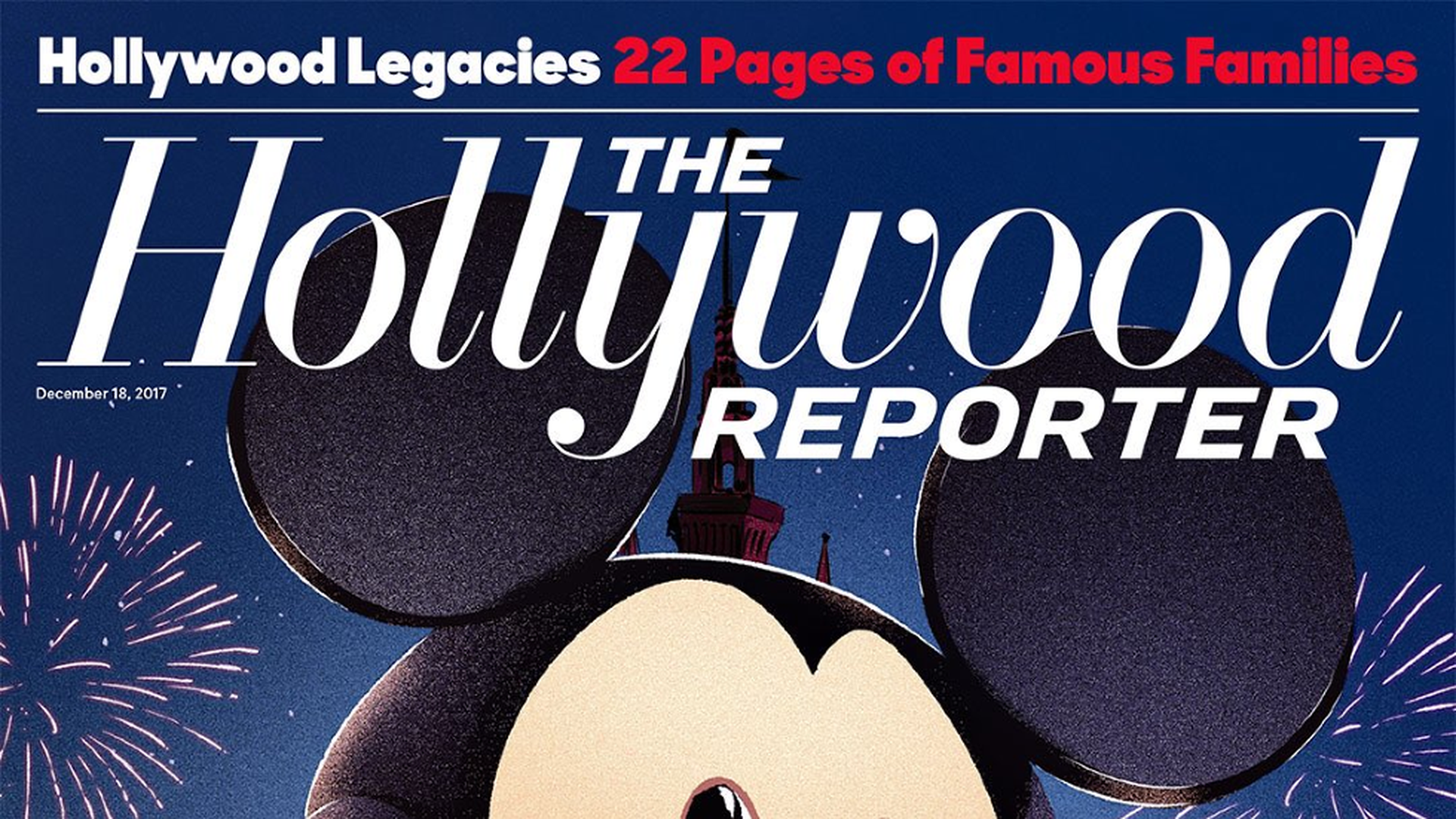 ["W]ith Walt Disney Co. poised to take a controlling stake in Hulu, the little 10-year-old streaming service once known solely for airing reruns of broadcast shows online could eventually become a credible threat to Netflix's dominance," the L.A. Times reports atop column 1:
"Disney will own 60% of Hulu if its proposed $52.4-billion purchase of 21st Century Fox is approved by regulators. Hulu is currently equally owned by Fox, Disney and Comcast, which each have 30% stakes. (Fellow media giant Time Warner owns the other 10%.)"
Why it matters: "Santa Monica-based Hulu is expected to become a pillar of Disney Chief Executive Bob Iger's strategy to take on streaming video insurgents that are disrupting the traditional media industry."
"Hulu would be [an] important part of the strategy to compete for consumers who are cutting the cord. In a business driven by the volume of quality content, Disney could boost the service's standing with more shows."
"Hulu, which only operates in the U.S. and Japan, could also expand internationally."
https://www.axios.com/newsletters/axios-am-c7ad1b2d-21cf-4db7-86f2-275cb42b0874.html?chunk=6#story6
7. Flynn pardon? "Let's see"
Rep. Adam Schiff, the top Democrat on the House Intelligence Committee, tells MSNBC's Nicolle Wallace:
"Republican House members on our committee ... are taking steps to shut us down."
Asked if congressional Republicans are trying to lay a foundation for Trump to fire Mueller, Schiff said: "That's exactly what I'm worried about."
Shot ... Trump, asked yesterday if he would consider a pardon for Michael Flynn: "I don't want to talk about pardons for Michael Flynn yet. We'll see what happens. Let's see. I can say this: When you look at what's gone on with the FBI and with the Justice Department, people are very, very angry."
Ty Cobb, the White House special counsel, said later: "There is no consideration being given to pardoning Michael Flynn at the White House."
P.S. Attorney General Jeff Sessions distanced himself from Trump's renewed criticism of the FBI. Sessions said at a news conference yesterday that the FBI is "fulfilling a fabulously important role working to fight against violent crime."
WashPost A1, "Trump's judicial picks hit first head winds": "The White House said ... it is standing by the nomination of Matthew Petersen ... for the U.S. District Court for [D.C.], despite a clip from his confirmation hearing posted on Twitter in which Petersen was unable to answer questions about legal and courtroom terms posed by a Republican senator." See the clip.
https://www.axios.com/newsletters/axios-am-c7ad1b2d-21cf-4db7-86f2-275cb42b0874.html?chunk=7#story7
8. Roy Moore: Election "NOT OVER!"
Roy Moore sent a fundraising email to supporters asking for contributions to his "election integrity fund' so he could investigate reports of voter fraud in the Senate race he lost in Alabama this week.
Moore wrote: "I ... wanted to let you know that this battle is NOT OVER!"
https://www.axios.com/newsletters/axios-am-c7ad1b2d-21cf-4db7-86f2-275cb42b0874.html?chunk=8#story8
9. An epic year: 14 of 30
Reliving 2017 in 30 images ... Melissa McCarthy's "Sean Spicer Press Conference Cold Open," on "Saturday Night Live" in January: "I came out here to punch you in the face. ... I"m not here to be your buddy." YouTube
Coming July 23 from Regnery, the conservative publisher: "The Briefing," by Sean Spicer.
Spicer told Sean Hannity that coverage of Trump isn't accurate: "I've decided it's incumbent upon me to set the record straight."
https://www.axios.com/newsletters/axios-am-c7ad1b2d-21cf-4db7-86f2-275cb42b0874.html?chunk=9#story9
10. 1 fun thing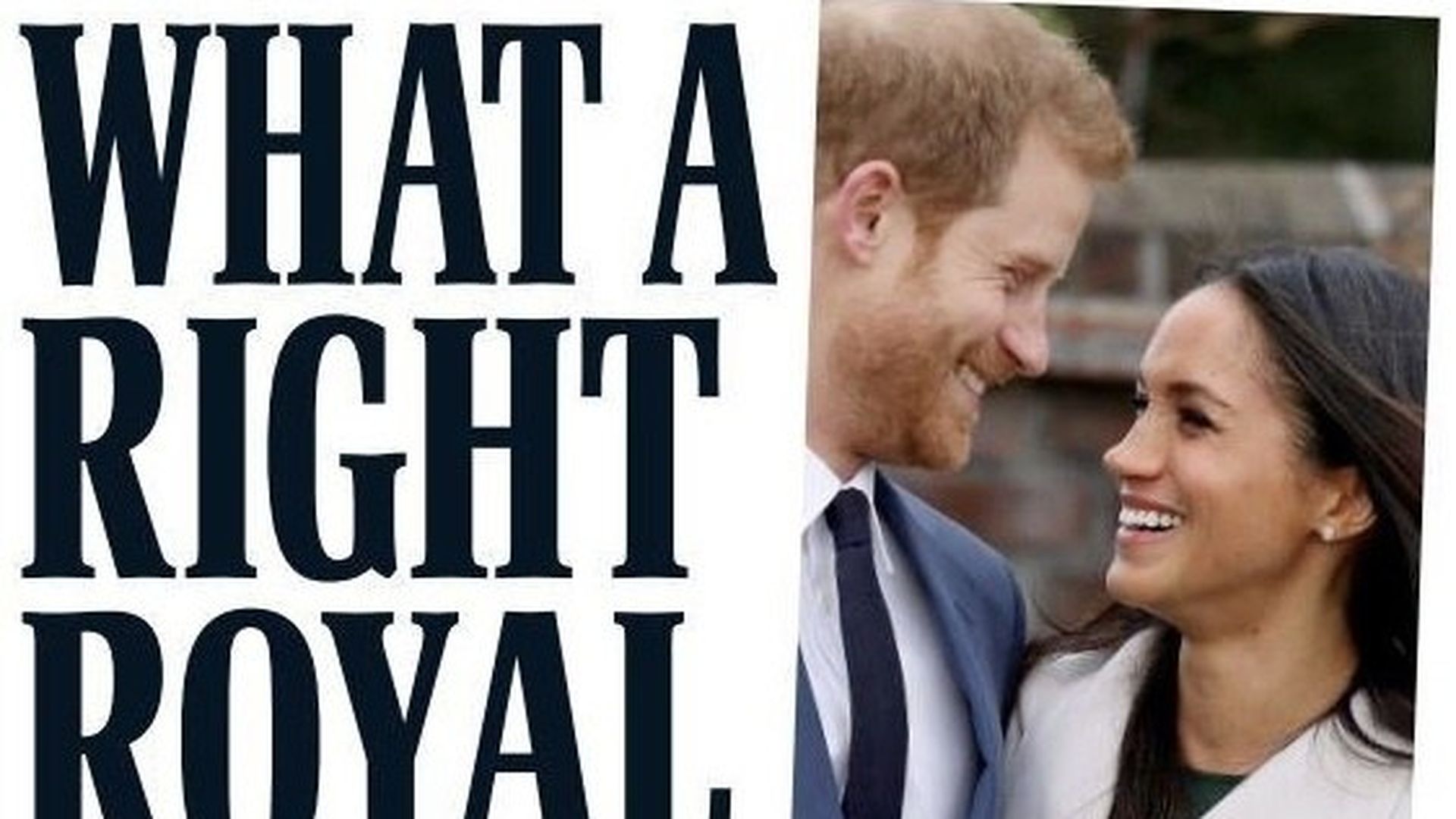 "Match of the Day" from The Sun, London's biggest-selling tabloid:
"UK economy set for £1billion boost [U.S. $1.33 billion] with Prince Harry and Meghan Markle's wedding and FA Cup Final [Football Association, a.k.a. soccer]... Brits are set for a party marathon after the royal lovebirds announced their wedding for FA Cup Final day — Saturday May 19."
"Party fever swept the UK ... after Prince Harry and Meghan Markle gave the date for their big match at Windsor Castle."
"The royals are tipped to kick off their nuptials at noon with footie's showpiece from 5.30pm."
"Royalists, footie fans and Meghan-loving US tourists will spend fortunes celebrating at home or in the streets."