Axios AM
June 27, 2017
Good Tuesday morning. Situational awareness: "The White House said ... Syria appeared to be preparing another chemical weapons attack, and ... would 'pay a heavy price' if one took place" ... The European Commission fined Google $2.7 billion for favoring its own shopping results — the regulator's largest penalty to date against a company accused of distorting the market.
1 big thing: Honeymoon over with China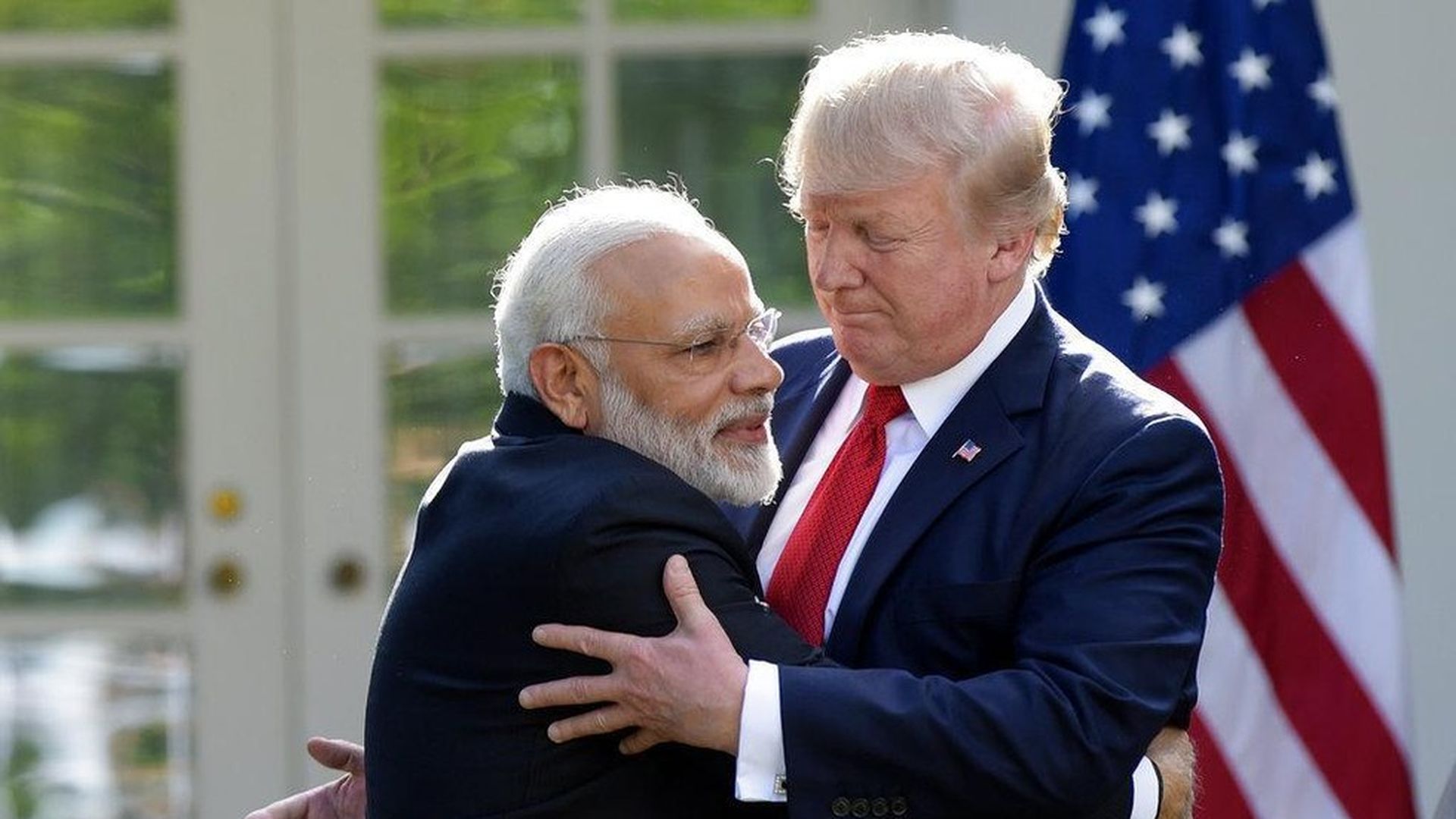 White House sources tell us to look for increasing signs that the afterglow of China President Xi Jinping's visit to Mar-a-Lago in April has long faded, and say the administration is going to be tougher on the world's second largest economy.
The sources say that at a time when Trump is losing patience with Beijing, he invited the leader of India — a huge China rival — to the White House. He and Prime Minister Narendra Modi, who rose on Trump-like forces, hugged in the Rose Garden yesterday.
"During my campaign," Trump said, "I pledged that if elected, India would have a true friend in the White House. And that is now exactly what you have — a true friend."
The new mood began with Trump's remarkable tweet last week, which aides said reflected genuine disappointment: "While I greatly appreciate the efforts of President Xi & China to help with North Korea, it has not worked out." Since then ...
News leaked yesterday that U.S. "plans to place China on its global list of worst offenders in human trafficking and forced labor."
Jonathan Swan has picked up on renewed West Wing conversations about penalties that would deter or punish foreign dumping of steel into the U.S. market. The action wouldn't single out China — but White House officials keenly understand that this would be a viewed as a straight shot at Beijing.
Swan says Commerce Secretary Wilbur Ross has shared the findings of his investigation into steel dumping, and there was a meeting yesterday in the White House about next steps. Swan has been told that the nationalists want to impose tariffs but more moderate officials want softer measures. This issue could come to a head imminently.
Sound smart: Steve Bannon and his allies in key trade and policy positions have been agitating for a high-profile economic fight with China: It is central to their view of America First thinking.
Swan's mindmeld: It appears to be dawning on Trump — and it's already dawned on senior White House officials — that China won't apply the kind of pressure that's needed to stop North Korea's path to developing nuclear weapons that could strike American cities. Given Trump has told China to expect a better trade deal in return for help with North Korea, if the President gets disillusioned here, it could have profound economic consequences.
2. What's next if healthcare goes down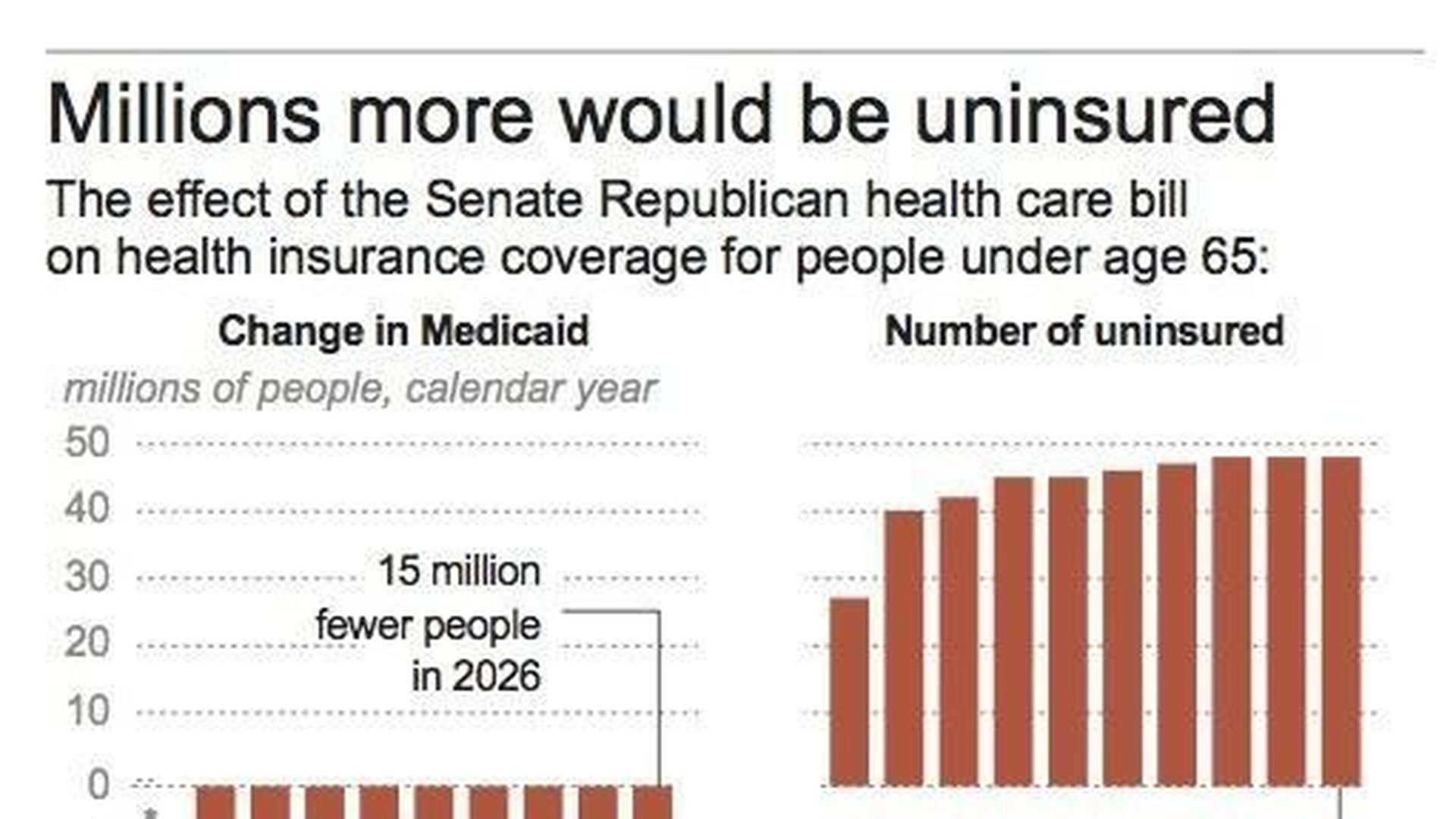 We hear ... that Senator Majority Leader Mitch McConnnell is warning Republicans that there'll be a political and policy price to pay if healthcare goes down — that failure would have painful implications:
Senators are being told it's not possible to just let Obamacare fail — that if the Better Care bill fails, Rs will have to work with Ds (horrors!) later this year to help shore up the exchanges.
That would require Republicans making big concessions on important priorities.
An aide adds: "He's said publicly that it's a disaster if Better Care doesn't pass. Obamacare exchanges are getting worse, not better; insurers are leaving the exchanges, not growing their presences; premiums are going up, not down."
National mood ... Chris Kreuger of Cowen Washington Research Group: "Healthcare polling heading wrong direction for GOP."
And today's headlines are bleak ... N.Y. Times lead, "OFFICIAL ESTIMATE IMPERILS SUPPORT FOR HEALTH BILL" ... USA Today banner, "Rift over health care engulfs GOP" ... WashPost, top of column 1: "CBO: Bill would take 22 million off rolls" ... L.A. Times lead: "Health bill in jeopardy after grim analysis."
3. Sentence of the day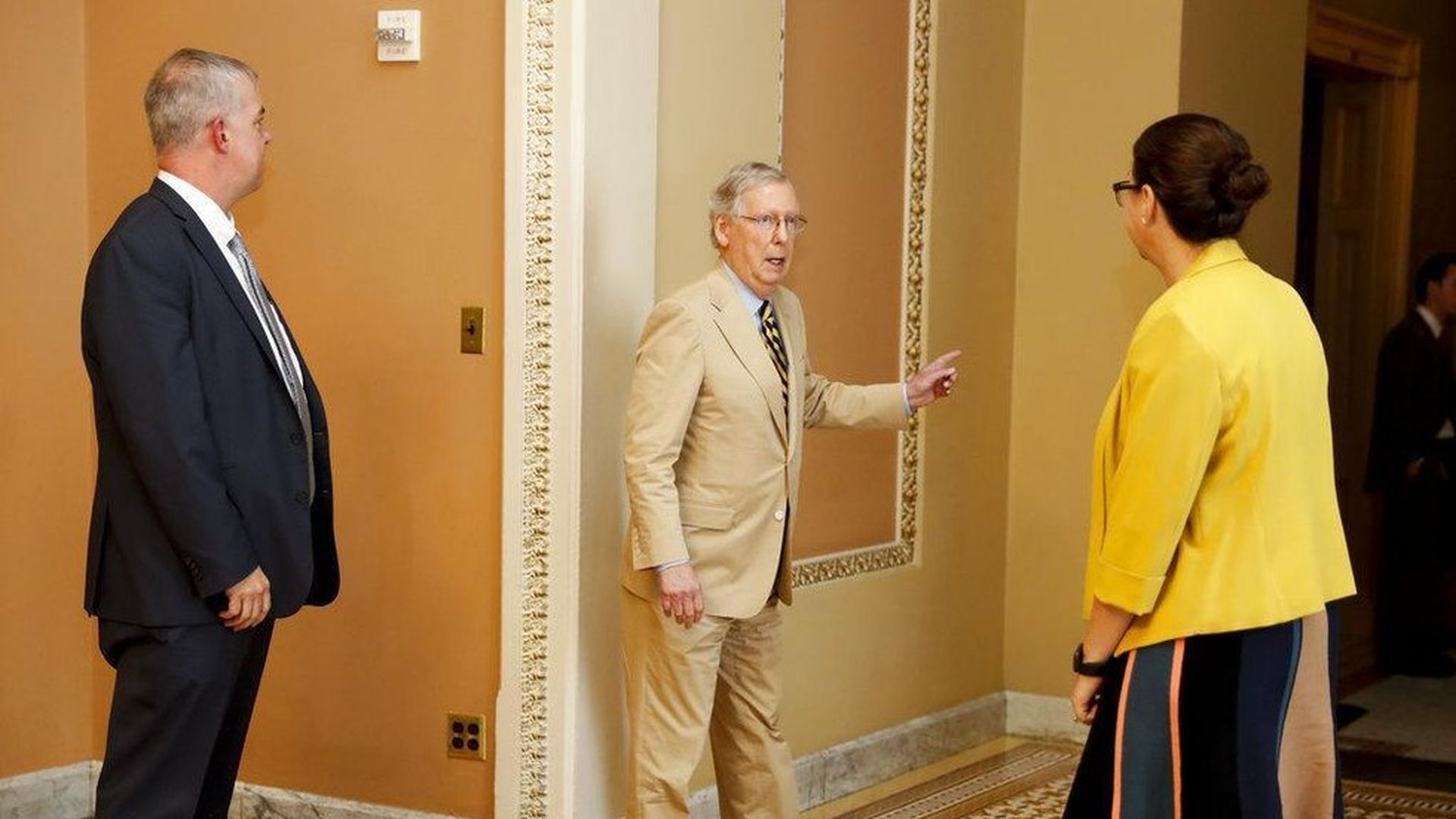 David Leonhardt column in N.Y. Times, "A Vote Of Conscience And Courage":
"This week, these senators will face a career-defining choice."
P.S. David Brooks column in NYT, "The G.O.P. Rejects Conservatism":
"Because Republicans have no governing vision, they can't really replace the Obama vision with some alternative. They just accept the basic structure of Obamacare and cut it back some."
4. October arguments on travel ban
How to read the Supreme Court action on Trump's travel ban ... Axios' Jonathan Swan: "Trump can claim a symbolic win but the reality is that the Supreme Court isn't upholding his travel ban; it's allowing a much softer version of the original ban to stay in place until the Court hears the case properly in a few months."
Kennedy mum on plans — AP's Mark Sherman: "The justices will begin to hear cases again Oct. 2. Until then, they're off to summer activities, which for [Justice Anthony] Kennedy includes spending part of the summer as he typically does, teaching a law school class in Salzburg, Austria. Kennedy could still announce his retirement at any time, though the last day of the term was seen as an opportune moment.
"When Justice Sandra Day O'Connor announced her retirement in 2005 she did so on July 1, a few days after the end of the term. The last justice to announce his retirement from the bench was Justice Lewis F. Powell Jr., ... on June 26, 1987, 30 years ago Monday. ... Kennedy turns 81 next month."
5. U.S. image plunges
Pew Research Center: "According to a new Pew Research Center survey spanning 37 nations, a median of just 22% has confidence in Trump to do the right thing when it comes to international affairs. This stands in contrast to the final years of Barack Obama's presidency, when a median of 64% expressed confidence in Trump's predecessor to direct America's role in the world."
Reuters: "[T]he survey showed that 58 percent of respondents had a positive view of Americans in general. And in many regions of the world, a majority or plurality of respondents said they expected relations with the United States to stay roughly the same in spite of Trump."
6. Tweet du jour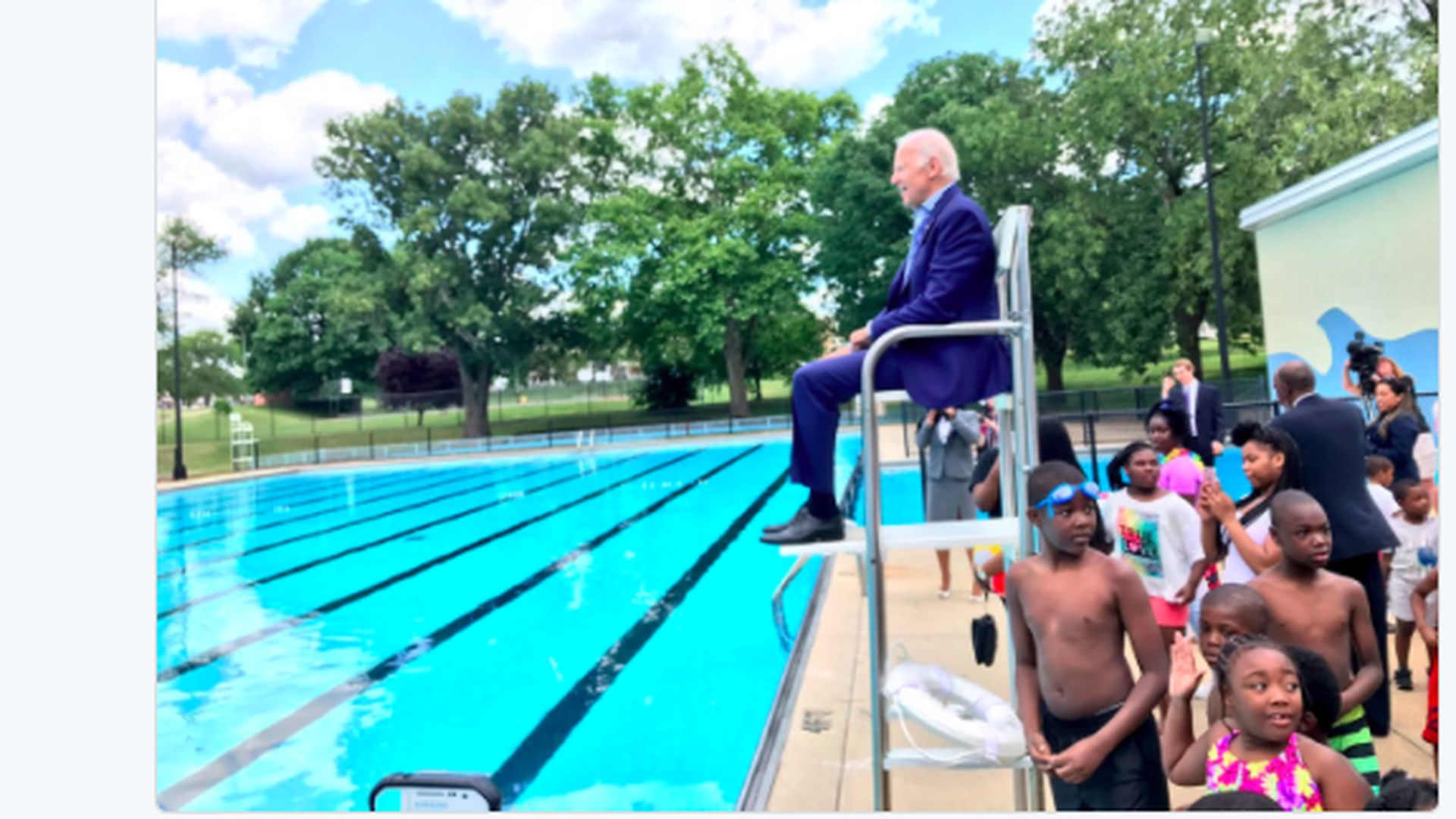 "Pool Where Biden Worked as Lifeguard Named After Him" — NBC10/Philly:
Delaware Gov. John Carney (D) joined former Vice President Biden and community members in Wilmington yesterday "when the aquatic center at the Brown-Burton Winchester Park was renamed the Joseph R. Biden Sr. Aquatic Center ... Biden ... worked at the inner-city pool as a teen. ... Biden was the only white lifeguard working there, according to his 2008 autobiography."
Biden told the audience during the dedication: "I was a kid from suburbia. ... I wanted to get more involved. And I realized I lived in a neighborhood where I'd turn on the television and I'd see and listen to Dr. [Martin Luther] King and others. But I didn't know any black people. No, I really didn't. And you didn't know any white people, either. That's the truth.
"So I wanted to work here. ... I owe you all. I owe this neighborhood. I learned so, so much. You've always had my back. ... I've always had your back, and I'll always have [it] as long as I'm around."
7. TV can't keep up
"Real-life drama in age of Trump challenges TV's storytellers," by AP's Frazier Moore:
"The writers of Showtime's 'Homeland' are already brainstorming next season, 'and every day the landscape changes,' says Alex Gansa, an executive producer and co-creator of the Claire Danes-starring spy thriller. 'It's very difficult to keep up.'"
Melissa James Gibson, a showrunner for Netflix's "House of Cards": "I think it engenders a sick impulse — 'What's he gonna do today?' — where we're looking for our drama from the real-life president, as if THAT were a show."
David Mandel, showrunner for HBO's "Veep": "I'm very jealous ... We work very hard on our scripts. They seem to be better at the job than I am."
9. Out today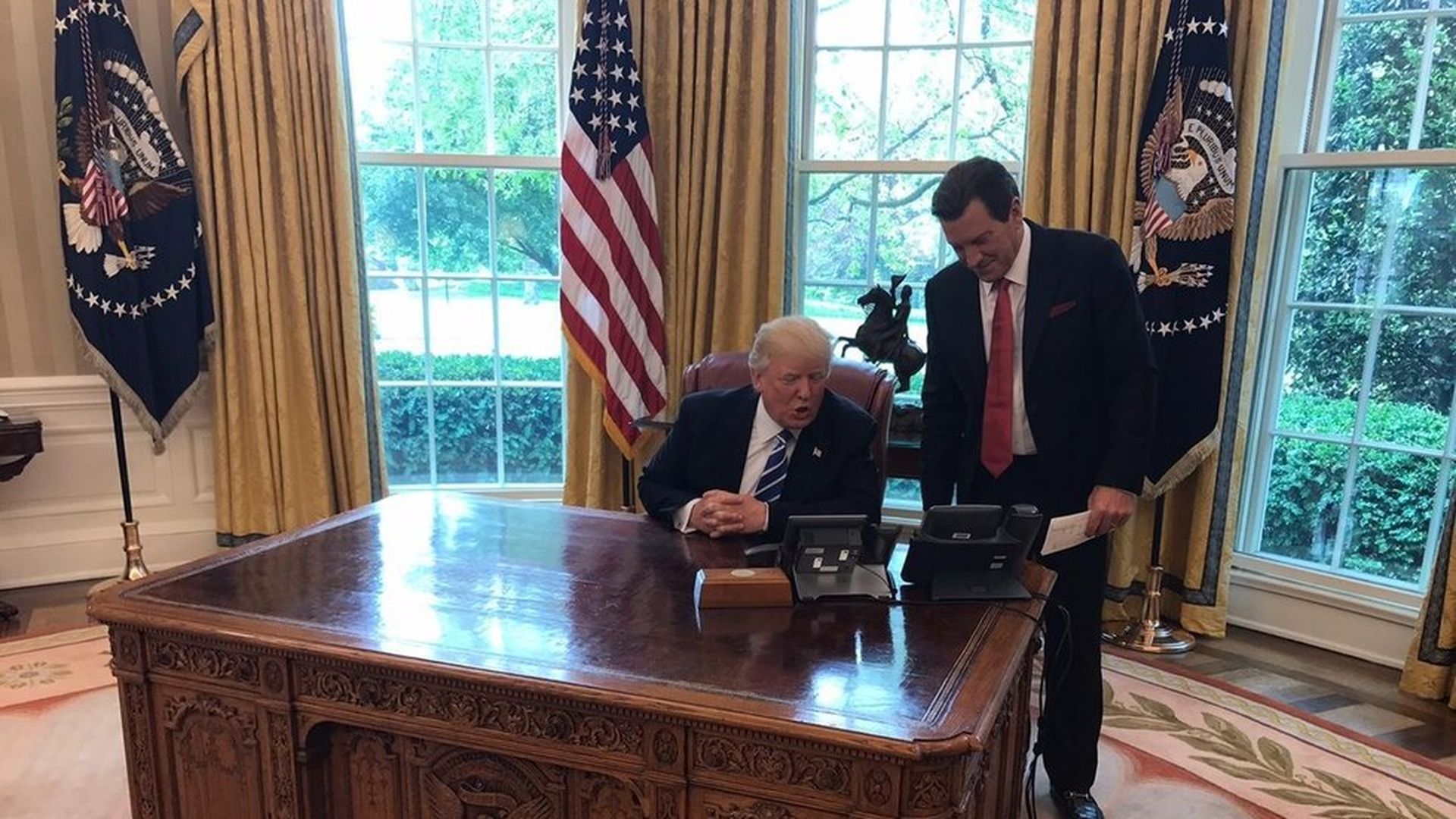 Fox News host Eric Bolling, who was invited into the Oval after an interview with President Trump, is out today with a book, "The Swamp: Washington's Murky Pool of Corruption and Cronyism and How Trump Can Drain It."
From Chapter 1, "Into the Mire": "Much as we might like to imagine politicians have higher standards than the rest of us — since, after all, they're so often the ones lecturing the rest of us about what to do — ... they are a good deal worse than you and I. ... The Swamp ... has been this way since the earliest days of the republic."
Chaser ... "Erosion of access" — Paul Farhi on WashPost Style front: "The Trump White House has imposed some of the most draconian restrictions on the news media in recent memory, from banning TV cameras during its daily briefings to cutting back the length and frequency of its sessions with reporters.
"The State Department and Pentagon have made similar cutbacks. At the same time, the president himself has given just one full-length news conference since taking office."
10. 1 social thing
"Who Pays on the First Date? No One Knows Anymore, and It's Really Awkward: First dates multiply in era of Tinder, and those tabs add up. Some women are wary the fake 'reach' for the wallet won't be turned down" — Wall Street Journal A-hed by Khadeeja Safdar:
"The popularity of the dating app and others like it means single people are going on more first dates than ever. Many women say they have stopped doing the reach because they are not only more likely to end up splitting the bill, but also more liable to cover all of it."
This is awesome: "Amir Nobakht, a medical doctor in Los Angeles, said his guest on a recent date ordered two entrees — pasta to eat at the restaurant and a grilled fish to go. When she went to the bathroom, he asked for separate checks."
News you can use: "The rules aren't complicated, according to etiquette experts. 'If you invite, you pay,' said Diane Gottsman, author of 'Modern Etiquette for a Better Life.'"
P.S. Positive reviews for Joe Scarborough album ... WashPost "Reliable Source," by Emily Heil: "The reviews are rolling in for 'Mystified,' the five-song EP that ... Joe Scarborough released on Friday ... [T]he 'Morning Joe' host has agreed to release a staggering 200 songs over the next four years, he told Vanity Fair."
Variety's Chris Willman referred to "Scarborough's somewhat hipper take on things sounds like the Beatles, Kinks, Springsteen, and Sonic Youth combined." Get the album (and see more coverage) here.