Good Tuesday morning. Situational awareness: Polls are open from 7 a.m. to 8 p.m. in the special House election in western Pennsylvania, where Republicans fear an expensive, humiliating loss in the heart of Trump country.
Breaking ... "Roger Stone, a longtime Trump adviser, claimed contact with WikiLeaks founder Julian Assange in 2016, according to two associates," per the WashPost.
https://www.axios.com/newsletters/axios-am-c6f241e3-5a28-498f-a839-262d22f6fbe2.html?chunk=0#story0
1 big thing: A cabinet full of trouble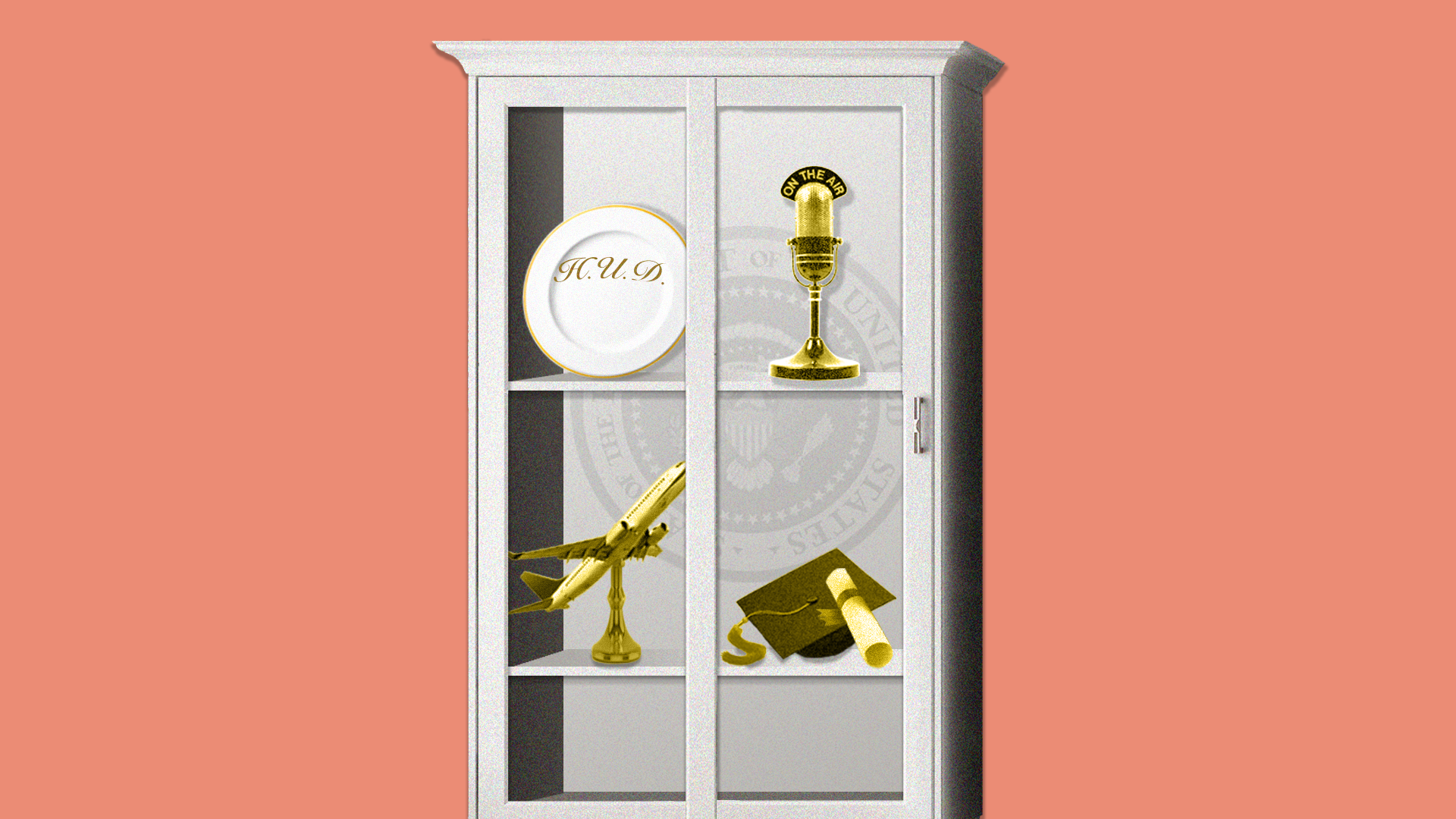 Coming into office, President-elect Trump boasted his cabinet had "by far the highest IQ of any cabinet ever assembled."
These days, Axios' Jonathan Swan reports, Trump and his chief of staff John Kelly are more likely to privately question the basic intelligence of their cabinet officials than shower them with such praise.
Why it matters: As we have said before, all habits, good and bad, flow down fast in any organization. It should come as no surprise that cabinet officials are improvising, understaffed, and are ignoring precedent, procedures and in some cases the law. Expect more — not less — of this. 
Sources familiar with Kelly's thinking say he gets especially aggravated by the stories of cabinet secretaries traveling in style on taxpayer funds:
Kelly can't fathom why cabinet secretaries keep making unforced errors that tar the administration and mock Trump's claims that he hired "the best people" to "drain the swamp."
As CNN reported, the White House held meetings last month with four cabinet-level officials to discuss damaging stories about questionable ethical behavior at their respective agencies. (A White House official tells Axios that the meetings weren't dress-downs, but "positive" discussions about "smart ethical judgment," and are expected to happen with all cabinet secretaries.)
Even the cabinet secretaries credited with policy wins for Trump — such as Attorney General Jeff Sessions with his hardline law enforcement policies, and EPA administrator Scott Pruitt with his aggressive deregulatory agenda — have either fallen out with Trump or caused unnecessary problems for senior staff.
And on Sunday night's "60 Minutes," Education Secretary Betsy DeVos, who has largely stayed under the radar since her tortuous confirmation hearings, struggled to provide answers when asked for evidence to back up her school choice policies in her home state of Michigan.
White House officials quickly leaked that they were "alarmed," upset and dumbfounded by her performance.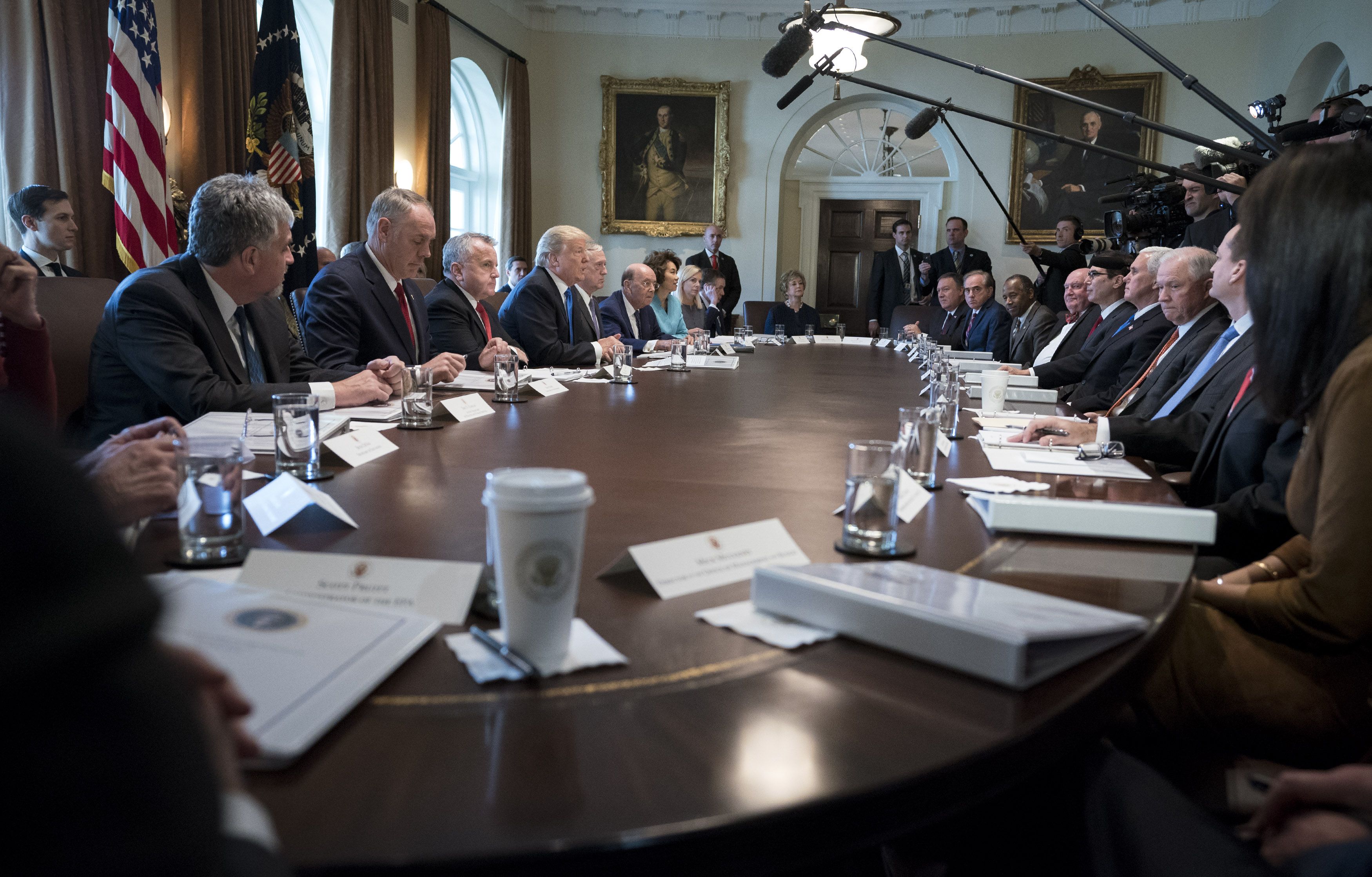 President Trump holds a Cabinet meeting. (Kevin Dietsch / Pool via Bloomberg)
Here's a sample of damaging stories from Trump's cabinet:
Veterans Affairs Secretary David Shulkin is warring with the Trump political appointees in his agency and has infuriated Kelly by playing his own press agent and repeatedly going directly to the media to declare he has authority to fire the disloyal staff. The Shulkin controversy erupted after the VA's inspector general reported the secretary used taxpayer dollars to pay for his wife to go to Europe.
Housing and Urban Development Secretary Ben Carson, per N.Y. Times, was "attempting to cancel a $31,000 order for a customized hardwood dining room table, chairs, sideboard and hutch the day after the chairman of the House Oversight Committee announced an investigation."
Pruitt, the EPA administrator, created terrible optics by flying first class on the taxpayer dime, and per WashPo, using a "military jet, at a cost of $36,068.50, to catch a plane to Rome."
Interior Secretary Ryan Zinke has been under scrutiny for charter flights and angered Trump and senior White House officials when he made a surprise announcement — which was legally and politically problematic —that Florida would be exempt from offshore drilling. (The press reported this as a political gift to Florida's GOP governor Rick Scott.)
Sessions — or, as Trump called him, "our beleaguered A.G." — has kept his head down and delivered major policy wins, but Trump will never forgive him for his "original sin" of recusing himself from the Russia investigation, according to sources close to the president. Sessions' latest misdemeanor was being photographed having dinner with Trump's arch-nemesis, Deputy Attorney General Rod Rosenstein.
Secretary of State Rex Tillerson has been on the wrong side of Trump on most major issues — from the Jerusalem embassy move to the Paris climate accords, to his approach to North Korea. 
Treasury Secretary Steven Mnuchin is one of Trump's favorites — unfailingly loyal — and helped deliver the ultimate policy victory in tax reform. But even he has been associated with media missteps. He still hasn't appointed a deputy, and provoked rare on-the-record scorn from Republicans over his handling of the debt ceiling. His wife, Louise Linton, recently told Elle Magazine she was "super-duper" sorry for all her self-presentation missteps.
Former Health and Human Services Secretary Tom Price, whom Trump once lauded as "a star," resigned over his misuse of private planes.
What's also true: The cabinet secretaries who are safest are the ones who've remained most invisible. Some have told us they keep their profiles extremely low, deliberately.
The Under the Radar Club includes Agriculture Secretary Sonny Perdue, Transportation Secretary Elaine Chao, Labor Secretary Alex Acosta, new HHS Secretary Alex Azar, trade representative Bob Lighthizer, and Small Business Administrator Linda McMahon.
The four exceptions are cabinet officials who are all visible, well-liked by Trump and have not contributed to the recent headaches: Defense Secretary James Mattis, Budget Director Mick Mulvaney, CIA director Mike Pompeo, and U.N. Ambassador Nikki Haley.
Be smart: Similar to his selection of Vice President Pence during the campaign, Trump's installation of Pruitt, DeVos and Pompeo in his cabinet gave a lot of comfort to the conservative movement. 
But the flights and other unforced errors have been a big problem for the White House. 
https://www.axios.com/newsletters/axios-am-c6f241e3-5a28-498f-a839-262d22f6fbe2.html?chunk=1#story1
2. Confrontation brewing between West and Putin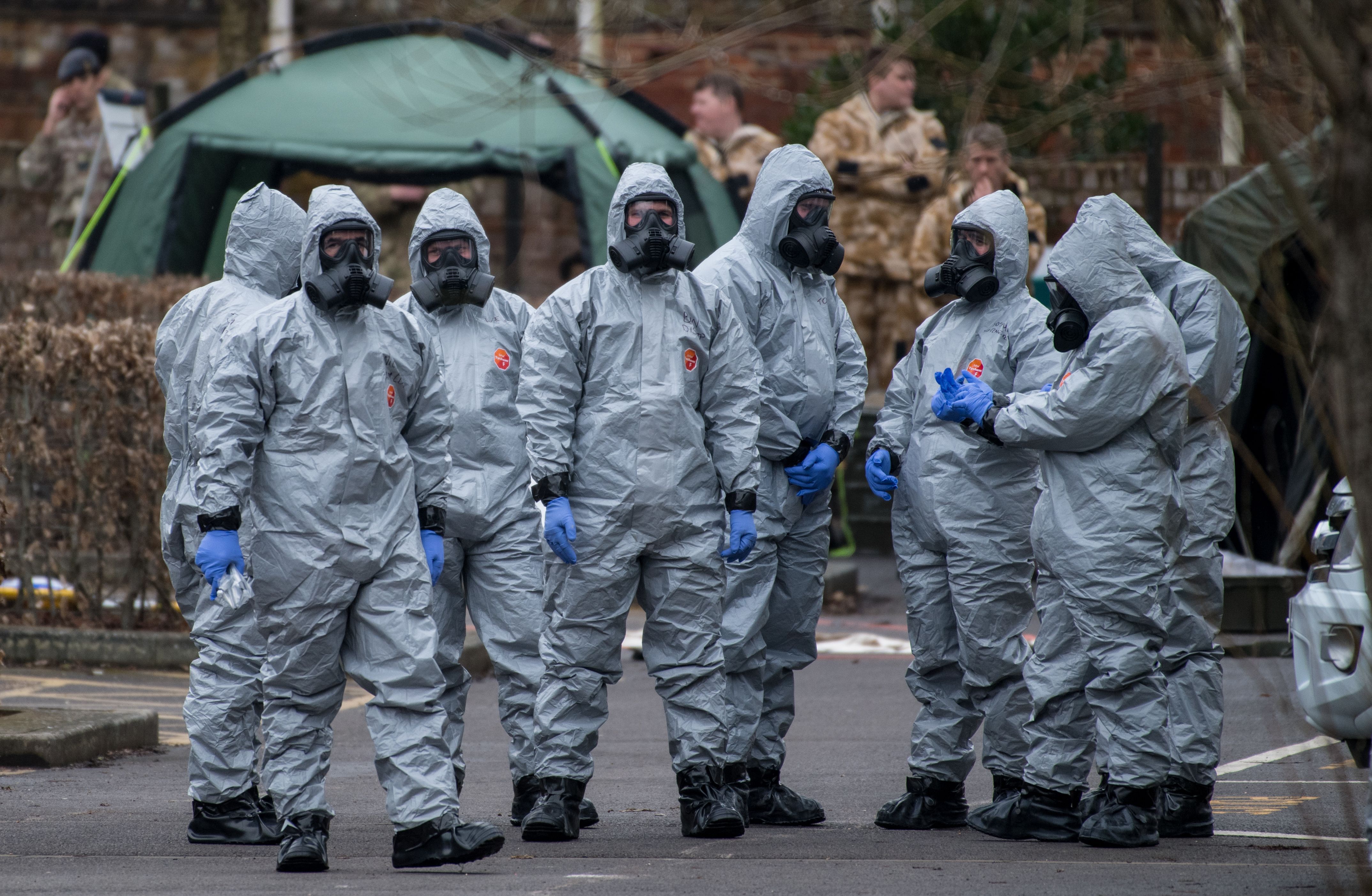 Military personnel investigate the poisoning in Salisbury, England. (Chris J Ratcliffe / Getty Images)
Secretary of State Rex Tillerson tells reporters traveling with him in Africa that the poisoning of a former Russian spy in Britain is "an egregious act" and "appears that it clearly came from Russia," per the N.Y. Times' Gardiner Harris.
Tillerson: "I've become extremely concerned about Russia ... We spent most of last year investing a lot into attempts to work together, to solve problems, to address differences. And quite frankly, after a year, we didn't get very far. Instead what we've seen is a pivot on their part to be more aggressive."
Britain's leaders are trying to build international support as they respond to the poisoning, AP reports:
Prime Minister Theresa May said it is "highly likely" Russia was involved in the poisoning of 66-year-old Sergei Skripal and his 33-year-old daughter, Yulia. Both remain in critical condition.
Why it matters: "Her conclusion ... is leading to a major confrontation between Britain and Russia, which has taken an increasingly aggressive posture toward Europe in recent years."
https://www.axios.com/newsletters/axios-am-c6f241e3-5a28-498f-a839-262d22f6fbe2.html?chunk=2#story2
3. Trump blocks record tech deal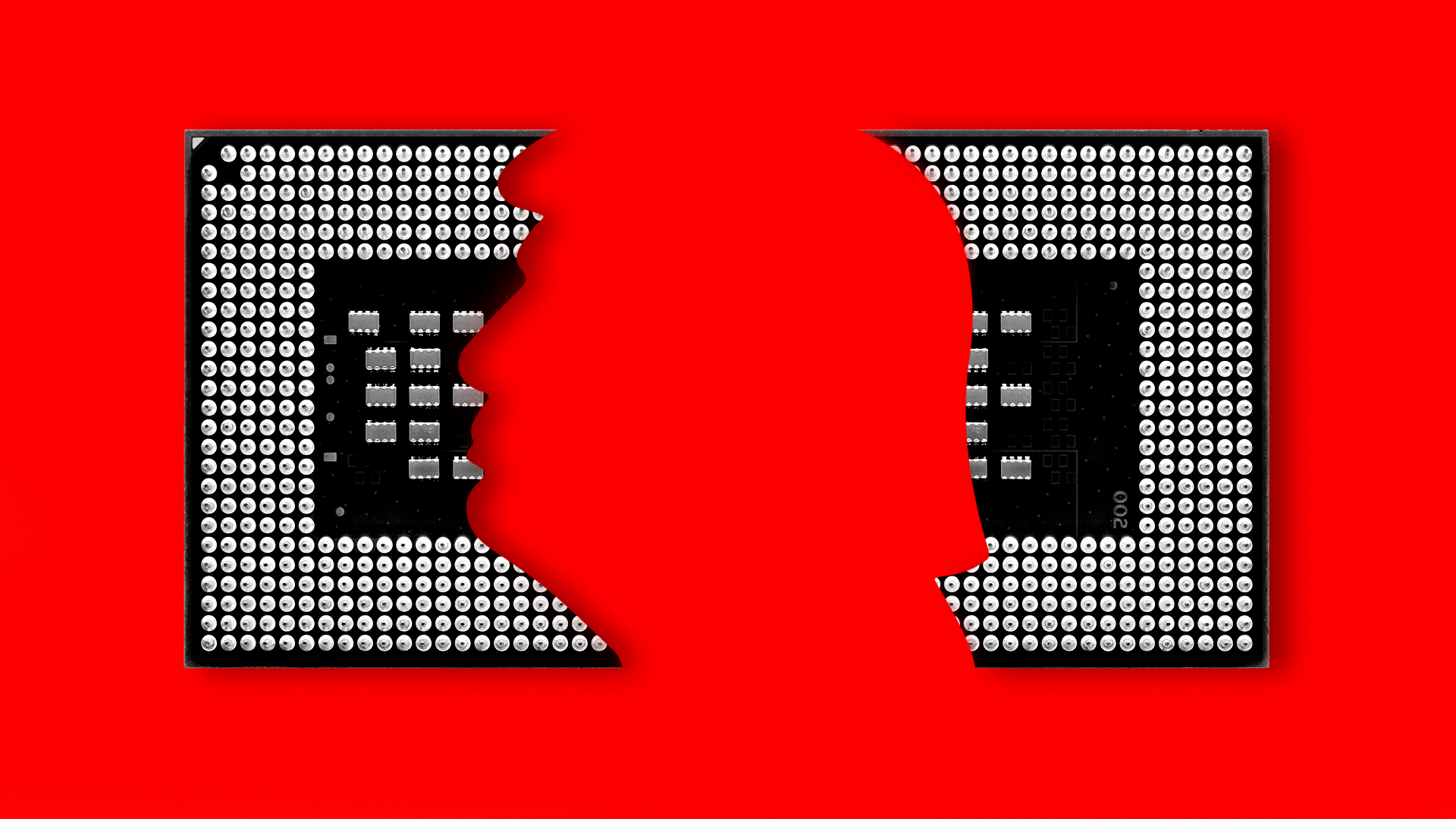 The White House blocked Broadcom's proposed $117 billion purchase of Qualcomm, saying preventing the deal was "necessary to protect the national security of the United States," Axios' Dan Primack and Ina Fried write:
Why it matters: It is unprecedented for the U.S. government to block a deal like this one. The purchase — which would have been the largest tech deal in history — hadn't even been agreed to yet by the two companies.
Blocking it shows the administration's aggressive stance on perceived threats from foreign investors and the growing technological might of China.
https://www.axios.com/newsletters/axios-am-c6f241e3-5a28-498f-a839-262d22f6fbe2.html?chunk=3#story3
https://www.axios.com/newsletters/axios-am-c6f241e3-5a28-498f-a839-262d22f6fbe2.html?chunk=4#story4
4. "We've found no evidence of collusion"
"House Intelligence Committee Republicans say they have found no evidence that President Trump and his affiliates colluded with Russian officials to sway the 2016 election or that the Kremlin sought to help him," the WashPost reports:
"The findings are part of a 150-page draft report that Rep. K. Michael Conaway (R-Tex.), who oversees the committee's Russia probe, announced on Monday. It will probably be weeks before the document is made public."
"Conaway told reporters ... that the worst the panel uncovered was 'perhaps some bad judgment, inappropriate meetings, inappropriate judgment at taking meetings.'"
Conaway said the Trump Tower meeting between members of the campaign and a ­Russian lawyer "shouldn't have happened, no doubt about that."
But, but, but ... The Post notes that the GOP conclusion is "at odds with Democrats' takeaways from the congressional panel's year-long probe and the apparent trajectory of special counsel Robert S. Mueller III's investigation."
Be smart: Republicans will use this report as cover to dismiss or dispute findings by Mueller.
Remember: The GOP alone decides what's impeachable, as long as the party controls Congress. 
P.S. Deputy Attorney General Rod Rosenstein tells USA Today: "The special counsel is not an unguided missile ... I don't believe there is any justification at this point for terminating the special counsel."
https://www.axios.com/newsletters/axios-am-c6f241e3-5a28-498f-a839-262d22f6fbe2.html?chunk=5#story5
5. No Trump Zone: Few vulnerable Rs want him
President Trump recently said he plans to eventually spend "four or five days a week" campaigning for Republican midterm candidates.
But Axios' Alayna Treene found that of the 23 most vulnerable House Republicans, only two said they would accept Trump's help — and neither was especially eager about it.
https://www.axios.com/newsletters/axios-am-c6f241e3-5a28-498f-a839-262d22f6fbe2.html?chunk=6#story6
6. Why Trump wants Larry Kudlow ...
... to replace Gary Cohn as his economic adviser:
A source tells Jonathan Swan that Trump thinks Kudlow can get him good TV coverage.
Jim Cramer on CNBC: "The president, I believe, is listening to Larry Kudlow on our air, and likes what he hears."
CNN's Brian Stelter writes that the "Trump-TV feedback loop is stronger than ever":
"Last week Trump pardoned former Navy sailor Kristian Saucier, five days after Saucier pleaded his case on 'Fox & Friends' ... Saucier's lawyer told HuffPost that getting booked on Fox was strategic."
"Axios reported that Trump surprised embattled V.A. secretary David Shulkin 'by dialing in' Fox's Pete Hegseth, [an earlier] candidate for the job, on speaker phone during a meeting."
https://www.axios.com/newsletters/axios-am-c6f241e3-5a28-498f-a839-262d22f6fbe2.html?chunk=7#story7
7. Hillary's new stat
Hillary Clinton, in comments in India this weekend seized on by the Republican National Committee, attributed some of Trump's insurgent victory to discriminatory attitudes among his supporters, per CNN:
"I won the places that represent two-thirds of America's gross domestic product."
"So I won the places that are optimistic, diverse, dynamic, moving forward. And his whole campaign, 'Make America Great Again,' was looking backwards. You know: 'You didn't like black people getting rights, you don't like women, you know, getting jobs, you don't want to, you know, see that Indian-American succeeding more than you are, whatever your problem is, I'm going to solve it.'"
https://www.axios.com/newsletters/axios-am-c6f241e3-5a28-498f-a839-262d22f6fbe2.html?chunk=8#story8
8. Apple, Facebook plan content moves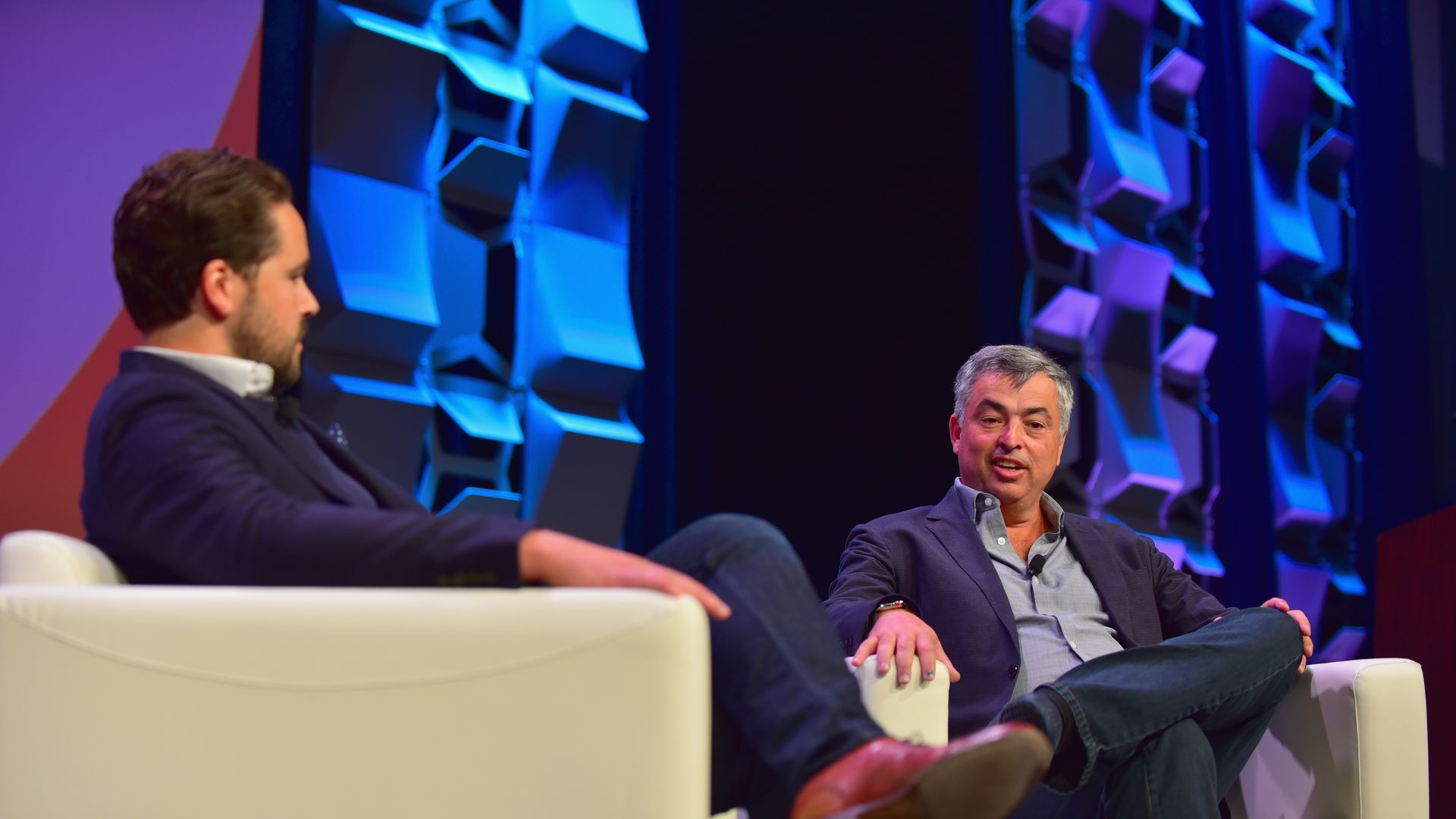 In Austin, Eddy Cue, Apple's SVP of Internet Software and Services, explained the company's TV strategy during one of the newsiest onstage interviews at South by Southwest. CNN's recap:
"Apple doesn't aspire to acquire massive companies like Netflix or Disney. Instead, it's pouring money into smaller investments that focus on how people will be using and consuming media in the future."
Scoop by Axios' Sara Fischer in the new issue of her Media Trends newsletter just out ... Facebook preps news launch:
Facebook is getting ready to launch a news section for its Watch platform and it's testing different video partnerships with roughly 10 publishers.
Why it matters: This would be the first standalone news product for national news in Watch. The tech company previously launched several products, like Instant Articles and Facebook Live, with an array of publishers which included but was not limited to news companies.
Facebook is in touch with both legacy and digital-first news publishers to test a daily video feature that would run for at least a year.
The big picture: Facebook is trying to create more meaningful engagement on its platform. Execs hopes that creating a news product that's native to the platform, and includes content from vetted publishers, will drive less passive engagement and curb the spread of misinformation on its platform. 
https://www.axios.com/newsletters/axios-am-c6f241e3-5a28-498f-a839-262d22f6fbe2.html?chunk=9#story9
9. Another place leaders matter
David Brooks' N.Y. Times column ("Good Leaders Make Good Schools") spotlights the importance of grade-school principals in setting a culture "by their very behavior — the message is the person":
Why they matter: "Principals raise expectations and alter norms. ... When you learn about successful principals, you keep coming back to the character traits they embody and spread: energy, trustworthiness, honesty, optimism, determination."
What's changed: "Principals used to be administrators and middle managers, overseeing budgets, discipline, schedules. The goal was to be strong and decisive. Today's successful principals are greeting parents and students outside the front door in the morning. [A] Minnesota-Toronto study found successful principals made 20 to 60 spontaneous classroom visits and observations per week."
"In other words, they are high-energy types constantly circulating through the building, offering feedback, setting standards, applying social glue."
The problem: "Research suggests that it takes five to seven years for a principal to have full impact on a school, but most principals burn out and leave in four years or less."
https://www.axios.com/newsletters/axios-am-c6f241e3-5a28-498f-a839-262d22f6fbe2.html?chunk=10#story10
10. 1 fun thing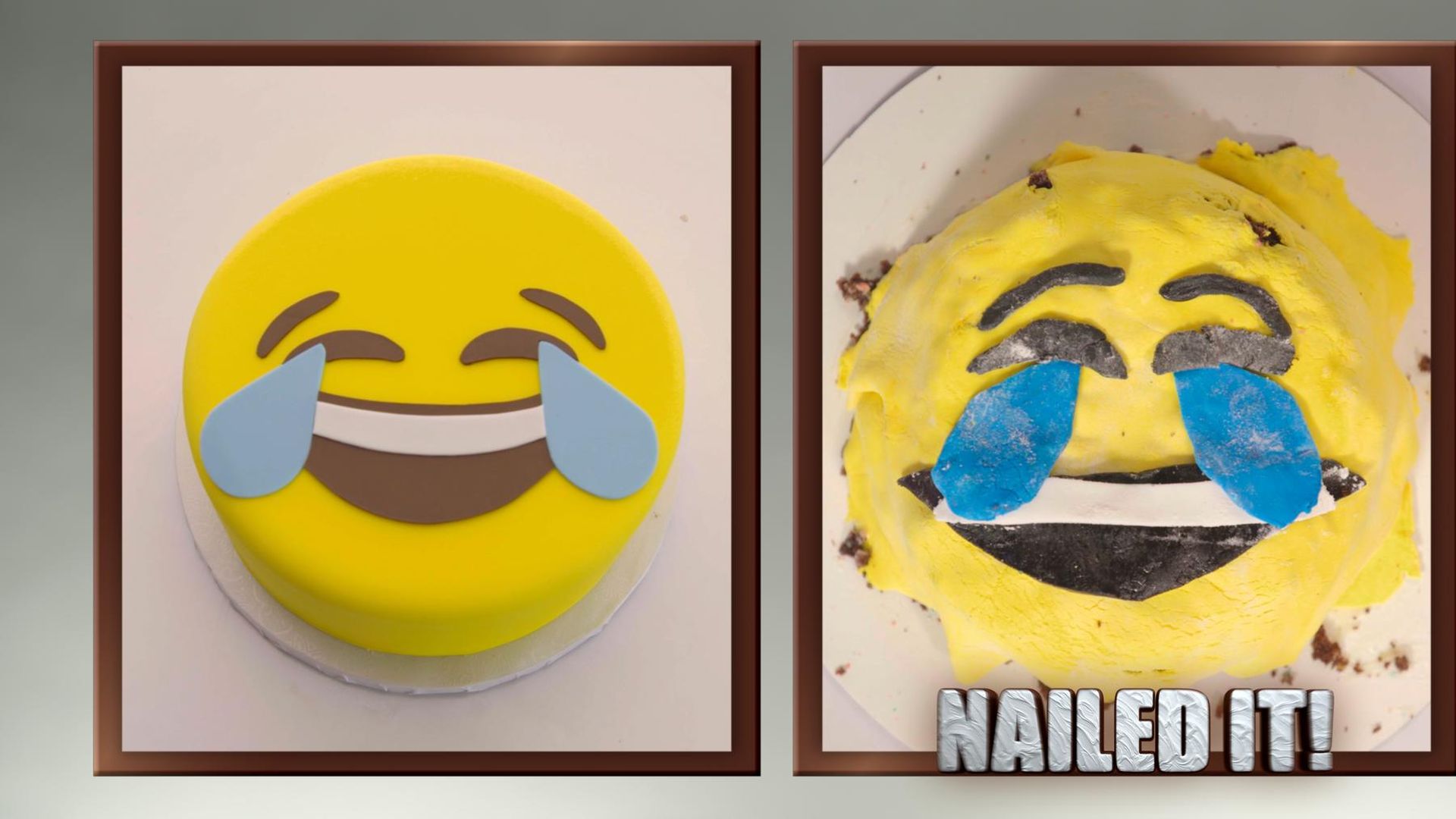 Netflix launches "Nailed It!," based on the popular online side-by-sides, "Pinterest fails."
"Home bakers with a terrible track record take a crack at re-creating edible masterpieces for a $10,000 prize. It's part reality contest, part hot mess."
YouTube trailer ... YouTube clip, "Princess Cake Gone Wrong."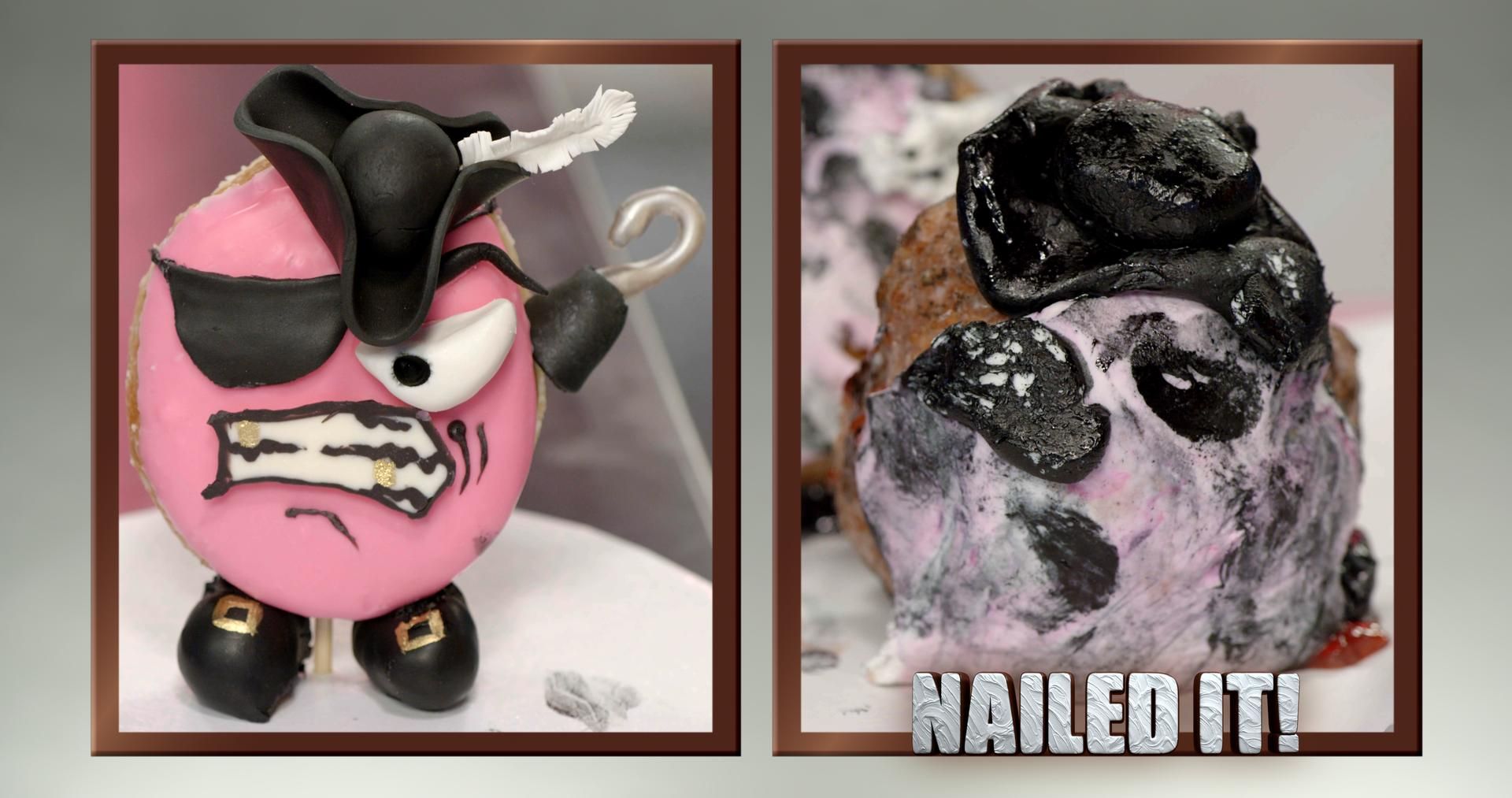 Netflix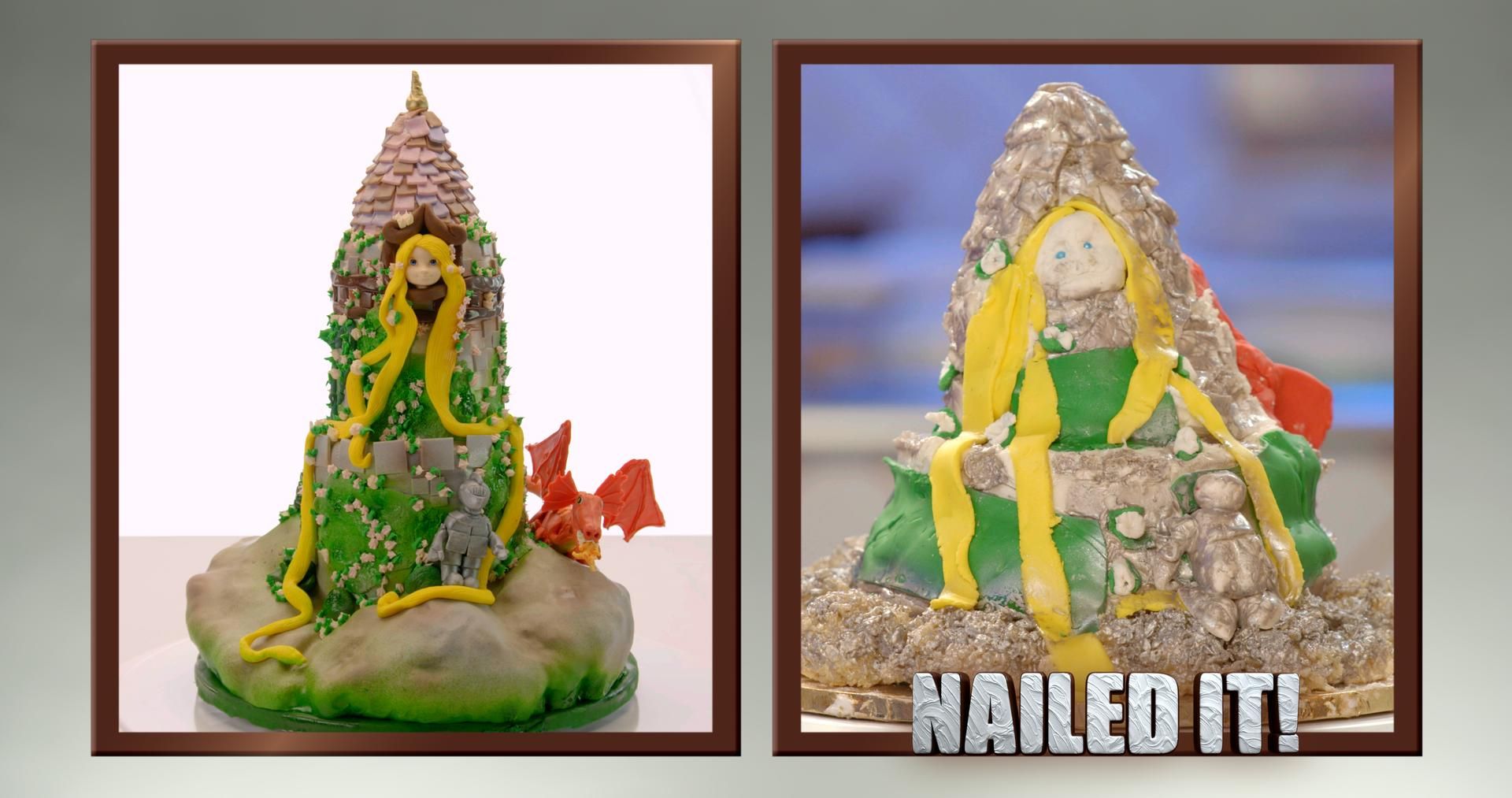 Netflix