Axios AM
April 16, 2017
Happy Easter to you and yours. In keeping with Axios' commitment to saving you time, we're going to catch you up even faster today. Hopefully you'll get off of your device quicker!
1 big thing ... A win for Trump: North Korean bellyflop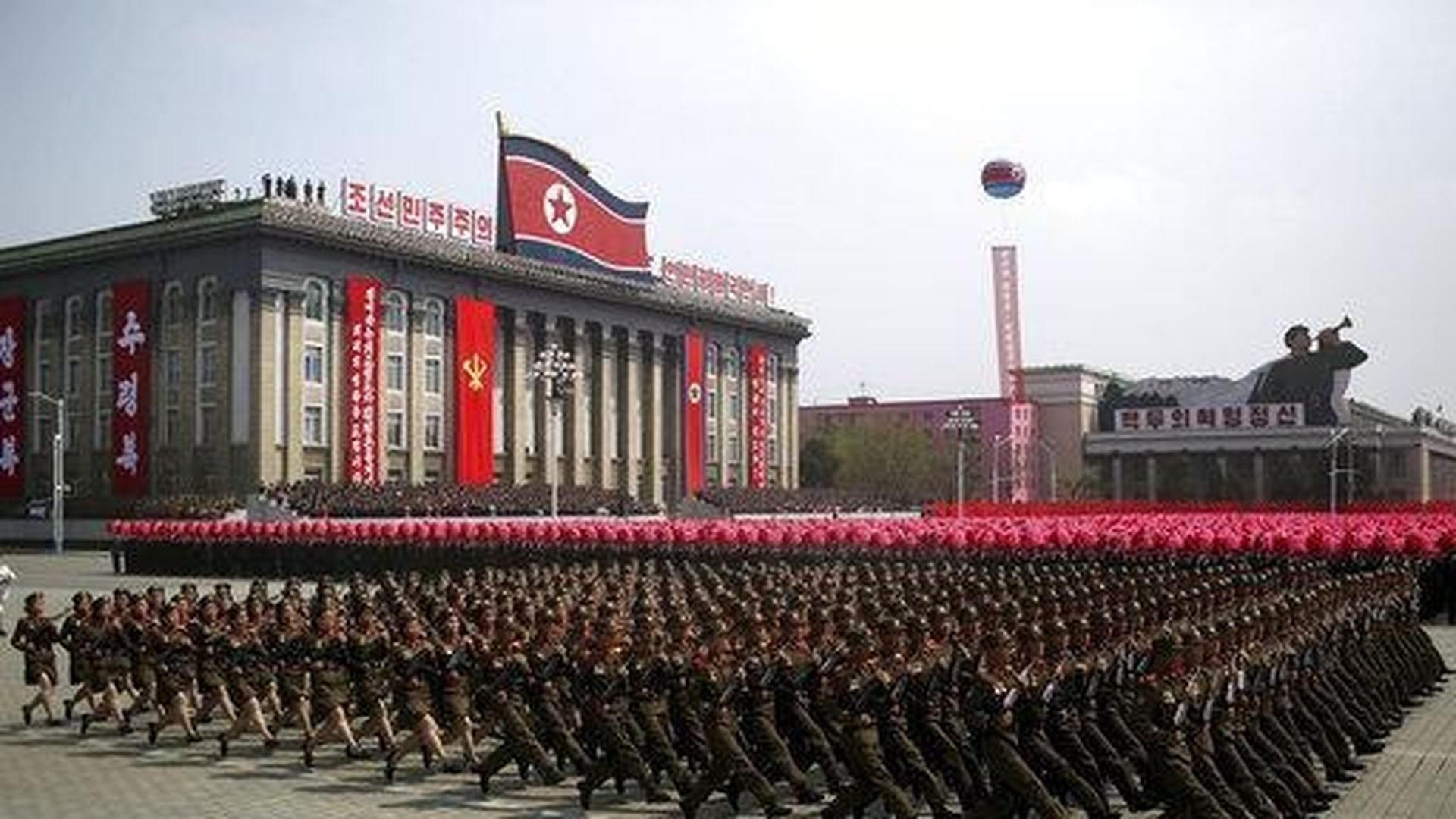 Some speculation this morning that the U.S. cyber-terminated last night's (ET) North Korean missile test, which was clearly aimed at taunting Trump, but belly-flopped.
Get smart fast: Steve LeVine — longtime foreign correspondent for the top papers, who joined Axios last week as Future Editor — emails me in Raleigh, where I'm celebrating Easter with my brother, Scott; Sheri; and their two sons (one graduating from Chapel Hill this year!):
The spectacular anticlimax to the frightening brinksmanship between Kim and Trump makes the former look horribly incompetent and Trump yet again a lot more skillful internationally than he's generally given credit for.
Some people will be convinced that the message of the abortive launch demonstrates that North Korea has a much longer road to an ICBM that can strike the continental U.S.
Many more will suspect that — as the Trump administration threatened leading up to the abortive launch — it was not going to permit Kim to detonate a sixth nuclear test, and that it fulfilled its words. ...
All in all, a win for Trump, and — at least for the moment — a pause in the most fraught foreign policy crisis of his early presidency.
Taking a longer view ... Trump now arguably has three straight big wins, all on the international stage: In quick succession, he has stood up to Assad, to Putin, and now — it will appear to many — Kim.
Sir Malcolm Rifkind, former U.K. foreign secretary, speaking to the BBC today and quoted in The Telegraph of London: "It could have failed because the system is not competent enough to make it work, but there is a very strong belief that the US — through cyber methods — has been successful on several occasions in interrupting these sorts of tests and making them fail."
Key point, from N.Y. Times' story (which runs on p. A9 in the final!):
North Korean leader Kim Jong-un "is acutely aware that the threat that he could soon possess — a missile that could strike the continental United States — is Washington's biggest concern, and both the number and the variety of missiles he showed on Saturday seemed to be sending the message that a pre-emptive strike against his facilities would be fruitless."
WashPost leads the paper with North Korea: "The president seemed to be hoping for a calm weekend. He was joined on his trip by just three junior staffers and K.T. McFarland, a deputy national security adviser who was recently pushed out and made ambassador to Singapore as a consolation."
2. Bite of the day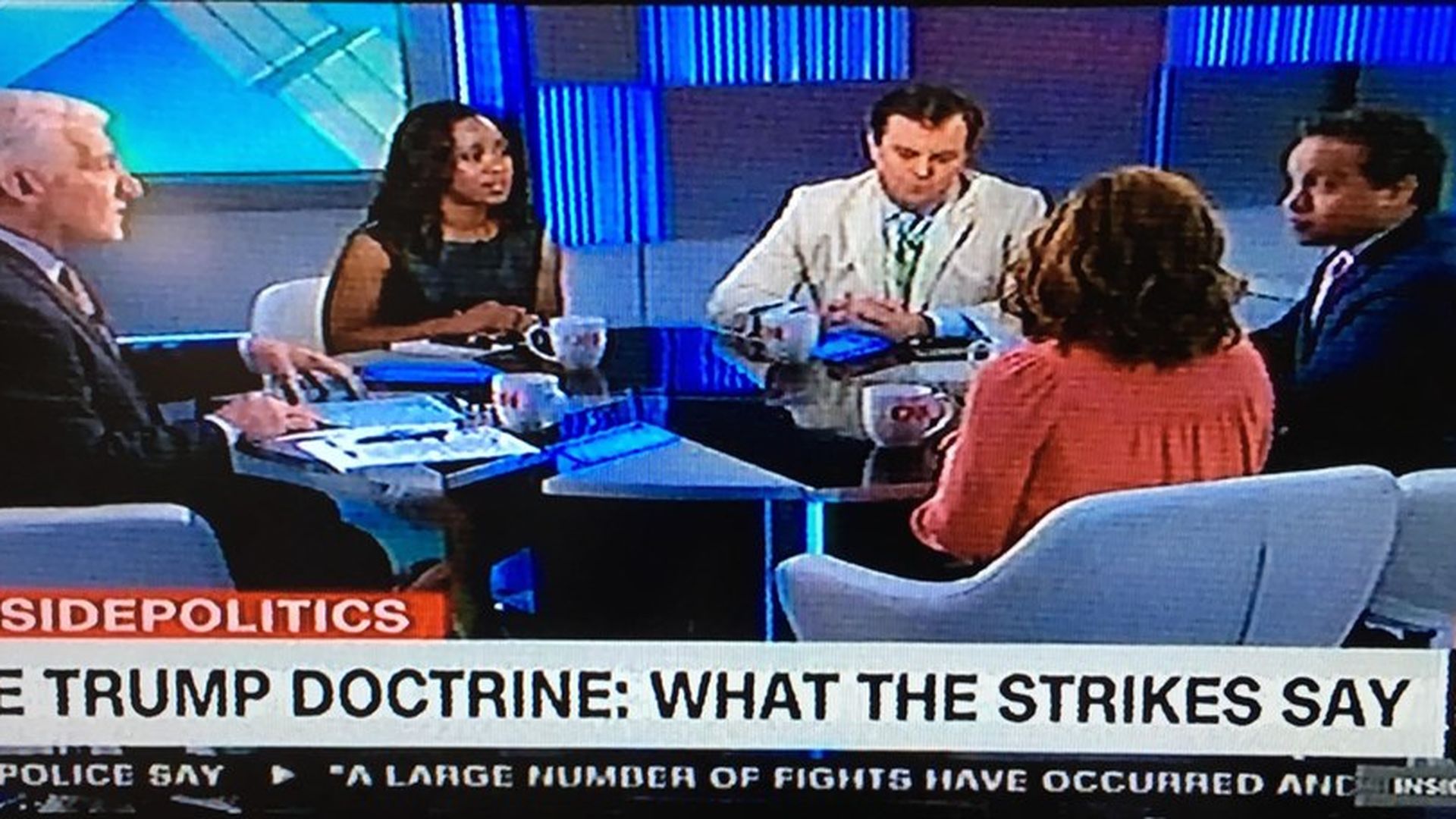 N.Y. Times' Jonathan Martin to John King on CNN's "Inside Politics""
Trump is all for the sort of "big stick" part of it. But he's also walking loudly here. So he's not really a Teddy Roosevelt type. He's doing his own thing here with the presidency.
3. Pence lands on Korean Peninsula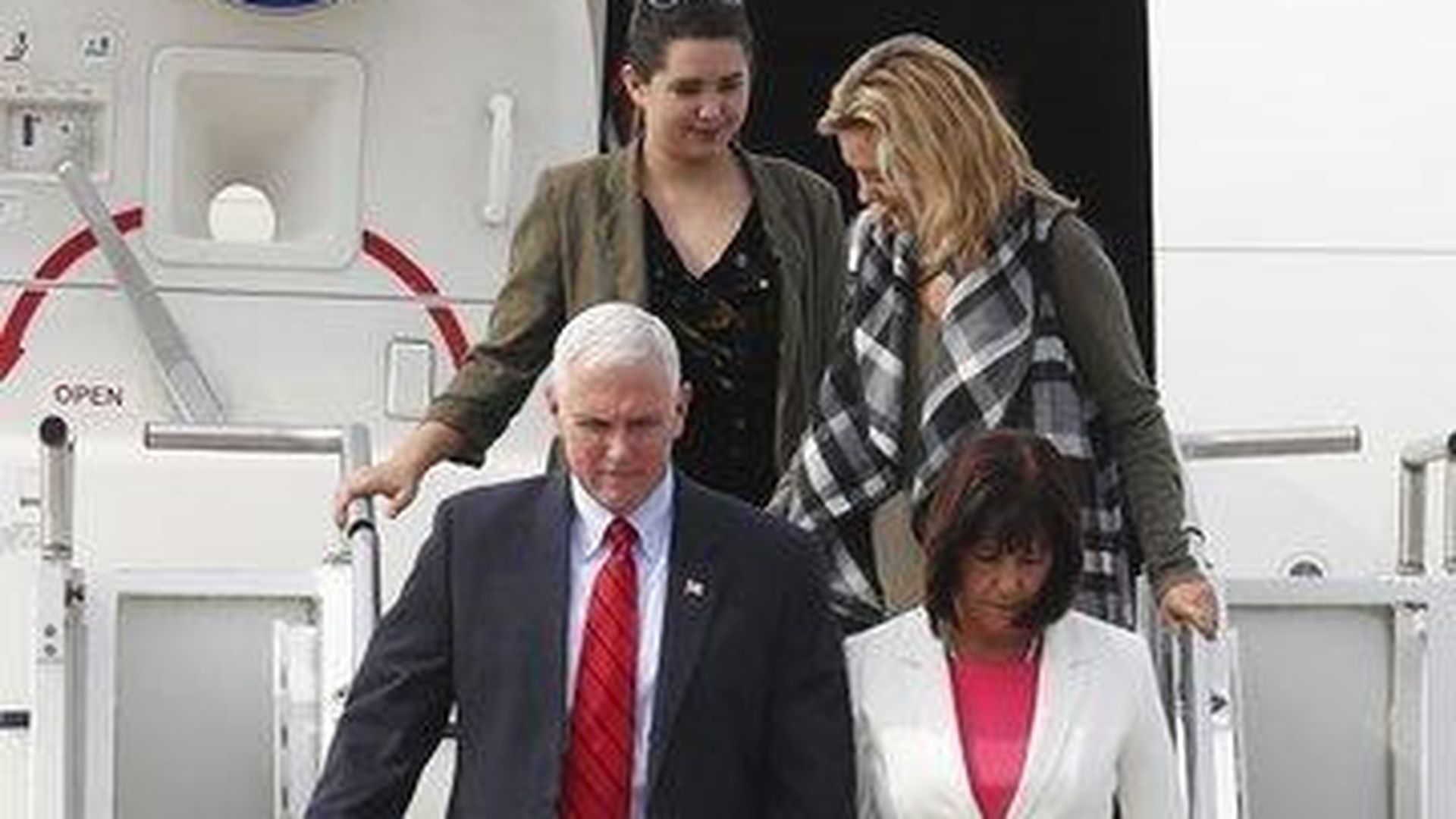 "Pence: North Korea 'provocation' shows the risk to military," by AP's Ken Thomas in Seoul: "Pence landed in South Korea at the start of a 10-day trip to Asia ... While Pence was aboard Air Force Two flying over the Bering Sea, a North Korean missile exploded during launch."
During a fellowship meal with military personnel after an Easter service, Pence said: "This morning's provocation from the North is just the latest reminder of the risks each one of you face every day in the defense of the freedom of the people of South Korea and the defense of America in this part of the world."
4. Trending in business: Favoring millennials
"Older Workers Challenge Firms' Aggressive Pursuit of the Young: In one class action against PricewaterhouseCoopers, two men say they were rejected because they lacked the youthful profile possessed by many PwC recruits," by Wall Street Journal's Jacob Gorshman:
"[F]avoritism toward millennials, the suit alleges, violates the federal Age Discrimination in Employment Act, or ADEA."
The trigger: "[T]he percentage of new hires who are recent college graduates is up by more than 40% from a decade ago."
A sad stat: "Unemployed workers between 45 and 54 have been unemployed for an average of 10 weeks longer than jobless Americans between 25 and 34."
The legal backdrop: "[T]he idea that company recruitment efforts aimed at students and recent graduates can be unlawful is a controversial premise that no federal appeals court has ever endorsed."
Why it matters: "Courts have looked at the question more closely in the aftermath of a recession that saw many seasoned workers lose their jobs and toil to find new ones. Advocates for older Americans say age discrimination in hiring is driven by a common misperception that younger workers are more productive, creative, trainable and cheaper."
5. 1 fun thing: "Elimination Night" on "SNL"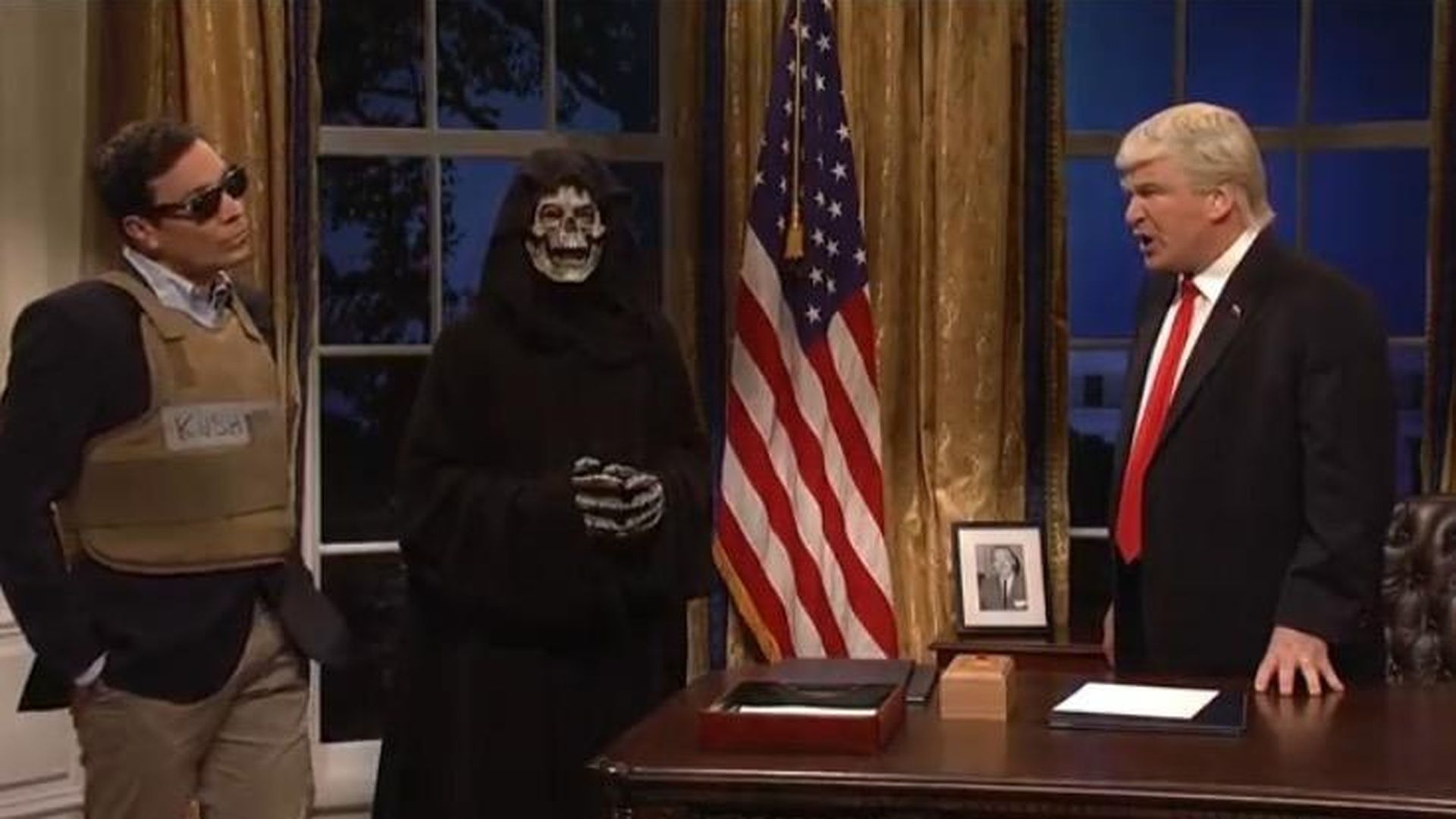 "A Bannon-Kushner Showdown and Spicer as the Easter Bunny on 'Saturday Night Live,'" by N.Y. Times' Dave Itzkoff:
Alec Baldwin returned to play President Trump in the show's cold open, working from the Oval Office with Vice President Mike Pence (played by the cast member Beck Bennett [who also plays Tapper]). ... Trump asked Mr. Pence to read from his list of accomplishments from his first 100 days ... Pence opened a folder, read a single item — "nominated Neil Gorsuch" — and closed the folder. ...
Baldwin lamented, "I'm so sad my presidency is finally coming to an end." Mr. Bennett, as Mr. Pence, corrected him, "No, sir, you still have over 1,300 days left." Mr. Baldwin said: "I don't know. Have you seen my tweets about North Korea? This could all be over by Monday." ...
Baldwin then summoned Mr. Bannon ... (depicted, as is "S.N.L." tradition, as the Grim Reaper), and Mr. Kushner ... (played by Mr. Fallon, who was attired as the real Mr. Kushner was on a recent visit to Iraq) to inform them that only one of them would be allowed to continue working with him. Against dramatic music and lighting that evoked ... "The Apprentice," Mr. Baldwin evaluated the two candidates.
YouTubes: Cold Open in Oval Office ... Easter Message from Sean Spicer
Thanks for reading! What do you think of the faster format? Just reply to this email (it goes to my real/only email box), or drop me a line at [email protected]