Good Saturday morning (Father's Day tomorrow!). Situational awareness: Trump, accompanied by the first lady, heads to Camp David this morning for the first time. ... U.S. and Japanese vessels, aircraft search for 7 American sailors missing after their Navy destroyer, the USS Fitzgerald, collides with a container ship four times its size off the coast of Japan.
https://www.axios.com/newsletters/axios-am-c10be30d-992f-4390-b5fc-0f04bd4d58fd.html?chunk=0#story0
1 big thing: Trump's next campaign
A milestone, on Day 148 of the Trump presidency … Amid all the bluster and bellyaching, President Trump is acknowledging for the first time — with both public and private actions — that he's fighting to save his presidency.
It's his next campaign, long before he would have to formally gear up for 2020. This is a big reason nearly every action — and reaction — is aimed at shoring up his base.
In moments of clarity amid his fits of rage, Trump knows he boxed himself in politically and legally by firing FBI Director Jim Comey, triggering what he thought he could avoid: an all-consuming investigation focusing on him.
Pause for a moment to soak in that the President of United States confirmed on the record via Twitter that Mueller is gunning for him. And attacked his own deputy attorney general, Rod Rosenstein (who now might resign or recuse himself).
The arsenal: Facing special counsel Robert Mueller's still-growing team of 13 prosecutorial killers, Trump is building his own arsenal. The president's personal legal team added the intimidating John Dowd, who represented Sen. John McCain in the Keating Five banking scandal, and whose Dowd Report for Major League Baseball got Pete Rose banished for life for gambling.
Dowd, 76, joins longtime Trump lawyer Marc Kasowitz; Jay Sekulow, the TV face of the team, who's doing a "full Ginsburg" blitz of tomorrow's Sunday shows; and Mark Corallo, a Justice Department alumnus who was Rep. Bob Livingston's press secretary during the Clinton impeachment.
Reuters reports: "Another well-known white-collar Washington lawyer will likely join the team shortly."
Be smart: Trump, notorious for his litigiousness in New York, is playing an inside-outside game: stockpiling talent to protect him legally, while publicly trying to discredit the investigators and whatever they might eventually say or do.
A problem for Trump: Those things are at odds. Everything Trump says now, Bob Mueller will use against him.
https://www.axios.com/newsletters/axios-am-c10be30d-992f-4390-b5fc-0f04bd4d58fd.html?chunk=1#story1
2. Behind the curtain
AP's Julie Pace and Jonathan Lemire: "Trump advisers and confidants describe the president as increasingly angry over the investigation, yelling at television sets in the White House carrying coverage and insisting he is the target of a conspiracy to discredit — and potentially end — his presidency."
"Some of his ire is aimed at Rosenstein and investigative special counsel Robert Mueller, both of whom the president believes are biased against him, associates say."
"Russia probe causes tension among top officials at Justice Department," by CNN Justice Correspondent Evan Perez:
"Officials ... describe friction on the Justice Department's fourth and fifth floors, home to the suite of offices belonging to the deputy attorney general and the attorney general, respectively, in part because of Rosenstein's handling of the Russia matter."
"Sessions learned of the Mueller appointment at about the same time that the press was told, according to people briefed on the matter.
"The attorney general was at a White House meeting when the notification came from Rosenstein, prompting the enraged President to scold the attorney general."
"Trump had viewed Sessions' recusal as unnecessary, even though Justice Department regulations made it almost impossible to avoid."
P.S. CNN's Tom LoBianco: "House Russia investigators are planning to call on Brad Parscale, the digital director of President Donald Trump's campaign, as the congressional and federal probes dig into any possible connections between the Trump digital operation and Russian operatives."
https://www.axios.com/newsletters/axios-am-c10be30d-992f-4390-b5fc-0f04bd4d58fd.html?chunk=2#story2
3. Silicon Valley's targets aren't just in tech anymore
How to think about Amazon's announcement that it's buying upmarket Whole Foods: new danger for legacy brands ... new clarity on the epic scale of Amazon's ambitions ... and a new sign of tech companies spreading their tentacles to remake the physical landscape. Two worthy reads, to help get your head around the massive implications for business and society: L.A. Times A1, "Silicon Valley is looking beyond tech for acquisition targets, setting the stage for a major role reversal," by Paresh Dave: "As struggling retailers, banks and automakers weigh buying technology to catch up to the smartphone age, the likes of Amazon, Google and Facebook may find it simpler to rescue the hobbled.""Netflix could target a fancy theater chain. Alphabet could match Amazon by making room for a grocery chain or delivery company. Tech observers have dreamed of Apple purchasing HBO or Tesla Motors."Why it matters: "This group of tech industry giants [Facebook, Microsoft, Alphabet, Amazon, Apple] has more than $500 billion in cash to burn ... Their shares are hitting record highs, outpacing growth in the broader stock market.""Is This a Grocery Apocalypse? The surprise acquisition might not be so big, but the implications for grocers are staggering," Barron's' Alex Eule and Andrew Bary (free link for Axios readers): "On paper, it's just a midsize merger. If Amazon.com's $13.7 billion deal for Whole Foods Market goes through unchanged, it will rank as the No. 4 U.S. retail deal, according to Thomson Reuters, behind an uninspiring list that includes Supervalu-Albertsons, Walgreens-Rite-Aid, and Kmart-Sears.""But Wall Street [was] doing a rapid assessment of retail's future. Shares of companies seen as suddenly more vulnerable to the Amazon juggernaut got hammered. ... [I]nvestors feared [Kroger, Costco, Target, Walgreen and Walmart] had become direct Amazon competition overnight."
https://www.axios.com/newsletters/axios-am-c10be30d-992f-4390-b5fc-0f04bd4d58fd.html?chunk=3#story3
Bonus: Bottom of WashPost front page, 2 years ago today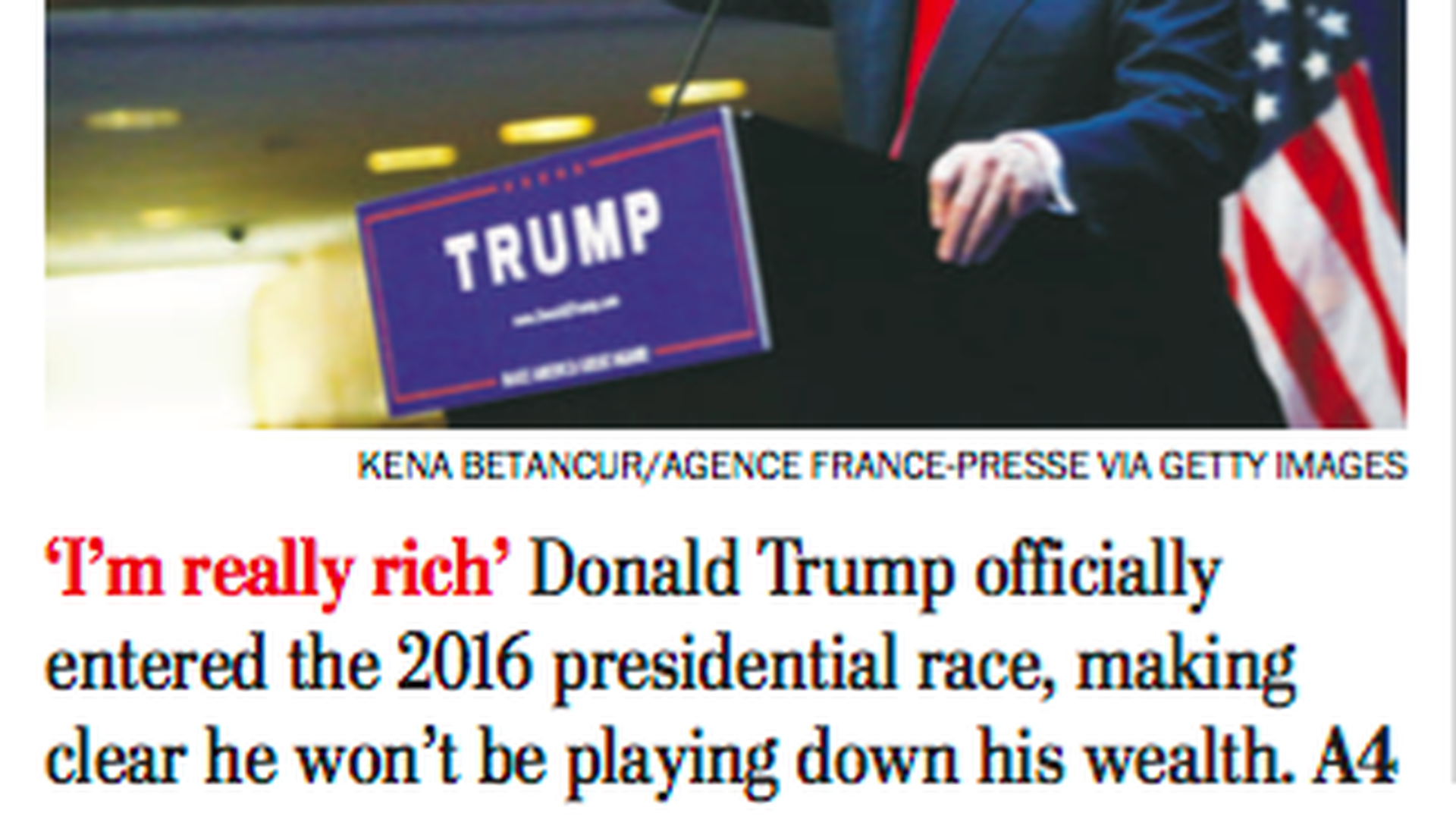 Trump's announcement wasn't even mentioned on the front page of The Denver Post ... It was the 22nd (and penultimate) bullet in the "What's News" column on the cover of The Wall Street Journal, teasing to a story on page A4 ("Trump Vows to Disrupt Crowded GOP Field") ... And the N.Y. Times stuffed it on p. A16, promoted with the third tease at the bottom of A1, "Trump Joins G.O.P. Field."
https://www.axios.com/newsletters/axios-am-c10be30d-992f-4390-b5fc-0f04bd4d58fd.html?chunk=4#story4
4. Stats du jour
From Bret Stephens column in N.Y. Times on "Americans whose families have been in this country for a few generations" — a Cato study that looks at nonimmigrants:
"Educational achievement? Just 17 percent of the finalists in the 2016 Intel Science Talent Search — often called the 'Junior Nobel Prize' — were the children of United States-born parents. At the Rochester Institute of Technology, just 9.5 percent of graduate students in electrical engineering were nonimmigrants."
https://www.axios.com/newsletters/axios-am-c10be30d-992f-4390-b5fc-0f04bd4d58fd.html?chunk=5#story5
5. Collision of business, tech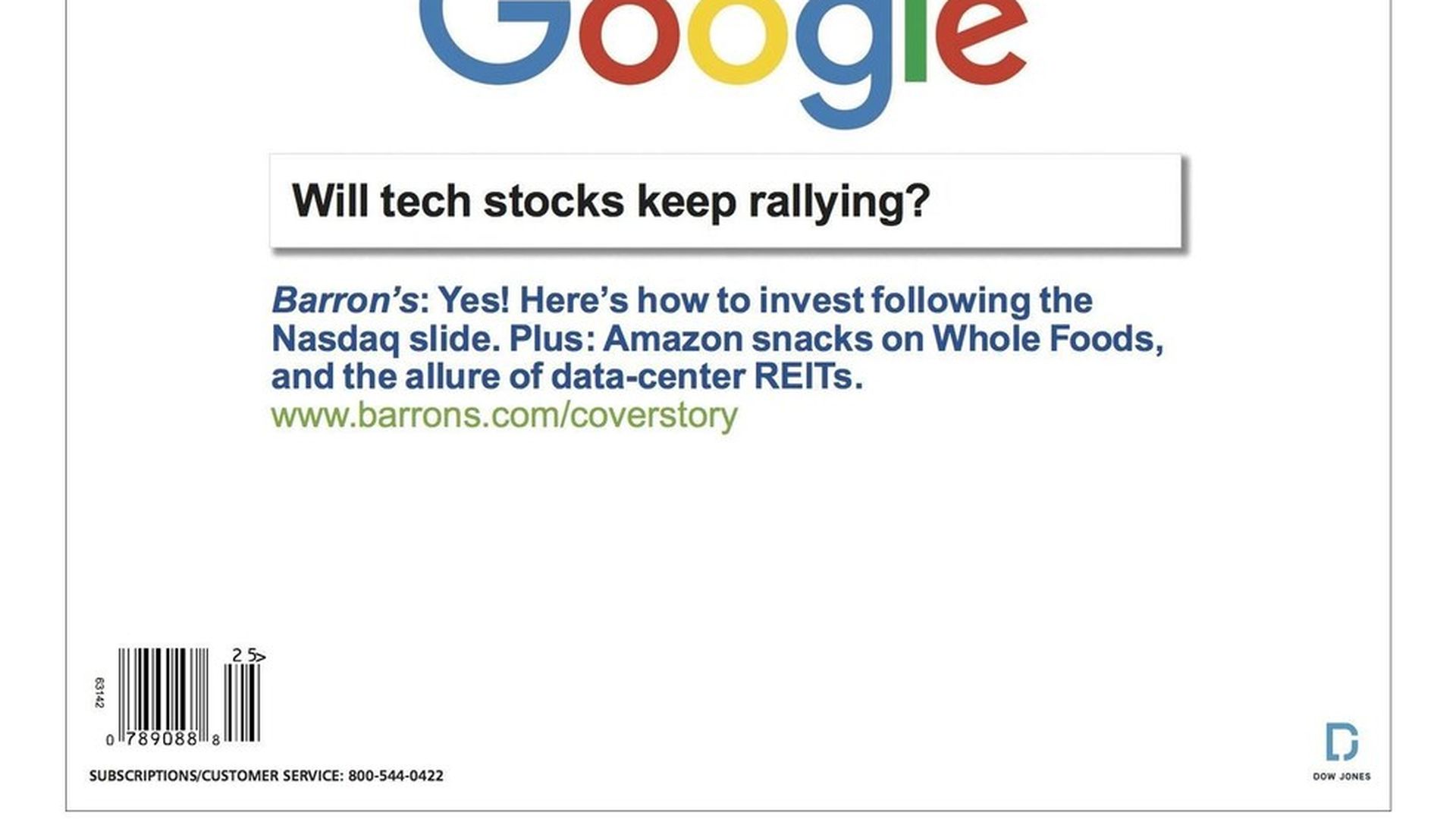 "The Tech Stock Rally Will Be Right Back," per the Barron's cover ... "Yes, Tech stocks will continue to rally: Robust earnings growth could power tech stocks to new highs after their recent rout," by Ben Levisohn:
"Driving growth, particularly in consumer-facing tech names, are new products, services, and users. ... A low-growth economy favors companies whose fortunes don't depend on cyclical forces." (Subscription)
P.S. Top of WashPost Sunday Business front, "Uber's big problem: Attracting talent — Recruiters find a wall of resistance from women they try to hire," by Elizabeth Dworkin and Todd Frankel:
"Silicon Valley recruiters, tech workers and analysts agree that it will continue to be challenging for Uber to rehabilitate its reputation in the tech industry and return to the days when the company enjoyed almost unfettered access to the region's talent pipeline. ... These are perhaps the darkest days in the eight-year history of the company."
https://www.axios.com/newsletters/axios-am-c10be30d-992f-4390-b5fc-0f04bd4d58fd.html?chunk=6#story6
6. 1 fun thing: ​Pence parlor game
One of the parlor games Republicans are playing in the shadows of the Russia investigation is this: Who would President Pence pick as his vice president?
Quick refresher: If a president leaves offices for any reason, the sitting Vice President takes over and picks his number two, subject to majority vote in the House and Senate.
Quick stipulation: Yes, this is premature and highly speculative and premised solely on Trump leaving office for whatever reason.
The various theories being tossed around:
Return to normal: Pick a conventional, mainstream Republican to usher back in pre-Trump conservativism. Think Paul Ryan or Mitt Romney. (Romney more likely, because you wouldn't want to disrupt a second branch of government.) Or Nikki Haley, U.S. ambassador to the U.N., and former South Carolina governor.
Reassurance: Pick someone who helps ease the nerves of an anxious nation. Think Bob Gates. Or Mitch Daniels, for Hoosier supremacy? John Boehner?
Calm the country: Pick someone who sends a clear signal that anything approximating the status quo of Trump or even pre-Trump won't cut it. Think Joe Biden or Michael Bloomberg. The chattering class would go ga-ga!
Double Down: Pick someone who can keep the spirit of America First Trumpism alive. The problem is it's thin pickings: Jeff Sessions? Rudy Giuliani? Newt Gingrich?
Who'd we forget? Just reply to this email, or shoot me a note at mike@axios.com. We'll share any astute or clever ideas.