Axios AM
June 06, 2017
You're invited ... to my News Shaper event tomorrow at 8 a.m. in downtown D.C.: one-on-one conversations with White House Counselor Kellyanne Conway, and three fascinating ambassadors: Jordan's Dina Kawar, Singapore's Ashok Kumar Mirpuri and Germany's Peter Wittig. Outside cameras and correspondents welcome. Doors open at 7:30 a.m. RSVP here.
1 big thing: A war room without soldiers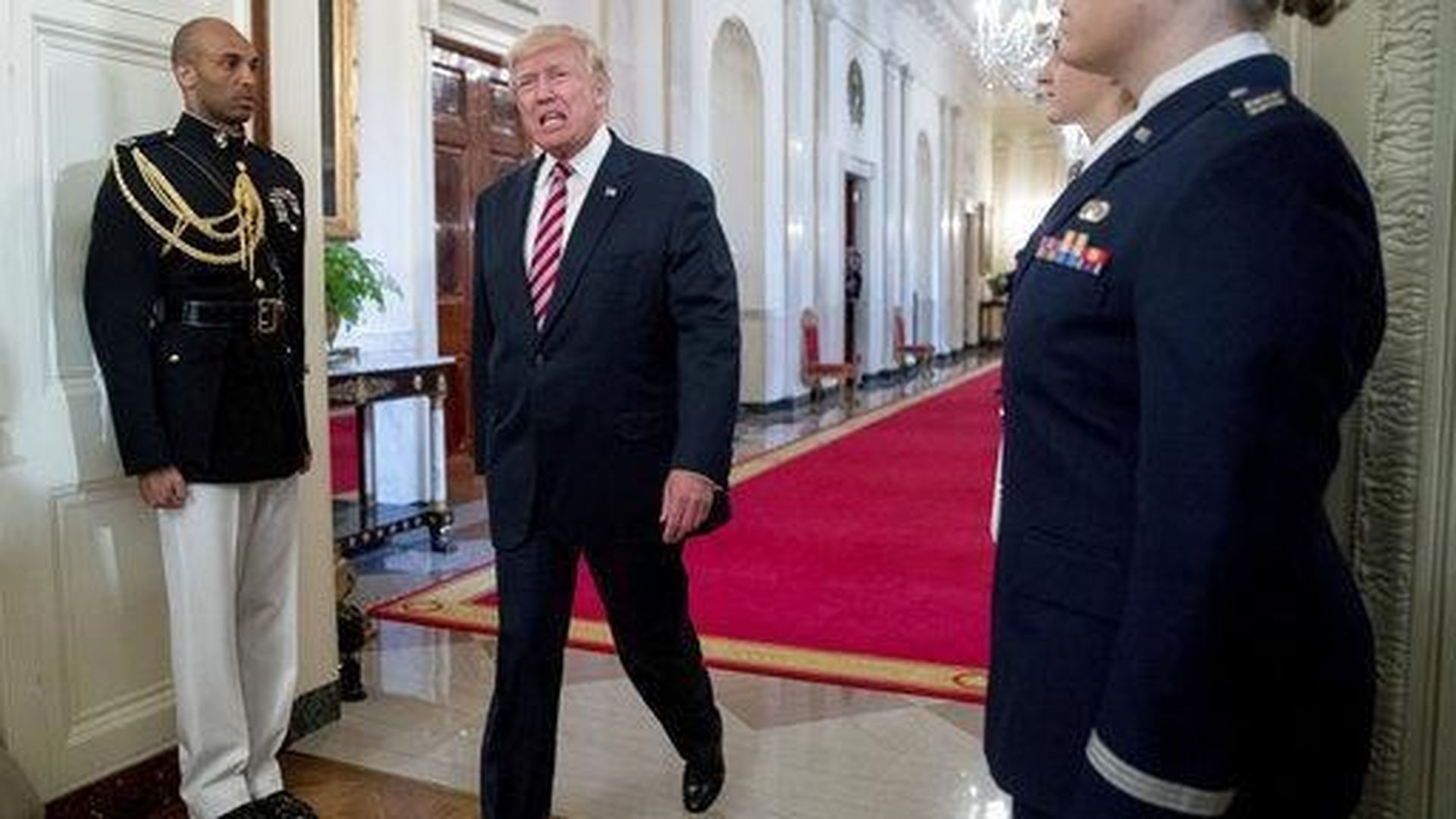 With CNN's clock already counting down to fired FBI Director Jim Comey's testimony on Thursday morning, where's the White House war room? Remember the scandal-containment unit that was supposed to quarantine the rest of the White House from Russia questions, so that President Trump could pursue a positive agenda, with the Clinton-style scandal machinery handling the investigations?
I'm told that the inside-outside machinery, as envisioned by aides who frantically planned it while Trump finished his overseas trip, may never exist. Top Republicans say the White House has been unable to lure some of the legal and rapid-response talent they had been counting on.
White House Counsel Don McGahn had drawn up an org chart that Trump's team liked. But Game Day is 48 hours away, and the boxes aren't filled.
A person involved in the conversations said: "They had a pretty good structure, but they're not able to close the deal."
Reasons include some power lawyers' reluctance to work with/for lead Trump lawyer Marc Kasowitz; resistance by Kasowitz to more cooks in his kitchen; and lack of confidence that Trump would stick to advice. Some prospects worry about possible personal legal bills, and are skeptical Trump can right the ship.
So far, the existing Trump and GOP infrastructure is still stuck with pushback duties.
After Trump's tweets yesterday undermining his own Supreme Court case on the travel ban, his Republican allies on Capitol Hill and downtown sounded weary and irritated at day after day of self-inflicted wounds:
A top GOP operative said: "People are running out of patience. He's in a very tenuous position, where it wouldn't take a lot more bad news for things to come crumbling apart. Their complete inability to get ahead of the Russia story is so strange to people."
The N.Y. Times' Michael Schmidt, who broke the story that Comey had kept memos of his conversations with Trump, made the remarkable disclosure on "Morning Joe" last week that it was Trump's twitter threat to Comey ("James Comey better hope that there are no 'tapes' of our conversations before he starts leaking to the press!") "that motivated some of the folks that I was talking to ... and led to them talking about how Trump told Comey to end the Flynn investigation. ... [T]he tweets ... loosen them up to talk about things."
Why it matters: On a call with reporters last evening, White House Legislative Affairs director Marc Short said he expects Republicans to pass healthcare and the 2018 budget this summer so the fall can be focused on tax reform. That should be achievable, but many White House allies are skeptical because so much bandwidth, at both ends of Pennsylvania Avenue, is being diverted to scandals and distractions.
And don't forget it's Infrastructure Week!
2. Comey's moment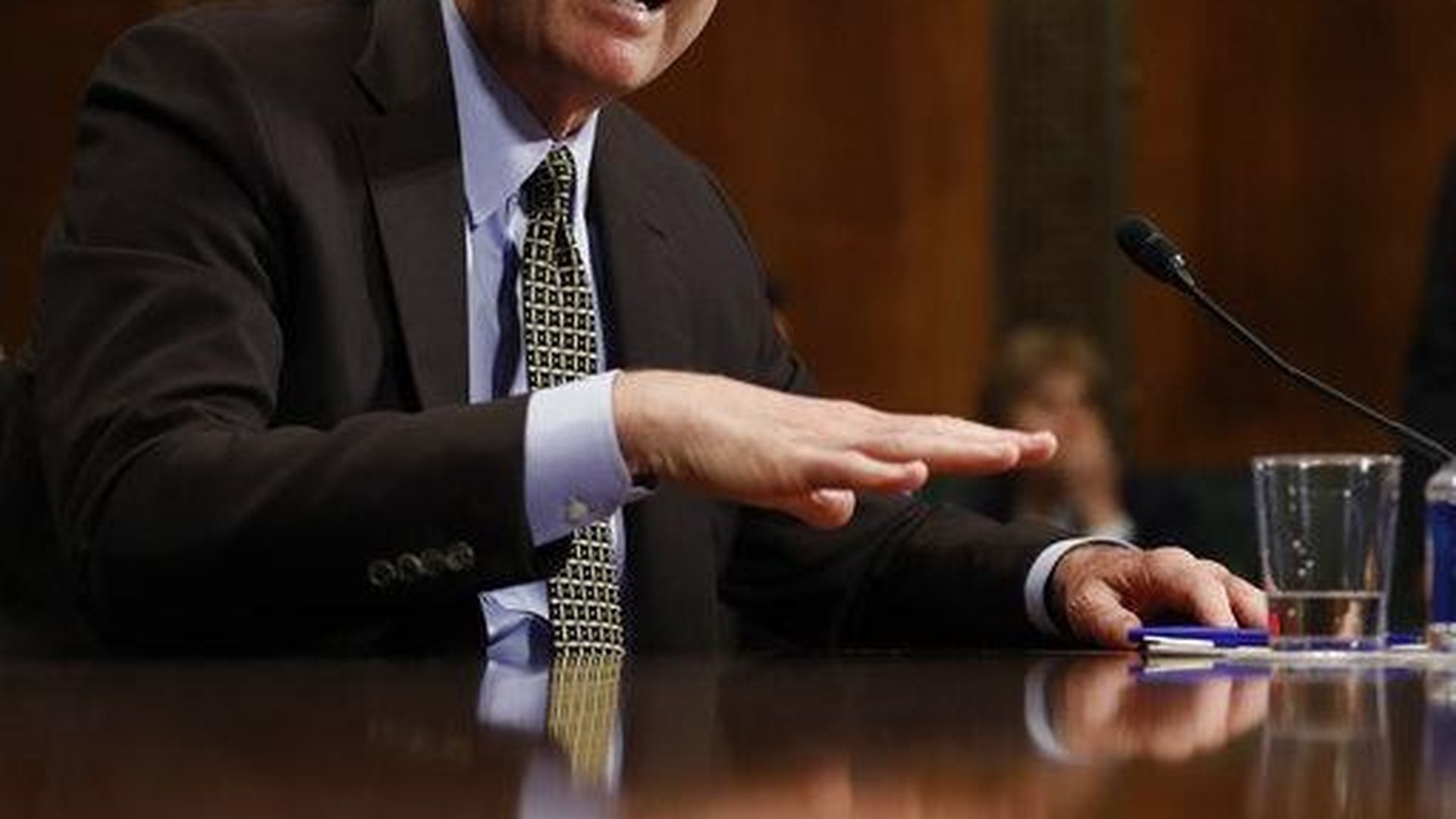 10 a.m. Thursday ... Chuck Todd said on "Meet the Press" that Comey's testimony "may well join those rare historic moments when the whole country stops to watch. Think Army-McCarthy hearings in 1954. Watergate hearings in 1973. Oliver North's testimony in the Iran Contra hearings in 1987, and of course Anita Hill at the Clarence Thomas hearings in 1991."
The broadcast networks are gearing up to make it a national moment, with special reports anchored by their news stars — George Stephanopoulos on ABC; Charlie Rose, Gayle King and Norah O'Donnell on CBS; and Lester Holt, Savannah Guthrie and Chuck Todd on NBC.
3. Top talker
"Top-Secret NSA Report Details Russian Hacking Effort Days Before 2016 Election," by The Intercept's Matthew Cole, Richard Esposito, Sam Biddle, Ryan Grim:"The report indicates that Russian hacking may have penetrated further into U.S. voting systems than was previously understood. It states unequivocally in its summary statement that it was Russian military intelligence, specifically the Russian General Staff Main Intelligence Directorate, or GRU, that conducted the cyber attacks described in the document."From the doc: "Russian General Staff Main Intelligence Directorate actors … executed cyber espionage operations against a named U.S. company in August 2016, evidently to obtain information on elections-related software and hardware solutions. … The actors likely used data obtained from that operation to … launch a voter registration-themed spear-phishing campaign targeting U.S. local government organizations."Why it matters: "This NSA summary judgment is sharply at odds with Russian President Vladimir Putin's denial last week that Russia had interfered in foreign elections."
Leak suspect already arrested ... "Contractor charged in NSA document leak case," by WashPost's Devlin Barrett: "A 25-year-old government contractor has been charged with mishandling classified information after authorities say she gave a top-secret National Security Agency document to a news ­organization."
"Reality Leigh Winner was accused of gathering, transmitting or losing defense information — the first criminal charge filed in a leak investigation during the Trump administration.
"Winner was arrested Saturday and the case was revealed Monday, shortly after the website the Intercept posted ... A person familiar with the case said the charges stem from the document given to the ­Intercept."
4. Apple's HomePod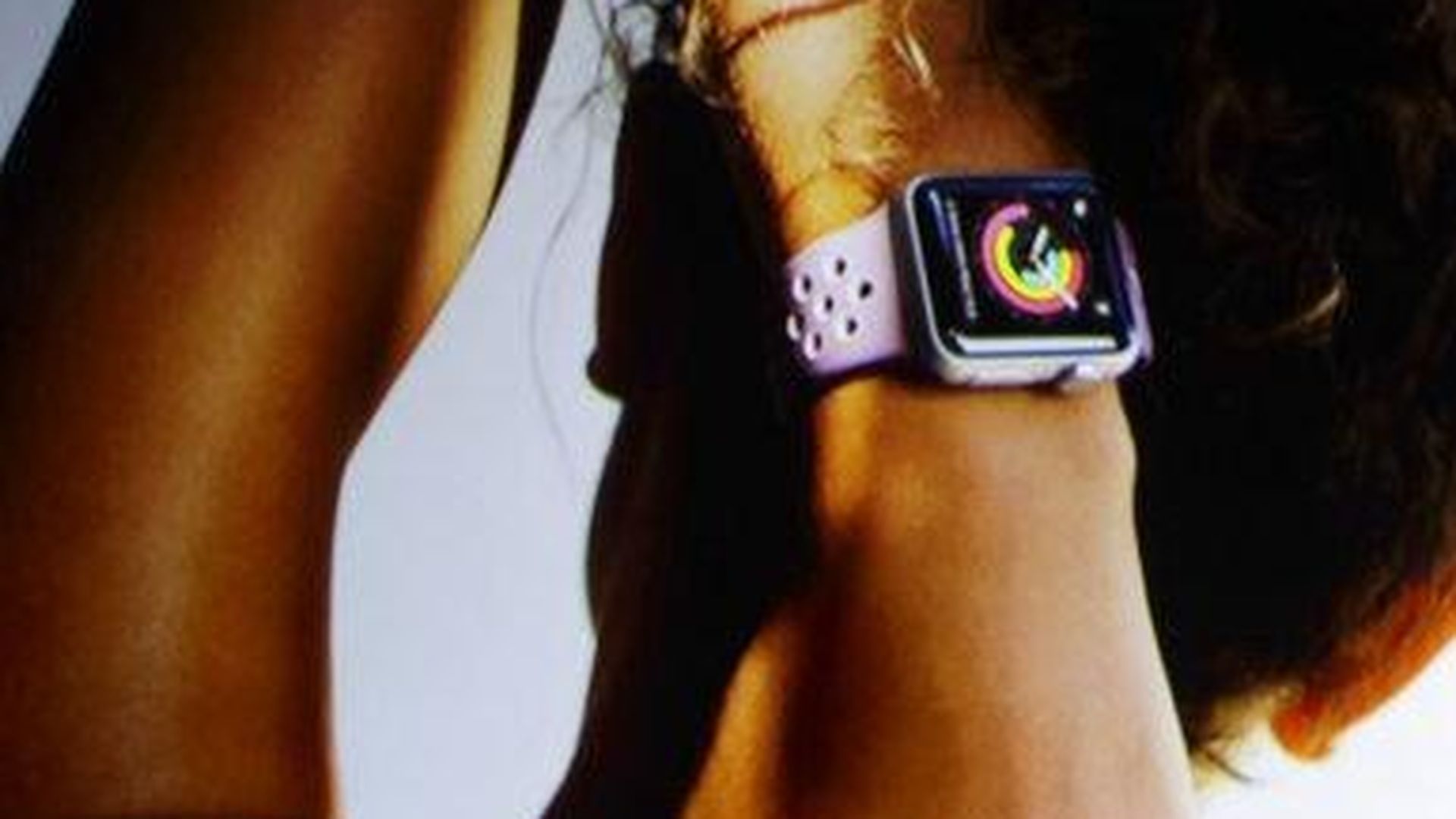 Apple CEO Tim Cook sat down with Bloomberg TV's Emily Chang at the Apple Worldwide Developers Conference in San Jose, Calif., yesterday:
On AR: "I think ... we'll have the largest augmented reality platform in the world."
On the HomePod speaker: "Apple is a company that deeply cares about music and wants to deliver a great audio experience in the home. We feel like we re-invented it in the portable player area and we feel we can re-invent it in the home area as well."
On Apple's philosophy: "For us it's not about being first, it's about being the best, and giving the user an experience that delights them every time. And so ... we don't let that impatience result in shipping something that's just not great."
On talking to Trump about the Paris climate deal: "I think he did listen to me. He didn't decide what I wanted him to decide. And I think he decided wrong. I think it's not good, not in the best interest of the United States, what he decided."
On why he didn't join Trump's business council: "These councils in general and committees to be terribly productive ... [B]ut it wasn't about not wanting to advise ... And so I'm doing the latter."
Catch up quick on yesterday's announcements;
5. Palace intrigue
"Trump Sours on Sessions, Blaming Him for White House Troubles," by N.Y. Times' Peter Baker and Maggie Haberman:
"The discontent was on display on Monday in a series of stark early-morning postings on Twitter in which the president faulted his own Justice Department for its defense of his travel ban on visitors from certain predominantly Muslim countries."
"In private, the president's exasperation has been even sharper. He has intermittently fumed for months over Mr. Sessions's decision to recuse himself from the investigation into Russian meddling in last year's election ... In Mr. Trump's view, they said, it was that recusal that eventually led to the appointment of a special counsel who took over the investigation."
Get smart: "David B. Rivkin Jr., a lawyer who served in the White House and Justice Department under Presidents Ronald Reagan and George Bush, said Mr. Trump clearly looked at the [travel-ban] case from the lens of a businessman who did not get his money's worth."
6. Stat du jour
"Drug Deaths in America Are Rising Faster Than Ever," by N.Y. Times Upshot's Josh Katz in Akron, Ohio:
"Drug overdose deaths in 2016 most likely exceeded 59,000, the largest annual jump ever recorded in the United States."
7. The wilderness: Dems' 2020 vision
"The Trump effect: Everyone's thinking of running for president" ... WaPo's Karen Tumulty and John Wagner survey the insanely broad potential field of 2020 Democratic nominees, and gathered some juicy quotes from top Dems. Highlights:
Jennifer Palmieri: "How can you possibly tell someone they shouldn't run for president? There's no one on the planet who you can tell, 'That's crazy..."David Axelrod: "It is more expeditious to put together a list of Democrats who are not thinking they are running for president in 2020, than ones who are."Joe Trippi: "[I]t's only a matter of time until a Donald Trump runs as an independent and swamps both parties..."Why it matters: "Going into 1992, the party's biggest names... took a pass on the race... Instead, the nomination went to a little-known governor from Arkansas, Bill Clinton."
8. How U.K. extremists are radicalized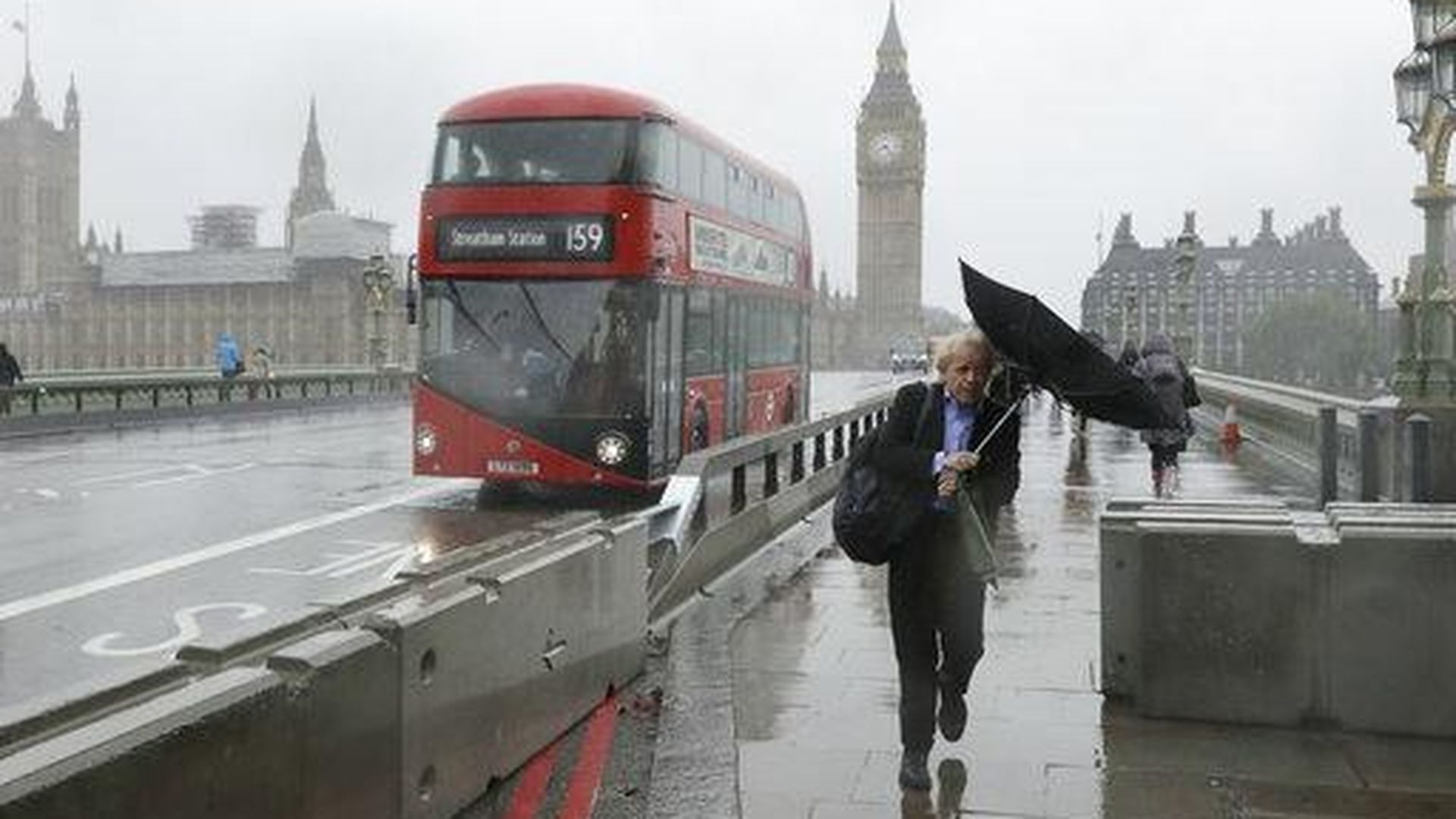 Professors Peter Neumann and Shiraz Maher, of the International Centre for the Study of Radicalisation at King's College London, for the BBC:
"Over the past five years, we have tracked the flow of foreign fighters into Syria and Iraq, collecting information on nearly 800 Western recruits - often including their social media footprints. Our experience and research suggests that radicalisation rarely happens exclusively online."
"[O]ur research suggests that the decisive factor in moving people from being extremists in terms of their thoughts and beliefs to becoming terrorists is not online propaganda but offline social networks."
The bottom line: "The internet plays an important role in terms of disseminating information and building the brand of organisations such as IS, but it is rarely sufficient in replacing the potency and charm of a real-world recruiter."
N.Y. Times Quote of the Day ... Shiraz Maher, deputy director of the International Center for the Study of Radicalization at King's College London, on the number of terrorist attacks that succeed in Britain: "What's got through is just the tip of the iceberg, and it's an enormous iceberg."
9. Mideast rift poses risks for U.S.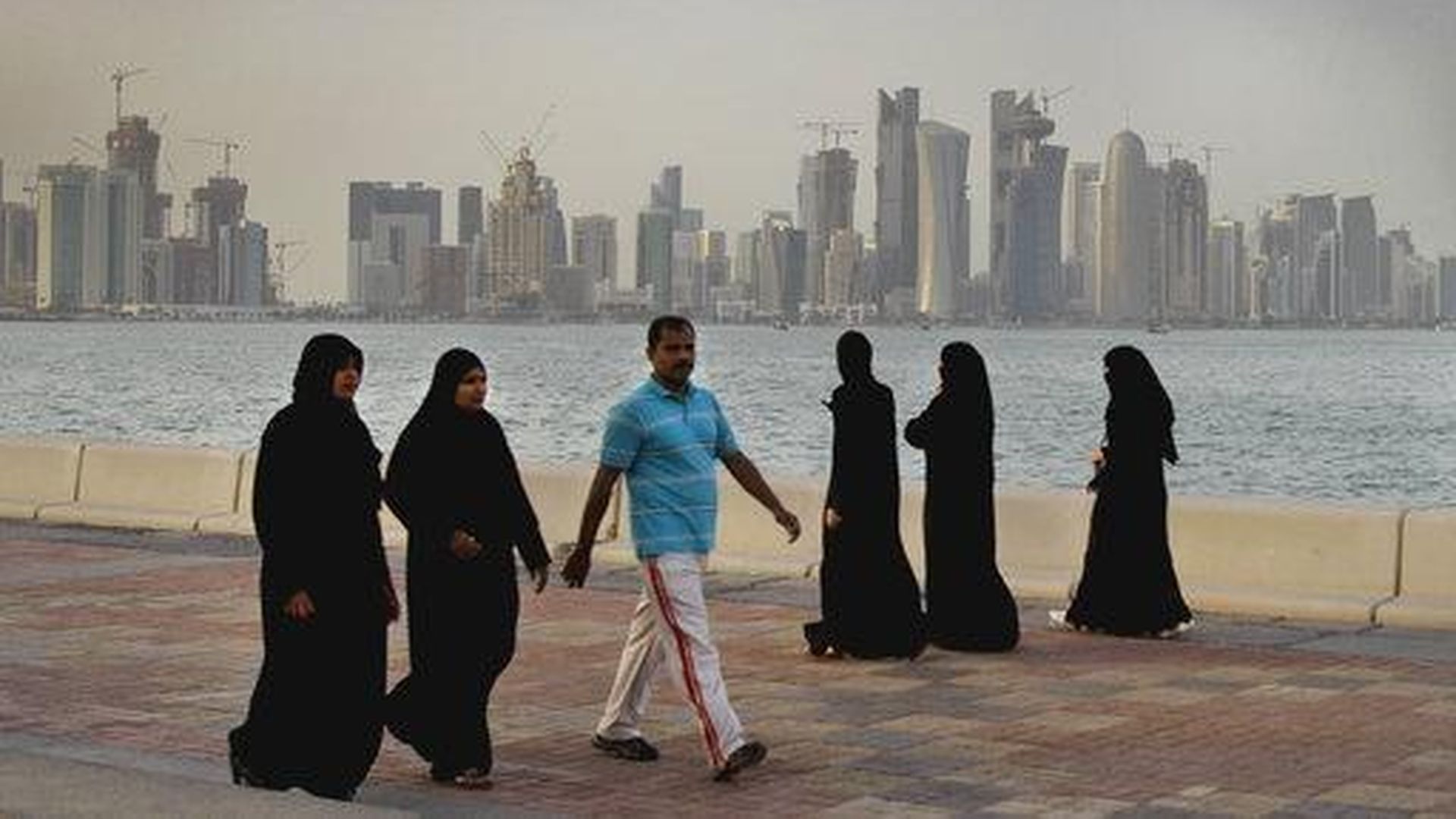 A "spat among U.S. allies in the Middle East carries high stakes for the Trump administration, coming two weeks after ... Trump tried during a visit to Riyadh to rally Arab allies around fighting terrorism and countering Iran's influence in the Middle East," the Wall Street Journal reports on A1:
What happened: "Egypt, the United Arab Emirates and Bahrain joined Saudi Arabia in breaking diplomatic and some commercial ties with Qatar, as did Yemen's Saudi-backed government."
"The command center overseeing the U.S.-led air war against the extremist group Islamic State is located at a U.S. military base in Qatar, America's largest military facility in the Middle East. On Saudi Arabia's side of the dispute is Bahrain, which hosts the Fifth Fleet, one of the U.S.'s largest naval fleets."
"The rift disrupted international air travel."
The context: "Trump administration officials ... have expressed frustration with Qatar's actions, as did officials during the Obama administration."
10. 1 fun thing
"Axios brings the heat in Hollywood," by Ian Mohr of N.Y. Post's Page Six:
Axios made a splash in Hollywood with a reception at the LA mansion of pollster Frank Luntz and another hosted by director Rob Reiner and his wife, Michele. At Luntz's home, complete with a replica of the Oval Office, a spy said that when Axios' Jim VandeHei and Mike Allen "led a conversation," the mogul-heavy crowd "was angry, combative and yelling about the media and politics — 90 minutes of verbal combat."
At the Reiners' were stars, politicos and studio honchos: Chelsea Handler, Bradley Whitford, Jeff Shell, Ben Sherwood, Howard Gordon, Ben Silverman, Jon Lovett, Jon Favreau and Rep. Maxine Waters.