Tomorrow evening, Jonathan Swan a handy new of offering from Axios -- the Sneak Peek newsletter, with a look ahead to the week at the Capitol Hill and the White House, plus the best nuggets from the Sunday shows.
https://www.axios.com/newsletters/axios-am-bd4bea7d-da4e-4991-9b51-3da9beb297fa.html?chunk=0#story0
1 big thing: The game
https://www.axios.com/newsletters/axios-am-bd4bea7d-da4e-4991-9b51-3da9beb297fa.html?chunk=1#story1
Bonus: Just posted
"Hillary Clinton's staffers are keeping up the fight," by CNN's Eric Bradner: "
"[M]any of her former staffers -- especially mid-level Brooklyn veterans -- are now on the front lines of the left's anti-Trump resistance. Many say they're apoplectic over revelations that top Trump advisers were in constant contact with Russians.
"Some ex-Clinton staffers have moved into Democratic organizations that are shifting their focus to opposing Trump -- such as Clinton press secretary Brian Fallon, now a senior adviser to Priorities USA; policy adviser Corey Ciorciari, now helming the Center for American Progress war room's policy and research efforts; and Cristobal Alex, Clinton's national deputy director of voter outreach and mobilization, who is now the president of the Latino Victory Fund.
"Others are racing to fill the holes in the Democratic Party exposed by November's results, in an effort to help activists newly energized by Trump's victory strike back in upcoming elections, at congressional town halls."
https://www.axios.com/newsletters/axios-am-bd4bea7d-da4e-4991-9b51-3da9beb297fa.html?chunk=2#story2
2. Article of the day
In the forthcoming issue of The New Yorker, "Letter from Washington: GENERAL CHAOS -- What [former national security adviser] Michael Flynn's downfall reveals about the Trump White House," by staff writer Nick Schmidle, has an ominous tone for Republicans who hope to move on:
"Adam Schiff, the ranking Democrat on the House intelligence committee, ... expressed concern to me about evidence preservation."
"A former C.I.A. official raised ... concerns about how long Flynn was allowed to stay in his job. 'We've now got a guy briefed on our most closely guarded secrets about a whole host of issues—including Russia—who has been canned ... We don't have something from the movies where you can put an eraser on someone's head and it all goes away. We've got to rely on Mike Flynn to keep those secrets.'"
"White House officials portrayed Flynn as having had his conversations with the Russian Ambassador on his own. But Schiff and others are doubtful."
"Some of Flynn's former military colleagues, even those from whom he's drifted apart in recent years, told me they were skeptical that Flynn would have conducted shadow diplomacy on his own. Despite his reputation as an agitator, he was, in the end, a soldier who followed orders, they said."
https://www.axios.com/newsletters/axios-am-bd4bea7d-da4e-4991-9b51-3da9beb297fa.html?chunk=3#story3
3. CEOs v. Trump
The cover of tomorrow's WashPost Business section is "The cost of silence: Why more CEOs are speaking out in the Trump era," by Jena McGregor and Elizabeth Dworkin, showing CEOs as unlikely new activists:
"[C]onsumers and employees are ... expecting the companies they buy from or work for to take a stand on social issues. And increasingly, CEOs are responding. American companies have emerged as a force for social change in recent years and are among the most vocal critics of the new president's executive order."
"Although Silicon Valley has led the opposition, companies as diverse as Chobani, Nike, Ford, Goldman Sachs and MasterCard all said they were against the immigration order or expressed concerns about it. More than 160 biotech executives blasted it in a letter published last week. Starbucks CEO Howard Schultz said he planned to hire 10,000 refugees in 75 countries over five years."
"'There's just nothing,' in scale or swiftness, that has compared to the corporate response to Trump's entry ban, said Nancy Koehn, a historian at Harvard Business School."
Post-tweet make-up ... "Trump, With Praise for Boeing CEO, Hints at Big Fighter-Jet Deal," by Bloomberg's Margaret Talev and Julie Johnsson: "Reporters ... spotted White House Chief of Staff Reince Priebus holding a brochure for the F/A-18 XT, a proposed Super Hornet upgrade that could serve as a stand-in as Lockheed ramps up production of the F-35, the Pentagon's costliest weapons system."
Trump, speaking at the of unveiling of the Boeing 787 Dreamliner Aircraft, in North Charleston, S.C.: "[I]n the old days, when I made this speech I got paid a lot of money. Now I have to do it for nothing. (Laughter and applause.) Not a good deal, but that's okay. We love it."
https://www.axios.com/newsletters/axios-am-bd4bea7d-da4e-4991-9b51-3da9beb297fa.html?chunk=4#story4
4. Stat of the week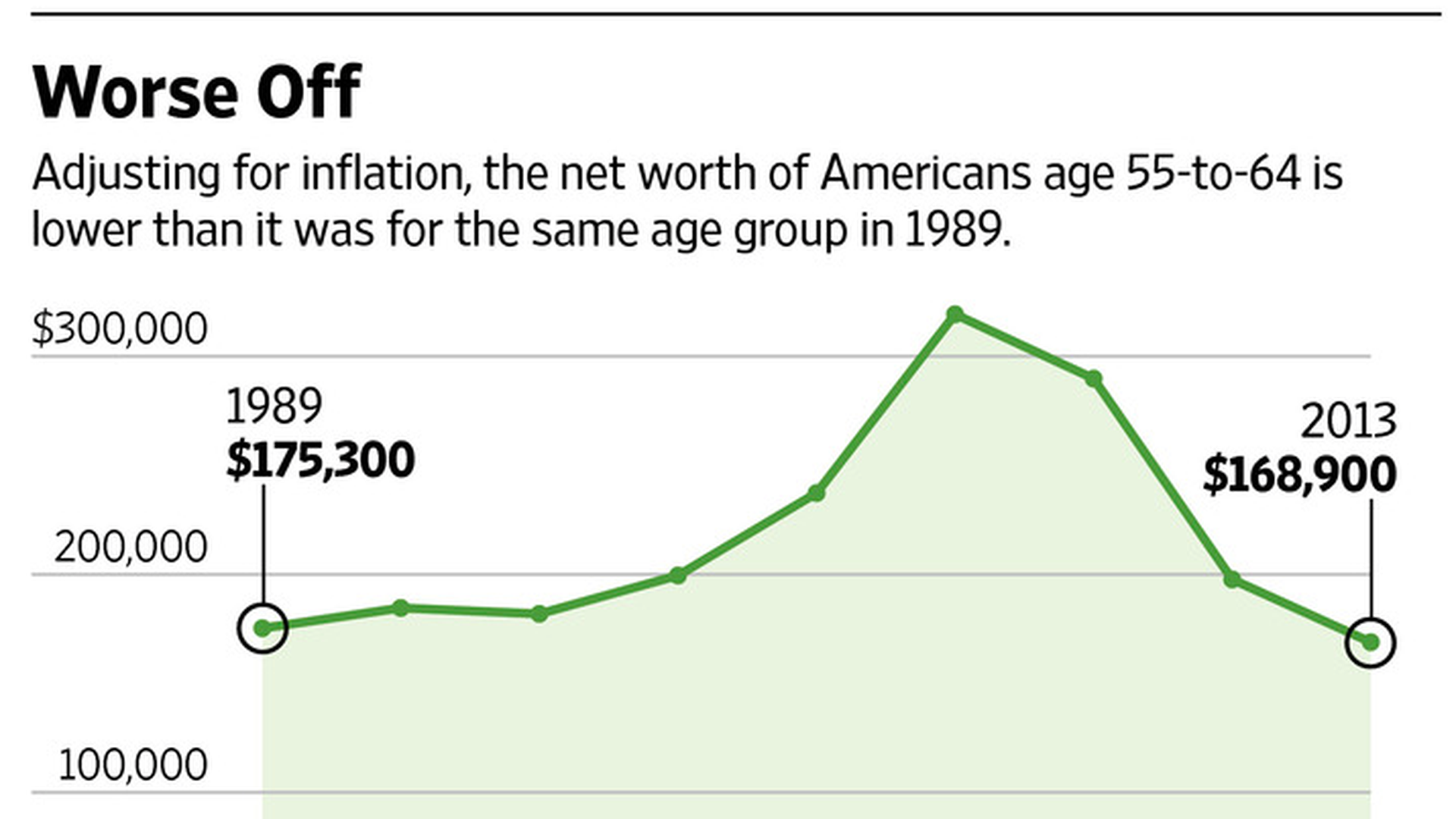 Dennis Berman (@dkberman), financial editor of the Wall Street Journal, tweets, based on this Journal story: "In one chart, you can see the standard-of-living for America's senior citizens slowly withering away."
https://www.axios.com/newsletters/axios-am-bd4bea7d-da4e-4991-9b51-3da9beb297fa.html?chunk=5#story5
5. Mike Pence in Europe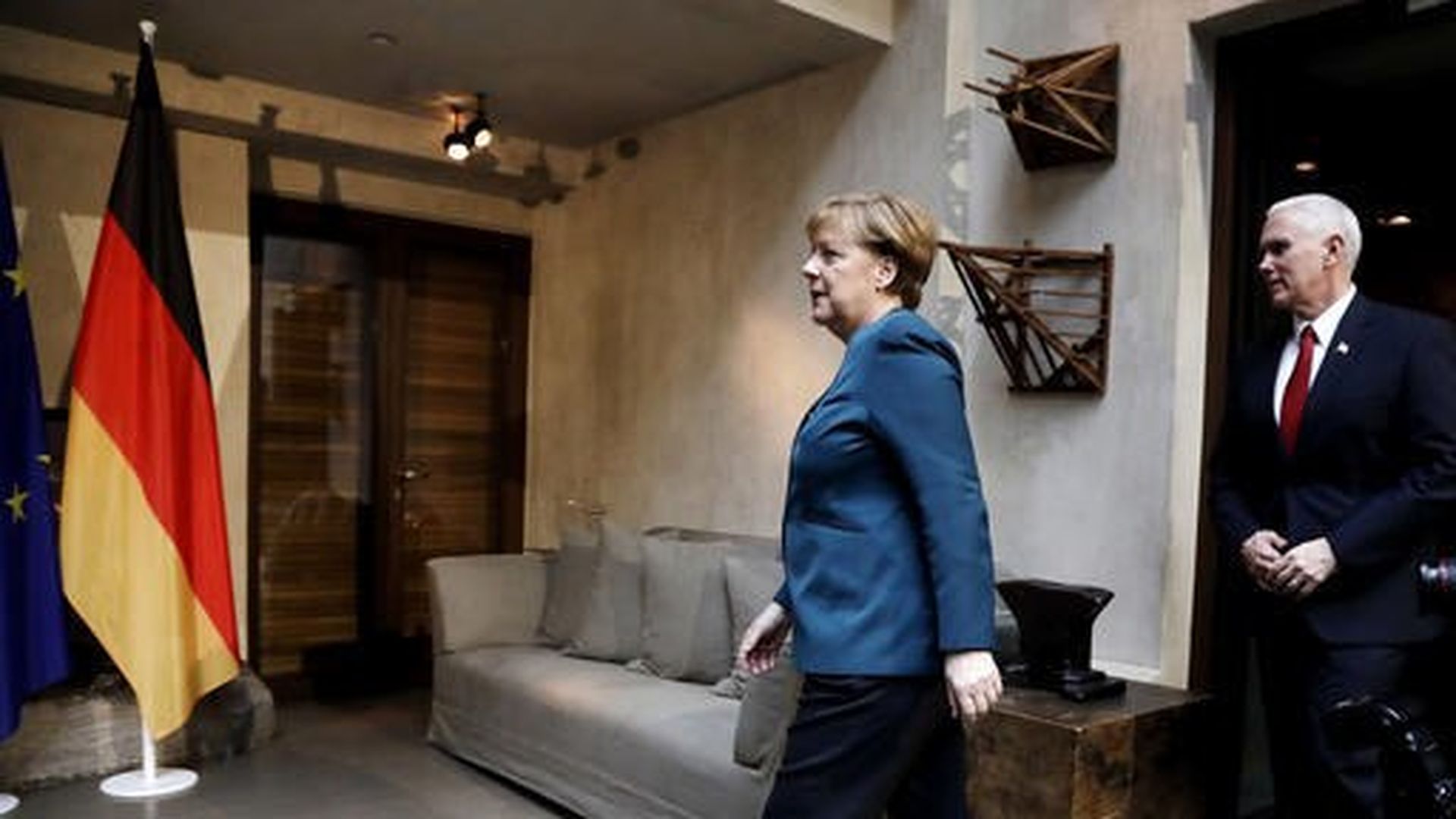 The Vice President channels Reagan in remarks at the Munich Security Conference, via Ashley Parker's pool report: "Peace only comes through strength. President Trump believes we must be strong in our military might, able to confront any and all who would threaten our freedom and our way of life."
Trying to reassure an increasingly skeptical continent, Pence said: "Today, on behalf of President Trump, I bring you this assurance. The United States of America strongly supports NATO and will be unwavering in our commitment to this transatlantic alliance."
https://www.axios.com/newsletters/axios-am-bd4bea7d-da4e-4991-9b51-3da9beb297fa.html?chunk=6#story6
6. Every Republican should read this quote
In Sunday's N.Y. Times, L.A. Bureau Chief Adam Nagourney, profiles House Majority Leader Kevin McCarthy (R-Calif.), the #2 House leader, focusing on the early, steady allegiance that makes McCarthy "one of Mr. Trump's closest allies on Capitol Hill." A memorable passage:
"[P]art of his success is what seems, in this contentious time in Washington, the almost throwback style of glad-hand politicking that Mr. McCarthy embraces as he moves across the Capitol. A portrait of Ronald Reagan, a wide grin on his face, fills most of the west wall of his office. 'Everybody today wants to be a Reagan Republican, but how many walk around with that smile?' Mr. McCarthy said."
https://www.axios.com/newsletters/axios-am-bd4bea7d-da4e-4991-9b51-3da9beb297fa.html?chunk=7#story7
7. A worthy essay
In the March issue of Harper's, professor and author Calvin Baker looks back at Obama in light of his successor, "Black Like Who? How Obama negotiated America's racial tightrope":
"Obama's legacy, which his Republican successor has promised to erase down to the very last executive order, seems assured. As one of the last black firsts, he bore their special burden, and he bore it with sterling integrity, self-knowledge, and extraordinary grace. He renewed the faith of many in the secular American belief that we are capable of overcoming any limitation, including the flaw of our founding."
"However unknowable the future, it seems reasonable to think that Obama will ultimately be joined in the historical record with Lincoln, Douglass, Du Bois, Shabazz, King, and Marshall: beacons of the best path forward."
https://www.axios.com/newsletters/axios-am-bd4bea7d-da4e-4991-9b51-3da9beb297fa.html?chunk=8#story8
8. Could Trump even help Oscar ratings?
That's the suggestion in an L.A. Times article, "ABC sells all its Oscar ad time; advertisers brace for political speeches," by Meg James: "Some Oscar advertisers, who bought their spots months ago, might be bracing for a furor over politics [during the ceremony, a week from tomorrow], particularly if conservatives decide to tune out. But if the Grammys were any indication, this year's Oscar ratings could be higher than last year when the Academy Awards broadcast attracted 34.4 million viewers, an eight-year low.
Ashwin Navin, chief executive of Samba TV, a data and analytics firm: "Trump has been very good for television ... The politically charged environment has been good for television, including these award shows."
Samba analyzed the Grammys audience for the Grammys and found that about half the 26 million viewers who tuned in didn't watch the show last year. Most of the new viewers were younger.
Gavin: "There is a replacement of the audience going on, and this new base of viewers is paying attention to these issues ... People really care about what Meryl Streep says."
https://www.axios.com/newsletters/axios-am-bd4bea7d-da4e-4991-9b51-3da9beb297fa.html?chunk=9#story9
9. Sports page: NBA All-Star Weekend
The NBA All-Star Game tips off tomorrow at 8:30 p.m. at the Mercedes-Benz Superdome in New Orleans, but the partying has begun: The confluence of pre-Mardi Gras (Feb. 28) festivities and the basketball showcase means floats and street parties are converging with slam-dunks and buzzer-beaters. Pics here from last night's NBA All-Star Celebrity Game: "7 moments we loved in New Orleans."
But there's a serious political, business and social backdrop playing out here ...
Too bad for Charlotte ... "There are rooms available, a dark arena, and sparse crowds at sports bars have replaced the planned parties, celebrations and events around Charlotte after the NBA moved its All-Star festivities to New Orleans because of ... North Carolina's [anti-transgender bathroom] law that restricts the rights of the LGBT community."
... But the Big Easy is taking advantage ... "New Orleans has often enjoyed a reputation in the South as a welcoming place for the lesbian and gay community — Cafe Latiffe in Exile is one of the oldest gay bars in the country and Ellen DeGeneres got her start as the emcee of the 1981 Mr. and Ms. Gay Pride contest."
https://www.axios.com/newsletters/axios-am-bd4bea7d-da4e-4991-9b51-3da9beb297fa.html?chunk=10#story10
10. 1 fun thing: Inside Bitmojis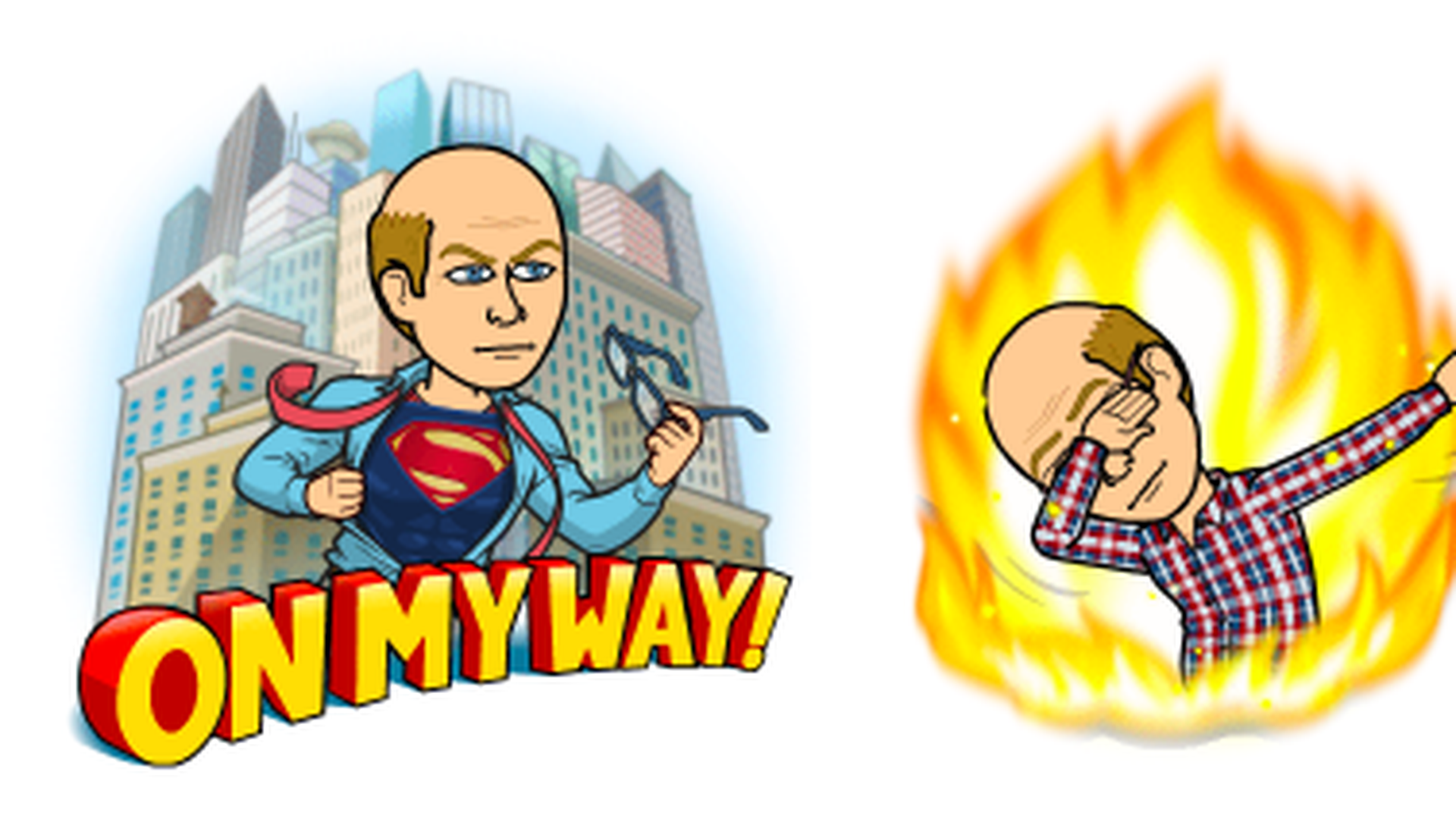 The first Bitmjoi I ever saw was from Nick Johnston, editor of Axios (@AxiosNick). When Nick was a managing editor in Bloomberg's Washington bureau, Al Hunt had left an item in an Uber, and somehow it was the affable Nick's sacred duty to retrieve said item. Nick sent me a Bitmoji, a little cartoon version of an even-more-youthful Nick, collapsing in a heap with the lettering: "I CAN'T EVEN." It was such a funny rendering, and the message was so perfect for the moment. It's now Nick's Slack avatar.
Blain Rethmeier, a Bush 43 and Hill alumnus who's an Edelman managing director, also has a strong Bitmoji game: Yesterday he sent a text-message group a "Cheerio!" with a sunny drawing of himself, doffing a derby. A few weeks ago, I sent him a Bitmoji high five in response to his compliment about an Axios video, and he sent back a doodle of himself, hand on heart, saying: "LET FREEDOM RING!"
The Wall Street Journal's front-page A-Hed today's goes inside Bitmojis in, "The Pajama-Clad Bitmoji and the 'Creepy Boss': Cartoon-message fad tests office etiquette; 'I embarrassed myself'," by Sarah Needleman, who covers the video game industry: "Bitmojis are personalized cartoon images that can be pasted into text messages and emails. Using an app from Bitstrips Inc., people craft avatars of themselves—hairstyles, body types, clothing—that the app plops into quirky scenes."
"After winning over teens and young adults on mobile devices, bitmojis are seeping into corporate emails, messaging apps and texts. Now, eager and befuddled workers are figuring out how to use the social tool without breaching professional courtesy." See more Bitmojis in the Journal's article, "Sending Bitmojis to Co-Workers—What Could Possibly Go Wrong?"